If you want to have your business grow fast and steady, you definitely need a Customer Relationship Management (CRM) system for tracking the communication process with your prospects and customers. A CRM will help you, for example, to make smart segmentations, manage different marketing campaigns according to different customers segments, track conversions metrics.
Basically what you need is a tool to organize all the information you gathered about your customers and leads to develop your relationship with them in the best and most efficient way. Something that will help you spot opportunities easily take advantage of them and ultimately help this way your business growth.
CRM software is typically used in every enterprise. However, many products scale to a business of any size. Since email is still one of the primary forms of contact, if you're using Gmail you might already have your CRM tool right in front you.. you just need some tweaks. This is clearly a solution to have a lightweight CRM system for a good starting point for your business and works well for small teams… or even better solopreneurs.
Some tools are native Gmail. Then there are others we'll talk about which are third party software.
Here is a little summary of what we're going to see in this article, you can use this index to skip directly to the pro feature if you already know your onions 😉
Native gmail features
Contacts
Gmail has a very useful but often unused contacts section. You can access it by clicking on the dropdown menu just over the compose button on the left.
The contact database automatically stores information on anyone you correspond with and you can add more data to it as well. Clicking on the add button you can add info like birthday date, relationship status, or just a custom field according to your business needs.
So for example you can add notes about the progress of an outreach attempt, keeping track of everything about the relationship you're trying to build with a new lead. Keep in mind that you can put here everything you might need for future reference, I'm talking about phone calls or real life appointments as well.
Once you've got someone in your contact list they'll be searchable everywhere in Google apps, so you'll be able to add them to a task or a google calendar appointment.
Groups
Another interesting feature here is the groups' one. You can put every contact in an appropriate group, for example here I'm choosing to assign this one to "New leads".
Having everything well organized this way will help you saving time and working better later on. Like for creating mail campaigns to these groups.
Canned responses
One of my loved ones, an incredible time saver hided in the Gmail Labs features. But what are we talking about? Basically email templates that will then be always at just a few clicks away for fast responses. You just need to activate it. Go to your settings page:
Then select the "Lab" tab, find in the list "Canned emails", enable it and then click save at the bottom of the page.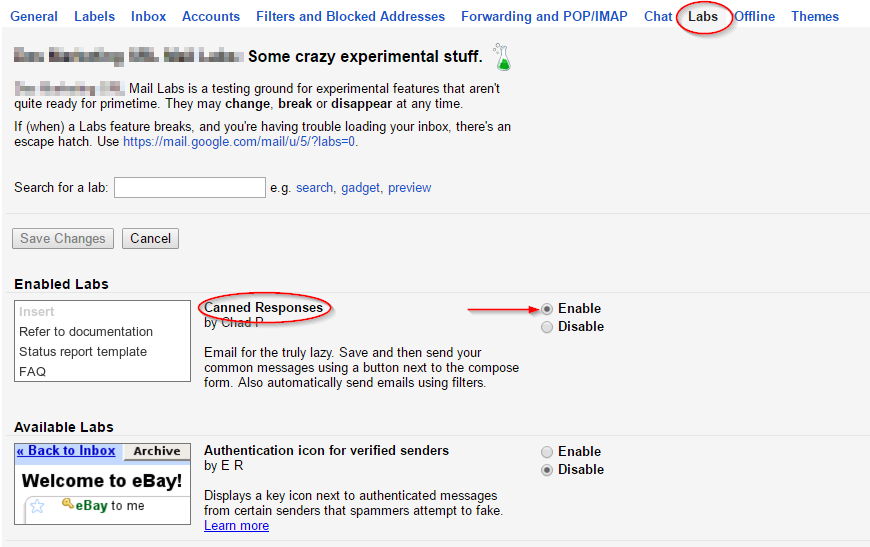 Here you go, now compose a new message, click on the little arrow in the bottom right and you'll find the new Canned responses option. Select "New canned response" and you'll save the email you just wrote as a template. The next time you'll have to answer to an email in a similar way come back here and you'll have just to click on your saved template to make it appear inside your mail body. Fast and easy!
If you'll read till the end of this article you'll see this handy feature come back again to send automatic responses to people signing in your Facebook lead ads.
3rd party tools
Rapportive
This is an amazing tool everyone using Gmail for business should have. It's a free add-on from LinkedIn that automatically adds a window inside Gmail with more information about the person you're interacting with. As you can see in the picture down here I'm writing to Stefan, our CEO at LeadsBridge, and Rapportive is showing me social media data about him.
You can not only see at a glance who exactly is the person you're having a conversation with, but as well follow him/her on Twitter directly from the Gmail interface or connect on LinkedIn and see the connections you have in common. This is a great way to get a bigger picture about your contacts and have instant information on people that send you emails.
Boomerang
Boomerang is another very handful tool for Gmail to get more control over our emails. We can get a receipt when our emails are opened and know if the links inside them have been clicked. Then Boomerang allows to select as you send or reply to an email an action based on that email.
For starters you can choose to send it later, which might come handy for example if you are a night owl and you feel a little embarrassed to send out important emails at 2 am. Another cool feature is about follow ups. If you send an email to someone with a request or a suggestion, you can infact ask Boomerang to return that to you if nobody response within x amount of time. So If nobody answers for let's say one week, after that time Boomerang will send it back to your Inbox so you can see it as a reminder and take action.
In a similar way you can archive an email you don't have time to deal with right away and tell Boomerang to get it back in your Inbox a set amount of time later.
It has a free limited plan and a very affordable entry level monthly subscription set at 5$.
Unroll
One last suggestion to keep the inbox clear.
We all arrive at a certain point when it becomes impossible to stay up to date with all the newsletter we subscribed to over time. Many of them are probably at this point just useful to keep that unread count going always up. Here comes in our help Unroll.me
This service scans your inbox for all the newsletters and then you can choose all those you want to keep, to unsubscribe in just a click, or to add to a digest email called the Rollup.
Automatic segmentation from a Facebook Lead ad to a Gmail label
Thanks to Facebook lead ads while you get the essential information that you need to start your sale funnel you can as well ask something more and make some nice segmentation with all your potential new customers. You'll need LeadsBridge to create a real-time sync between Facebook data and your new CRM (yes, Gmail! :)).
Let's create a scenario just to see how to set up all the process: you're targeting people who might be interested in buying a new fancy car, so you might want to differentiate the new leads according to the car they're interested in.
Everything starts on Facebook with the Lead ad creation form. You choose to add a question, which will be shown as a drop-down menu asking the user to make a choice between 4 cars: Tesla, Ferrari, Lamborghini or Porsche. Pretty fancy huh?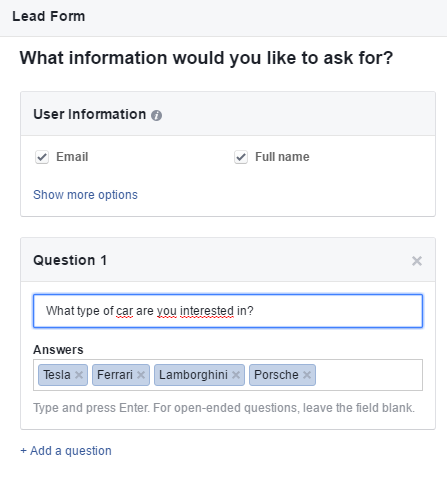 When you're done with the ad creation, you can log into LeadsBridge app and start setting up the second step of the process: the bridge from Facebook to Gmail.
From the dashboard choose the Add integration button.
In the next screen select as provider "Inbox Notifier (Email)". Then set a name for your new integration and personalize the email fields if you need to.
Click save and then go to the LeadAds section and create a new one. When you arrive at the integrations tab from the drop-down menu, you'll be able to choose the integration you just created.
Finish the steps to create the LeadAds bridge inside LeadsBridge. Now every time someone fills your form on Facebook, an email will be sent in real time to your inbox.
Now you are ready for the final chapter: Gmail.
Here we'll have to setup filters. Go to your Settings page in Gmail and select the "Filters and blocked addresses" tab, then click on create the new filter.
At this point, you'll have to fill the form with the info that will allow the filter to recognize the email coming through the bridge from the Facebook lead ad. So we just need to set the same settings we have chosen in the Inbox Notifier integration inside LeadsBridge: the "from" address and the subject. In the "has the words" field put the answer you are segmenting with for this filter. Then you'll be able to assign it to a different label according to the answer the user gave to the question about, in our scenario, the car he desires.
Now you have to choose the action you want to take. In our case, we want to add a label and have all the leads who are interested in a new Tesla car well organized in one single place inside our Gmail account. How can we do this? Click on the "Apply the label option", create the label you need and select it. 
Here, for example, I've created a "Fancy cars leads" label and nested the different types of cars. Create the filter and you're done!
A little bonus tip: do you see in the image down here the canned response option? As we mentioned above talking about this cool Gmail lab feature you can select it as well to send an automatic response to people clicking on your Facebook lead ads. Welcome emails are very important, and people expect to receive one right away when subscribing to something. You can also put some nice personalization here since you know how this lead answered to the question you asked!
Here is your first filter already in action!
And finally the result:
Now you have all the leads coming from your Facebook campaign well organized, automatically, inside Gmail. Time to sell those fancy cars! 😉
I hope these tweaks can be helpful to boost your productivity and build personalized relationships with your customers to fire up your business. Client relationships are the most valuable business asset, and all these features should help you build better ones! Do you know other cool ways to boost Gmail and make it a valid CRM like an option? Share it with us in the comments!