Webinar marketing is an effective way to connect with a larger online audience and improve your lead generation strategy. In research carried out by the Content Marketing Institute in 2019, 57% of B2B marketers use Webinars. Out of this number, 11% said they used it to convert leads into sales. Also, a survey conducted on marketers by Wyzowl revealed that 87% of them found webinar marketing to be effective. This is because 51% of people who visit the webinar landing page will convert on the initial sign up, then about 36% of them will attend the seminar.
This guide offers a detailed overview of webinar marketing and best practices.
How to create a Webinar Marketing Plan
Strategies to get massive results from your Webinar
What is webinar marketing?
Webinar marketing is not a new concept, and thousands of business owners all over the world use it fo#Best-Webinar-Tools generating leads and sales. A webinar is simply an online conference where you can showcase your products or services to create awareness, generate leads, and sales.
Webinar marketing is often one of the best ways for a company to educate its audience about its core products or services. Trust is one of the most vital factors in generating customers online and encouraging them to spend money on your product or services. A conventional webinar marketing approach should ensure that you gain the trust of your customers.
Webinar marketing is profitable for businesses. Below are some of its benefits.
Benefits of Webinar Marketing
Webinar marketing helps to drive engagement
Companies that engage in webinar marketing drive more engagement. This is because many webinar marketing tools offer lots of engaging features like Q&A sessions, chat rooms, live polls, and immediate audience feedback options. These features help the audience interact with your company during the webinar presentation. They can join the live chat rooms and ask questions or leave comments for you. 
Webinar marketing generates high-quality leads and sales
Webinar marketing is one of the best ways to sort the wheat from the chaff and ensure you focus most of your efforts on the people most likely to make purchases and support your company. A study carried out by ReadyTalk revealed that between 20% and 40% of those who attend a webinar become qualified leads. This is because most of the webinar attendees are interested in learning more about your products or services. This helps in positioning them to make purchases after the webinar session. Between 2% and 5% of webinar attendees will buy something from you.  
Webinar marketing assists you in expanding your reach
Companies often need to attract customers and clients from all over the world. Webinar marketing is one of the best strategies to expand your reach because there is no need to worry about the location of attendees. If they have a reliable internet connection; you can invite people from any country in the world, and some of them will turn up! That will never happen if you hold a conference or something similar in a local city. So, webinar marketing is an excellent move if your target market lives in many countries.
Strategies to get massive results from your webinar
1.   Integrate your webinar tool with your CRM or email software
To get the best out of your webinar events, it is best to integrate with your CRM or email software. For instance, if you use GoToWebinar, you can integrate it with your CRM or Email Software (i.e. Zoho CRM, MailChimp, Aweber). To do this, use Leadsbridge's webinar leads tool to create the bridge between your webinar software and email software.
During the webinar registration, as attendees register, Leadsbridge will help you store their details directly into your CRM immediately. This will enable you to quickly communicate with your audience before, during, and after the webinar. It will also lead to closing more sales after the webinar.
2.   Create a survey for your audience during and after the webinar
There is the opportunity to get a feel of your audience during a webinar event. You can ask them if they are ready to buy your product or not, if they still have an interest in learning more about your product or if they want to talk to your sales team.
If you get lots of positive responses during the webinar, you should do a demo of your product to show the audience how to use it to solve their problem. Those that are interested will appreciate the extra information provided on the product.
Immediately after the webinar, send a short post-webinar survey that can be filled as they log off. The survey will provide insight into how the attendees perceive the webinar, what they like and dislike about it, and what you should have done better. Also, ask them if they would like to set up a demo or one-on-one meeting with a sales rep.
Use the responses you gather to categorize your audience into three different segments viz:
Sales ready audience: This refers to those who agree to set up a demo or one-on-one meeting with a sales rep.

Needs nurturing: This is for those who still need more information about your product

Not a fit: This is a segment of your audience that doesn't fit your ideal customer persona.
When you have this information ready, it is time to follow up.
Find the examples below:
During webinar questions
During the webinar, you will want to know how your audience is faring. Examples of questions to ask includes:
Are you experiencing are technical issues?

Do you need more explanation on a specific topic?

Do you have any questions?
After the webinar questions
After webinar questions include:
On a scale of 1-10, 10 being the highest, how would you rate the webinar? (a) 1  (b) 2  (c) 3  (d) 4  (e) 5 (f) 6  (g) 7  (h) 8  (i) 9  (j) 10

On a scale of 1-5, 5 being the highest, how would you rate the webinar technology?
(a) 1  (b) 2  (c) 3  (d) 4  (e) 5
3. How satisfied are you with the webinar?
(a) Satisfied  (b) Not satisfied
4. Did you learn something new?
5. How would you rate the company?
(a)  Great  (b) Good (c) acceptable  (d) Poor
6. What were your best and least moments during the webinar?
7. Did you like the webinar platform?
8. Will you recommend this webinar to a friend/colleague?
9. Will you participate in our next webinar?
10.  What do you think needs to be improved to make the webinars better in the future?
3.   Create a follow-up campaign to target hot and warm leads
It is time to follow up on your leads. This is the third tip to turn leads into sales with your webinar. Remember, you segment them in the second step above according to their readiness to make purchases. It is time to start with the "sales-ready" segment. These are the people who are almost ready to buy your product. So, you should create a follow-up campaign specifically for them.
Analyze their profiles to get the information you can use to create personalized messages for them. To target this group, give them offers that will make it easy for them to convert them to sales. This includes a special offer, a demo of your product, and a free trial. These will enable them to take action.
Monitor the people who open the email and only send subsequent emails to them. This will help you focus on hot leads that are really interested in your product and are likely to convert.
The next thing is to create another follow-up series for the "need nurturing" segment, which is also known as the warm audience.
They are the category of people who are not yet ready to buy because they need to know more about your product. For this category of attendees, you need to create a nurturing follow-up campaign for them within 24 hours of the webinar. This is because the attendees will wait to hear from you, especially those who are interested in your product.
The first follow up email should contain the webinar recording and presentation slides, or a link to where it is uploaded on your website. This step will help you build a solid relationship with your prospects.
You could also include case studies, research reports, or an e-book. At the end of the follow-up email, let them know who to contact if they need to see a demo or set up a meeting with a sales rep.
Let's check out an example that combines all the points listed above.  The first follow-up email should be to thank the attendees for joining the webinar, a promise to send a link to the recorded webinar, and then an opportunity for them to ask any question.
Hi (First name),
Thank you for attending the Boost Conversions & Prove More ROI webinar today! We are happy you were able to make it. We hope you got valuable nuggets during the webinar.
Expect an email with the webinar recording link.
If you have any questions or comments, send them to yourfriends@leadsbridge.com
Thanks and have a nice day.
Leadsbridge Team.
**********************************************************************************
Then the second email will contain the webinar link, the CTA button, and the second thank you note.
Hi (First name),
Thanks once again for attending the Boost Conversions & Prove More ROI webinar. There is a lot of important information in the webinar and we want you to have access to it.  Below is the link to the webinar recording.
Thanks again for joining us.
_____________________________________________________________________
When you combine the power of Leadsbridge with Sharpspring – you are able to automate your retargeting and advertising campaigns. This will help you to improve conversions and ROI.
Request a Demo with our experts and learn how Leadsbridge can help here.
Click here to request a demo
**********************************************************************************
The next follow up email should provide educational links to engage the attendees. This can be links to whitepapers, free tools, podcasts, etc.
Below is an example.
Hi (First name),
You were part of our webinar titled Boost Conversions & Prove More ROI earlier this week. We want to share some additional information that will further help you.
Below are some Leadsbridge resources for a deeper and clearer understanding of the topics discussed in the webinar:
A step-by-step guide to increase your landing page conversion
How to get the most out of task automation
How to use Facebook lead automations to improve your ads
Everything you need to know about conversion funnel
Enjoy your day.
Are you ready to automate your lead generation process? Request a Demo with our experts and learn how Leadsbridge can help here.
Click here to request a demo
4.   Create a retargeting campaign for attendees
Apart from nurturing your leads with follow up emails, you can also use a retargeting campaign. Most people are busy and their inboxes are full of emails from different companies. So, ignoring your emails is very easy. A great way to position your product before them is by using a retargeting campaign.
Create ads that remind them of the webinar and the value of your product. Ensure your messages are personalized and complement all other marketing strategies you use so you can maximize your conversions.
A retargeting campaign will help you keep your leads warm and gently lead them through your buyer journey stages.
For example, you can create retargeting ads on Facebook, LinkedIn, and Google to further engage and encourage your audience to take the desired action.
5.   Provide a webinar replay
The webinar is not over after the event. You need to give more people the opportunity to watch the replay. A survey revealed that one-third of webinar attendees watch a replay of the event. People want to consume content whenever they want. Providing a webinar replay will allow more people to watch your webinar when they want to.
To do this, send a replay link to their emails to help capture the audience that prefers to watch your webinar when they like. Find a sample from Leadsbridge below.
The email is short, interesting, and enticing.
Best Webinar Tools
1.   WebinarJam

WebinarJam is one of the best webinar tools businesses and industries use today. It is suitable for businesses with an audience, a program, or a presentation to deliver through live casting, webinar broadcasting, and event streaming. Users can make a solo presentation or host a roundtable of 6 presenters at once. Below are its main features:
High-quality video and audio delivery
WebinarJam offers users a high definition (HD), 30 FPS, and high-quality video and audio presentations. The technology makes presentations silky smooth. 
Live Chat in real-time
WebinarJam gives users the opportunity to answer questions from the audience through its live chat feature. With it, you can read comments, address objections, and pass across sticky announcements to the audience. 
Automated recordings
WebinarJam makes it possible for users to record live broadcasts in a video file. This will enable you to follow up with registrants who couldn't attend the live event and give them a second chance to watch it. The recorded file is downloadable and can be used for other purposes such as sales and training presentations.
E-mail and SMS System
This feature allows users to schedule reminder notifications by email or SMS so that registrations will not miss the event. You can also use it to follow up with registrants after the webinar, based on the actions they took during the event. It uses the Boolean logic to let users define how they want to follow up with registrants with the aid of if-then situations. For example, users will be able to send email to people that did not attend the webinar or to people who attended but did not wait till the end.
The control center
This is the section where staff can moderate and manage the webinar while it is on. They can conveniently moderate live chat, publish polls and offers, highlight announcements, etc during the live event.
How to use WebinarJam
WebinarJam is a browser-based solution. There is no file download. This makes it easy and seamless both for you and your attendees. You don't need to download a plugin or install an app. This reduces confusion and technical issues.
How to integrate WebinarJam
WebinarJam allows you to integrate with third-party tools such as Email marketing tools, third-party CRMs, shopping carts, etc. This gives you ease with automation. With the integration, you can send specific behavior tagging information to follow up with the audience on a platform you are comfortable with. 
How to integrate WebinarJam with Clickfunnels
WebinarJam allows you to integrate with Clickfunnels through Leadsbridge. This integration makes it possible to send contacts from a Clickfunnels opt into the webinar registration page and then you can broadcast your webinar live to the audience. It also allows you to create new WebinarJam subscribers in webinars with Clickfunnels and update WebinarJam subscribers in webinars with Clickfunnels. With this, it is easy to sign up contacts through Clickfunnels and follow them up after the webinar.
WebinarJam and other Integrations
Apart from Clickfunnels, WebinarJam also integrates with various CRM and Autoresponders such as HubSpot, ActiveCampaign, and MailChimp as shown below.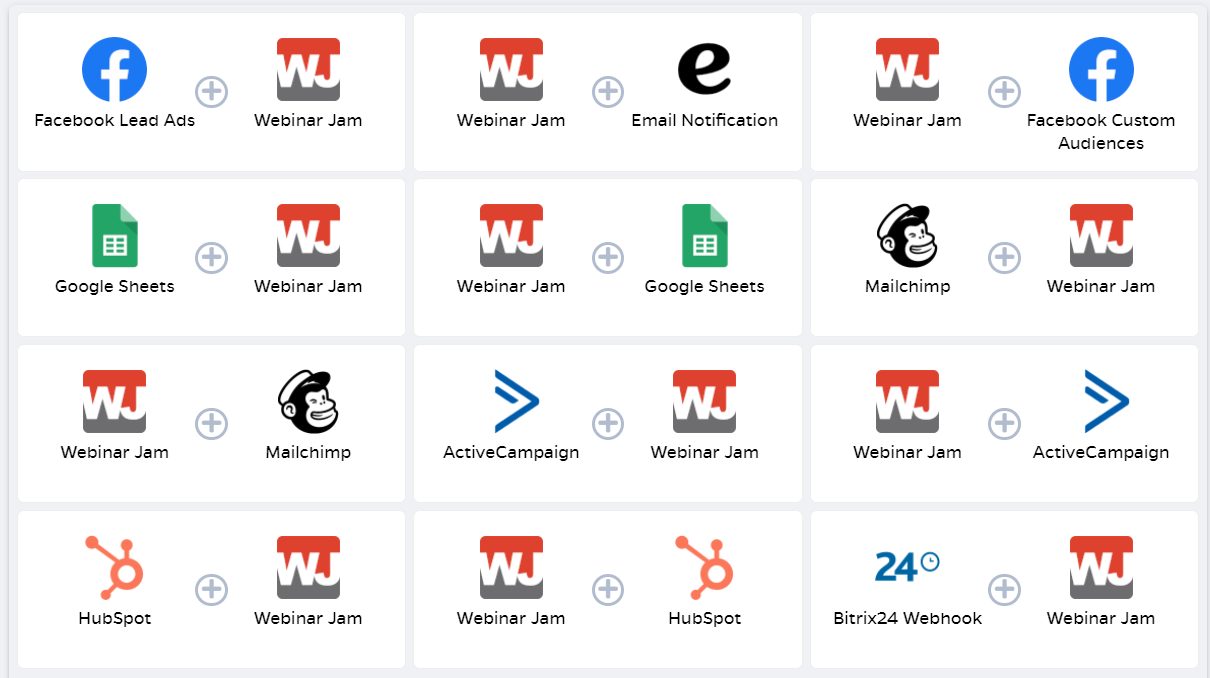 2.    GoToWebinar
GoToWebinar is the second-best webinar tool suitable for many people and businesses. It is created by LogMeIn and merged with Citrix in 2016. It has about 50,000 customers hosting 2.7 million webinars hosted every year. It has the capacity to host about 1000 attendees at once and everyone can join in the conversation. It is suitable for marketers who want to generate leads for their businesses. It is also widely used by customer service teams and corporate trainers who want to engage online learning and for internal communications with attendees located around the world. 
Users need to either download and install the software or use the browser-based option known as GoToWebcast. It works on Windows, Mac OS, or Linux computers. There are Android and IOS mobile devices apps on Apple and Android stores. Below are its features.
Quick and easy event management
Setting up webinars on GoToWebinar is easy. All you need do is to select an event date and you will receive instructions on how to set it up. Users can set up a one-time live webinar, a series, or on-demand webinars. It has interactive tools that help presentations to run smoothly.
Automatic invitation and follow-up emails
GoToWebinar makes it easy to promote webinars through invitations, registration pages, and automated email reminders to registrants. You can also use it to furnish customers with information and promotional offers. The emails are trackable so you will know the number of opened emails. You can add your brand colors, logo, and images to webinar resources to make them unique. Also, you can design a custom registration page with questions to capture the registrants' interest.
Data on attendees and performances
With GoToWebinar, you can generate reports on webinar attendees, see the questions they asked and answered, and other performances during the event. You can also track the source of your audience (i.e. where your attendees come from). The report is downloadable in an Excel or CSV file. 
Sharing polls and videos to boost engagement
GoToWebinars provides tools to help keep attendees engaged during the webinar. This includes polls and surveys which allows you to engage the audience with questions and live results. You can use the video webinar services to show the audience your smile. The engagement dashboard helps to monitor attentiveness, hands raised and time elapsed during the event.
Bring in more viewers with the webinar recording
GoToWebinar allows you to record events no matter how long it is. It offers two recording options – Online recording and local recording. With the online recording feature, the recording is done automatically and saved online to the content library in your account. Local recordings are saved locally on your computer. You can download the file and share it with attendees and also with registrants who couldn't make it to the event.
GoToWebinar integrations
GoToWebinar allows you to integrate with different marketing automation software, CRMs, and email marketing platforms so you can manage your workflow in one place. LeadsBridge offers many integrations for GoToWebinar such as Salesforce integration.
GoToWebinar Salesforce Integration
GoToWebinar integrates perfectly with Salesforce through Leadsbridge without coding.  With this integration, you can create and update new GoTowebinar subscribers and attendees in webinars in Salesforce.
GoToWebinar can also integrate with other CRM and Autoresponders such as HubSpot, MailChimp, and ActiveCampaign.
3.   BlueJeans Webinar
BlueJeans is a webinar tool that is specifically designed for the modern workplace to help in holding cloud-based and interactive events around the world. The platforms allow you to host up to 50,000 attendees with video, Q & A, polling, and meeting controls. It uses video conferencing, content sharing and live streaming services to help you connect and engage with the audience. BlueJeans works on Windows, Mac, Linux, IOS/iPad, and Android. It is accessible through all major browsers and different platforms such as Cisco Jabber and Microsoft Lync.  Below are its major features.
Management controls
BlueJeans gives users control over events to make it stress-free. With this feature, users can see meeting performances and network conditions. You can oversee events and reduce disruptions. The control center also shows in-meeting analytics, real-time alerts, and live meeting controls. This ensures you have the features needed to troubleshoot issues during the webinar. 
Audience engagement control
This feature makes it easy to keep audiences engaged with interactive tools like question and answer, event chat, polls, and survey and hand-raising.
Event cloud recording
BlueJeans allows you to record your webinars so it will be easy to share with your audience afterward. The recording has a maximum capacity for each of their plans and events are recorded automatically in two hours intervals referred to as chapters. BlueJeans uses the Dolby Voice, which makes all recordings clear and crisp.
Device-agnostic
With BlueJeans, anyone can join from any device such as a computer or mobile device. It is also possible to access webinars on browsers without downloading the app.
Large bandwidth savings
BlueJeans allows you to optimize the bandwidth used by webinar viewers by caching video streams to a single stream using BlueJeans accelerator.
BlueJeans Meeting
The BlueJeans meeting platform enables you to join, host or manage a video, audio, or online meeting from a conference room, office desk, or a remote location using any device such as the mobile app, desktop app or browser, and collaborate with people within seconds. Users can join meetings from Cisco, Polycom, Lifesize, and Dolby. It can host up to 25 attendees and up to 100 with meeting add-on. There is no need to download or install any software to use the BlueJeans Meeting. The platform allows you to record audio, video, and share content to use after the meeting. It makes it possible to share your screen, to show presentations, documents, and video clips. You can select the best camera, microphone, and speaker to use in the meeting. 
One good thing about the BlueJeans Meeting is that users can have unlimited meetings. This is great for businesses that need to meet regularly.
BlueJeans Best Integration
BlueJeans allows you to integrate with the tools and technology you use daily through Leadsbridge. With this integration, you can deliver leads from BlueJeans webinar to your CRM and marketing automation software. Leadsbridge changes the contact registration details on Bluejeans webinar into different formats to make it easy for customers to use bluejeans events and follow up with prospects easily after the event.
4.    Cisco Webex
Cisco used its expertise in network connectivity to provide a webinar and meeting platform with high broadcast quality audio, video, and different productivity tools for Webex. Cisco Webex was created in 1995 and acquired by Cisco in 2007. It provides a hassle-free video conferencing where you can showcase your brand. Cisco Webex Webinar and Webex Meetings provides users with a cost-effective way to share ideas and information online with people from anywhere on any device such as the mobile, tablet, or desktop or video system. 
Cisco Webex Meeting
Cisco Webex has one of the best video conferencing and online meeting software. It is a good option for screen-sharing and video conferencing with a dial-in conference service. It has everything you need to host a quality web conferencing such as a VoIP call. The User Interface is easy to use. Below are some of its features.
Meet with anyone you want wherever you want
Cisco provides a convenient conferencing that is as simple as meeting with people in person online. With the Webex mobile app, tablet, laptop, or video device, it is easy to have a meeting with people anywhere. Anyone can join from a video device and meet online.
High-quality video conferencing quality
The Cisco Webex conferencing is designed to give you a video-first experience that makes it feel you are in the room even when you are somewhere else. The HD quality video gives a crystal clear picture of users and meeting participants in an online meeting. It has customizable layouts that make it easy for users to optimize video views.
Set meeting controls
Cisco Webex Meeting's centralized control makes it easy to navigate meetings online with quick access to meeting controls. You can view a list of participants and send messages to them privately or publicly when a meeting is going on. You can record online meetings with the built-in automatic transcriptions. It is easy to share your screen or content with participants.
Cisco Webex Webinar
The Cisco Webex Webinar is a web conferencing seminar tool that allows you to hold up to 3,000 attendees and stream for about 40,000 attendees. It is useful for online events for businesses of all sizes. It uses a native app through phone dial-in. It has all you need to engage with your audiences all around the world. With Cisco Webinar, you can brand your invitations or registrations site with your company logo and colors. You can customize the enrollment process with questions to score, track, and follow up on leads. Recording of your webinar is also possible with a click so you can share it with other members of your team to keep them up to date.
Cisco Webex Extension
The Cisco Webex Extension enables you to join meetings using Google Chrome. It is easy to use and install. To install the extension on your Google Chrome browser, click on "Add to Chrome" and it will download the archive Cisco_Webex_Extension.crx.zip and also install the extension on your bar.
Cisco Webex Integration
Cisco Webex allows you to integrate with third-party tools such as CRMs and Autoresponders such as HubSpot, MailChimp, and ActiveCampaign.
5.    Zoom webinar
Zoom webinar is another cloud-based video conference service for live virtual events and broadcasting. It can host up to 100 interactive video participants. The plans are from 100 to 10,000 view-only attendees. It is easy to set up with flexible registration, and integration options. Below are some of its features:
Engagement features
Zoom webinar has seamless and unique multimedia features that can help engage your audience. It has a chat tool for attendees and panelists. There is the Q and A and polling to manage audience input where they can ask questions and receive answers. It has a virtual hand -raising to engage attendees and an attention indicator to track the engagement of the audience with your content.
Unique marketing automation feature
Zoom webinar, to make your marketing activities seamless, allows you to integrate with third-party tools such as Autoresponders like MailChimp and ActiveCampaign and different CRM like HubSpot through Leadsbridge.
Customization feature
With the Zoom webinar, you can customize and brand your marketing resources such as emails and registration forms to blend across all touchpoints.
6.   EverWebinar
EverWebinar offers a high definition, high-quality video, and audio broadcasting platform for its teaming audience. EverWebinar helps you to create automated webinars that can be turned into evergreen content to be replayed in years to come. Below are some of its features:
Just-in-time webinars
The Just-in-time feature enables you to set webinars that begin in minutes as soon as your audience registers. They don't have to wait for a date to watch your content. Once they sign up, they can start consuming your content immediately.
Pre-made landing pages
With EverWebinar, you don't have to create your registration page from scratch. There are beautifully designed templates you can choose from and customize with your brand colors, images, and contents as you want.
Automated integrations
EverWebinar allows you to connect with your favorite autoresponder or CRM such as HubSpot and ActiveCampaign through Leadsbridge. With this feature, it is easy to manage your contacts database and segment your leads with accuracy.
7.   BigMarker
BigMarker is a cloud-based video platform for webinars and virtual events. It provides the toolkits businesses need to connect with audiences effectively and drive them down the funnel with webinars and videos. Below are some of its features.
Branded videos
BigMarker allows users to customize embeddable video players with brand colors and logos. You can also customize your lead forms, polls, offers, and Question and answer to engage, capture, and drive audience actions.       
Marketing Automation and product demos
With BigMarker, you can set interactive webinars on auto-pilot. You can add them to your website to help activate leads and customers automatically without hosting different webinars.
Integrations with favorite marketing platforms
BigMarker enables you to integrate with your favorite marketing platforms such as MailChimp, ActiveCampaign, and HubSpot through Leadsbridge.
How to Set Up a Webinar
Setting up a webinar is not as difficult as it seems. Below are the steps you need to follow to set up a webinar for your business.
Know the purpose of the webinar
Companies use webinar marketing for different purposes. Many use it to create awareness for a new product to sell. Some use it for presentations, workshops, lectures, and large-scale meetings. The first thing you need to do when setting up a webinar is to know the purpose of the webinar. Choose the best options that apply to you. This will help to choose an appropriate topic for your audience.
Choose a webinar platform
The second thing you need to do here is to choose a platform from which you can host your webinar. There are plenty of options available, but you can start with the four webinar tools reviewed above. i.e. WebinarJam, BlueJeans, Cisco Webex, and GoTowebinar.  Read the reviews above and select the appropriate tool for your webinar event.
Choose a date for your webinar marketing event. Choose a date far in advance. Never make the webinar too soon, or people might have other plans and struggle to attend.
Make sure you select the most suitable time of the day for your webinar event. There is no point hosting your webinar at 2 am if most of your customers will be asleep and unlikely to turn up.
Try a few practice runs before the big day. The last thing you want is for everything to go wrong when you begin the webinar event. So, make sure you have a couple of trial runs ahead of time to make it a successful and hitch-free event for you and your audience. 
Develop an agenda for the webinar like you would for any other meeting. That will prevent you from wasting time and help you create a webinar that will benefit your audience.
Invite as many potential customers and clients as possible. Start with your email list and send an invitation to all your subscribers. Use paid ads to expand your reach to your target audience.
Record your webinar session so you can upload it to video streaming websites and get many more people to watch it. Send the link of the video to subscribers or webinar registrants who couldn't make it to the event.
Follow-up with all attendees of the webinar event and ask them for feedback.
Review the feedback and improve your approach to webinar marketing 
If you follow the steps above, you should have no trouble in creating webinar events that work for your business. 
How to Create a Webinar Marketing Plan
Besides planning and crafting your webinar, you should think about getting the word out there, making sure that your customers (even potential ones) and followers are aware of the event so they'll be able to participate.
When drafting the marketing plan, pay attention to the details, such as aesthetics and copy, this will determine the success of your promotion strategy.
Odds are you have already built an email list, contact database, and social media following; this is an amazing starting point to create a winning webinar marketing plan.
Email
Since you probably already have an email list with a bunch of contacts, people that are interested in the content you provide, or your product, you should put an email sequence in motion.
A great email should be composed with a clear message about the webinar, when is it and what topic are you going to talk about. It should contain an easy way to register for the event accompanied by a clear CTA.
Establishing a sequence for some days before the webinar is a great way to keep them motivated and keep up the hype. If you're not sure about how many or how frequent the emails should be, Kaitlyn Petro from IMPACT suggests, as a general rule of thumb, to send at least one-two weeks, one week, and 48 hours prior to the event. You can also send one a couple of hours before the event.
Another great tip to generate leads, even if they ended up not attending the webinar, is to follow up on them afterward, with either an invitation for the next one or sharing something relevant to the webinar topic, depending on the case.
Ads
Complement your efforts by running ads, combining your current following and database with the easiness there's nowadays to target the desired audience, you should be able to use these advantages to attract the best crowd.
Keeping buyer personas and research in mind, you should be able to determine the best platforms to run the ads and attract people interested in the webinar.
Create ads that stand out and optimize them according to the platform where they'll be run. Image quality, layout, copywriting, SEO optimization, and targeting are the main points to watch out for a great performing ad.
SMS
SMS is a great way to keep in touch with registrants and remind them about the webinar, resulting in more attendants to your webinar.
When emails get lost, people get caught up or life gets in the way. SMS provides a simple option to give a little nudge to those interested in participating. According to CallHub, SMS offers the possibility to increase engagement by 80 to 90% when comparing them to email.
It's important to keep personalization and benefit emphasis in mind when using such a personal approach, as you'd like to make a great impact and surprise the person.
Keeping in mind that SMS works differently so they could be sent upon registration and then some other times closer to the date and time.
SMS is an additional tool that may help you fill some gaps, but remember that it is the only gear in the clockwork.
As a field expert, WebinarJam gives some suggestions like sending a short and friendly SMS 15 min before the webinar, including a link, introducing yourself, and adding a nice CTA.
Conclusion
Webinar marketing is a proven strategy for creating awareness, accumulating leads, and sales for businesses. More importantly, they are the best tool to use to educate your audience about why they should buy your product and service as a solution to their problems. However, to achieve success, you need to get the best webinar tool, create a clear webinar marketing plan, and use the strategies to get results from your webinar. 
If you do it the right way, webinar marketing will help to drive massive results for your business.