We all work really hard to drive traffic to our websites and, if you're reading this, you probably work harder to collect leads.
The problem is that lead forms tend to be time consuming (and sometimes even ugly-looking) and of course there's always the dilemma of choosing shorter forms that convert more, or longer forms that get you better leads.
But the question is: What if you could get both quality and quantity?
LeadsBridge has created a new tool based on a patent pending technology that is here to optimize your lead generation game and double your leads, even with your traffic and efforts remaining the same as always.
Google, web browsers, social networks, and others have been collecting user information for quite some time and after 20 years of seeing the same old boring and time consuming forms we came up with a way to revolutionize and disrupt the lead generation industry.
Disruptive Forms are similar to Facebook Lead Ads as they are pre-filled with users information making it easier and quicker for them to submit the form: you land on a website to find a form with your information already in it, you just hit the submit button and you're all set.
Sounds like heaven? It is. It's safe to say we're all happy when we don't have to type in our information for the millionth time, instead we just hit the submit button and go on.
So what is Disruptive Forms exactly?
Disruptive Forms uses a unique technology that auto pre-fills the form for the user, and allows you to create beautiful and fully customizable forms that may be placed in any website!
When a user user inserts their email while other information like company name or phone number is populated by LeadsBridge, that gathers the public data from different sources such as Google, other sites, LinkedIn and social media profiles.
This matching takes place once the user put in the email and the process is done really quickly to give the user the full form and let them submit it in no time. Of course, the user may modify the information before being submitting it and the Disruptive Forms will learn from this.
A visitor goes into your website and puts in their personal email address, the technology behind this tool will gather the previously shared online information different sources in fractions of a second, leaving them to check and submit the information.
The public data is collected in seconds after the user inserts their email, so effortless that even the laziest person will be submitting your forms.
Once a user submits a Disruptive Forms their information will be stored as a cookie in their browser and will be filling any other Disruptive Forms they land on.
Another great feature is the Cross Device Recognition which means that after an user submits a Disruptive Form, their information will be linked with the device so next time they encounter a Disruptive Form it'll recognize the device and fill the information automatically.
And a Disruptive Forms bonus is the Lead Enhancer which gives you further insight by showing more information for the lead, even if it wasn't included in the form.
What benefits do you get from Disruptive Forms?
From what we've showed you so far I bet you can tell just how amazing they're but let's see some of the specific benefits that Disruptive Forms have for you and your business.
Better User Experience: easier to fill forms = happier visitors.
People will be more willing to reach out to you, as the process is easier.
Two times the leads you previously collected.
Customizable form design by using our WYSIWYG wizard or your own Custom CSS.
They're lead generation focused, created by a lead gen loving team.
The Lead Enhancer helps you better qualify your leads.
Collect more leads with essential information and get further insight from LeadsBridge.
How can you create a DF?
Here comes the fun part! I'll show you how to create a Disruptive Form for your business.
Head over to your LeadsBridge account and click on the Disruptive Forms tab on the left side bar.
Then you'll get the option to create your first Disruptive Form. Click on the "Create a Disruptive Form" button and let the fun begin.
The setup wizard will automatically create a bridge for you using the Disruptive Form as a source.
On the first screen you should select a name for your form, which you'll use to recognize it inside the platform.
Then you may select a template to get you started, depending on the industry you work on. These templates are meant to help you and may be modify in the following step.
Next you'll see all the options to customize your form.
On the first tab you have the fields, here you'll set up every field you'd like to use in your form.
Change your form header; add, modify, or remove fields. You may change the label shown, type of field or make the fields required.
On the second tab you'll be able to change the aesthetics of your form. Foremost you'll see a WYSIWYG wizard that allows you to choose the color scheme, font details and more.
There's also a Custom CSS at the bottom of this section for the more advanced users.
And last but not least there's the Submit tab, which allows you to set up a "thank you" message or configure a redirecting URL where the visitor will be taken to after submitting the form.
During every step and every modification you'll be able to see a live preview of the form in its mobile version and you have the option to open up the desktop version on a new tab as well.
Let's see this process live on the next video:
Once done you'll be able to continue your bridge normally and connect it to any destination you'd like from the over 350 we have available!
Afterward send a test to make sure the connection between LeadsBridge and your destination has been done correctly, then you should publish the bridge and you'll be taken to the last step.
Embed your form! In this step you'll be able to:
– Send the script to your Webmaster for publishing.
– Reach out to our support team for assistance on the set up.
– Copy the Script to be pasted in your Website's body.
– Copy the form URL to direct your visitors to a Disruptive Form stand alone page.
– Preview the form.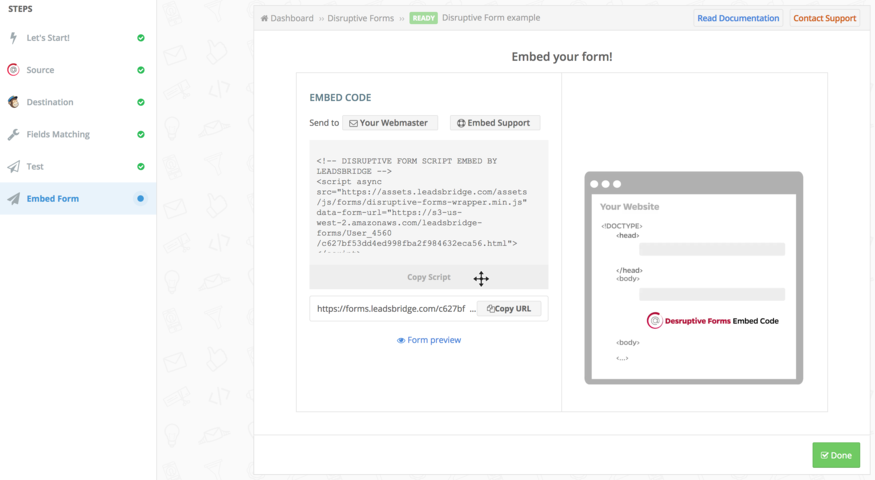 How may I integrate Disruptive Forms with my lead generation workflows?
Disruptive Forms is a native tool from LeadsBridge so you may connect them flawlessly with over 350 already available systems, like CRMs, email automation software, webinar platforms, call centers, and many more!
Of course we're also always open to new requests.
The initial Disruptive Form set up will create a new bridge where you'll be able to set up your desired destination and if you wish to send the form's collected leads to different destination you may create more than one bridge with it as the source.
When creating several bridges to send the information and trigger different workflows you may also take advantage of our "Filter Incoming Leads" tool that allows you to filter leads by information given by themselves, this is very useful because lets you create different workflows depending on the information the leads submit to your form.
Where can you see the leads collected?
You should head over to the "Disruptive Forms" tab of your account where you'll see your form information and you have the possibility to see the leads your form has collected, by clicking on the "Leads" button the Leads Table will appear and you'll see every lead the form has collected.

Here you may also click on the "Analytics" button to get an insight of your form's performance, as pictured in the example below.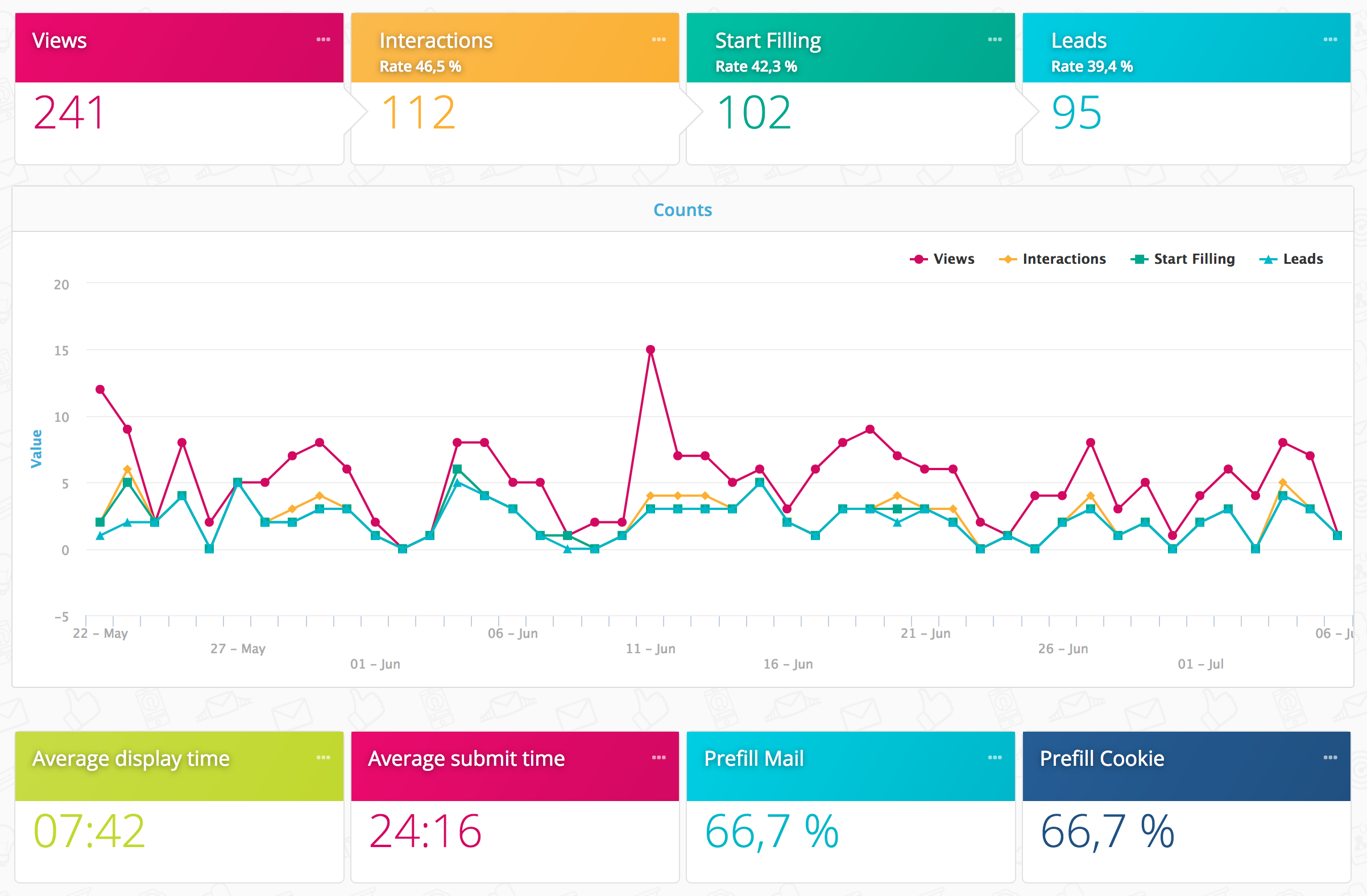 Conclusion
Disruptive Forms is an amazing tool that will definitely double up your lead generation game and help you create a better user experience for your website visitor.
Have you tried our Disruptive Forms? Share with us your experiences with this revolutionary product or join over 6000 marketers that are already doubling their collected leads.