Content creation is an art, it requires hard work, study, and perseverance; marketers are always putting the effort to increase the quality of their content and figuring out how to post a blog that generates high engagement results.
Keep reading to find our 4 different, and easy, ways on how to post a blog, and how to end a blog post for success.
We know that there are different ways to measure engagement, and a ring is not one of those!
These metrics will change depending on your marketing strategies and objectives, but the way you can improve your blog posts to keep your  readers engaged from start to end, can be applied pretty much in every scenario.
What is engagement?
As we can see in the chart below, the factors that marketers mostly take into account when assessing engagement are the ones that require some interaction on behalf of the reader and they'll use those to establish some base lines on how to post a blog that shows great engagement results and how to end a blog post in a way that triggers these interactions.
–       "Shares" show us that the person found great value in the content and that they'd like others to access such knowledge.
–      " Engaged time" is crucial because it tells us how invested our readers are in the content we're providing.
–       "Comments" ignite conversation and get people sharing their thoughts and enriching not only the information but the experience as a whole.
How to post a blog that is a winner?
1. Know your audience
Nothing speaks better of a brand than a loving fan base, solid relationships translate into higher acquisition probabilities and better word of mouth.
Knowing your audience and what they want is one of the most important parts of your marketing strategy as this allows you to have a better understanding of what they're looking for, how to post a blog that may help them, and how to end a blog post in a way that will keep them engaged with your blog over time.
Using different strategies to bond and create relationships with your audience, letting them understand, and identify with, what the brand is and what it's offering will allow gaining fidelity and engagement not only to your content but your brand as a whole.
A personalized approach that adapts to their needs shows interest but also adds value to what you're offering them, you may use different ways to adapt your marketing efforts and learn the best practices on how to post a blog, and how to end a blog post, using different strategies to appeal to certain groups that require a particular approach.
Doing so will let you cater to them in the best possible way. You should establish a conversation with your audience; let them know clearly what you offer.
For example, our Lead Gen Blog tells our readers that "LeadsBridge's blog helps marketers gather more leads with great strategies". During the ideation of how to post a blog, it was very important for us to understand what you, as reader, really need and want. Also when thinkg the approach on how to end a blog post is very important to us, because what comes next, our interaction with you in the most important part.
When deciding how to post a blog you should research and try different strategies so you may adequate your message and efforts in the best possible way. This will let you learn to speak their language, tailor your message, and improve your efforts so you may show them that you'd actually like to understand and help them. Which not only applies to all your content but also to how to end a blog post.
When conversing with your readers, don't be afraid to ask questions, for instance, your current email subscribers and customer base will give you a great idea of who your audience is and what kind of value you may offer to them. A quick survey or conversation igniter requesting feedback on their struggles, the topics they find most helpful, and the strategies they currently implement will take you further. When deciding on how to end a blog post, keep in mind that this is a great moment to apply this as a way to interact with your audience and receive feedback.
Allow your readers to leave feedback, reach out to them asking about the content they've been seeing on your blog posts and ask how your blog posts information may improve their work.
Another great way to learn more about your audience is through split tests, this will show you how your readers react and respond to different approaches like content shown in different ways, with different images, content distribution, and even headlines. Eventually leading to a different and improved approach to how you post a blog and also how you end a blog post.
2. Provide value
Providing unique content, highly studied, under a unique and different point of view, and covering the topic in a detailed way is a formula for success.
So when figuring out how to post a blog make sure to create great value for your readers!
Let's be honest here, the Internet is full of blogs sharing great knowledge but it's also true that you have a unique view of your area of expertise and with research you'll notice what your audience is missing, creating a combo that will take you to the top. As you get to know your audience you'll also learn where your knowledge is needed.
Sharing articles, useful information, and showing research demonstrates availability, openness and increases the brand's worth inside the industry. Think about how to post a blog as if you were the one receiving the information. This way it'll help others and can even lead to becoming a point of reference.
Of course, you should be wise when planning how to post a blog and choose topics that interest your audience, that are relevant to your brand. Even thinking about how to end a blog post is important; it's your last communication with them on the post and will allow you put light on the value provided.
Show your audience how valuable your brand is, beyond the product itself, creating quality and relevant content not only validates your brand as a source and increases reach, but it also ignites the customer's interest in your offering.
Another crucial part when creating a plan on how to post a blog remember just how important headlines are for your readers as they communicate what the post is all about and set the bar for the type and quality of the content that they'll get from you.
A well known strategy consists in offering downloadable materials in exchange of an email address to keep in touch with your readers, which is great when you think about how to end a blog post, it will not only allow you to share great knowledge, reaffirming your position as an authority in the field, but also lets you keep the conversation going and you'll be able to improve their experience.
Another strategy on how to post a blog is to rely on user-generated content, as doing so helps brands reduce the cost of producing content while having their readers show and speak about what interests them, increasing the value of the content that's available on the blog that will work greatly along with the in-house made blog posts. Even here if you think about how to end a blog post you may interact with the reader and writer, becoming part of a bigger conversation.
3.     Enriched content
In current times we've developed a resistance to everything that appeals our attention as everything in our surroundings is created to stimulate our brains and catch our eye.
A recent study from Microsoft shows that we actually have a minor attention span than a gold fish!
How to post a blog that combats short attention span? Use visual and audio content.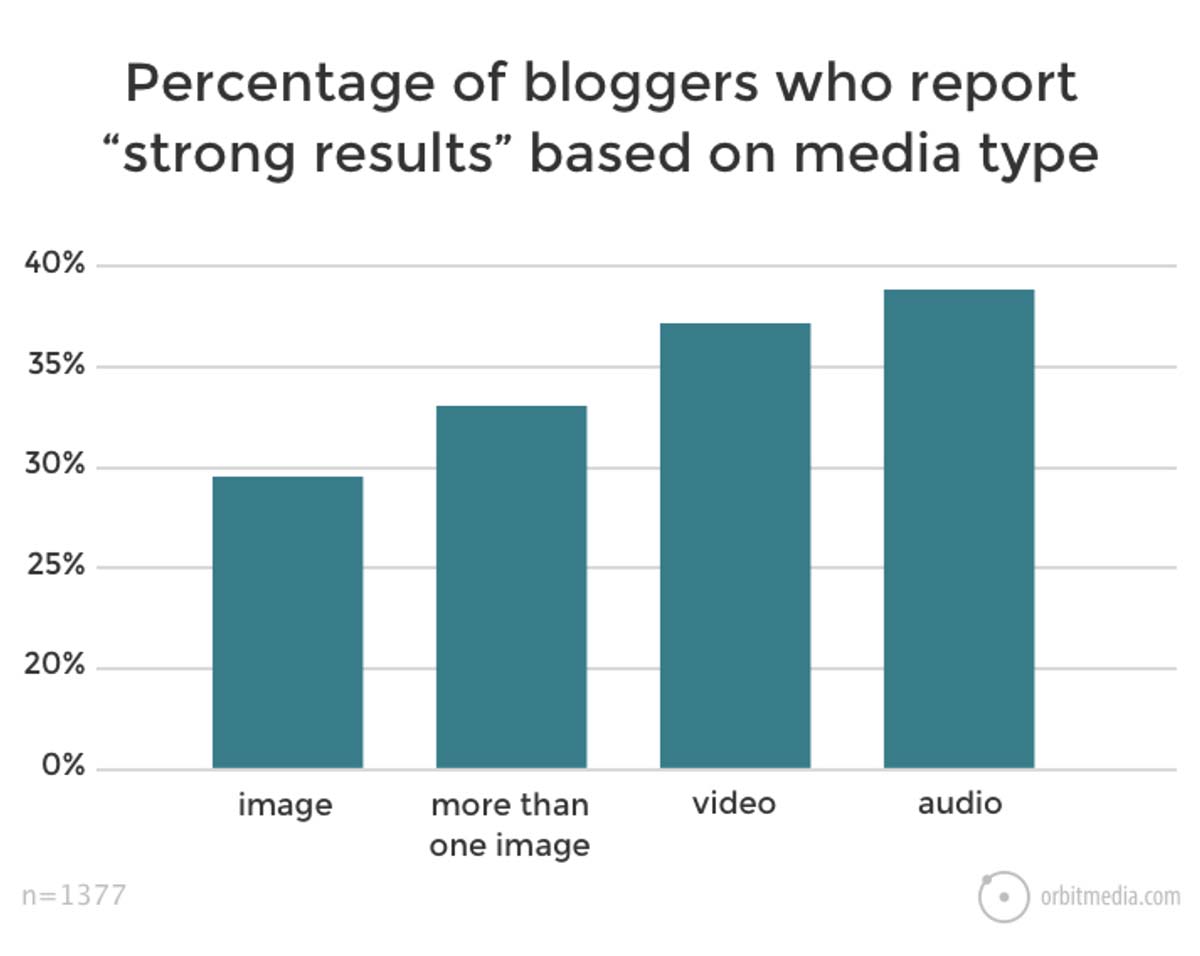 As seen on the chart above, visual content, such as images and video, show great results for content, which you should keep in mind when planning how to post a blog. Mixing visual content with audio is even better, as it allows our brains to retain the information better. The combination provides up to a 65% retention rate in comparison to text only content.
Think about the 10-minute rule, after 10 minutes the average person's attention is lost and making things interesting helps you keep the reader engaged. Learning to not only include visual and audible content, but how to use it in your blog posts, regarding position and aesthetics will lead to better performing content.
When planning how to post a blog you should keep this information in mind, so you may add interesting content to the textual part.
Andrianes Pinantoan from BuzzSumo shows us how articles with images every 75 – 100 words perform better in social shares, it also states that this depends on the type of content you create but also strengths the concept above about how visual content rich blog posts really make a difference on engagement. Just be smart about how you use said content inside your articles.
Keep in mind how to end a blog post as well, you could keep them interested through out the article and you wouldn't want to lose the reader just when you're closing.
When thinking and making strategies on how to post a blog you should keep in mind the aesthetics of your blog as a whole. Keeping content well organized throughout your blog and using a well-organized system with unique media.
4. Create a great user experience
Everything communicates, from the layout to the words that make up your posts, how to post a blog and how to end a blog post is serious business. This is the reason why you should put close attention to details and ensure a great reading experience for your audience.
Delivering a clear message depends on more than wording, grammar, and phrase construction; how to post a blog is more than the posts themselves, the colors on your blog, clear images and videos all speak your message.
This also applies to how many things you have on your blog, remove elements and advertising that's not really useful for the user or your objectives.
Simplify post and blog navigation.
Plan how to post a blog with a maximum post width of around 650 px so that the reader doesn't have to move to read the content but the content adapts to the reader. Also, navigation links improve the experience by allowing the user navigate the site easily.
Think about how to end a blog post as well, by making the transition to the next part of your site smooth and enjoyable.
You cannot ignore the storytelling side of things. Storytelling is an art, which mixed with SEO, lets you achieve good positioning on search engines and within your field. This mix allows you to get the information to your readers while making them happy with the content they're consuming.
Once you've worked on this part of how to post a blog, you should also check for loading times using tools like Pingdom, so you can understand how fast your site loads and improve loading times to make the experience better for your readers.
Remember to optimize all the media that's present on your blog, this way you'll reduce load times to a minimum.
Last but not least, use the element of surprise! Your strategies and way of approaching how to post a blog and how to end a blog post aren't set on stone and you may use that in your favor.
New approaches are refreshing and attract people's attention. Just because you haven't tried something it doesn't mean you shouldn't, make smart informed choices based on research and give it a go. You might surprise yourself, or even your whole industry.
*BONUS* Make sure to give light to important qualities and tools
Sure, we've talked a lot about approaches on how to post a blog, how to improve blog posts, how to end a blog post, how to cater to your readers, and keep them in mind for every optimization
BUT… Remember! They're here for you. When planning how to post a blog and how to end a blog post make it about them but also about you!
Your readers are in your blog because of how you post a blog, because of the value it provides for them; you should keep in mind that this value is due to your brand, product, and expertise.
Show them your products and how they may help them; all your features and tools should be highly present in your blog. Communicate your strong qualities as the benefits they bring to your audience, you may have the best product on earth and people should know everything about it.
Plan how to post a blog and how to end a blog post by keeping in mind not to sell, your blog isn't advertisement, just show the value that these products have.
How to end a blog post?
How to end a blog post, as we've seen before, is as important as the content when it comes to engagement.
By now, you've crushed the how to post a blog part but you should remember to apply some of this to end of your blog posts as well.
Think about how to end a blog post that will keep your audience wanting more, how to end a blog post that ignites curiosity and makes people want to come back. The points mentioned in here are useful when it comes to how to post a blog but also to how to end a blog post, the application of these tactics changes when you think about how to end a blog post but the principals are the same.
Approach how to end a blog post as a separate item, surprise and engage with your audience as much as possible in this critical part as this is you last piece of communication with them and will allow you to keep it open and going.
Conclusion
Knowing your audience, keeping them entertained in a pleasant way while providing great content is the way to go regarding how to post a blog for success.
Keeping in mind some basic points can get you pretty far, especially when you think about your readers. While coming up with the strategies on how to post a blog and how to end a blog post, is also important to remember that they're in your blog because of what you have to offer so finding a balance is very important.
With these tips, a well structured and easy to read blog with great content and engagement will be on your way.
Tell us about your experience and the strategies you use, how do you post a successful blog? How do you end a blog post?
P.s. don't forget to join our newsletter to stay update on latest news and tips!