Facebook Dynamic Ads for Automotive
Facebook's Dynamic Ads for automotive is a great solution specifically designed for car manufacturers and car dealers.
What is Dynamic Ads?
Dynamic Ads for automotive enable advertisers to upload the entire inventory of vehicles (product catalog), including relevant details for each vehicle (make, model, year, location, trim, vehicle state, pricing and other relevant details).
It then automatically generates ads for each specific vehicle to drive potential auto buyers to take an action (lead form submission, vehicle detail page, etc.)
You don't need to create each ad separately. Just set up the campaign and Facebook's Dynamic Ads will do the rest promoting your entire inventory of vehicles on Facebook and Instagram (depending on the ad placement you choose).
How it works?
Combining Dynamic Ads with the effectiveness of Facebook Lead Ads you can set up a powerful lead generation machine that enable to collect targeted leads, displaying a lead gen form when someone clicks on an item.
Dynamic Ads for Automotive are fully compatible with the Facebook Pixel/SDK and Custom Audiences, which enable you to show relevant items to targeted potential auto buyers who've already shown an interest in your business.
How do I integrate Dynamic Lead Ads?
LeadsBridge natively supports Facebook's Dynamic Lead Ads for Automotive, you should just create a Facebook Lead Ads bridge and select your Facebook Dynamic Ads form.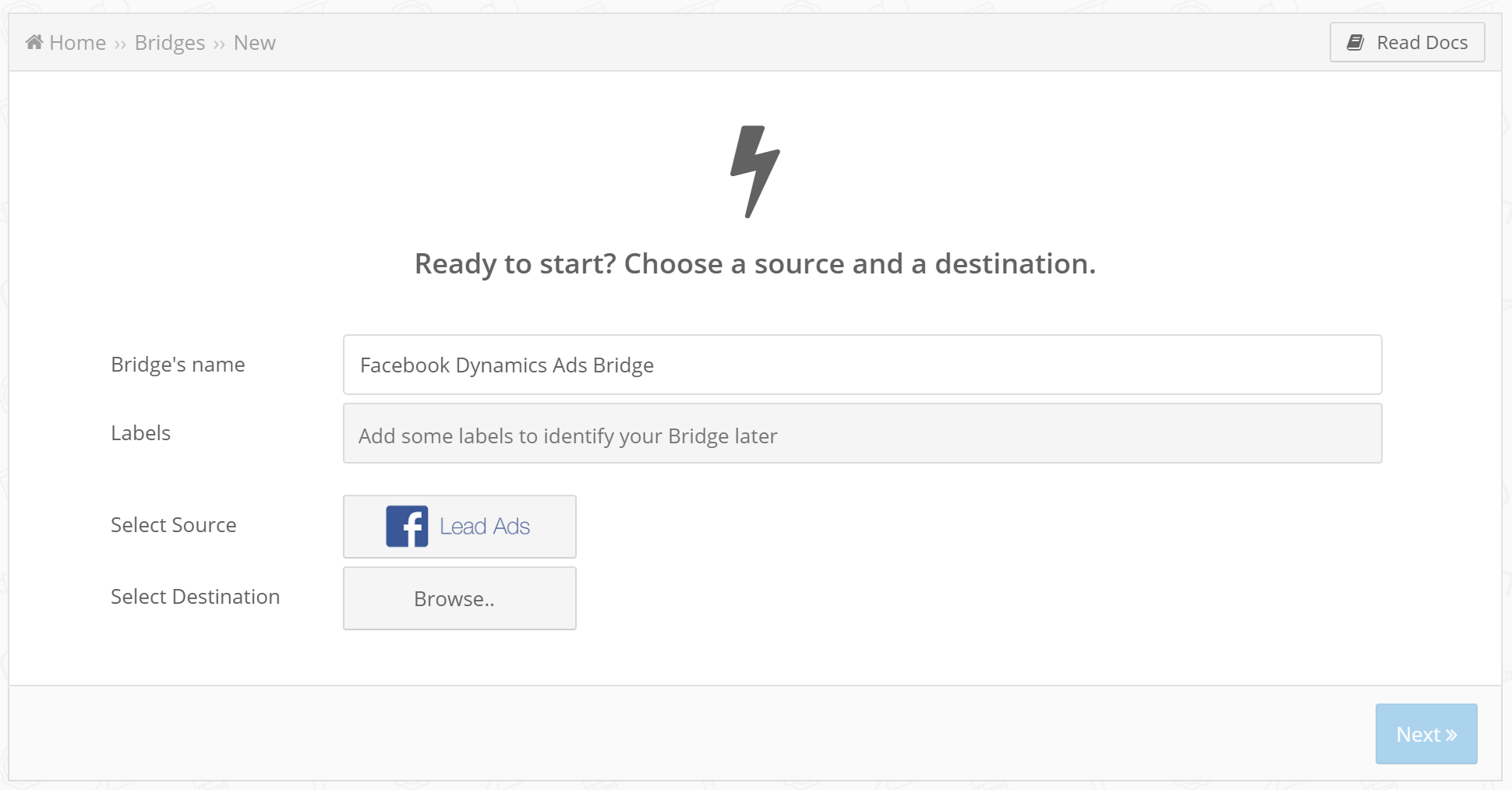 Make sure to have your Lead Ads form connected on LeadsBridge and you will be ready to go!
Don't worry if you don't have it yet, you may create a bridge by looking at the following guidelines:
How can I identify lead's interest?
Along with your Dynamic Lead Ads there is a "Retailer Item ID" information. This is the dynamic value that will help you recognize to which car (or product) your leads have signed up for.
PLEASE NOTE. To pass the item ID along with the lead's information, you only need to have at least 1 lead collected from your Dynamic Lead Ad.
LeadsBridge will then show you the special field "Retailer Item ID", that you may match with the vehicle "vin" field in the most common scenario for the automotive lead generation.
How to add a test lead on your Dynamic Ad?
Ok but… what if you don't have any leads on your form at the moment?
Don't worry, if you didn't collect any lead from the Dynamic Lead Ads yet, just make sure to follow these steps to add a test lead:
Connect to your Facebook "Ads Manager"
Select the Campaign and go at the "Ad" level
Click onto the "Ad" to edit it
Head to the upper-right corner and click the Ad Preview button as seen on the screenshot below
Preview your Ad on the News Feed
Once there just sign up on your Dynamic Lead Form as a lead
Once done you will be able to see the Retailer Item ID field available on your LeadsBridge's settings.
How to map vehicle details?
In order to map vehicle details such as make, model, year, location, trim, vehicle state, pricing, etc. you should follow the steps below.
WARNING: The following guidelines are made for Dynamic Ads that use Scheduled Updates as Data Source, if this is not your case we strongly recommend you to download this sample template from Facebook and have a look at Facebook's Documentation.
First we would need to get the spreadsheet link URL you've linked inside your Facebook Catalog:
Go to Facebook Business Manager → Catalogs, or click here

Click on the catalog you're connecting with LeadsBridge

On the left menu, click on Vehicle Data Sources
Then click on your Data Source Name under the first column

Inside the Schedules area click on Edit


Copy the URL address inside the URL box

Now we should create the custom fields inside the Fields Matching step of the bridge following the steps below:
Go into the Fields Matching step of your bridge
Inside Don't find a ADF/XML (automotive) custom field? drop-down field, at the bottom of the page, search for the custom field you want to add, for example vehicle >> make
Then click on Map this field


Click inside the custom field you just added
Search for Functions → UTILS » VALUE LOOKUP FROM CSV


This will open a configuration window that you should fill as follows:


Field → Select the field name that we will use as reference to find the custom field inside the spreadsheet, usually is the column that contains your vehicle ID, for example Retailer Item ID
CSV URL → Paste the spreadsheet link URL you got at the beginning of these guidelines
Search → Type the name of the column that contains the value you selected inside the Field drop-down, for example the column that contains the Retailer Item ID could be called vehicle_id
Replace → Type the name of the column that contains the value you want to map on this field, for example the column that contains the Vehicle Make could be called make


Once you've filled all the fields click on Confirm
Repeat the steps above for each of the vehicle details you want to map, for example make, model, year, location, trim, vehicle state, pricing, etc.
Once you've finished adding and mapping all the custom fields you want, click on Next to save changes
Learn more
Set up dynamic ads for automotive: https://www.facebook.com/business/help/1930396467200635
Advantages and Benefits: https://www.facebook.com/business/help/1510143265745613?helpref=faq_content#
How to set up your product catalog: https://www.facebook.com/business/help/143781049600895?helpref=faq_content