Facebook FAQs
How can I connect another Lead Ads Form to the same Facebook Page?
This is how your Facebook Page connection should look like if you already set up a Lead Ads Form with the Leads Setup feature.
If you'd like to connect another Lead Ads Form, please:
Log in on your LeadsBridge account and open the Bridges section.
Click on Add New to create a new bridge.
Choose Facebook Lead Ads as the source for your bridge.
Choose the CRM/platform you'd like to connect as the destination.
Follow the wizard to set up the Lead Ads connection.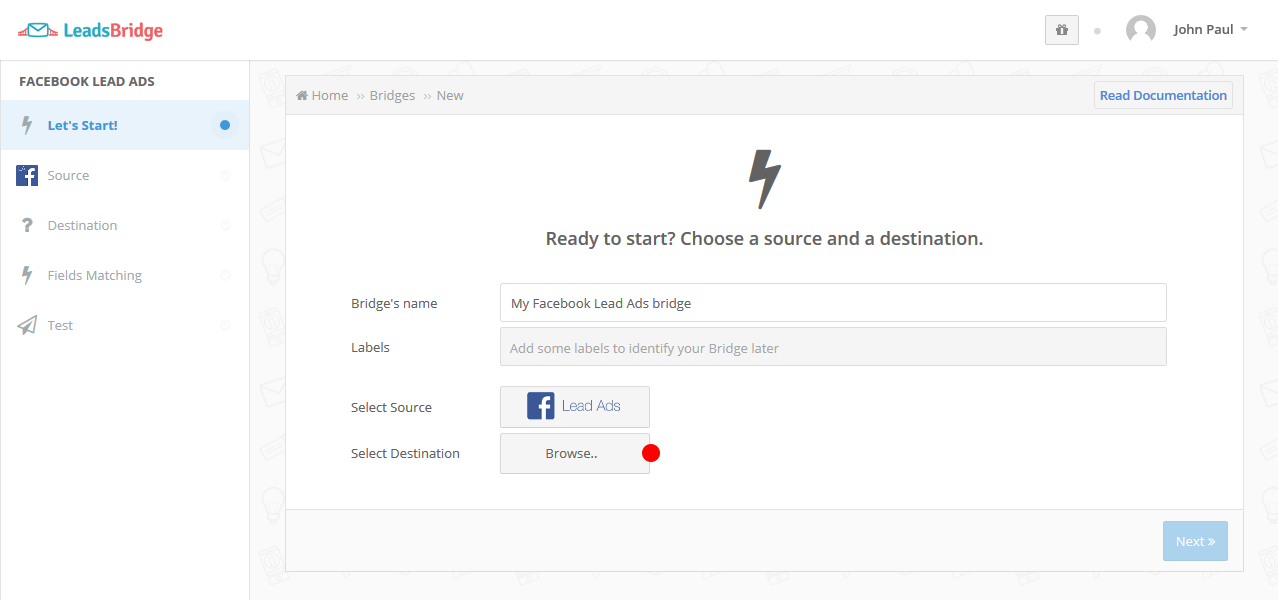 You may follow our step-by-step example while configuring the bridge or click the Read Documentation button inside the bridge set up.
How can I remove the connection to the Facebook Page?
To remove the connection between your Facebook Page and LeadsBridge, you should:
Open the LeadsBridge app on the Bridges section.
Select all the bridges connected to the Facebook Page (Test page my on the example below).
Click on Delete and confirm to cancel them.
Once done, your Facebook Page Leads Setup will be disconnected.
How do I remove the LeadsBridge app from my Facebook account?
If you'd like to disconnect LeadsBridge from your Facebook account, please:
Open your account settings and head over the Business Integrations section.
Select the LeadsBridge app from the Active Business Integrations tab.
Click the Remove button.
Confirm to remove the connection.
Please remember that all active bridges you may have on your LeadsBridge account, connected with your Facebook account, will be disconnected and will no longer sync leads.
If you'd like to reconnect them, please open the LeadsBridge app and reauthorize your Facebook account.
How can I identify the Source as Facebook or Instagram?
To identify the platform from which your lead is coming from you can match the Facebook field called Platform inside your desired destination field during the Fields Matching step of your bridge.
For example, in the image below the user will receive the lead's Platform information inside his CRM's provider name field:

Why I receive the Campaign ID instead of the Campaign Name?
If you receive the Campaign ID instead of the Campaign Name is because the Ad Form connected to the bridge is associated to a Campaign owned by another Ad Account and not by the one connected to the bridge.
This happens because the Campaign is associated with a single Ad Account, while the Ad Form could be visible from different Ad Accounts because the Ad Form is related to a Facebook Page.
In this case, the best practice is to use a single Ad Account for a Campaign and Ad Form.