Facebook Offline Conversions Sync – Step by Step guide
Offline Conversions is the new outstanding capability of Facebook Ads which let you push back conversions to Facebook with the goal of better tracking conversions and better calculate ROI.
In this guide, I'll show you how to integrate Facebook Offline Conversions (formerly called Offline Events in your Ads Manager) with your CRM.
If you prefer to watch video instruction, you can find videos here.
Requirements
Your CRM must be included in our integration list. If it's not, please get in touch here.
Your CRM must have a signal of converted leads. Something which state a contact is a paid customer.
How it works
Below a simple infographic on how the Offline Conversions Sync tool operates in collaboration with your CRM.
How to bridge your CRM with Facebook Offline Conversions using LeadsBridge
Step 1
Click on the Conversions Sync menu and then on "Add New" button.
Step 2
Insert the following information:
A name to the bridge
An Ad Account
A Business Manager (required)
Event type (which event would you like to use: Purchase, Lead, Other)
Currency (should be the same for your Ad Account)
Once finished, please click on the Next button.
Step 3
In this step, you'll select the source of the bridge.
This is a crucial step; you should select the right source of customers, not your entire CRM database.
If you have difficult finding the right segment, please read our guide here or feel free to contact us.
If you already added your CRM integration, feel free to select it from the dropdown, otherwise, click on  "Add integration" to add your CRM to your LeadsBridge account.
You'll find the right documentation below the selected integration, otherwise, search your provider here.
Once your CRM has been connected, please populate the bridge with these data:
The List/ Segment containing your customers
The Phone field
The "Event date" field (which track the time of the conversion, if you don't have it, LeadsBridge will find it automatically) – For multiple events support, you should create multiple bridges.
The "Lead ID" field (if you are using Lead Ads, you can sync the Lead ID via LeadsBridge as well, then match the field with the Offline Conversion Sync)
The "Purchase value" field (as known also as deal size into your CRM)
Once completed, click on the "Next" button.
Step 4
Click on the "Publish" button to publish it on Facebook.
Once published, you should wait a few minutes until the CRM segment will be automatically synced wit your Facebook Ad Account.
Step 5
Once the bridge has been synced, you'll see a notice next to the bridge name.
The next step will be visiting your Facebook Ad Account clicking on the "Facebook" blue button.
Once clicked you'll enter in your Offline Events of your Ads Manager showing you the data you just pushed on Facebook as conversions.
As in the image above, click on the "Set up Assignments" green button.
Step 6
Facebook will show you the Business Manager settings, where you can assign the Offline Events Set to the right Ad Account.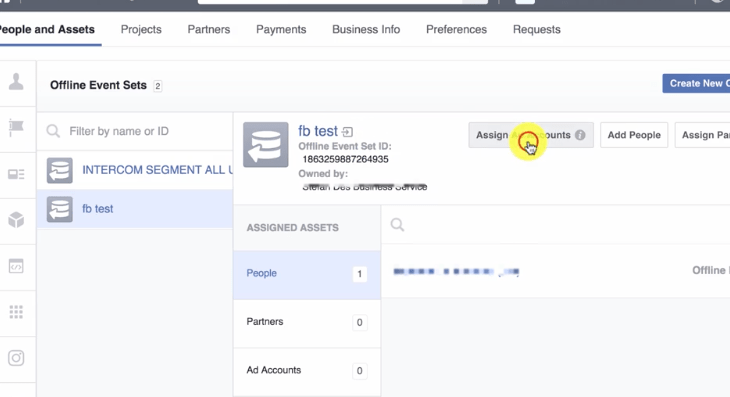 The list of your managed Ad Accounts will appear in a pop-up, just select which one is the right one.
You can even activate the Offline Events Set on each new campaign you create by selecting "Yes" on the Auto-tracking column.
Once done, click on the "Save changes" button.
Step 7
The final step would be edit, or assign the Offline Events Set to the campaign/s.
If you'd like to track an existing campaign, just edit it in your Ads Manager or Power Editor, otherwise just select it during the campaign creation flow, as showed below or on the official Facebook doc here.
Please, feel free to reach out if something is not 100% clear, you can contact us  and will be a pleasure to jump on a call and configure it with you.