How to create a bridge
What's new
Below a brief list of new features introduced to help users with lead generation:
Multi-source integration

Improved visual impact with the usage of integrations' logos

Direct links to documentation or support related to selected integration

Data enrichment for fields mapping. Advanced options and functions that take data recollection to the next level
Bridge Concept Overview
Conceptually, a Bridge is a connection between two applications in order to share data depending on a particular fields mapping.
Applications are formally called source and destination
The

source

application is the one which provides data. Data variations trigger an event, through the bridge, that notifies the destination application.

The

destination

application is the one which receives data changes in order to populate its fields
To connect the applications correctly it's necessary to use its dedicated authentication. Each application has its own type of data authorization.
Due to the applications' different data structure, it's necessary to establish a fields mapping in order to share data correctly. Fields mapping is a set of relationships between source application fields and destination application fields. Now is possible to enrich relationships between fields using dedicated functions like Excel style or associate source fields to social data.
Bridge creation Step by Step
The bridge creation wizard has the following steps
Source and Destination application selection

Source setup

Destination setup and settings

Fields mapping

Bridge testing
In the bridge creation view, the left menu will switch from the classic navigation menu to steps context. It will show all steps needed to end the whole bridge creation process, highlighting the steps already done
Below are explained all the steps using a simple example.
Step 1 – Source and Destination selection
In the first step, you can do following operations
Insert a name for the bridge

Add some labels to

organize

your bridge

Select the Source application
Select the Destination application
You can filter Source or Destination applications using groups at the bottom part of selection panel.
Here you can choose if you want to create an integration from scratch or select an existent one, already created in your LeadsBridge account.
IMPORTANT: in each step, there are always visible in the right-top area, two direct links to the documentation or support related to the selected integration
Step 2 – Source setup
In the second step is possible to configure setup for the source application. Available settings depend on the chosen source. In this example, with Facebook Lead Ads, this step allows you to select Facebook related information such as Ad Account, Page and Ad Form.
Step 3 – Destination setup and settings
In this view is possible to configure setup properties of the selected destination application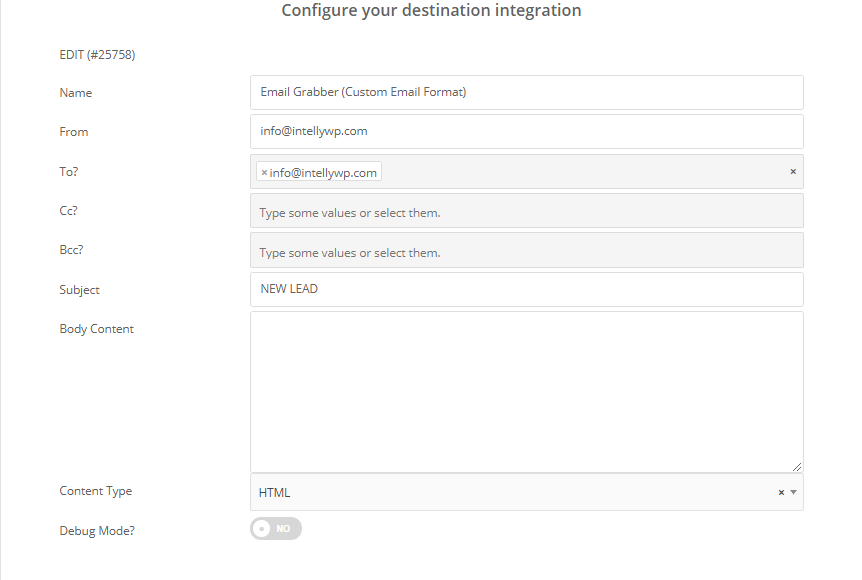 Once configured setup is possible to configure related settings like segmentation
Step 4 – Fields Mapping
In this step it's possible to establish relationships between a set of source fields and a set of destination fields.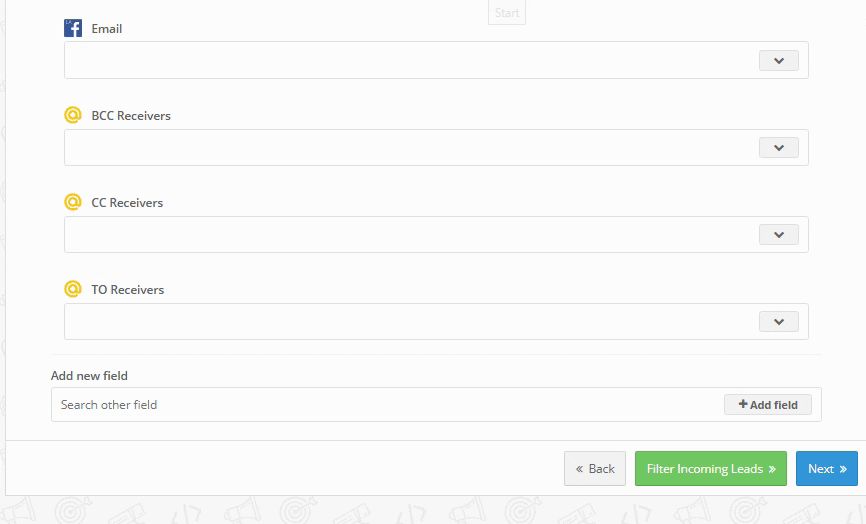 Is also possible to add further fields selected from the ones available for the destination application
There are three different kind of relationships:
Custom fields: these are direct one-to-one values; the destination value is the value of the selected source field.
Social data: source value could be used by LeadsBridge to find social data. For example, if the source value is an email, it could be associated to a social network account and use that data in the destination application.
IMPORTANT: Social data is not available in this release. It will be released in the next version of the application. Contact us if you would like to be part of the beta of this feature.
Function: the destination value is the result of a function applied to the source value. The function could be one-to-one, multi-to-one or one-to-multi. It could accept one or multiple fields as a source and give one or multiple values as result.
By clicking on a function a related popup will open to edit functions settings
See below for a further example.
Step 5 – Bridge testing
In the last step it's possible to send a test lead from your Bridge (1). Once tested, it's necessary to check the suggested agreements (2) and then click on the "Publish" button.