How to create Disruptive Forms
To create a Disruptive Form, you may use the specific section inside LeadsBridge application or directly in the Bridge section, selecting Disruptive Forms as source.

Disruptive Forms creation steps
The Disruptive Form bridge has the following steps
Initial bridge set up
Form setup
Destination setup and settings
Fields matching
Bridge testing
Embed code & Form preview
The left menu will show you all the steps that you should follow to complete the bridge creation process, marking with a check the steps already done.

In the next section of this article, we'll show you the Disruptive Forms setup, for the other steps please refer to the Bridge documentation.
How to build Disruptive Forms?
In the second step of the bridge, it's possible to choose a Template and each one has default fields to ease the process.
Once the template is selected, this step will disappear from the form editing section.

The next part of this step is divided into different areas:
Fields
Design
Submit
Preview
Fields
In the Fields area, you can manage, add or delete the fields.
The Email field is displayed in all templates and is always the first one.
While editing, the field will expand showing different options.
To add a field, you should click on "+New Field" button and select one from the drop-down menu at the bottom.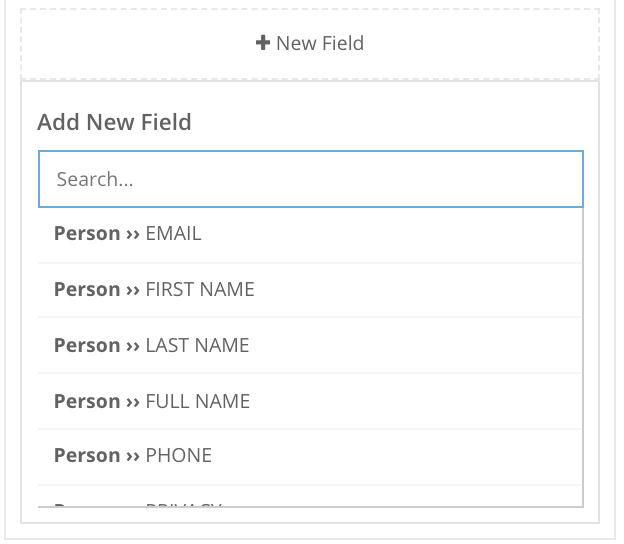 In this menu, each field is displayed according to its category and name.
Design
In the Design area, there are different options to personalize the form aesthetics.

In this area you may:
Select a color theme
Choose if the form will be displayed horizontal, on a single line, or vertical

Please note: in case of horizontal form it is good practice not to use more than two fields

Select a maximum width size
Indicate if the form should have borders
Add a logo at the top of the form
Choose the logo size
Disable the LeadsBridge signature (available from Hero Plan)
Give a custom label to the submit button
Customize CSS style (advanced settings)
Submit
In the Submit area, the form submit response can be customized adding a thank you message or redirect the user to an URL.

Preview
The Preview area is updated automatically whenever the form settings change.

The preview shows the mobile version, to see the website preview you can click on the Desktop option that will open the preview in a new web page.
How can I publish my form?
On the last step of the bridge, there is all the information on how to publish your form.
To publish the form you can use one of the following options:
Copy and paste the script inside your webpage <body> content
Send the script to your webmaster
Click on the "Support Embed" button to receive assistance
Use the link of the webpage hosted by LeadsBridge.
For further information about Disruptive Forms check the following documentation: