"I'm not getting Leads from Facebook" Issue
There is a known bug with the Facebook Business Manager that happens sometimes.
In order to check if this is your case you can do the following test:
Go to this link.
Select the page and form you want to test.
Create a test lead.
Send the test lead and wait for the response.
If you get the error CRM access has been revoked from Lead Access Manager as shown in the below image then that's your case:
​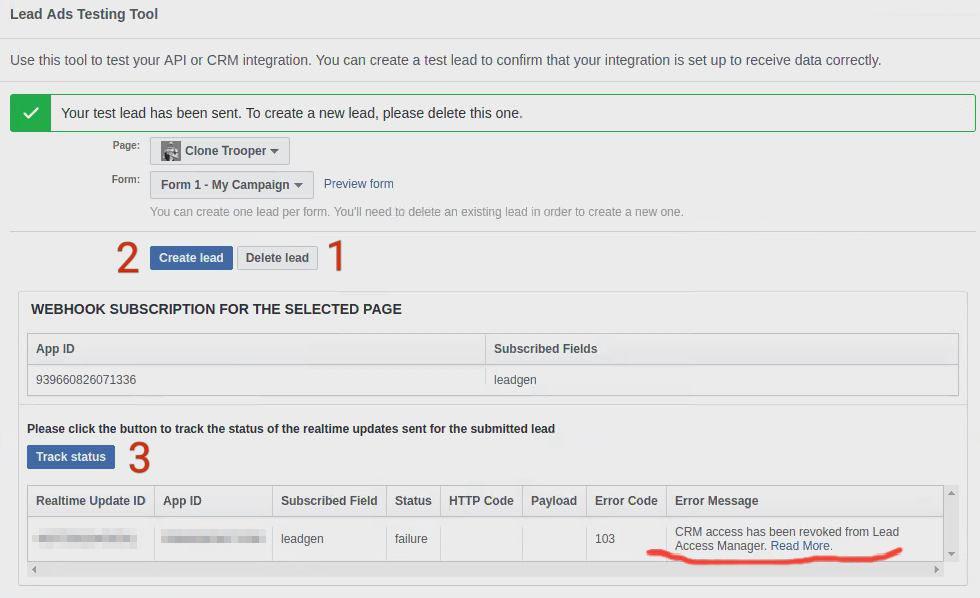 To troubleshoot the problem follow these steps:
Go to your business manager leads access settings page here.
Click on the "Integration" tab on the left side and then on "Lead Access".
Select the page you want to grant access to.
Select CRM from the Assigned People and Partners tab.
Find LeadsBridge and check it.
Click on Assign Access button.
See the image below:
If you followed those steps now should be finally fixed!
Please Note: If you do not see the CRMs tab as in the image above it means you are not the owner of the page. Please contact the owner to complete this process and fix your issue.
If this does not solve the problem please feel free to contact our support!