Connect Zillow to Email Notification with LeadsBridge

»

In this article, you'll learn how to set up the bridge and connect Zillow to Email Notification using LeadsBridge.
How to set up your bridge step-by-step tutorial
Before you start
Step 1: Bridge's Main information
Choose a name for your bridge (this will only be visible inside LeadsBridge)
You may add labels to help you identify your bridge later
Choose Zillow as the source for your bridge
Choose Email Notification as the destination
Click on the Next button
Step 2: Setup your Zillow source
You may send lead's information from Zillow to LeadsBridge through the Email Importer feature.
Copy the Email Address that you see in this step and set this endpoint as the data receiver inside your Zillow settings.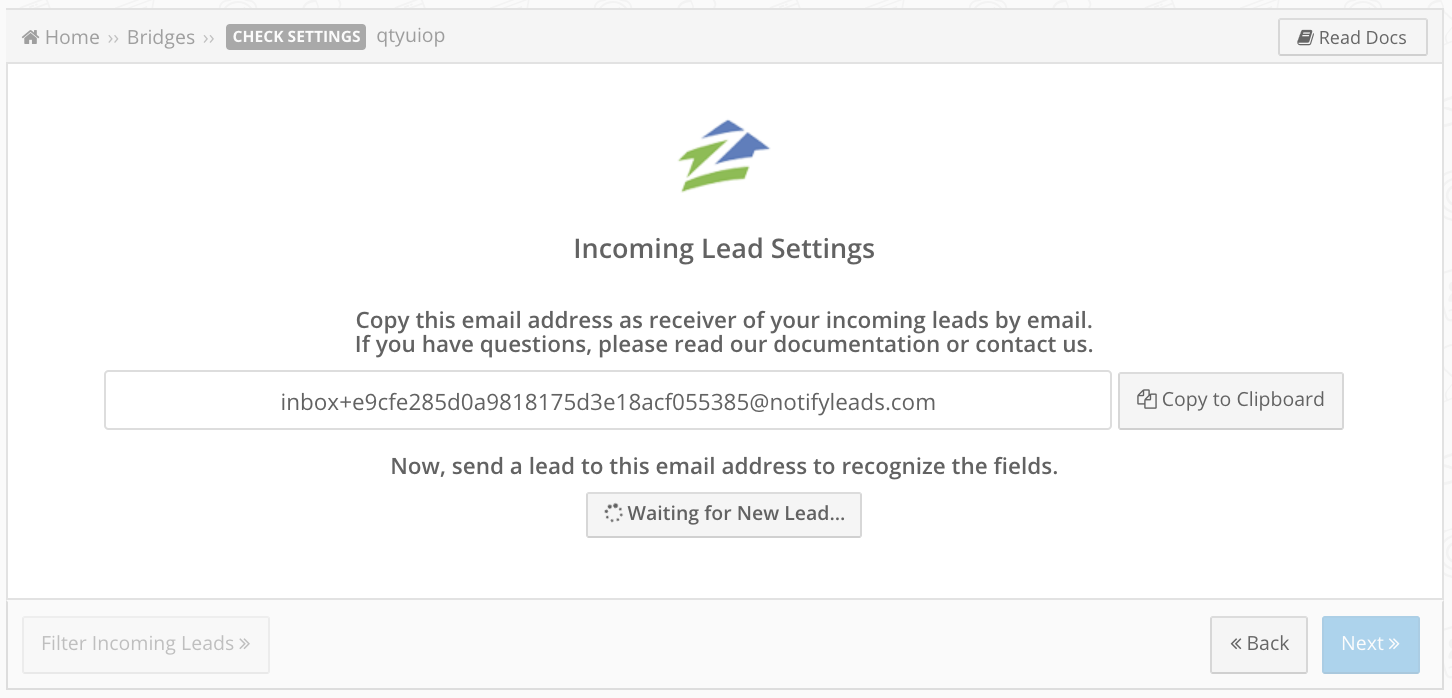 How to setup the webhook on Zillow
Before proceeding
One last thing before proceeding to the next step is to send a test lead from Zillow. This will allow us to recognize the attributes you'd like to pass along and offer them as presets in the next steps of the setup.
Please make sure the LeadsBridge screen is saying "Waiting for New Lead...", it means that we're ready to receive your test data
Go to Zillow
Submit a test lead
Once done go back to LeadsBridge and verify that your test was sent successfully
You should see the information processed correctly by the app
Click on the Next button
Step 3: Setup your Email Notification destination
Type in the integration's name in the dedicated field
Enter To Receivers where you want to send your leads
This is a preview of the Email Notification message that will reach your inbox once the bridge is set up.

Click on the Next button
You'll now be able to select the destination segment to send your leads to
Click on the Next button
Step 4: Fields Mapping
Everything is already set up! No additional configuration is required for this Email Notification integration.
Let's head to the last step
Click on the Next button
Step 5: Test
In this final step, you'll be able to send a lead from LeadsBridge to test if the configuration works properly.
To create a new test lead, fill in the required information when prompted
Click Test Now
To test with a real lead, switch the toogle to "Test with existing lead".
Click Sync Now along the lead you'd like to send
If you did everything right the button will turn green, meaning your lead was synced successfully and the integration is ready
Click Finish to save your settings and turn active your bridge
That's all! Congratulations.
You'll be redirected to the bridges section of your account with a green success message at the top right of the page and your bridge will now be active.
Have you got some questions?
You may want to take a look at the common questions on the respective integration's documentation.
If you have any other questions, or need help to configure your bridge from Zillow to Email Notification with LeadsBridge, do not hesitate to contact our Support!