Integrate ADF/XML (automotive) with LeadsBridge

Autolead Data Format is an international method for car dealers and agencies to import leads in real time. With the ADF-XML format you'll be able to sync leads to virtually all automotive CRMs through the LeadsBridge platform.
In this article, you'll learn how to connect your LeadsBridge account with ADF/XML (automotive).
Please note: you'll need the ADF email address associated with your CRM account to activate the connection. Discuss with your CRM representative on what email is needed in order to submit leads.
Connect ADF/XML (automotive) integration
Head over to the left sidebar and click on Integrations
Click on the Add New button
Enter a recognizable name for your integration
Click on the Browse button
Select "ADF/XML (automotive)" from the providers list
Click on the Next button
Enter CRM Import Email to connect ADF/XML (automotive) with LeadsBridge
Click on the Finish button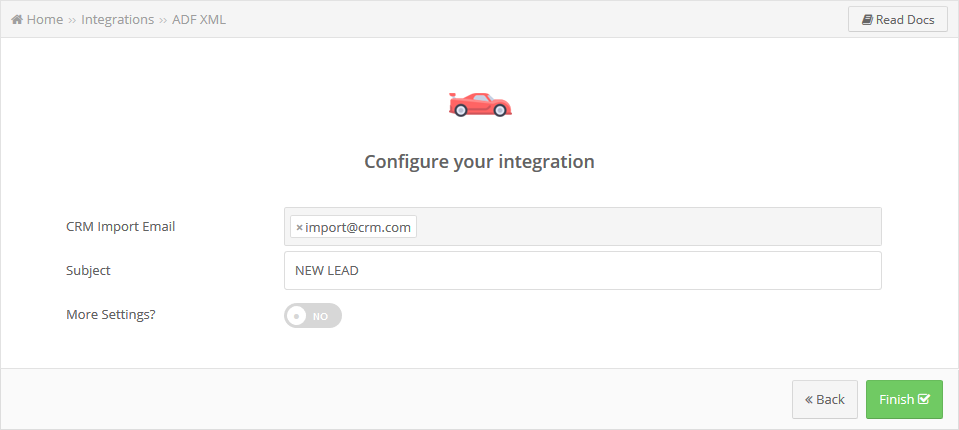 How to get the CRM Import Email
The only required information is the email address associated with the CRM where you need to send the leads to. To obtain it you should ask to your CRM support to provide the ADF-XML email associated with your account.
Which entity concepts we support for ADF/XML (automotive)
Lead

A lead is a potential client that has shown interest in your listings.
Common questions for ADF/XML (automotive)
The email I get is a bit hard to read. How can I receive a lead notification in a "readable" format?
Due to the nature of the ADF-XML format, to get a more clear and readable email in your inbox we suggest to activate the email receipt inside your bridge settings.
Open the bridge involved by clicking on its name.
Go to the "Destination" step and click Next.
Activate the email receipt by switching the toggle to Yes.
Type the email address(es) where you want to send the notify and change the subject to what you prefer.
Click Next.
Proceed next until the last step, where you may send a test to see how the receipt is coming.
Click Publish to save your settings.
This feature will send you an email notification to your inbox and the same lead will be sent to your CRM with the right format.
How can I personalize my ADF Integration?
Turn the More Settings switch to yes inside your integration settings. Then you'll be able to personalize all the information as you'd like.
How to set up the Source information?
To define a Source you should follow these steps:
Go on the Field Matching step of your bridge
Add the Lead Source Custom Field
Match it with the source information
If this field isn't added, we'll send a default source as "Facebook".
How can I use the Round Robin option on my bridge?
In order to enable
Round Robin
inside your bridge, you should have more than one email address inside your
CRM Import Email
on your ADF/XML Integration setup, as shown in the following screenshot:
Related Articles
If you have any further questions regarding this matter, or if you need help to set up the connection between ADF/XML (automotive) with LeadsBridge, do not hesitate to get in touch!