Integrate HTML Form with LeadsBridge

The HTML Form integration allows you to connect any third party opt-in service to your custom CRM/Autoresponder, as long as it can produce HTML5-compliant forms. Custom integrations are welcome here on LeadsBridge so you may drop a line to our support team!
In this article, you'll learn how to connect your LeadsBridge account with HTML Form.
Connect HTML Form integration
Head over to the left sidebar and click on Integrations
Click on the Add New button
Enter a recognizable name for your integration
Click on the Browse button
Select "HTML Form" from the providers list
Click on the Next button
Enter HTML Form code to connect HTML Form with LeadsBridge
Click on the Finish button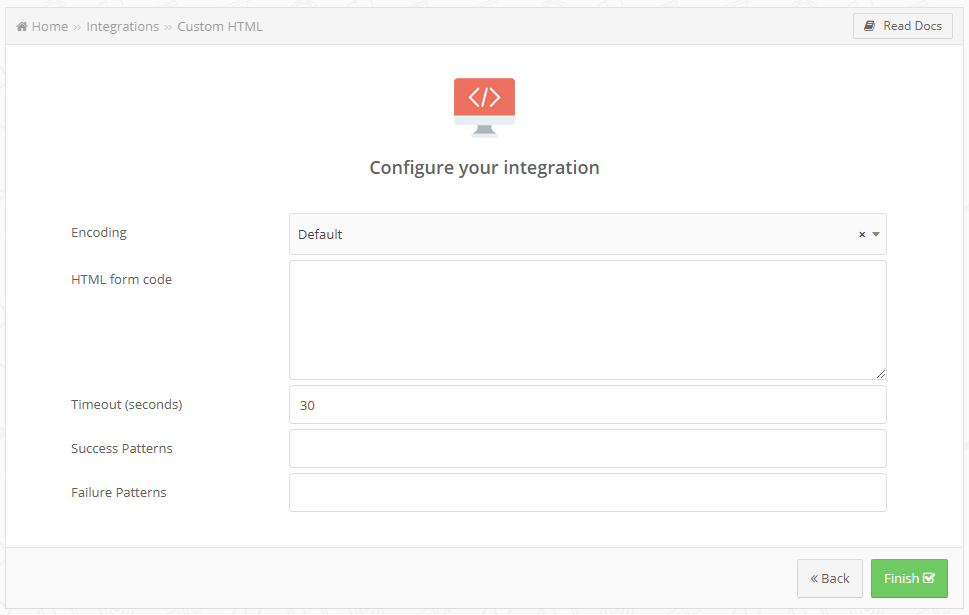 How to get the HTML Form code
If your CRM has the feature called Web-To-Form or HTML form, to embed HTML code inside a web page, you only need to copy and paste the HTML code into LeadsBridge as a new custom HTML Form integration.
An HTML Form code is something that typically starts with <form> and ends with </form>. Pay attention that the attribute "action" should be specified inside the tag form.
Learn more about HTML forms here:
Visit the HTML Form documentation
If you don't have the form code but you have an opt-in form online, you may copy its code by following these steps:


Open your opt-in form page.
Hover the form.
Right-click to open the contextual menu.
Click on "Inspect" the open the dev tool.
Position at the form action line.
Right-click and "Edit as HTML".
Copy the form code.
"Encoding", "Timeout", "Success Patterns" and "Failure Patterns" can be left with their default values, you don't need to set them in most cases. If you'd like to know more, please read the common questions below.
Which entity concepts we support for HTML Form
Contact

Contacts are users interested in your product or service, they could be your customers or potential customers for example.
Which segmentation concepts we support for HTML Form
With LeadsBridge you may use these segmentation concept for HTML Form.
Form

The form is a window or screen that contains numerous fields, or spaces to enter data. Each field holds a field label so that any user who views the form gets an idea of its contents.
Common questions for HTML Form
What is the "Encoding" option?
To display an HTML Form correctly, a web browser must know which character set (character encoding) to use. It's specified in the meta tag of the page.

The default character encoding for HTML5 is UTF-8. It works well in almost all cases and you may not change it unless you know you need a different charset.

Please note this is an advanced feature.
I received a timeout error, what should I do?
It means that your CRM/server didn't reply us after the seconds defined in the integration. By default, is set to 30 seconds, that is a huge response time.

You may increment this time range on your integration settings, however, you should check with your tool's support why the server went in timeout. Unfortunately, a timeout error depends on your CRM and not from LeadsBridge.
What are "Success Patterns" and "Failure Patterns"?
These "Success" and "Failure" patterns are your server's responses. This is optional so you may not worry about it unless you encounter errors on your sync.

To set up those patterns, you should enter the parameters based on your server responses. Since these responses don't depend on LeadsBridge, you may need the help of a tech guy.
Could you please help to set up the integration?
Yes, we are available to help you set it up, just send us the HTML embedded code or a webpage URL with the subscription form and will be a pleasure to help!
How do I add fields to the HTML form?
To add more fields to your HTML form, we suggest you edit the form on your tool's platform. Then, replace the HTML code inside your integration or create a new one, following the information above.

You may add fields within LeadsBridge by writing the HTML code manually, but your destination may not be configured to read the information properly. That's why we suggest editing your form first.
Related Articles
If you have any further questions regarding this matter, or if you need help to set up the connection between HTML Form with LeadsBridge, do not hesitate to get in touch!