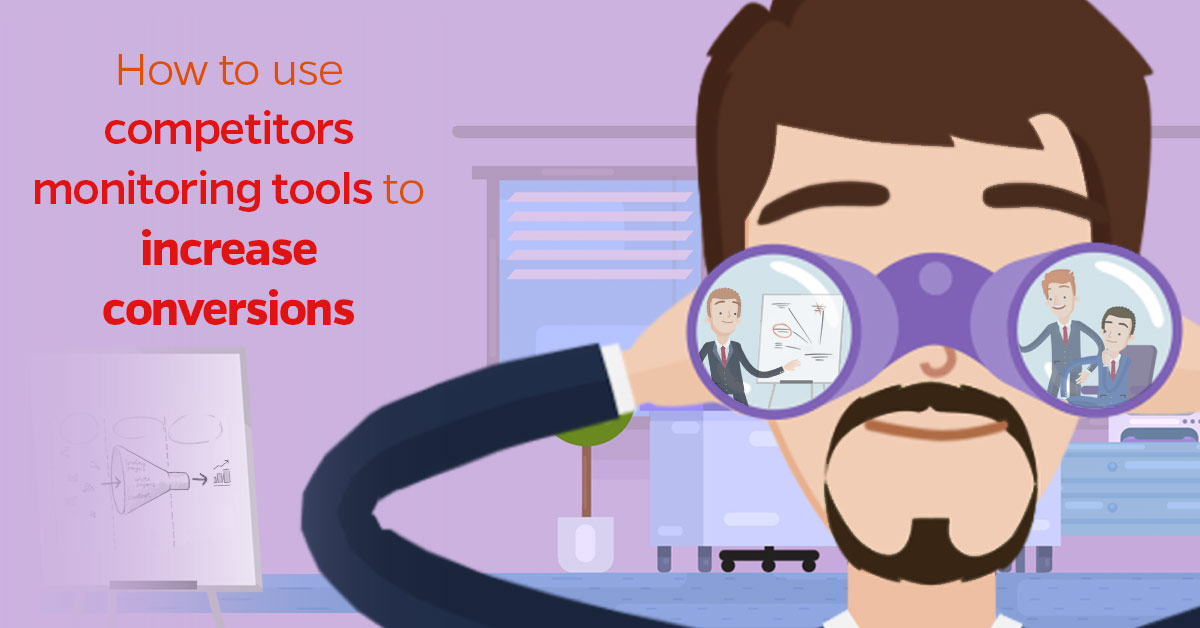 Most digitally-savvy businesses know that there are many ways to boost traffic funneled to their websites and increase conversions. Website ease-of-use, A/B testing, and customer feedback all help to increase the chances of making a sale.
But there's another tool available to companies who really want to get ahead of the game: competitor monitoring.
Competitor monitoring tools are incredibly useful for giving businesses in competitive markets a leg up on the competition. They provide valuable information about what other firms are getting right and wrong, and provide the ability to capitalize on it.
It seems counterintuitive, but competitor monitoring tools allow you to study competitors in a way that increases your conversion rate.
Where To Look First?
Review Sites
One of the reasons that Amazon has been such a successful online retailer, apart from short delivery times, is the focus on customer reviews. According to ConversionXL, more than 70 percent of people in the US check online reviews of products before buying them. If they don't like what they read, they won't buy.
An excellent competitor monitoring tool, therefore, is to simply find customer reviews of your competitor's products, and discover what they like and what they don't.
Start by selecting your largest, most successful competitor. If they're the industry leader, there's a good chance that they're already getting a lot of things right. What's more, if you find that they're doing something wrong you can look for ways to do it better, increasing conversions.
Take a look at the major review sites that your competitor might be on. These could include Amazon, Facebook, Google, Trustpilot and many others.
You will know which sites host the most reviews for your particular industry.
Once you start reading the material, you'll quickly get a sense of where the company is succeeding, and where it isn't. If you find a recurring issue, don't be afraid to address it in your marketing material to increase conversions directly.
Review sites can be a powerful competitor monitoring tool. Between a third and a half of people have left a product review at some point in the past. There is a treasure trove of information out there, waiting to be uncovered.
Social Media
Which digital marketing funnel is pushing the most people to engage with your business? The answer is simple: social media.
But there's a problem. Despite being responsible for around 31 percent of overall traffic to business websites, the traffic itself is not high quality.
The reasons for this are easy to understand. Engagement is low because people do not use social media to find products they want (unlike when they log on to Amazon). Instead, they use it to chat with friends or post trivia about their lives. Furthermore, most people are not laser-focused on what they are doing making it hard to use social media to increase conversion. Attention spans are short on these platforms.
However, just because social media is less potent a tool for increasing conversions than other channels, it doesn't mean that it is not a powerful competitor monitoring tool.
Competitors engage with their audiences on social media all the time. And these audiences provide valuable, real-time feedback. Spying on your competitors through social media is an excellent way to find out what they're doing right, and what they're doing wrong. Twitter, in particular, is a good competitor monitoring tool for finding out what issues customers have in real-time.
Monitor Competitors On Forums
Lastly, forums can provide insights into what customers think about other businesses in your competitive space. Forums are a valuable competitor monitoring tool because customers are often willing to go into more detail about how a company treated them on these platforms than on others. After all, people sign up to forums for in-depth conversations, not hastily written reviews.
How To Use Competitor Monitoring Tools
Use Statistics To Inform Your Decisions
Competitor monitoring tools are a great way to increase conversions. But that doesn't mean that they're always easy to interpret. Going through and reading every social media post or online review is likely to leave you more confused than anything else.
A much better strategy is to rely on statistics, rather than anecdote, when making decisions about how to react to what your competitors' customers think. You don't have to go into the hard numbers or do anything complicated like linear regression analysis. A simple word cloud, highlighting the most common words in the content will suffice.
From a word cloud, you might be able to glean valuable information that will help increase conversion. For instance, you might discover that:
People want faster delivery
Customers want friendlier staff
Customers have a particular recurring problem with the product
Customers want more online support
Customers do not like the marketing
Once you know what your competitors are doing wrong, you can use competitor monitoring tools to put it right. For instance, the headline on your website could be that you offer 24-hour delivery, or that your product has solved a problem that the rest of the industry hasn't. Once you deal with these issues, you can increase conversions and steal customers who might have gone to your competitors.
Be Ready To Step In And Help Unhappy Customers
Another way to use competitor monitoring tools is to step in and steal customers in real-time. There will be times when customers let your competitors know that they are not happy with their service. These messages are an opportunity.
Both Facebook and Twitter are near real-time and ideal for use in this situation. That means that you can intervene whenever you think there's a chance that a competitor's customer might convert to you.
Twitter is a platform that allows you to search for negative sentiment. For instance, you can include emojis in search criteria. Try typing in your competitor's brand name followed by a sad face or an angry face. This will allow you to find people who have been let down by them in some way, giving you the opportunity to provide them with the service they want.
Use competitor monitoring tools like Tweetdeck to provide cross-platform alerts every time a customer complains about one of your competitors. By dealing with their issue in real-time, you increase conversion rates and give them a reason to buy your product instead.
Spot Competitor Tactics On Facebook And Use Them To Your Advantage
Because every industry is different, marketing tactics can be quite specific. This means that it's not often possible to increase conversions by simply following generic social media marketing advice.
A much better strategy is to monitor your competitors on Facebook and use their successes as inspiration for your own campaign.
But how do you do this effectively to increase conversions? Buzzsumo is an excellent competitor monitoring tool. It allows you to search your competitors' activities across a range of social media sites, tracking the level of engagement.
All you need to do is go to the website and type in keywords associated with your competitor. Once you've done this, the site will automatically give you an overview of the level of engagement that a particular post has had.
You will be able to view:
The number of Facebook engagements
The number of Twitter shares
The number of Pinterest shares
The number of Reddit Engagements
The number of inbound links
The Evergreen score
You can also arrange results by date to see which posts have been the most successful in the last week, month, and year. Remember, tastes change, so keeping up to date on successful topics maximizes your chances of increasing conversions.
Build Your Editorial Calendar Around Your Biggest Competitors
Serpstat is a promising competitor monitoring tool that can help you increase conversions. It's great for businesses operating in industries with particularly dominant firms.
The aim isn't to compete directly with these large firms. That's not usually possible, and they can become aggressive if they feel threatened. No, the aim is to collect as much data as possible about what they are doing so that you are in a position to keep on trend.
Serpstat is an excellent way to see which keywords your competitors are targeting. Rather than bidding for these keywords, it's a good idea to merely generate content around them, helping to develop organic traffic and increase conversions.
By using competitor monitoring tools in this way, you reduce expense and provide content that is relevant to search requests. You can also see what your competitors' customers are searching for on Google. Again, this enables you to target the right keywords and build content around them.
Another tool called Semrush also allows you to see which domains link to your competitor's websites. It's a useful tool for finding sites that most suitable for providing customers with links to your own.
Once you've applied these competitor monitoring tools to your marketing strategy, you'll quickly find that they can be extremely powerful. Not only will you gain customers, but you'll also learn what prospective customers really want. That will increase conversions and help your business become one of the most celebrated in the industry.
Are you looking to collect and synchronise leads everywhere? Discover our Inbox lead service which allows you to collect leads everywhere!