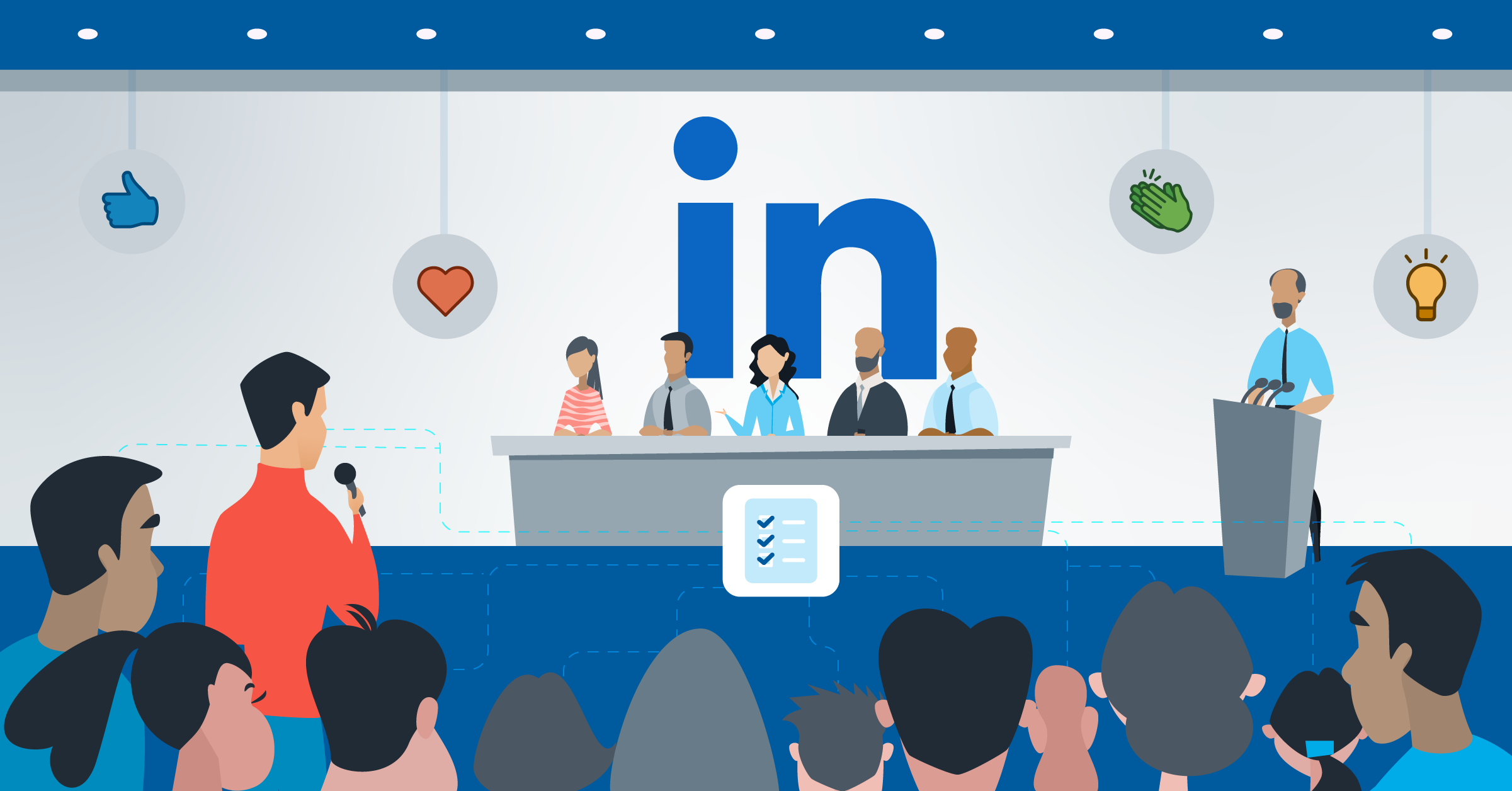 LinkedIn is the go-to platform if you want to market to professionals. After running campaigns on LinkedIn, advertisers have seen a 33% increase in purchase intent and a 50% increase in conversion rates.
As the stats indicate, this platform is ideal for all forms of B2B marketing, despite the product or target audience.
The platform recently introduced the LinkedIn Events feature, which helps organizations and individuals to create or attend events. While providing an engaging event experience, it also helps to gain maximum reach and collect leads from your target audience.
In this article, we'll discuss how to nurture a brand or generate demand with your events, and leverage LinkedIn Events as a marketer. Additionally, we'll also review some integrations to automate your lead management on LinkedIn, such as:
What is the LinkedIn Events feature?
This feature offers an easy way to create and join professional events, like meetups, online workshops, seminars, etc. LinkedIn members can use it to find and join communities, grow their businesses, network with others, and learn new skills.
In short, this feature allows you to promote your event to a target audience through an event ad campaign.
Why use LinkedIn Events?
LinkedIn Events enable organizations to build and nurture relationships with target audiences. It's an epicenter where you can build interest and awareness leading up to your event, nurture conversation during your event, and foster a lasting community afterward.
Host events in a trusted space
LinkedIn is a platform your audiences know and rely on. So using it helps drive awareness and collect valuable attendee information through native registration forms.
Attract the right audience
This is all about organic discovery and sharing qualities. Added to paid advertising options, you will have no difficulties with targeting just the right audience.
Keep the conversation with your audience
This tool helps you communicate with your audience and keep them engaged before, during, and after the event.
It is free to create and use for just about anyone who is eligible.
LinkedIn offers a professionals-only environment
These Events are effective and result-driven. This is because we are using it to send out event notifications on the biggest social network for professionals.
Lead engagement and nurturing
This feature lets you engage and promote an event before, during, and after your event.
It's easier to verify Event ROIs on LinkedIn
LinkedIn delivers Event analytics and a view of event performance, which marketers can use to measure the monetizable outcome of their events.
Learn how LinkedIn metrics can help to track your campaigns.
How do LinkedIn Event Ad campaigns work?
To create successful LinkedIn Event Ads, it's important to first understand the type of event you'll be running on the platform. There are three approaches to creating a successful LinkedIn event, depending on your goals and audience:
Events with registration
Registration is required to capture all event attendees' names and email addresses and meet the regulations of GDPR while doing so.
This is ideal for events such as webinars, conference sessions, recruiting events, and other targeted audience events. This kind of event can be found through search or is shown through sponsored content. As the name indicates, members are required to submit names and emails to gain access to the event or its recording later on.
Discover more about GDPR and its requirements.
Events with no registration
This approach is great for creating brand awareness, and can be used for brand events, community events, conference keynotes, thought leadership seminars, etc. LinkedIn allows your event to be discoverable on LinkedIn via search, My Network tab, Events tab, and the feed. Who can attend? Just about anyone who clicks "Attend," without having to submit their info! However, the event content is shown only to those who've expressed that they are "attending" beforehand.
Private events
For building a community with a targeted audience, private events are the best choice. They are recommended for executive roundtables and customer events. Unlike the last two approaches, these events are Invite only. It means that they are not organically discoverable via search, feed, Events tab, or My Network tab.
Admin can invite 1st-degree connections or through sharing a private event URL. Then, members can request to attend, which the admin must approve.
If any of these LinkedIn Event features are used together with LinkedIn Live, the event attendees will receive a notification just before the broadcast starts.
LinkedIn Event Ads requirements
The image ratio must be 4:1. The image is derived from the Event page.
The event name should be at most 255 characters. Naming the event is optional.
The introductory text should not exceed a limit of 600 characters.
Event URLs must be included, specialized as LinkedIn Event page URLs.
URL prefix should be http:// or https://.
URL characters should not exceed the character limit of 2000 for destination field URLs.
Combining LinkedIn Live with LinkedIn Events
LinkedIn Live and LinkedIn Events are complementary features, helping marketers stream live video content to their event attendees.
In order to be able to use LinkedIn Live, you'll need to be a whitelisted user. Only then can you create an event, mark it as "online-only," and open your third-party broadcast tool (StreamYard, Restream, Wirecast, etc.) for streaming on the day of the event.
To access LinkedIn Live Video, the platform needs to grant broadcast access to you as an individual member or on behalf of a Page. This is done based on a set of criteria.
How to create a LinkedIn Event: A step-by-step guide
Step 1: Become a Page Admin.
To host an event that represents your Page, the first requirement is to have Page Admin access.
Step 2: Create an event.
Once you have access to the Admin view of your LinkedIn Page, click on the "Admin tools" menu. Then, select "Create an event."
Step 3: Set the organizer
In the second field of the event creation form, specify your Page as the "Organizer".
Step 4: Specify the event type.
Here, you can also specify the type of events. Use the toggle button to indicate virtual events, or choose between a public or private event. Remember that this setting can't be modified after an event is created.
Step 5: Launch your event.
After understanding how to create an event on LinkedIn, the next step is learning how to market events on LinkedIn.
How to promote an event on LinkedIn?
​​It's important to share the event URL on your Page feed and personal network in order to reach your followers. As with any type of advertising, images and videos can help you draw attention when combined with precision in audience targeting.
Additionally, the standard demand generation tactics, such as email and paid ads, are must-have elements in your Linkedin Event management strategy. Targeting your event audience is also all about precision. This allows sieving through them by job title, industry, seniority, language, location, and other parameters. Find out who is the best target audience for your business.
Here are some highlights on how to promote an event on LinkedIn.
Share helpful info on your event: this helps your audience understand what exactly you offer and what to expect.
Post images or videos of your past events: visuals are powerful advertising elements, and posting past event images can create engagement.
Highlight networking opportunities during the event: As a marketer, reaching out to other marketers is always easy, since you understand their pain points.
Underline your speakers and sponsors: people want to know who has sponsored an event and who is performing it! To create further interest, share profiles and the bio of the faces behind your event.
Describe the location, food, and entertainment. Share all the details, including the location, refreshments, giveaways, and more.
Send direct and group messages: Even if you are not running a private event, you can always advertise it by sending out URLs of the registration or attendance forms.
Learn everything there's to know about LinkedIn Lead Gen Forms.
Hire professional event managers: Event management is an art, and to get it done right, it calls for adequate field experience.
Host a virtual event fully remote: Virtual events are about 75% less expensive than in-person experiences. Besides, they could be equally effective if done right. Use this tool to get the same exposure and results from your virtual event.
Now, the best way to manage all the lead data you collect before, during and after the event is through automation. These leads must be organized according to your lead score system and so require different nurturing approaches. Using a third-party automation provider such as LeadsBridge helps streamline the entire process.
How to monetize LinkedIn Events?
In the age of remote working and automated services, creating real-time human interaction matters more and more to marketers these days. LinkedIn Events focuses on this topic; connecting communities and deepening relationships between them.
So exactly how can you leverage the LinkedIn Event feature?
Sponsored Content ad format facilitates creating event ads that are displayed in a member's LinkedIn feed on desktop and mobile devices. These ads are optimized to showcase important and engaging event details. Check out this event ad, for example:
Then, you can use the data generated from LinkedIn members who have interacted with the ad, much similar to other LinkedIn ads.
After collecting this data, move them to your CRM where you can nurture them. This data also enables you to create matched audiences on LinkedIn and improve your campaign's targeting and increase your conversions consequently.
All in all, if your event doesn't lead to a better return on investment, you need to optimize your goals, set a new strategy, or get help from lead management tools or event professionals to set matters right.
LinkedIn events' best practices
Do you want to create events to engage with the attendees/ guest speakers and exchange connections with them? Here are some of our LinkedIn events' best practices to help you do just that.
1. Create relevant LinkedIn posts for your event
These could be videos, polls, or announcements. Despite the organic post format you are using, always mention and tag key speakers and tag your speakers' profiles if possible. In addition, use creative ideas to increase your posts' engagement. For instance, ask people to write their idea or tag someone in the comments. If you want to go the extra mile, offering a prize for early-bird regrants is a great idea.
2. Strategize around your invitations
Star with the InMail lists and extend your invitations to your email databases. You can do this manually, but if you are trying to send out hundreds of invitations, it's best to use integrations that allow you to put your email marketing on autopilot.
You can also use other tools, such as Expandi event inviter, to invite over 1,000+ people from your network without getting rejected by the new LinkedIn limit.
3. Consider using paid ads
Sponsored posts could be image or carousel ads, job ads, and even event ads. Each of these has a different style that uses an optimized approach to target a LinkedIn audience.
You can use Sponsored Content ads for advertising your event on the member's LinkedIn feed. This will show up on desktop and mobile devices and is optimized to accentuate your event's important details.
4. Use LinkedIn polls
With LinkedIn polls, you can start reaching out to prospects who responded to them. Considering that answering a LinkedIn poll takes less time and might be more fun, you can actually get a significant database out of them. Using this feature, you'll be getting more exposure and get the contact information of genuinely interested members.
Inspiring LinkedIn Event Ad examples
With the massive number of creative ads these days, finding the best ideas to present your LinkedIn event and make it stand out in the sea of marketing content is becoming more and more challenging.
Here are some inspiring LinkedIn Event Ad examples you can use for your next marketing campaign.
Spiceworks LinkedIn Event Ad example
Addressing the audience's pain point is the oldest trick in the marketers' book. If you want to create the best LinkedIn ad, just mention what you are offering and do it well.
Spiceworks does this by highlighting the name of a well-known persona as their keynote speaker, Steve Wozniak, along with the marketing solution they are offering. Using a well-designed banner, the aesthetics of their event ad campaigns are appealing enough to stop a viewer from scrolling.
Ontario SPCA & Humane Society LinkedIn Event Ad example
Out of all the ad formats on the platform, single images are extremely easy to use. To stand out on feeds, Ontario SPCA & Humane Society swapped regular images for a cartoon-like presentation of their goal: A marathon for supporting the Ontario SPCA's Dog Rehab Centre.
DiBona & Associates LinkedIn Event Ad example
An artsy take on visuals that represent your event's content is another great approach for creating your promoted content. This is one of the main variables that influence your attendance. So you can hire a professional to create catchy, expressive, and click-worthy graphics, such as DiBona & Associates's seminar presentation.
These visuals make their presentation interesting while emphasizing the critical content.
Automating your LinkedIn Event Ads with LeadsBridge
LinkedIn Event Ads help you extend your reach by promoting your LinkedIn Events from your Page to a specific audience. Whether it is a digital or in-person event, you'll need to collect and download attendees' data (Name, Email, Jobs, etc.) with lead generation intents.
Managing all your lead data manually is impractical and inefficient. However, you can connect LinkedIn Events to the rest of your marketing stack through LinkedIn Registration Forms integrations. As an official LinkedIn partner, LeadsBridge integrations help automate the process of moving lead data from LinkedIn to your favorite marketing app so that you can leverage the full potential of your lead generation activities.
Find out more about LinkedIn Registration Forms here.
Takeaways
The Events are created to offer a system for advertisers to host targeted events that create engagement and conversation in longer terms. What's more, you can run ads for your LinkedIn Events and then use automation to manage the data you collect from your lead generation efforts.
LinkedIn Registration Forms integration by LeadsBridge enables you to automatically manage your lead data, segment your leads, and optimize your lead nurturing campaigns.
To get the best out of this feature, following the proven method is the key while remaining creative in structuring your event campaigns.
Discover all the possible LinkedIn integrations by LeadsBridge.