Let Facebook, Google
and LinkedIn communicate with your CRM
We offer you over 380 integrations and tailor-made solutions, depending on your needs. Our experts are ready to make it happen.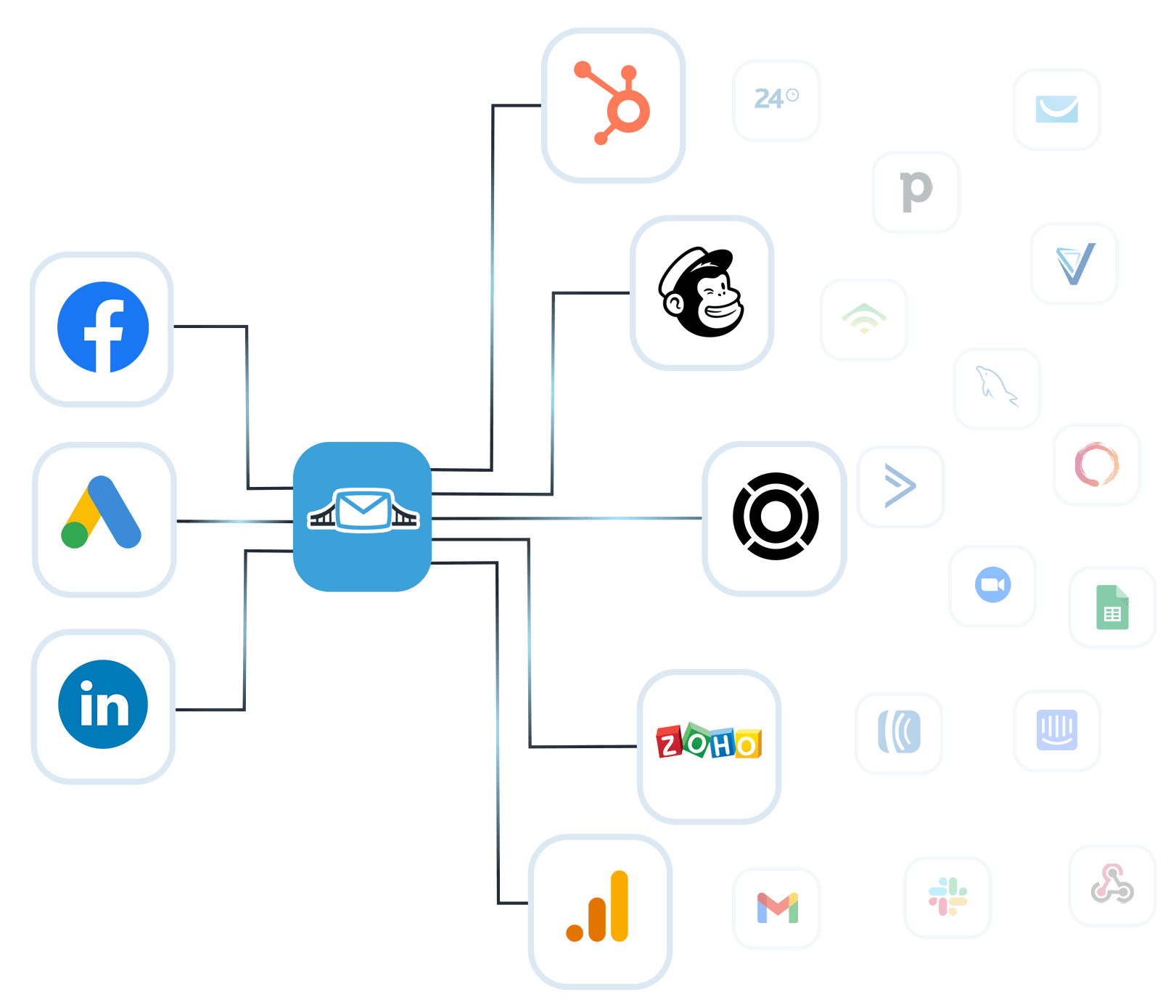 LEADSBRIDGE IS THE OFFICIAL VENDOR OF THESE AMAZING COMPANIES





Featured customers
"
"I use LeadsBridge for my agency from 2 years, 0% Failure rate! I use Facebook lead Ads and thanks to LeadsBridge, the acquisition, and management of my leads is no longer a problem!"
Shahar Yogev
EVEREST DIGITAL MARKETING.
"
"I have only pros for LeadsBridge: 1. Automatically pushes leads to CRM 2. Pushes Facebook Ad Structure Data with the Leads 3. Unlimited integration options (CRM, Email Marketing Tools, Ad Retargeting, Cloud Sharing) 4. Automatically starts capturing data, even from new campaigns not integrated 5. The support team is awesome. Very patient and thorough. 6. Great non-profit discountThis service should have been available on Facebook, out of the box. I just regret the time I lost, when I didn't know about LeadsBridge.No more battles for bigger budgets and fighting for extra time to..."
Saad Javed
YMCA of Greater Toronto.
"
"As a computer software business owner, I entered the world of LeadsBridge 2 years ago, so LeadsBridge has more than doubled the available integrations and I am very satisfied with them! Moreover, the platform is very easy to use and you can connect with the most CRM applications. In conclusion? 5 stars!!"
Esteban Gomez Nuñez
GEENE S.A..
"
"I use LeadsBridge to manage my real estate business contacts and leads coming from Facebook, after a few months of use I can't imagine working without LeadsBridge! Highly recommended!"
Miguel Blanco
Miss Tipsi.

What's the next step?
If you are looking for growing your R.O.A.S. give LeadsBridge a go and you'll learn what's the difference between a software and an ally!