Let Facebook, Google
and LinkedIn communicate with your CRM
We offer you over 380 integrations and tailor-made solutions, depending on your needs. Our experts are ready to make it happen.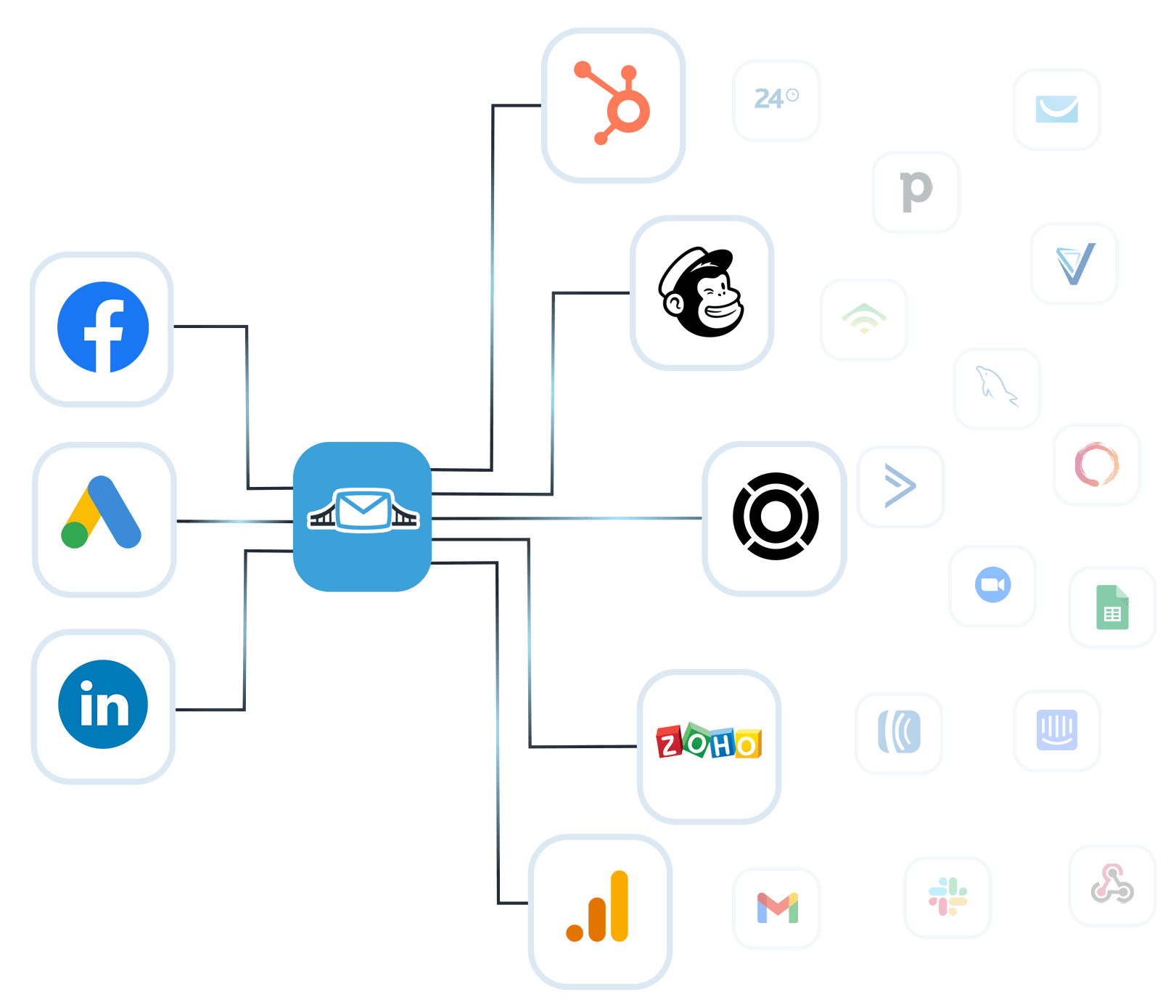 LEADSBRIDGE IS THE OFFICIAL VENDOR OF THESE AMAZING COMPANIES





Featured customers
"
"I use LeadsBrigde for 2 years, I found the integration with Facebook leads ads awesome! Your service is impeccable and there seems to always be help available… rare these days. However, if you have it working the way you do that is another service worth its weight in Gold."
Jeff Brudy
Brudy Enterprises Ltd.
"
"We chose (California Institute of Arts & Technology) LeadsBridge to boost our Facebook lead gen and you guys have been super awesome. Quick to respond, always have a solution, I've been really pleased with the product and the team so far. Highly recommended!"
Tierra Murguia
California Institute of Arts & Technology.
"
"I use LeadsBridge for my retail from 1 year. LeadsBridge works great for connecting our facebook lead ad to our CRM (Ontraport). When we signed up it was the only solution for our CRM. Not there are alternatives, but none provide additional functionality, and no one can match the price of LeadsBridge. Moreover, LeadsBridge allows me to automatically add a new lead from a facebook leads add to a sequence for automatic followup without having to do manual data entry or cause the lead an or causing a delay in communications. "
Phil Acklet
The Dragontree.
"
"I have some integrations with FB lead ads and you guys have been great. There have been a few things that I needed to know in order to get these campaigns set up properly for my agency, LeadsBridge has been very responsive and helpful, thanks!"
Jarrett Shaffer
DMNmedia.

What's the next step?
If you are looking for growing your R.O.A.S. give LeadsBridge a go and you'll learn what's the difference between a software and an ally!