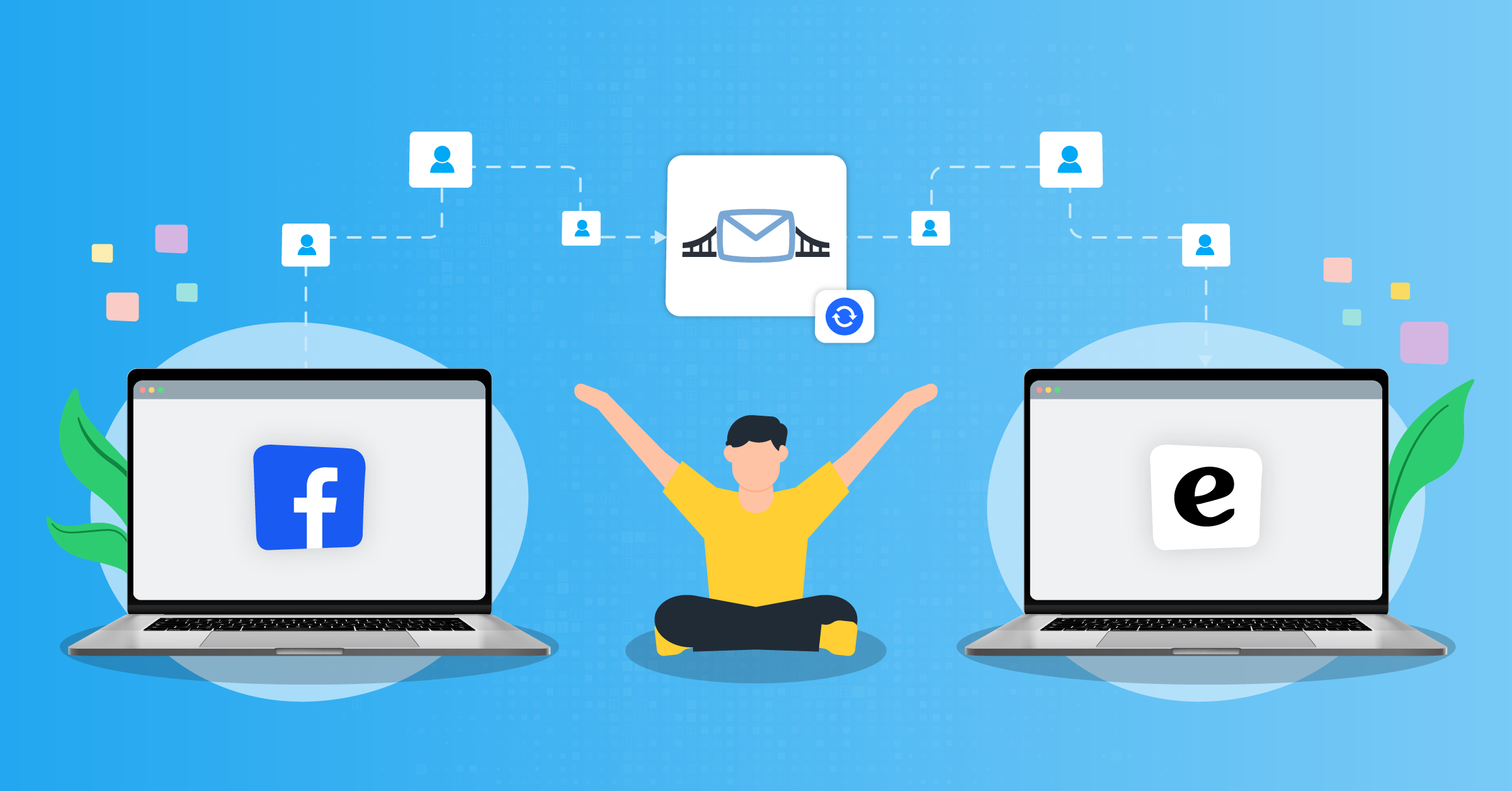 After setting up your Facebook Lead Ads, generating and managing new leads comes next. However, Facebook does not notify you when new leads fill out and submit your opt-in forms.
Accessing new lead information manually is a time-consuming process requiring you to check Facebook Leads Center, download CSV Files, and use Lead Viewer tools to process this data.
So to get instant updates and email notifications when a new lead comes in, you need to streamline your Lead Ads management by connecting Facebook Leads Ads to Email Notification.
In this guide, you'll learn how to send Facebook leads to email (free of charge) so that you can manage and contact your new leads immediately.
How to send Facebook leads to email
Facebook Lead Ads can be effective only when you can manage your new leads; place them in your sales funnel, run follow-up campaigns to convert them, finalize a sale with a hot lead, etc.
By connecting to a lead management tool or CRM platform, you can receive automated alerts and take the next best action accordingly.
To directly connect Facebook Lead Ads to get instant new lead notifications via email on your mobile devices, you'll need a third-party integration to bridge the data gap between these platforms like LeadsBridge.
As an official Facebook partner, LeadsBridge offers best-in-class integrations to automate data sync between platforms. It also allows you to create these data bridges without any knowledge of coding. Keep reading to discover how to set up Facebook-Email integration on LeadsBridge.
How can I send Facebook leads to my email for free?
To get started, follow the step-by-step instructions to set up Facebook Lead Ads and Email Notifications integration.
Before you start
LeadsBridge's user-friendly interface helps you set up any integration in just a few simple steps.
The first step is to log in to your LeadsBridge account, and if you haven't registered already, you can create one for free here.
After signing in, you'll be taken to the main dashboard.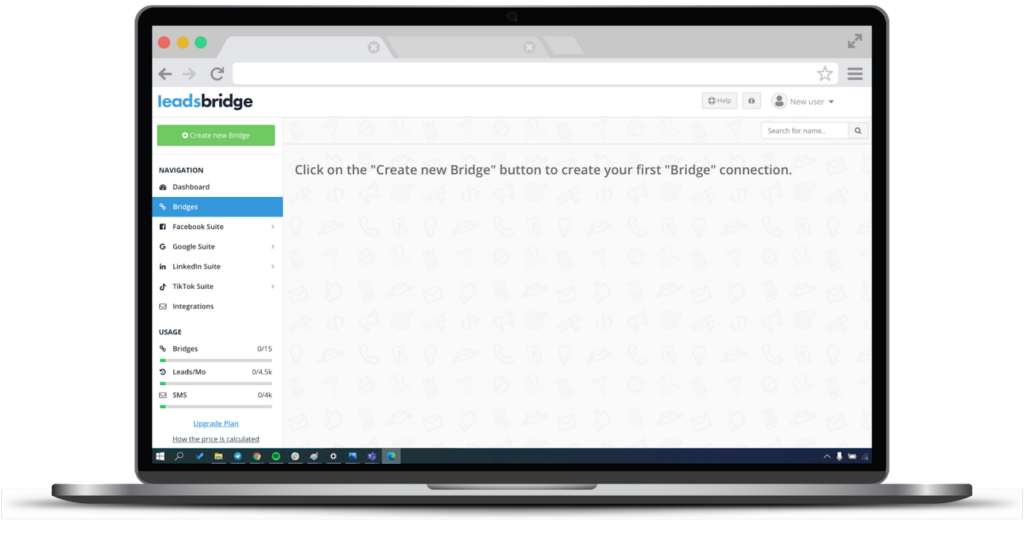 Step 1: Bridge's main information
First, find the "Create new Bridge" button on the top-left corner and click on it. This is where you'll have to select the apps you want to connect: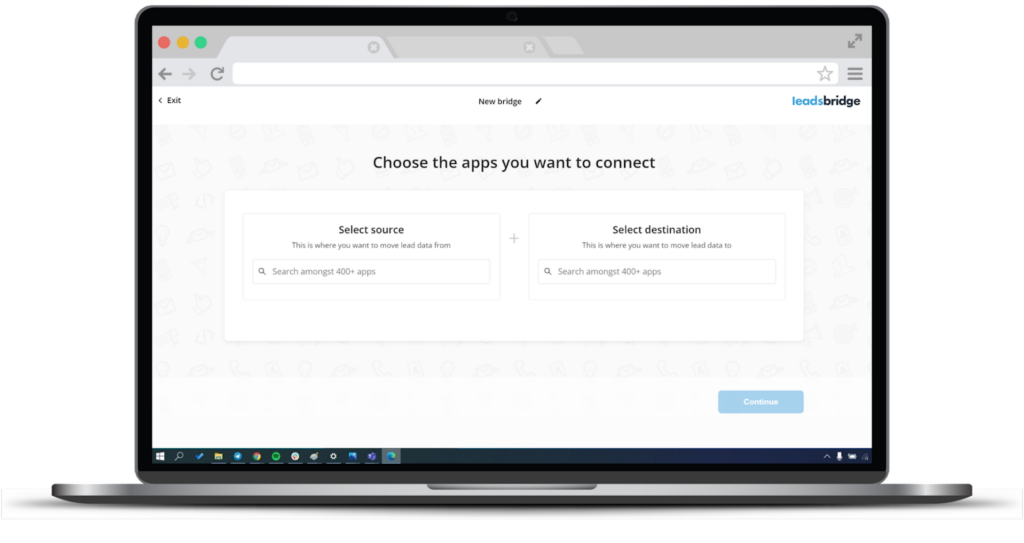 Choose "Facebook Lead Ads" as the source for your bridge.
Choose "Email Notification" as the destination.
Click on "Continue".
You can also name your bridge by clicking on the edit pencil icon at the top. This will help you find your bridge and keep your flows organized on your LeadsBridge dashboard.
Step 2: Connect your accounts
At this point, you'll need to connect your accounts in order to access each of them via LeadsBridge. This is necessary to provide authorization for bridging the gap between both tools.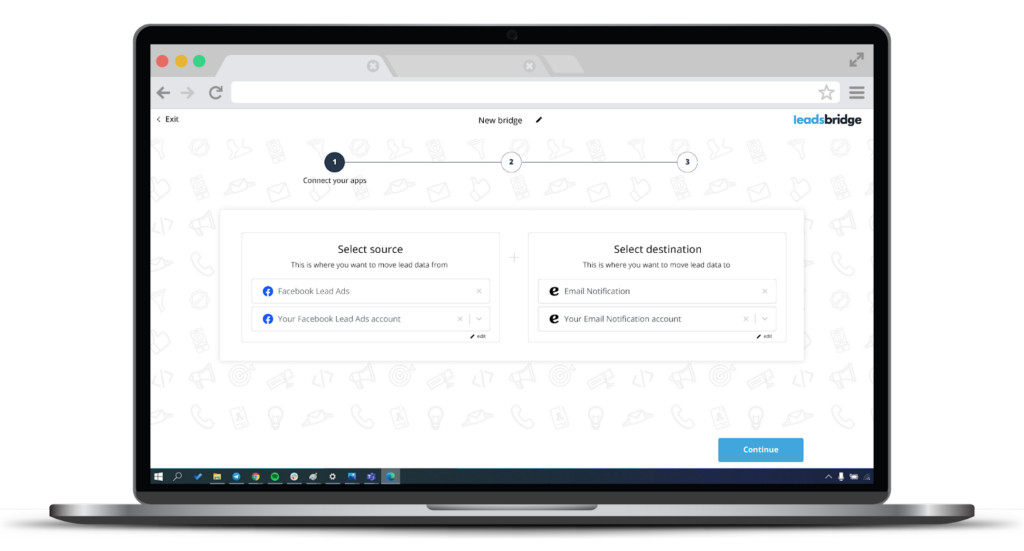 Step 3: Fields mapping
Data mapping is an essential part of your bridge creation experience to ensure the accuracy of the data transfer process after creating your Facebook-Email leads notification bridge.
You'll need to ensure all fields of data are mapped correctly in order to have your Email Notification integration working smoothly.
After double-checking all the data, click on "Continue" to save your settings.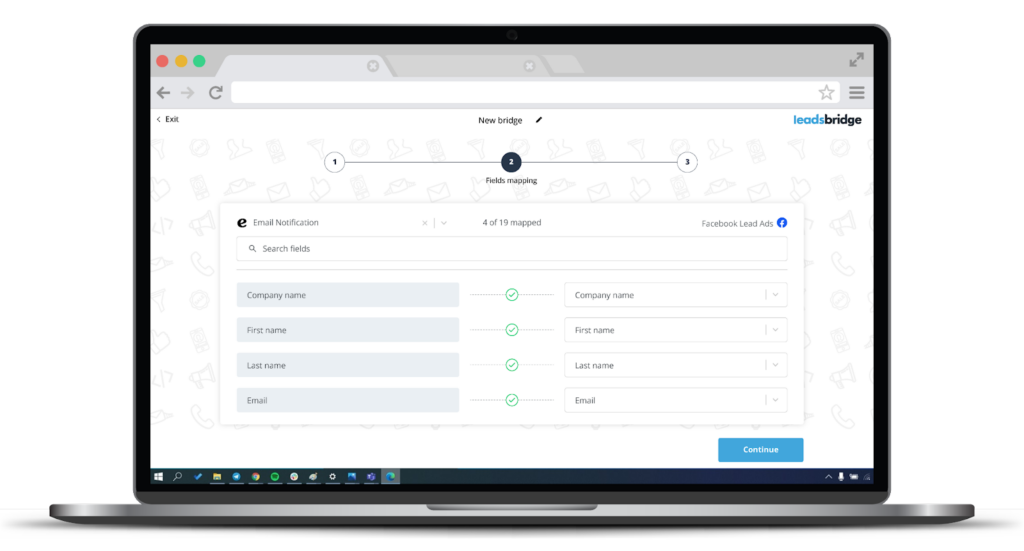 And that's all! Congratulations! Your bridge is now active.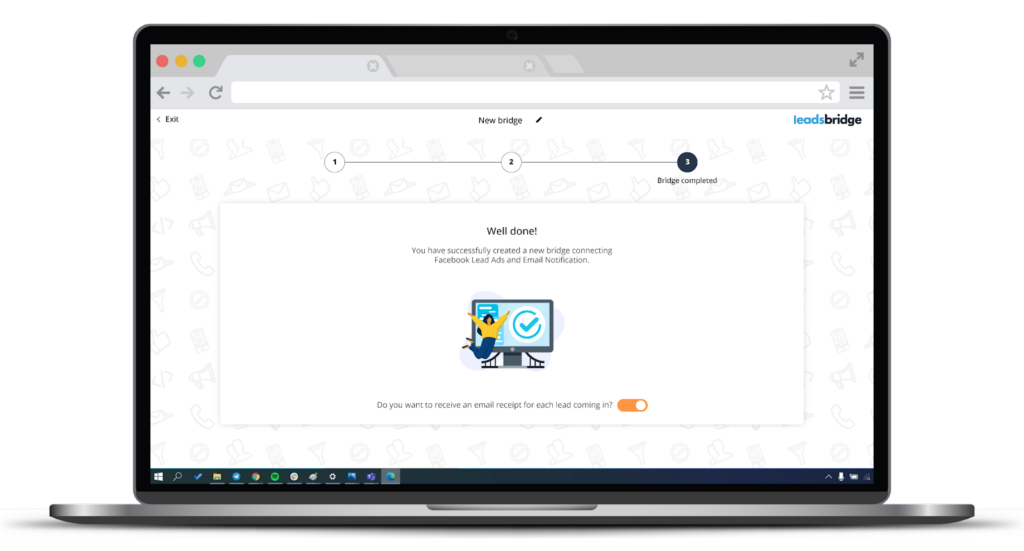 LeadsBridge's Email receipt feature
With this feature, LeadsBridge users can keep track and better understand their lead generation efforts. This option is available for any of our integrations.
You can find it at the bottom of the bridge completion page; it reads "Do you want to receive an email notification for each lead coming in?" All you have to do is push the little switch button next to it. Then, you start receiving notifications right in your mailbox.
Benefits of sending Facebook leads to email notification via LeadsBridge
Each lead you generate matters and can be a potential customer. By creating an automated bridge, you can get notifications as your leads come in and take actions that set your Facebook marketing for success.
Here are the key benefits you'll receive by using LeadsBridge's Facebook email integration:
Available in Freemium plan
You can benefit from this integration with zero costs. LeadsBridge now offers Facebook Lead Ads integration with Email Notification for free.
Response time can be instrumental in closing a sale. This integration allows you to create quick follow-ups or higher-quality leads with custom features.
Learn more about how to follow up with Facebook leads here.
Automated email notifications can help you send out welcome notes to your new subscribers. A welcome email allows your brand to make a solid first impression with new Facebook leads, with an average conversion rate of 52.9%.
Running email marketing campaigns
Run email marketing campaigns according to your strategy and communicate with current and potential customers.
Get the most out of your leads from Facebook Ads
With LeadsBridge's Facebook- Email integrations, you can receive email notifications right on your desktop or mobile device to ensure all your leads are managed well. Automating this process also helps your campaigns deliver higher success rates by turning prospects into paying clients.
Need more information? Discover how to set up the bridge and connect Facebook Lead Ads to Email Notification using LeadsBridge.