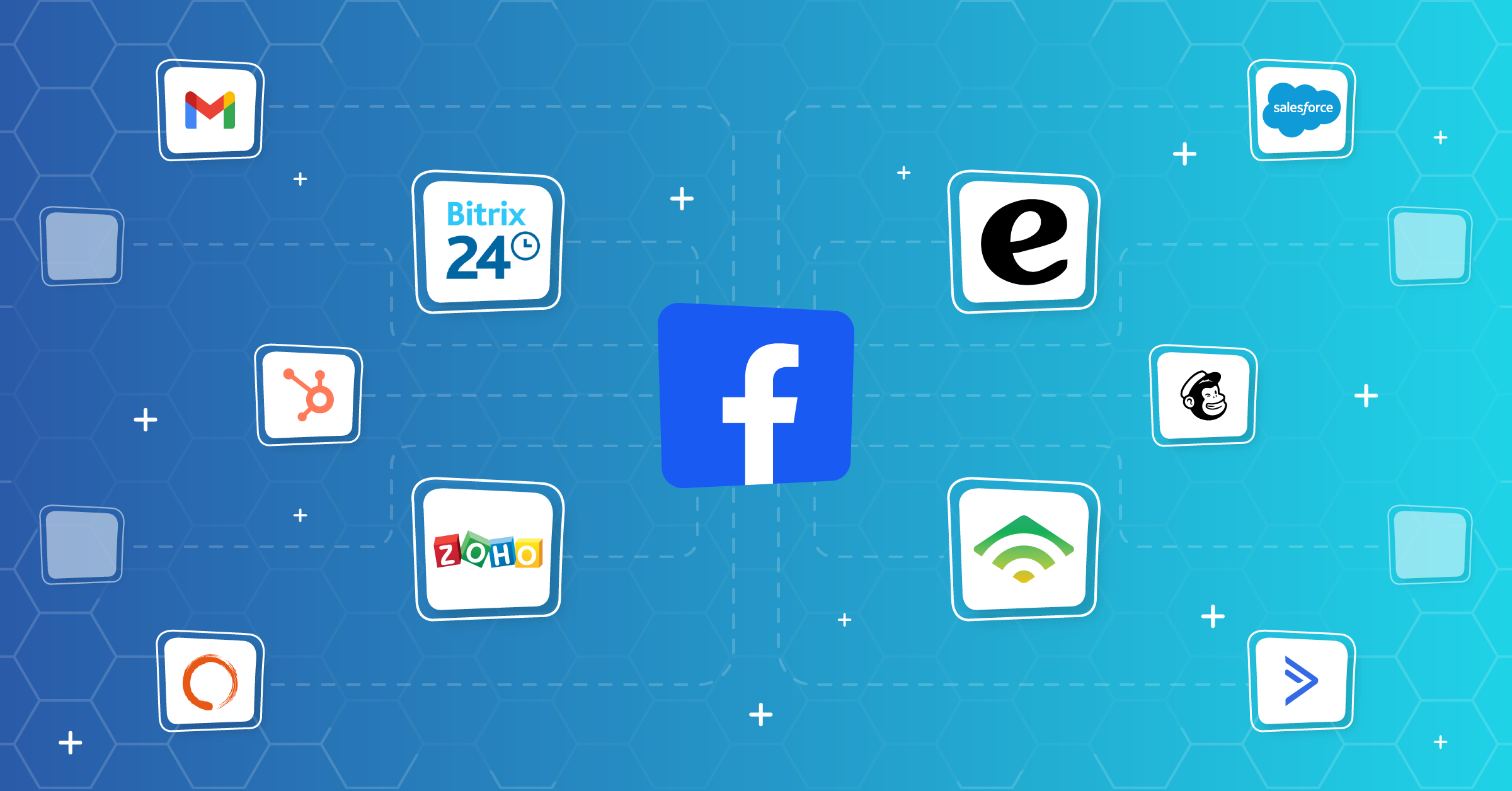 Manual handling of data collected from your Facebook campaigns is both time-consuming and prone to errors. This process also creates more friction by preventing you from providing timely responses to your leads. Long gaps between an opt-in and sending an automated email sequence to your leads may result in losing high-intent leads and ultimately lower ROIs.
So how should you address these issues?
The best solution is to connect Facebook Lead Ads to your CRM using a third-party integration such as LeadsBridge.
In this article, we'll talk about automated, real-time integrations between top advertising platforms – including Facebook Lead Ads – and the most popular marketing tools, such as:
If you'd like to search for a specific integration, you can do so yourself by typing in your desired destination.
An introduction to Facebook Lead Ads
Facebook introduced Facebook Lead Ads in October 2015 to facilitate generating cheaper leads through mobile ads.
With over 2.93 billion monthly Facebook users, this feature offers a frictionless way to get an enormous amount of leads for your business. In addition, a study revealed that over 98.5% of Facebook users access it on mobile, making Lead Ads an excellent option to broaden your customer reach.
Besides, Facebook Lead Ads make the sign-up process and form submission easy. Once users click on the ad, they are presented with a sign-up form that is pre-filled with their profile information such as name, email address, etc. Then, all they need to do is confirm their information and submit the form.
Downloading the CSV file from Facebook is rather straightforward. In practice, you can either export it manually or through automation.
Consider these statistics: a successful marketing strategy requires no more than 5 minutes to contact a lead, and 78% of customers buy from the first responder. Studies also show that "if a lead is called within five minutes versus 30 minutes after it's submitted, that lead is 100 times more likely to be contacted and 21 times more likely to enter the sales cycle".
Additionally, Facebook keeps your leads for only 90 days. So in case you forget to download your leads, you will lose all the database and marketing efforts.
All of these bring us to one single point: automating your data management is a must when it comes to Facebook advertising.
Facebook Lead Ads – Email Notification free integration
Facebook's Lead Ads can attract high-quality leads and, even better, a substantial volume of contacts to follow up with. So to prevent these leads from falling through the cracks, it's important to have Facebook lead form notifications set up and get notified about incoming leads. Alternatively, one can also make use of conversational AI that can provide more varied, context-dependent responses to the incoming leads.
LeadsBridge offers a Facebook Lead Ads- Email Notification free integration, which is designed to send incoming lead alerts straight to your email. This way, your sales team will get email notifications immediately and can get in touch with them in a timely manner.
With just a few clicks, you can set up your Facebook email integration through LeadsBridge for free. Learn how to send Facebook leads to email for free here.
Facebook Lead Ads integration with CRM
Facebook allows you to use different CRMs to manage your leads. All you need is to integrate your Facebook Ads account with the CRM of your choice. This integration allows you to leverage lead data so you can nurture them before they grow cold. There are different ways to integrate Facebook leads with CRMs, including:
1. Custom integrations: This involves setting up your own tool to sync leads using Webhooks and Facebook Graph API.
2. Third-party integration: This method allows you to integrate your Facebook leads with your CRM through a third-party provider such as LeadsBridge.
Facebook Lead Ads – CRM integrations through LeadsBridge
LeadsBridge is an official Meta partner that helps create automated connections – or data bridges – between your top advertising platforms like Facebook and any other tool inside your marketing stack.
Our platform integrates with over 380 marketing apps, including CRMs, email marketing software and autoresponders. We also offer managed services and high-performing tailor-made solutions.
Watch these videos, to learn exactly how LeadsBridge works.
With LeadsBridge Facebook Lead Ads Sync, you can send your leads data without manually downloading them in CSV format. This allows you to maintain your database hygiene, send real-time welcome emails or opt-in offers to your leads, and more.
For instance, if you create an opt-in offer such as an ebook, people expect to receive their ebook as soon as they sign up and submit your Lead Ads form. If your system is already streamlined through LeadsBridge, our Lead Sync tool will send the users' information straight to your CRM, and trigger a response, so your users can access their opt-in offer without delay.
Discover our most popular Facebook Lead Ads-CRM integrations here.
1. Facebook Lead Ads integration with Salesforce®
Salesforce® CRM – Facebook Lead Ads integration is one of the most popular marketing automation bridges. The platform itself is a Customer Relationship Management (CRM) tool that connects businesses of all sizes with customers, employees, partners, and products. In short, it's a one-size-fits-all CRM that fulfills all your business's digital needs.
Salesforce® is one of the top B2B marketing tools, helping its customers improve sales revenue by 34%, win rate by 27% and lead volume by 52%. These outstanding numbers result from an easy-to-use platform where businesses can find and qualify leads, close deals, and grow.
With LeadsBridge, you can now integrate Facebook Lead Ads with Salesforce® without needing to know how to code. This integration syncs your leads directly from your Facebook Lead Ads campaign to Salesforce®, where you have your welcome emails and other follow-up email sequences ready to send to your leads.
This configuration allows you to manage, segment, and synchronize your CRM with Facebook. Not only that, but you can also integrate Facebook Custom Audiences and Facebook Conversions API with Salesforce® through LeadsBridge.
If you are using Salesforce®, connecting your Facebook tools with LeadsBridge integrations can help build a unified system.
Discover all you need to know about Salesforce® integrations here.
2. Facebook Lead Ads integration with HubSpot
HubSpot is an inbound marketing software with over 1000+ app integrations. It's designed to help businesses attract visitors to their websites, convert them into leads, and turn them into paying customers. It provides different software sets specialized for marketing, sales, and customer service.
HubSpot facilitates sending free bulk emails, nurturing leads with personalized emails using lead data, and optimizing emails for different devices, and more. The platform also offers built-in analytics for behavioral marketing and tracking conversions for emails, pages, offers, and other traffic sources. Overall, it's one of the best CRMs for Facebook Leads.
You can integrate your Facebook Lead Ads campaign with HubSpot through the native integration feature. This automates users' follow-up processes after they sign up and enables you to send them a welcome email or an opt-in offer instantly.
Statistics show that welcome emails can generate up to 320% more revenue per email when compared to other promotional emails. This means that Facebook Leads Ads integration with HubSpot could significantly improve your campaigns' ROI.
There are two ways to integrate Leads Ads with HubSpot:
Sync your Facebook Leads Ads with HubSpot through LeadsBridge's Lead Ads Sync. All you have to do is sign up; it's free!
Use HubSpot's native Facebook Lead Ads integration, which involves a complex setup.
To know more, read this article about Facebook Lead Ads and HubSpot integration: a Native Vs. LeadsBridge comparison.
This integration allows you to use complex flows. Apart from syncing your leads to forms, smart lists, and static lists, you can sync your leads with HubSpot deals and pipelines.
LeadsBridge also helps you track the offline conversions generated by your Facebook campaign. Using Facebook Conversions API, you can define automatic flows to segment your lists easily for building effective workflows, and matching data fields from one platform to another. This tool also enables you to filter and re-sync leads with little effort and distribute your leads so that they get the best experience.
Needless to say, a well-developed data management is the basis of lead scoring best practices which result in higher ROIs.
Check out the best available HubSpot integrations for your business.
3. Facebook Lead Ads integration with Mailchimp
Mailchimp is an all-in-one email marketing platform that helps small businesses run marketing campaigns through email, social media networks, landing pages, postcards, etc.
The platform facilitates designing beautiful emails to engage your audience using pre-made templates with an easy drag-and-drop setup.
Timing is everything when it comes to responding to the leads coming from your Facebook Lead Ads. Mailchimp helps automate your email delivery and customize it to reach your leads at the most appropriate time. Mailchimp emails also have 96-99% acceptance rates, which keeps your marketing emails out of the spam folder.
Automate your lead sync with Facebook Lead Ads – Mailchimp integration. Sign up to access your LeadsBridge account and use this integration now for free!
Using our platform, you can auto-update lists on Mailchimp, send welcome emails or specific opt-in offers, and more. Automation helps you get in touch with your leads in nearly real-time, so you can nurture them despite where they are in the lead lifecycle.
Find out more about the Mailchimp CRM integrations.
4. Facebook Lead Ads – ActiveCampaign integration
ActiveCampaign is the number one automation platform for both B2C and B2B companies. You can use it to reach, nurture and educate your audience, convert them to leads and customers, and provide support.
ActiveCampaign lets you automate your workflows, such as sending a welcome email series, segmenting your contacts, or setting up predefined triggers. Additionally, it helps automate your sales processes to organize all your customer and inventory data in one place.
ActiveCampaign easily integrates with other marketing tools, such as Facebook Lead Ads, through a third-party integration provider like LeadsBridge. With our ActiveCampaign CRM – Facebook Lead Ads integration, you can directly send your incoming leads from the Facebook Lead Ads campaign to ActiveCampaign for real-time nurturing.
Other integrations offered by LeadsBridge for ActiveCampaign and Facebook are with Facebook Custom Audiences and Facebook Conversions API.
5. Netsuite Facebook integration: Facebook Lead Ads integration with Netsuite
Netsuite is a popular cloud-based CRM software that provides a 360-degree view of your customers. It offers online marketing solutions to enterprise clients and ecommerce solutions to small and medium-sized companies.
The platform enables you to optimize your sales funnel through advanced forecasting capabilities, get info about their customer life cycle, and include different customizations. Netsuite also integrates with Facebook Lead Ads and other marketing platforms through third-party providers.
With this integration, you can send data to Netsuite automatically to contact and run follow-up campaigns instantly.
Other popular NetSuite integrations are Facebook Custom Audiences and Facebook Conversions API.
Discover all Netsuite integrations through LeadsBridge here.
6. Zoho CRM – Facebook Integration: Zoho CRM integration with Facebook Lead Ads
Over 150,000 businesses use the Zoho CRM across 180 countries. It is designed to help convert more visitors into leads, build relationships with customers, and grow revenue.
The platform offers sales meetings and presentations right within a single dashboard. Besides, it allows you to track sales and performance, collaborate with team members, connect with customers, and automate every aspect of your marketing to reduce friction in your system. Learn more about Zoho CRM – Facebook integrations here.
As one of the best CRMs for Facebook leads, Zoho integrates with the most popular marketing apps and services, including the Zoho Facebook Lead Ads integration through LeadsBridge.
With this integration, you can funnel your leads from the Facebook Leads Ads campaign directly to your Zoho CRM automatically.
7. Klaviyo integration with Facebook Lead Ads
Klaviyo is a robust SMS marketing software that you can use for a variety of customer communications. This unique ecommerce tool delivers versatile applications to support almost any email marketing campaign.
When it comes to SMS marketing, Klaviyo is one of the few growth marketing platforms that facilitates more personalized experiences across your marketing channels.
Using LeadsBridge, you can connect Klaviyo with hundreds of the most popular marketing tools to automate your workflow.
The above integration streamlines your Facebook advertising by connecting Facebook Lead Ads with Klaviyo. Other integrations between these two platforms can help you manage leads, set up triggered emails, build custom audiences and more.
8. Pipedrive – Facebook integration
Pipedrive offers a sales CRM and lead management solution that allows marketers to optimize their marketing and sales activities and track conversions. The platform streamlines every action so that businesses can convert a potential lead into a paying customer sale.
It was built to give sales reps enough time and visibility to enhance growth and productivity and encourage activity-based selling.
LeadsBridge offers a Pipedrive – Facebook integration to automate the entire data transfer between the two platforms.
Sign up to use this free integration and take your Facebook marketing to the next level.
Discover all the possible integrations with Pipedrive below.
9. Mindbody – Facebook integration
Mindbody is a wellness business software that helps health and fitness professionals run their day-to-day operations, attract and retain clients, and bring their businesses to life.
LeadsBridge offers a Mindbody – Facebook integration with Facebook Lead Ads and Facebook Custom Audiences. These two integrations allow you to get in touch with your new clients right away and use their data to create new custom and lookalike audiences for your campaigns.
Here's a step-by-step guide to connecting MindBody to Facebook Lead Ads.
Other valuable integrations with Facebook Lead Ads
1. Webhook integration with Facebook Lead Ads
Often, web applications use webhooks as data bridges. A webhook is a light API that assists one-way data sharing when triggered by actions. It lets you send real-time data from one application to another whenever a certain event (trigger) occurs.
Despite the essential role of webhooks in the digital world, not all applications support them. That's why you need LeadsBridge webhook integrations to build easy-to-use data bridges that share updates via webhooks.
For instance, you can use webhook integration with Facebook Lead Ads to make the process seamless.
Using a Facebook Leads-webhook integration, all your new form submissions on your Facebook Lead Ads will automatically be sent to the specified webhook URL. This allows you to seamlessly connect your form to the rest of your marketing pipeline.
2. Facebook Lead Ads integration with Gmail
When it comes to email software, using Gmail as a CRM doesn't come to mind. However, Gmail can be regarded as a lightweight contact management system for a start-up business, also best suited for small teams or solopreneurs. Some tools have native Gmail integrations, while others like Facebook Lead Ads need a third-party integrator. Here's an example.
3. Connecting Facebook Lead Ads to Google Sheets
Google Sheets is an incredibly useful tool for almost every business. In simple words, it helps you gather and share data. However, the process must be done manually in order to move the data collected between any two platforms: you'll have to download CSV files from Facebook, import them into Google Sheets, and fix formats and styles.
With LeadsBridge, you can automate the process entirely. Facebook Lead Ads to Google Sheets integration allows you to automatically send lead data collected through Lead Ads campaigns to your desired Google Sheets file. Besides real-time data transfer, all files are already formatted and ready to be contacted.
Additionally, connecting Google Sheets with Facebook Custom Audiences enables you to leverage your customers' data to create new custom and lookalike audiences on Facebook to expand the reach of your advertising campaigns, while maintaining the quality of your targeting.
4. Connecting Facebook Lead Ads to Google Forms
Google Forms are an easy and super accessible way to help you create and share online forms and surveys and analyze responses. However, you'll still need to update your Google Forms manually each time a new lead comes in. This is obviously an impractical and inefficient way to manage your forms.
With LeadsBridge, you can build a Facebook Lead Ads – Google Forms integration that sync lead data between the two platforms automatically and in real-time.
Benefits of integrating Facebook Lead Ads with CRM through LeadsBridge
LeadsBridge integrations are data bridges between Facebook Lead Ads and marketing tools such as CRMs and Email marketing software. Our platform offers over 380 standard CRMs and email marketing integrations and unlimited tailor-made solutions.
Thanks to LeadsBridge, you can send the leads collected via Facebook Lead Ads directly to any CRM/Autoresponder and cut out any repetitive tasks. Moreover, our integrations;
Prevent manual tasks such as downloading or uploading your lead data from Facebook: Automation streamlines all the workflows involving your leads' information and makes them available to access and manage through your CRM software in real-time.
Promote lead nurturing: The longer you take to follow up with your leads, the lower your conversions.
Help confirm your contact's interest in your offering easily: you can ensure that individuals that respond to your lead ad are interested in hearing more from you.
Facilitate timely follow-ups: you can send opt-in offers and welcome emails to your newly acquired leads, as soon as they show interest in your offering.
Email receipt feature
A unique benefit of LeadsBridge is the email receipt feature, which is available for all integrations. This tool allows our users to keep track of their lead generation efforts.
When creating your bridge on the LeadsBridge dashboard, you'll find the email receipt option right at the bottom of the bridge completion page. To activate it, you'll need to push the little switch button next to the line that reads, "Do you want to receive an email notification for each lead coming in?"
Once completed, you'll start receiving notifications in your mailbox.
Facebook Lead Ads integration success stories
Companies could increase their ROI significantly if they managed the leads generated from Facebook Lead Ads instantly with a follow-up email or phone call. This means that the sales or marketing team must be notified in real-time when a new user opts.
Below are some noteworthy success stories of customers who used LeadsBridge to integrate Facebook Lead Ads with their CRM, email, and call center software.
Kayak Pools Midwest
Kayak Pools Midwest is an Indianapolis-based company that delivers backyard vacations to over 4,000 locations throughout America's heartland.
They used Facebook Leads Ads integrated through LeadsBridge to generate qualified leads for follow-up through their call centers. The ad generated 7,820 new leads, and a $3.1M increase in revenue.
Anthony Russell, Director of Digital Strategy at StrataBlue, who managed the company's campaigns, said that this integration "cut down the time from lead to call significantly. Since there is rapid time decay on high-value items like pools when dealing with lead forms, LeadsBridge greatly reduced the number of leads that would go cold since the call center reps were able to get in touch with them faster. Fewer leads going cold meant more sales for the client."
Spinifex Sheds
Spinifex Sheds, a local independent Ranbuild Dealer located in Kelmscott, aimed to increase the number of quotes they received per month. Using Facebook Lead Ads combined with Facebook Custom Audiences allowed them to increase their ROI four times and reduce their cost per lead by 88%!
Bodie Czeladka from Dilate Digital said that the integration of Facebook Lead Ads with the customer's CRM "allows us to enhance our client's experience, in this case, the ease of managing new leads, is a credit to our company and aids us to deliver the best results and experience to our clients."
LeadsBridge vs. Zapier
Zapier is a web-based platform that links apps together and automates workflows. It enables you to connect web apps to share data and create flows without coding. Presently, Zapier offers over 5,000 app integrations, such as Gmail, Slack, Google Sheets, Google Docs, Quickbooks, and more.
However, to provide a large number of integrations, Zapier had to overlook some details. This has made the platform somewhat generic in terms of function.
LeadsBridge, on the other hand, is one of the best Zapier competitors and helps generate quality leads, improve campaigns, and grow sales by streamlining data between different advertising platforms.
With over 380 specialized integrations across different industries, LeadsBridge enables customers to sync data in a GDPR-compliant way – a feature that is becoming more and more important every day.
To learn more about LeadsBridge vs. Zapier, here is a detailed side-by-side comparison that will help you choose the most suitable option for your business. Read this article to discover the 7 best alternatives to Zapier.
Final thoughts
Facebook allows users to use different integrations to ensure that leads are sent to marketing software for onward communication. Among these are the custom and third-party integrations. Custom integrations require using webhooks or APIs, which call for complex setups and well-versed coding knowledge. Third-party integration providers such as LeadsBridge involve using a tool to help connect Facebook leads to your CRM or Autoresponder.
Regardless of the tools and marketing platforms, seamless data sync is the key to leveraging all your marketing efforts. Now, you can use some of our integrations for free, with our free forever plan. Learn more about our free plan here!
With LeadsBridge, you create your Facebook Lead Ads-CRM integration with Salesforce®, HubSpot, Mailchimp, and other popular marketing tools available on the market. These integrations save time, improve Facebook campaigns' efficiency, and help you raise your company's bar.
Check out all the possible Facebook Lead Ads integrations here.