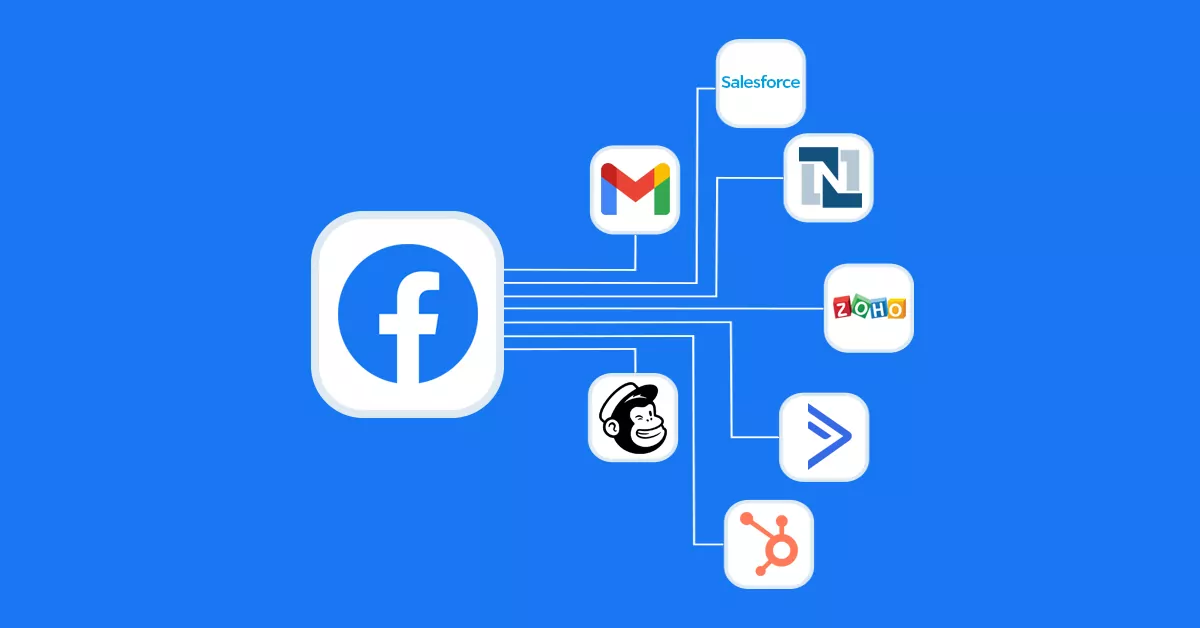 Facebook introduced Facebook Lead Ads in October 2015. It is an advertising tool businesses can use to generate cheaper ads through mobile ads. The Facebook Lead Ad is great for mobile users because many people now use the mobile to access social media networks. A study revealed that 96% of Facebook users access it on mobile.
With its over 2.07 billion monthly users, Facebook Lead Ads is a frictionless way to get enormous leads for your business.
The most interesting aspect of Facebook Lead Ads is that it is easy for users to sign up. All they need to do is click the sign-up form, and a pre-filled form comes up with their profile data such as name, email address, location, etc. Users confirm their information and submit the form. The lead's information is stored on Facebook and downloaded manually in a CSV file within 90 days.
Downloading the CSV file from Facebook is easy. The file is exported manually, and you can use Excel, Apple's Numbers, or LibreOffice to open it. Once you open it, you can use Google sheets to import it manually into your CRM.
But there is a problem.
The problem with manually downloading the CSV file from Facebook is that it wastes time and effort you can channel to other important things in your business. Again, it will take time before you send an automated email sequence to your leads. Considering the fact that you have to download your leads as they come in every day and uploading them to your CRM or Autoresponder. By the time you do that manually, the leads are already cold. Meaning it may be difficult to convert them to leads.
You have only 5 minutes to contact a lead, and 78% of customers buy from the first responder. A study also revealed that "if a lead is called within five minutes versus 30 minutes after it's submitted, that lead is 100 times more likely to be contacted and 21 times more likely to enter the sales cycle."
Not only that, but Facebook also keeps your leads for only 90 days. When it is over that period, you cannot download it. What if you forget to download your leads? You will lose them in the end.
The solution to this problem is to use Facebook Lead Ads integration with CRM.
Facebook Lead Ads integration with CRM
Facebook allows you to use different CRMs to manage your leads. All you need is to integrate your Facebook Lead Ads account with the CRM of your choice. When this is done, you can leverage it to quickly get in touch with your leads so you can nurture them before they get cold. There are different ways to integrate Facebook leads with CRM, including:
Custom integrations: This involves setting up your own tool to help you sync leads using the Webhooks and Facebook Graph API.
Third-party integration: This is a method where you integrate your Facebook leads with your CRM through a third-party. This is an effortless and fast way you can use to quickly connect with your new leads. A great third-party and Facebook partner you can use to do this is Leadsbridge.
Facebook leads ads integrations with CRM through Leadsbridge
LeadsBridge is a platform that connects business tools with the most popular advertising platforms and lead generation sources, including tailor-made integrations.
As its name implies, it acts as a bridge between software. It is integrated with over 370 CRMs and email marketing software. It helps to sync custom audiences with CRMs, Email marketing software, webinar software, Facebook products, etc.
Leadsbridge makes it possible for you to connect your CRM / Autoresponder with your Facebook Lead Ads campaign through Leadsbridge Facebook Lead Ads Sync. With this tool, you can export your leads directly into any CRM/Autoresponder of your choice without having to manually download them in a CSV file. This makes it safe and easy to quickly send your leads a welcome email and opt-in offers without manual efforts.
Leadsbridge makes it possible for you to connect your CRM / Autoresponder with Facebook Lead Ads campaign through Leadsbridge Facebook Lead Ads Sync. With this tool, you can export your leads directly into any CRM/Autoresponder of your choice without having to manually download them in a CSV file. This makes it safe and easy to quickly send your leads a welcome email and opt-in offers without manual efforts.
For instance, if you create an opt-in offer such as an e-book for people who sign up through the Facebook Lead Ads campaign, as soon as they sign up and submit the form, the Leadsbridge Lead Ads Sync tool will send the users' information straight to your CRM and your users will get their opt-in offer without delay. There are three most used Facebook Lead Ads integrations with CRM on Leadsbridge.
1. Facebook Lead Ads integration with Salesforce®
Salesforce® is one of the most used CRM for Facebook Lead Ads integration. Salesforce is a Customer relationship Management (CRM) application that connects businesses of all sizes with customers, employees, partners, and products. It is an integrated CRM that fulfills all your business needs, such as marketing, sales, commerce, and service. Over 150,000 companies are using Salesforce.
Salesforce CRM is a reputable product that has been in existence for about 20 years. It has a lot of market share in sales, marketing, and customer service applications. A study revealed that 38% of CRM software customers prefer Salesforce CRM over other solutions available in the market.
Salesforce CRM is known to help customers achieve improvement in sales revenue by 37%, customer satisfaction by 45%, and marketing ROI by 43%. This is as a result of an easy-to-use platform where businesses can find and qualify leads, close deals, and grow. It is a CRM framework that combines sales, marketing, help desk, and other business processes in one platform.
With LeadsBridge, it is now possible for you to integrate Facebook Lead Ads with Salesforce® with no coding. This allows you to manage, segment, and synchronize your CRM with Facebook. Not only that, but you can also integrate Facebook custom audience and Facebook Online conversions with Salesforce through LeadsBridge.
This integration ensures that you send your leads directly from your Facebook Lead Ads campaign to Salesforce, where you have your welcome emails and other follow-up emails ready to send to your leads. This will help you to quickly close deals and increase your revenue.
2. Facebook Lead Ads integration with HubSpot
HubSpot is an inbound marketing software designed to assist marketers and business owners in attracting visitors to their websites, convert them into leads, and turn them into paying customers. It does this by providing loads of software for marketing, sales, and customer service. It also gives your business all you need to organize, track, and build fruitful relationships with leads and customers. It has over 200+ app integrations.
HubSpot gives you the opportunity to send bulk emails for free. You can nurture your leads with personalized emails using user's data from Facebook Lead Ads. The emails are also optimized for different devices such as Mobile phones, tablets, and desktop computers. It has built-in analytics that shows you the emails, pages, offers, and traffic sources that are driving the most conversions. It is one of the best CRM to integrate with Facebook Lead Ads.
If you are a HubSpot user, it is possible for you to integrate your Facebook Lead Ads campaign with HubSpot. This helps you to automate the follow-up processes of users after they sign up. It also enables you to quickly send them a welcome email or their opt-in offer. A study revealed that welcome emails on average generate up to 320% more revenue per email basis than other promotional emails. This means Facebook Leads Ads integration with HubSpot will enable you to increase your campaign ROI tremendously.
There are two ways to integrate Facebook Leads ads with HubSpot. The first method is to sync your Facebook Leads Ads with HubSpot through Leadsbridge's lead Ads Sync.
The video below shows how it works:
The second method is to use the HubSpot native Facebook Lead Ads integration. You can learn more about it here.
Leadsbridge's Facebook Lead Ads integration with HubSpot allows you to use complex flows that need flexibility. Apart from syncing your leads to forms, smart lists, and static lists, you can also sync your leads with HubSpot deals and pipelines.
Leadsbridge also helps you to track the Offline conversions generated by your Facebook campaign. From it, you can create custom audiences automatically and send welcome emails and SMS to your leads. You can also send notifications to your sales reps and do much more.
3. Facebook Lead Ads integration with MailChimp
MailChimp is an all-in-one email marketing platform that helps small businesses to promote their business through email, social media networks, landing pages, postcards, etc. It has over 300 app integrations.
With MailChimp, you can create beautiful emails to engage your audience. It has an email builder with easy pre-designed templates you can drag and drop to create engaging emails for your leads. You can automate your email delivery and customize it to reach your leads at the right time. This is especially useful for the lead coming from your Facebook Lead Ads. This feature enables you to create a welcome email series for your leads to nurture them. With MailChimp's 96-99% acceptance rates, your email campaigns are kept away from the spam folder.
If you use MailChimp, you can integrate your Facebook Lead Ads with MailChimp.
This integration enables you to add and update subscribers from Facebook Lead Ads into Static lists, groups, Lists, and Auto-update lists on MailChimp.
This will help you to quickly send welcome emails or specific opt-in offers to your leads as they sign up through your Facebook Lead Ads. It is easy to quickly get in touch with them so you can nurture them with your welcome series.
4. Facebook Lead Ads ActiveCampaign integration
ActiveCampaign is the number one automation platform for E-commerce, digital businesses, and b2b companies. With it, you can reach and build relationships with your audience, nurture and educate them, convert them to leads and customers, and provide support for them. You can use automation to set up a welcome email series and segment your contacts or use workflows to automate your marketing. You can also automate your sales processes to organize all your customer data in one place. Apart from email marketing automation, ActiveCampaign also offers advanced reporting, integrated forms, site tracking, and email segmentation, etc.
One significant thing about ActiveCampaign is that you can integrate it with your favorite tools, such as Facebook Lead Ads through Leadsbridge. With Facebook Lead Ads ActiveCampaign integration, you can send your incoming leads from the Facebook lead ads campaign directly to ActiveCampaign. This will enable you to quickly contact your leads before they get cold.
Other integrations offered by Leadsbridge for ActiveCampaign are with Facebook Custom Audiences, Facebook Offline Conversions, etc.
5. Netsuite Facebook integration: Facebook Lead ads integration with Netsuite
Netsuite is one of the most popular cloud-based CRM software with a market share of 0.94%. Netsuite's range of products includes the enterprise resource planning system. It offers online ERP solutions to enterprise clients and CRM and E-commerce solutions to small and medium-sized businesses. Netsuite is great for companies that want to run their businesses on a single application in the cloud.
With Netsuite, businesses can optimize their sales performances through advanced forecasting capabilities, get streamlined information across their customer life cycle, and carry out different customizations they deem fit. One of the most important features of Netsuite is its ability to integrate with other tools such as Facebook Lead Ads through Leadsbridge. With this integration, you can send your leads directly to the Netsuite CRM instead of downloading them manually in a CSV file.
Netsuite Facebook integration makes it easy to quickly contact your leads and send them welcome emails as they come in. This will save you time and effort to grow your client's base and also increase your conversion rates.
Other popular NetSuite integrations through Leadsbridge are Facebook Custom Audiences, Salesforce, PrestaShop, Salesflare, Prism CRM, and Practice suite.
6. Zoho CRM Facebook Integration: Zoho CRM integration with Facebook Lead Ads
Zoho CRM is one of the best CRM available online. Over 150,000 businesses use it in 180 countries of the world. It is great for customer relationship management as it helps you to convert more visitors into leads, build relationships with customers, and grow your revenue. With Zoho CRM, you can have sales meetings and presentations right within your CRM. You can track sales and performance metrics, collaborate with teams through feeds, connect with customers anywhere they are and automate every aspect of your business to reduce repetitive tasks.
It also offers real-time reports to help you make smarter business decisions and conversational AI to help you sell smarter.
Zoho provides integrations to apps you love. It is built to integrate with your favorite apps and services you use for your business daily. One good example is the Zoho Facebook lead ads integration through Leadsbridge. With this integration, you can funnel your leads from the Facebook Leads ads campaign directly to your Zoho CRM. This saves time and effort you would have spent downloading your leads manually as a CSV and uploading it to your CRM.
7. Facebook Lead Ads integration with GMAIL
When talking about email software, the words CRM Gmail integration don't typically come to mind. In truth, Gmail makes for an excellent CRM in many cases. Especially if budget is a concern. Gmail can be considered as a lightweight CRM system and a good starting point for your business and works well for small teams… or even better solopreneurs. Some tools are native Gmail. Then there are others we'll talk about, which are third-party software. Let's dive in:
Native Gmail features:
Contacts
Gmail has a very useful but often unused contacts section. You can access it by clicking on the dropdown menu just over the compose button on the left.
The contact database automatically stores information on anyone you correspond with, and you can add more data to it as well. Clicking on the add button, you can add info like birth date, relationship status, or just a custom field according to your business needs.
So, for example you can add notes about the progress of an outreach attempt, keeping track of everything about the relationship you're trying to build with a new lead. Keep in mind that you can put everything you might need here for future references, such as phone calls or real-life appointments as well.
Once you've got someone on your contact list, they'll be searchable everywhere in Google apps, so you'll be able to add them to a task or a Google calendar appointment.
2. Groups
Another interesting feature here is the groups' one. You can put every contact in an appropriate group. For example, you can choose to assign this one to "New leads."
Having everything well organized this way will help you save time and work more efficiently later on, such as creating email campaigns for these groups.
3. Canned responses
Canned responses are one of the best Gmail features, an incredible time saver hidden in the Gmail Labs features. Basically, they are email templates that are just a few clicks away for fast responses. You just need to activate it. To do that, go to your settings page:
Then select the "Lab" tab, find in the list "Canned emails," enable it, and then click save at the bottom of the page.
Here you go, now compose a new message, click on the little arrow in the bottom right, and you'll find the new Canned responses option. Select "New canned response," and you'll save the email you just wrote as a template. The next time you have to answer an email in a similar way, come back here, and you'll need to just click on your saved template to make it appear inside your mail body. Fast and easy!
If you read this article till the end, you'll see this handy feature come back again to send automatic responses to people signing up on your Facebook lead ads.
3rd party tools

1. Rapportive
This is an amazing tool everyone using Gmail for business should have. It's a free add-on from LinkedIn that automatically adds a window inside Gmail with more information about the person you're interacting with. As you can see in the picture down here, I'm writing to Stefan, our CEO at LeadsBridge, and Rapportive is showing me social media data about him.
You can not only see at a glance who exactly is the person you're having a conversation with but also follow him/her on Twitter directly from the Gmail interface or connect on LinkedIn and see the connections you have in common. This is a great way to get a bigger picture of your contacts and have instant information on people that send you emails.
2. Boomerang
Boomerang is another very helpful tool for Gmail to get more control over our emails. We can get a receipt when our emails are opened and know if the links inside them have been clicked. Boomerang allows you to select an action based on the email as you're replying to said email.
For starters, you can choose to send it later, which might come in handy, for example, if you are a night owl and you feel a little embarrassed to send out important emails at 2 am. Another cool feature is about follow-ups. If you send an email to someone with a request or a suggestion, you can, in fact, ask Boomerang to return it to you if nobody responds within an amount of time.
So let's say that nobody answers for, let's say, one week. After that time, Boomerang will send it back to your Inbox so you can see it as a reminder and take action.
In a similar way, you can archive an email you don't have time to deal with right away and tell Boomerang to get it back in your Inbox a set amount of time later.
It has a free limited plan and a very affordable entry-level monthly subscription set at $5.
3. Unroll
One last suggestion to keep the inbox clear.
We all arrive at a certain point when it becomes impossible to stay up to date with all the newsletters we subscribed to overtime. Many of them are probably at this point just useful to keep that unread count from always going up. This is where Unroll.me comes in to help.
This service scans your inbox for all the newsletters, and then you can choose all those you want to keep, to unsubscribe in just a click, or to add to a digest email called the Rollup.
Automatic segmentation from a Facebook Lead ad to a Gmail label
Thanks to Facebook Lead Ads, you can get the essential information that you need to start your sales funnel, all while making nice segmentations between all your potential new customers.
You'll need LeadsBridge to create real-time sync between Facebook data and your new CRM (yes, Gmail!).
Let's create a scenario just to see how the setup process works: you're targeting people who might be interested in buying a new fancy car, so you want to differentiate the new leads according to the car they're interested in.
Everything starts on Facebook with the Lead ad creation form. You choose to add a question, which will be shown as a drop-down menu, asking the user to make a choice between 4 cars: Tesla, Ferrari, Lamborghini, or Porsche.
When you're done with the ad creation, you can log into the LeadsBridge app and start setting up the second step of the process: the Facebook to CRM Gmail integration.
From the dashboard, choose the Add integration button.
On the next screen, select "Inbox Notifier (Email)" as a provider. Then set a name for your new integration and personalize the email fields if you need to.
Click save and then go to the LeadAds section and create a new one. When you arrive at the integrations tab from the drop-down menu, you'll be able to choose the integration you just created.

Finish the steps to create the LeadAds bridge inside LeadsBridge. Now every time someone fills your form on Facebook, an email will be sent in real-time to your inbox.
Now you are ready for the final chapter: your CRM Gmail integration.
Here we'll have to set up filters. Go to your Settings page in Gmail and select the 'Filters and blocked addresses' tab, then click on create the new filter.
At this point, you'll have to fill the form with the info that will allow the filter to recognize the email coming through the bridge from the Facebook lead ad. So we just need to set the same settings we have chosen in the Inbox Notifier integration inside LeadsBridge: the "from" address and the subject. In the "has the words" field, put the answer you are segmenting with for this filter. Then you'll be able to assign it to a different label according to the answer the user gave to the question about, in our scenario, the car he desires.
Now you have to choose the action you want to take. In our case, we want to add a label and have all the leads who are interested in a new Tesla car well organized in one single place inside our Gmail account. How can we do this? Click on the "Apply the label option," create the label you need, and select it.
Here, for example, I've created a "Fancy cars leads" label and nested the different types of cars. Create the filter, and you're done!
A little bonus tip: do you see in the image down here the canned response option? As we mentioned above, talking about this cool Gmail lab feature, you can select it as well to send an automatic response to people clicking on your Facebook lead ads. Welcome emails are very important, and people expect to receive one right away when subscribing to something. You can also put some nice personalization here since you know how this lead answered the question you asked!
Here is your first filter already in action!
And finally the result:
Now you have all the leads coming from your Facebook campaign well organized, automatically, inside Gmail. Time to sell those fancy cars!
Facebook Leads Ads integrations with CRM through LeadsBridge
In addition to the CRM Gmail integration, in case you use a CRM or email marketing software, then LeadsBridge acts as a bridge between these tools. In Fact, it is integrated with over 370 CRMs (and counting) and email marketing tools. It syncs Custom Audiences with CRMs, Email marketing software, webinar software, and more.
Thanks to this integration, you can sync the leads collected directly with any CRM/Autoresponder and cut out any manual, time-consuming work. This makes it safe and easy to send your leads opt-in offers and welcome emails quickly.
For example, let's say you create an ebook as an opt-in offer for people who sign up through the Facebook Lead Ads campaign. As soon as they sign up and the form is submitted, the Leadsbridge Lead Ads Sync tool will send the users' data straight to your CRM, and the new leads will be sent their opt-in offer instantly. Check out our Facebook Lead Ads with CRM Gmail integration.
Facebook Lead Ads Integration Success Stories
Companies that manage the Facebook Lead Ads leads immediately with a follow-up by mail and phone can get great benefits in terms of the ROI of their campaigns. Below are some significant success stories of customers that used LeadsBridge for Facebook Lead Ads integration with their CRMs / email and call center software.
Kayak Pools Midwest
Kayak Pools Midwest, an Indianapolis-based business that delivers backyard vacations to locations throughout America's heartland, wanted to generate leads for the business.
They used Facebook Leads Ads connected through Leadsbridge to generate qualified leads for their call centers to follow up. The lead ad generated 7,820 new leads and +$3.1m dollar revenue increase.
Anthony Russell, Director of Digital Strategy @ StrataBlue, who managed the campaigns, said that the integration with Facebook Lead Ads and the client's CRM "cut down the time from lead to call significantly. Since there is rapid time decay on high-value items like pools when dealing with lead forms, LeadsBridge greatly reduced the number of leads that would go cold since the call center reps were able to get In touch with them faster. Fewer leads going cold meant more sales for the client."
Spinifex Sheds
Spinifex Sheds, a local independent Ranbuild Dealer located in Kelmscott, wanted to increase the number of quotes they get per month. By using Facebook Lead Ads in combination with Facebook Custom Audiences allowed us to get 4x ROI and 88% reduction in cost per lead. Bodie Czeladka @ Dilate Digital said that the integration of Facebook Lead Ads with the customer's CRM:
"Allow us to enhance our clients' experience, in this case, the ease of managing new leads, is a credit to our company and aids us to deliver the best results and experience to our clients."
Conclusion
Facebook allows users to use different integrations to ensure that leads are sent to the favorite software for onward communication. Among these are the custom and the third-party integrations. The custom integrations require using webhooks or API. The third-party integrations such as Leadsbridge involve using a tool to help connect your Facebook Lead Ads to your CRM or Autoresponder.
This is one of the best integrations as it is easy and fast. With it, you can integrate Facebook Lead Ads with Salesforce, HubSpot, and MailChimp through Leadsbridge. These integrations save time, improves Facebook ads campaign efficiency, and help you raise your bottom line.