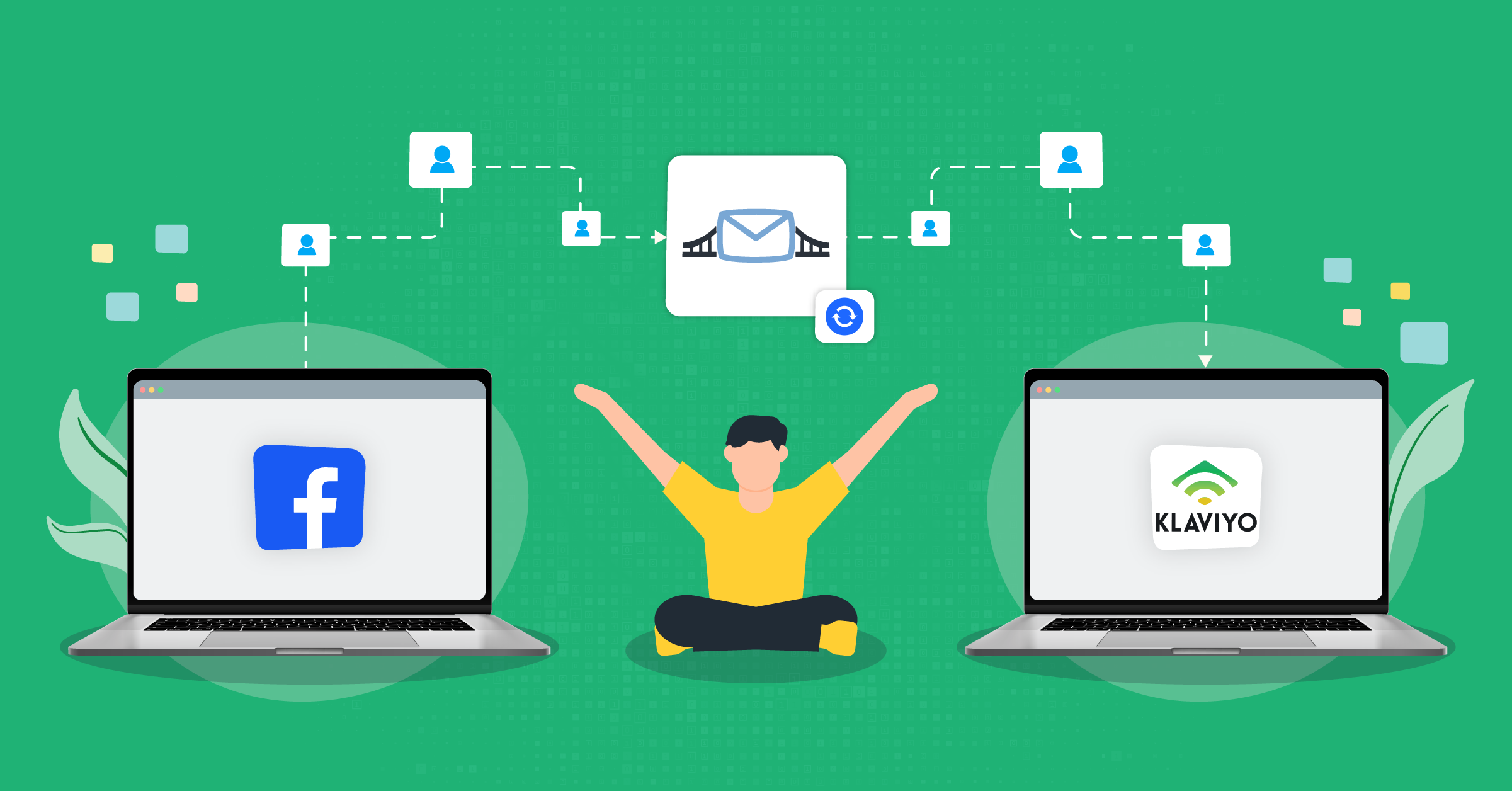 As a marketer or an agency that manages digital marketing, you want a reliable, frictionless system that allows you to share data across platforms. So to transfer info automatically and enhance your audience targeting on Facebook, you'll need to connect Klaviyo to Facebook ads.
This tutorial will show you the step-by-step process to set up your Facebook-Klaviyo integration.
What does Klaviyo integrate with?
Klaviyo integrates with a variety of marketing platforms and tools, including Facebook Lead Ads. However, to collect leads through Facebook advertising, send automated emails, and set up your email marketing on autopilot in Klaviyo, you'll need to connect these two platforms. Thanks to LeadBridge's user-friendly interface, setting up this integration is very easy and only takes a few simple steps.
After generating leads, you'll need tools to put this data in good use. This is where Klaviyo comes in; a powerful CRM with a focus on delivering personalized experiences to your customers.
Instead of manually downloading/uploading data from Facebook Ad Manager, you can use LeadsBridge integrations to automate the process and create flawless and efficient data transfers.
How do I link my Klaviyo to Facebook Lead Ads?
In a matter of a few clicks, you can link Klaviyo to Facebook Lead Ads and start sending automated emails, like a welcome series flow, to people who interact with your ads.
All you need to do is use LeadsBridge to streamline the data transfer between lead ads and Klaviyo. This integration is available in our Freemium Plan and offers many benefits completely free of charge!
This way, you can set the overall processes in automatic motion, including adding Lead Ad connections, triggering responses based on your strategy, and building a robust lead ad management workflow.
Learn more about why you should connect Klaviyo to Facebook Lead Ads.
How to connect Facebook leads to Klaviyo via LeadsBridge (a step-by-step tutorial)
To connect Facebook leads to Klaviyo automatically, all you have to do is follow these simple steps.
Before you start
LeadsBridge is designed in a way that allows you to set up any integration in a matter of minutes.
Before you start, log in to your LeadsBridge account. If you haven't registered already, you can create one for free.
Here, you are presented with your personalized LeadsBridge dashboard.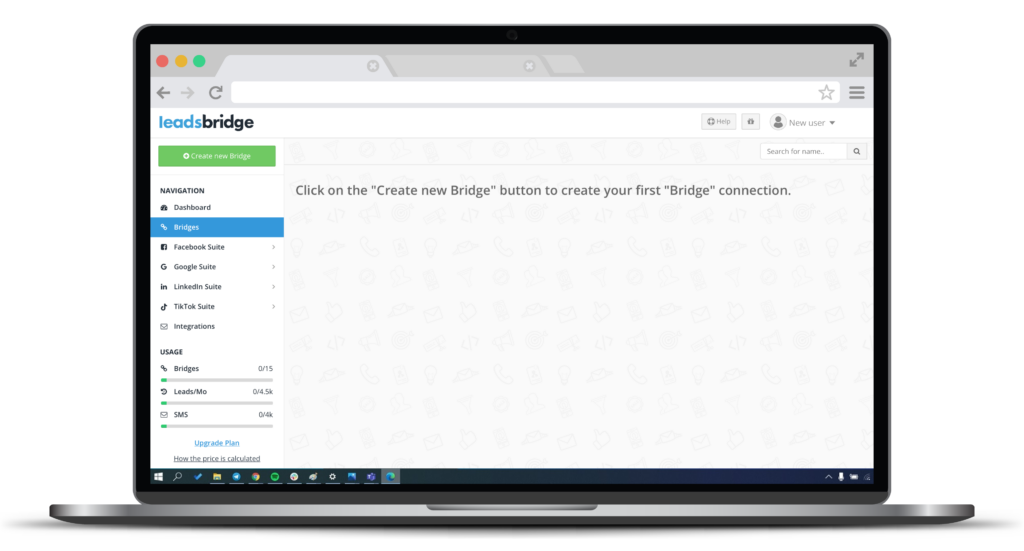 Step 1: Bridge's main information
First, find and click on the "Create new Bridge" button in the top-left corner. Here, you'll get to select the apps you want to connect:
Select "Facebook Lead Ads" as the source for your bridge.
Choose "Klaviyo" as the destination.
Click "Continue".
You'll have the option to name your bridge by clicking on the edit pencil icon at the top. This'll also make it easier for you to find any bridge on your LeadsBridge dashboard.
Step 2: Connect your accounts through LeadsBridge
Here, you'll need to connect your accounts to access each platform via LeadsBridge.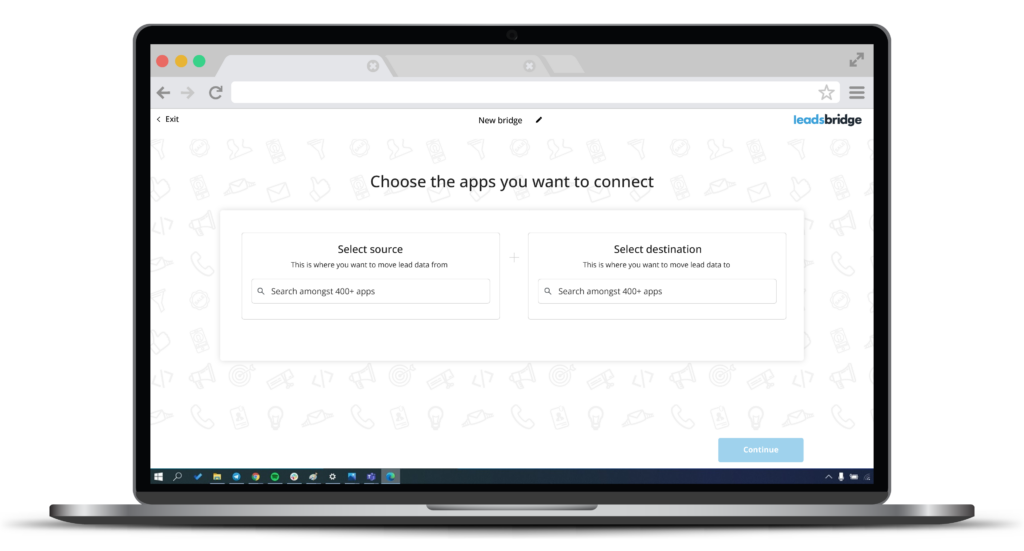 First, log in to your Facebook Ad account: Here's how to connect a Facebook Ad Account. After setting up the source, you'll need to integrate your destination.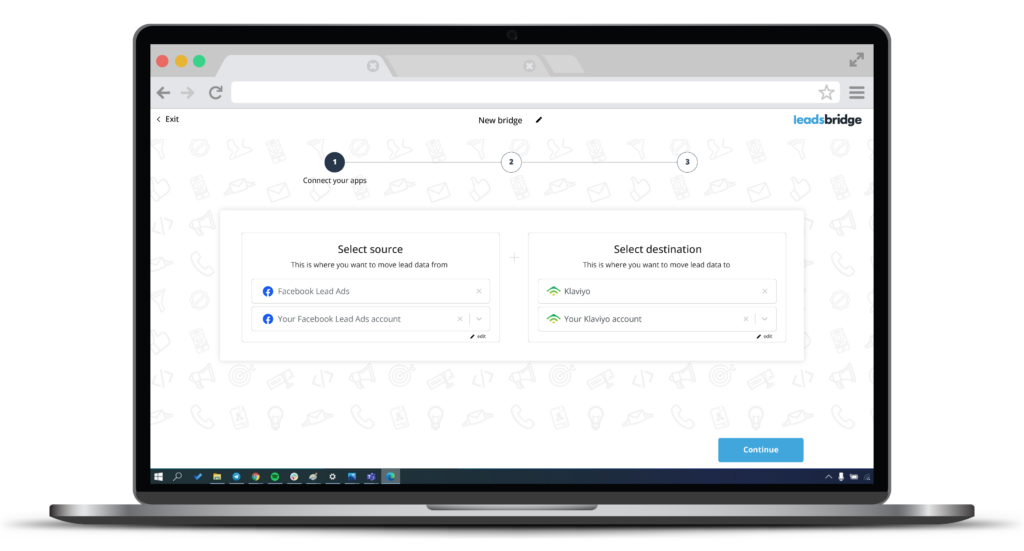 Enter the

API Key

to connect

Klaviyo

by following these steps:

Log in to your Klaviyo account. Find your User ID on your dashboard, and select Account from the drop down menu.
Find Settings and click on API Keys.
Click on the blue button that says Create Private API Key.
Copy the New Private API Key and then use it to fill in the field on LeadsBridge platform.
Once completed, click "Continue".
Step 3: Fields mapping
This step lets you map your source information with your destination fields to ensure the accuracy of the data transfer processes.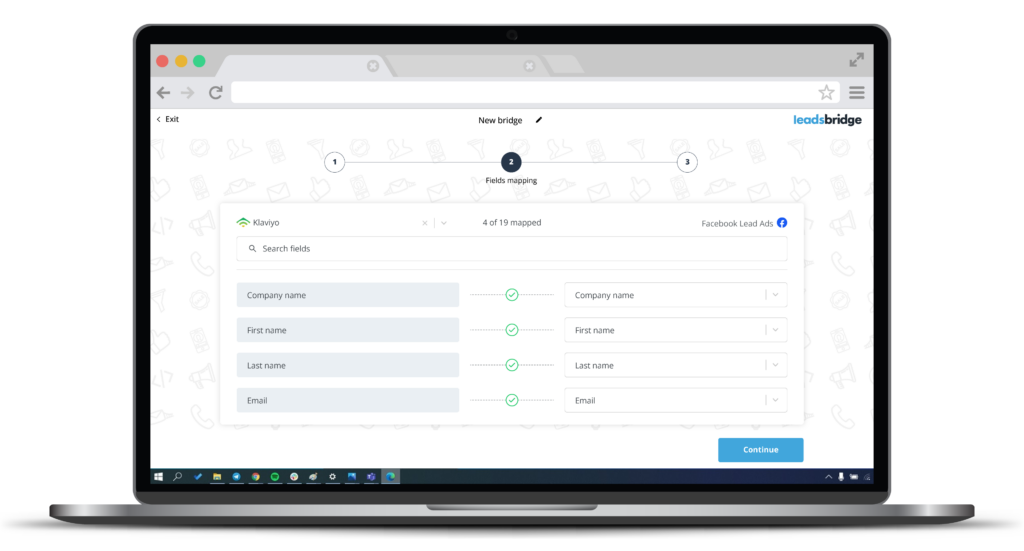 You'll need to verify all data fields are mapped correctly to have your Facebook-Klaviyo integration running without a hitch.
First, double-check all the fields. You can type or edit information manually here.
Click "Continue" to save your settings.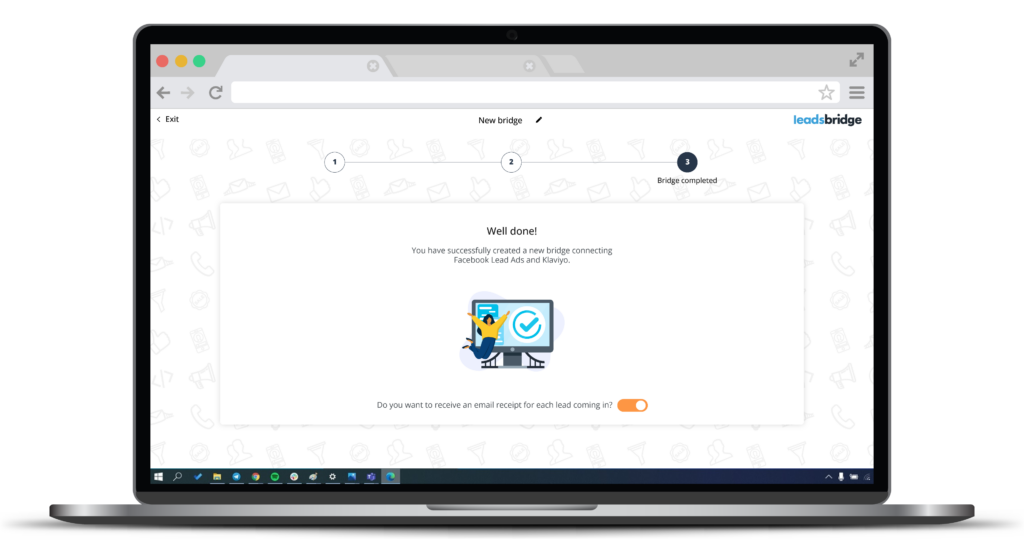 And you are done! Your bridge is now active.
Build high-performing Facebook Lead Ad campaigns through automation
Through LeadsBridge, you can connect Klaviyo to Facebook ads to ensure you're not missing great opportunities by letting your leads fall through the crack.
By bridging the data gap between these two platforms, LeadsBridge integrations add automation to your marketing mix to better leverage your customer data and ultimately increase conversions.
Read this article to learn more about how to connect Klaviyo to Facebook Leads via LeadsBridge.