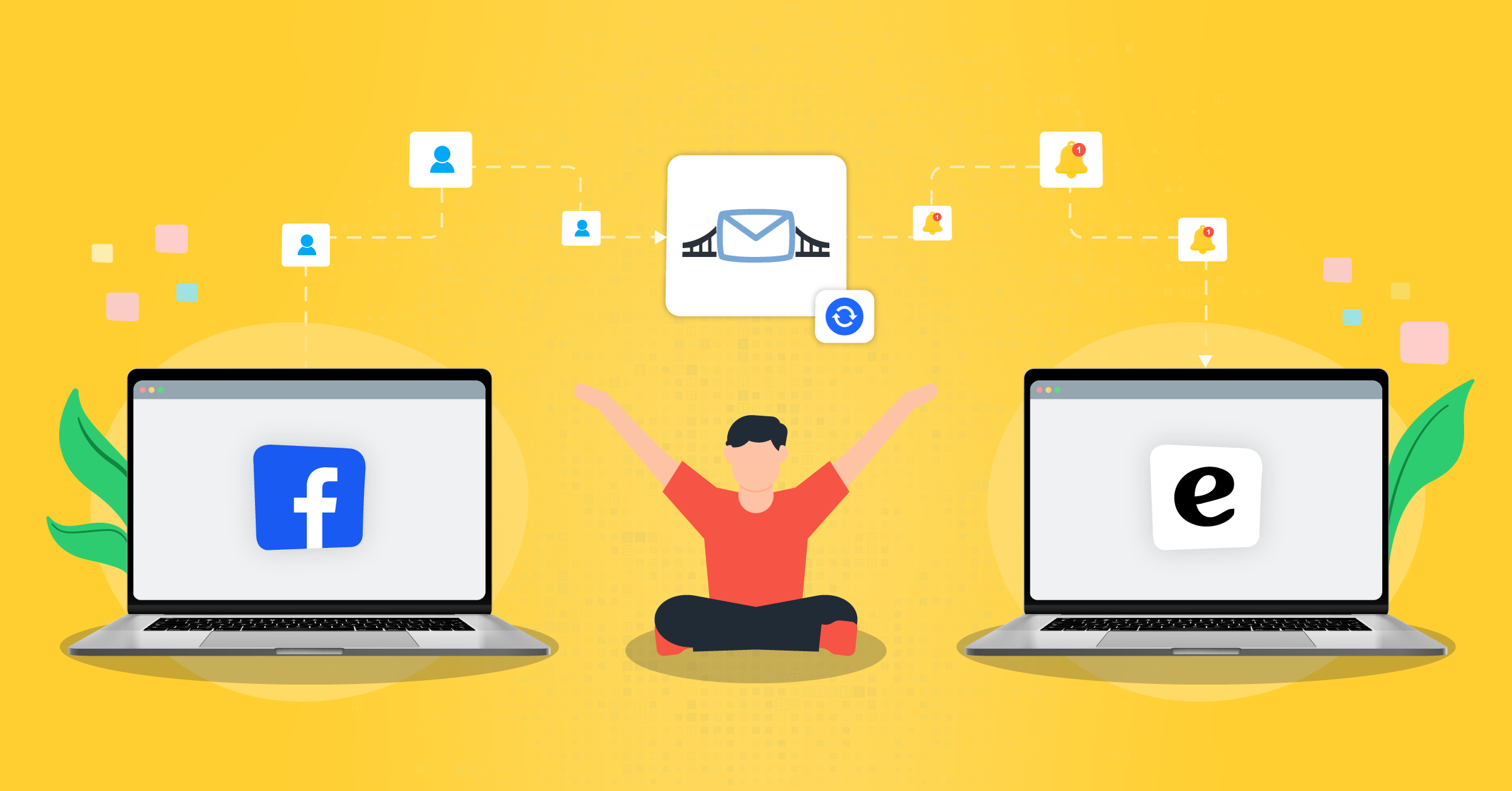 Facebook Lead Ads can be an exceptionally useful tool for both B2B and B2C businesses that are looking to collect lead information instead of just driving a quick eCommerce sale.
They are, of course, only as powerful as what you do with the information after you get it.
It's crucial to be able to follow up with leads quickly, so having the right Facebook lead notification software in place to get lead form notifications sent to your email fast— without relying on manual data syncs— is the best way to maximize the investment and momentum from your lead ads.
That's what this post is all about— we're going to take a look at how to receive Facebook Lead Ads email notifications for free so that your sales team will be able to respond and act right away.

Why you should be using Facebook Leads Ads
As a quick recap, in case you're unfamiliar with Facebook Lead Ads, they offer numerous benefits that many brands have been able to take advantage of.
These ads, when clicked, open a native, mobile-friendly lead form that Facebook will auto-fill as much as possible. You can answer a few custom qualifying questions along with the user's name and contact information.
These ads can give you great reach and leverage Facebook's incredibly powerful targeting and retargeting systems. It's a great way to capture lead information so that you can keep users moving through the funnel.
It's also relatively cost-effective.
How much does it cost to get a lead on Facebook?
The cost per lead on Facebook varies from brand to brand and industry to industry. It can also shift as changes happen in the Facebook Ad marketplace.
That being said, the average cost per lead seems to be around $17-20 USD, based on current data. Considering this will get you a qualified and engaged lead's name, this is often extremely affordable for many brands who are choosing to advertise on Facebook.
Why you need Facebook leads email notifications
Facebook Lead Ads can bring in high-quality leads at scale, giving you a significant volume of contacts to follow up with.
It's imperative, however, to have Facebook lead form notifications set up so that your sales team is always alerted about incoming leads.
Otherwise, it's easy to miss them. The data syncing process is not automated on its own, and without proper Facebook lead notification software and integrations, you can end up needing to rely on manual downloads and transfers to your CRM software.
This takes time, and may mean that you're going 24 hours between a lead filling out a form and your team even knowing about it. And that's assuming that a download of the data isn't missed, or that there aren't lags over the weekend or a holiday.
Facebook lead form notifications going straight to your email, however, are a game changer. Your sales team will get email alerts letting them know when new lead information comes in so they can call right away.
For example, a few months ago I saw a lead ad for a pilates studio near me. I'd been contemplating joining, and this offered a free class. So I filled out the lead form… and got a text within minutes asking if we could do a call to set up the intro offer.
If they'd called a week later, I probably wouldn't have had that same level of enthusiasm, and I might have even found a more responsive competitor. They gained a monthly client because of prompt attention to a lead ad.
How do I get Facebook leads email notifications for free?
Want to find a way to get Facebook Lead Ads email notifications free?
LeadsBridge can help. We know that you're already paying per lead, so we don't want to increase your costs overall. We offer a free Facebook email integration that allows you to have all new lead ad forms instantly sent to the email of your choice.
How to use LeadBridge's Facebook email integration
Setting up your Facebook email integration with LeadsBridge is free, fast, and easy. It just takes a few clicks.
See how to set up your Facebook email integration. (You can also check out the documentation for this integration here).
Once set up, the process is instantaneous and automatic. There are no more manual transfers involved, and no more waiting.
The best part is that you're not at risk for human error of forgetting to download lead data, forgetting to upload it, or forgetting to check it out in your CRM.
Email alerts ensure that it won't be missed by anyone on your team. This means you can follow up right away at peak user engagement, increasing the odds of a conversion overall.
There's also flexibility here in how you want to use the integration.
Want to have those emails go to a department head so that they can assign leads as they come in? You can do that. You can also have it go to a single salesperson if you choose.
We can help support whatever system works to have your team follow up with Facebook leads quickly.
Get Facebook lead notifications sent to Gmail
If you're using an email provider such as Gmail, we've got you covered. You can get your Facebook Lead Ads notifications sent to your Gmail account in just a few clicks.
Here is a complete guide on how to send your leads from Facebook Lead Ads to Gmail with a LeadsBridge integration.
How to connect Facebook leads to your email marketing campaign software
If you're managing your campaigns through an email marketing software, LeadsBridge offers easy solutions to help you connect your Facebook leads to your email marketing campaign software in no time.
This way, as soon as a user fills out your lead ad form on Facebook, their data is automatically sent to your email marketing software, where it'll trigger an automated email to get in touch with your newly acquired lead right away.
Here is a list of our most popular integrations between Facebook Lead Ads and some of the best email marketing software.
Three alternatives to email for Facebook lead form notifications
Not sure how you feel about getting messages in your Gmail inbox with lead data?
There are several alternatives to email for lead form integrations that still make it easy for your team to be notified quickly.
Check out some of the best alternative integrations for Facebook leads email notification.
Facebook Lead Ads & SMS notification integrations
If you don't want an email, your team can receive an SMS message on their business line instead. We offer several options for this, but the most popular is our Lead Ads & SMS Notifications integration. (See how it works here.) In terms of alternatives to email for Facebook lead form notifications, this is probably the best and most direct option.
Connect Facebook leads to Slack
If your team uses Slack for internal communications, this is a great option to consider. You can send new leads to specific channels or team members, and team members can get mobile alerts during their working hours. Check out our Facebook and Slack integration, or see how it works here.
Not a Slack user? We've got a similar integration.
Connect Facebook leads to your CRM
Some businesses rely heavily on their CRM to assign incoming leads. If that's the case, you can set up a data sync and notifications with any of our Facebook Ad and CRM integrations.
Final thoughts
If you want to get the most— or anything!— out of your Facebook Lead Ads, you need the right integrations to help make that happen.
Setting up Facebook Lead Ads email notifications for free can ensure that your team never misses a single lead and that you can reach out before the opportunity is gone.
Sales move fast, and leads move even faster. Make sure that you're prepared to close the deal as soon as you can by getting the leads to your team as fast as possible.
Our free Facebook Lead Ads email notifications integration is the best way to make that happen, and it just takes a few minutes.
Ready to convert more leads faster than ever? See how to set up your Facebook Lead Ads email notification integration.