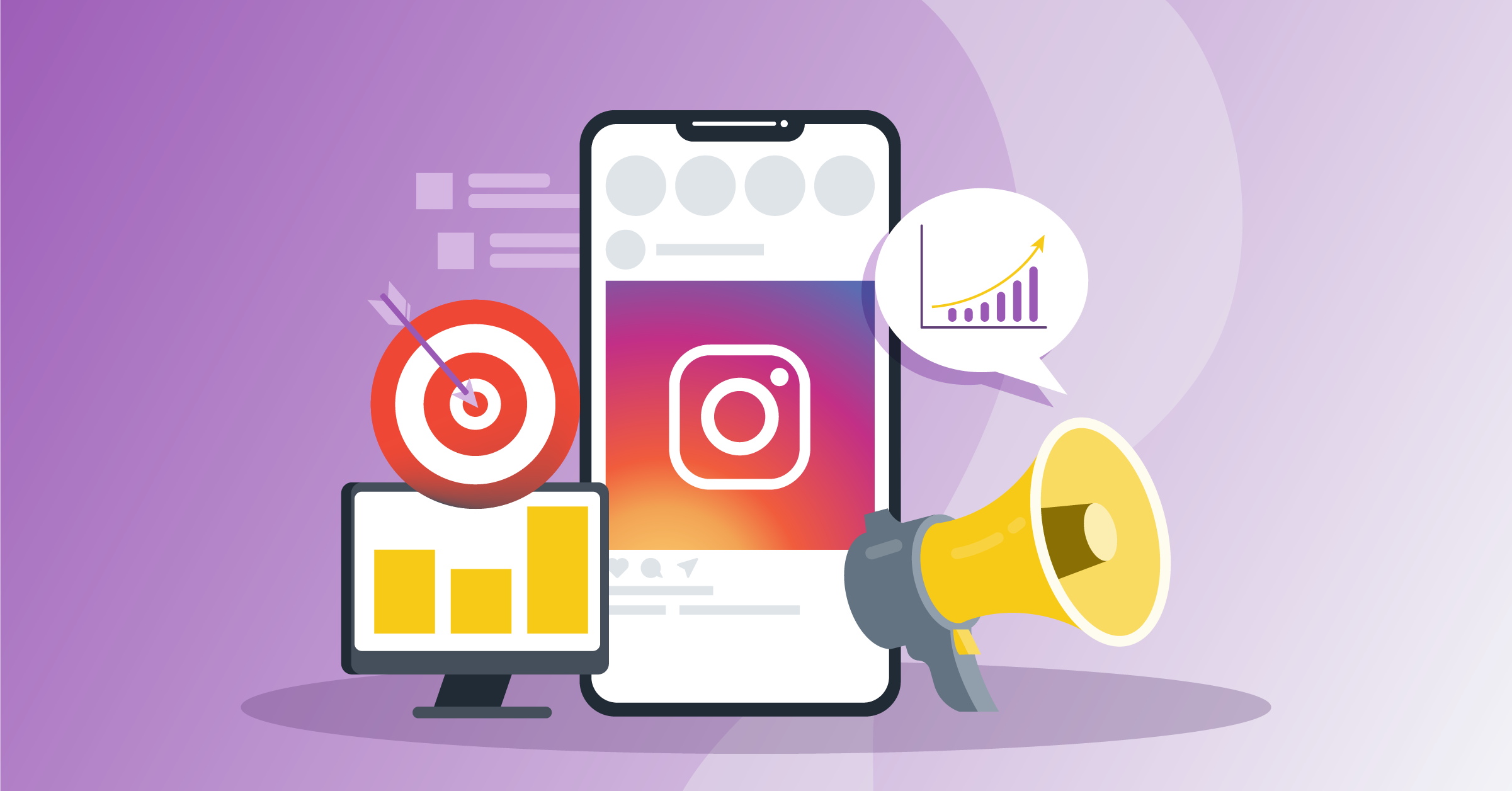 Whether you're a small business owner or a marketing professional, Instagram Lead Ads can help you reach your goals and connect with potential customers. With their eye-catching visuals and strategic placement, these ads can help you stand out from the crowd and drive more traffic to your website or landing pages.
In this article, we'll explore the potential of Instagram's storied ads, why you need them, and how to create high-converting campaigns on this popular social platform. Also, we'll talk about integrations that help you streamline your advertising and give you an edge over your competition.
What are Instagram Lead Ads?
Instagram Lead Ads are a type of advertising format on the Instagram platform that allows businesses to generate leads directly from their ads. When a user clicks on an Instagram Lead Ad, they are presented with a form that is pre-filled with their contact information, making it easy for them to submit their details to the business without having to leave the Instagram app.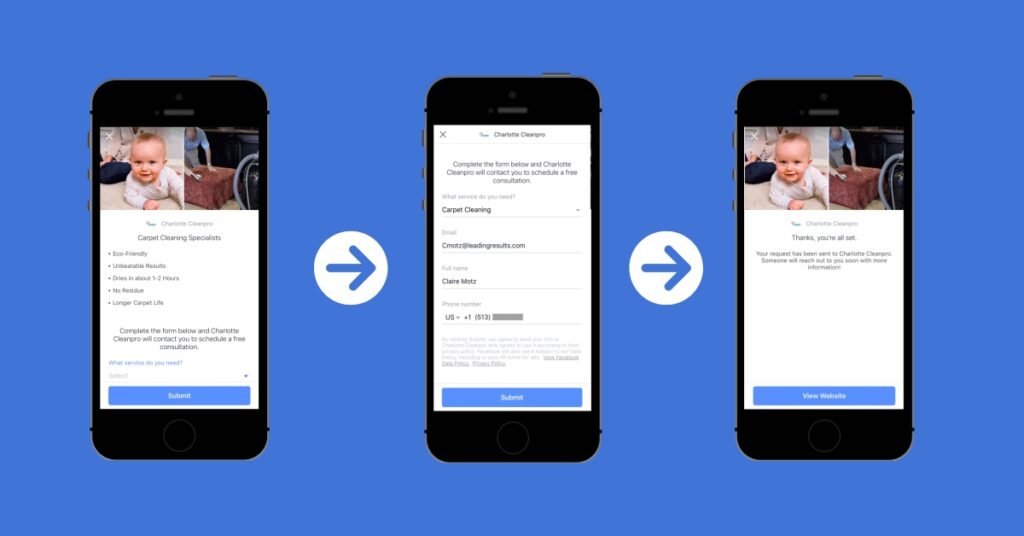 These lead ads can collect a range of user information, including email addresses, phone numbers, and more. This can be helpful for businesses looking to build their email lists, generate leads for their products or services, or follow up with potential customers.
Why advertise on Instagram?
If you're looking for an effective way to advertise your products, Instagram is a fantastic platform to consider. With Instagram Ads, you can easily target specific groups of people who are most likely to be interested in what you have to offer.
This means that you can reach the right audience with your message and get better results from your marketing campaigns. By taking advantage of Instagram's powerful targeting features, you can ensure that your ads are seen by the people who are most likely to engage with your brand.
Consider these statistics:
These numbers shed light on the robust power of Instagram when it comes to advertising.
Advantages of advertising on Instagram
Have a look at the main benefits of Instagram advertising for your business:
Improved data collection: Instagram Lead Ads offer a convenient way for businesses to collect user information such as email addresses, phone numbers, and names directly from the ad without redirecting them to another page or platform.
Reduced friction: By providing a seamless user experience and eliminating the need for users to navigate away from the platform, businesses can improve the effectiveness of their lead generation efforts and potentially increase conversions.
Increased visibility: Instagram Stories are displayed at the top of user feeds, which means that they are one of the first things users see when they open the app. This increased visibility can help businesses reach a wider audience and increase brand exposure.
Targeted advertising: Instagram's targeting features allow businesses to create customized audiences based on factors such as demographics, interests, and behaviors. This can help ensure that your ads are seen by the right people, increasing the likelihood of conversions.
Engaging content: Instagram Lead Ads allow businesses to create visually appealing and interactive ads that capture users' attention and encourage engagement. This can help improve the effectiveness of your advertising campaigns and potentially increase conversions.
High-converting content: Instagram ads help you make your content look great and get better results from your marketing efforts.
All around, Instagram Lead Ads can be a powerful tool for businesses looking to increase brand awareness, reach new audiences, and drive conversions.
How to create Lead Ads from Meta Ads Manager: Facebook & Instagram
Here are the steps to create a Lead Ad from Meta Ads Manager:
Log in to your Meta Ads account using your credentials. Then, Go to the Ads Manager.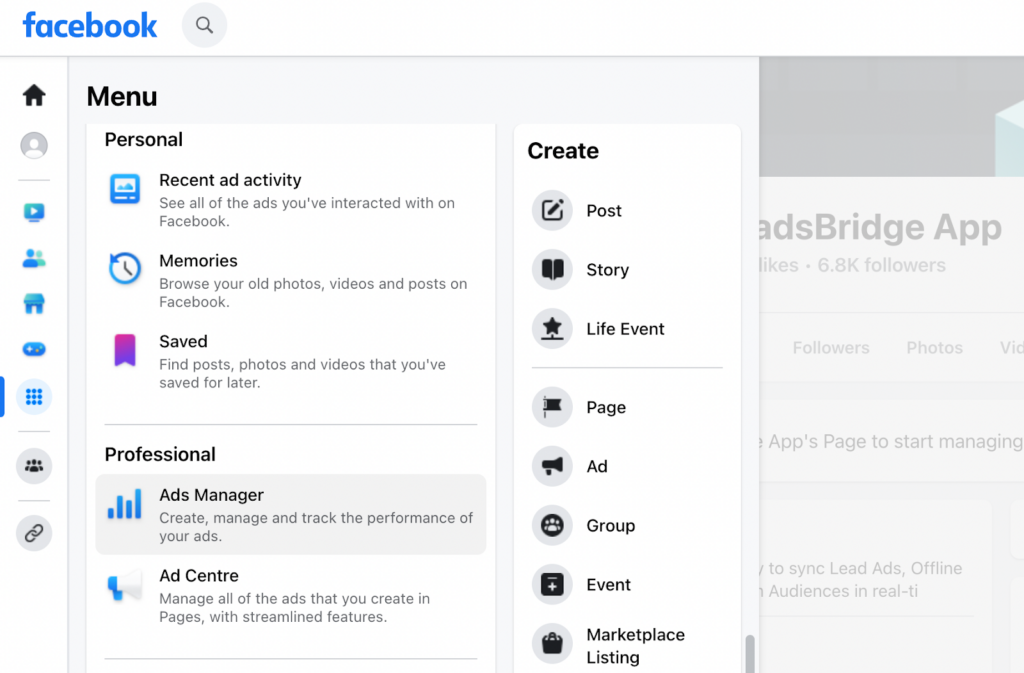 Choose the campaign objective: From the Ads Manager dashboard, click on the green "Create" button and select "Lead Generation" as your campaign objective.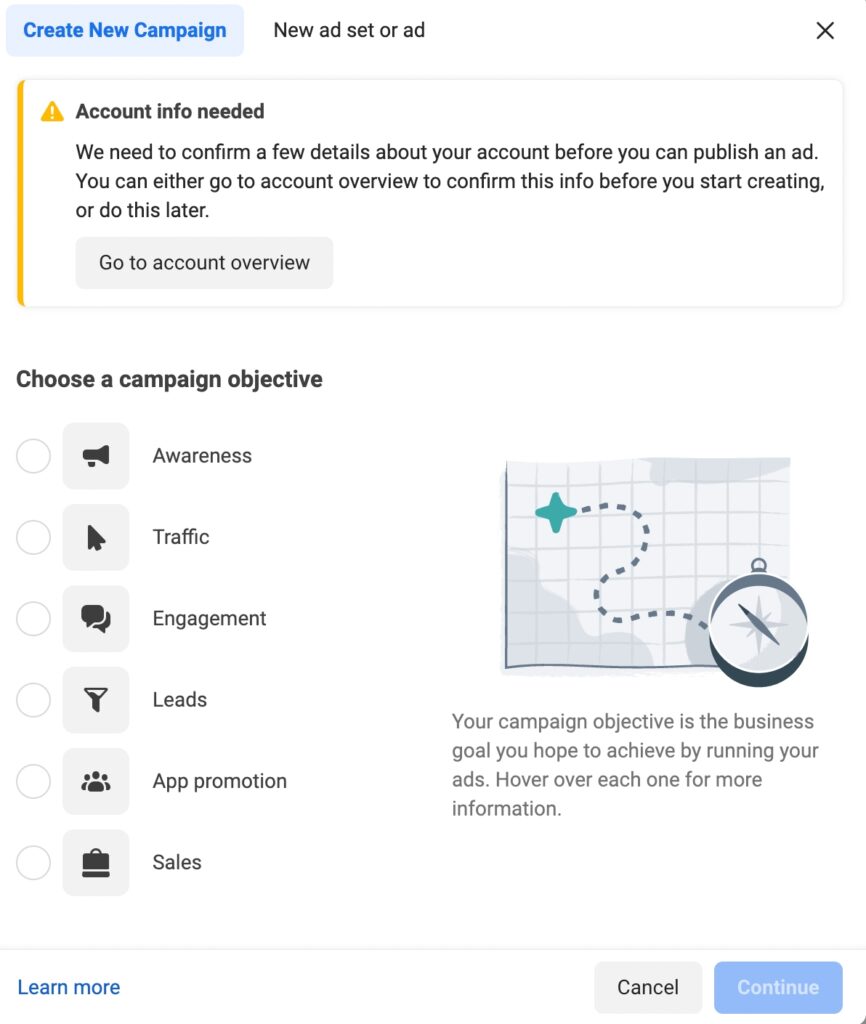 Set up your ad campaign: Enter your ad campaign details, including the campaign name, budget, schedule, and target audience.
Create your lead form: Click on the "New Form" button to create a lead form. Enter the form details, including the form type, intro, questions, and privacy policy. Customize the form design to match your brand's aesthetic.
Set up your ad creative: Choose your ad format, upload your images or videos, and enter your ad copy. Make sure your ad creative is visually appealing and highlights the benefits of your offer.
Preview your ad: Preview your ad to ensure that everything looks good and works correctly.
Submit your ad for review: Once you're satisfied with your ad, submit it for review by Meta. Meta will review your ad to ensure that it meets its ad policies.
Launch your ad: Once your ad is approved, launch it to start reaching your target audience with your lead form.
That's it! By following these steps, you can create a lead ad from Meta Ads Manager and start collecting leads for your business. Remember to monitor your ad performance and make necessary adjustments to improve your results over time.
How to create Instagram Lead Ads
To create Instagram Lead Ads, you'll need to make your lead ad using Meta Ads Manager and either opt for Meta Advantage+ placements (previously referred to as automatic placements) or manually select Instagram placements. The Advantage+ placements option is pre-selected and will automatically suggest placements based on your ad's objective and creative.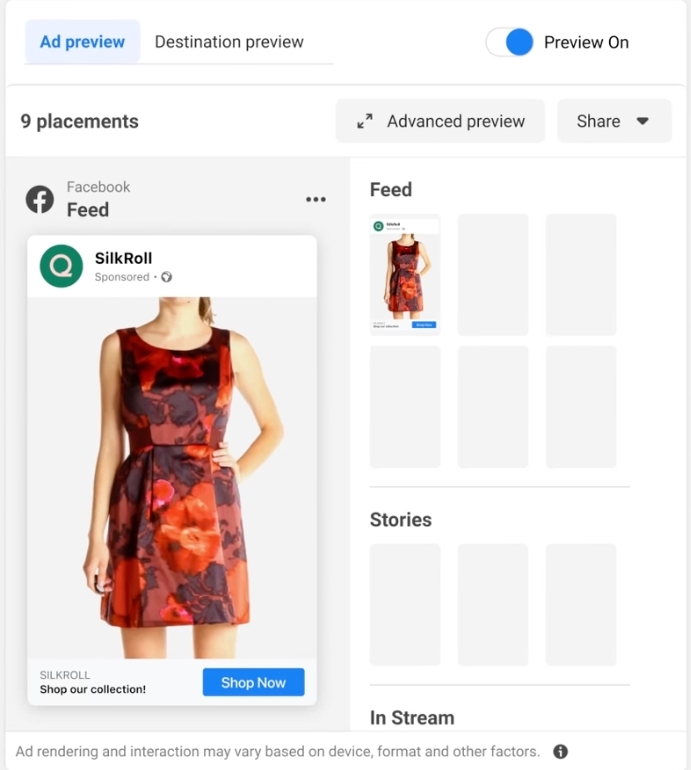 Here's a step-by-step guide to creating Instagram Lead Ads:
Go to the Facebook Ads Manager and click the "+ Create" button.
Choose the "Lead Generation" objective for your campaign.
Select the Instagram account you want to use for the ad.
Choose the placement for your ad and select "Stories" as the ad format.
Set your targeting options based on your target audience.
Design your ad creative, including the image or video, headline, text, and call-to-action button.
Select "Lead Form" as your ad type and choose the information fields you want to collect from your audience.
Customize your lead form, including the headline, intro, questions, and privacy policy.
Review your ad settings and confirm your budget and scheduling.
Submit your ad for review and wait for it to be approved.
Track your ad's performance and adjust it as needed to improve effectiveness. Then, test various ad creatives and lead form variations to determine what works best for your audience. These steps will guide you through creating effective Instagram Stories lead ads for generating quality leads and growing your business on the platform.
Integrate Instagram Lead Ads with email autoresponders or CRMs
Now that you've created your Instagram Stories Ad, the real challenge lies in keeping these leads engaged and interested in your brand. One way to achieve this is through email communication.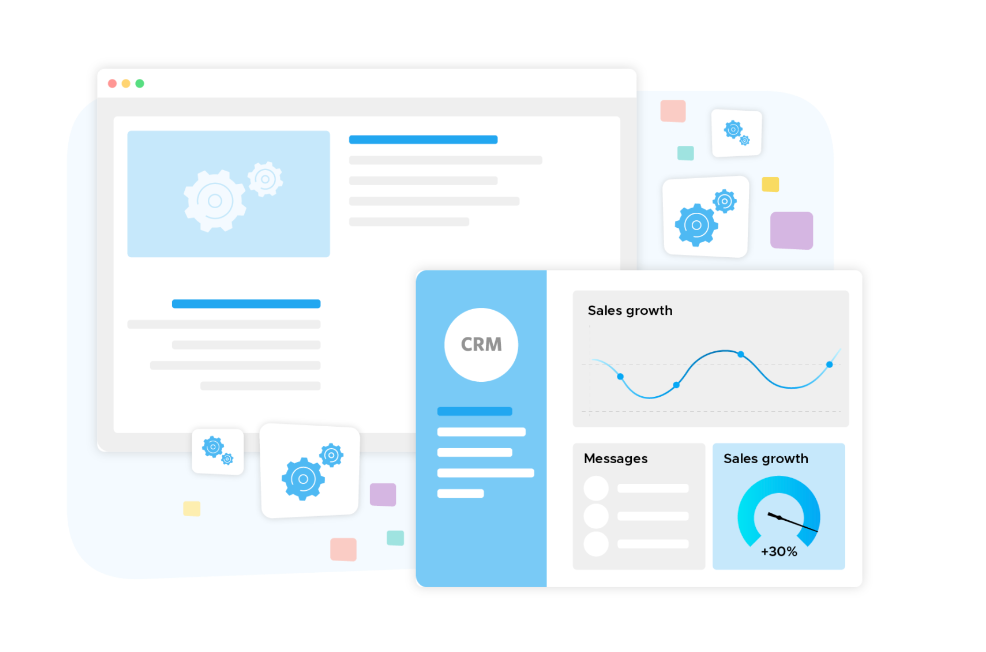 Using an email autoresponder or CRM tool, you can send personalized messages to each lead on your email list. However, manually transferring subscribers from your Lead Ads campaign to your autoresponder can take time and effort.
This can become even more cumbersome if you have an extensive database of subscribers. That's why you need an automation solution.
LeadsBridge integration solutions
LeadsBridge is a platform that helps automate this process for you: It allows you to automatically build your email list from your Lead Ads and sync it with over 380 different types of email autoresponders, CRMs, and marketing and sales tools.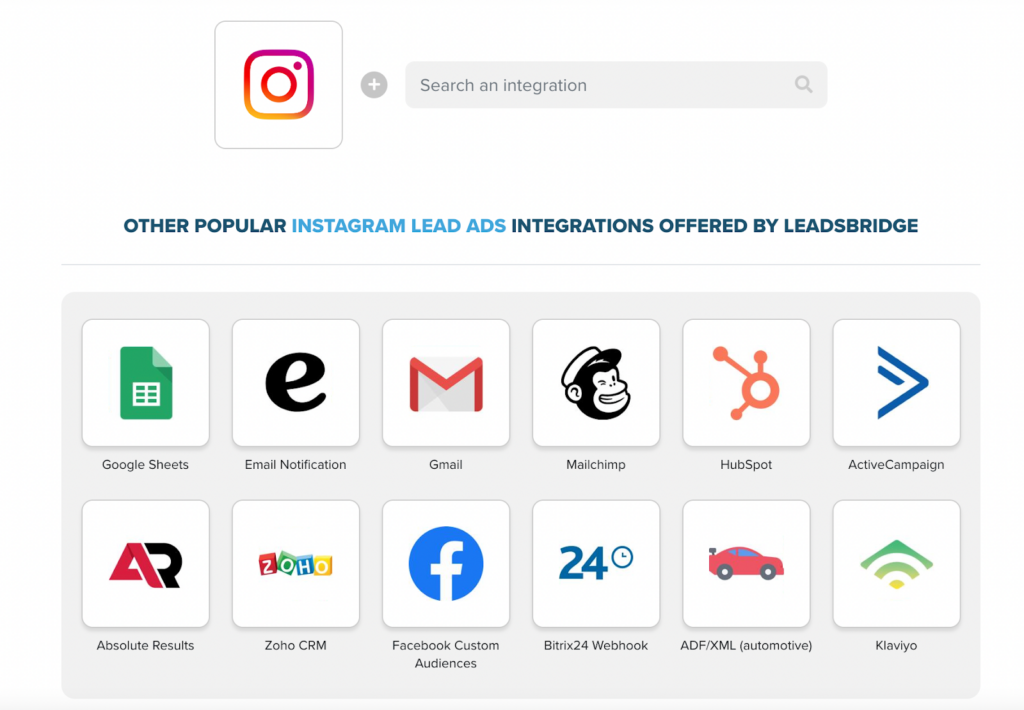 This involves streamlining the process of downloading your new subscribers from your Lead Ads campaign's .csv file in your Facebook Ads account and uploading the new data to your email autoresponder/CRM tool.
With LeadsBridge, you can complete these tasks automatically and in real-time. Having robust data management saves you time and effort and helps you stay on top of your Lead Ads campaigns.
How Instagram ad targeting works
Instagram ad targeting is a robust feature that enables advertisers to reach their ideal audience and maximize their ad's effectiveness. By targeting the right audience, you can increase your chances of reaching users who are most likely to engage with your brand and achieve your advertising goals. Implementing ad targeting is done by selecting specific demographics, interests, behaviors, and locations to reach their target audience.
Demographics: Advertisers can target users based on demographics such as age, gender, education level, income, and language.
Interests: Advertisers can target users based on their interests, including the pages they follow, the content they engage with, and the hashtags they use.
Behaviors: Advertisers can target users based on their behaviors, including their purchase history, device usage, and engagement with ads.
Locations: Advertisers can target users based on their location, including their city, state, country, or specific zip codes.
How to use lookalike audiences on Facebook/Instagram
Instagram also offers advanced targeting options such as lookalike audiences, which allow advertisers to target users who are similar to their existing customers, and retargeting, which allows advertisers to target users who have interacted with their brand in the past.
Here's a step-by-step guide on expanding your reach with lookalike audiences:
First, create a custom audience: You need to create a custom audience from your existing customer data. You can upload your customer email list or use website tracking pixels to create a custom audience.
Go to the Ads Manager: Go to the Ads Manager on Facebook or Instagram and select "Audiences" from the drop-down menu.
Choose "Create a Lookalike Audience": From the "Audiences" page, choose "Create a Lookalike Audience" and select the custom audience you created in step 1.
Choose the location: Choose the location where you want to find a lookalike audience. You can select a country or specific regions.
Choose the audience size: Choose the size of your lookalike audience. You can select between 1% and 10% of the population in your selected location, with 1% being the closest match to your custom audience.
Finalize your Lookalike Audience: Name your Lookalike Audience and click "Create Audience". Your Lookalike Audience will start generating, and you'll receive a notification when it's ready to use.
Once you have created your Lookalike Audience, you can use it to target users with similar demographics, interests, and behaviors as your existing customers. This will help you reach new potential customers who are most likely to be interested in your products or services.
To use your Lookalike Audience, simply select it as a target audience when setting up your ad campaign in the Facebook or Instagram Ads Manager. Make sure to also refine your targeting based on other factors such as location, age, interests, and behaviors to ensure that you're reaching the right audience.
Here's a step by step guide to custom audiences.
Instagram Ad types & how to use them
Using different types of Instagram ads can help you achieve different marketing objectives and reach your target audience more effectively.
For example, photo/image ads are great for showcasing a single product or service, while carousel ads allow businesses to highlight multiple products or services. Collection ads can help increase brand awareness and provide a more immersive experience for users, while video ads can convey more information and create a stronger emotional connection with viewers.
Shopping ads are particularly useful for e-commerce businesses, as they allow customers to make purchases directly from the Instagram app.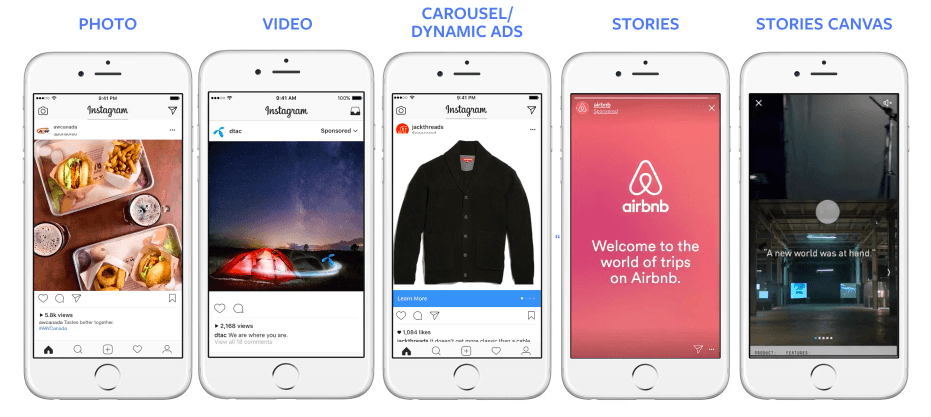 Source: Newsfeed
By using a mix of ad types, businesses can create a well-rounded Instagram ad strategy that targets different stages of the customer journey and meets different marketing goals.
Photo/Image Ads: Single images that appear in a user's Instagram feed, these ads include a caption, call-to-action (CTA), and a link to the advertiser's website.
Carousel Ads: Carousel or Dynamic ads are a series of up to ten swipeable images or videos, each with its own caption, CTA, and link.
Collection Ads: Collection ads let users browse through multiple products in a grid format. When clicked, the ads take users to an immersive, full-screen landing page to learn more about the products.
Video Ads: Video ads can be up to 60 seconds long and are played automatically in a user's feed. These ads can include sound, captions, and a CTA.
Shopping Ads: Shopping ads allow businesses to showcase their products, with a call-to-action that leads to a product detail page, where users can make a purchase.
Instagram's new feature: Lead Forms & CTA buttons
Digital marketers can now take advantage of an exciting new addition to Instagram, which is the "Lead Form" option included within the IG business profile action buttons. This provides additional ways to generate a direct response from your business's presence in the app, making it an exciting feature for marketers.
The new option allows you to add 'Add Lead Form' as an action button on your business profile. You can choose either a standard data collection CTA, or add custom questions to further guide queries.
This feature enables you to choose multiple-choice or short-answer responses, providing another way to glean insight from your IG profile visitors.
It could be a good way to qualify interest coming from the app and gather more information for follow-up and planning. While it's not clear whether this is a test or not, more business users have the option, and it's worth checking your Instagram CTA options and considering how you can use it to further engage with your audience.
Follow these steps to add an action button to your Instagram business profile:
Open your business profile on Instagram.
Click on the "Edit profile" button.
Go to "Contact options" under Public business information.
Click on "Add an action button".
Choose the action button you want to add and save your selection. Note that you must have an existing account with the partner you want to add.
Enter the partner's website URL and save the changes. Please keep in mind that only one action button can be displayed on your profile at a time.
How to create an Instagram ad strategy
Although the brands utilizing Instagram ads are vastly different, they all share several key elements that contribute to their effectiveness. If you're looking to create an Instagram ad that performs well, here are five critical factors that set high-performing ads apart from the rest:
Define your target audience: Know who you want to reach with your ads. This will help you create content that resonates with them.
Set your ad goals: Decide what you want your ads to achieve. Is it to drive sales, increase brand awareness, or generate leads?
Choose the right ad format: Instagram offers several ad formats, including photo ads, video ads, carousel ads, and Instagram Stories Ads. Choose the format that best suits your goals and content.
Create engaging content: Your ads should be visually appealing and compelling. Use high-quality images or videos and clear messaging to grab your audience's attention.
Set your budget and schedule: Determine how much you want to spend on your ads and how long you want them to run.
Use targeting options: Instagram offers a range of targeting options, including demographics, interests, behaviors, and location. Use these options to reach your desired audience effectively.
Monitor and optimize your ads: Keep track of your ad performance and make changes as needed. Test different ad formats, targeting options, and messaging to see what works best.
Additional tips for running successful Instagram ads
Use a compelling message: Your message should summarize why users should fill your form and what they will get in return. Use humor to make your ad more engaging and build an informal relationship with your audience.
Add in some exclusive offers: Offer something valuable in exchange for users' details, such as discounts, e-books, newsletters, or free webinars. Ensure you fulfill your end of the bargain by sending the offer immediately after they sign up.
Consider short forms: Short forms are easy to fill and prevent users from losing interest. Ask simple, easy-to-answer questions and avoid open-ended questions.
Use a CRM software: Sync your leads with a CRM or email marketing software to immediately contact your leads before they get cold. You can use LeadBridge's Lead Ads sync ads feature to synchronize your lead ads in real-time with your CRM software of choice.
Run A/B tests: Testing and optimizing your lead ads is crucial to the success of your campaign. Experiment with different visuals, messages, offers, and targeting options to see what works best for your audience.
Follow up with your leads: Lead generation is only half of the equation. You'll need to score and nurture your leads.
Here's a complete guide on how to follow up with your meta leads.
With a little bit of creativity and strategic thinking, you can create Instagram lead ads that generate high-quality leads and help you grow your business on the platform. Get creative with your ads, analyze the results, and make necessary adjustments to improve your ad's performance.
Successful Instagram Lead Ads Examples
Sponsored Ad Analysis: London School of Economics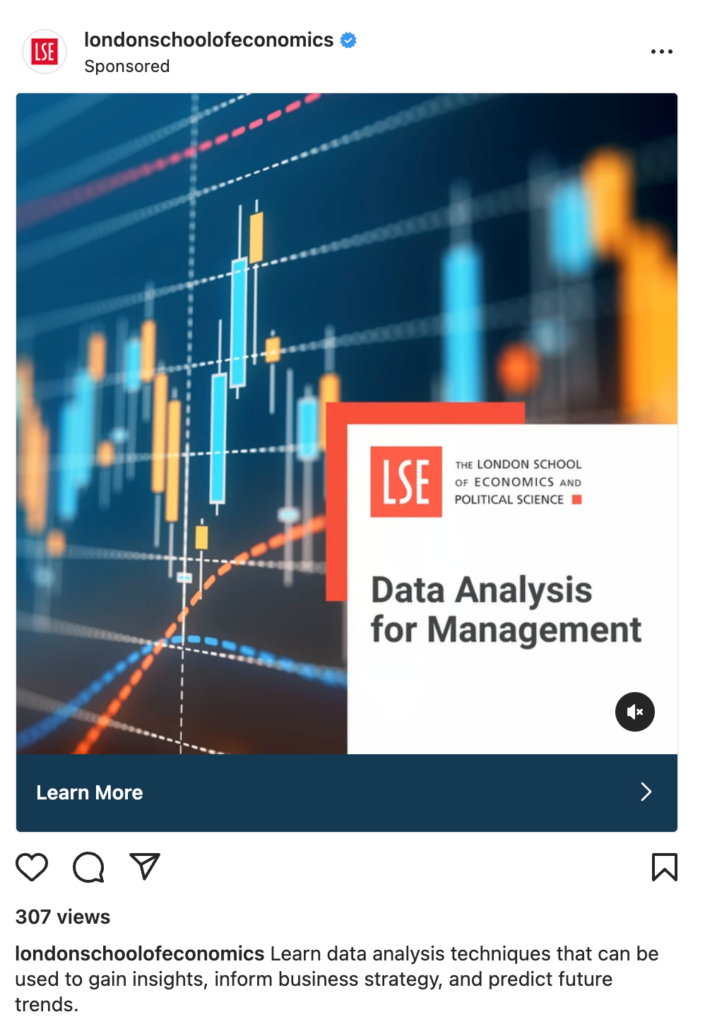 The London School of Economics is a top-ranked university in the UK. In this ad, the brand is promoting its online courses in economics and finance.
What insights can we gain from it?
Clearly state what your product is about. The ad clearly defined what the courses are about and the things that people can expect to learn from them.
Makes the offer attractive. The ad copy mentions that the courses are designed for busy professionals and can be completed online, making it convenient for learners.
Include a call-to-action. The ad copy ends with a clear call-to-action to apply for the courses and provides a link to the website where learners can find more information and enroll.
Instagram Stories Ad Analysis: Moderny Ad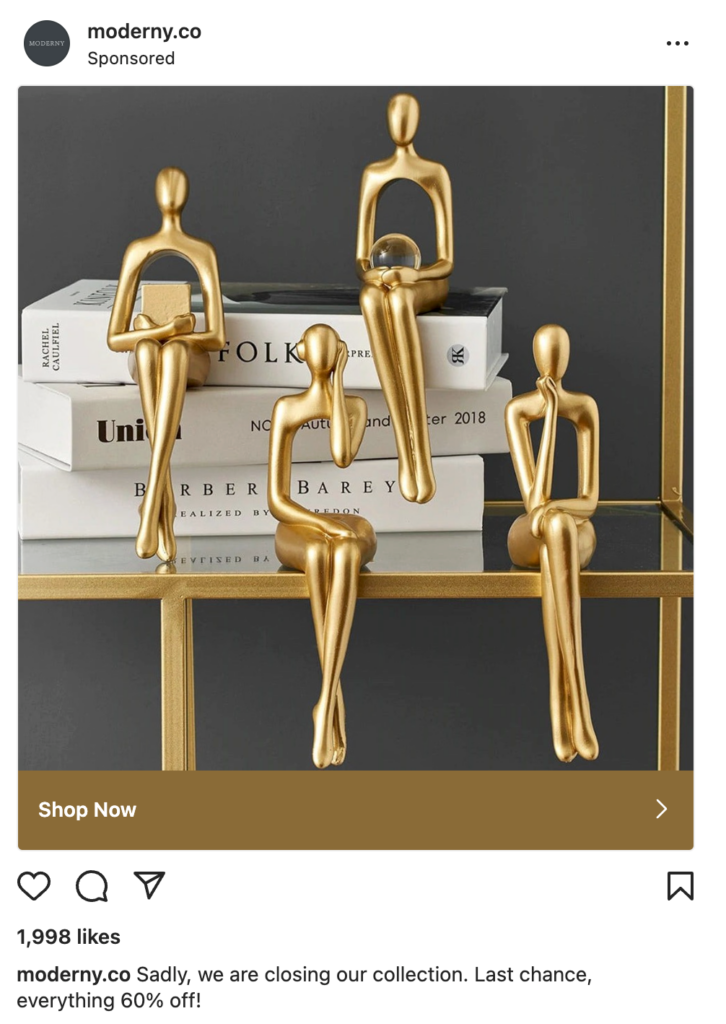 Moderny.co, an online art store, is promoting the last of their decorative art collection.
What insights can we gain from it?
Provides visual details. In each slide, Moderny.co showcases their statues with aesthetic views and how they can be used to add an artistic touch to any space.
Uses color contrast. The gold statues are displayed against a white, pale background, creating a visually pleasing effect that helps the ad stand out.
Offers a discount. Moderny.co is offering a 60% discount, which is a great way to attract potential customers and generate sales. Balance brand and demand. The optimal balance of brand and demand in marketing is a 60/40 split – 60% branding, 40% direct response – according to an IPA study. Moderny.co's ad appears to follow this formula.
Sponsored Ad Analysis: Click Up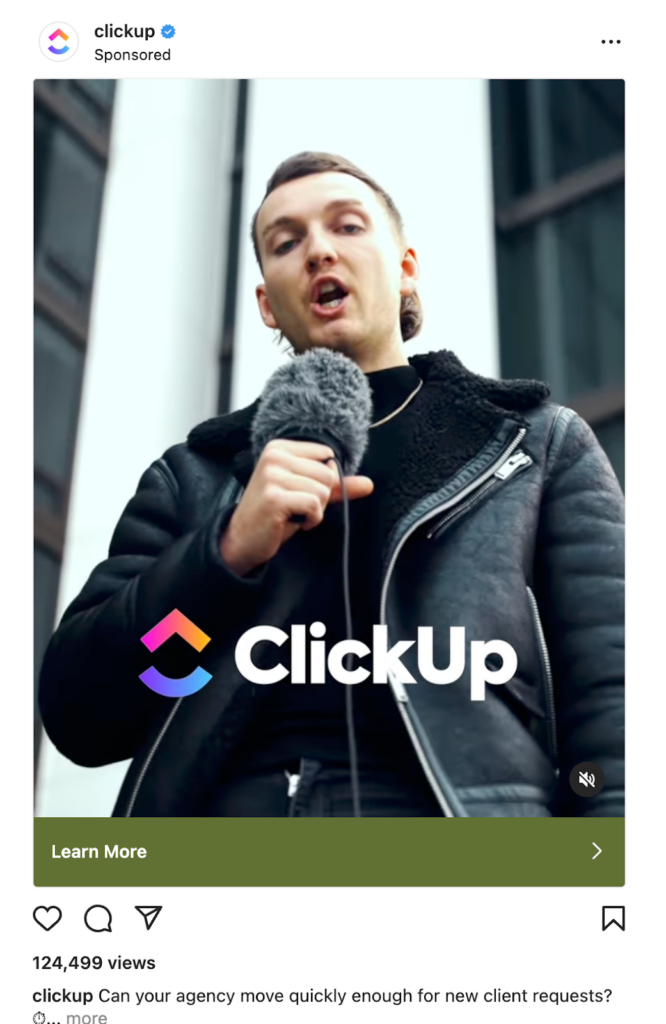 Click Up, an all-in-one productivity platform, uses a video to promote its services to marketing audiences.
What can you learn from this ad?
Has a concise copy. The ad uses a short copy and a simple video to convey its message. Users who are interested can unmute the video to learn more.
Uses a unique video format. By using a brief and brand-focused video, the ad is clear and easy to follow. Although the sound is required to fully experience the video, the brief copy encourages users to watch it with sound.
Final thoughts
Now you know how to create Instagram Stories lead ads. Have you tried it before? What was the result? If you are thirsty for knowledge regarding the Meta Lead Ads world and want to get an in-depth explanation on this topic along with some tips to improve your performance with this Facebook feature, don't miss out on our step-by-step guide here.
LeadsBridge allows you to create Lead Ads and manage existing Lead Forms within the platform. This means streamlining the entire process of managing your Instagram Lead Ads and email lists efficiently.
Learn more about all the possible integrations for Instagram Lead Ads now.