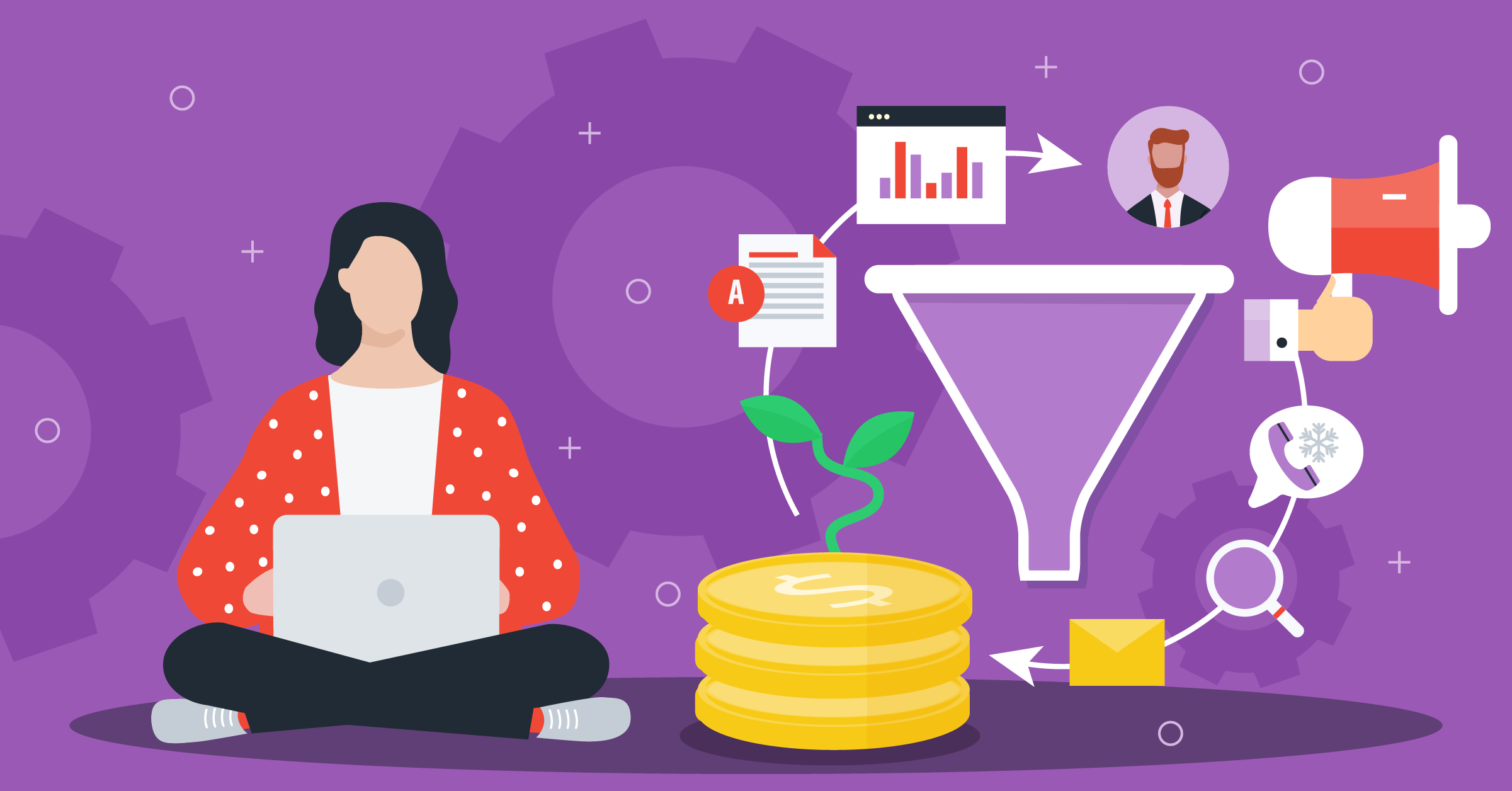 Lead generation, the process of garnering the interest of prospective customers, is a multifaceted operation. This practice is essential for the longevity of any business, requiring careful planning and employment of various nurturing techniques.
However, many businesses working within the current climate are on a perpetual constraint, struggling to allocate adequate amounts of time to necessary tasks. Although done with good intention, this can lead to insufficient results and loss of opportunities.
Throughout this article, you will discover how lead generation automation can remedy this, ensuring your business is achieving its full capabilities of capturing intrigue.
What is lead generation?
Lead generation is the process of attracting potential customers toward your business, building upon that interest and moving them through the sales pipeline with various nurturing tactics.
Lead generation offers three primary benefits to any business, which are as follows;
Increases brand awareness
Brand awareness is essential for amassing any form of profit, as people must be aware of your presence in the market and the value brought about by your offering.
Lead generation efforts allow you to position yourself in the customer's viewpoint, and establish your presence in their frame of reference. This, accompanied by the correct promotions, can allow you to amass a group of leads who are willing to permit you to contact them regarding your service.
Cost-effective
In comparison to alternative marketing methods, lead generation is a cost-effective approach to expanding your customer base. It generates a lower cost-per-lead (CPL) and you control your spend.
Increases revenue
Undertaking lead generation activities and publishing the appropriate offers and content allows your business to target prospects with high purchasing intent. Engaging in these actions exposes you to greater sales opportunities, leading to an increase in revenue.
Types of lead generation
There are a number of lead generation categories at your disposal. However, within this article we will be placing our focus specifically on outbound and inbound generation methods.
Outbound lead generation
Outbound lead generation is a way to engage with potential customers who may not have a prior knowledge of business. It also may be a prospect who has displayed interest in your company's offering, but has not yet committed to a purchase.
Coined as "interruption marketing" by Seth Godin, outbound marketing involves reaching out to prospects with advertising materials, phone calls, emails, and other various communication methods. The strategies are used to push your brand message towards prospects.
In today's world, we have seen a rapid increase in the importance of acquiring permission before you reach out to lead, which would make the idea of outbound marketing relatively redundant.
However, 62% of marketers say that their organization's outbound marketing efforts are effective.
Inbound lead generation
In comparison, inbound lead generation is more permissive. With this methodology, you are attempting to attract prospects to your brand by establishing a two-way relationship, with the aim that it eventually results in a sale.
Inbound efforts focus on encouraging leads to inquire about your business upon their own initiative and interest. These campaigns focus on assisting your audience, rather than selling to them, attracting leads with blogs, websites, valuable content, or social media posts.
This approach helps your audience to identify why they need your product or service, leading them naturally towards the next appropriate action with landing pages and a clear call to action.
Why invest in automated lead generation?
Automation refers to the use of tools, powered by machine learning, that enable you to fully optimize your lead generation activities across all of your inbound and outbound channels.
This allows for greater control over your customer journey, giving way to management that facilitates higher conversions.
The more automated your lead generation process, the more streamlined your sales funnel will become. This allows for the creation of a steady flow of potential leads, who are qualified and likely to purchase.
Additionally, investing in lead generation automation allows for an increase in sales productivity, as you are saving time on the completion of manual, repetitive tasks. You can then focus your valuable resource on completing higher-priority actions.
How to automate lead generation
There are a variety of methods and tools that you can use for automated lead generation practices that span across a plethora of channels.
We have compiled a list of the most notable approaches, which include the following;
PPC marketing automation tools
PPC (pay-per-click) automation is the practice of streamlining an advertising system that charges the advertiser a fee each time a user clicks on their ad.
PPC lead generation automation provides several benefits for your business operations. Whether you use PPC for your law firm or an online college program, you will experience excellent results, including time savings and an increase in campaign performance, as you do not have to engage in time-consuming tasks, such as bid management or data syncing.
PPC automation can help your business streamline and optimize in two possible ways, which are
Through ad management platforms with native automation features
Using an automation app
With an extensive range of tools available on the market, finding the correct PPC management platforms best suited for your business can be challenging. Therefore, we have listed the top three PPC automated lead generation software that you can use to begin automating your campaigns.
Swydo
Swydo provides a simple way to streamline data sets from various sources and run PPC campaigns effectively. This cloud-based marketing analytics tool affords your business the opportunity to visualize, manage and monitor marketing campaigns via one unified platform.
Using Swydo, you can generate custom reports, design personalized emails, schedule communication with clients and monitor marketing campaigns.
Report Garden
Report Garden is a marketing analysis tool that enables you to create reports, monitor your ad spend, as well as curate new PPC campaigns.
This tool can be used to configure your marketing reports and dashboards in order to optimize your advertising efforts. This includes SEO, PPC, analytics and social-media performance.
WordStream PPC Advisor
WordStream PPC Advisor supports integrations with Google Ads, Bing Ads, Facebook, LinkedIn, and Twitter.
Connecting with multiple sources to gather blended data and offer accurate insights, this tool is designed for report building, data analytics, landing page optimization, and anything necessary to help you build your PPC campaign.
The following are some of our most popular PPC automated lead generation integrations;
How to generate leads on Facebook
Facebook boasts one of the largest audiences of any social media platform in the world, with over 2.96 billion active monthly users.
This makes the use of Facebook lead generation automation tools a non-negotiable inclusion of any campaign aimed at acquiring prospects.
Facebook Lead Ads
Facebook Lead Ads can help to maximize your online conversion through the optimization of mobile advertising. This tool helps advertisers capitalize on the platform's massive audience in order to gain better conversion rates for campaigns.
The Facebook Lead Ads system operates by a pop-up form appearing inside the platform each time a user clicks on a specific ad. These pop-ups are pre-populated with that user's data.
The interactive form that can be completed within the platform, eliminating the need to redirect users to your landing page. This helps to increase conversions as leads are not deterred by the necessity of completing multiple steps.
At LeadsBridge, we are Lead Ads Sync partners within the Facebook Business App Store. This means that you can fully rely on seamless integrations between Facebook Lead Ads and the rest of your marketing stack, guaranteeing you instant control over your lead generation automation.
Facebook Custom Audiences
The Facebook Custom Audiences is a lead generation automation tool that helps businesses reach leads who are most likely to possess an interest in their products and services.
The Custom Audiences list is composed of users that have displayed an interest in your business, taken from within your CRM segments, visitors to your website, app and email subscribers or customers from brick-and-mortar stores.
Including Facebook Custom Audiences in your lead generation strategy enables you to create specific audiences that are likely to convert in response to your advertising. This data can be repurposed and used to target certain leads along every stage of the funnel.
As an official Meta partner, LeadsBridge can facilitate the smooth integration of these Facebook tools with your chosen CRM.
TikTok Lead Generation
With one billion active users spanning across 154 countries, TikTok has rapidly become one of the most widely used social platforms in the world. This has led it to be identified as one of the most powerful means of customer expansion for businesses.
Prompted by this, the platform released a new ad objective in the form of TikTok Lead Generation. Similar to Facebook Lead Ads, TikTok Lead Generation allows marketers advertising on TikTok to have a seamless and frictionless interaction with their potential customers directly on the platform.
By publishing an in-feed video ad that is connected with an Instant Form, potential customers can share their contact information directly on TikTok, without having to leave the app and go to a different landing page.
These forms are pre-populated with aspects of the user's basic information, gathered from their personal TikTok profile. This data can then be fully optimized and used within your future targeting campaigns.
Google Lead Generation Tools
Google is a powerhouse for lead generation efforts, having become synonymous with effective advertising for businesses of every kind.
By using Google lead generation forms, you can capture new prospects with a simple call to action that has been attached to a responsive form. This form is strategically displayed underneath your chosen ad.
Once a user clicks on this ad, they are shown a Google-hosted form which is automatically pre-populated with their Google account data. Additionally, the form comes with a call to action (i.e., "Apply now") to prompt the lead to submit the form with one single tap.
Google Ads lead generation forms make it easier and quicker for users to submit their data, as well as being substantially high-performing and optimized for mobile navigation.
How to create a landing page for lead generation
A lead generation landing page is designed to capture your website visitors' important data. Therefore, you should provide users with a variety of compelling reasons to share their contact details with you. It is important to remember that effective lead generation landing pages meet the needs of specific audience segments.
These are some best practices to keep in mind when trying to establish a successful lead generation landing page;
Design
Design and layout choices have a major impact in piquing customer intrigue, as well as how quickly they progress towards your desired act of conversion. Leads should be able to promptly identify the main ideals of your business, feeling enticed to discover more by registering, downloading etc.
Audience segmentation
Effective lead generation pages are created for specific audience segments. Therefore, you should consider building different lead capture landing pages for specific segments, and when appropriate, for specific audience personas.
Undertake keyword research in order to identify the terms a particular segment is searching for, and optimize your landing pages according to these.
Compelling call to action
The best lead generation landing pages persuade users to take action. Keep your CTA's short, concise, and action oriented. They should be extremely specific in telling the lead exactly what you want them to do.
Mobile optimization
60% of consumers use their mobile device for shopping, which means that your landing page absolutely must be optimized to facilitate this. Failure to do so can lead to a significant loss of potential leads and be detrimental to your sales opportunities.
Persuasive copywriting
Attention-grabbing headlines are a vital aspect of any effective landing page. It would be wise to use your audience's language and keywords in your copy in order to encourage action.
Ensure the headline clearly identifies the page's overall purpose, whilst remaining compelling and intriguing.
LinkedIn automated lead generation
LinkedIn tools help you automate your LinkedIn activity and can be extremely useful in the generation of new leads. These tools allow you to bring personalization to mass outreach, making your user interactions and outreach appear more natural.
LinkedIn Lead Gen Forms
One of the best lead generation automation tools available on this platform is LinkedIn Lead Gen Forms. These forms use a mobile-optimized technology that allows advertisers to incorporate a specific form in their ads that are pre-filled with users' information from their profiles on their LinkedIn page.
This helps to improve the user experience and reduce the number of form fields to be filled manually, which keeps your users on LinkedIn rather than redirecting them to your website.
LinkedIn stores your leads from your LinkedIn Lead Gen Forms in a simple, downloadable CSV file. However, the problem with this method is that a manual download allows for the possibility of error, as well as being repetitive.
With LeadsBridge, you can sync LinkedIn Lead Gen forms with one of our many integrations to automatically create a multi-touch outreach, allowing you to target and nurture them into converting customers.
How LeadsBridge can help with automated lead generation
LeadsBridge can help you find your ideal solution for accuracy and efficiency in automated lead generation. Set your campaigns on autopilot and make better, more marketing-driven decisions with our easy integrations. From there, you can create your very own marketing ecosystem and get a bird's-eye view of your sales funnel.
With LeadsBridge, you will have access to a consistently updated marketing stack, an omnichannel strategy, and real-time data communication between all your marketing apps and platforms.
Consent-based marketing
With our real-time data sync, you can decide how often you want to update your lead data. This way, if any of your leads opt-out, you will be updated and able to avoid contacting them again, ensuring you are not breaching any privacy laws.
Enhanced customer communication
Real-time data sync allows you to run timely welcome emails and follow-ups, ultimately increasing your conversions. Our integrations can be used to track online and offline conversions, enabling you to optimize your strategies accordingly.
This data can be used to create custom audiences and focus your marketing budget where it matters.
Extensive expertise
Finally, LeadsBridge offers best in class service. We are Official Partners with top advertising platforms such as Google, Meta, LinkedIn & TikTok. When using our service, you'll also have access to up-to-date services and a direct line with the support systems of these platforms.
With our free forever plan, you will have the opportunity to acquire up to 50 leads per month by creating one single bridge. You can choose from our extensive range of over 300 integrations, depending on your specific business objectives.
Key takeaways
Lead generation automation exposes your business to greater sales opportunities, allowing for the running of seamless advertising campaigns and saving on precious resources, including time.
Using LeadsBridge and our range of integrations, you can set your lead generation efforts on autopilot and watch your customer base steadily grow to new heights.
Discover all of the available integrations to your business here.