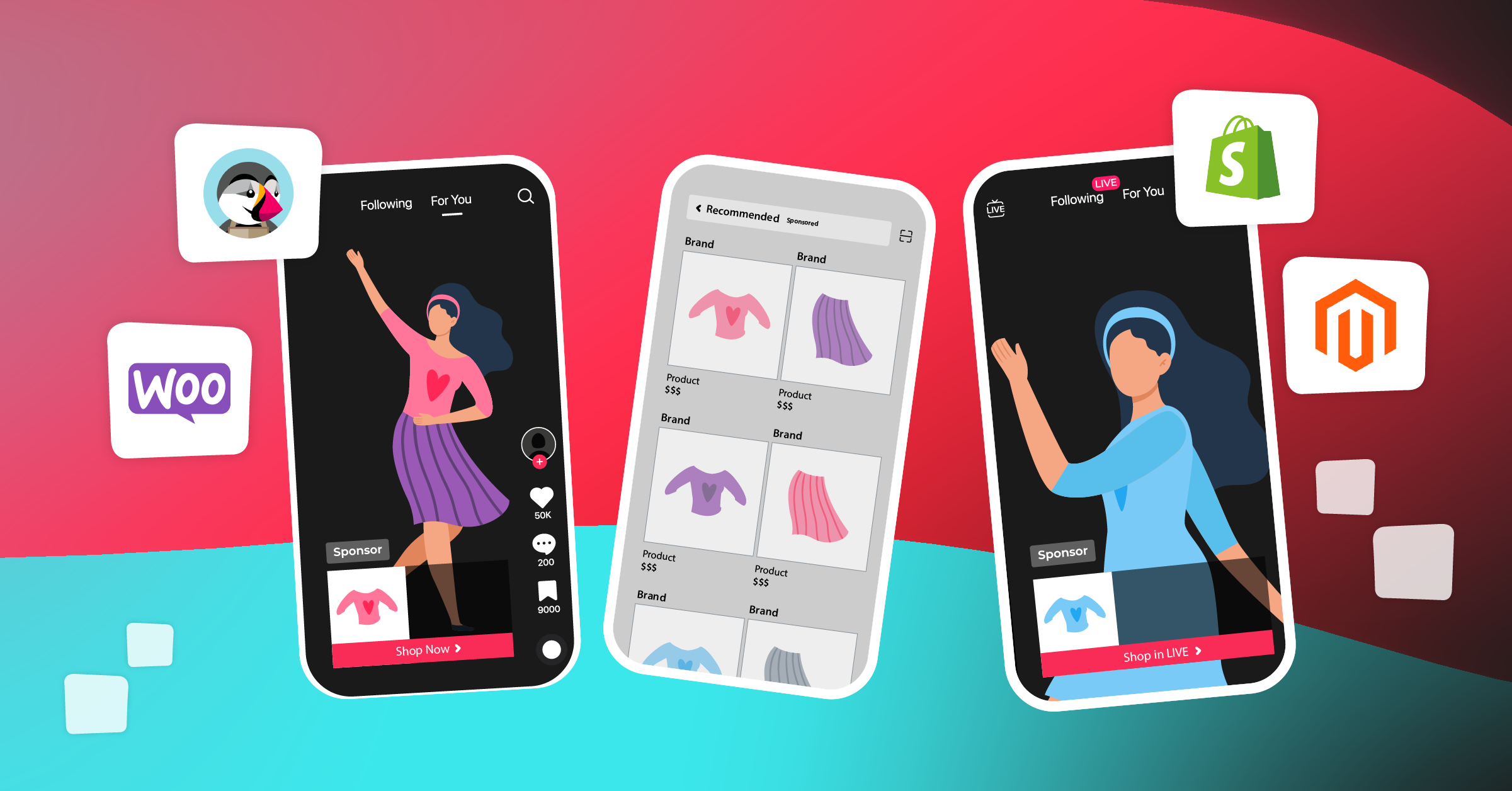 It might come as a surprise right now but, if you think about it, it's only the natural progression of a process we've already seen happen with other social media before, like Facebook Marketplace and Instagram Shopping.
TikTok is no longer just a place where Gen Z dances it out. If you have something to sell, especially to younger audiences, you need to develop a TikTok strategy asap. More and more people turn to TikTok as a place to find and purchase products, which is why TikTok ecommerce is becoming so popular.
In this article, we will go over the TikTok ecommerce platform to learn how it works, with examples, strategies, and best practices. Then, we will explore how to connect TikTok to the rest of your marketing stack with LeadsBridge automated integrations, for faster time-to-lead.
Take a look at all available TikTok integrations by typing your desired destination below.
What is TikTok ecommerce?
It's the use of TikTok as a place to buy or sell products and services. The video sharing app has developed tiktok ads for ecommerce that make it easy for sellers to put their products in a fancy storefront, and for buyers to purchase products in just a few clicks. By putting product links directly in their video ads, companies allow consumers to purchase products instantly, as soon as they see them in their feed.
Why should you adopt a TikTok ecommerce strategy?
Research shows that the majority of TikTok users – 71.2 percent – shopped when they stumbled across something in their feed, while 58 percent shared they used the platform for shopping inspiration.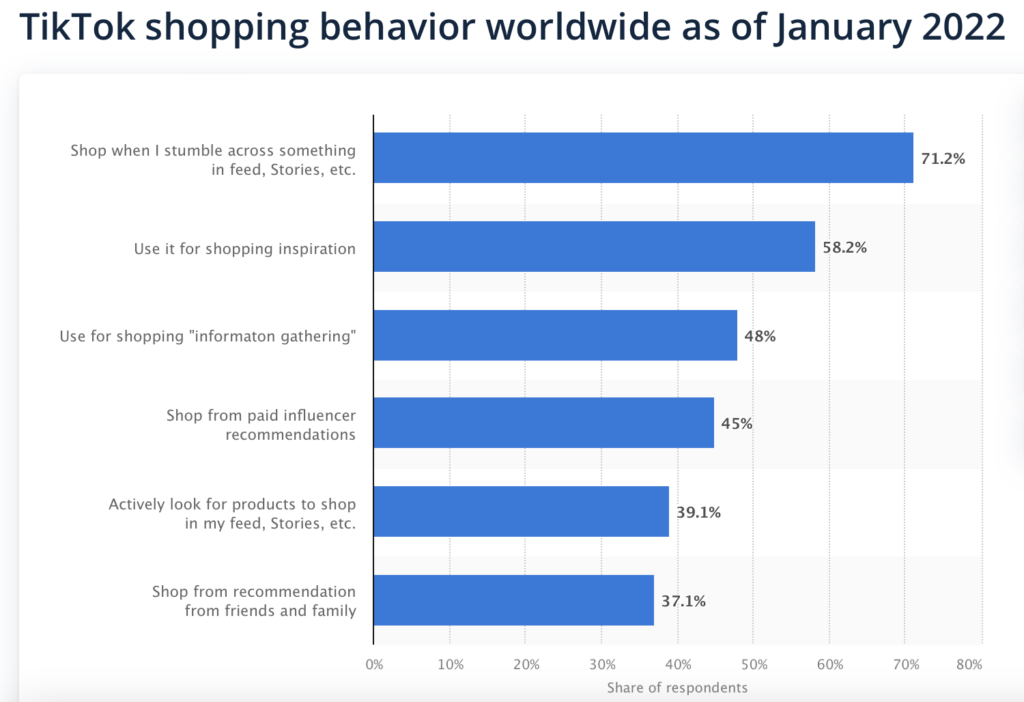 Moreover – while it's true that compared to standard online marketplaces, ecommerce on social and video platforms is still emerging – a study shared by TikTok for Business shows that shoppers who are purchasing directly from these platforms are more likely to buy immediately and to say that these purchases bring them joy.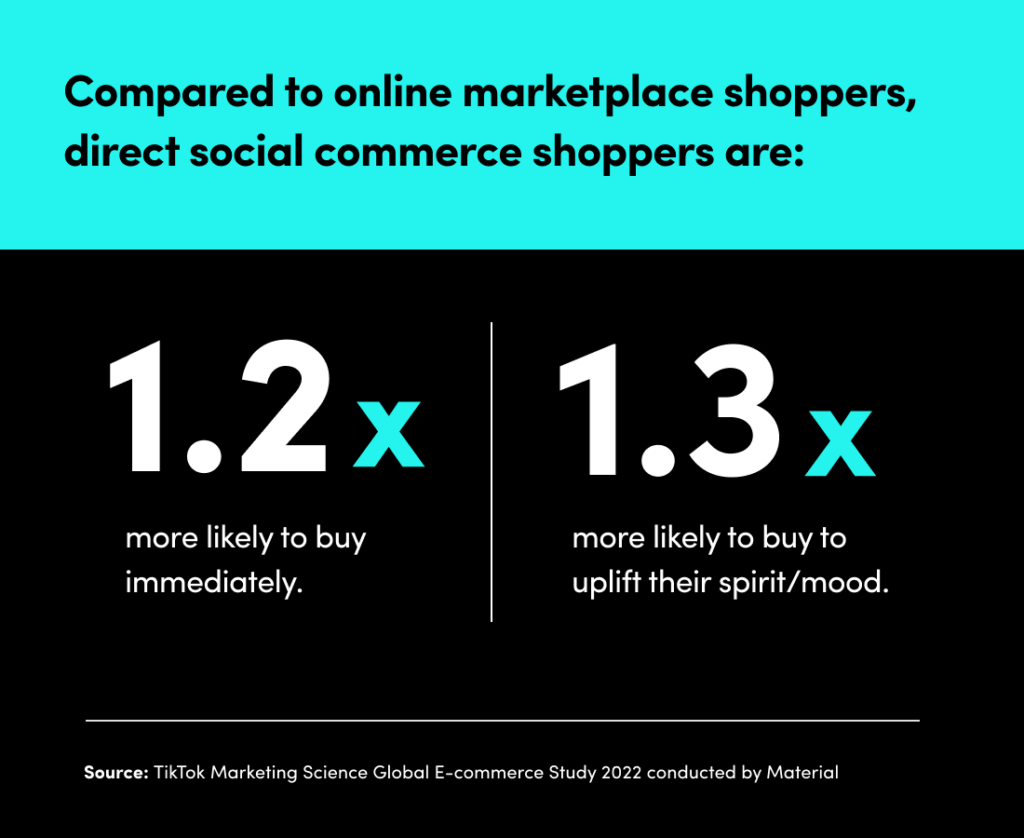 Benefits of a TikTok ecommerce platform
Still not sure? Here are three benefits associated with starting your TikTok ecommerce platform.
Reach a new audience
Selling on TikTok is a great way to expand your reach and sell to a whole new audience: Gen Z, which comprises 60% of all TikTok users. It's especially important for brands to target Gen Zers because they are born trendsetters and, in 2024, 74 million people in the U.S. will be part of Gen Z, which will make it the largest generation of all.
However, it's not just about Gen Z. Also millennials and older generations are joining TikTok, making the audience pool even wider. Ultimately, promoting products on TikTok helps you reach a younger audience and users who may not be present on your core platforms.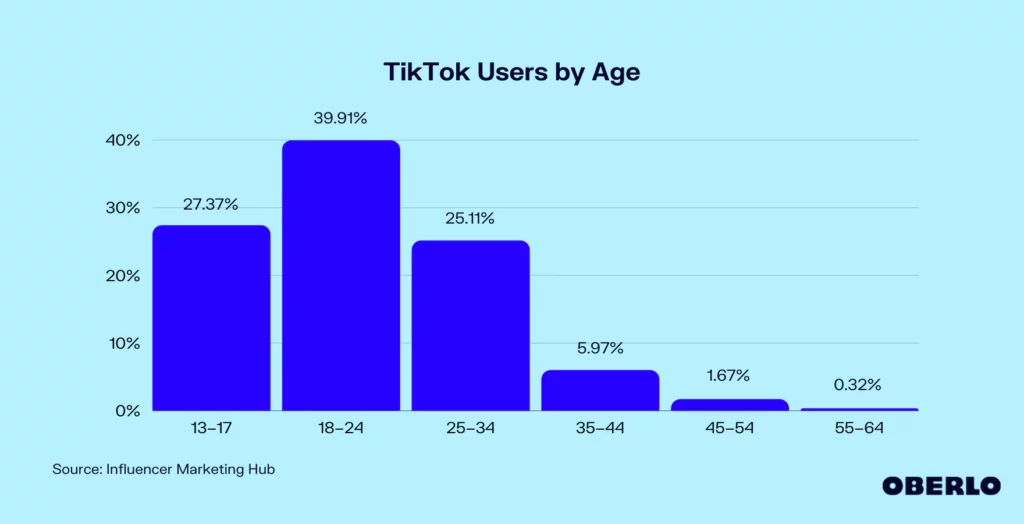 Increase sales
TikTok is the place where people go to discover new products. Why? Because it's perceived as a "place for authenticity, joy, discovery, and as a unique advertising experience." The realness and less over-filtered content presented on TikTok makes users feel more secure in the fact that what they're buying is legit and right for them. This translates to more trust, which ultimately leads to higher sales.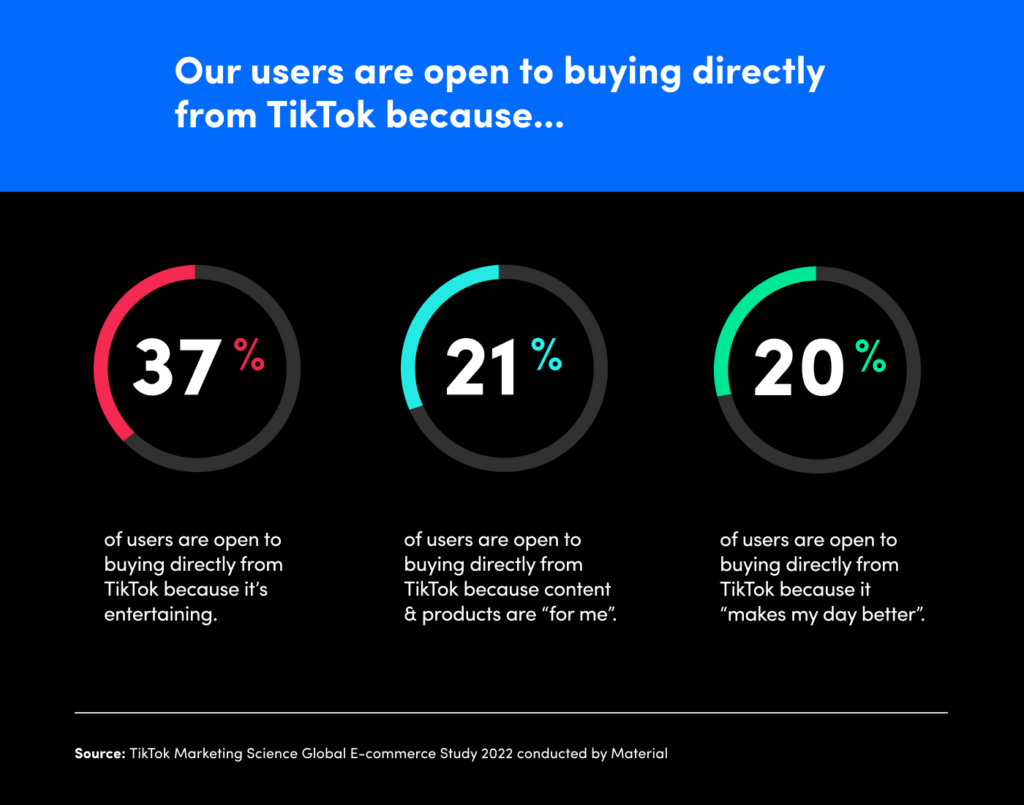 Boost SEO strategy
People turn to TikTok for more than just easy entertainment. Google's Senior Vice President Prabhakar Raghavan said 40% of young people turn to TikTok or Instagram to find a place to eat lunch. As a result, Google is now featuring TikTok videos in its search results.
What does this mean? It means that brands can now use TikTok to optimize their online presence, so that their videos will show up at the top of the SERP when people search for keywords on Google.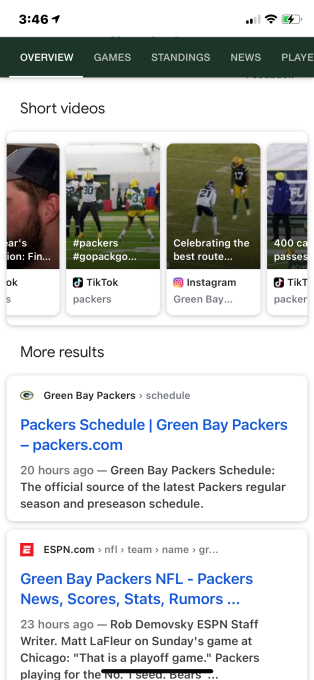 TikTok ecommerce best practices
In order to run a TikTok ecommerce strategy that works, you need to do two things: generate engagement with your videos (views, likes, comments, shares), and then convert this engagement into sales by getting your viewers to take action. How do you do that?
Here is a list of best practices to help you with your TikTok ecommerce strategy.
Leverage hashtags and keywords
On Instagram, they say hashtags are dead. Well this is not true, at least not for TikTok. As mentioned before, Gen Zers now skip the Google search altogether and turn straight to TikTok to gather information.
Having hashtags and relevant keywords into your captions will help the algorithm identify your videos and show them to the people who are looking for your product or service, even if they are not your followers. Therefore, when it comes to hashtags, do not disregard them and make sure to follow up with the top trending ones on TikTok.
Pro tip: Always be on the lookout for what people are searching for. Open the TikTok app and type your main keyword into the search bar. Before you hit "search," take a look at the suggested keywords that appear in the dropdown list. Those are common terms people are searching for that can help you figure out which words to leverage in your videos.
Run TikTok Ads and target them to your audience
Publishing a random ad on TikTok is like throwing a hook into the wide ocean, hoping that something will take the bait. Pointless and a waste of time and money. Think about it, TikTok counts over 1 billion monthly active users, it's impossible for all of them to be interested in your product.
By targeting your ads and showing them to a specific pool of users – those who are more likely to be interested in what you're offering – , you increase your chances for a successful conversion.
Targeting TikTok ads is super easy. When creating an ad, click on "Targeting." Here you can choose location, gender, age, and interests. Focus on interests that align with your product or service to help you find your target audience.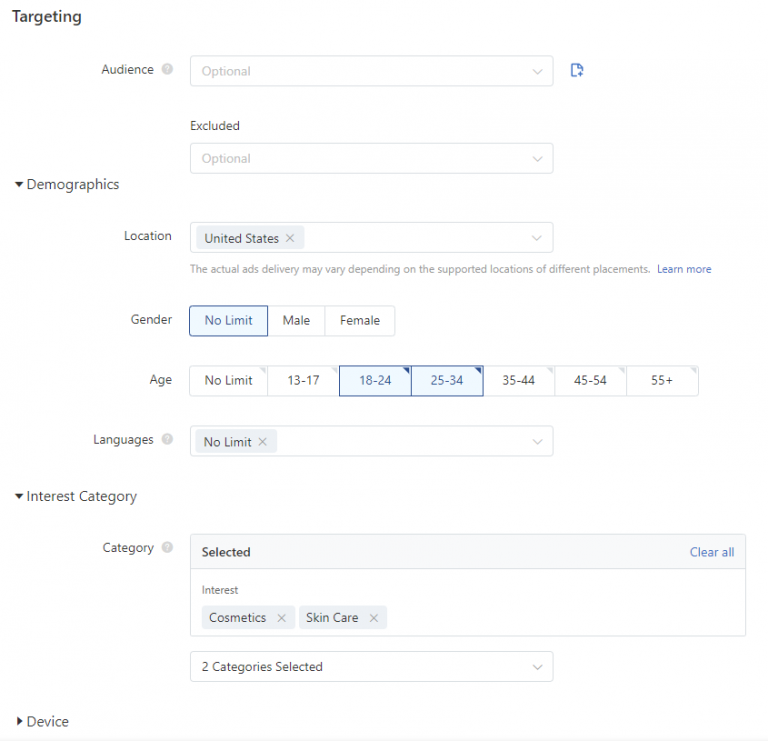 To learn more about how advertising on TikTok works, read this article: The complete guide to TikTok advertising (with ad examples).
Use CTAs
By default, users are lazy. So, give them an incentive to take action and make it as easy as possible for them.
CTAs are short, linked buttons that appear at the bottom of your TikTok ads and are a great way to turn a viewer into a potential customer, with just a few clicks.
When posting a TikTok ad, you can choose from a list of ready-made CTAs, such as "Learn More," "Book Now," or "Sign Up." These clickable buttons will then direct users to a landing page on your website or store.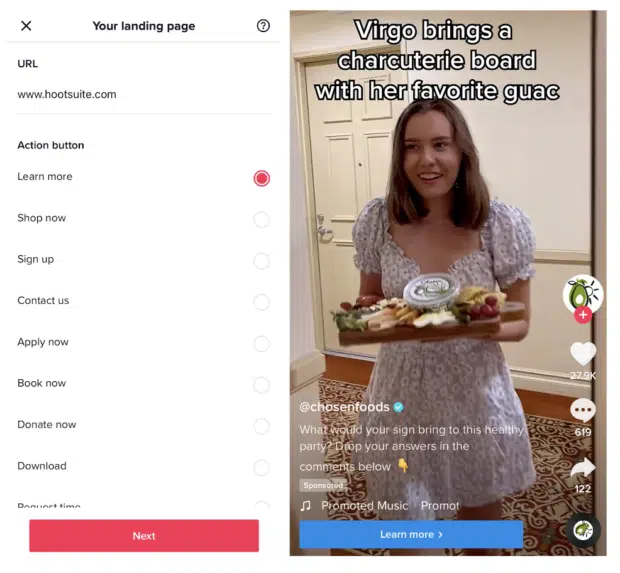 If you want to avoid redirecting users to an external landing page and would rather keep them on the app to submit their information and get your offer, you can easily do so by using TikTok Lead Generation. Learn everything there is to know about TikTok Lead Generation here: How to master TikTok Lead Generation Ads & get more leads.
Partner with creators
It's 2023, yet word-of-mouth is still the most effective way to convince someone to buy something. If someone you know buys a product and speaks highly of it, you'll be more likely to by it yourself. Is that right?
Same thing applies on TikTok. User-generated content is great to get viewers to buy your products, as long as the ad looks and feels genuine. So, partnering with creators to make videos about your products or services is a very effective way to boost sales through TikTok.
To get inspired with TikTok content ideas, check out this article: Top 8 TikTok content ideas for your campaigns.
Connect your TikTok Ad account to LeadsBridge
Last but not least, here's another best practice that can change your TikTok ecommerce strategy for the better. By connecting your TikTok Ad account to LeadsBridge, you can sync your TikTok Ads tools with the rest of your marketing stack to transfer lead data automatically and in real time.
This allows you to stop wasting time on manual tasks and focus on getting in touch with your potential customers right away, as soon as they interact with your ad.
Take a look at some of our most popular TikTok Lead Generation integrations for ecommerce.
We're also working on an integration for TikTok Custom Audiences. If you'd like to look for a specific integration and join the waiting list, you can do so by typing your desired source below.
Click here to check out all available TikTok integrations. And if you'd like to learn more about TikTok Custom Audiences, read this article: The complete guide to TikTok Custom Audiences.
TikTok Ads for ecommerce
If you want to promote your products or services on TikTok, you need to learn about Shopping Ads: a new TikTok ad solution that "helps turn a brand's presence on TikTok into shoppable experiences for users."
Shopping Ads is a three-in-one solution with different formats to adopt and combine: Video Shopping Ads, Catalog Listing Ads, and LIVE Shopping Ads.
Video Shopping Ads
This ad format allows you to add a shoppable link directly to your video. This way, when viewers see your video in their feed, they can check out the product you're featuring by simply tapping on the Product card or anchor link and then purchase it immediately.
This feature is now available for testing to all TikTok shops globally. Learn more about how to create TikTok Video Shopping Ads here.
Catalog Listing Ads
You can feature your shoppable products in a catalog, alongside other merchants' products, reaching users via the For You page who are more likely to buy. However, as of January 2023, Catalog Listing Ads is no longer available as a standalone format, but is now part of Video Shopping Ads. Learn more about Video Shopping Ads for Catalog here.
LIVE Shopping Ads
This feature helps people on TikTok discover and watch your LIVE videos, to browse and purchase the products you're presenting while they're watching. Learn more about how to get started with LIVE Shopping Ads here.
Final thoughts
TikTok has turned into a place where entertainment meets ecommerce in a magical buyer journey where the customer can feel the joy of discovery.
Due to this evolution process, TikTok has rolled out new ecommerce ad solutions that are specifically designed to present products as TikTok experiences, making entertainment shoppable.
Thankfully, LeadsBridge is here to keep you always updated about the latest news in advertising and to help you connect your advertising platforms to the rest of your marketing stack for real-time, automated lead data transfer, and faster time-to-lead.