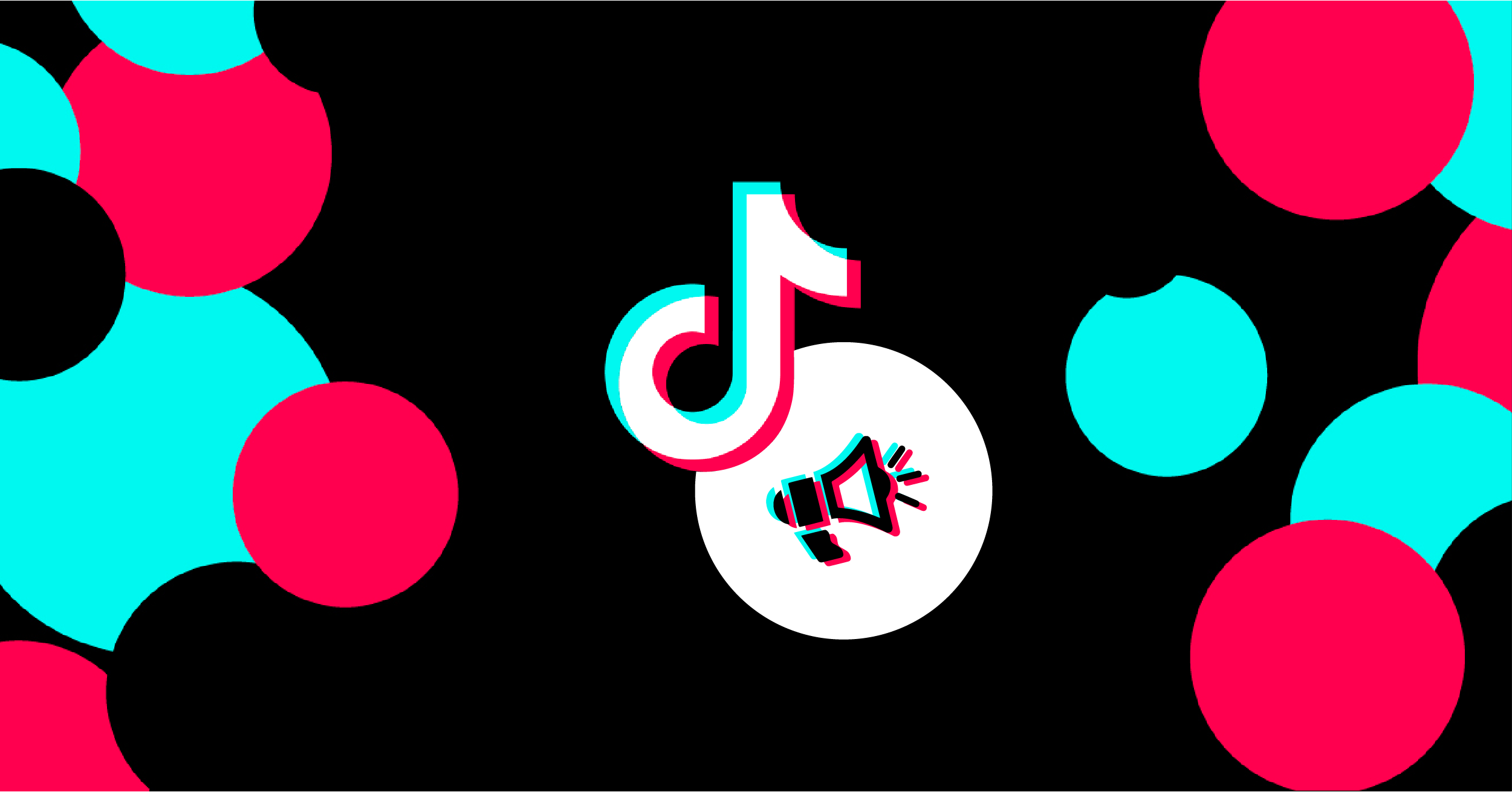 TikTok is a video-sharing social networking service that enables users to make short videos, usually from fifteen seconds to three minutes in different genres, such as dance and comedy.
With over 689 million monthly active users spanning 150 countries worldwide and being one of the most downloaded apps in the US, Japan, India, and Korea in 2018, TikTok is the new marketers' dream. It is also the seventh-largest social media network in the world. Whether you want to sell more of your products or services or drive targeted traffic to your website, TikTok advertising campaigns can give you good returns on your ad spend. Placing your ads on TikTok will help you reach a young, vibrant audience that loves great content. TikTok ads platform provides a robust platform for small and large businesses to advertise to millions of people all over the world.
Recently, TikTok launched its lead generation tool to help businesses generate more leads. Wondering how to run ads on TikTok?
We have put together this complete guide that will show you the steps you need to take to create ads on TikTok and get the best out of it.
We have also introduced our popular integrations for running successful TikTok campaigns, including TikTok Lead Generation.
Sign up for free to turn users into paying customers, automate your workflow and scale your campaigns.
But before getting started, let's get to know the users of the TikTok app.
Who uses TikTok?
TikTok is a popular app available in over 150 countries of the world and in 39 languages. Currently, there are 689 million monthly active users across the world. It is used by both males (53%) and females (47%).

Source: Hootsuite/We Are Social
The proportion of global internet users who use TikTok is shown below. As seen from the table, the number of users keeps increasing every year.

Source: GlobalWebIndex
Below are the users by country according to August 2020 estimates. As shown in the table below, the U.S has the largest number of TikTok users (65.9 million).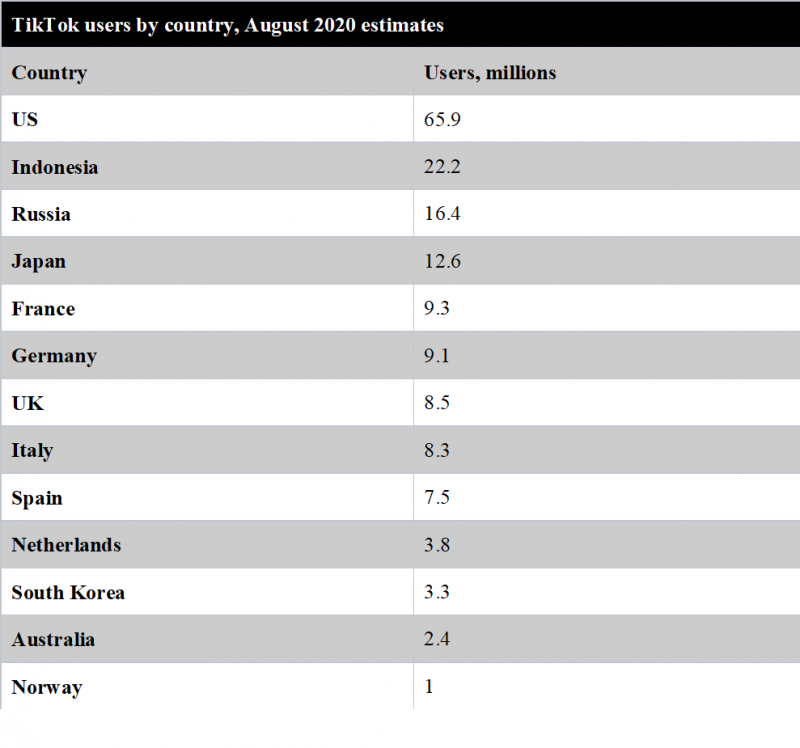 Source: eMarketer
In relation to age, TikTok users are more young people than adults as shown below.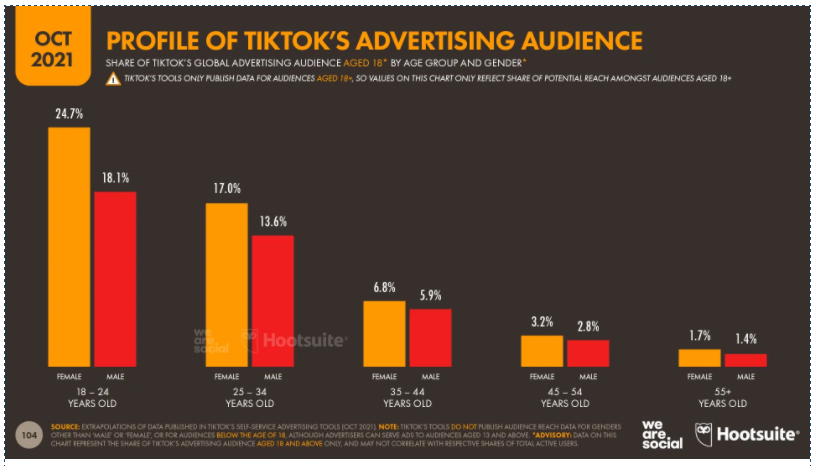 Source: Hootsuite
Distribution of TikTok users in the United States as of March 2020, by income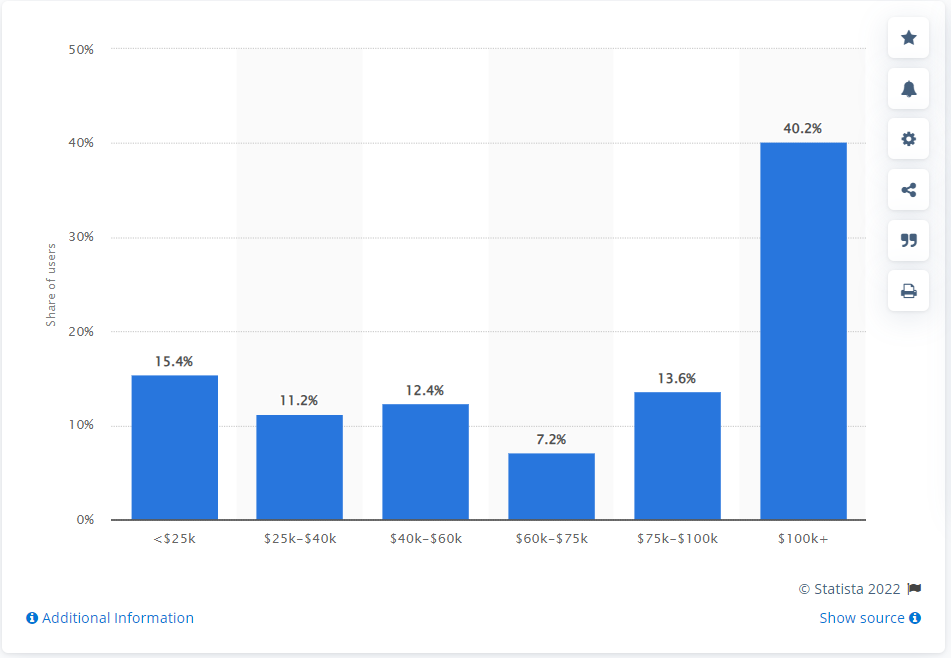 Source: Statista
Looking at the income of the users also, users with high-income potentials are more on TikTok. This includes people earning between $25k, $75-100k, and $100k.
TikTok users are conscious of brands and products as shown below.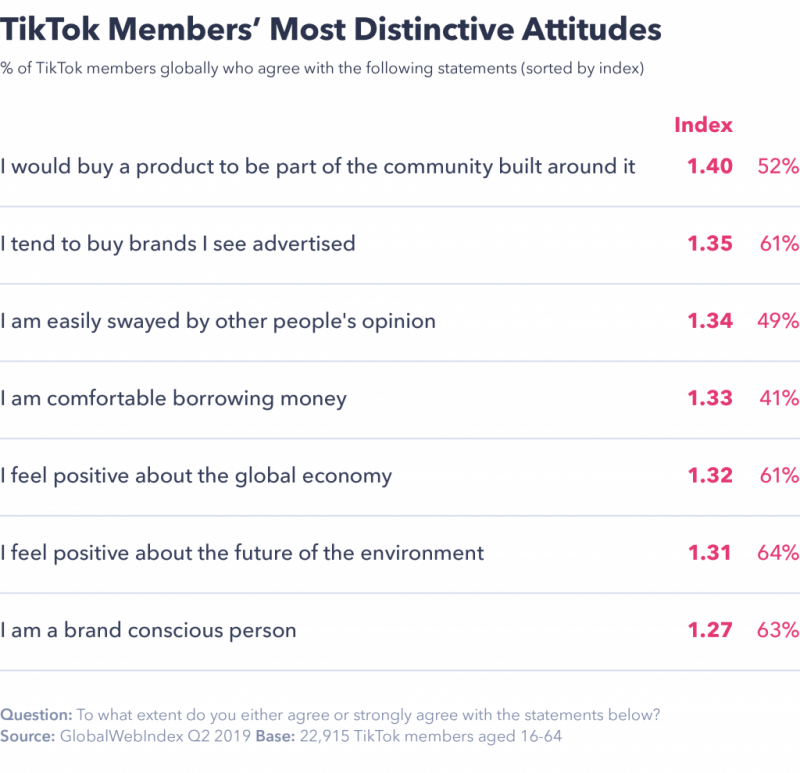 Source: Global Web Index
According to App Annie's state of mobile 2021 report, TikTok users spent 4.2 hours daily on mobile phones.
All this information about TikTok users makes it a sweet spot for marketers. But wait, Are TikTok ads for all businesses?
Does TikTok have ads?
Yes, TikTok has varieties of ads for businesses to reach their target audience. This includes In-feed ads, Brand takeover ads, Top view ads, Branded Hashtag ads, and Branded effect ads. All of these ads are discussed in detail below. TikTok ads are not free, but you can create a free TikTok ads account to set up your ads with your budget and schedule. TikTok minimum campaign budget ranges from $500 to a minimum ad group budget of $50.
Are TikTok ads for all businesses?
TikTok is suitable for most businesses, however, not all businesses will attain success using it. It is specifically created for businesses that are looking for large and engaged audiences. TikTok's average engagement rate was 17.99% in 2020. It will also interest you to know that 90% of TikTok users visit the app more than once a day, and they spend an average of 68 minutes per day on the app (usage per day in the USA). This makes TikTok the best platform for audience engagement.
If you have a business that sells to the younger generation, you are likely to do well with TikTok advertising. This is because 50% of the TikTok global audience is under the age of 34 with 26% between 18 and 24 years of age. However, opportunities still abound to reach different age groups.
Lastly, if you have a business with an international audience, the TikTok ad is the best for you. This is because TikTok is available in 150 countries with 70 languages all over the world.
If your audience falls into the categories above, your business will generate great returns on ad spend.
Here is a more detailed post on TikTok for Small Businesses.
Why TikTok advertising?
1. TikTok is dominated by Generation Z audience
As seen above, the majority of the TikTok audience is Generation Z audience (i.e. from 18 — 34 years old). This audience, according to research represents the largest U.S. consumer population at 82 million people. This generation Z has the buying power of over $140 billion. These two stats show that Gen Z is the fastest-growing consumer segment with unique purchasing power. Do you know what that means for your business? Well-targeted ads for this audience could mean more revenue for your business.
2. TikTok users engagement rate is high
A report released by App Annie revealed that "TikTok's average monthly time spent per user grew faster than nearly every other app analyzed. This includes 70% in the US and 80% in the UK, surpassing Facebook" in 2020. Young adults on TikTok now spend 80 minutes per day as compared to Facebook's 58.5 minutes per day. This shows that TikTok users are engaged audiences. The more engage an audience, the better for brands. This means you are likely to get more eyeballs and engagement for your business.
3. TikTok advertising expands the reach of your video content
Video marketing is on the rise and it will not slow down anytime soon. A study by Social Media Week revealed viewers claim they retain 95% of a message when obtained via video. Also, 93% of brands got a new customer because of a video on social media. Using more videos on TikTok opens up your business to reach more target audiences. If you have not started using video, TikTok provides an opportunity to incorporate video into your marketing campaign.
4. TikTok has different ad formats that encourage engagement
There are different TikTok ad formats (discussed fully below), such as the In-feed ads, top view ads, brand takeover ads, In-feed ads, and branded hashtag challenge. These ad formats encourage enormous engagement among users. For instance, the in-feed ads enable users to like, comment, share, follow and shoot videos within the same TikTok sound.
5. TikTok advertising can help reach an international audience
TikTok is available in 150 countries with 70 different languages. If your business operates internationally, TikTok advertising is the best for you. It enables you to reach an audience in different international markets.
Types of TikTok ads
There are five (5) different TikTok ad formats for businesses to use. They are:
1. TikTok In-Feed Ads
TikTok In-feed ads are the video ads that are displayed inside the native news feed as users scroll through the "For You Page". They blend well with the TikTok feed. This makes it easy for users to quickly scroll past it. Creating a full-screen in-feed ad that is attractive will stop users from overlooking it. With In-feed ads, users can like, comment, share and interact with the TikTok advertising videos.
Below is a good example of a TikTok In-feed ad video from Maybelline.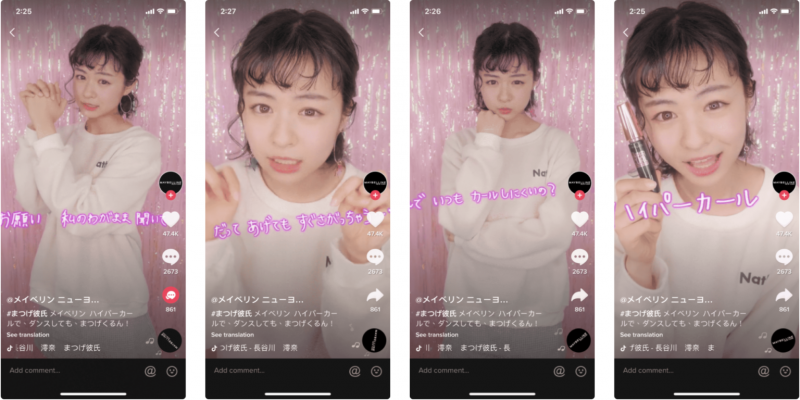 Source: TikTok
The beauty brand created an in-feed ad with catchy music to increase its market share and brand recognition within the younger generation in Japan.
2. TikTok Brand Takeover Ads
TikTok Brand takeover ads just like the name suggest pop up as soon as users open the TikTok app and take over the screen for a few seconds and then change into an In-feed video ad. They also show up on the "For You Page" as still images, videos, or gifs with clickable links that lead to landing pages within TikTok. It is effective for creating mass awareness and driving sales since the ads show up in front of the right audience. You can also create and add your custom logos to stay in the mind of viewers better and make them remember your brand.
A great example of a Brand Takeover ad is from Too Faced. They created a TikTok campaign to introduce one of their products – a cruelty-free lip plumping gloss.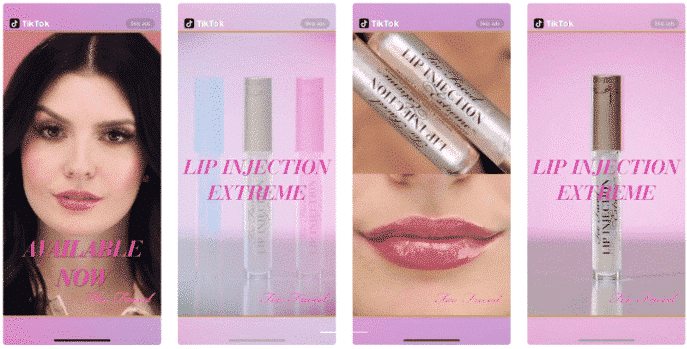 Source: Jungletop
The ad generated 7.6 million impressions and 1.3 million clicks. This means it has around an 18.38% clickthrough rate.
3. TikTok Top View Ads
TikTok top view ads are similar to brand takeovers. The difference is that Top view ads do not cover the screen as soon as users sign in. They occupy the first In-feed post after 3 seconds. It shows up to 60 -seconds of full-screen video with auto-play and sound. This helps to increase brand exposure.
Below is an example of TikTok Top view ads from Balenciaga.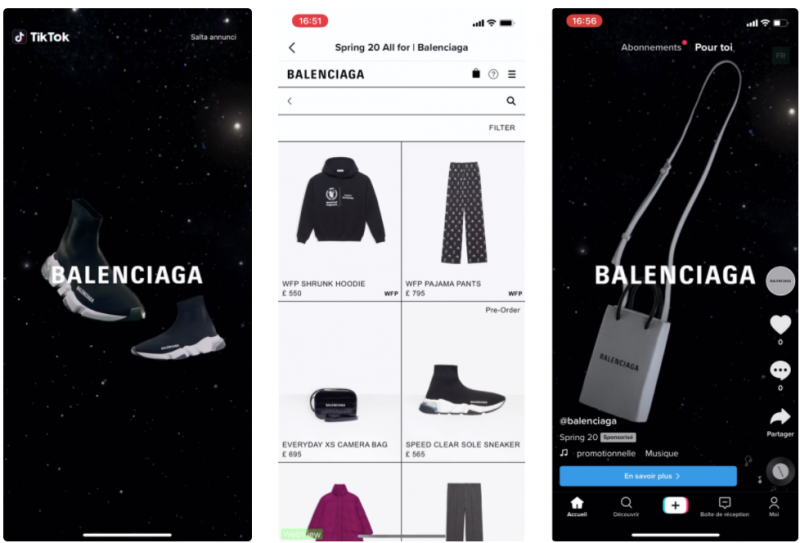 Source: Balenciaga
4. TikTok Branded Hashtag ads
Branded hashtag is another popular ad on TikTok. It involves asking users to videotape themselves performing something like a dance or doing something in line with the product and posting it with a defined hashtag. The ads show up at the top of the discovery page. When users click on the hashtags, it leads them to landing pages on TikTok and a collection of other TikToks videos from the same hashtag challenge. TikTok hashtag challenges encourage engagement and brand awareness building.
Below is an example of a TikTok branded hashtag ad from Mercedes Benz.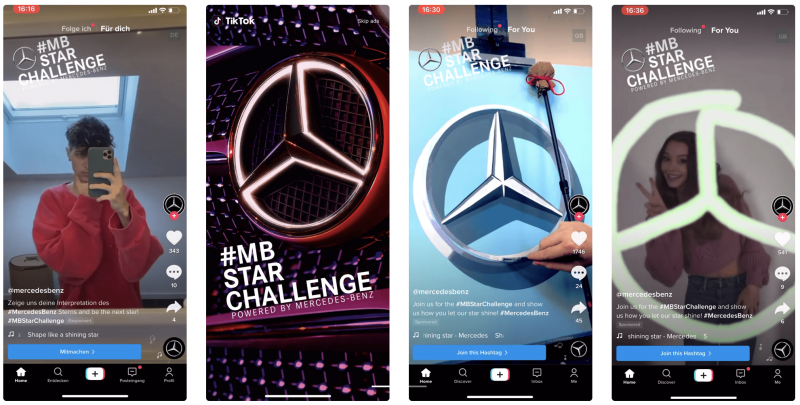 Source: TikTok
They created the #MBStarChallenge to encourage users to create their own Mercedes Benz logo. This helped to create brand awareness for Gen Z and millennials.
5. TikTok Branded Effects ads
TikTok branded effects allow businesses to create an ad with their own custom filter on the app. The ad can last up to 10 days at a time. It is a great and fun way to enable users to engage with your business.
A good example of TikTok branded effect ads is from Colgate.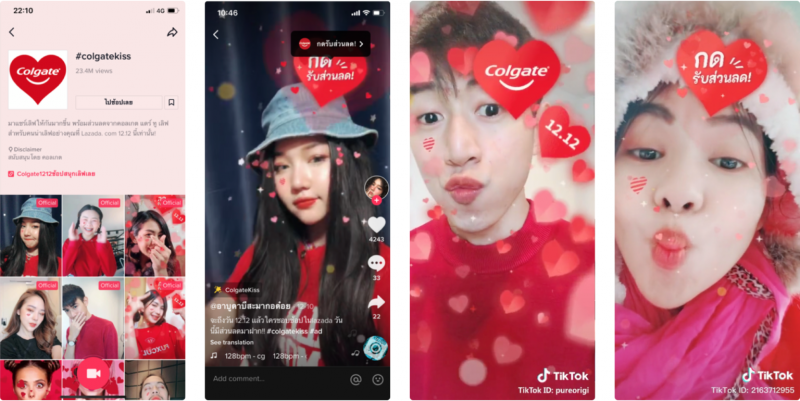 Source: TikTok
Colgate created a hashtag challenge #Colgatekiss to produce an aesthetic for the brand in Thailand. They used a clickable branded effect with a 'kissy face' to complement the challenge.
How to run ads on TikTok
Are you searching for how to run ads on TikTok? It is easier than you think. TikTok advertising platform just like the Instagram Ad Manager automates the ad creation process which includes creating, delivering and optimizing ads. The first thing you need to do is to install the TikTok pixel on your website.
Install the TikTok Pixel
TikTok, just like Facebook has its own pixel that helps you to track your ad performance. The TikTok pixel is a piece of code you install on your website to help you monitor visitor's activity, sales, and other events. These will help you find the right audience on TikTok for your ads.
With the TikTok pixel, you can effectively monitor your ad performances and conversions based on the events you define. This can be page views, downloads, add to cart, check out, etc. This will help you to target users who will be responsive to your ads. You can also create Custom
Audiences and Lookalike Audiences for your website users. This is useful for retargeting. Learn how to set up the TikTok Pixel here.
Below is the step-by-step process of creating a TikTok ad.
Go to the ad sign-up page and register your business. Provide the location of your business and select the right account for your business, i.e. whether it is business or personal. Then click on next.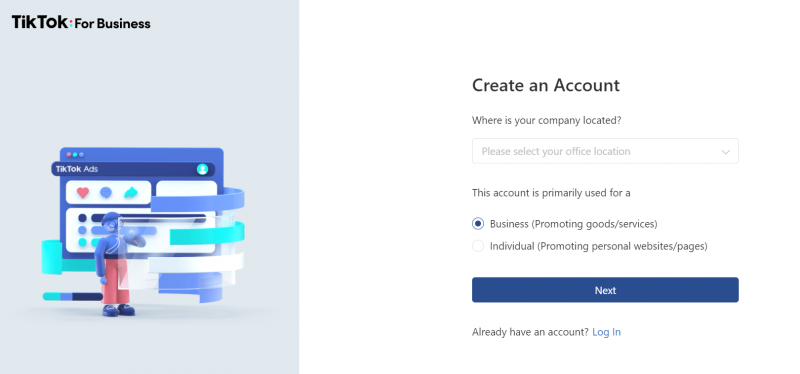 Source: TikTok
2. On the next page displayed, fill in your email address, password, and enter the verification code. Then click to agree to TikTok ads terms and conditions. That is all you need for now. You can now set up your TikTok campaign.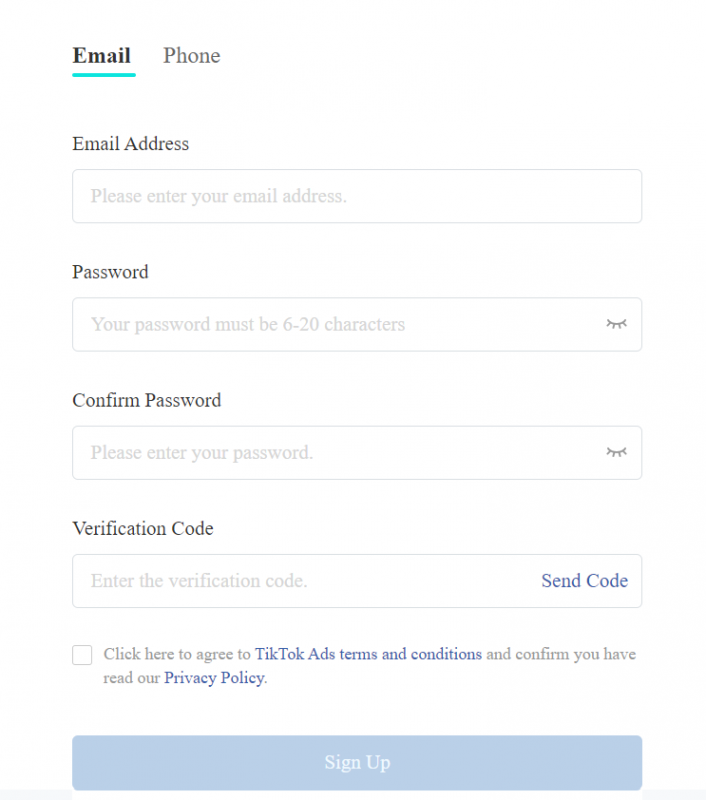 Source: TikTok
Set up a campaign and create the TikTok Ad
Creating a TikTok ad is in three stages. You first create a campaign, an ad group, and then the real ad.
1. Set up a campaign
The campaign level is the first step you need to follow to create your TikTok ads. Here, specify the campaign objectives, campaign name and set the campaign budget. The campaign objectives include app install, reach, conversions, video views, and traffic. Below is the step-by-step process you need to follow to set up a campaign.
a. Login to your TikToks Ads Manager and click on "Campaign" at the top of the page displayed. Then click on "create" as shown below.

Source: TikTok
b. It is time to choose the objective of your campaign. This signifies the action you want people to take when they see your ads. So, it is very important for you to choose the right objective in order to generate the desired result for your campaign. For instance, if your objective is to generate more traffic to your website, the right objective to choose will be "traffic".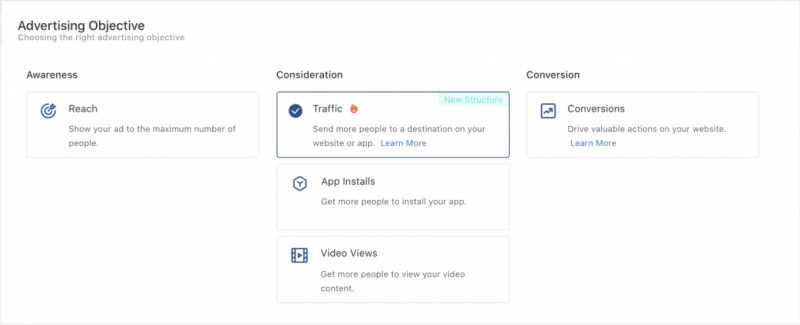 Source: TikTok
All campaign objectives are categorized under three headings – awareness, consideration, and conversion as shown above.
There is a limit to the campaigns you can create in one TikTok account, it is 999 campaigns.
Now, we are done with the campaign level, the next step is the ad group.
2. Create an ad group
The ad group level is where you specify the ad placements, audiences, target audiences, campaign budgets, optimization goals, schedule, and bids for your ad group. The first step to creating the ad group is selecting the placements.
a. Select the ad placements
Ad placement is where your ad will appear on TikTok. You have the option to tell TikTok where to place your ads or allow TikTok to pick the best placement for you. Allowing TikTok to pick placement for you is known as automatic placements. The system will help to optimize your ad delivery on different placements so that you can achieve your specified campaign objective.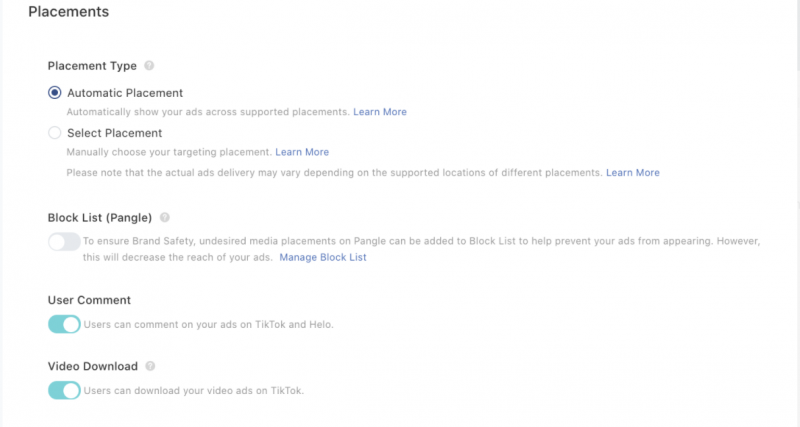 Source: TikTok
As shown above, select automatic placement to allow TikTok to use their algorithm to place your ad in the right place, or you can choose the placement manually.
The blocklist (pangle) feature is for Japanese advertisers. It is used for blocking undesired placement to prevent your ads from showing up in those places. Read the block list article to learn more.
b. Choose the desired creative
The automated creative optimization feature will help you to automatically create combinations of your creative assets in order to deliver only the best-performing combinations. The ad creative assets for the campaign include images, explainer videos, and ad texts.

Source: TikTok
c. TikTok Ads targeting
It is time to choose the audience you want to target with your campaign. TikTok allows you to create both Custom Audience and Lookalike Audience just like Facebook. Using TikTok ads targeting, you can target your audience using their demographic and device options to help you narrow them down. This includes age, gender, interest, operating system, location, language, behavior, device price, and mobile carrier.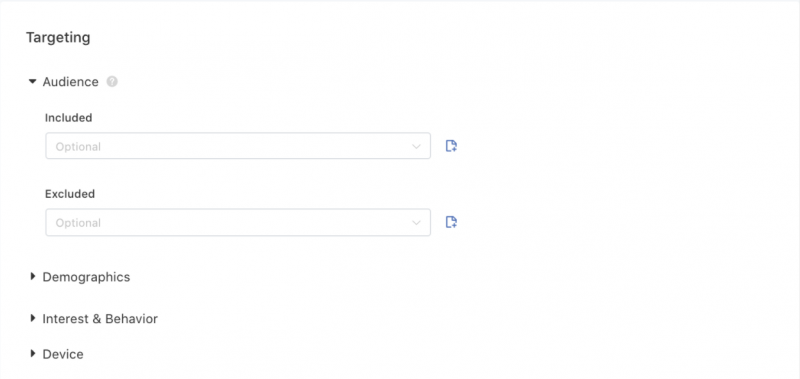 Source: TikTok
Custom audience targeting on TikTok allows you to target your audiences based on customer file (a list saved in a CSV, TXT, or ZIP file), engagement audiences (users who have engaged with your ads before or who have seen your ads before (impressions), app activity (e.g. sign up, activate, purchase, etc), and website traffic actions (e.g. view content, button click, purchase, form submission, etc).
TikTok Custom Audiences like Facebook Custom Audiences allow you to target people who have engaged with your business. You can create a custom audience from different sources, such as website traffic, lead generation, app activity, engagement, and customer files. The most interesting part is that you can integrate TikTok custom audiences with different tools through LeadsBridge. However, this integration is on the waiting list. You can join the list here – Below are some examples.
TikTok Custom Audiences integration with Britix24

TikTok Custom Audiences integration with MailChimp

TikTok Custom Audiences integration with ActiveCampaign.
d. Set the budget and the schedule
In this section, you need to specify your budget for the ad. There are different options here as shown below.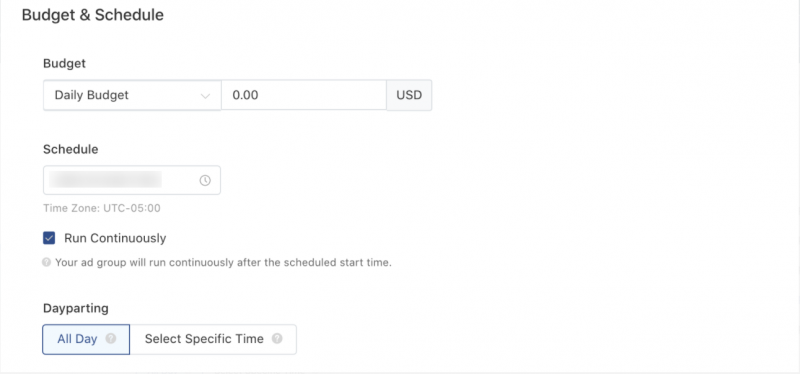 Source: TikTok
It is time to set a budget for the ad. This can be a daily budget or a lifetime budget. The schedule specifies the start and end times for the ads. Choose a range of dates to run your ad or choose to continuously run it for as long as you want. The dayparting option allows you to choose the specific time periods in a day. This ranges from half an hour to 24 hours.
e. Set up the bidding and optimization
This is the section where you choose your bidding process and optimization options and add third-party tracking links to help monitor the performance of your ad.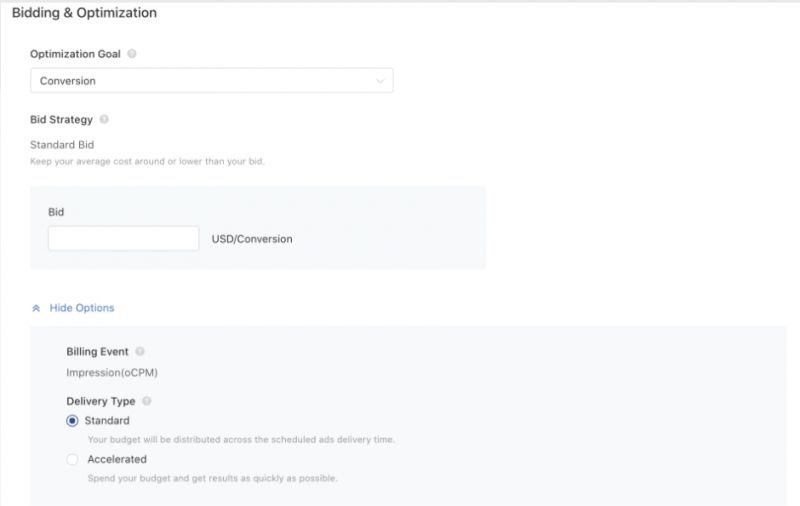 Source: TikTok
The first option here is the optimization goal. There are three types – conversion, click and reach. Choose the goal for your campaign. Second, there is the billing event option. The TikTok system automatically sets the billing event based on the optimization goal you selected.
For example, if you choose "reach" as your optimization goal, your ads will be billed as CPM (cost per mile). Here is a link to more information on bidding methods on the TikTok ads manager.
Next comes smart optimization. This option allows you to choose how the system optimizes conversion events and carry out smart delivery. It is recommended that you activate the smart optimization option to help with your conversions.
The bid strategy helps to control your cost per result if you put it in the "standard bid" mode.
This ensures that the average cost per result is within your bid during the delivery process.
The bidding option, help you set the amount you are ready to pay for a thousand impressions, per click, or per conversion. The TikTok system will deliver the ads as per your bid specification.
The delivery type is in two different formats – standard and accelerate. When you select the standard delivery, your ad budget will be spent evenly during the campaign. The "accelerate delivery" option will spend the budget quickly during the campaign. Here is more information on the delivery type.
It is time to create your ad.
3. Create your ad
Finally, it is time to create your ad. Ad creation on TikTok is easy. All you need do is to upload your images or videos and design eye-catching ads in minutes using the features on the TikTok ad manager. There are two types of ads you can create on TikTok – image and video ads. TikTok has an ad limit of 20 ads per ad group.
Now, follow the steps below to create your TikTok ad.
a. Start by entering the ad name in the column specified as shown below. This will help you identify your ads.

Source: TikTok
b. Choose the ad format. TikTok allows you to choose from the two options available – i.e. image or video. But currently, you can only create video ads in TikTok.

Source: TikTok
c. Add your ad details. This includes uploading your creative media. You can upload your media from your computer or use the media from your previous ads. You can also choose to create a new video. To create a new video, select "use video template" or "smart video". Select the video thumbnail that will serve as a cover photo for your video ad. You can upload a new one or choose from the images from your video.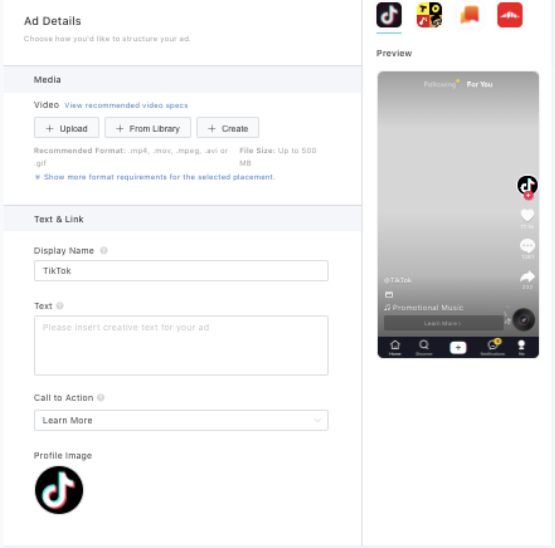 Source: TikTok
Add the text and link that will be shown with your ad. This includes the display name, text, call to action, profile image, and the URL of the website you want to drive traffic to if traffic is your main campaign objective.
When you are done, preview your ad on your device. This will show you how the video ad will look like after publishing it.
d. Add relevant tracking links to your ad. TikTok allows you to add third-party tracking URLs and pixels to help you track your ad performance. Here is a list of Supported Third-party measurements and TikTok pixels.
When you are done, click the "submit" button to complete the ad creation process. This will trigger the ad review process. Once your ad is approved, it will go live.
TikTok ad policy
All social media platforms have rules and regulations for businesses and individuals to follow. The same applies to TikTok. Below is the TikTok ad policy for marketers.
Use the right ad format

TikTok requires that all advertisers must ensure that landing pages are related to what they sell and there should be no broken links. There should be ad consistency. This means all messaging and images must align together to prevent confusion. The language used in the ad must be appropriate for the target audience. Below are different languages available on TikTok.
Australia: English
Austria: German and English
Brazil: Portuguese
Belgium: Dutch, German, French, and English
Canada: English
Denmark: Danish and English
Egypt: Arabic and English
Finland: Finnish, Swedish, and English
France: French and English
Germany: German and English
Hong Kong: Mandarin(Traditional Chinese), Cantonese, and English
Indonesia: Indonesian
Ireland: Irish and English
Israel: Hebrew and English
Italy: Italian and English
Japan: Japanese
Malaysia: Bahasa Melayu and English
Netherlands: Dutch and English
Norway: Norwegian and English
Philippines: Filipino (Tagalog) and English
Poland: Polish and EnglishRussia: Russian
Saudi Arabia: Arabic and English
Singapore: Bahasa Melayu, Chinese and English
South Korea: Korean
Spain: Spanish and English
Sweden: Swedish and English
Switzerland: German, French, Romansh, Italian, and English
Taiwan: Mandarin (Traditional Chinese)
Thailand: Thai
Turkey: Turkish and English
United Arab Emirates: Arabic and English
United Kingdom: English
United States: English
Vietnam: Vietnamese
Additionally, there is restricted content you cannot advertise on TikTok. Restricted Content includes:
Alcohol
Gambling and lotteries
Religion and culture
Protection of minors
Weight control/management
The following content is also prohibited on TikTok
Illegal services and activity
Drugs and drug paraphernalia
Weapons, ammunition, and explosives
Tobacco products and smoking
Political content
Military content
Discriminatory content
Adult sexual content
Copyright infringement
Misleading claims
Sensational and shocking content
Data collection
TikTok ad specs
As a brand on TikTok, there are ad specs you need to get familiar with. Find some of them below.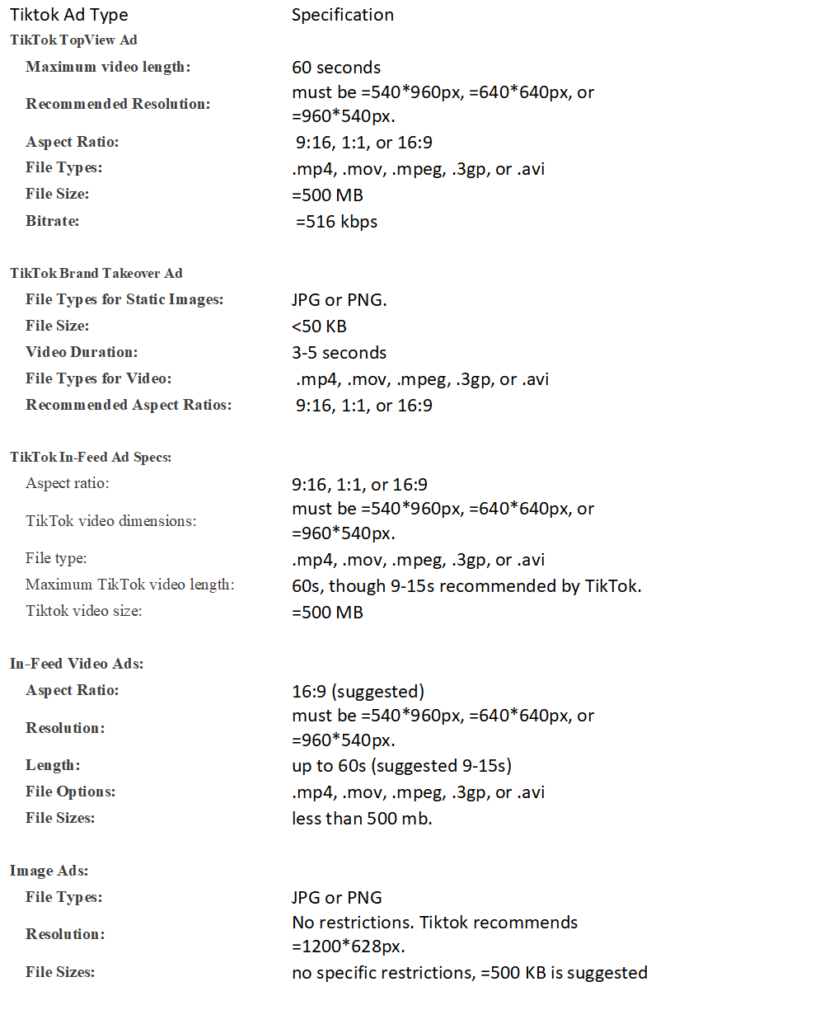 Source: Yellowhead
TikTok Brand guidelines
Knowing what is required for your business to thrive on TikTok is the key to succeeding on the platform. Below are brand guidelines you can follow.
1. Create engaging and entertaining content

TikTok appeals more to the younger generation that loves interesting, entertaining, and fun content. Ensure you strike a balance while creating content for them: Your content should be entertaining and educational at the same time, to help you project your brand and boost product visibility. Check out this blog post for inspiration on TikTok content ideas.
2. Be consistent

Consistency in posting relevant messages on TikTok is important because the TikTok algorithm favors those who are consistent. It helps you to show up in your audience's feed, which will result in more views and likes.
3. Follow trends

Trends are popular on TikTok. They can help you to generate engagement and followers. You need to follow trending hashtags, music, and filters to reach more people and get more views and likes. It can also help you get more followers for your business account on TikTok.
4. Work with TikTok influences

TikTok influencers are like celebrities, so working with them is a win-win situation. There are lots of them on TikTok. They can help you create videos that will promote your product/service on their channels.
TikTok Lead Generation
TikTok recently launched its lead generation tool for businesses. It is like Facebook Lead Ads. The TikTok Lead Generation helps businesses to share the details of their product or services with users who are interested. Businesses can use the TikTok Lead Generation to reach and engage with their prospects and customers and collect their data directly on in-stream ads on TikTok.
The TikTok Lead Generation feature includes a pre-filled form containing the user's name, email, phone, and other relevant information requested by the advertiser. This makes it easy for interested users to fill out and submit the form.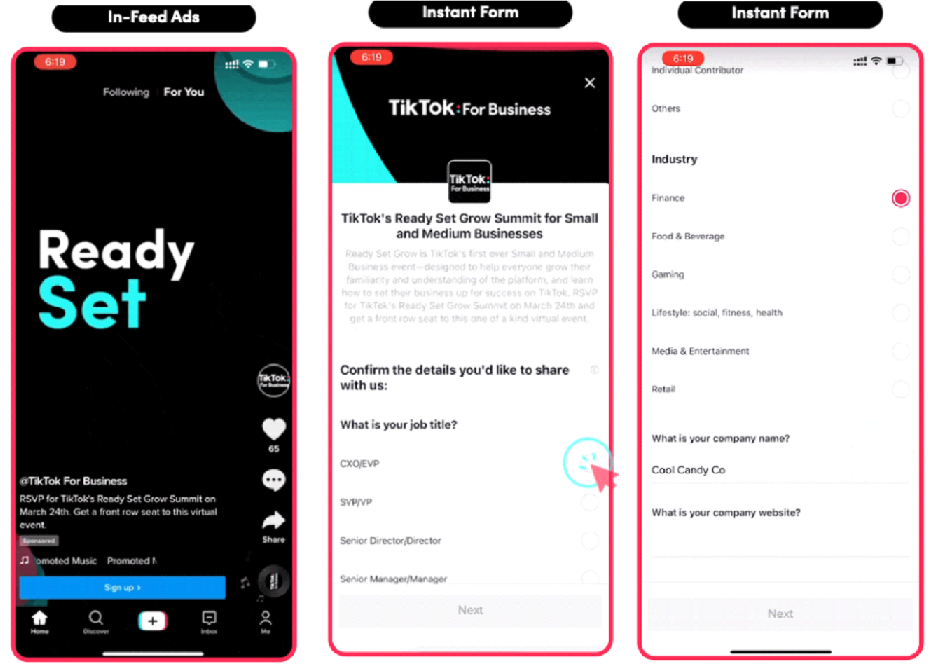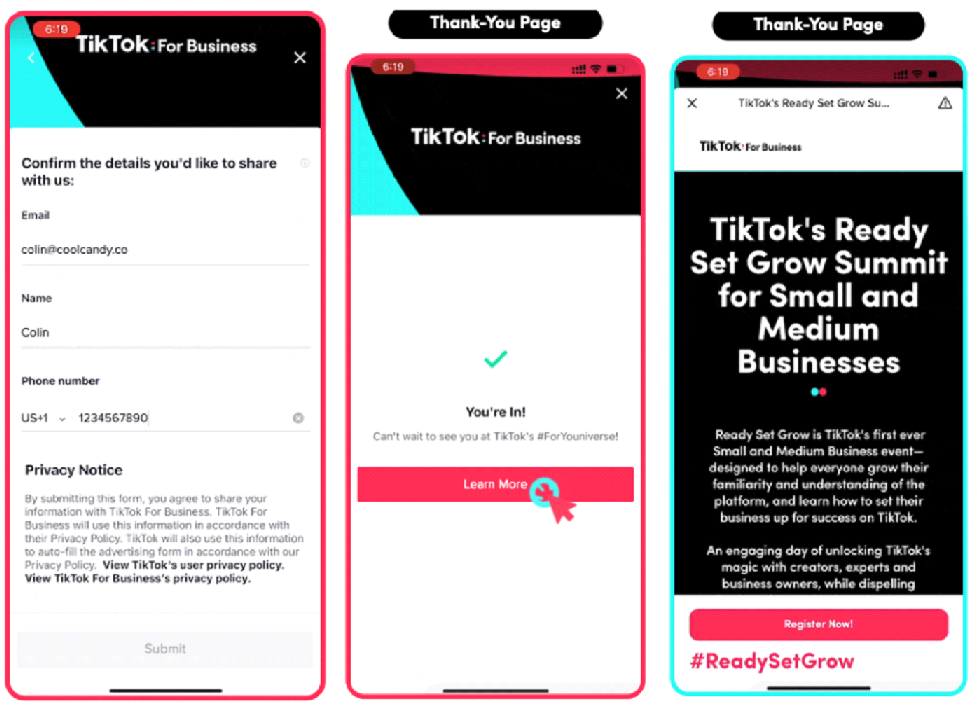 Source: TikTok
The lead generation form contains a customizable background image. This can be an image that specifically represents your business brand. The next section is the profile image. You can use your TikTok profile image or use a relevant image. The last section is the part that contains the questions you would like to ask users which can be customized to fit the information you need for your business.
When they fill out the form and click on the submit button, it displays a privacy notice. It states that TikTok is collecting users' information for advertisers. Users are free to edit the information on the form or exit out of it. You can thereafter download the leads manually or integrate it with your business CRM or Autoresponder.
TikTok Lead Generation is specially created for mobile devices. This enables users to know more about your business and answer your questions on TikTok rather than being directed to a landing page. The pre-populated fields help the users to quickly and easily fill and share their information with your business. TikTok allows you to use the custom and lookalike audiences to target profitable customers or use it to exclude some of the customers.
TikTok Lead Generation Integrations
LeadsBridge provides integrations for TikTok Lead Generation. With this integration, you can connect your TikTok lead ads with your favorite tool such as MailChimp, ActiveCampaign, HubSpot, etc. Through this integration, you can automatically sync data between the tools.
TikTok Custom Audiences integration with MailChimp
TikTok Lead Generation Audiences integration with ActiveCampaign
TikTok Lead Generation integration with HubSpot
TikTok advertising cost
There is no official advertising pricing on TikTok. However, Ad Age provided some insight into TikTok's advertising cost. Below is the cost of each type of TikTok ad: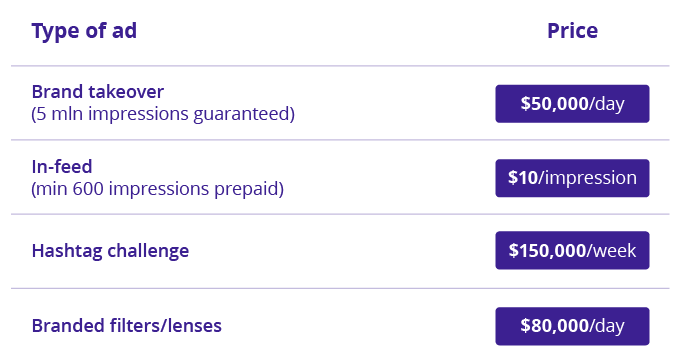 Source: Jungletop
As seen from the table above, the cost for a brand takeover ad is $50,000/day (with 5 million impressions guaranteed. The In-feed ad is $10 per impression (with a minimum of 600 impressions prepaid). The Hashtag challenge costs $150,000 per week.
A report from Digiday revealed that TikTok CPMs are as low as $1.
TikTok stipulates that there must be a minimum budget to advertise on the platform. Therefore, the minimum budget at the campaign level is $500 and at the ad group level, it is $50.
Also, an experiment carried out by JungleTopp revealed that the cost per click (CPC) for TikTok was $0.19 and for CPM, it was $6.73.
How to track TikTok campaigns
TikTok provides a robust dashboard on the ads manager where you can track the performance of your ads, ad spend, and the status of your ads. You can also view the status of your campaigns, ad groups, and ads that can be active or not delivering. Check the performance metrics such as gender, operating system, dayparting, etc. See the overall CPM, CPC, CPA, CTR, and other conversions.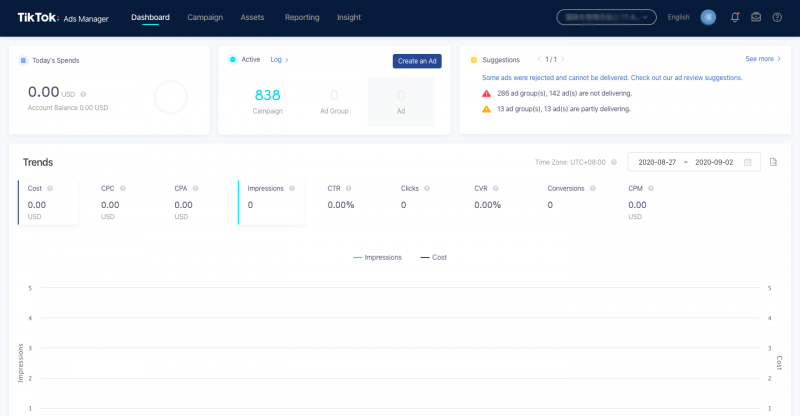 Source: TikTok
TikTok also provides report templates you can use to create custom reports from scratch. You can download your report or schedule it to deliver at a specified time such as daily, weekly or monthly.
Need to dig deeper, check the campaign page for information on the ad level. Select the campaign, ad group, or ad tabs on the top and click view data to view the performance data and audience analysis.
TikTok Advertising examples
1. Acome
Acome, an Indonesian smartphone accessory created an ad to promote mobile phone accessories using TikTok's In-feed ads campaign to increase traffic to its marketplace during an annual online shopping holiday.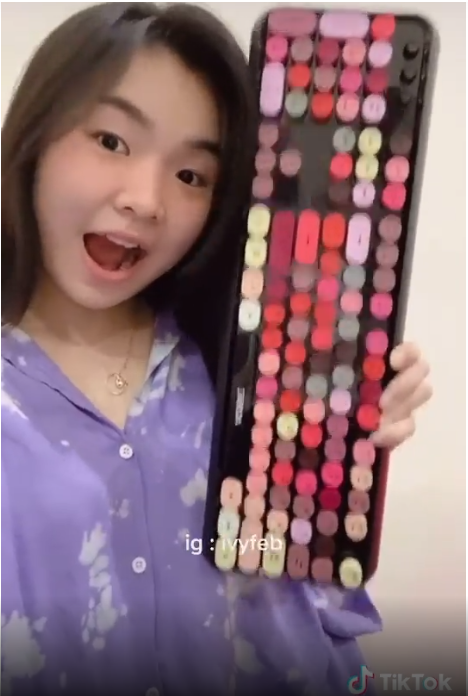 Source: TikTok
The campaign got 480,000 clicks to the marketplace with 34% 6-second view-through rate.
2. Kroger
Kroger, a grocery chain created a campaign using hashtag challenge (#transformurDorm) during the back-to-school shopping season.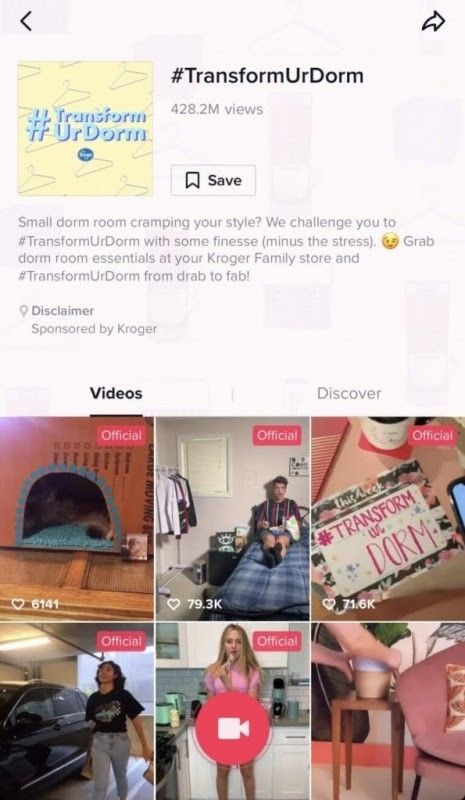 Source: TechCrunch
It involves users posting pictures and videos showing their dorm room transformations. The ad generated over 3 million views, 252k likes, 1352 comments, and 1747 shares.
3. Guess
Guess, an innovative clothing business wanted to increase their brand engagement and brand affinity among the youths in the United States. They created a Hashtag challenge known as #InMyDenim. It is a challenge for users to show their fashion style in denim. The ad generated a 14.3% total engagement rate, a 12k+ increase in business account followers, and a 16.5% CTR takeover.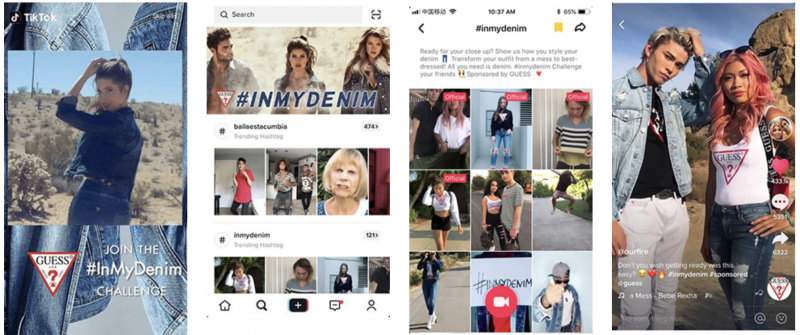 Source: TikTok
4. Gusher
Gushers is a candy brand business. Their very first TikTok ad generated lots of views. It was viewed almost 5 million times. Check it out below.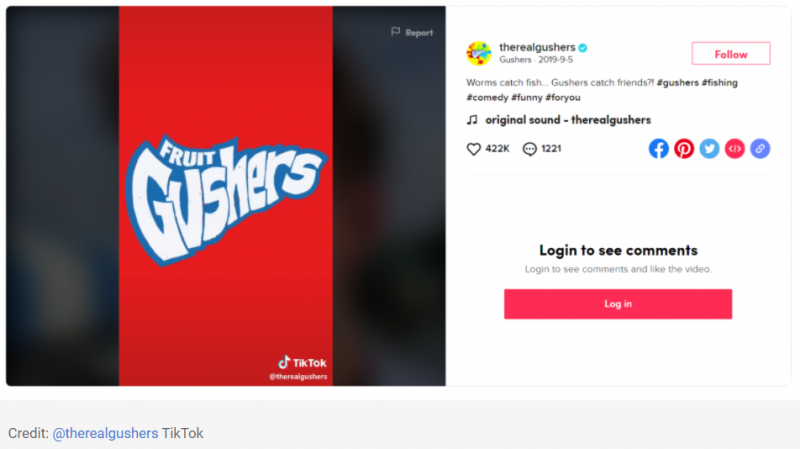 Source: TikTok
5. Ralph Lauren
Ralph Lauren, a fashion brand, created a Hashtag challenge plus offering on TikTok. The challenge – #WinningRL campaign featured Diana Silvers, an actress, model, and influencer. It is about challenging TikTok users to share a time they won a real-life challenge. This was done during the US Open Tennis event. The winners got official Polo Ralph Lauren US Open apparel. The challenge also allows users to access the Ralph Lauren store on the TikTok platform to purchase products from the company directly. Below is the ad.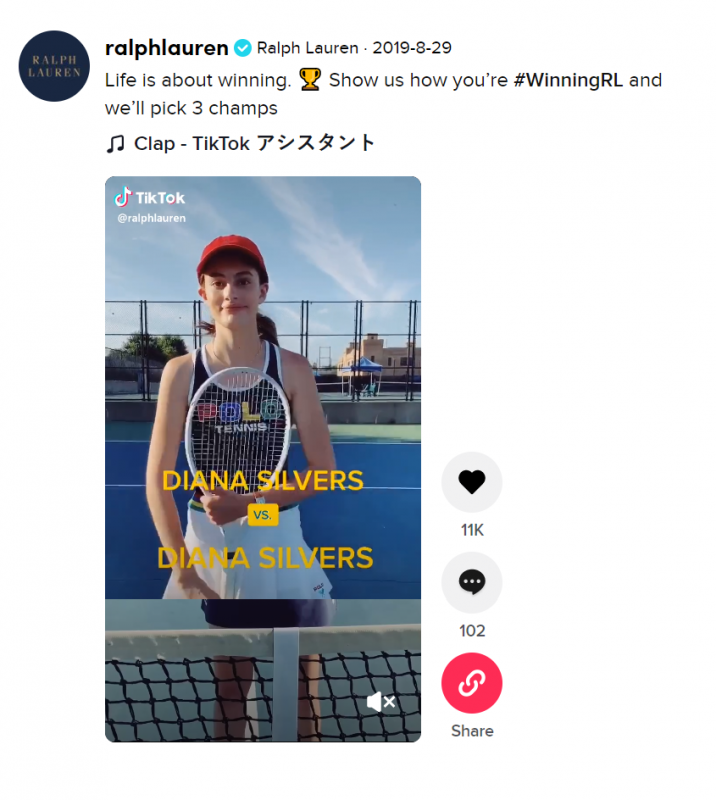 Source: TikTok
TikTok advertising best practices
1. Be authentic and original
TikTok encourages brands to be authentic and original. This means your creatives, such as images and videos, should be consistent with your brand image and your audience must find it engaging. According to TikTok, serious brands should have serious ads, trendy brands should have trendy ads.
Being authentic and original can mean showing your business' behind-the-scenes or in-the-moment content. This will increase your engagement rate.
2. Partner with influencers with higher followings
Influencer marketing has grown tremendously in recent times. It is currently a $5-10 billion dollar industry. This is why 17% of companies spend over half of their marketing budget on influencers. It is a marketing strategy that works.
However, if you want to get the best ROI from your TikTok ads using influencers, you ensure the influencer is someone who would naturally use your product. Their target audience must align with yours in order to make sales. Ensure that they have a high count of followers and engagement such as likes and shares on their page.
Don't stop at the influencer marketing level, repurpose the content, and use TikTok ads to boost it. This will help to increase your ROI.
3. Use trending hashtag and sounds
Want to make your videos discoverable on TikTok? Use trending hashtags and sounds. Users are creating more content than ever before. This means there are new trends coming up daily and you should search for them. They can help to boost your reach. If you create a video based on a trending hashtag, chances are you will reach a wider audience.
You can find hashtags by going to the TikTok discovery page. Scroll through the page to find trending hashtags and sounds you can use. One good thing about this is that it can get boosted in the "For You Pages". Also, ensure you use hashtags that are relevant to your content. This will enable the TikTok algorithm to know what the content is all about and display it to relevant people who will engage with it.
4. Use FOMO
FOMO – Fear of Missing Out is a brilliant marketing strategy to use on your TikTok ads. This will help you generate engagement because of the time limit. Users will be afraid of missing out and they will engage immediately. Without this, users can always overlook the ad with a promise to check later, which may never happen.
Conclusion
TikTok is becoming the advertising platform of choice for marketers. This is because of its high engagement rate (29%) and raving audience. 90% of TikTok users spend an average of 52 minutes per day on the app. That's a lot of time. This is the reason it is most suitable for companies that have an international audience and are targeting the younger generation.
Currently, TikTok is available in 150 countries and 70 languages. That is huge!
With it, you can create ads that will reach your audience in different countries, helping you to expand your reach. The new TikTok Lead Generation objective helps you to reach and engage with prospects and customers and collect their data directly on in-stream ads on TikTok. It is designed for mobile devices so users can fill the form right there on the go and right there on TikTok. You can customize the form to get the information you need for your business and download it manually or integrate it with different CRMS and Autoresponders through LeadsBridge.
Discover our TikTok Lead Generation integrations here. Join the TikTok Custom Audience waiting list here.