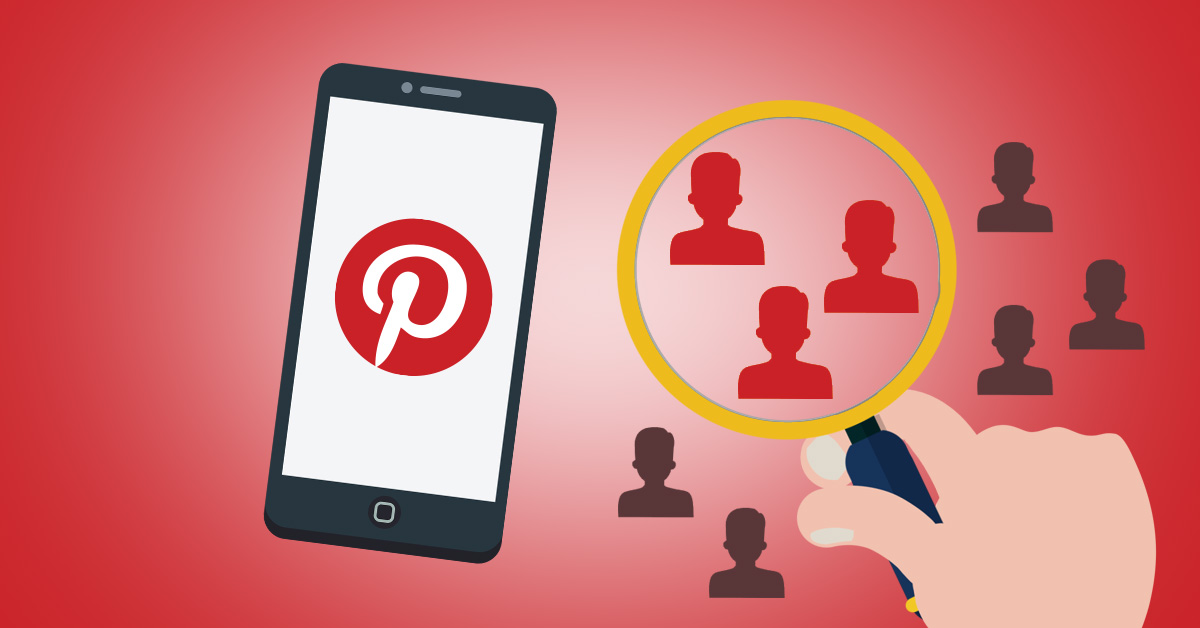 Pinterest is becoming one of the top social media platforms and search engines for businesses, especially e-commerce businesses. It is the 14th largest social network in the world. With its 459 monthly active users worldwide, it is one of the best platforms to reach a B2C audience that loves to buy.
Creating amazing ads on Pinterest is one thing, showing them to the right audience is another. This is why Pinterest has been improving its ads platform steadily over the years, providing different audience targeting options for advertisers.
Knowing how Pinterest audience targeting works is the key that will help you create effective ads that generate awareness, traffic, and conversions for your ads.
But before we go into Pinterest audience targeting proper, let's look at the Pinterest audience so you have a good understanding of your target audience.
Table of Content
Pinterest Audience Overview
Pinterest Ads targeting
Site visitors
Customer List Audience
Engagement Audience
Actalike Pinterest Audience
5 Actalike Pinterest audience ideas to try in your campaign
Interest targeting
Keyword targeting
Pinterest Audience targeting integrations
Pinterest audience overview
Pinterest User Demographics
Almost half of Pinterest users are from the United States of America. Other major users are from Brazil, India, Turkey, and Poland as shown below.
According to the, We are Flint report, among the 42% of people who use Pinterest in the US, 40% are male while the remaining 60% are female.
Source: We are Flint
Regarding age, Pinterest is more common among people aged 25-34 (69%), 18-44 (62%) and then it reduces from age 45-75 years as shown above.
The income of the user is really high with 58% earning $100+, 58% earning $80-100, 62% earning 70 – 80k, 55% earning $60-70k, etc. It is known that Pinterest users are high-income earners that are ready to spend.
Location-wise, 53% live in urban areas while 51% live in rural areas. There is not much difference there.
How people use the Pinterest platform
It will interest you to know that an average Pinterest user actively types roughly eight searches per month. The average Pinterest session is 14 minutes in length.
We are Flint reported that 17% of US internet users use the Pinterest app daily and most of these happen on Mobile devices.
Below are the most popular categories on Pinterest:
Source: Statista
According to a Pinterest study, 60% of users use it to get ideas for purchases, some use it to decide on what to purchase. Below is an infographic that further explains how people use Pinterest for shopping.
Source: Pinterest
One significant thing about Pinterest searches is that they are unbranded. This means businesses have the opportunity to acquire new customers.
Now that you are familiar with Pinterest Audience, it is time to consider the options you have in relation to targeting them appropriately.
Pinterest ads targeting
Pinterest is one of the best platforms to advertise. Pinterest ad targeting delivers outstanding results. Do you know that 85% of Pinterest users have made a purchase based on pins they see from brands? Also, pinners spend 80% percent more in retail than non-pinners. This is mind-blowing. This is the reason you need to get your audience targeting right, as it determines the success or failure of your Pinterest ads.
Pinterest Audience Targeting Options
Audience targeting is very important for Pinterest ads. This is because it helps you to find the best responsive audience for your product or service. Also, placing your ads directly in front of people who will act on them is an action in the right direction that will make your ads successful.
Using audience targeting on Pinterest helps you to reach people when you get the customer's details and how they use Pinterest. This makes it easy to target users based on options such as site visitors, uploaded customer list of emails, engagement audience, and actalike audience. Let's look at them more closely below.
1. Site Visitors Audience
The first audience targeting option on Pinterest is targeting people who have been to your website. It is also known as visitor retargeting. Retargeting is an effective strategy because you will show your ads to users who already know your business, so they are likely to convert to customers. With retargeting, you can get:
a. 10 times higher CTR than regular ads
b. An average CTR of 0.7% compared to 0.07% for display ads
c. 70% improved chances of converting visitors into buyers
d. Attract up to 98% of visitors who have abandoned your website
Source: Bloggingx.
With retargeting, you can create ads for people who didn't buy from your website the first time they visited. Second, you can create ads that complement what the visitor viewed on your website. This will remind them of the purchase they did not make the first time on your website.
To use this audience option, you need to create a Pinterest tag.
Source: Pinterest
It is a piece of code that you add to your website to help track visitors. This is where you get a list of visitors you can upload to create a website visitor audience.
The second thing you need to install on your website is the event code. This helps to track the actions visitors took on your website. The event includes sign up, watch videos, page visits, view categories, add to cart, check out, etc. With this, you can retarget your website visitors to bring them back to complete specific actions on your website, such as making a purchase.
Below are the steps you need to follow to create the Site visitor audience on Pinterest.
Create a Pinterest tag and the base code on all the pages on your website. Also, add the event code to the pages you want to track.
Log into your Pinterest business account

.

Click Ads at the top and then click Audiences. You will see the different ways you can target your audiences. Here, you will select the visitors who went to your site

'. Click on next.
Source: Pinterest
4. Give a "name" to your audience and a "description". Select your conversion tag which is "Pinterest tags" and select the "duration of days" you want to track visitors. Another option is to choose "include past traffic".
Source: Pinterest
5. If you plan to create a filter for your audience, click "add a filter". You can specify a particular URL you want to track and other options. When you are done, click "create".
2. Customer list Audience
The customer list Pinterest ad targeting option involves uploading the existing list of customers' emails or mobile IDs through a CSV file. Unlike Facebook, you don't need any other detail except their email addresses. When you upload the list, Pinterest matches the emails or mobile IDs to their users. Normally, the final list of audience it produces can be smaller than the number of people on your email list, so ensure you have a large email list to generate a considerable size of the audience for your ads. Below is the step-by-step process you can follow to create a customer list on Pinterest.
1. Click on "create an audience" and select "a list of customers that you upload" and click on next.
Source: Pinterest
2. Type in the "name" and "description" of your audience and "choose the CSV file" you want to upload. This can be your email list from your autoresponder or CRM. Then click on "create".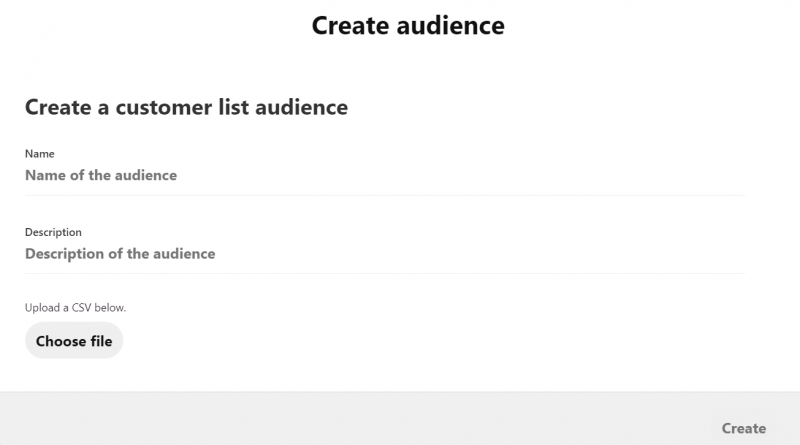 Source: Pinterest
3. Click on "create". Pinterest will then match the emails with people who use Pinterest and generate a list of audiences for you. You can start targeting them with relevant ads.
You need at least 100 matches to use the Audience for your Pinterest ad. The status will change to green on the audiences page in ads managers once you reach the threshold. If you fail to reach the 100 matches, the status will be red and this indicates that you need to add more emails or mobile IDs to reach the threshold.
3.  Engagement Audience
Pinterest Engagement audience targeting enables you to target people who have interacted with your pins. This is useful for promoting products that are related to the content of your pin. For example, if you post a pin related to a lawnmower, you can advertise a lawnmower to the users who engage with the pin.
This is effective because users already showed interest by interacting with your pin. This can be an indication that they can buy the product whenever they need it. Pinterest reported that when a person interacts with a pin, they are 2.2x more likely to make a purchase in the next 30 days than someone who did not.
To create an engagement audience, claim your website if you have not done so by visiting this page on Pinterest. Click on "claim" and follow the instructions thereafter.
Source: Pinterest
When you are done, you can now create the engagement audience for your Pinterest ads. Below are the steps to take.
i.  Click "create audience"
ii.  Select "an engagement audience that engaged with pins from your confirmed domains"
Source: Pinterest
iii.  Fill in the "name" and "description" of the audience, confirm your domain and choose the duration of time you want to track.
Source: Pinterest
You can also "add filters" such as providing a specific destination URL or other URLs that meet certain criteria. Other filters include action types such as users who click, comment, save, and like your pins.
Source: Pinterest
You can track Pin IDs, percentage of videos viewed, and Pin Category.
Then click on "Create" when you are done.
4.  Actalike Pinterest Audience
Many people have been asking "what is Pinterest's equivalent to Facebook's lookalike audiences?". The answer is Actalike Pinterest audience. It works just like the Facebook Lookalike audience. Upload a list of audiences for Pinterest to search for users that will act like the audience on your list.
This is an effective form of Pinterest ad targeting, as it has helped some companies raised their CTRs by 63%. Some businesses have also been able to boost their reach by 30x, through the Actalike Pinterest audience.
To create the Actalike Pinterest audience, you need to upload your customers' email list addresses to Pinterest. You need to have at least 100 Pinterest users to create the Actalike audience. So ensure you have enough emails on your list that can translate to 100 users. Below is how to create the Actalike audience on Pinterest.
1. Click "create audience"
2. Select "an actalike audience that behaves similarly to the one you already have". Then click on next
Source: Pinterest
3. Type in the "name" and "description" of the audience.
Source: Pinterest
4. Select the "source of the audience". This could be website visitors for the past 500 days or 30 days. It could also be the engagement audience of 30 days, etc.
5. Select the "country" and the "percentage" of the actalike audience you want.
5 Actalike Pinterest audience ideas to try in your campaign
Are you searching for the actalike audience to run in your campaign? There are different ideas you can use. Below are some ideas for actalike Pinterest audience.
1.  Use the customer list of people who purchase high-ticket items
2. Use the list of people who have taken serious actions on your website. This includes attending a webinar or downloading a buyer's guide.
3. Use the list of people who have interacted with your Pinterest boards and pins
4. Use the list of people who have made a purchase on your website
5. Use the list of people who have submitted a sales inquiry form.
Apart from the Pinterest audience targeting options mentioned above, there are three other options you can also use. Find them listed below.
1.  Interest targeting
With this Pinterest audience targeting option, you can target users based on specific interests. Using this option ensures that only users who are interested in your product see the ads. Below are examples of categories of interests available on Pinterest.
Source: Pinterest
2. Keyword targeting
The second option is keyword targeting. This is targeting your audience using keywords that users are searching for on the platform. The truth is, Pinterest is a kind of search engine, just like Google and Bing.
Source: Pinterest
When you use this targeting option, it will show your ads based on the keywords users are typing in on the home page. You can use three different keyword matches to use in targeting. This includes a broad match, phrase match or exact match, and negative match.
Pinterest Audience targeting integrations
At Leadsbridge, we are working on integrations for Pinterest audience targeting. With this tool, you can integrate the Pinterest Audience Targeting with popular CRMs, autoresponders and third-party apps such as Facebook Leads ads, Google Sheets, MailChimp, HubSpot, ActiveCampaign, Zoho CRM, etc. This way, you don't need to manually upload your customer list to the Pinterest platform. The data is automatically synced between the tools. Want to join the waiting list, click here.
Conclusion
Pinterest audience targeting is very important to the success of your ads. The good thing is, Pinterest offers different audience targeting options such as targeting site visitors, customer lists, engagement audiences, and actalike audiences. You also have the opportunity to target Pinterest users by their interest, demographic, and keywords they use in searching on the platform. You can also create custom audiences on TikTok just like on Facebook, Google, and LinkedIn.
With this array of Pinterest audience targeting options used correctly, your ads have a greater possibility of being successful.