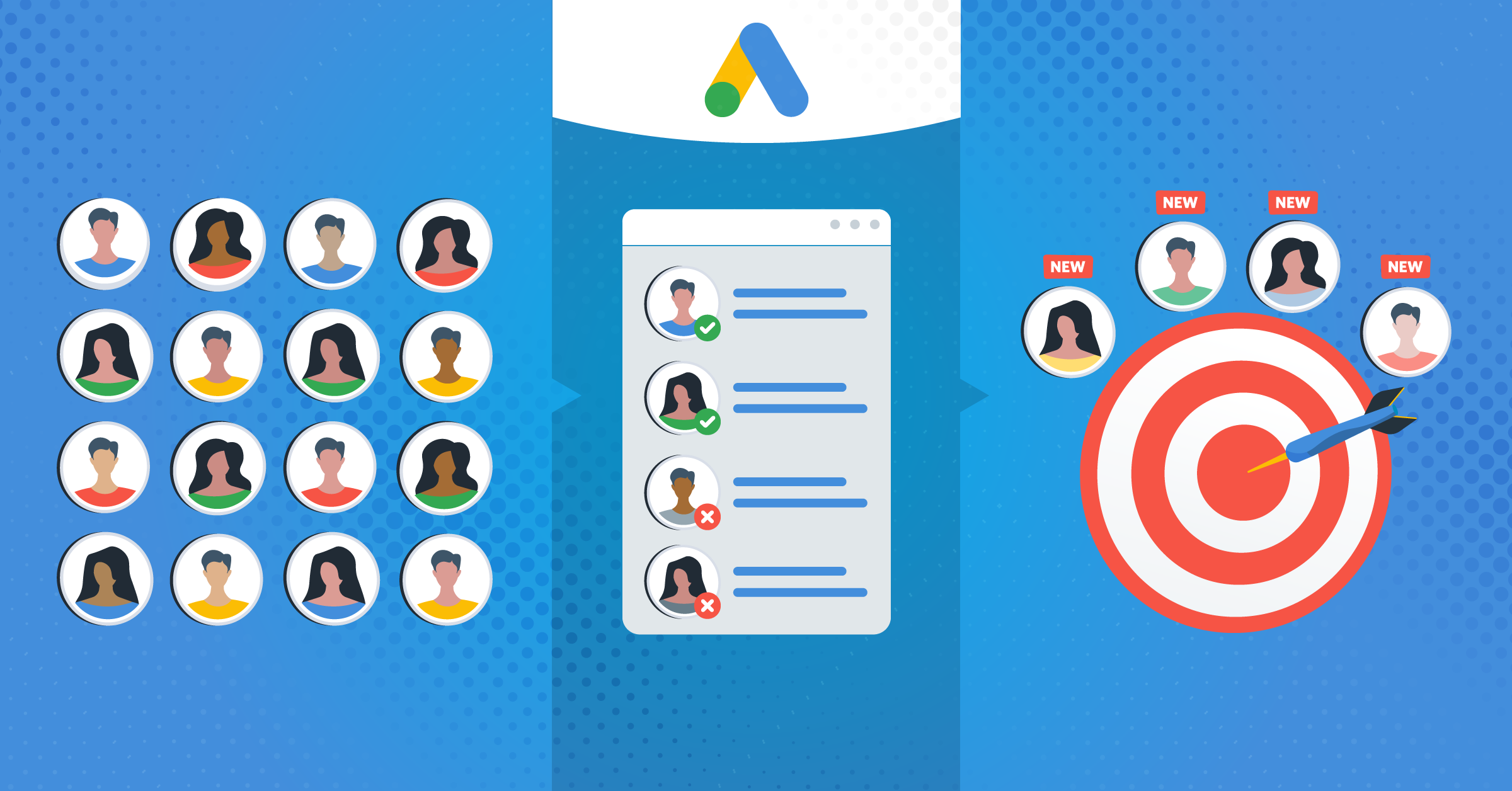 Google Ads is on every marketer's checklist these days, mostly its ability to build solid and goal-focused campaigns.
Google mentions that marketers make $8 for every $1 spent on Google Ads. So having a similar turnover, or even half of it, is the most convincing reason that make people consider advertising on Google. In addition, Google Customer Match has become much easier to use since its initial release, delivering unmatched conversion rates and conversion value.
When running advertising campaigns on Google, there are specialized tools that allow you to reach your exact ad goal. So to help get you started, we recommend watching our webinar and get an in-depth view of the potential of the Google Ads suite for better ad results and higher conversions.
Register to watch our webinar for Free.
The best practices for lead data management calls for maintaining an up-to-date Customer Match list, which is a challenging and unproductive task. But we can fix that!
In this article, you will learn how to use Google Customer Match to target your ideal audience. Besides, it includes up-to-date insights and useful LeadsBridge integrations that enable you to automate the process and increase your ROI.
Keep your Customer Match list up to date, automate workflow and unlock your advertising potential with Google Customer Match integration.
You can also use Google Ads lead form extensions integration to automatically send your lead data between Google Ads to other marketing tools.
Google Customer Match: How does it work?
Google Ads released the Google Customer Match feature in September 2015. It was designed to help marketers build PPC ads in order to target prospects on Gmail, search networks, display networks, and YouTube. This tool uses an identifier such as the user's email address, phone, or physical address.
According to Wordstream, it can match around 50.40% of your email list to users who see your ads. This is much higher than the matching ability of similar advertising features on Facebook or Twitter.
When it comes to data management, most advertisers go by the old method. They upload a file containing existing customers' contact information such as email address, name, phone numbers, and mailing addresses into Google Ads. Then, they create a campaign to target customers from the uploaded file.
This is not the best way to categorize your leads. The Customer Match feature helps to build user groups that are more likely to convert. In just a few paragraphs, we'll dive deeper in how to completely automate the process to get the best out of your campaigns.
Once automated, Google is able to match the customers' information to users in its database to determine who can see the ads. If any of the customer's information matches a Google user, that specific customer will be added to your Customer Match Audience.
Customer Match allows using both online and offline data to target and re-target customers across different Google properties. When the customers sign in to their Google account, they will see your ads when using the Google search engine, YouTube, Gmail, and the Google Display Network. You can use the Customer Match Audience in your Ads and Google Shopping campaigns, YouTube, and Gmail.
Imagine that you sell Nissan cars. The keyword "Nissan cars" is too expensive for you to target for its broad targeting range and high competition. In fact, there are 1,420,000,000 search results for the keyword on Google. Using Google Customer Match, you can create an ad targeting your previous buyers searching for "Nissan cars". The cost may not be lower, but the interest is higher. As a rule of thumb, existing buyers convert more. The conversion rate for repeat customers_although different for each niche market_ is about 60 to 70% higher.
Examples of audiences you can target with the Google Customer Match on the following Google features:
1. Google Search Network and Google Shopping. Here, you can modify your ad campaign based on the information you have about your customers' activities.
2. Gmail. On Google's email service provider, you can target your ads to your existing customers or similar audiences using a personalized ad that displays at the top of Gmail inbox tabs.
3. YouTube. Google's social media lets you target new audiences by first targeting existing audiences that have similar attributes to your most qualified customers.
4. Display. The Display Feed is one of the most high-converting Google features, allowing you to target your existing customers or similar audiences with personalized ads.
Benefits of using Google Customer Match
1. Google Customer Match ensures your messages don't end up in your audience's spam boxes.
Here, your audience will see your ads and messages without using their Gmail inboxes. This means no spam folder and no auto-thrashing. Your messages and ads will get to them as long as they are still on your email list.
2. Google Customer Match ensures that your advertising reaches people on different Google properties.
This may be Google search, YouTube, Shopping, and Gmail. Your subscribers can see your ads on any of these channels.
3. Google Customer Match gives you a wider reach.
Because of its different properties, you can reach out to a much bigger audience and have the opportunity to acquire new customers for your business.
In case you are wondering how to convert high-intent search leads through Google Ads, you need the right advice.
Our Google Lead Form Extensions webinar with our special guest from Google has all the answers.
Watch our webinar and learn about converting high-intent searches directly with Google Ads here.
How to use Google Customer Match in your marketing strategies
Google Customer Match works by creating a Customer Match Audience, including email addresses, physical addresses, and phone numbers. Then, it uploads these identifiers into your Google Ads to target your prospects in Search, Shopping, Gmail, and YouTube campaigns.
Below are five ways to use Google Customer Match in your marketing strategies.
1. Using Google Customer Match to move prospects down the sales funnel
To move your prospects further down the sales funnel means pushing them towards becoming paying customers. Google Customer Match lets you upload different email lists with different buying cycle segments. Then, you can create specifically designed adverts to move them through the sales funnel by tapping into their interest.
For instance, you can build an audience of the people who have downloaded your ebook or whitepaper and show them ads that promote your case study. This will encourage them to move down the sales funnel stages.
2. Google Customer Match help make mid and low-funnel prospects convert
Mid to bottom-funnel prospects show a high intent but are sometimes difficult to convert. They may engage with your business by attending your webinars, subscribing to a free trial, and chatting with your sales rep but find it difficult to finalize a purchase from you. Here, you can use the Google Customer Match tool to help them overcome decision fatigue and convert.
Here is how to do this:
1. Bid on keywords that will make you appear at the top position. Your ads will appear at the top, and it will keep you at the top of their minds.
2. When creating ads for this group of prospects, ensure you don't use generic ads. Instead, you can conduct a survey to find out why people are not ready to purchase your products.
3. Finally, create ads that address their sales objections directly.
Wordstream followed this process when they wanted to encourage purchase issues. They ran a survey to ask prospects why they did not purchase their products. Most of them said that they find their software difficult to use. So, Wordstream created ads that enabled their prospects to learn how to use their software for free.
3. Google Customer Match improves your upsell and cross-sell efforts
Google Customer Match is not only for encouraging your prospects to make purchases but also to urge existing customers to buy more. The truth is, retaining existing customers is easier than acquiring new ones. Wordstream analyzed the collected data from their RLSA (Remarketing Lists for Search Ads) campaigns which allows them to target past buyers. They discovered that past customers convert 400% higher than new customers.
Source: Search Engine Journal
Apart from increasing conversions, targeting existing customers will also improve your average revenue per customer.
For example, if you sell a one-time product such as an automobile or a house, you can use Customer Match to cross-sell complementary products. Here is how you can go about it:
First, you would segment your lists by the product (i.e., car brand) purchased and customize your ads to show the corresponding item.
Then, you serve them ads notifying them of your sales promotions or product release (such as new car models).
Lastly, you can create exclusive offers for your existing customers to get them to buy more from you.
Here are some free integrations you can use to automate your real estate and automotive marketing today:
Facebook Lead Ads integration with TopProducer
Facebook Lead Ads integration with BoomTownROI
Also, check out these popular integrations by LeadsBridge to build process and win over the competition:
Facebook Lead Ads integration with VinSolutions
Facebook Lead Ads integration with ADF/XML
4. Google Customer Match makes account-based marketing more effective
One of Google Customer Match's features is designed to target prospects based on their email addresses. This feature makes account-based marketing both more efficient and straightforward. Instead of wasting money on ads, you can focus on targeting specific people within a specific company or region that you plan to reach.
You can also target your people by their account size, market size, and other factors you deem relevant to the campaign. For instance, you can specifically target customers who spend at least 2k per month on your product. You can then make a customer list out of these users and increase your bids when the customers search for terms relating to your product.
5. Using Google Customer Match to target users across devices
Unlike remarketing, Google Customer Match allows you to target customers on all devices such as Mobile, Tablet, or Laptop computers.
This shortcoming of remarketing can make you lose users if they switch between devices.
Therefore, Google Customer Match is very efficient, considering that 90% of people use different screen-based devices to carry out tasks online.
With Google Customer Match, you can create retargeting ads for users who have provided their emails on your website across different devices. Thus, contributing to higher cross-device conversions.
6. Google Customer Match automation with LeadsBridge's Custom Audience Sync integration
Syncing your autoresponder, such as integration of MailChimp with Google Customer Match, primarily helps save time. Instead of uploading your email list manually to Google Customer Match, it streamlines the process with much higher accuracy.
What's more, Custom Audience Sync integration through LeadsBridge allows you to quickly upload your emails to Google Customer Match and automatically update your email lists, adding new subscribers, deleting unsubscribed leads, and unsegmented users. This way, you can effortlessly follow up and nurture your leads as they come in.
Use these integrations to create full-stack automation and connect the Google Customer Match tool with your favorite apps:
Google Sheets integration with Google Customer Match
ActiveCampaign integration with Google Customer Match
GetResponse integration with Google Customer Match
Mailer Lite integration with Google Customer Match
Here's exactly how to connect Google Customer Match to your favorite tools.
7. Automate Google Marketing tools with LeadsBridge integrations
Automation is a must-have element in all digital marketing strategies. You can use an official third-party integrator like LeadsBridge to do the automation magic, AND receive a gift from Google.
The automation
LeadsBridge is a Google Premier Marketing Partner that helps companies streamline their advertising processes and automate Google Marketing tools with the rest of their marketing stack. Using these integrations, you can automatically track lead data, optimize your campaigns in real-time, and increase ROI – all without having to do anything manually.
Explore all our Google integrations.
The gift
Would you like to receive a grand $500 gift? If yes, then you may be interested in our exciting announcement.
Google is now offering LeadsBridge customers a $500 ad credit in return for every new Google Ads account created. Isn't this amazing?
Getting your hands on this gift is as easy as 1-2-3. All you need to do is:
Create a LeadsBridge account (it is free)
Create a Google Ads account inside LeadsBridge
Start running Ads on Google and sync data in real-time using LeadsBridge
How the credit works? You'll have to spend $500 within the first 60 days. As soon as you reach $500 in ad spend, you will receive a $500 (USD or equivalent currency) Google Ads credit to spend on your campaigns.
Besides the technical aspects of advertising, there are some strategies and techniques which you must learn about lead generation. Here is your complete guide to Google lead generation.
How to build a Customer Match list
Creating a Customer Match List is the very first thing you need to do when using the Google Customer Match tool. Here is the step-by-step instruction to create your match lists.
Log in" your Google ads account.
1. Click on the gear/tools icon 🔧 at the top of your screen and click on "Shared Library".
2. Under the shared library, select "Audience manager".
3. Select "Audience Lists" from the menu on the left.
4. Click on the blue "+" button then select "Customer list".
5. On the Customer list screen, set up your new list. Start by giving a name to your list, then upload your list of customer emails, phone numbers, and mailing addresses.
6. Select whether you want to hash your customer data or not. Hashing helps to protect user data from interceptors.
7. Select your file.
Which appears something like this:
8. Check the box "This data was collected and is being shared with Google in compliance with Google's policies."
9. Choose a membership duration.
10. Click on "upload and create list".
It takes about 48 hours to upload the list to your audience lists. Once the audience is ready, you can further narrow it by using the insights tool.
Now that you know how to set up the Google Customer Match list, it is time to learn to use the Google Audience Insight tool to get insights into your customers' shopping and purchase behavior.
Google Ads Audience Insights tool
The Google Ads Audience Insights tool helps you find new audiences by sieving through useful information about the people in your remarketing lists. For example, when a prospect visits your website and explores your content, watches videos, and interacts with social channels, Google generates collected and interpreted signals.
These interactions help Google to understand and segment your audiences accordingly. This information also includes the audience's age, gender, and interests. Additionally, it enables businesses to create targeted ads for their audience on different Google platforms such as search, display, mobile, and video.
Google Ads Audience Insights calculates the percentage of the audience you are reaching and offers you suggestions on getting the best reach. Here, you can also see where your ad is displayed and how to measure and optimize it in real-time for the best results.
The Google Ads Audience Insight tool helps you to:
know the demographics, devices, locations, and interests of your audience
get new and specific audiences to use in ad group targeting
get better ROI by converting qualified prospects to customers
make the right decision about ad targeting, bid sets, and much more.
How to access the Google Audience Insight tool
To access the Google audience insight tool, follow these simple steps:
1. "Login" to your Google Ads account.
2. Click on "Tools & Setting" 🔧 . Then, under the shared library, select "Audience Manager".
3. In the Audience Manager section, select "Audience insights" on the left-hand side.
Google Audience Insight tool organization
The Google Ads Audience Insights tool is organized into two sections — the Audience Distribution and the Relevant Audiences.
Audience Distribution shows the audience list distribution and users' details such as location, demographics, and devices. These details help to adjust bids or target users with specific ads.
The demographic insights show your audience's gender, age, and parental status. Use this insight to target a specific demographic of your audience with targeted ads.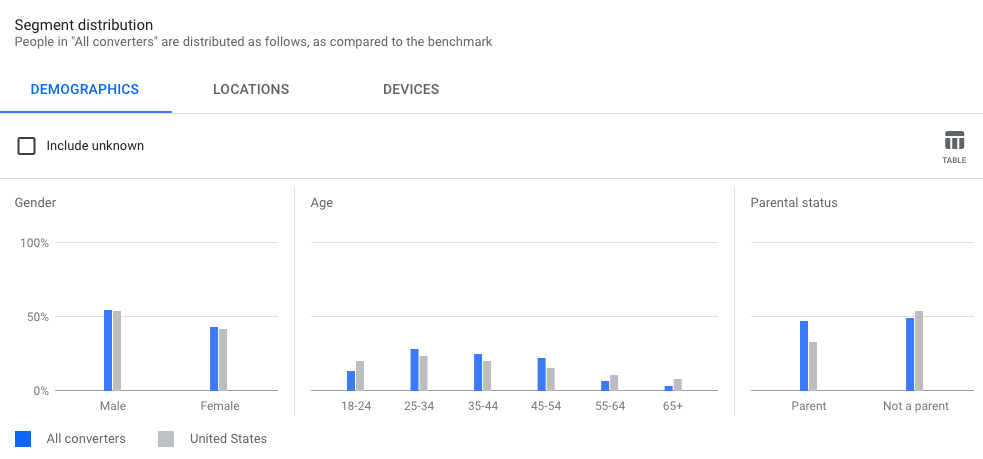 The location shows the list of users from a specific region. This insight is helpful in targeting a particular country with relevant ads.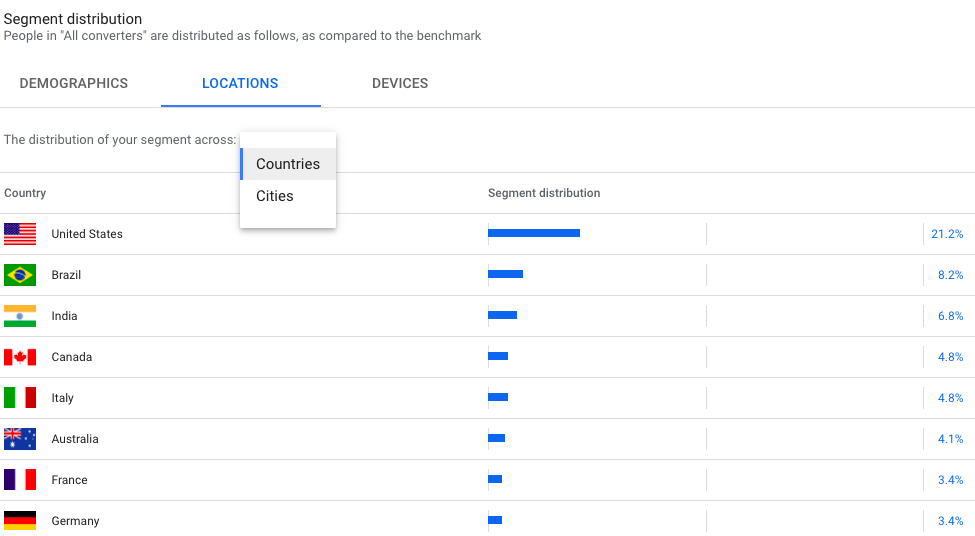 The device insights show the number of the audience using different devices to access your landing pages. When you know the number of people using a particular device is higher than others, you can target them using tailored ads.

The Relevant Audience feature shows the users who share similar characteristics with the people on your remarketing list.
The Relevant Audience includes In-market Audiences and Affinity Audiences.
The differences between In-market and Affinity Audiences
When it comes to creating audience lists, Google offers several highly efficient options. There are YouTube Affinity Audiences, Google Affinity Audiences, In-market Audiences (Google Ads edition), and YouTube In-market Audiences. There are also Google Custom Audiences, which is a combination of Custom Affinity and Custom Intent Audiences.
These distinct categories enable marketers to perform granular marketing and enhance results with precise campaigns. So the main distinction between In-market and Affinity Audiences is how they help you reach out to an audience that is ready to buy.
Each of these audiences helps you understand the intent and stage of the buyers' journey. As a result, you can get lower CPAs and 3X higher conversions on remarketing campaigns when using the right audiences.
Let's have a look at how each of these audiences works.
In-market Audiences (Google Ads)
These are customers who are searching for products or services like yours. This feature enables businesses to focus on conversions from people who are most likely to buy. In addition, Google reveals the number of people who have buying insight, based on the list of In-market Audiences. This report helps you see the interests and purchase intent of the individuals on your remarketing list.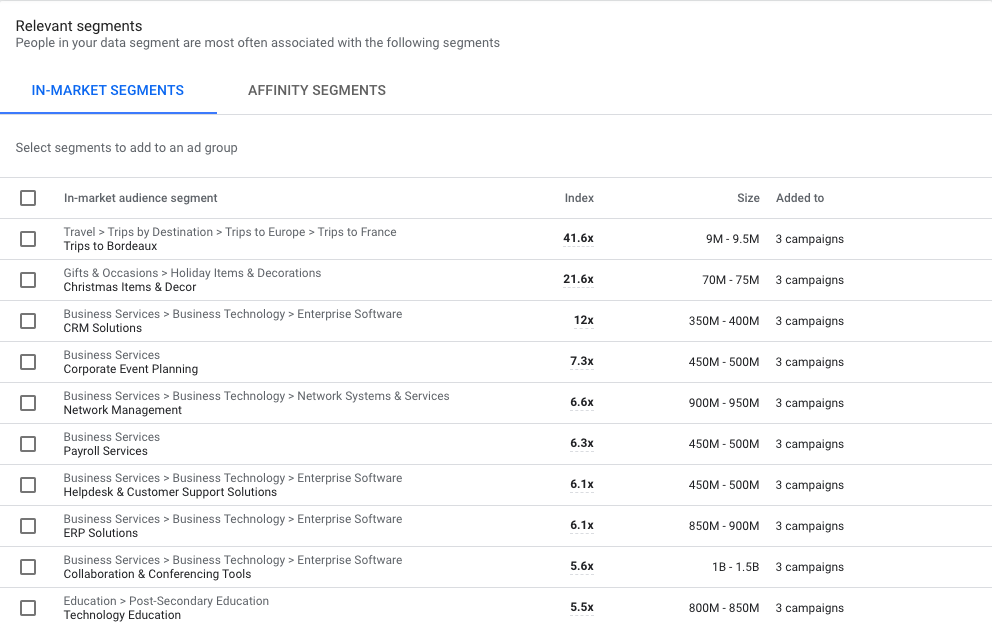 YouTube In-market Audiences
With In-market Audiences, Google Ads gives you the opportunity to connect with consumers who are searching for your products on YouTube, Google Display Network publisher, and partner websites. Google positions the list of In-market Audiences by looking at the account clicks on related ads and conversions, and their response (visits, bounce rates, frequency, etc) to the content on the websites and pages. This allows you to target people who will respond to your ad messages because they have been interacting with your business.
YouTube In-market Audiences allows you to draw information and connect with consumers on this popular platform as they move through the sales funnel. This approach helps increase your conversions tremendously. You can also add remarketing and automation to the mix to drive targeted users to your website and enhance the efficiency of your ad campaign.
Looking for ways to automate your workflow when running youtube advertisements? Here are our top integrations:
YouTube Trueview for Action Forms integration with Email Notification
YouTube Trueview for Action Forms integration with Google Sheets
YouTube Trueview for Action Forms integration with Klaviyo
Have a look at these examples of YouTube In-market Audiences:
Apparel and Accessories
Autos & Vehicles
Baby & Children's Products
Beauty Products & Services
Business Services
Computers & Peripherals
Consumer Electronics
Consumer Software
Dating Services
Education
Employment
Financial Services
Gifts & Occasions
Home & Garden
Real Estate
Sports & Fitness
Telecom
Travel
Source: ThinkwithGoogle
Affinity Audience in Google Ads
Google's Affinity Audience aims to create awareness and increase consideration among people interested in a product. Affinity Audience helps you reach people based on their interests as they browse online. Google collects and groups information from users through their browsing history. This information includes the pages they visit frequently, time spent on websites, and their search patterns, and then associates interest-categories with the user's browser.
What's more, Google's Affinity Audience makes it easy for marketers to choose from different interest categories, such as sports fans, luxury travelers, and fashion enthusiasts, and target them with relevant ads.
Using an Affinity Audience in Google Ads, you can target users who are likely to convert based on their interests. For example, if you advertise a cosmetic company, you can target women who like makeup.
Now, if you feel that the predefined Google Affinity Audiences restrict your marketing efforts, there is another option. You can build Custom Affinity Audiences which allows you to create a better match.
In practice, Custom Affinity Audiences are designed to help marketers create their own affinity audience, tailored explicitly by keywords, URLs, and apps based on interests.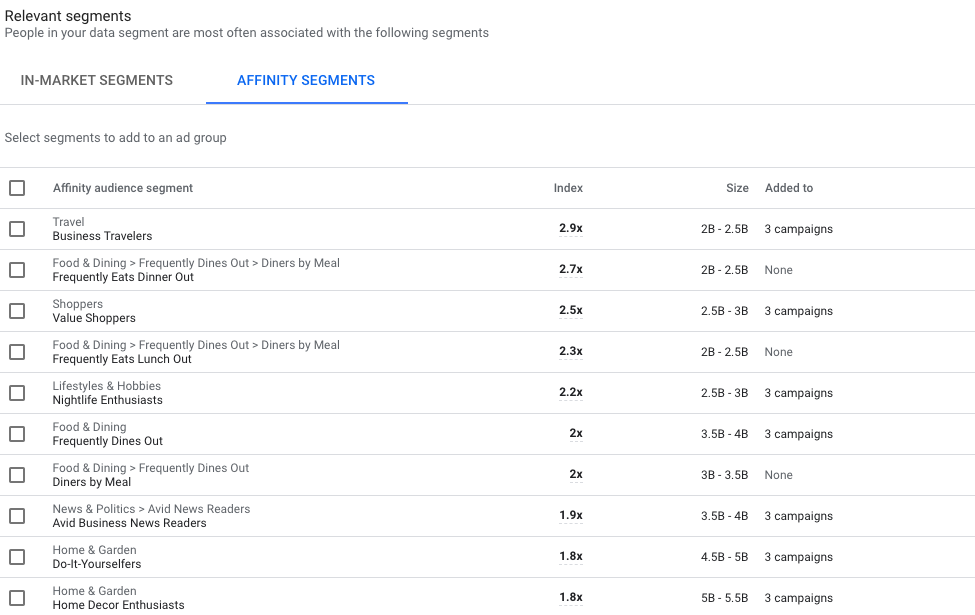 Affinity Audiences on YouTube
While there are many different audiences targeting methods on YouTube, one of them is the Affinity Audience. This feature categorizes the people who already know about your products and services—YouTube's Affinity Audiences are great for creating brand awareness and driving consideration with video ads.
For example, if you are an auto dealer, you can promote your latest automobile to people who have indicated an interest in test-driving cars. There are over 130 unique affinities based on consumers' interests and ways of life. As you already know, engaging your audience with precision increases the ROI significantly.
With Affinity Audiences, YouTube becomes an ideal marketing solution for businesses since they enable them to design personalized ads that users will engage with. As a result, this reduces the cost of your ads and increases your return on your investment.
Discover everything you need to know about Google Ads costs as well as digital marketing costs in 2022 across different advertising platforms.
Here is a niche-based list of Affinity Audiences Google suggests as highly profitable:
Source: ThinkWithGoogle
Google Custom Audience
In 2019, Google unified Custom Affinity Audience with Custom Intent Audiences under a different name _ the Google Custom Audience. Custom Audiences help marketers reach more ideal people using Google Ads for Display, Discovery, Gmail, and YouTube campaigns.
For using Custom Audiences, it is not required to create Custom Affinity or Intent Audiences. You can directly set up a new custom audience from the Custom Audiences tab on the top menu of Audience Manager.
Here, you may either build your lists based on:
People with similar interests or buying intent, or
People who searched on Google properties, using similar keywords(such as Google.com and YouTube).
Then, include the links at the bottom to expand the Google Custom Audiences' targeting with URLs, apps from a list, webpages, etc.
For example, you can create an audience based on people who use an app like Instagram, visit luxurious travel destinations, or shop online for vegan products to grow your audience.
How to set up similar audiences in Google Customer Match
Similar Audiences are the audience that looks like your existing audience from your customer emails, websites, etc. They practically share the same interests with your audience. Similar Audiences in Google Customer Match are identical to Facebook Lookalike audiences.
With Similar Audiences, Google Ads aims to help businesses reach out to new prospects. According to Google, this audience can boost performance and produce more conversions.
Suppose you have a pixel-based remarketing list of at least 500 cookies or a Customer Match list with at least 1000 emails that Google recommended. In that case, a Similar Audience is automatically generated for you.
Likewise, a Similar Audience, based on the Customer Match Audiences, is available for Search, YouTube, Gmail, and Display. So, to target Similar Audiences, Google Ads filter through the millions of people searching on its platform and across all its properties.
Incomplete Similar Audiences
This process is done for the qualification of the audience. As mentioned before, to find similar audiences, Google Ads sieves through the millions of people searching using its engine. The procedure automatically identifies which of your remarketing lists qualify for Similar Audiences. The qualification relies on a variety of elements, such as:
The number of visitors on the initial list
When these people have been added to the original list
The actual similarity of the search behavior
The modifications made to the initial list
Website tags, rule-based remarketing lists, and Customer Match lists derived from identifiers such as email addresses, mailing data, or phone numbers are used to develop Similar Audiences on Google Ads. If you don't have enough information available, waiting for more interactions and search activities is your next best bet to curate these lists. In that case, your list will appear as "Incompatible" in the Audience manager (under the Shared Library).
Dv360 Customer Match
The Customer Match tool in DV360 allows advertisers to upload customer email addresses as an audience list for TrueView ads. However, Google recently enhanced the Customer Match feature in Display & Video 360 (DV360) to let advertisers upload their contacts' info, mobile device ID lists, and User ID lists. Collectively, these can also work as an audience list for Display, Gmail, and TrueView.
Google Customer Match strategies
1. Target existing customers on Google Ads
The first Google Customer Match strategy is to target existing customers with your ads. According to research, the probability of selling to an existing customer is 60-70%, while selling to a new prospect is 5 — 20%. Also, existing customers are 50% more likely to try new products and 31% more likely to spend when compared to new customers.
2. Re-engage inactive customers
Use Google Customer Match to target customers who are not patronizing your business anymore. You can use discounts to re-engage them and encourage them further to make new purchases.
Likewise, using a survey to know more about them and their preferences will help you understand why they stopped buying, so you can look for better ways to serve them.
3. Target offline customers
Google Customer Match works for both online customers and offline customers. You can target your offline customers by uploading their email addresses, mailing addresses, and phone numbers to Google Ads. Then, create relevant ads demonstrating your products or services to target them online.
Here is how to use Google offline conversions and win over the competition.
4. Re-engage seasonal shoppers
If you sell seasonal products such as Mother's Day gifts, Father's Day gifts, Christmas gifts, winter coats, and rain boots, you could invite them back to your website during the active seasons. This Google Customer Match strategy is especially profitable during the holiday season.
You can segment your lists by grouping customers who made purchases during Thanksgiving and Christmas in the last year and create ads to promote your new holiday products to them. Also, you can promote your products to them during other special occasions in the year, such as Mother's Day, Father's Day, and Valentine's Day.
5. Tailor ad copy to a specific audience
Generic ad copy is often low-performing when it comes to resonating with an audience; personalize your ad by using the Google Customer Match list to get better results. For example, if you want to entice people who downloaded your free ebook to move down the sales funnel, you can target them with specific ads offering discounts on your products. They are the only ones who will see the ads because it is personalized to them.
Learn how to implement a Google Ads strategy at every stage of your sales funnel.
Google Customer Match case studies
Google Customer Match drives results. Check out these two case studies of businesses that used this tool and got returns on their investments.
1. The Children's Place
The Children's Place is one of the biggest pure-play children's clothing retailers in North America. Their main customers are back-to-school shoppers.
The Children's place created a timely ad campaign using the Customer Match tool to reach customers who had not converted since the past season. As a result, they saw a 287% higher ROI, a 153% increase in conversion rate, and a 237% increase in click-through rate.
2. The Guitar Center
The Guitar Center is a one-stop-shop for people in the music industry. They wanted to reach an audience segment with search campaigns. They used Customer Match to optimize the ad spend on some of their product categories while enhancing clicks and conversions. As a result, they got a 60% higher click-through rate and a 50% higher conversion rate.
Google Customer Match policy of use
Google Customer Match policy applies to marketers using Customer Match for running their campaigns on Search, Shopping, Display, YouTube, Discovery, or Gmail.
Conditions for using Customer Match
When using Customer Match, the Google Ads account must have:
A satisfactory history of policy compliance.
A satisfactory payment history.
The features open to every marketer depend on these requirements:
The policy-compliant advertisers can utilize Customer Match and similar audiences for Customer Match in the "Observation" setting and for Exclusions.
To use Customer Match and similar audiences for Customer Match in the "Targeting" and "Observation" settings, manual bid adjustments, and Exclusions, you need to have 90 days of Google Ads history and more than USD $50,000 total lifetime spend
For currencies other than USD, the spend amount will be converted to USD according to current rates.
If your account does not comply with these regulations, you are not qualified to use Customer Match.
Also, for running personalized ads on Google Search, Shopping, Gmail, and YouTube, you must follow through with first-party, and third-party data use policies.
Read this article to tap into the power of cookieless advertising.
Policies for collecting customer data
Google allows you only to upload customer information collected in the first-party context, where customers consented to share their information with you.
If you are interested to know how you can take advantage of the first-party data in your CRM and other marketing tools, Google Ads is the best way to leverage your business.
Check out this Webinar to tap into your Google Ads potential and leverage your first-party data.
Other requirements to use Google Customer Match
In order to run your ads, you may NOT:
Run ads that gather personally identifiable information, excluding Gmail ads.
Upload information for customers under the age of 13.
Design ad content that refers to a knowledge of personally identifiable information or sensitive information.
Use a customer list that targets an extremely narrow or specific audience.
Create ads for products related to sensitive information.
Run ads that are restricted by Google Ads policies.
In case of violating Google's policies
1. They will get in touch
The Google staff review your business for compliance with the Customer Match policy on a continuous basis. They may contact you to request information related to compliance, which you must address as soon as possible.
2. You will get a notification of non-compliance
In case you're violating the Customer Match policy, Google contacts you to ask for corrective action. If you fail to make these corrections, you may no longer be able to use Customer Match or even have your Google Ads accounts suspended.
3. Make an appeal
You can contact Google to appeal your Customer Match policy violation. However, repeated violations result in immediate account suspension.
Final thoughts
Google Customer Match lets you target your leads and customers granularly to reach the best audience for your campaigns.
In addition to the wonderful advantages of using Google Customer Match, we went through the step-by-step process to build your audiences using a customer list. Also, we discussed LeadsBridge integrations such as LeadsBridge Audience Sync, which automate the process along with other integrations to craft a winning marketing strategy. These integrations are particularly useful for syncing huge audiences without managing CSV files and lists. Besides the fact that the right automation solution is the only way to succeed in digital marketing.
Discover all the possible Google Customer Match integrations with your favorite marketing tools.