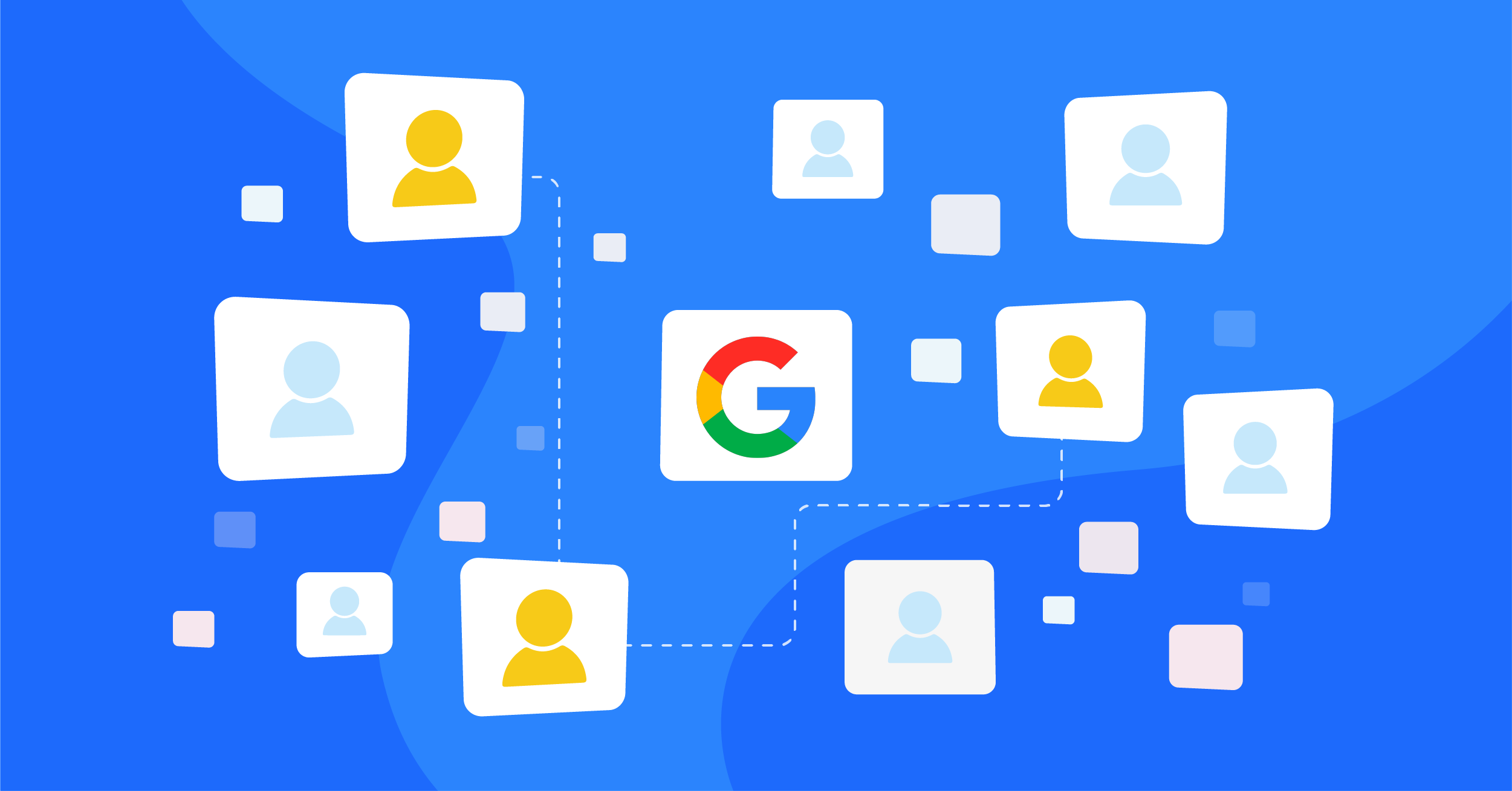 Google Ads released the Google Customer Match feature in September 2015. It allows advertisers to create PPC ads to target prospects on Gmail, search networks, display networks, and YouTube using the user's email addresses, phone, or physical address. It is an effective tool for advertisers as they get great results from it. According to Wordstream, it can match around 50.40% of your email list to users who can see your ads. This is higher than what is obtainable on Facebook and Twitter. In addition, it converts the highest with almost 15% for Customer Match Audiences compared to around 5.5% for the new visitor audiences. This is almost 3x the conversion rate.
In this article, you will learn how to use Google Customer Match to target your ideal audience and improve the ROI of your campaigns.
Google Customer Match: How it works
Benefits of using Google Customer Match
How to use Google Customer Match in your marketing strategies
How to build a Customer Match list
Google ads audience insights tool
How to access the Google audience insight tool
Google audience insight tool organization
How to set up Google similar audiences customer match
Google Customer Match strategies
Google Customer Match case studies
Conclusion.
Google Customer Match: How it works?

Google Customer Match is an effective tool that can be used to create a group of users that converts more. Most advertisers think that to do this, it's necessary to upload a file containing your existing customers' contact information such as email address, name, phone numbers, and mailing addresses into Google ads. Then create a campaign to target your customers from the file you uploaded.
This is actually not the only way to do this, and later in this article, you'll see another method that allows you to completely automate this process.
Anyway, Google is able to match the customers' information to users in its database to determine who can see the ads. If any of the customer's data you uploaded matches a Google user, the customer will be added to your Customer Match audience.
When the customers sign in to their Google account, they will see your ads as they use the Google search engine, YouTube, Gmail, and the Google Display Network. You can use the Customer Match Audience in your Ads and Google Shopping campaigns, YouTube, and Gmail.
For example, if you sell Nissan cars, the keyword "Nissan cars" is too expensive for you to target because it is broad and has lots of competition. In fact, there are 1,420,000,000 search results for the keyword on Google. Using Google Customer Match, you can create an ad targeting your previous buyers searching for "Nissan cars". The cost may not be lower, but the interest is higher. Existing buyers convert more. The conversion rate for repeat customers is about 1.5 percentage points higher.
Examples of audiences you can target with the Google Customer Match are:
On Google Search Network and Google Shopping, you can modify your ad campaign based on the information you have about your customers' activities.

On Gmail, you can target your ads to your existing customers or similar audiences using a personalized ad that displays at the top of Gmail inbox tabs.

On YouTube, you can target new audiences, by first targeting existing audiences that have similar attributes to your most valuable customers.

On Display, you can target your existing customers or similar audiences with personalized ads.
Benefits of using Google Customer Match
Using the Google Customer Match ensures that your messages don't end up in your audience spam boxes. With it, you are sure that your audience will see your ads and messages without using their Gmail inboxes. That means it cannot end up in the spam folder nor can they use auto-thrashing for it. As long as they are still on your email list, your messages and ads will get to them.

Google Customer Match ensures that your advertising reaches people on different properties such as Google search, YouTube, Shopping, and Gmail. Your subscribers can see your ads on those channels.

Google Customer Match gives you a wider reach. Because of its different properties, you can reach out to a much bigger audience and get lots of opportunities to acquire new customers for your business.
How to use Google Customer Match in your marketing strategies
Google Customer Match allows you to create a customer match audience which includes email addresses, physical addresses, and phone numbers, and upload them into your Google Ads to target your prospects in Search, Shopping, Gmail, and YouTube campaigns.
Below are 5 ways you can use Google Customer Match in your marketing strategies.
1. Google Customer Match: To move prospects down the sales funnel
Google Customer Match is an effective tool you can use to move your prospects further down the sales funnel until they become paying customers. To do this, upload different email lists with customers segmented by their stages in the buying cycle. Create specific adverts to move them through the sales funnel.
For instance, you can create an audience of people who have downloaded your e-book or white paper and show them ads that promotes your case study. This will encourage them to move down the sales funnel stages.
2. Google Customer Match: To make mid and low-funnel prospects convert
Mid to low funnel prospects are sometimes difficult to convert. They can engage with your business by attending your webinars, completing a free trial, and chat with your sales rep, but finds it difficult to purchase from you. This is the time to use the Google Customer Match to help them convert.
To do this, bid on keywords that will make you appear at the top position. Your ads will appear at the top and it will keep you at the top of their minds. When you are creating ads for this group of prospects, ensure you don't use generic ads. You can conduct a survey to find out why people are not ready to purchase your products. Then, create ads that address their sales objections directly.
This was what Wordstream did when they faced the same problem. They created a survey to ask prospects why they did not purchase their products. Most of them said that they find their software difficult to use. So, Wordstream created ads that will enable prospects to learn how to use their software for free.
3. Google Customer Match: Sell more to your existing customers
Google Customer Match is not only for getting prospects to buy from you but also to encourage existing customers to make more purchases. The truth is, it is easier to retain existing customers than to acquire new customers. Wordstream analyzed data from their RLSA (Remarketing Lists for Search Ads) campaigns which allows them to target past buyers. They discovered that past customers convert 400% higher than new customers.
Apart from increasing conversions, targeting existing customers will also help to increase your average revenue per customer.
For example, if you sell a one-time product such as an automobile or a house, you can use Customer Match to cross-sell complementary products. Here, you would segment your lists by the car brand purchased and customize your ads to show the corresponding item. Second, you can serve them ads notifying them of new models of the car and other sales promotions. Lastly, you can create exclusive offers for your existing customers to get them to buy more from you.
Check out LeadsBridge's Integrations for real estate and for automotive businesses.
4. Google Customer Match: To make account-based marketing more effective
One of Google Customer Match's features is to enable you to target prospects based on their email addresses. This feature makes it even more effective to use account-based marketing. Instead of wasting money on ads, you can focus on targeting specific people within a specific company that you plan to reach.
You can then target these people by their account size, market size, and other factors you deem relevant to the campaign. For instance, you can specifically target customers who spend at least 2k per month on your product. You can then create a customer list of these users and increase your bids when the customers search for terms relating to your product.
5. Google Customer Match: To target users across devices
Google Customer Match unlike remarketing enables you to target customers on all devices such as Mobile, Tablet, or Laptop computers.
With remarketing, you can lose users when they switch between devices.
Therefore, Google Customer Match is very efficient, especially with 90% of users using different devices to carry out tasks online.
With Google Customer Match, you can create retargeting ads for users who have given you their emails on your website across different devices. Thus, ensuring that you generate cross-device conversions.
6. Google Customer Match: Use LeadsBridge's custom audience sync to connect your autoresponder to Google Customer Match
Syncing your autoresponder such as MailChimp to Google Customer Match helps to save the time it will take to upload your email list manually to Google Customer Match.
Custom audience sync enables you to quickly upload your emails to Google Customer Match, and updates your email lists automatically, adding new subscribers, deleting unsubscribed, and unsegmented users. With it, you can easily follow up and nurture your leads as they come in.
Here is how to connect Google Customer Match to your favorite tools.
How to build a Customer Match list
The first thing you need to do to use the Google Customer Match tool is to create a Customer Match List. Below is the step-by-step instruction on how to create it.
Log into

your Google ads account

Click the

gear/ tools

icon at the top of your screen and click on

Shared library

. Under the shared library select "

Audience manager

"
3. Click "Audience lists" from the menu on the left
4. Click on the "+" button to create a new audience list. Choose "Customer list"
5.? ? On the customer list screen, set up your new list. Start by giving a name to your list, upload your list of customer emails, phone numbers and/or mailing addresses.
6. Select whether you want to harsh your customer data or not. Hashing it helps to protect user data from interceptors.
7. Select your file.
8. Check the box "This data was collected and is being shared with Google in compliance with Google's policies"
9. Choose a membership duration
10. Click on "upload and create list"
It takes about 48 hours for the list to be uploaded to your audience lists, but once the audience is ready, you also have the possibility to further narrow it by using the insights tool.
Now that you know how to set up the Google Customer Match list, it is time to know how to use the Google audience insight tool to get insights into your customer's shopping and purchase behavior.
Google ads audience insights tool
The Google Ads audience insights tool is created to help find new audiences by showing useful information about the people in the remarketing lists. When a prospect visits your website and explores your content, watches videos, interacts with social channels, Google generates signals which are collected and interpreted. These interactions help Google to understand and segment your audiences accordingly. This information also includes the age, gender, and interests of the audience. This enables businesses to create targeted ads for their audience on different Google platforms such as search, display, mobile, and video.
Google ads audience insights will tell you the percentage of the audience you are reaching and offer suggestions on how to optimize and get the best reach. You will also see where your ad is displayed and how to measure and optimize it in real-time for the best results.
The Google audience insight tool helps you to:
Know the demographics, devices, locations, and interests of your audience

Get new and specific audiences to use in ad group targeting

Get better ROI by converting qualified prospects to customers

Make the right decision about ad targeting, bid setting, and much more.
How to access the Google audience insight tool
To access the Google audience insight tool, follow the steps below:
1. Log into your Google ads account
2. Click on Tools and under the shared library, click on Audience Manager
3. In the audience manager section, click on Audience insights? on the left-hand side
Google audience insight tool organization
The Google ads audience insights tool is organized into two sections – the audience distribution and the relevant audiences.
Audience distribution shows the audience list distribution and users' details such as location, demographics, and devices. These details help to adjust bids or target users with specific ads.
The demographic insights show the gender, age, and parental status of your audience. Use this insight to target a specific demographic of your audience with targeted ads.
The location shows the list of users from a specific country or city. This insight is useful for targeting a specific country with relevant ads.
The device insights show the number of the audience using different devices to access your landing pages. When you know the number of people using a particular device is higher than orders, you can target them specifically with tailored ads.
?
The relevant audience feature shows the users that share similar characteristics to the people on your remarketing list. The relevant audience includes In-market audiences and Affinity audiences.
In-market audiences
These are customers who are searching for products or services like yours. This feature enables businesses to focus on conversions from people who are most likely to buy. Google shows the number of people who have buying insight. This report helps you to see the interests and buying intent of the people that make up your remarketing list.
YouTube

i

n-market audiences
In-market audiences give you the opportunity to connect with consumers who are searching for your products on YouTube, Google Display Network publisher, and partner websites. Google determines the in-market audience by looking at the account clicks on related ads and conversions, content on the websites, the pages they visit, and how frequently they visit. This helps you to target people who will respond to your ad messages because they have been interacting with your business.
YouTube in-market audiences give you the opportunity to connect with consumers as they move through the sales funnel. This helps to increase your conversions tremendously. To boost your results, add remarketing to the mix. This will help to drive targeted users to your website and enhance the efficiency of your ad campaign.
Examples of YouTube in-market audiences include:
Apparel and Accessories

Autos & Vehicles

Baby & Children's Products

Beauty Products & Services

Business Services

Computers & Peripherals

Consumer Electronics

Consumer Software

Dating Services

Education

Employment

Financial Services

Gifts & Occasions

Home & Garden

Real Estate

Sports & Fitness

Telecom

Travel
Source: ThinkwithGoogle
Affinity audience in Google ads
The affinity audience helps advertisers to create awareness and increase consideration among people who have an interest in their products. Affinity audience helps you to reach people based on their interests as they browse online. Google collects and groups information from users through their browsing history. This information includes the pages they visit frequently, time spent on websites, and their search patterns, and then associates interest categories with the user's browser. This makes it easy for advertisers to choose from different interest categories such as sports fans, luxury travels, and fashion enthusiasts to target them with relevant ads.
Using an affinity audience in Google ads helps you to target users who are likely to convert based on their interests. For example, if you are advertising a cosmetic company, you can target women who like makeup.
Affinity Audiences on YouTube
While there are many different audiences targeting methods on YouTube, one of them is the affinity audiences. These are the audience that already knows about your products and services. The affinity audiences in great for creating brand awareness and driving consideration with video ads. For example, if you are an auto dealer, you can promote your latest automobile to people who have indicated an interest in test-driving cars. There are over 130 unique affinities based on consumers' interests and way of life. With this, you can engage your audience with precision.
Affinity audiences are great for businesses because it allows you to create a personalized ad that users will engage with. This reduces the cost of your ads and increases your return on your investment.
Below are more affinity audiences you can target.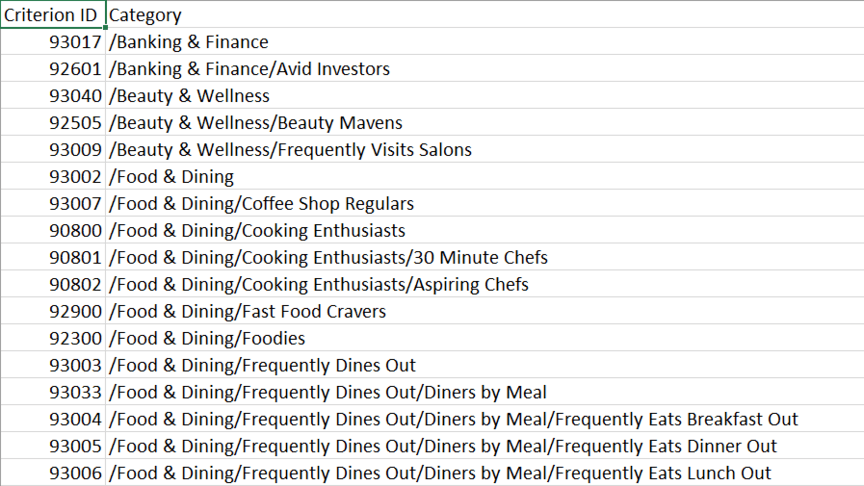 Source: ThinkWithGoogle
How to set up Google similar audiences customer match
Similar audiences are the audience that looks like your existing audience from your customer emails, websites, etc. They practically shared the same interests with your audience. Similar audiences in Google Customer Match are the same as the Facebook Lookalike audiences. It helps businesses to reach new prospects. According to Google, similar audiences can boost performance and produce more conversions.
If you have a pixel-based remarketing list of at least 500 cookies or a customer match list with at least 1000 emails that Google recommended, a similar audience is automatically generated for you. A similar audience based on the customer match audiences is available for Search, YouTube, Gmail, and Display.
Dv360 Customer Match
The Customer Match tool in DV360 allows advertisers to upload customer email addresses as an audience list for TrueView ads. However, Google recently enhances the Customer Match tool feature in Display & Video 360 (DV360) to enable advertisers to upload the contact info, mobile device ID lists, and User ID lists. These can also work as an audience list for Display, Gmail, and TrueView.
Google Customer Match strategies
1. Target existing customers on Google Ads
The first Google Customer match strategy is to target existing customers with your ads. According to research, the probability of selling to an existing customer is 60-70% while the probability of selling to a new prospect is 5 – 20%. Also, existing customers are 50% more likely to try new products and spend 31% more when compared to new customers. For example, if you are in the fashion niche and you are promoting winter dresses, targeting existing customers with your Google ads will reduce ad costs and increase conversions.
2. Re-engage inactive customers
Use Google Customer Match to target customers who are not patronizing your business anymore. You can use discounts to entice them to make new purchases. Also, using a survey to know more about them and their preferences will help you know why they stopped buying, and then you can look for better ways to serve them.
3. Target offline customers
Google Customer Match works not only for online customers but also for offline customers. You can target your offline customers by uploading their email addresses, mailing addresses, and/or phone numbers to Google ads. Then create relevant ads showing your products or services to target them online. If you don't have your offline customer's email addresses, upload their phone numbers and mailing addresses and target them with ads and freebies to entice them to sign up for your newsletter, so you target them with product ads afterward.
4. Re-engage seasonal shoppers
If you sell seasonal products such as Mother's Day gifts, Father's Day gifts, Christmas gifts, winter coats, and rain boots, you could invite them back to your website during the active seasons. This Google Customer Match strategy is especially profitable during the holiday season. You can segment your lists by grouping customers who made purchases during Thanksgiving and Christmas in the last year and create ads to promote your new holiday products to them. Also, you can promote your products to them during other special occasions in the year, such as Mother's Day, Father's Day, and Valentine's Day.
5. Tailor ad copy to a specific audience
Don't use a one for all ad copy for your audience, personalize it by using the Google Customer Match list to get better results. For example, if you want to entice people who downloaded your free e-book to move down the sales funnel, you can target them with specific ads offering them discounts on your products. They are the only ones who will see the ads because it is personalized to them.
Google Customer Match case studies
Google Customer Match works. Below are two distinct case studies of businesses that used it and got returns on their investments.
1. The Children's Place
The Children's Place is one of the biggest pure-play children's clothing retailer in North America. Their main customers are back-to-school shoppers. The Children's place created an ad campaign using the customer match to reach customers who had not converted since the past season. They saw a 287% higher ROI, a 153% increase in conversion rate, and a 237% increase in click-through rate.
2. The Guitar Center
The Guitar Center is a one-stop shop for people in the music industry. They wanted to reach an audience segment with search campaigns. They used Customer Match to optimize the ad spend on some of their product categories while enhancing clicks and conversions. They got a 60% higher click-through rate and a 50% higher conversion rate.
Conclusion
Google Customer Match allows you to target your leads and customers granularly in order to reach the best audience for your campaigns.
In this article, I shared with you a step-by-step process to build your audiences using a customer list, plus a LeadsBridge product that automates the process called LeadsBridge Audience Sync, which is particularly useful when you want to sync huge audiences without managing CSV files and lists!
Discover Google Customer Match integrations with different tools.