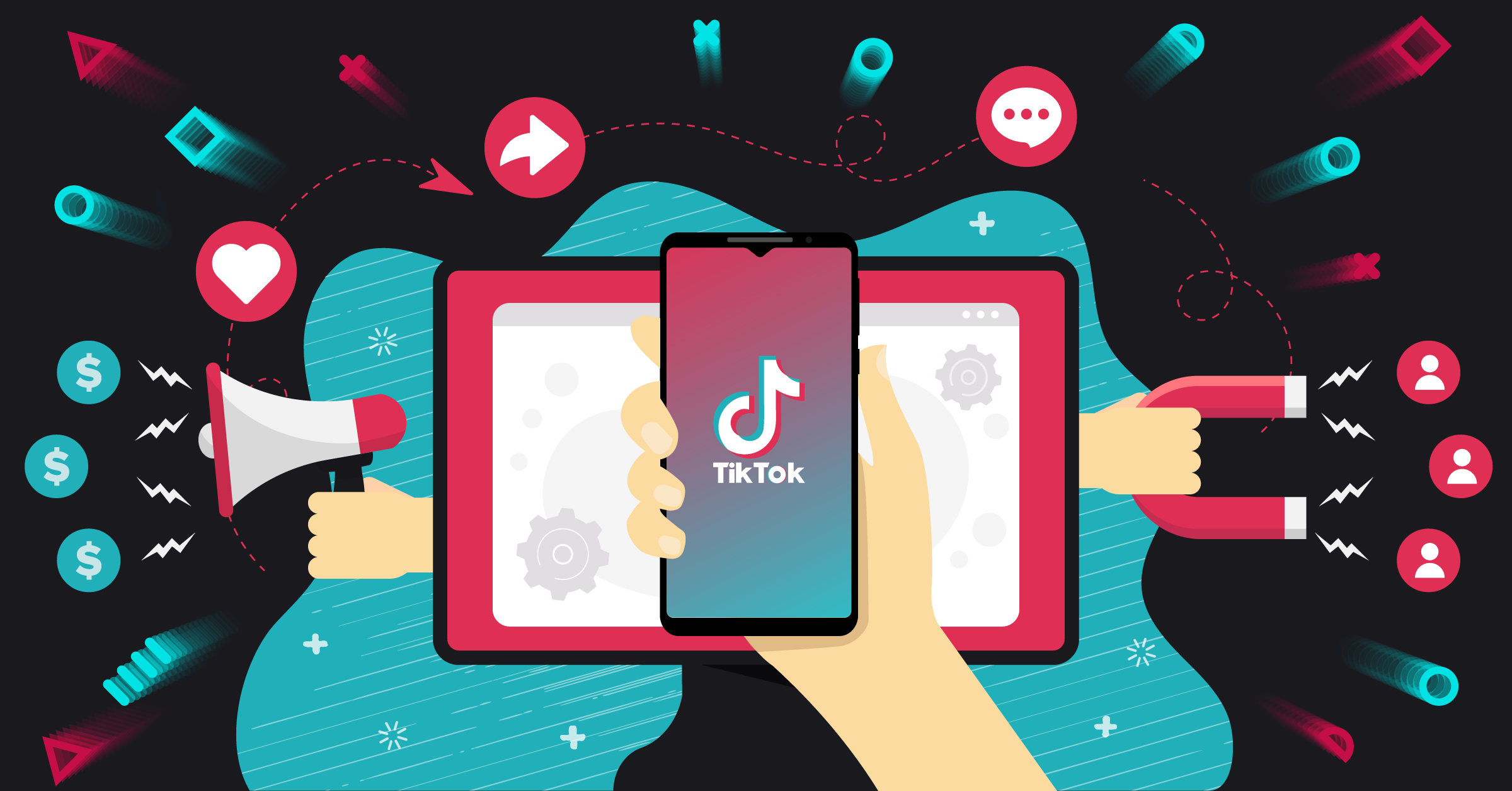 With more than 1 billion monthly active users, TikTok is one of the fastest-growing and most-used social media platforms in the world. Its users are keen to be entertained through short videos, value authenticity, and are highly engaged, making it a great platform to advertise your business (particularly if you're targeting a Gen Z audience).
In this article, we will go over TikTok Custom Audiences, a new feature that lets you target people who know your brand or have interacted with you before, increasing your chances of conversion and solidifying brand awareness.
What is TikTok Custom Audiences?
TikTok Custom Audiences is a TikTok targeting option that lets you reach people who have previously interacted with your content or who know your brand outside of TikTok. You can upload your own list of customers, whether it's an email list, through a Pixel on your website, or by targeting people who have interacted with your previous posts and ads.
For example, if someone has visited a specific page on your site and shown an interest in a particular product or service, you can upload their information into TikTok and reach them with relevant product ads on the platform.
Likewise, if someone has watched a previous ad on your TikTok channel and liked or commented on it, TikTok Custom Audiences let you take their details and reach back out to them with another ad.
This strategy can help you reach loyal customers, increase brand awareness (and your TikTok following), transfer app engagement to other platforms, and create lookalike audiences based on people who already know and love your brand.
You just need a minimum audience size of 1,000 people to target custom audiences. This means you need to upload an email list with 1,000 names and email addresses or generate information from 1,000 visitors to your site before you can start retargeting people.
TikTok Ads Targeting: a quick guide
TikTok Ads targeting is getting increasingly powerful. As well as TikTok Custom Audiences, here are some other ways you can use TikTok Ads targeting:
TikTok interest targeting: create a TikTok interest targeting list based on users' interests on the app and on other brands and content they engage with. For example, if you have a project management tool, you can use TikTok Ads targeting to reach people who have shown an interest in content about time management.
TikTok behavioral targeting: targeting users based on how they behave and interact with your brand, including the past purchases they've made, how many times they've reached out to customer support, specific on-site actions they've taken, and whether they've left a review.
Retargeting TikTok: targeting people who have already visited your site or app, including users who have visited specific pages on your site. So, if someone has shown an interest in your latest recyclable water bottle, you can serve them content based on that using TikTok Ads targeting.
Target audience of TikTok: targeting people based on the demographics and characteristics they share with TikTok, including age, location, job status, and lifestyle.
When should you leverage it? Use cases for TikTok Custom Audiences
Like with any advertising method, it's important to leverage TikTok's features in the right way if you want to keep costs down and conversion rates high. Here's how you can use TikTok Custom Audiences for great results.
Customer file
Upload your own list of customers. These might be people who have already bought from you, who are on your email list, or who have signed up for a webinar, product launch, or downloadable. These people have already engaged with your brand, which means there is already a sense of trust.
Engagement
Create an audience of people who have shown an interest in your content on any of TikTok's family of apps. This can include clicks and impressions, or lists of people who have previously engaged with your content, brand, or products.
For example, if you have a large number of likes on a video, you can retarget the people who engaged with that to keep the momentum going and stay relevant.
App activity
Create a custom audience of people who have completed certain actions in your app. These are highly engaged leads because they have already downloaded your app and looked around (and maybe even bought something through it).
TikTok supports the following app actions:
Purchase: when someone buys a product
Register: when someone registers with your brand or creates an account
Checkout: when someone makes it to checkout
Add to Cart: when someone adds an item to their cart (even if they don't check out)
View Content: when someone views a product or service page, blog post, or another piece of content within your app
Website traffic
Create a custom audience of people who have visited your website or taken a specific action while there. Again, this is a great way to reach people who already know who you are and have had some sort of interaction with your brand in the past.

TikTok lets you target people who have:
Clicked a specific button or CTA on your site
Made a purchase
Filled out and submitted a form
Started a free trial
Contacted your support team
Viewed a particular blog post or another piece of content
Lead Generation Audience
Create an audience from users who engaged with your Lead Ads. For example, you can retarget users who viewed the form page of your Lead Ads without submitting it in order to improve campaign efficiency.
Business Account Audience
New Custom Audience type that lets you use your own TikTok Business Account to retarget audiences only if your organic profile has completed one of the following events:
​Follow
Visit Profile
​Video View (2s, 6s, 100% view)
Video Engagement (Like/Share/Comment)
Click here to learn more about the Business Account Audience.
TikTok App Retargeting
TikTok Retargeting is an ad group setting that allows you to show your ads to people who have already installed your app on their mobile devices. It's a great way to re-engage your existing customers, improve their lifetime value, and increase your return on ad spend.
How to set up TikTok Retargeting in Events Manager
Select advertisers can activate TikTok Retargeting in Events Manager. Once activated, they will be able to set up retargeting campaigns and see retargeting events statistics in Events Manager.
Here are the key benefits associated with TikTok retargeting:
Seamless and error-free setup.
Unlock accurate metrics for understanding retargeting events.
However, retargeting events statistics are not activated by default. In order to see them, you will need to take the following steps, depending on whether you are setting up a new app or editing an existing app.
If you're creating a new app:
Go to Assets → Event → App Event
Click Create New App
​Add the Download URL
Choose your mobile measurement partner
Check Enable Retargeting Attribution
If you're using an existing app:
Go to Asset → Events → App Events
​Click your desired app
Go to Tracking Settings then click Edit
Modify your app by enabling retargeting attribution
How to publish Ads using TikTok App Retargeting
There are two main steps to setting up a campaign using TikTok App Retargeting:
Creating a Custom Audience using App Event Data
Creating a campaign that targets existing app users
Making a Custom Audience using App Event Data
After setting up retargeting on your app on TikTok Ads Manager, you will need to create a Custom Audience that will identify people on TikTok who have taken action on your app. In order to do this:
​Log in to TikTok Ads Manager
Go to Assets → Audiences
Then create an App Activity or a Customer File audience
To create an App Activity audience, you will need to define your audience by:
Selecting any actions you want people to have carried out on an app (where you have enabled retargeting) within a specific timeframe
Selecting any actions you don't want people to have carried out within a specific timeframe
See "App Activity" for more information on creating an App Activity audience
To create a Customer File audience, upload a list that identifies people who have carried out a specific action on an app (where you have enabled retargeting)
See" Customer File" for more information about creating a Customer File audience
Note: You cannot create a Lookalike Audience using a Custom Audience that targets your existing app users as a source audience.
Creating a campaign that targets existing App users
At the Campaign level:
Create a Conversions campaign or create an App promotion campaign and select the App retargeting as the App promotion type.
At the Ad Group level:
Depending on your advertising objective, choose the method below to select an app you want to promote.
For Conversions campaigns under Promotion Type, select App and then choose the app you want to promote.
For App promotion App retargeting campaigns under App, select the app that you want to promote.
Under Targeting choose an Audience that identifies your app's users – either App Activity or Customer File.
Under Bidding & Optimization.
​If running a Conversions campaign.
Under the Optimization Goal select an In-App Event.
Enter a bid.
You may also wish to choose a Conversion Window.
At the Ad level:
Add your Deeplink URL, only the scheme format is supported.
Under Tracking your retargeting URL will be automatically filled out under the Impression Tracking URL.
Note: As of January 26, 2022, TikTok has changed the way you can target an app's existing users at the ad group level. Since this change, you can no longer select "All Users who have interacted with your selected app" or "Users who have performed specific in-app events." Because of this change, you can no longer copy a campaign that uses either of these methods, but you will be able to edit on-going campaigns that use these targeting options. However, there will be no impact to existing campaigns that used a Custom Audience to retarget app users.
Lookalike Audience on TikTok
Lookalike Audiences are groups of people who share similar characteristics with your existing customers. Lookalike Audiences on TikTok can help you find new potential customers who are most likely going to be interested in your product and expand your reach.
How Lookalike Audience on TikTok works
TikTok's algorithm will analyze the characteristics of the users from the Custom Audience type you selected – such as demographics, location, operating system, and interests. Then, TikTok will look for other users and groups on the platforms who share similar traits.
The accuracy of the of the Lookalike Audience on TikTok is obviously based on the audience you provide. So, to ensure the Lookalike Audience runs efficiently, TikTok recommends using a source Custom Audience of at least 10K people. Make sure that the list and traits you provide are correct.
One more thing you have to consider is the option you select for Audience Size, either Specific, Balanced or Broad. The more specific the audience size, the more similar of an audience the algorithm will look for.
How to create a Lookalike Audience on TikTok
In order to create a Lookalike Audience on TikTok, you will need to have an available Custom Audience first. Once that is set up, you can proceed as follows:
Go to the TikTok Ads Manager. Under the Assets section click Audience.
Click Create Audience. When a pop-up opens, select Create a Lookalike Audience.
Choose a Custom Audience you want your Lookalike Audience to look like:

Select Source to choose a previously uploaded Custom Audience from the dropdown menu.
Click Create a Custom Audience if you haven't already uploaded a customer list as a custom audience.
Define your Lookalike Audience traits and select systems options.

Select Contain Source if you want to include people from your custom audience list in the new Lookalike Audience list. Select Omit if you want to exclude them.
TikTok recommends creating specific Lookalike Audiences for each operating system, if you want to drive app installs. Example: If you want to drive iOS app installs, select iOS and create a Lookalike audience of iOS users. For website conversions select All.
Choose the Placement and Audience Location.

Choose the app that you want to target with the Lookalike Audience. TikTok recommends selecting the placement that your source audience is based on.
Select the same location as your custom audience.
Enter the audience size and name.

Here you can choose how similar you want your Lookalike Audience to be to your Custom Audience, where Narrow is very specific and Broad is less specific.
Name your Lookalike Audience in a way that makes it easy for you to recognize it later and then click Confirm.
Now that you've set up your Lookalike Audience, this will be available and ready to use in 40-60 minutes. Also, note that:
Once applied to a running ad group, the Lookalike Audience will refresh once every 7 days. You can also manually refresh the audience by going to the Audiences section under Assets.
If the source Custom Audience is deleted, the Lookalike Audience won't refresh.
You can create up to 400 Lookalike Audiences with the same Custom Audience.
LeadsBridge's integration for TikTok Audiences
As an official TikTok partner, LeadsBridge's upcoming TikTok Custom Audiences integration will let you connect your audiences from other tools and apps that you're already using to TikTok and target the leads you have on those.
Join the waiting list to get automated insights and leads data in a matter of seconds.
You'll be able to connect your TikTok account with your:
Email marketing tools to serve ads to people on your email list
Other social media platforms to target people who have engaged with your content on Facebook or LinkedIn
Customer relationship and customer management tools to reach your most loyal customers
Spreadsheets and CSV files via Google Sheets to reach people on lists you have created yourself
The integration will make it easy to create custom audiences of people who already engage with your brand on other platforms to instill customer loyalty and expand your reach on different channels.
Take it one step further with LeadsBridge's integration for TikTok lead generation, which lets you convert prospects who find you on TikTok into hot leads. You can create an instant form to send people to when they click on a TikTok ad and collect their details so that you can nurture them and sell to them later down the line. Here are some of our popular TikTok integrations:
Learn more about TikTok lead generation in this webinar we ran alongside TikTok.
Leverage TikTok as a lead generation tool
TikTok is growing at breakneck speed. If you're targeting Gen Z, it's an important place to be, since your customers are already hanging out there. And, with TikTok's latest announcement that plans to increase the maximum video length from three minutes to ten, we can expect engagement levels to rise even more.
The powerful targeting options make it easy to connect with people who are already interested in your brand or who are more likely to convert because they have relevant interests or browsing history. Then, when you've captured their attention, you can serve in-app forms to collect their details which you can store in your CRM and other platforms to engage them across multiple different channels for an even better, even more, personalized customer experience.
Join the waiting list to get first access to our TikTok custom audience integration.