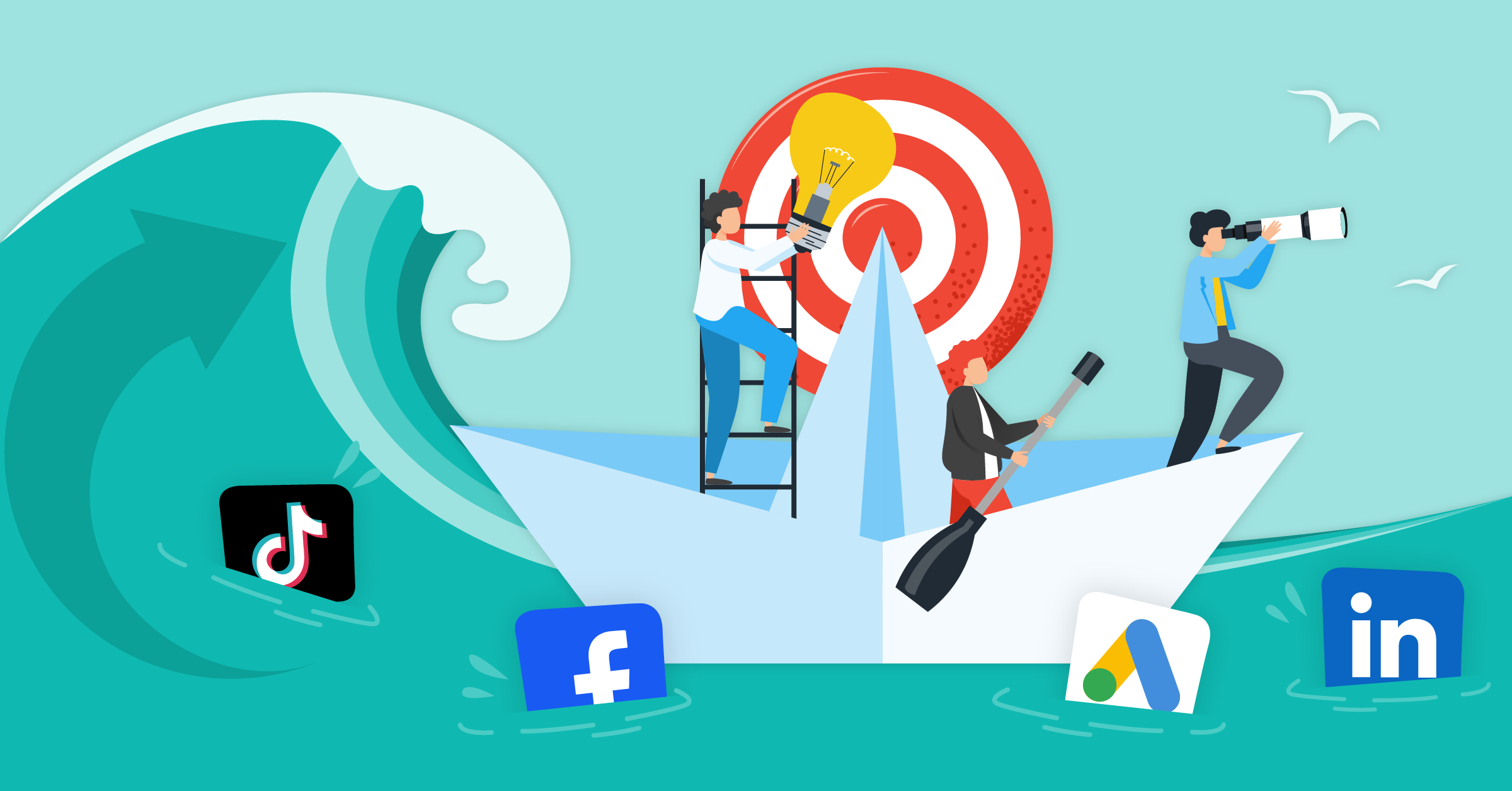 Millions of consumers surf the internet every day and marketers aim to bring them to the waves of their website to increase traffic. However, increasing traffic is only half the battle. How do marketers get the consumers to stay on their page, engage, and eventually come ashore for a sale? Even further, how do marketers reattract consumers that have visited their website and left without making a purchase?
With the best retargeting ads, you can help bring consumers back to the waves of your website and eventually straight into your CRM with precise, persuasive, and personalized ads.
What are retargeting ads?
A consumer's journey begins when they visit your website and, preferably, enter their contact information (more on this later). Most of the time a prompt will appear asking a visitor to enter their email or contact information in exchange for a maiden discount exclusively for first-time users. Most deals are enticing, but that does not stop a staggering 97% of first time website visitors from leaving –for a myriad of reasons– without making a purchase. That is where retargeting ads enter the fold.
Retargeting ads can be used for cross-selling or upselling repeat customers, but primarily these ads are tailored specifically to users who have visited your website, but did not make a product purchase or sign-up for your service. Whether it was someone who viewed for a few minutes, hours, or filled a cart, but did not complete the purchase, retargeted ads can help uniquely identify and convert these consumers into sales. These ads are meant for the online window shoppers, the consumers who are interested, but just need more of a push to complete the purchase process.
Source: Retargeter
Advertisers target these online window shoppers so heavily because retargeting ads are 70% more likely to convert consumers to sales than a traditional first-time display ad. Furthermore, engagement is increased based on the ad personalization causing the click-through-rate (CTR) of a retargeting ad to be ten times higher than that of a traditional display ad.
Despite the high-performing efficiency, retargeting ads are surprisingly cost efficient across different platforms.
Cost efficiency
Google search ads run between $2.00 and $3.00 on a cost-per-click (CPC) basis, and Google display ads are usually under $1.00. Compare those numbers to the lower average CPC price of $0.66-$1.23 for retargeting ads.
Facebook utilizes a slightly different pricing strategy by charging advertisers on a cost-per-thousand-impressions (CPM) model. So, given that on average Facebook ads cost between $0.19 and $7.19 per click within this model, the proven higher engagement of the best retargeting ads will help drive down the CPC to the low end of Facebook's pricing model.
While all of this understandably sounds appealing, it is far more difficult in execution and requires a vital understanding of where the consumer is on their purchase journey to optimize this advertising strategy.
By understanding the consumer tracking tools used by your website, you can optimize retargeting efforts and never mistarget a consumer. The two most prevalent ways of tracking consumer usage on your website: list-based retargeting and pixel-based retargeting.
Tracking strategies
List-based retargeting only requires what every company should already possess: an email or contact list of prospective customers. Most modern websites are designed to have all visitors enter their email addresses upon arrival, so when you run a retargeting ad, the advertisement comes off as less intrusive and more like a follow-up reminder. LeadsBridge can help automate your email marketing processes.
Pixel-based– Or cookie-based, is anytime a consumer visits your website, marketers can track users using cookies or pixels on a specific browser, and advertise to them based on their browser activity (Facebook, Google). This method is vastly more effective at tracking users, but can feel invasive to consumers, or be rendered ineffective if cookies are blocked or limited by the user's browser. Learn how to install the Facebook pixel and TikTok pixel today.
Whichever tracking strategy you employ, understanding of this strategy will help you individualize ads based on specific consumer behavior patterns and better understand how to approach the consumer within their journey.
Retargeting ads best practices
Most people are familiar with the "ABC's of Sales," (Always Be Closing) especially if they have seen the 1992 acclaimed film Glengarry Glen Ross. However, remembering the ACD's of Retargeting (Awareness, Consideration, Decision) can help you remember the consumer's journey and the role and purpose of retargeting ads.
Source: HubSpot
Awareness
The first step in a retargeting strategy is to ensure the consumer has brand awareness about what it is that you are selling and serve as a lead magnet to once again attract them to your website. But wait, shouldn't a consumer be familiar if they visited the website? Perhaps, but like most people, the consumer is busy and distracted at all times and could have forgotten your brand just as quickly as they saw it.
Moreover, it is common for websites to be designed to have awareness, consideration, and decision pages to help simulate the consumer's journey within the realm of an individual website, so the consumer may not have even advanced beyond the awareness pages. Maybe the consumer entered their email address and left your page before exploring.
Awareness ads can help the consumer remember why they started in the first place and get them back on track to reignite their consumer journey. By increasing awareness, the consumer can progress to the consideration stage.
Collateral opportunity: This stage is a great opportunity to engage with blog posts, white papers, and ebooks. These collateral ads can help elaborate on surface-level information and expand upon the basic elevator sales pitch to increase the initial allure of their products. By eliminating doubts and concerns early in the process you can reignite and accelerate the rest of the consumer's purchase journey.
Consideration
This is the most intricate step in the consumer journey and requires the most attention to detail to assist in the transition between creating general brand awareness and deciding to make a purchase. The consumer is aware of what you are selling, but was not persuaded enough to make a purchase or even load their cart while browsing.
In this retargeting stage, it is important to create momentum for a sale. You could offer a discount, tease a seasonal sale, and capitalize on any trend that is currently dominating the newscycle. This stage requires the most creativity to get the consumer re-engaged and motivated to make a decision.
Collateral opportunity: This stage is a great opportunity for webinars, case studies, testimonials, and automated product demos. This stage is a great opportunity to differentiate your product from competitors. When the potential consumer can see the in's and out's of the product and witness others experiencing a satisfying result, they will be more inclined to want to experience these desired and proven results for themselves.
Decision
The final step of the process is the simplest, but by far the most important. These ads can be as concise as, "Don't just leave these amazing savings in your cart," to remind the consumer that they are missing out on potential savings and great products or services. The consumer has done most of the work to this point and retargeted ads at this stage of the journey are here to create urgency and serves as the final push across the finish line to convert the consumer into a sale.
Collateral opportunity: This stage is a great opportunity to encourage action and entice the consumer to try a demo of their own so they can experience the benefits firsthand. By offering a "test drive," the consumer can exhaustively understand the benefits of your product or service.
Retargeting can occur across a multitude of websites, but most companies are utilizing social media or Google because of the consistent daily traffic experienced on those sites. Below are examples of retargeting campaigns across four of the most popular advertising platforms in the world.
Best retargeting ads examples
Facebook retargeting ads examples
Facebook retargeting ads come from a place of personalization and familiarity. The Airbnb retargeting example below offers a thoughtful approach, while Sabri Suby's book is humorous. Each approach relates to the consumer on a universally personal level, without feeling broad or generic.
Source: Webfx
Source: ElevateDigital
LeadsBridge's Facebook Custom Audiences integration is a powerful targeting tool you can use to create universal personalized retargeting ads and only target the consumers most likely to convert into sales. Furthermore, LeadsBridge offers several integrations to optimize and maximize your retargeting strategy:
LinkedIn retargeting ads examples
LinkedIn retargeting ads are aimed toward the professional world in a few two different ways. Two of the most prominent are retargeting ads to businesses like the Salesforce example, and retargeting ads to people that work in business like the J Crew example. Salesforce is showing the retargeted consumer how their business can benefit from their product with proven data and statistics.
The advertisement from J. Crew is retargeting a consumer that works inside the business world. Business people need professional attire and J. Crew is offering some of the best on the market for a time-sensitive discounted price.
Source: Later
Source: ElevateDigital
LeadsBridge's LinkedIn Matched Audiences integration allows businesses to build audiences, upload a list of companies or contacts they want to target or retarget, integrate contacts from a third-party system, and create lookalike audiences. Several integrations are available to customize your LinkedIn strategy:
TikTok retargeting ads examples
TikTok is one of the fastest growing social media platforms in the world. The best retargeting ads on this specific platform need to be attention-grabbing, inviting, and easy to engage with, in order to excel. The example below shows a Guess advertising campaign that is driven by a hashtag challenge.
This strategy helps create a shared community of individual stories with a common thread of Guess jeans. The beautiful people on the cover of the challenge are attention-grabbing; the retargeting ad is inviting in its display and layout; hashtag challenges are perhaps one of the easiest single ways to drive and create organic engagement.
Source: TikTok
LeadsBridge's TikTok Custom Audiences integration allows you to reach people who have previously interacted with your content or who know your brand outside of TikTok. You can upload your own list of customers, whether it's an email list, through a Pixel on your website, or by targeting people who have interacted with your previous posts and ads.
Google retargeting ads examples
The best retargeting ads on Google primarily serve as discovery or reminder ads. The Nike example below is a reminder of your prior interest in Nike, or other related athletic attire sites, and is inviting you to try their company.
The Fanatics example is retargeted for sports fans looking to dawn their favorite team's colors. With a flash sale being advertised, it increases urgency on the consumer's behalf to not want to pass up on these limited time savings, especially if they visited the website once and did not complete their journey.
Source: Webfx
Source: KlientBoost
LeadsBridge's Google Customer Match integration targets your ideal audience, using up-to-date insights and databases. LeadsBridge integrations enable you to automate all your data management processes, free up your time, and boost your ROI.
Retargeting ads are an essential piece of a diverse marketing portfolio, but that is only the tip of the spear. With LeadsBridge, you can create the best custom audiences by syncing your CRM segments, email marketing contacts, or customer lists with advertising platforms such as Facebook, LinkedIn, and Google, to retarget or exclude leads at every stage of the funnel, while always maintaining GDPR compliance.
The automated answer to retargeting ads
With LeadsBridge's Audience Targeting feature, you can segment your leads, prospects, and customers by common traits to retarget them at every stage of their journey through your ads. This feature helps prevent mixing audiences and allows you to target and retarget the perfect audience every step of the consumer's journey.
Audience Targeting with LeadsBridge can be completed in four easy steps:
Step #1 – You collect lead data & segment your prospects into specific lists inside your CRM.
Step #2 – You connect your segmented lists to your ad platform through LeadsBridge by combining different data sources – CRM, DWH, email marketing software – to build custom audiences for your retargeting ads.
Step #3 – Thanks to LeadsBridge, your custom audiences are automatically synced and updated in order to not only add new contacts coming in but also remove the ones that need to be excluded from the ads.
Step #4 – By leveraging the lead data you already have inside your CRM, you can share it with your ad platform through LeadsBridge to build lookalike audiences and attract new potential customers.
LeadsBridge can also help identify lookalike audiences by utilizing the information stored in your CRM, you can build custom groups of potential customers with similar traits and interests to your most valuable customers. With this integration, you can reach out and connect with new potential customers who are most likely going to be interested in your business.
With Audience Targeting, your lookalike audiences are also automatically synced and updated with new lead data from your CRM.
Final thoughts
The best retargeting ads are an essential part of any marketing strategy because of their engagement effectiveness and cost efficiency. Understanding your website's tracking techniques and the customer journey are integral to your retargeting foundation across any advertising platform. By utilizing LeadsBridge's Audience Targeting, you can optimize your strategy and retarget more consumers in four easy steps.
The waters of online consumers are rich with opportunities and with the help of LeadsBridge, you can bring the website surfers back to your waves and home for a sale.
Get started with a demo today!