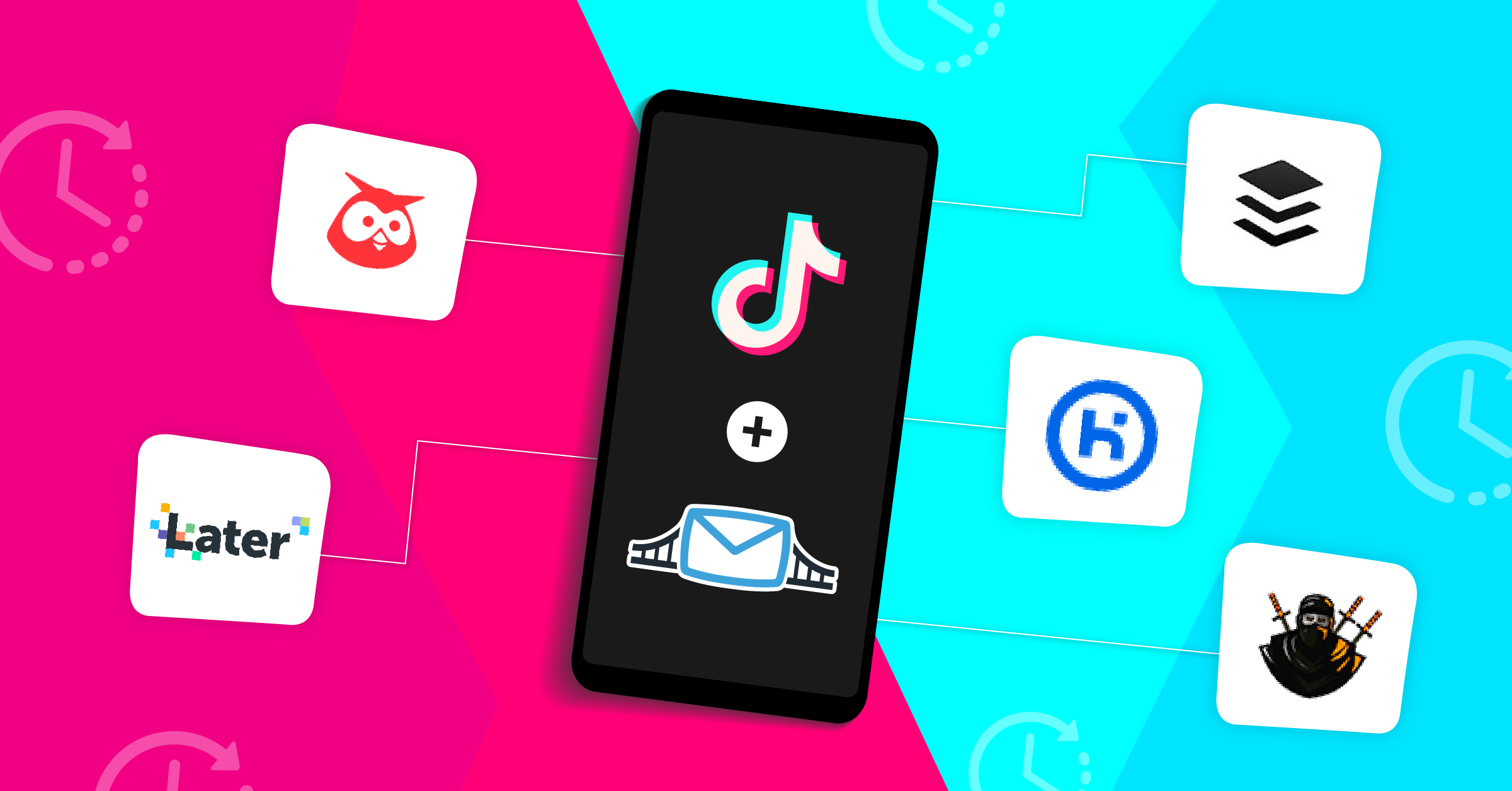 In such a fast-paced world where the first to contact a lead is usually the lucky one to close the deal, it's essential for marketers to implement TikTok automation tools that allow them to run their TikTok campaigns smoothly and effectively.
Thankfully, LeadsBridge is here to help with its real-time, automated integrations. With LeadsBridge, you can connect your advertising account – in this case, TikTok – with the rest of your marketing stack – CRM, email marketing software, DWH, Google Sheets, and much more – so that lead data will flow across your platforms automatically, while you focus on more important tasks.
Take a look at our most popular integrations with TikTok.
In this article, we will explore what TikTok automation is, the benefits of using a TikTok automation tool, the best automation tools for TikTok, and how you can improve your TikTok ad campaigns with LeadsBridge.
What is TikTok automation?
We can define "TikTok automation" as any tool or service that will interact with TikTok users on your behalf. You can set up automations that will allow it to post, like, comment, follow/unfollow and even send direct messages to other users, according to your preferences.
It will also give you access to analytics and insights about your audience and posts, to help you identify your best-performing content.
Why is TikTok automation important?
Interacting with and validating users is the whole point of social media. However, these activities take time. And marketers know that time is of the essence when it comes to running marketing and advertising campaigns. Which is why it's crucial to leverage a TikTok automation tool that will help you engage with users behind the scenes, while you focus on your campaigns.
Remember: Automating is not everything; you still need to work on creating authentic, engaging content that will attract users. The quality of your content is still key to the success of your TikTok campaigns.
How automated rules work on TikTok
Just as with any other campaign, before you even start looking at an automation tool, you need to consider exactly who you are trying to reach. Take a look at the users that are commenting and liking your content. If this group of users reflects your target audience, observe their age, location, gender, and any other characteristic that differentiates them.
Once you have your target audience figured out, you can input this data into your TikTok automation tool, so that it will interact within the parameters you have set. This way, your tool will only engage with users that meet your required criteria, and if you have succeeded in your evaluation, they will engage with your content in return thanks to the validation you have given them.
Benefits of using a TikTok automation tool
Save time & optimize your workflow
Posting everyday is extremely time consuming. But, with a TikTok automation software, you don't have to! You can schedule posts in bulk once a week (or even once a month) and set everything up so that they will automatically go live at a specified time.
Create consistency with a structured content plan
The panic of having nothing to post is real. However, having a social media content calendar already planned out in advance allows you to relax and keeps you from the temptation of posting useless content on a whim or going without posting for too long. At the end of the day, growth is all about being in it for the long haul and playing the long game.
Set your campaigns on autopilot
Having to remember what to post and when can be challenging. You risk messing up your strategy, especially if you manage multiple accounts. TikTok automation tools allow you to stop worrying about your campaigns by setting them on autopilot.
Best TikTok automation software
Every TikTok automation software should allow you to do the following activities:
Schedule posts
Generate ideas
Create content via TikTok content calendar
Engage users through comments
Do social listening via tracking mentions
Track TikTok analytics
Track TikTok hashtags
Do TikTok geotagging
Edit visuals and sounds
Considering this, listed below are the best TikTok automation tools to help you automate your engagement on TikTok.
Hootsuite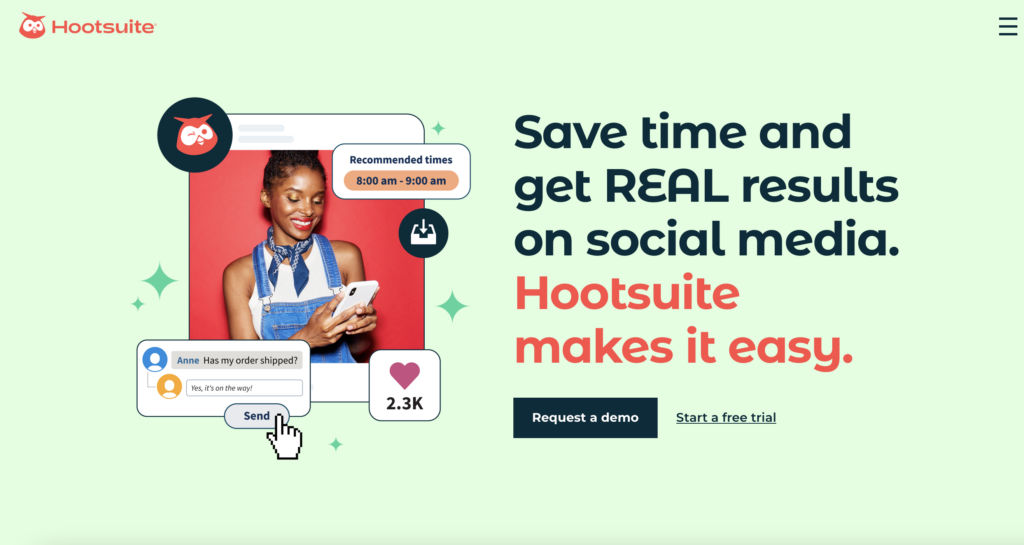 If you're a busy social media manager looking for a comprehensive tool, Hootsuite is the right one for you. It allows you to schedule and publish content to all of your social profiles, track effectiveness in real time, and identify your top-performing content. Not only that!
With Hootsuite you can set up customizable streams that let you monitor trends and stay notified about your business, customers, competitors, or any topic that you're interested in. Lastly, Hootsuite lets you instantly generate captions, get post ideas, and repurpose top-performing content with its AI writer.
Later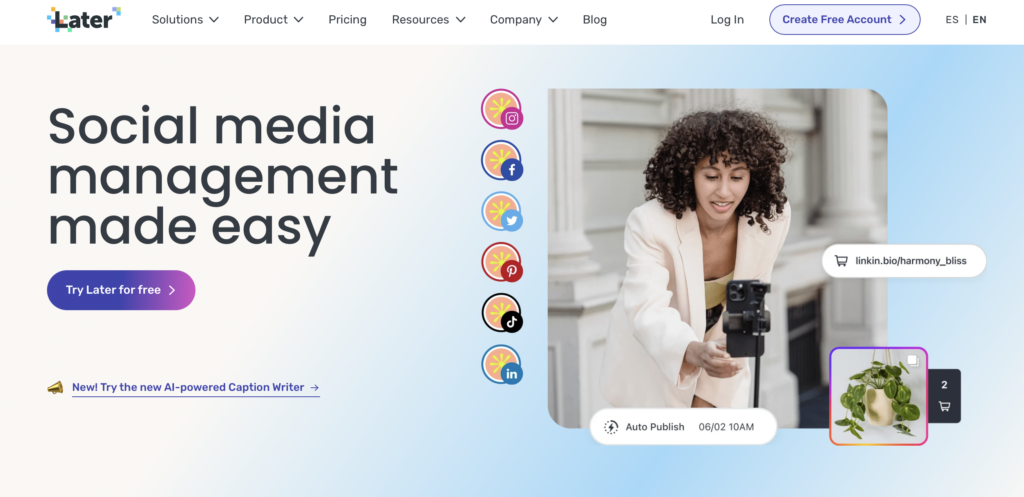 Later makes it especially easy to manage your TikTok account thanks to its drag and drop feature. With Later you can keep your content organized, create, edit, and schedule posts, create a custom TikTok bio that drives traffic to your website, online shop, or blog, and get useful insights about your content.
Thanks to Later's creative tools, you can also search and find unique brand content in seconds, organize and edit your media, and get on-brand user generated content.
Buffer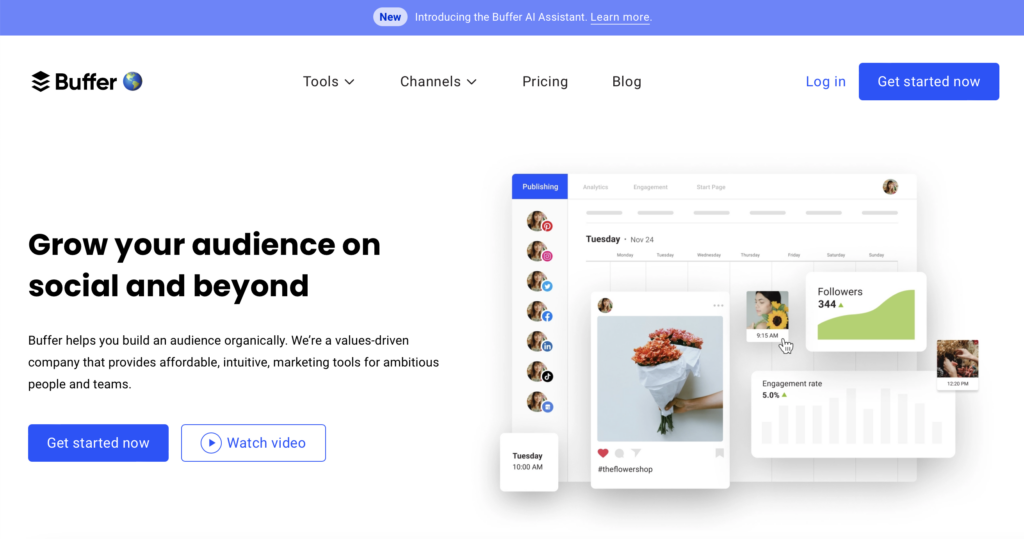 If you're looking for an easy solution to get started, Buffer can be a great option. It helps you schedule posts across multiple social media platforms, analyze social KPIs, and engage with your audience.
Buffer is considered one of the easiest-to-use social media automation tools on the market, which makes it a great choice for small businesses with simple marketing needs. However, Buffer does not auto publish TikTok posts yet. It only sends push notifications when the posting time comes.
HighSocial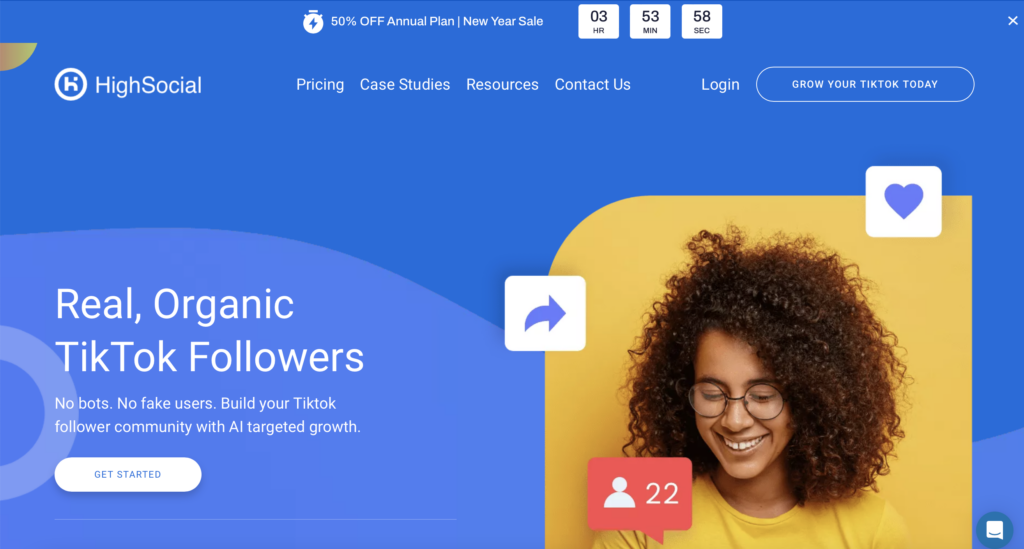 If you want to focus on getting your target audience's attention and growing your pool of followers, HighSocial is the right TikTok automation software for you. By inputting your audience's characteristics into it, HighSocial allows you to promote your content organically to your target audience, resulting in real, high quality, engaged TikTok followers.
NinjaTOK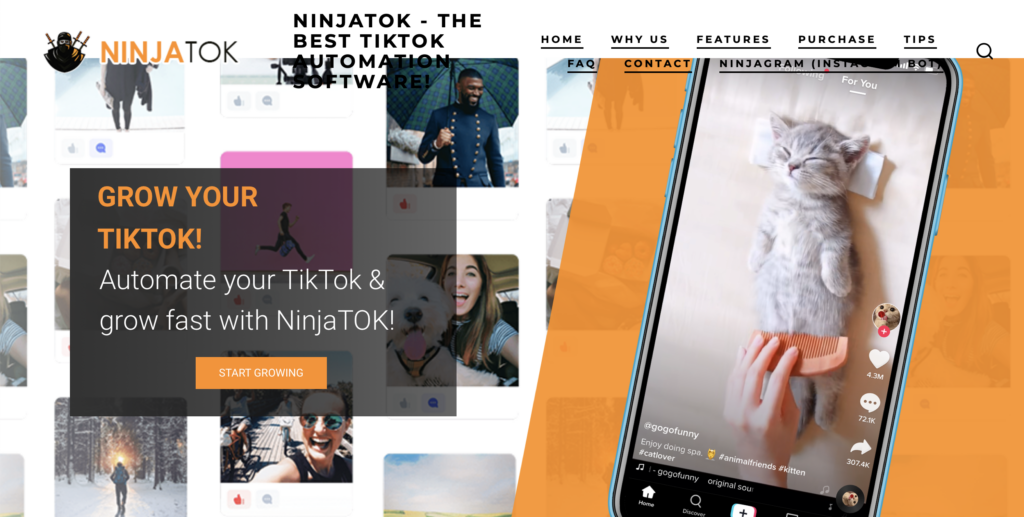 If high engagement is your goal, NinjaTOK is what you should look at. It lets you engage with your followers without lifting a finger by mass following targeted TikTok users from any tag search in TikTok or import from your own custom list, mass unfollowing users who do not meet your criteria, and mass liking thousands of finely targeted and filtered videos on TikTok with the click of a button.
Now that you've seen the best TikTok automation tools to help you schedule posts, generate content, and engage with your users, we want to introduce you to another automation solution, to help you automate your TikTok ad campaigns: LeadsBridge.
Automate your TikTok campaigns with LeadsBridge
With LeadsBridge, you can set up TikTok ads automation integrations that will help you streamline your workflows, eliminating manual repetitive tasks once and for all.
The way it works is really easy: you connect your TikTok account to – let's say – your CRM with a LeadsBridge integration. This way, all lead data collected with your TikTok ad campaigns will be moved to your CRM automatically and in real time, allowing you to reach out to your newly acquired leads as soon as they interact with your TikTok ad.
Thanks to LeadsBridge you can save time and resources by automating repetitive tasks and get a huge advantage over your competitors.
The best part? You can try our TikTok automation for free! Take a look at our most popular integrations for TikTok.
Final thoughts
When running social media campaigns – and especially on TikTok – wasting time on manual repetitive tasks is going to destroy your advertising strategy. Thankfully, the TikTok automation tools listed above offer great solutions to help you set your campaigns on autopilot while you focus on working on your leads with your offer.
LeadsBridge makes it even easier thanks to its automated integrations that help you build your own interconnected marketing ecosystem, where platforms share lead data in real time.
If you'd like to see how it works, schedule a free demo now!