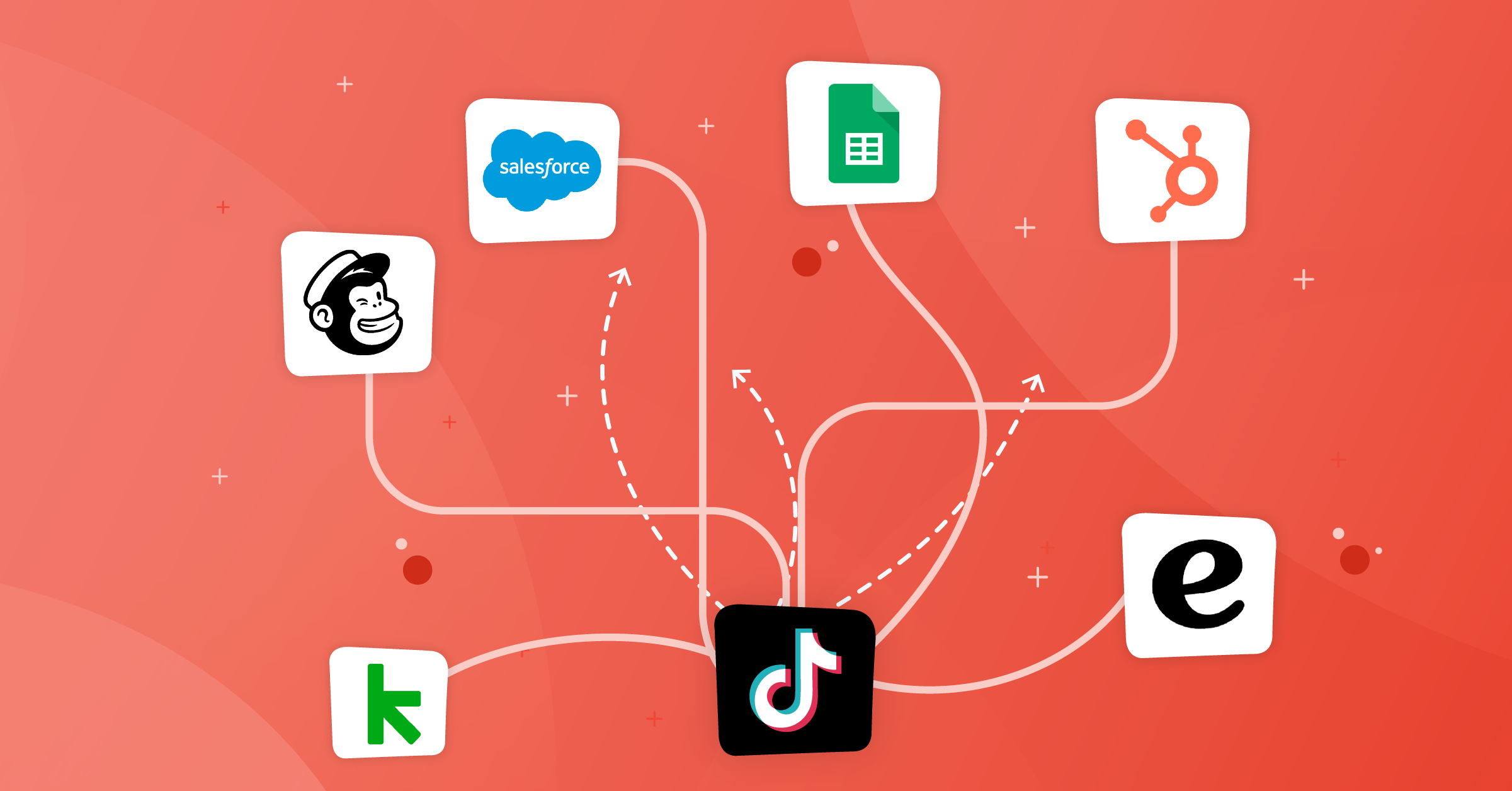 With a monthly usership of 1 billion people, Tiktok has fast become one of the most popular social platforms in the world.
Primarily focused on sharing short musical, tutorial and story-telling video content, this network has evolved into an advertising goliath that enables businesses to engage with prospective customers in an alternative way.
However, with 60% of users aged between 16-24, you may be questioning how your business can successfully advertise to the correct audience on TikTok and develop a strong lead generation strategy?
Throughout this article, we will take a deeper look into TikTok lead generation, uncover the benefits of this for your business and discover a range of TikTok integrations, available through LeadsBridge, that can enhance your strategy and drive the acquisition of qualified leads.
What is TikTok lead generation?
TikTok Lead generation is an advertising objective that can enable your business to engage users and acquire prospects on the TikTok platform.
Functioning in a similar fashion to Facebook Lead Ads, an instant form is presented to a user when they click the call to action button attached to the advertisement. From here, they can input their contact information, register their interest in your product/service and opt-in to receiving marketing communication from your brand.
This ad format offers a seamless interaction between your business and the user, as they are not required to switch between applications and landing pages in order to obtain status as a lead. This ease of use increases their willingness to enter your sales funnel.
Additionally, TikTok Lead Generation ads afford you the opportunity to curate fully customized messaging that can be tailored to suit a variety of your pre-defined audiences.
All lead data acquired from these instant forms can be automatically transferred to and activated within your CRM. Not only does this mean that you can save time on the manual input of data, but you can also eliminate the likelihood of errors in your transferral activity and decrease the instance of missed opportunities with lead interactions.
The value of using TikTok for lead generation
The use of TikTok for lead generation purposes can expose your business to a host of benefits, some of which stretch beyond the expansion of your customer base.
The following are amongst the most notable;
​Increased conversions
The instant forms embedded within this ad objective offer a faster loading time than that of a traditional landing page. This is imperative as conversion likelihood decreases by approximately 4.42% with each second of load time that passes from 0 to 5 seconds.
Additionally, these forms include fields pre-populated with available information taken from the user's profile. This refines the process of manually inputting data for the user and offers a more frictionless experience.
Considering that 86% of people will abandon a page when required to complete a form, these auto-filled fields can go a long way in decreasing a user's adverse reaction to this action.
​Customized messaging
TikTok Lead Generation allows you to create personalized messaging that you can tailor according to your target audience and predetermined segments.
According to SmarterHQ, 72% of consumers will only interact with marketing that has been personalized for them. Therefore, it is important to factor this preference into your communication strategy.
By doing this, you can offer content with a higher direct relevance to your audience.
Mobile-optimization
With an estimated 56% of all online sales being carried out from a mobile device over the past year, the necessity of mobile optimization has never been more pertinent.
With TikTok being predominantly used on mobile, carrying out lead generation activities on this platform gives you the unique opportunity to meet leads where they already hold a presence.
How to generate leads on TikTok
The unique selling point of using TikTok as a method of lead generation is that you can fully exploit the power of video content to grab and hold the attention of prospective customers.
This increased creative opportunity is highly beneficial, as 66% of consumers prefer to learn about a product/service through the medium of video.
Here are three TikTok lead generation best practices that you can employ to increase efficacy;
Clickable bio links
The addition of clickable bio links will enable your business to begin to drive traffic towards alternative locations, such as your external website or specific landing pages.
In order to prompt this action, you can integrate persuasive, direct CTA's in your post captions that clearly instruct users to take a specific course of action.
Links in your profile bio can alternatively be used to encourage subscriptions to newsletters or sign-ups to your mailing list.
Influencer marketing
Establishing partnerships with influencers has quickly become one of the most popular methods of lead generation used by brands the world over, boasting an 11% higher return on investment than other marketing channels.
61% of consumers trust the recommendations put forward by influencers, demonstrating how engaging in this marketing tactic with a personality relative to your niche can increase brand awareness, boost engagement and drive conversions.
Micro-influencers (those with a following between 1,000 – 25,000) are a more effective option in regard to brand partnerships, as they typically foster greater levels of trust amongst their loyal audience and offer greater engagement.
Trends
Brands that partake in viral trends on the TikTok platform have a prime opportunity to acquire greater views and higher levels of engagement.
Leveraging your content and adapting ideas to work with trending challenges and viral sounds can draw more eyes to your page than any other traditional marketing tactic, especially when bolstered with an informed hashtag strategy.
By doing this, your business can differentiate itself from others showcasing a more lighthearted, humorous perception of the brand. Given the nature of the platform, it is wise to adapt your content to the tone desired by its users.
How LeadsBridge can enhance your lead generation
As an official TikTok partner, LeadsBridge can facilitate the connection of TikTok Lead Generation with your entire marketing stack, all from directly within your Ads Manager account.
This streamlining of data sharing between your most used platforms enables you to optimize your campaign performance and track related results more effectively.
Connecting TikTok Lead Generation to your CRM, email marketing software and other advertising platforms through LeadsBridge allows you to eliminate tedious manual data transferral, enabling you to focus on instantly nurturing your prospects.
Our partnership status means that LeadsBridge has immediate access to direct support from TikTok, making our customers use of the platform as seamless as possible. Additionally, we have product solution engineers readily available to assist with any enquiries or roadblocks you may experience.
TikTok integrations available through LeadsBridge
LeadsBridge offers a wide range of TikTok integrations that can be employed to boost your lead generation activity by allowing for a more refined nurturing strategy and funnel tracking.
Let's take a look at the top five applications to help you achieve this;
Klaviyo TikTok integration
Klaviyo, a marketing automation platform with over 100,000 customers, is used by businesses to deliver personalized marketing campaigns, particularly with email and SMS marketing. With advanced segmentation capabilities and enhanced reporting and analytics features, you can view your gain a clearer understanding of your data and make improvements to your campaign that are based on valuable insights.
A TikTok Kaviyo integration can positively impact your business as you can;
Enable your business to improve the performance of your marketing campaigns by combining the data held in Klaviyo with the TikTok platform. This will give better insight into how campaigns are performing.
Automatically send a welcome email or trigger an email nurturing campaign through Klaviyo when a lead submits a form, ensuring that you do not miss the window of opportunity to create a relationship with a prospect.
Google Sheets TikTok integration
Google Sheets is a spreadsheet program that enables you to create spreadsheets online that can be used to organize and analyze information relevant to your business operations.
A TikTok Google Sheet integration can be beneficial for your business in the following ways;
Setting up a TikTok Google Sheets integration enables your business to streamline your marketing workflows.
You can transmit data at specified intervals between the two platforms, keeping your system automatically updated, so you can nurture your TikTok leads instantly.
By syncing your leads from TikTok Lead Generation into Google Sheets seamlessly, you avoid manual data transfers and repetitive workflows. This manual data handling is prone to error, while seamless data transfer is almost flawless every time.
Running immediate follow-ups with new leads means boosting your conversions significantly. Therefore, a TikTok and Google Sheets integration gives your team the opportunity to interact with leads instantly through automation.
Salesforce® TikTok integration
Salesforce®, a cloud based software, provides multifunctional customer relationship management solutions that consist of sales, marketing, service, experience, commerce and analytics applications.
By employing one of these Salesforce TikTok integrations, you can;
Offer a rich in-app experience through automated smart product feeds. This means that your business can get its product/service published on TikTok quickly and easily using an array of catalog-focused advertising solutions. This will sync pre-existing commerce cloud catalogs on the platform.
Easily analyze ad performance and optimize campaigns for improved product discovery through comprehensive personalization and ad conversion efficiency with TikTok Pixel. The advanced matching offered by Salesforce® also enables your brand to better match your TikTok ads and build audiences for retargeting.
Add and launch TikTok as a new sales channel within Salesforce® Commerce Cloud, meaning that you can enhance the customer journey with dynamic video and collection ads to target new audiences across various channels.
HubSpot TikTok integration
As a CRM platform, HubSpot helps businesses to connect marketing, content management, sales and customer service using a range of integrations, software and resources.
With a TikTok HubSpot integration, you can;
Establishing a data bridge between TikTok and HubSpot helps businesses prioritize personalized inbound marketing in order to attract, nurture and convert more leads.
A HubSpot TikTok integration enables you to automatically sync new lead data into HubSpot. Your team can then instantly contact these new leads, run nurturing campaigns and push them along the sales funnel toward conversion.
LeadsBridge's upcoming TikTok Custom Audiences and HubSpot integration will allow your business to connect audiences from different apps with TikTok, so that you can upgrade your TikTok ad targeting through automation.
TikTok Conversions lets advertisers share website visitor events from the audience segments directly to TikTok. Integrating this with HubSpot lets you define the mapping between the data segment in your CRM and sends it to TikTok.
Email Notification TikTok integration
Email Notification is an easy integration that allows you to receive an email with the lead details directly in your inbox, as soon as you collect data on your forms, landing pages or any alternative source.
An email notification TikTok integration allows you to;
Allows you to receive an email with the lead details directly in your inbox, as soon as you collect data on your forms, landing pages or whatever source you'd like to connect
With an Email Notifications TikTok lead generation integration, you can automatically send a nurturing email every time a respondent submits your instant form.
The Round Robin feature allows you to distribute sequential notifications evenly among the email addresses previously set up in the integration. You may want to insert multiple destination emails and route to them sequentially.
You can add the lead's information to the email subject by adding a simple shortcode allowing you to personalize the communication.
Additional TikTok integrations
Two additional TikTok integrations that can be advantageous for your business and cannot be overlooked are TikTok Conversions and TikTok Custom audiences.
TikTok Conversions
The TikTok Conversions integration is designed to drive the undertaking of specific actions by users, be it making a purchase, registering interest or subscribing to a mailing list.
By sharing website visitors events data with TikTok, your business can begin to display targeted ads to custom audiences and optimize your campaigns.
The benefits of using one of these TikTok integrations is that you can accurately define the mapping between your data source and TikTok and build a customized nurturing strategy around this.
TikTok Custom Audiences
Custom audiences is one of TikTok integrations that provides an ad targeting option that enables your business to discover users who have an existing knowledge of your brand and/or have engaged with you in some form on another platform.
This targeting objective is a powerful method of re-marketing, as you can reach potential repeat customers whilst simultaneously increasing your engagement with and curating lookalike audiences.
It is important to note that TikTok Custom Audiences requires a minimum audience size of 1,000 in order to target an ad group.
Key takeaways
TikTok has become so much more than an app used to create and share viral comedic, theatrical video content amongst friends. It has evolved and transformed into a formidable advertising vessel, used by businesses around the world to reach users, both new and existing, in a fresh way.
Now that you are aware of the value that this platform can offer, as well as how establishing TikTok integrations can positively impact your bottom line, you can begin to create your own strategy to reap the benefits.