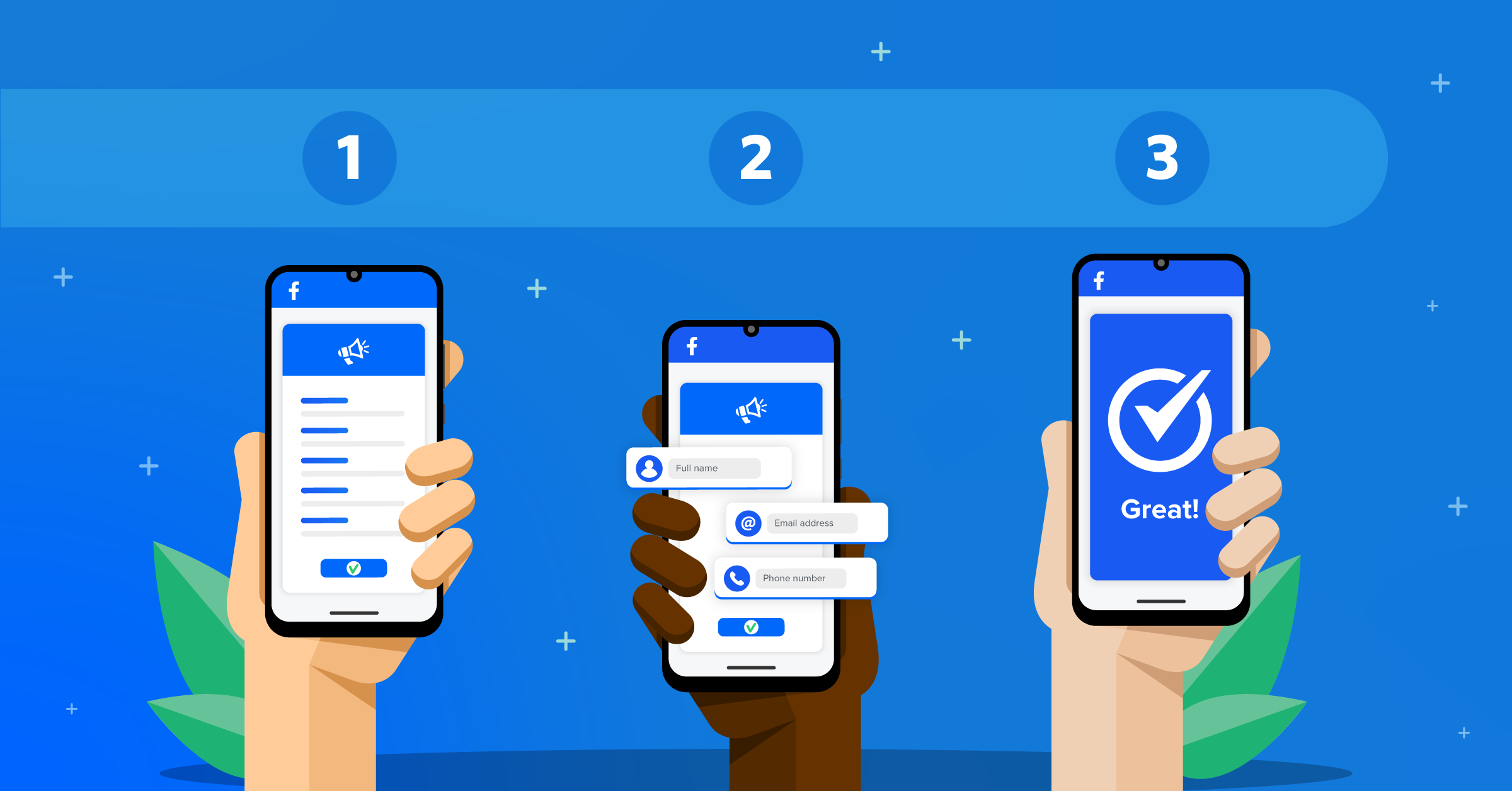 In 2015, the platform launched Facebook Lead Ads, a mobile-friendly lead generation tool, to maximize online conversion through mobile device ad display optimization. To leverage its full potential, all you have to do is to set up your Facebook Lead Ads campaign and use the best practices to manage your lead data.
In this article, we'll talk about advertising on Facebook using Lead Ads and how to run high-performing lead generation campaigns on the world's most popular social network. Additionally, we'll discuss a few tools and integrations that help you make the most out of your marketing efforts through automated data management.
How does Facebook Lead Ads work?
Facebook Lead Ads helps advertisers capitalize on their massive audience for better campaign conversion rates. This feature lets you collect leads at a lower price, gathering information from prospects through mobile and desktop ads.
Before this tool came along, the conversion of leads involved various steps, ultimately directing the user from the social media environment to an external landing page. Then, users had to interact with an additional call to action to provide their personal details.
This lengthy process often resulted in an unsuccessful conversion because users were unwilling to move from the social media marketing companies' platform they trusted to an unknown external environment.
Facebook Lead Ads was designed to address these issues; when a user clicks on the ad, a pop-up window appears inside the platform, which is already pre-populated with the user's data. In most cases, the user needs to confirm the data and submit it with only a few clicks.
Here's an example of Facebook Lead Ads from a real estate agent company, B. Holt & Partners Realty Group.
Image (A) shows the beginning of the ad. As soon as a Facebook user clicks on "Get deal now", it takes them to (B), where the form is automatically filled up with the user's information, such as their name and email address. They are only required to confirm the details or add a few details and click "Submit".
Once the form is submitted, it takes them to image (C) to agree to the terms and conditions. By clicking on the submit button, they are taken to (D), where the thank you page is displayed.
Why use Facebook Lead Ads for your campaigns
It reaches a massive and high-converting audience
With 2.96 billion monthly active users worldwide, Facebook is one of the largest social media networks and has much to offer to marketers.
Source: Statista.com
It is optimized for mobile.
According to studies, 98.5% of Facebook users access the platform through mobile phones or tablets. Facebook Lead Ads are optimized for mobile users, allowing you to reach out to more people who are likely to interact with your brand.
You can use ready templates such as the Adobe Facebook ad templates to design your ads. These ads also come with a pre-built version, best optimized for mobile interface but also compatible with desktop displays.
It reduces conversion friction.
The lead ads' interactive form can be filled out right on the platform. This eliminates the need to redirect users to your landing page and helps to increase your conversions. It also reduces costs since there is no need to create unique landing pages for each of your ads.
It offers precise targeting.
Facebook Lead Ads allow granular targeting by taking speculation out of the equation. By selecting your audience carefully and optimizing the configurations on Facebook Lead Ads, you can run campaigns that reach users who are likely to convert to customers in the long run.
It's cheaper than direct advertising.
Using Facebook Lead Ads can help save money on your advertising budget. Based on research, Facebook Lead Ads reduce the cost per quality lead significantly.
It helps increase brand awareness.
As the largest social media platform, Facebook is the right place to build your brand awareness. The platform's advertising features also make the whole process of creating your audiences and converting them into leads as easy as it can get.
It saves time.
When Facebook presented Lead Ads, they announced it as a tap-tap-done feature, and it literally is. While the users enjoy a straightforward and frictionless interaction with the ads they are interested in, advertisers benefit from easy form submission as well as streamlined lead acquisition and management.
It's a fully customizable tool.
When creating an ad campaign, it's possible to customize Facebook's instant form with different fields such as size, people, business, the field of study, etc. These configurations allow you to promote your product or service to a specific group of users while boosting your brand awareness.
Looking for campaign-worthy inspirations? Check out these high-performing Facebook Lead Ads examples.
How much does a Facebook lead generation campaign cost?
There are plenty of factors that affect how much a Facebook lead generation campaign could cost: your audience, relevance scores, and bidding strategies – to name a few.
Let's look at Facebook ads costs for 2022, which can help you outline ad costs in 2023.
Here are a few tips that can help you lower the overall cost of your Facebook ad campaigns:
Optimize your target audience as much as you can;
Improve your ad relevance metrics;
Keep yourself always updated on the latest bidding strategies.
Facebook Lead Ads vs. Conversion Ads
Facebook Lead Ads isn't the only advertising feature offered by the platform. Inside your Facebook Ad Manager, you can choose another type of ad objective: Conversion.
Many people usually confuse the two, but there are fundamental differences: While Facebook Lead Ads allow you to create a form and collect lead data without redirecting users to external pages, Conversion Ads direct people off of Facebook to a website or landing page in order to provide access to the offer the ad is promoting.
With Conversion Ads, you get to control the page users are going to and can add additional information to that page for them. However, you automatically add more steps to the user's path, which may result in users leaving the page.
Also, Facebook Lead Ads get much cheaper clicks than Conversion Ads and prove more effective than traditional landing pages.
Moreover, Meta just recently released a new delivery option for Lead Ads: Conversion Leads optimization. This new feature allows you to tell Meta which lead status you want to prioritize in your ad campaign, in order to focus on quality rather than volumes.
If you'd like to learn more about this new feature, read this article: A guide to Conversion Leads Optimization on Facebook.
To use Facebook conversion leads, businesses must implement Facebook's Conversions API (CAPI) to track conversions and send that data back to Facebook. This feature allows you to deliver personalized advertising experiences to your customers while maintaining data privacy. By working with a Facebook pixel, it tracks events such as leads, purchases, and subscriptions.
This feature offers several advantages that browser Pixel does not, such as overcoming network and loading time challenges. With LeadsBridge, you can easily integrate Conversions API with your CRM and streamline the entire process.
Can't see your favorite integration? Explore the complete list of integrations for Facebook Conversions API.
How to set up Facebook Lead Ads
Step 1: Setting up your campaign objective.
Go to the "Ads Manager". Once there, click on the green button "Create" and choose your campaign objective. Since you are using it to generate leads, select "Lead generation", then click "Continue".
Step 2: Naming your campaign.
Under the lead generation, type in your "Campaign name". You can also create an "A/B Test" and set "Campaign Budget Optimization", or select a "Special Ad Category" from the drop-down menu if it applies.
Step 3: Type in an "ad set name".
Select the "Lead method", and the Facebook page you want to use for the campaign. You can also switch on the "Dynamic creative" button.
Step 4: Configuring "Optimization & delivery" and "Budget & Schedule".
Step 5: Defining your Facebook Lead Ads audience.
If you have a curated list of your "Audience", you can select that; otherwise, you'll need to create a new one.
1. To add a new audience list, click on "Create new".
The custom audience includes users you already have details about, such as their names, email addresses, locations, etc.
First, you have to choose your "Custom Audience Source". In this example, we select "Website", but you have plenty of options (such as using a customer list, choosing a Meta source, etc.)
2. Then, you have to define a few parameters for your new Website's Custom Audience. Finally, click "Next".
Quick reminder: To choose your website's custom audience, you need to have the Facebook Pixel running on your website. Here's how you can set up Facebook Pixel for your website if you haven't already done so.
Creating custom audiences might be a little complex. If you want to know more, read this step-by-step guide to Facebook Custom Audiences.
Step 6: Selecting the ad "Placements".
This is where your ad will be displayed across all Facebook products, including Facebook Feed, Messenger, and Instagram.
LeadsBridge integrations help connect your CRM or autoresponder to Facebook Custom Audiences and pull data automatically from different sources and into Facebook to create your ideal audiences in no time.
Here are some of our most popular integrations for Facebook Custom Audiences:
Discover all the possible integrations available for Facebook Custom Audiences here.
After setting up your ad's Placement, click "Continue". This will take you to the final stage of your "ad creation". Follow these step-by-step instructions to complete your ad's design.
How to design your Facebook Lead Ad
Step 1: Choose an "Ad name". Under the "Identify" section, type in the "Facebook Page" you want to represent your business at the ad set level.
Step 2: Configure the "Ad setup".
Select the "Format". Available formats are: "Carousel" and "Single image or video". For this content, we will use a single image or video option.
Step 3: Set up your "Ad creatives".
In this section, you can include your creatives, such as the Media, Description, Headline, Call to Action, button label, etc. You can check the preview on the right side.
Step 4: Set up "Destination" and "Instant form".
This is the most important step in the ad creation process. It's time to design the lead form. Click on "Create form", and the form will pop up.
1. Add the "Create form" content.
You'll need to complete the following sections:
Form type: Customize your form depending on your lead generation campaign's goal. Choose between "More volume" or "Higher intent".
Intro: Select the image you want to show in your form background, as well as the "Headline".
Questions: Here, you can add "Custom questions" to your form (e.g. multiple-choice, short answer, conditional or appointment request).
Privacy: In this section, you can include a link to your company's "Privacy Policy" and add a "Custom Disclaimer" for privacy.
This step is important to help keep your advertising aligned with global customer privacy regulations such as GDPR and CCPA.
Learn more about compliant Facebook advertising and GDPR here.
Completion: Write a message to let your leads know what happens once they've completed the form. Choose a Call-to-action button and a description text, and add a link to the thank you page.
2. Configuring the "Create form" settings.
Here, you can set up your "Form configuration".
Field names: Edit how the field names appear when you export files.
Tracking parameters: Tracking parameters help you identify where your leads come from. These fields won't appear in the form, and only you'll be able to see them via API, Download, or configured CRM. Add a "Parameter name" and "Parameter value".
Read more about configuring tracking parameters below.
Finally, "Publish" your form and go to the final step.
Step 5: Set up "Tracking".
You can track CRM events, App events, or Offline events and optionally add a URL parameter.
Configuration of Facebook lead form tracking parameters
Facebook lead form tracking parameters are a new feature, recently released as a conversion tracking tool. You can use it to track the performance of your Facebook campaign through a unique code snippet. In practice, by configuring the tracking parameters, you can accurately monitor your lead acquisition.
Facebook includes tracking parameters in your interactive form to help you understand where your contacts are coming from and provide click information.
Here's how to configure them:
Create a lead capture ad in your Facebook Ads Manager.
Find the "Interactive form" section. Here, you'll need to use an existing form or create a new one.
Find the "Create Form" box and click "Settings".
Click on the "Tracking Parameters" section and then select the parameter you want to include. For example, to add a UTM source as a parameter, you'll need to type "utm_source" in the Parameter Name field and "Facebook" in the Parameter Value field. Remember that you cannot have two parameter names or values named the same thing.
Next, click on "Add Parameter" to add more parameters.
After adding your parameters, finish creating the interactive form to complete your lead ad.
Once your ad is approved, your ad form will contain tracking parameters. You can also test these insights before launching your ad, using the Lead Capture Ads Test Tool to build test leads.
How to edit your Facebook Lead Ads
You might want to edit your lead form for various reasons; change of strategy, results of A/B tests, etc. If the ad is only saved as a draft, all you have to do is go through the previous steps and make the changes you require.
However, it isn't really possible to edit an already published lead ads form. But you can duplicate an existing form, make the changes and then publish the new version.
Here's how to do that:
Step 1: Go to your "Ads Manager" and create a new ad; select "Lead generation" as the objective_ as shown in the above instructions.
Step 2: Add your ad's creatives, including text and images, to your ad.
Step 3: Under the Ad content section, find the Lead forms. Click on the lead form you want to copy and then click Duplicate.
In the image above, we've changed the media for our Facebook Ad.
Step 4: Give your form a new name and make other edits if necessary.
Step 5: Review the ad as usual, and click Finish Form.
Congratulations! You are done editing your Facebook Lead Ads.
Best ways to optimize your Facebook Ads
The better Facebook ads optimization, the higher your conversion rates. However, you'll need a precise strategy and a dynamic approach to achieve this. Some well-known practices include keeping all your ads mobile-optimized and incorporating conversion and behavior-tracking data into your Lead Ads strategy.
In addition, other ways to optimize Facebook ads include:
Set clear goals: Any high-performing ad campaign is supported by a clear goal depiction. Define your objectives and goals, such as increasing brand awareness, generating leads, or driving sales, and strategize around them.
Target your audience granularly: Facebook offers several targeting options to reach the right people based on their interests, demographics, behaviors, etc. Check out these target audience examples you can use for your campaigns.
Use engaging visuals: Modern audiences expect eye-catching, high-quality, and relevant ad visuals.
Ad copy and CTAs: Your ad's copy should be concise, persuasive, and include a clear call-to-action. A good copy offers a relevant, helpful, and problem-solving proposition rather than just being salesy. Learn more about all the contents and anatomy of a Facebook ad here.
Monitor your campaign's frequency: No one likes to see the same ad over and over. Keep track of how many times your ad is shown to the same person to avoid ad fatigue. You can find this information in the Meta Ads section under delivery status.
Test and iterate: When it comes to advertising, testing is your friend. Try out different ad formats, targeting options, visuals, and copy to find what works best for your audience. Measure your campaign's performance and adjust the factors involved accordingly.
Facebook Lead Ads testing tool
The Facebook Lead Ads testing tool allows you to test your lead generation form's functionality, before making it go live on the platform.
With the Facebook Lead Ads testing tool, you can make sure your ad is going to perform well with your users and make the required adjustments and optimization if necessary.
If you'd like to learn more about how the Facebook Lead Ads testing tool works, you can take a look at this article: How to use the Facebook Lead Ads Testing Tool via LeadsBridge.
Facebook Lead Ads integrations with LeadsBridge
The leads you will collect through your created campaign will be stored on your Facebook page, and all the contact details can be downloaded in a CSV format.
If managing these tasks manually, it is difficult to email, send an SMS, or call as soon as the new lead comes in. 74% of consumers expect to receive an email immediately after subscribing to a service, and companies that contact a lead within the first hour are seven times more likely to qualify a lead.
This just shows how the lack of automation can reduce the effectiveness of your marketing efforts. However, there are different tools that can help solve this issue.
Meta introduced a new feature called Business Apps under the Meta Business Suite. LeadsBridge offers over 100 Business Suite integrations, grouped into three categories:
Measurement and optimization (conversions)
Lead Ads
Ads targeting
LeadsBridge was the first company presented by Meta in the Meta Business Apps as its official partner for integrating Facebook Lead Ads. Our integration solutions help manage the leads you have just obtained from your ad campaign, importing all the acquired contact details into your favorite customer management tool and email software. With this in place, you can quickly contact them through email or SMS as soon as they come in.
These bridges are used to move leads across platforms automatically and for free. The Freemium plan allows advertisers to run one bridge at a time and sync 50 leads per month. The free tire was designed to offer a first-hand experience and let you experiment with your ad campaigns without worrying about additional costs.
Learn more about our Free Forever Plan here.
How to automate Facebook leads for better conversions
Once you've generated leads through your Facebook Lead Ads campaigns, you'll need to manage them. You can either manually download leads and upload them to your CRM tool, or take the shortcut by using LeadsBridge automation integrations. Here's how to automate Facebook leads to win over the competition.
Send lead information directly to the CRM
By syncing your leads data automatically into your CRM, you and your sales team can access these data in real time. Besides being able to deliver an appropriate follow-up response to each lead, you can also track the lead through the sales funnel and nurture them accordingly.
Getting automatic and customized notifications
It is important to get in touch with users right when they are most interested and engaged with your offering. You'll need to reach out to them before they start looking elsewhere.
Discover how to send Facebook leads to email for Free.
Automatic lead nurturing emails
You can connect your lead ads with your favorite autoresponder platform to send automated lead nurturing emails, such as a welcome series. This allows you to easily offer lead magnets along with these emails, such as an ebook or a coupon code.
Learn all you need to know about running automated email campaigns here.
Offering custom deals
Creating custom deals and packages for your leads is a strong marketing technique that can increase your conversion rates.
Automation allows you to track these promotional deals when a new lead comes from Facebook Lead Ads so you can measure and optimize the driving conversion factors.
Facebook Lead Ads strategies & best practices
Here are a few Facebook Lead Ads best practices to help you improve and optimize your lead generation forms for better results.
Create Lookalike Audiences from real customers and not prospects
One of Facebook's targeting options is Facebook Lookalike Audiences, which is valuable to target an audience with interests and demographics similar to your current customers. The best approach when using Lookalike Audiences is to avoid creating a Lookalike Audience from prospects. This way, you will have a more extensive list of less qualified leads and, consequently, a lower targeting accuracy.
But when you create a Lookalike Audience from those who have already converted to customers, you are building a true profile of your ideal customer.
Create an attractive copy for your ad
The ad copy determines whether your audience clicks the CTA on your ad or not, and therefore, also the success or the failure of your ad. Don't use the same text you have on an old ad campaign for a new lead campaign. Craft and test new copies each time you want to create a new ad. Write a copy that will inspire, excite, entertain, and persuade your audience to take action.
Use custom questions
When creating your lead ad form, you can choose between two different kinds of questions: Prefill and Custom questions.
Prefill questions include standard info, such as Name, Email, and Phone number, that Facebook will automatically fill out after gathering it from the user's account.
On the other hand, Custom questions include four options:
Short answer
Multiple choice
Conditional
Appointment scheduling
Choose whichever option best fits your business: you are free to craft the questions as you wish. A granular approach to targeting allows you to better qualify your leads while users get to engage with your ad a little more.
Use fewer fields in your forms
Use relevant but limited fields in your Facebook Lead Ads form. When you increase the field, users will probably not complete it. The fewer, the better. However, ensure it contains the real information you need for your business. So, how many fields or questions should you add to your lead ad forms? Adespresso carried out a survey on lead ads performances vs. questions and came up with the table below.
According to the data presented above, your questions or fields should not be more than three. Of course, it can be less, but not more.
Don't target the same audience with different lead ads campaigns
Creating different Leads Ads targeted at the same audience will decrease the campaign's performance_ even if you're trying to test different ad ideas on your audience. Facebook has several users, and with targeting, you can niche down to the audience that will most likely convert.
Know the right time to display your lead ads
With Facebook Lead Ads, you can schedule your ads precisely when you know your audience is active. If you see an increase in your users' participation in your ads, you can increase your bids. But if they are not interacting with it, then scale back on the ad.
Create a transparent offer
Let your audiences know what they will get by signing up for your offer. Also, inform them about what you will do with their emails in the future. You can disclose this in the privacy policy section.
Facebook Lead Ads and GDPR
With the changing landscape of privacy regulations such as GDPR and CCPA, marketers need to know exactly how to keep advertising safe on Facebook.
However, complying with the GDPR best practices doesn't mean limiting your marketing efforts. In fact, it could be a helping factor since it helps you connect only with genuinely interested leads.
When it comes to Facebook Lead Ads, to successfully comply with the GDPR, advertisers only need to get users' permission to use their information and be transparent about how they will use it.
In the case of Facebook Lead Ads, as a company, you must link to your privacy policy in the ad to collect consent prior to using the data. You can also create a specific field in your instant form, either mandatory or optional, to ask for the user's consent (read more about it here).
Moreover, your Facebook Lead Ads must not violate Facebook's Community Standards. For example, your ads cannot be used for targeting minors or promoting inappropriate, discriminatory, and adult content.
You can use Facebook Lead Ads to collect different information from potential leads anywhere in your sales funnel. It is also suitable for different industries, such as retail or e-commerce businesses, to offer deals, coupons, and offers.
The effectiveness of Facebook Lead Ads has made it one of the most powerful tools for building high-converting lead generation campaigns. Discover more about Facebook Lead Ads for real estate here.
Final thoughts
The best way to understand Facebook advertising is to get started and try different methods. Use this step-by-step guide to setting up and design high-performing campaigns.
Facebook Lead Ads is a robust tool to generate valuable leads for your business. And to get the best out of your campaign, automate the data management processes between your marketing tools and Facebook through LeadsBridge integration.
Discover all the possible Facebook Lead Ads integrations here.