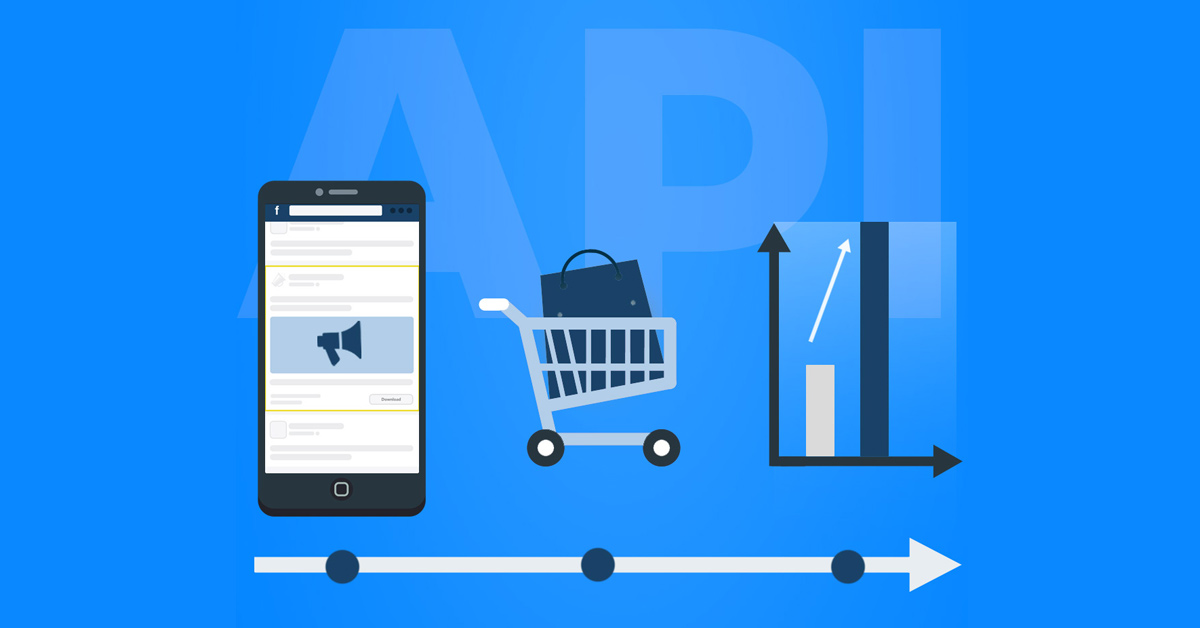 The world of advertising nowadays relies completely on data. Most often, this data comes from browsers. This can be a massive issue for users with connectivity issues. And, as we've talked about before, the industry is moving away from cookie-based server tracking.
In order to fully understand audiences, companies need to dig deep into their funnels in order to get a good grasp on the customer's journey and optimize their ad experience. That all sounds great, but how is it done?
Since cookies are no longer the cornerstone of online advertising, how do we stop privacy implications from blocking data collection with cookies and pixels? With the development of Intelligent Ad Tracking Prevention (ITP) systems, we've seen trends in the past few years where browsers are phasing out third-party data entirely.
The answer to these questions is Facebook Conversions API (formerly known as Server-Side API), and today we're going to talk all about it.
What is Facebook's Conversion API?
As stated just above, Facebook Conversion API used to be known as Facebook Server-Side API. It's designed to help businesses maintain data privacy all while delivering personalized advertising experiences to customers and audiences. This is all done without having to rely on browser based tools like cookies.
Facebook's Conversions API is thorough and provides businesses with a wealth of helpful tools and insights. Here is what it provides:
Full funnel visibility

: Conversions API offers businesses the ability to share exactly the data they want to, and nothing else. This is more than what

Facebook Pixel

alone currently offers. That being said, combining both Pixel and Conversions API means full-funnel visibility.
Pixel alone offers insight into actions that occur on-website. These actions could be something like a page view or a purchase. When combined with the Conversions API, you truly get the full picture of the customer journey. Actions like off-website purchases and whether or not a customer continues to use their free trial and then converts are now tracked.
Accurate data sharing

: Sharing data through Conversions API is more accurate than any other method in the mid-funnel and lower funnel. Businesses don't have to worry about any data getting lost due to a browser crash or an ad blocker.

Data contro

l: Conversions API gives businesses control over what data they share. This means that businesses can implement the Conversions API in addition to Pixel and decide what to share and when to share it. By contrast, Pixel sends all events in real-time.
Instead of sharing data with the browser, Facebook Conversions API companies can share the data that matters with Facebook through their server. This means that if a customer uses a privacy tool for non-Facebook Activity, their actions will be extended to data sent through the Conversions API.
Server-side API Facebook
Server-side APIs are programmatic interfaces that contain at least one publicly open endpoint to a request/response system. For the most part, these are expressed in JSON or XML. These are exposed through the web, usually by the means of a HTTP web server.
Of course, as we mentioned briefly above, the Server-side API from Facebook is no longer called such. Instead, it is completely referred to as Conversions API.
Conversions API Facebook
Facebook itself encourages advertisers across the board to implement the Conversions API in addition to Pixel for optimal full-funnel tracking and data sharing that is much more reliable. This way, advertisers can transmit a larger array of data in order to back their advertising efforts. With the implementation of Conversions API, data such as CRM data/lower funnel events can be captured. This is more than Pixel can offer alone.
Companies with high security needs can use Conversions API to decide the data that they want to share. Implementing the Conversions API will require some development resourcing, but a network of partners that are certified through Facebook or your own existing system integrator/marketing platform provider can help in the implementation.
What is the API and Conversion process?
This is all very technical, but it's not as difficult to understand when it's laid out in a step-by-step process. Here's a quick rundown of how Facebook Conversions API works:
First, the customer enters the website.
The website has to have Facebook Pixel. Facebook Pixel documents user data in cookies (which is 1st party).
The server will save user information in the same way that it saves IP addresses, user-agents, Google Analytics client_id, and other parameters.
When the user (with their saved user data) triggers an event, the server will make a request that contains information about said event and said user to the Facebook server.
Facebook Conversions API is very intuitive, but it doesn't take much know-how in order to set it up. In fact, all you really need is:
Facebook Business Manager

(This is a must, as you cannot use Facebook Conversions API without it).

Set up a Facebook Pixel

with your website. It's important to note that it should be correlated with Business Manager.

A Facebook App

. This is an app for working with Facebook Conversions API and it?s combined with Business Manager.
What conversions can be tracked with the Conversions API?
With all this talk of event tracking, it's important to note what type of events are tracked through the Conversions API. Here are the events that can be tracked:
Leads
Affiliate payments
Find locations
Phone calls
Form submissions
Purchases
Email subscriptions
Subscription changes
Facebook's Conversions API has a unique set of benefits that browser Pixel simply does not. Some of these benefits include a better overview of omnichannel customer journeys. This is done by conquering things that used to be challenging for event tracking. These overcoming challenges include:
Bad network connections
Long loading times for pages
Ad blockers
Possibly the best benefit of the Facebook Conversions API is that you can control the data that is shared with Facebook servers. This gives you the ability to track offline conversions like in-person purchases and sales made over phone calls.
With the Conversions API, you can send offline events? data directly to Facebook.
Why use LeadsBridge as a Facebook partner
This is a great point to think about. Many companies have the option to develop CAPI technology in-house, but is that the best solution?
The answer is no, for several reasons that companies need to address to get the most out of this technology, for example:
Having a deep understanding of CAPI
Quickly develop the necessary integrations and keep them up to date
Properly manage complex data while avoiding leaks
So how can companies use this technology without encountering the problems listed above? Simple, they need to use an FMP like LeadsBridge.
LeadsBridge is an FMP-Facebook Marketing Partner, which is a Facebook-approved App for API management and maintenance. Therefore, by using our platform for CAPI technology, customers will always have up-to-date and functional integrations (usually, Facebook updates its APIs every 2 or 3 months).
Technical Support & Integration Maintenance, during the onboarding phase, our team will talk to the customers' tech-team to understand the most efficient and least expensive way to retrieve data from their data warehouse and keep the data up-to-date with Facebook SS-API.
Like all data partners, Leadsbridge can troubleshoot technical issues for the Side-Side program along with the length of service; plus if over time your team needs to update the integration and add more data, our Solution Specialist will guide you using our UI or talk to your tech team to understand how we can retrieve more data.
As a Facebook Marketing Partner, LeadsBridge offers the ability to develop integrations that are tailor-made for businesses. With prior iPaas experience boasting the development of 370+ different "out-of-the-box" platforms and 400+ "custom" integrations, the average development time required for these types of integrations is 2-6 weeks.
This allows companies to decrease the "time-to-market significantly". Once integrated with LeadsBridge, you will be able to send your data to any other platform (e.g. Facebook, Google, BI tools).
Integrations available for Facebook Conversions API
In order to get the most out of Facebook Conversions API, you're going to want to integrate it with your favorite CRM. Through LeadsBridge, those integrations are possible.
Of course, these are just a few examples of integrations for Facebook Conversions API with LeadsBridge. The list is always up-to-date.
If you'd like to learn more about integrations for Facebook Conversions API with LeadsBridge, feel free to contact us, or click the link.
How the cookie-less world will impact advertising: FAQs from the latest LeadsBridge's webinar on Facebook CAPI
In April of 2021, we held a webinar with Facebook to talk about how a cookie-less world will impact advertising and how cookie-less targeting will be possible in the future. We were very excited to be joined by Emily Wilson, who is a product manager at Facebook. She gave us some amazing insight into the cookie-less targeting situation on Facebook's side and even answered some great questions proposed by the audience.
With the help of LeadsBridge's own VP of Sales, Leonardo De Stefanis, we answered dozens of questions, some of which we want to display here today.
Q: Is there a specific date when cookies will no longer be as effective?
A: There isn't an exact date being proposed just yet. The bottom line is that Google Chrome, probably the most used browser in the world, will soon stop supporting third-party cookies. Rumors say that this will happen before 2022, but we don't have an actual date yet.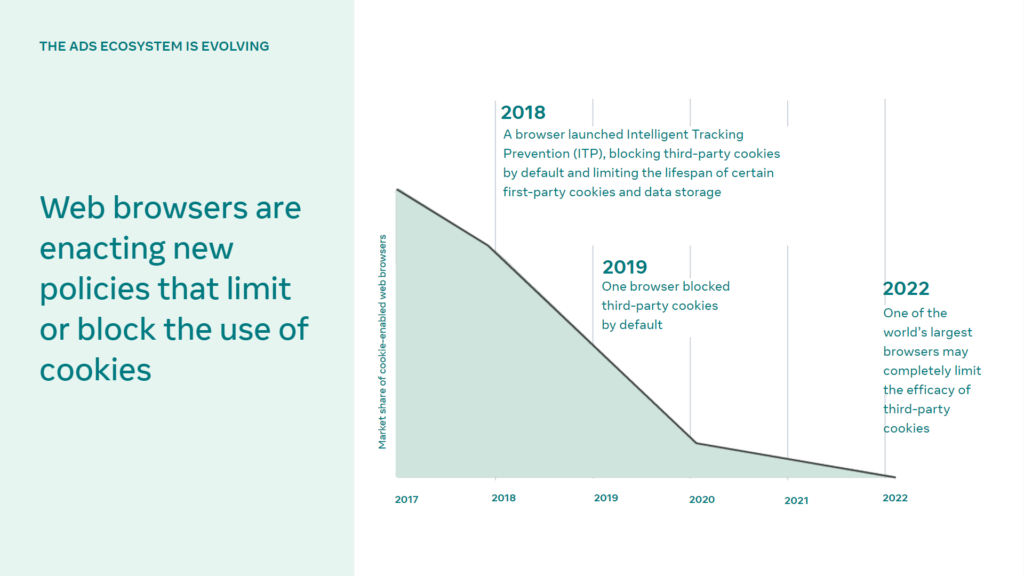 Q: Is Conversions API and Offline conversions part of the same thing?
A: Facebook Conversions API and Facebook Offline Conversions API are both products supported by LeadsBridge. Both products allow you to track and measure offline activity, with a few technical distinctions. For instance, Facebook OC API allows you to upload conversion activity within 62 days of the conversion, while CAPI only has a 7-day conversion window. The data measured by Facebook OC API is gathered in a container called offline event-set, while data measured by Facebook CAPI is gathered in the Facebook Pixel.
Q: Does the conversions API bypass the CMP (Cookie management Platform), especially for remarketing in regards to user consent?
A: Facebook CAPI helps to increase the quality of the conversions you track online or offline by using a server connection. For instance, as a cookie-less solution, it allows you to fetch data directly from your CRM. Yet, it is important to clarify that Facebook Conversions API does not bypass governmental legislations about remarketing in regards to user consent management. In other words, you still need to gather user consent when storing user information for marketing purposes.
Q: Where does the end-user opt in get recorded, on the website during opt-in or on Facebook?
A: The user opt-in is recorded on your website. That consent is then passed to Facebook when uploading conversion activity via Facebook Conversions API. If the user then opts out, a new event is fired with this information – consequently removing it from the audience.
Q: How do the new IOS14 changes affect things? Will the use of the API to send conversion info go around the IOS restrictions or will it respect it?
A: When CAPI is purely used to track offline activity with lower-funnel events (e.g. Purchase), iOS 14 restrictions will not be taken into consideration as such activity doesn't come from any specific OS.
When CAPI is used together with the Pixel to measure online activity, especially in regards to higher-funnel events (e.g. Add To Cart), however, we recommend following Facebook's guidelines.
We've extensively covered Facebook Pixel and iOS14 and the impact it could make on the marketing world in a previous blog post. Be sure to check that out to learn more.
Q: Are there any resources that explain the difference between how cookies collect data vs how the API collects data and how the API would be better?
A: In short: What cookie-based data alone is able to collect is strictly dependant on end-user browser preferences – particularly for what concerns ad-blocking extensions. CAPI sends server events instead, bypassing these limitations. This Blueprint training is a pretty good resource for more information.
Q: What kind of impact will this have on Lead Generation campaigns on Facebook with that data collection happening on the Facebook platform?
A: No impact at all for the foreseeable future. Once the beta for Lead Ads Quality (a "new" Facebook Marketing product) will roll out, we'll see.
Q: Is Conversion API integration easy to implement if we have access to the website backend? We have access to the CRM tools, but what integration is done within the CRM tool as we are already sending leads to the CRM anyways?
A: Yes, if you have access to the website backend Facebook Conversions API is fairly easy to implement! You can choose to integrate either with the CRM or directly with the website back end. In both cases, LeadsBridge could help you out.
Want to learn more about automating Facebook CAPI? Check out this resource about setting it up through LeadsBridge.
These are just a few of the many incredible questions that we answered during that webinar. By the end of it, it was clear that Facebook was on top of things and working diligently to make cookie-less targeting mainstream, all while dealing with consent management and abiding by data privacy laws.
Any questions? We're always here to help. Contact us by filling out this short form, and we'd be happy to assist.
Conclusions and takeaways
In conclusion, Conversions API is a great tool for advertisers. It's used by advertisers around the world in order to gain better insight into the customer's funnel journey, and customize their ad experience in order to achieve better results.
All of this unique ad experience is done while maintaining data privacy. Data privacy is a massive deal in advertising since cookies and browser-based tracking are dying off fast, especially in the mid and lower funnel, where customers share important and personal data.
Businesses are looking more into 1st-party data that they have within their CRMs and other assets in order to create campaigns that make more of an impact. That being said, not being able to use cookies can result in some problems. It affects retargeting, tracking conversions, business intelligence systems, and a lot more.
The best solution to this problem is connecting 1st-party data directly to the advertising platform. Using Conversions API allows you to push data directly to Facebook, thus avoiding using cookies entirely, and making your campaigns that much more effective.
To top it all off, by using LeadsBridge, you can automate the process. Connecting Facebook Conversions API to your CRM means that data is getting pushed to the platform and the results are being recorded properly. If you'd like to test our platform out for yourself, then sign up for a free 7-day trial today.