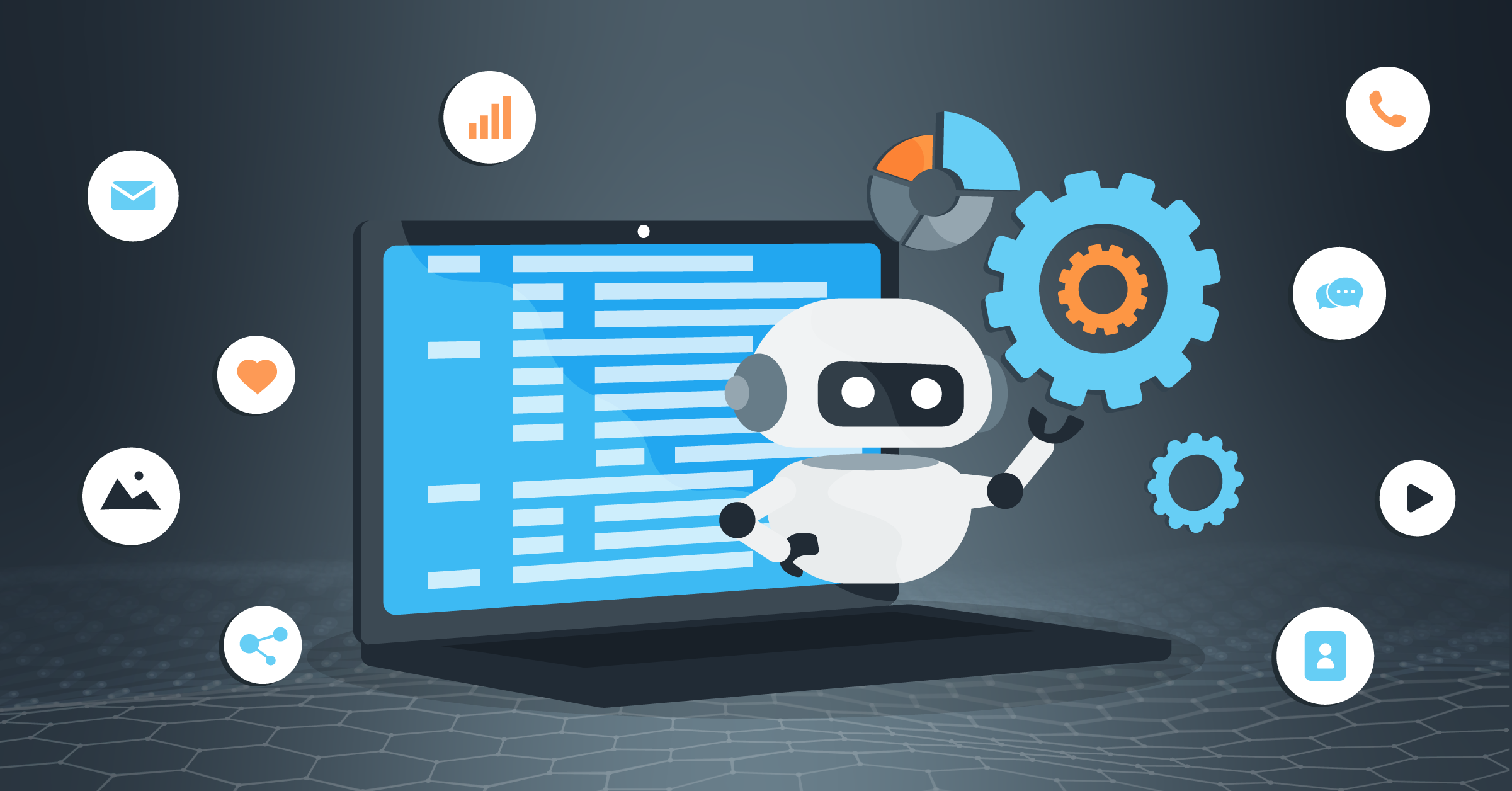 There are lots of moving parts involved in running a small business. If you spend hours every day manually moving information around and carrying out repetitive tasks, you're not alone – but there's an easier way.
You probably didn't build a business to spend every minute of every day doing mundane tasks over and over again. It's time-consuming, and it stops you from doing the big tasks that actually move you forward.
So what's the solution? Automation.
Marketing automation for small businesses improves your workflow and lets you get back to doing the things you love (and are best at).
LeadsBridge is an automation solution that allows you to do exactly that: Automate your marketing & advertising workflows so that you can focus on getting your newly acquired leads through the funnel as soon as they interact with your business.
Thanks to ready-made and custom-made integrations, LeadsBridge allows you to move lead data from a source into a destination of choice automatically and in real time, while always maintaining CCPA & GDPR compliance. Here below you can find some of our most popular integrations for small businesses.
If you'd like to look for a specific integration, you can do so yourself simply by typing your desired source and destination with our bridge builder tool.
Keep reading to learn a few marketing automation ideas that can help you optimize your activities.
Why marketing automation for small business is essential
If you're still asking yourself "Do I need marketing automation?", consider this.
Marketing automation for small businesses can:
Increase productivity by allowing you to focus on the activities you enjoy and that enhance your business;
Generate more revenue by streamlining processes and making them easier to scale;
Improve customer retention through automated communication that keeps the relationship going;
Track and measure your efforts so you know what's working and what's not.
In this Forbes article, Chad Otar says that: "Automation, like many technologies cutting across industries, can increase efficiency exponentially by cutting time to do mundane tasks at a faster rate. However, this does not mean automation can increase all types of productivity. The technology works best when it is deployed for tedious and repetitive tasks."
But where do you even start? We've compiled a list of some of the best marketing automation ideas for small businesses.
What can marketing automation do for professional services?
There is a common misconception that leads us to believe that automation is only reserved for large companies and businesses. This couldn't be farther from the truth. Marketing automation helps marketers improve efficiency and optimize workflows regardless of the size of the company they work for.
So, who needs marketing automation? Every marketer who wants to make the best of their time, money, and effort.
Just not every marketer needs the same kind of automation.
The key to understanding which kind of automation works best for you is to start easy and keep it simple. Generally speaking, there are 4 key ways in which you can use marketing automation for professional services:
Reactive automation: This type of automation reacts to leads' engagement activity and registered preferences to distribute the content data shows they will like the most. This is a preference-based content alert where leads have the power to choose the frequency of communication, which gives them a highly personalized update on your valuable content.
2. Sequence automation: This automation type allows marketers to build sequences of communications (or workflows) with an intelligent logic, that provides a seamless engagement experience. The best part is that usually, once you've created your workflows, you can create new ones just by copying the templates you already have, so it's a job you're never – or very rarely – starting from scratch.
3. Action triggers: This kind of automation revolves around getting rid of manual, repetitive activities, and making sure that the right leads are receiving the right content at the right time. An example of this automation is a web download form – when a lead fills out a form on your website to download an ebook, action triggers can send them an automated welcome email with the desired content attached. Moreover, automation can send an internal notification to inform the marketing team of a new download.
You can use LeadsBridge to connect your email marketing software with the rest of your marketing stack. Here are a few of our most popular integrations with email software.
4. Data synchronization: if you are using CRM effectively, it's critical to view this database as your most valuable source of truth. And keeping it in check and always updated is just as critical. In order to do that, you can leverage data synchronization. A software like LeadsBridge, for example, can help you connect your CRM with the rest of your marketing stack, so that lead data is always shared across platforms automatically and in real time.
Below you can find a few of our most popular CRM integrations.
If you'd like to take a look at all of our integrations for CRMs, click here.
Small business automation: How do you get started?
Looking forward to automating your small business? Find some marketing automation ideas below.
1. Sync leads to your CRM with business automation software
You've been there: a lead has reached out, but you forgot to add them to your CRM right away, and so now they've disappeared into the ether.
If this continuously happens, you can end up losing a lot of business opportunities, and it can make your lead generation efforts a real drag.
Marketing automation is a great way to help you generate more leads: 80% of marketers saw an increase in the number of leads after using marketing automation software. But, if you've got a lot of leads coming in from different sources and a small or non-existent sales team, it can be difficult to keep up.
To avoid this, you can use marketing automation software for a small business that can help you sync new leads directly into your CRM. Look no further than LeadsBridge! You can easily sync leads from web forms and advertising platforms (Facebook, Google, LinkedIn, TikTok), straight to your entire marketing stack.
This way, you'll be able to interact with your leads right away, as soon as they reach out to you, and make the best of all your business opportunities.
2. Schedule social media posts
Let's face it: social media can be extremely time-consuming.
Planning out what you're going to post on each platform every day of the week isn't a quick or easy task, and it's hard not to get pulled into endless scrolling.
Luckily, it's easy to automate your posts with social media marketing automation for small businesses. This means you don't have to take breaks from other work to post at the right time. Instead, you can just bulk upload your social content and schedule it to share on autopilot to consistently drip leads to your site.
3. Engage and nurture leads with an email campaign workflow
Not everyone is ready to buy straight away. In fact, it has become increasingly important for the consumer to gather information about a product, business, or service before spending any money on it. In 2021, nearly 70% of online shoppers typically read between 1 and 6 customer reviews before making a purchasing decision. Less than 1 in 10 shoppers did not have a habit of reading customer reviews before buying.
This is why you need to keep nurturing your leads until they're ready to buy from you. Once you've captured lead information, you can automate email campaign workflows filled with engaging content and powerful call-to-actions (CTAs) that continue to nurture potential leads and drive them towards a sale. This is one of the best marketing automation ideas to implement your conversion rates.
You only have to set up the email sequence once, but it can be delivered to thousands of leads at scale through an email campaign workflow. On average, companies that excel at lead nurturing generate 50% more sales-ready leads at a 33% lower cost – it's a win-win situation.
Below are our most popular integrations with email marketing software.
4. Personalize communication with customers
Consumers today crave personalized experiences. It enhances their experience and shortens the sales cycle. In fact, 80% of consumers are more likely to buy from a company that provides a tailored experience, and 63% of consumers won't buy from brands that have poor personalization.
Use marketing automation for small businesses to send leads relevant product or service recommendations, target ads to their specific needs, and send demos or guides that match their pain points. With LeadsBridge, you can build target audiences from your CRM lists to create targeted ads on top advertising platforms, designed specifically for your customers' wants and needs.
Music production school HyperBits did exactly this. They used LeadsBridge to target leads from their CRM with social ads directed to a lead magnet. Doing so increased their ROI by 225%.
Here are our most popular integrations for Audience Targeting.
if you'd like to look for an integration with TikTok Custom Audiences, you can do so by typing in your desired source. We are currently working on integrating with TikTok Custom Audiences and will release the integration soon. Join the waiting list if you don't want to miss it!
5. Onboard new customers
Onboarding new customers can take up a lot of time. It can involve a personalized demo, sending relevant resources, and making sure they get settled into your product or services okay.
Instead of manually running each new client or customer through your onboarding process (which takes time and effort), use email marketing automation for small businesses to create workflows that share relevant information. Email campaigns that "drip" out relevant information at the right time have 80% higher open rates and 3x more click-through rates than regular emails.
6. Respond to repetitive customer support questions
Customer support is an integral part of running a business – after all, happy customers come back for more. But it's also a time-consuming process, especially if you or your team are constantly replying to repetitive queries and questions.
Use a customer support tool to automate responses to common queries and to automatically send requested information to customers.
Not only does this free up team time to focus on other revenue-generating activities, but it can also help increase sales by giving customers the information they need at the very moment they need it, rather than waiting for a support agent to get back to them.
7. Get feedback and reviews
As we've said earlier, reviews are keys to driving sales. They are essential for instilling confidence in potential buyers and showcasing social proof from past happy customers.
Instead of manually asking each customer for a review, use marketing automation for small businesses to do the job for you. Queue up review request emails to go out as soon as you finish working with a client and automatically integrate reviews into key touchpoints throughout the buying journey, like on your website, product pages, and in relevant emails.
8. Make team collaboration easy
Managing a team is one of the hardest parts of running a small business. Files get lost in endless email threads and the constant back-and-forth to get sign-off can be incredibly time-consuming.
Use a team collaboration tool that embraces small business automation to automatically send regular updates to team members so everyone knows what everyone else is working on at any given time. This avoids confusion and ensures every person stays productive and on task. In turn, this will improve employee morale.
As Chad Otar says, "the effect automation produces on employee morale has a chain reaction, which can improve the culture at a small business. Exhausted and unhappy employees usually do not contribute positively to workplace culture."
9. Invoicing and cashflow
To generate revenue, you need to send invoices – as simple as that.
But manually creating invoices, checking they're right, and sending them out can take a whole day out of your week. Use small business automation to automate the process with an invoicing tool that automatically sends correct invoices to clients as well as follow-ups and late-payment notices with the help of MYOB's invoicing software.
This eliminates the need to send awkward reminders and ensures you never miss an invoice (or a payment) ever again.
Marketing automation software for small business
If you're looking for a marketing automation platform for small businesses, we've gathered below a list of the most popular marketing automation software for small businesses.
HubSpot
HubSpot is a major marketing and sales software tool founded in 2006 by Dharmesh Shah and Brian Halligan to offer sales and inbound marketing services.
Here are some of HubSpot's main features:
Lead segmentation: Segment leads into specific lists according to common traits and behaviors.
Lead management: Track interactions with leads over time, so that your sales and marketing teams can plan the best approach to convert them to customers.
Email automation: Build automated workflows of emails to enhance your outreach, content, and engagement with your customers.
Depending on the service you're interested in from HubSpot, prices may vary. For the Marketing Hub, you have your pick among 3 pricing plans: Starter ($41/mo), Professional ($740/mo), and Enterprise ($2,944/mo).
Here are a few of our most popular integrations with HubSpot.
ActiveCampaign
ActiveCampaign was founded by Jason VandeBoom back in 2003, and its cloud software services are especially suited for smaller and mid-sized businesses.
This marketing automation platform for small businesses allows you to automate your daily tasks in different ways. Here's an overview of its features:
Single-view automation: This comprehensive view of all your automation tasks allows you to spot what might be improved and make tweaks to the system in place, without interrupting someone else's workflow.
Audience segmentation: Break down your audience into smaller segments, to help you understand them and their needs better. You can then personalize the communications that go out to each segment for greater personalization and a higher engagement rate.
Easy automation: This marketing automation software for small businesses has a drag-and-drop workflow builder that makes automating extremely fast & easy.
ActiveCampaign offers 4 paid plans, where the price of each plan shifts according to the number of contacts. For a starting point of 500 contacts, you'd pay $9/mo for the Lite plan, $49/mo for the Plus plan, $149/mo for the Professional Plan, and a custom monthly fee for the Enterprise plan.
Below are a few of our most used integrations with ActiveCampaign.
GetResponse
GetResponse was founded by Simon Grabowski – its CEO – over 20 years ago, and today it offers solutions such as autoresponders, conversion funnels, landing pages, webinars, and email marketing.
Let's take a look at its main marketing automation features.
Email sequence automation: By automating your email sequences, this marketing automation platform for small businesses helps you increase your open and click-through rates while allowing you to save time.
Lead scoring: Assign specific values to your leads to determine which ones are qualified prospects – more likely to make a purchase -, which ones still need to be nurtured with valuable content, and which ones are unqualified.
Customized workflow templates: If your small business has its own unique workflow, you can customize workflow templates and share them with the entire company.
GetResponse offer 4 plans: Free, Basic ($13.12/mo), Plus ($44.28/mo), and Professional ($86.92/mo).
Here are a few of our most requested integrations with GetResponse.
Mailchimp
Established back in 2001, Mailchimp started through the collective efforts of Dan Kurzius, Mark Armstrong, and Ben Chestnut.
You can guess its objective – since it's already in the name -, so here's a list of its main features:
Automated scheduling: This marketing automation software for small business ensures your message gets delivered to the right lead at the right time with send-time optimization and delivery by time zone.
Data automation: Never miss a birthday, anniversary, or special milestone. You can strike when the iron it's hot and possibly earn a sale.
Behavioral automation: When your lead or customer reacts, you can progress your campaign with automation based on their behavioral triggers.
Mailchimp for Marketing offers 4 plans: Free, Essential ($11/mo), Standard ($17/mo), and Premium ($299/mo).
Below you can find a few of our most popular integrations with Mailchimp.
ConvertKit
Founded in 2013 by Nathan Berry, ConvertKit offers digital marketing services to online creators of all kinds.
Its plethora of marketing automation features makes it an especially valuable option for small businesses and startups. Here's a closer look at those features:
Email automation: Save time with automated funnels, email scheduling, targeted content, and more.
Automated segmentation: Easily categorize buckets of potential prospects by segmenting your leads through automation.
ConvertKit offers 3 plans: Free, Creatore ($9/mo), and Creator Pro ($25/mo), where each plan adjusts in price according to the increasing number of email subscribers.
Here are a couple of our most popular integrations with ConvertKit.
Start automating your small business for free
As a small business, when it comes to automating your processes, you can start small and decide to expand later. LeadsBridge offers the perfect plan for that.
With our Free plan, you can connect all the top advertising platforms – including Facebook, Instagram, Google, Youtube, LinkedIn, and TikTok – with your favorite marketing tools, and move leads across platforms in real time, for free.
The Free-forever plan includes 1 running bridge and allows you to move 100 leads per month. What does this mean? It means that inside your LeadsBridge platform you can potentially have more than one bridge, but you can only have one bridge up and running at a time.
If you'd like to learn more about the benefits of our Free plan, you can check out this article from our blog.
Final thoughts
When you consider that 77% of companies that use marketing automation see an increase in conversions and that marketing automation for small businesses reduces marketing overheads by 12.2%, it becomes a no-brainer.
If you're not already automating repetitive manual tasks that take time away from bigger, better things you could be doing, now's the time to start.
Use these marketing automation ideas to get started and find the right business automation software for you and your needs.
If you'd like to take a look at all available integrations for marketing automation, click here.