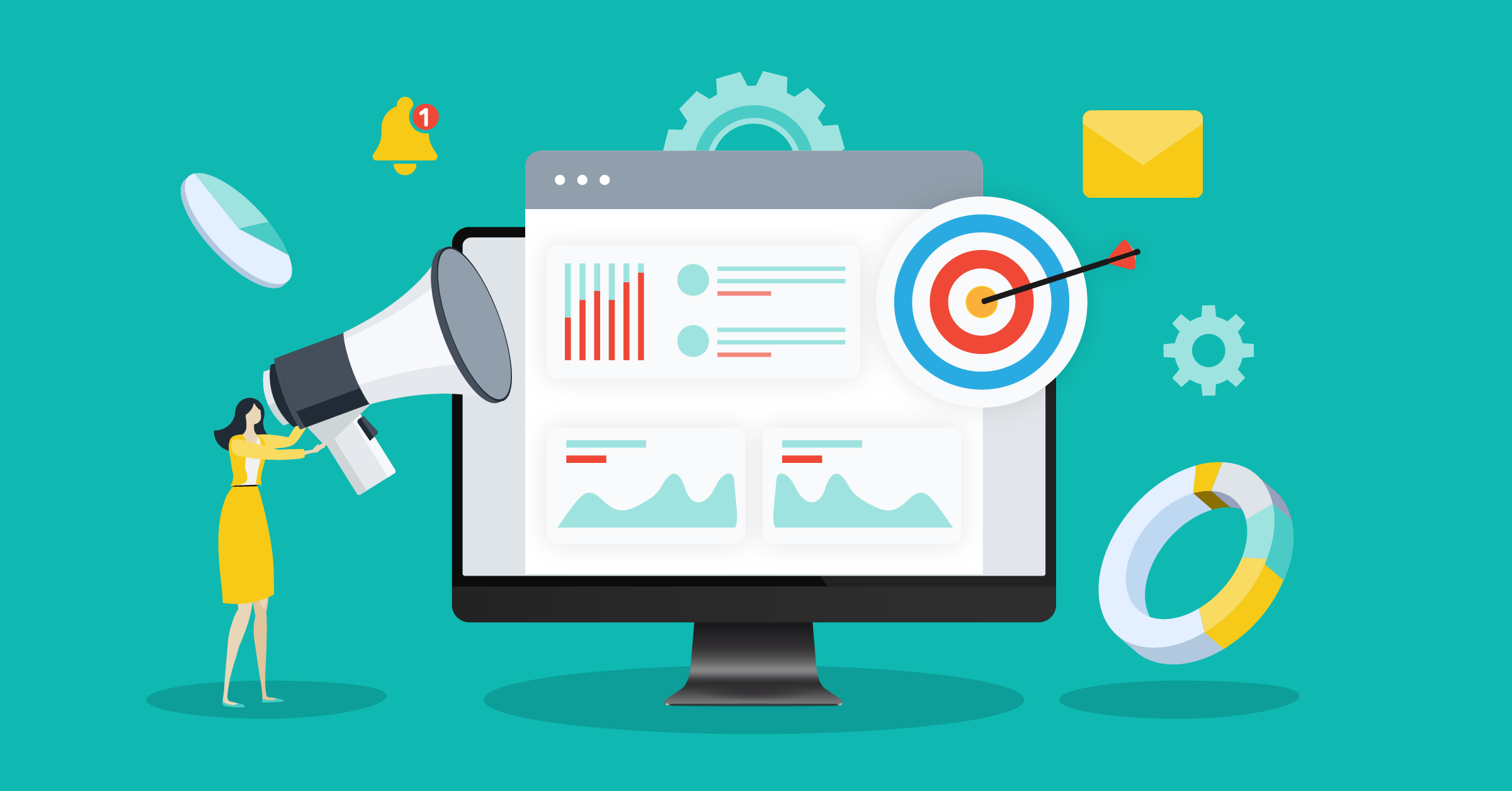 Businesses across the globe are inundated with repetitive tasks that require completion in order for operations to function as normal. The manual fulfillment of these actions can leave reduced time for creative brainstorming and strategy building, as well as being an inefficient use of human and financial resources.
The introduction of automation has acted as a remedy to this issue of counterproductivity, enabling companies to leverage the capabilities of technology to streamline their task management.
Throughout this article, you will gain a deeper understanding of the marketing automation workflows and their benefits. Additionally, you will discover six of the most popular marketing automation software available and how they can enhance your marketing performance.
What is marketing automation?
Marketing automation refers to the use of technology in the automatic management of marketing activity and campaign processes.
The software involved in this practice is used to carry out the monotonous, repetitive tasks that marketing departments are required to perform, such as sending welcome emails and or scheduling social media posts.
The benefits of marketing automation
Engaging in marketing automation can be substantially advantageous, which explains why almost 72% of the most successful companies implement this practice in the day-to-day running of their business.
The most notable benefits of marketing automation include the following;
1. Heightened efficiency
The boost in efficiency that automation offers is indisputable. On average, businesses experience an increase of up to 14.5% in their sales productivity when they initiate automated workflows.
This competence is due to the eliminated need for the manual completion of repetitive tasks, with the automated firing of activities taking its place. For example, you can establish a workflow that automatically sends a welcome email to lead that subscribers to your mailing list.
Automation means that you can spend more time focusing on tasks that require creativity and brainstorming for upcoming campaigns.
2. Greater personalization
Personalization has fast become a non-negotiable factor in effective, impactful advertising, with 51% of marketers ranking this as their first priority. Employing marketing automation workflows exposes your business to greater content personalization opportunities, as these softwares offer sophisticated segmentation features.
This enables you to target your ideal buyer beyond general demographics, and take into account factors such as their browsing history on your website, their purchasing behaviors, interests and social media activity.
The data captured from within these systems helps to ensure that you are getting the most appropriate content to the right audience, at the most opportune time.
3. Enhanced lead nurturing
Lead nurturing is an essential element of achieving conversions. Taking into consideration that approximately 10-15% of leads generated actually convert to a sale, nurturing is a practice that must be fine-tuned to prevent loss of sales opportunity.
Attempting to manually close the gap in lead loss can create a dilemma for teams, and juggling existing tasks with the constant checking on a prospect's status can become exhaustive and ineffective.
By implementing marketing automation workflows, you can set your lead nurturing campaigns on autopilot and consistently track their progress.
Let's take a look at LeadsBridge as an example. We apply automated email workflows to send a survey to any customer that has abandoned their use of our product for more than six months. This allows us to collect feedback on what compatibility may have been lacking in regard to the customer's needs, and make the necessary changes to reduce loss in the future.
4. Marketing and sales department alignment
Aligning marketing and sales departments is no small feat, and many businesses struggle to find a cohesive balance between the two as they have separate objectives and associated metrics that they use to define success.
As one of the benefits of marketing automation, this is now achievable.
Efficient collaboration between the marketing and sales departments is now possible due to updated processes and structures provided within these softwares, as well as the unified usage of tools to facilitate and measure campaigns. These include web analytics, campaign tracking and lead scoring.
Marketing automation offers a unified presentation of customer data, allowing for interdepartmental access to updated customer profiles and insights. This helps to speed up the process of transforming a marketing qualified lead to a sales opportunity.
5. Accurate reporting
Marketing automation allows for the generation of automated reporting, offering a comprehensive and intelligent overview of your entire roster of processes.
This enhanced, streamlined reporting functionality means that your business can gain an accurate insight into how your campaigns are truly performing, what complications exist and how pain points can be better addressed.
How to create a marketing automation workflow
A marketing automation workflow refers to a framework associated with the customer journey, detailing the variety of touch points that involve automated initiatives.
The four key elements of a marketing automation workflow include;
Triggers
Triggers are any actions or events that instruct your automation technology to fire a specific step in the process of nurturing a lead and achieving a conversion.
Depending on your choice of software, you can choose the triggers that you wish to establish.
The most commonly used triggers include;
Form submission
Link clicks in email
Subscriptions
Page views
Calls to action
Behavioral events
Actions
The action is the step that comes in response to the trigger, such as sending a follow-up email if a lead leaves an initial email open for more than 48 hours.
These actions can include;
Email sends
Delays (postponing actions for a specified period of time)
Lead scoring
If/then qualifiers (set of options based on actions taken by leads)
Conditions
The conditions of a marketing automation workflow are based upon the characteristics that are required to exist in order for a triggered action to fire.
An example of this would be sending a lead a discount code that can be used with their next purchase, once they have completed their first transaction over a specified price.
The purpose of the conditions is to provide parameters that ensure certain actions are being triggered correctly.
Time settings
Lastly, time controls in your automation workflow serve to determine when exactly an action is taken.
The 5 most used marketing automation workflow examples
There are a plethora of types of marketing automation workflows that you can weave into your operations, ranging from email marketing and behavioral targeting to advertising personalization and lead prioritization.
Let's take a closer look at the most popular workflows chosen by businesses.
1. Welcome email workflow
Welcome email sequences are one of the most widely used workflows, and are triggered when a user signs up on your website.
This consists of a single trigger, a user submitting their email address, and a single action, an automated welcome email that contains additional information.
On average, subscribers who receive welcome emails generate four times more opens and five times more clicks than general marketing emails. It is important to note that these welcome emails must be sent immediately in order to be effective.
Once this initial contact is made, your workflows can become a little more sophisticated, and provide emails based on product interactions triggers.
Implementing this workflow is important as 74% of users now expect a welcome email, and they have 5 times higher clickthrough rates than any other type of email. This is a prime opportunity to hit the ground running.
2. Cart abandonment workflow
Cart abandonment workflows are triggered once a user adds an item to their cart, and then fails to complete the transaction within a specified period of time.
From here, an automated cart abandonment email is sent to the lead in order to prompt their return and completion of the sale. These emails may include customer reviews, highlighted value propositions or small discounts.
These communications can be used to simultaneously promote products related to those in the users cart, as a type of cross-selling.
Within these marketing automation workflows, one to two emails are typically sufficient if a possibility of conversion is present. Any emails beyond this are relatively redundant.
3. Gated content workflow
Lead magnets, also known as gated content, are a useful lead generation tool utilized by many businesses across a range of industries. 
This content workflow begins when a user adds their information to your website or ad form, in return for access to the lead magnet, be it a webinar, toolkit, free download or templates.
Although this seems like a simple, short workflow, there is an opportunity to extend its lead nurturing capabilities. Once the initial trigger and action has taken place, you can send a sequence of emails that develop a user's awareness and interest in the product/service.
For example, the lead may have begun with a template download regarding email marketing. You can then direct them toward a related webinar via email link, followed by a member of the sales team making contact once the webinar has been viewed.
4. Re-engagement workflow
Not every customer will consistently remain engaged, and that can be for reasons outside of your control.
Regardless, it is important to attempt to re-target these disengaged customers in order to maximize your sales opportunities, as generating a new customer is five times more expensive than retargeting an existing one.
This marketing automation workflow targets users with a decreased engagement and highlights special offers, product USP's (unique selling point) and other tactics that prompt a return to purchase.
It is important to identify the trends that occur before a user becomes disengaged, in order to act promptly. This may be a decline in the use of a particular product.
From there, you can communicate with the customer via automated emails to decipher whether an incentive is sufficient or if deeper pain points are not being addressed.
5. Cross-selling automation workflow
The cross-selling automation workflow is triggered depending on the segmentation. The rules of this segmentation is based upon a user's behavior.
Cross-selling is the practice of encouraging customers to make a purchase that compliments their original item, and can be very effective amongst leads that have previously engaged with your business and have been satisfied.
These workflows can be triggered through customer segmentation, or you could incorporate recommended products or upgraded subscription plans into the order confirmation email.
The 5 most popular marketing automation tools
HubSpot is a popular marketing automation tool, with a comprehensive list of features to help your company market and sell more effectively.
This platform has a robust growth suite that includes sales, marketing and support software, which all integrate automatically with HubSpot's CRM. Your business can access all of its data and growth activity in a single, unified platform.
With HubSpot Marketing Hub workflows, you can streamline daily activities and tasks by automating processes such as emailing, property filling, sending external notifications and directing leads to sales.
By integrating all of your social media channels, you can draft, schedule and publish your posts in one place, whilst simultaneously tracking engagements.
Using HubSpot Marketing Hub, you can access comprehensive analytics reports that grant insight into engagement, customer lifecycles, recurring trends and the quantity of your website traffic. The availability of this data means that both your sales and marketing departments can make informed decisions based on measured results.
ActiveCampaign is an integrated email marketing and marketing automation software that possesses powerful functionality, including the automation of email and SMS marketing campaigns, lead scoring and sales outreach.
Using ActiveCampaign, your business can multi-channel or omnichannel campaigns that incorporate social media, email, SMS and e-commerce to offer a seamless user experience.
With over 800+ pre-built automation workflows, you can spend less time creating templates and more time thinking creatively and building strategies. This comprehensive solution offers top-rated deliverability, making it a go-to choice for many businesses around the world.
Marketo is a marketing automation software that provides solutions to any channel for every type of engagement.
Having been acquired by Adobe, Marketo has expanded its functionalities tenfold, offering extensive software that manages everything from digital advertising to account based marketing. This integration with Adobe means that you will have the opportunity to experience a powerful automation solution and optimization suite, thanks to Adobe Analytics and Adobe Target.
This solution offers a wealth of features that handle automation communication, nurturing, CRM integration and reporting, all designed to help ensure your campaigns are achieving as much as possible.
All interactions that take place on your website can be tracked using the Salesforce platform, and predictive lead scoring can be executed based on your pre-specified parameters.
SendinBlue is a marketing automation platform that specializes in helping marketers to manage their campaigns and automate their associated workflows. As well as this, SendinBlue offers segmentation features that help you better target your ideal audience.
With this solution, you can create personalized emails, track related activity, score leads accordingly and optimize campaigns for maximum efficacy.
Campaigns created using SendinBlue are mobile optimized, and can also be carried out via SMS.
Key takeaways
Providing sufficient time to every task that must be completed within a business is next to impossible, with new demands entering your workstream daily and unforeseen circumstances arising from time to time.
By employing marketing automation workflows wherever applicable, your team can spend less time completing repetitive tasks manually, and more time applying their creativity and brainstorming for strategies and campaigns.