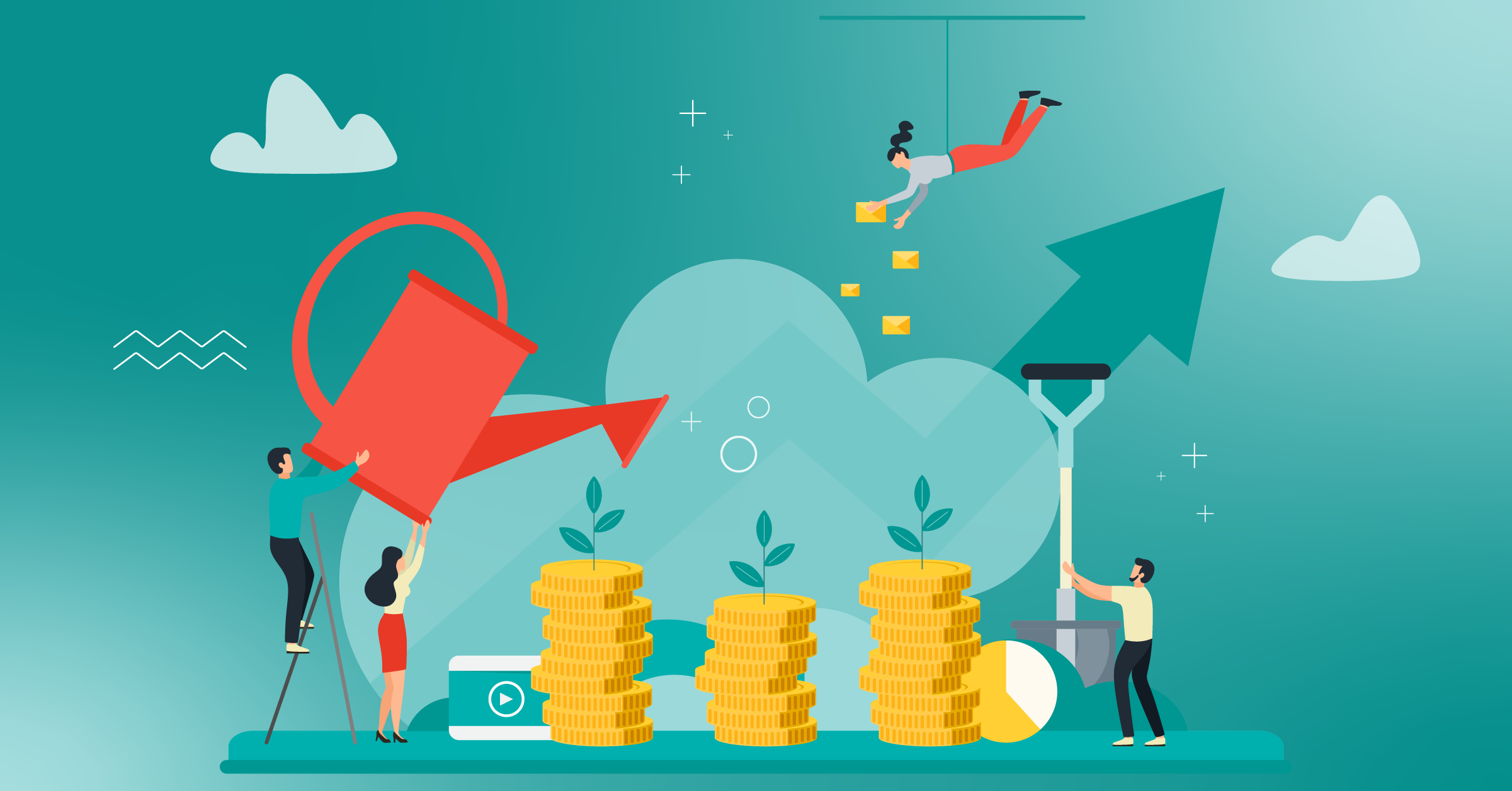 Any of the lead nurturing campaigns drive results for businesses that do it well. The general practice of nurturing the interests in leads allows you to build and maintain relationships with prospects until they can trust you enough to do business with you. The truth is, 96% of visitors who come to your website are not ready to buy yet. So having a solid lead nurturing campaign fills this gap and helps you convert more visitors into customers.
In this article will discuss how you can run successful lead nurturing campaigns. In addition, you will learn about tools and integrations you need to focus marketing and communication efforts on the needs of prospects, such as:
What is a lead nurturing campaign?
A lead nurturing campaign is essentially an automated email follow-up series created to move your leads through the sales funnel while keeping them engaged and informed about your company and products. Most lead nurturing campaigns are made up of a series of emails sent over the course of weeks. These emails usually contain informative content, call-to-action, and a free email signature at the bottom that guides your leads towards conversion.
Here are some statistics to consider:
Read this guide to learn everything you need to know about Email lead nurturing.
Lead nurturing best practices
Here are four lead nurturing best practices that will help you convert more customers into leads.
1. Lead nurturing best practice: Invest in automated email marketing
The benefits of automation are spoken everywhere these days, but how can automated email marketing really help you?
In practice, automated email marketing enables you to send out emails to leads and customers based on a set of triggers you define. It is one of the lead nurturing best practices that lets you streamline your communication with your users through automation. There are two types of automated including event-based trigger emails and drip feed email content.
Trigger emails are triggered by users' behavior on your website, such as form filling, page views, responding to CTAs, clicks, etc. Examples are welcome emails, abandoned cart emails, milestone emails, and rewarding emails. Check out these integrations for streamlining your email campaigns for free: 
Drip feed automated emails are emails delivered to users sequentially over a period of time.
In today's competitive world, marketing largely relies on timely actions. So automation is integral to the success of your lead nurturing campaign.
Did you know that automated email messages generate a 70.5 % higher open rate and a 152% higher click than your ordinary marketing messages?
Here is an example of an automated welcome message from LeadsBridge's lead nurturing campaign. When visitors sign up for the free e-book The Complete Guide to Lead Management, they receive the automated email message below.
To nurture this specific campaign, LeadsBridge follows this email with a series of follow-up messages to nurture the lead.
2. Lead nurturing best practice: Use multiple touches
It is rare for anyone to make a purchase at the first touch. The idea is to nurture them through the sales funnel. This is where multiple touches come in.
So how many emails does it take to nurture your leads till they convert?
According to the RAIN sales group research, it takes an average of eight marketing touches from the time prospects enter the top of the funnel until they become customers. Another report says that less than five touches in their lead nurturing campaigns. We can conclusively say it takes from 5 to 10 touches to convert a lead to a customer with these two reports.
However, the number of touches you'll need to convert a lead into a paying customer is based on two factors:
a) The price of your product
The price of your product is a deciding factor on how many touches you will need to make a sale. For instance, if you are a B2B company that sells SaaS products with a price starting from $5,000, you will need more extended touches than a B2C company selling products worth $20 on average.
b) The quality of your touches
The second factor is the quality of your touches. Is the content you send to your prospects useful? Does it solve their problems or show how your product works? How long does it take to generate results with it? Sending applicable information that addresses your leads' pain points will help them develop trust in you in a shorter time. Consequently, this will reduce the number of touches you will need.
3. Lead nurturing best practice: Use multi-channel lead nurturing
Source: Speedwork
The third best practice in lead nurturing is the multi-channel approach. You need to be omnipresent online to get the best out of your lead nurturing campaign. This will help you meet the needs of your leads.
Although email has been the most popular use lead nurturing campaign, spam filters and out-of-date email lists are the main issues here. These setbacks have made it increasingly difficult to contact leads through their email. At this point, you need a multi-channel lead nurturing campaign. This implies that instead of using only emails for lead nurturing, add other channels such as:
a) Dynamic website content
Apart from creating helpful content on your website for your prospects, you also need to make it dynamic. This means you need to use marketing automation strategy to personalize your content for each user. For instance, if they browse a page of interest, such as the product features page, use retargeting ads to bring them back.
b) Retargeting Ads
Adding retargeting ads to your lead nurturing campaign is one of the best ways to convert prospects to customers. You can run retargeting ads on Facebook, Twitter, LinkedIn, and Google Display Network.
c) Social media monitoring
Social media is a place where you can easily connect with your leads and build relationships with them. All you need to do is to engage with your prospects by liking and commenting on their posts. You can even send them relevant messages when appropriate.
d) Mobile Marketing automation
According to Statista, about 55% of all web traffic takes place on mobile devices. So if your lead nurturing campaign strategy does not include mobile devices, you are missing out. Use mobile strategies such as location-based technology, SMS mobile marketing, and phone calls to reach out to your leads.
Nurturing your leads through multiple channels will also help you reach more prospects and build brand awareness.
To learn more, check out these original lead nurturing examples on Facebook.
4. Lead nurturing best practice: Score your leads
Lead scoring and lead nurturing are closely related practices in marketing. This combination helps improve revenue by ranking your leads against a scale that shows the perceived value of each lead for your business. You can implement lead scoring for your lead nurturing campaign through marketing automation platforms. All you need to do is assign numeric values to specific website visitors' browsing behaviors and conversion events.
The score you get will help you know if you should nurture the leads down the sales funnel or not. With lead scoring, you will know the leads that will buy from you, inactive visitors who need more nurturing, and leads that have made no purchases so far. Check out this example of lead scoring from Marketo.
Source: Arcalea
5. Lead nurturing best practice: Curating your lead nurturing strategy
A successful lead nurturing strategy concentrates on marketing and communication efforts against the needs of the target audience in order to build trust, increase brand awareness, and maintain a relationship throughout the sales cycle.
There are three key elements to consider when drawing a new road map towards these goals or curating your existing strategy: contact management, segmentation, and the buyer's journey.
So how to implement a good lead nurturing strategy?
Keeping these factors at the core of your planning, you can intentionally engage your audience by delivering highly relevant info. This way, you can support them, and harbor a sense of trust no matter where they are in their journey as a buyer.
Learn all about lead management and lead nurturing best here.
6. Lead nurturing best practice: choose the best lead nurturing software
Lead nurturing can be a time-consuming task. You can use technology to cut back the time you need to nurture your leads throughout. Lead nurturing software automates complex workflows like sending follow-up marketing and sales emails, scheduling appointments, and more.
The best lead nurturing software out there helps build scores for your leads and allows you to spot unqualified prospects. For an integral automation solution, you need to create automation bridges across your marketing stack. This way, the data in all your marketing tools are unified, and you can receive up-to-minute updates on lead behavior to create lead nurturing follow-ups.
LeadsBridge offers a selection of automation solutions to streamline your lead nurturing campaigns. Here are some of our most popular integrations for these campaigns:
Unlike the common belief, automated lead nurturing is cheaper than direct email messaging. It also saves your marketing budget by keeping up with your potential customers( and keeping you from spending on low-quality leads). It is true that you may pay a fee for automation services, but automated lead nurturing becomes cost-effective in the long run by channeling your marketing budget on what really matters.
Nevertheless, choosing the best automation services is a challenging task. But thanks to LeadsBridge's free plan, you can try the automation integrations that you need for free (forever), before committing to any payment. 
Want to know more? Here is your complete guide to lead automation.
Lead nurturing benefits
Lead nurturing poses a genius method to boost the number of sales in a certain time period. Here are the top 8 lead nurturing benefits in 2022:
Lead nurturing leads to time management
Lead nurturing campaigns are designed to respond instantly to the potential customer. This contributes to trust and relationship building when it comes to interesting leads, and ultimately motivating these leads towards making a purchase.
You do not have to manually track the lead. Manual tasks are a thing of the past when it comes to marketing; they are outdated, time-consuming, and unproductive. The lead nurturing automation solutions let you monitor the lead's interest with detailed reports and triggered actions to nurture them instantaneously.
It allows you to build relationships with your leads
Lead nurturing campaigns, especially the automated ones, allow you to maintain conversation between your business and advance this communication into a relationship. So there is a solid opportunity to convert your leads into paying customers.
It allows you to run targeted campaigns
Lead nurturing helps you create precise targeting by collecting detailed information to monitor the lead, so you can provide targeted content that they are likely to respond to
While lead nurturing focuses on existing leads, it can also contribute to new lead generation. This is usually done by happy customers' word of mouth or referrals. Besides, if your content is interesting, your leads may go ahead and share it with others.
Discover the best practices for lead generation here.
It boosts click-through rates
Studies show that the lead nurturing approach leads to higher click-through rates. This is also valid for lead nurturing emails that offer a higher unsubscribe rate than individual emails, which is an indicator that lead nurturing helps connect to high-quality leads.
It helps tap into cross-sell and up-sell opportunities.
When connecting with existing customers, lead nurturing is an ideal approach to increase those customers' awareness of new products and offerings. So with lead nurturing, you can increase the number of sales and boost the value of sales.
Final thoughts
After reviewing the lead nurturing best practices, you can get the best out of your campaigns. With a balanced approach, your lead nurturing encourages the tendency of your leads to buy by maintaining relationships with customers. These relationships are imperative in modern sales processes. So by nurturing leads, you claim that relationship over time while building brand loyalty and trust.
Discover all the possible integrations to automate your workflows and increase your ROI.