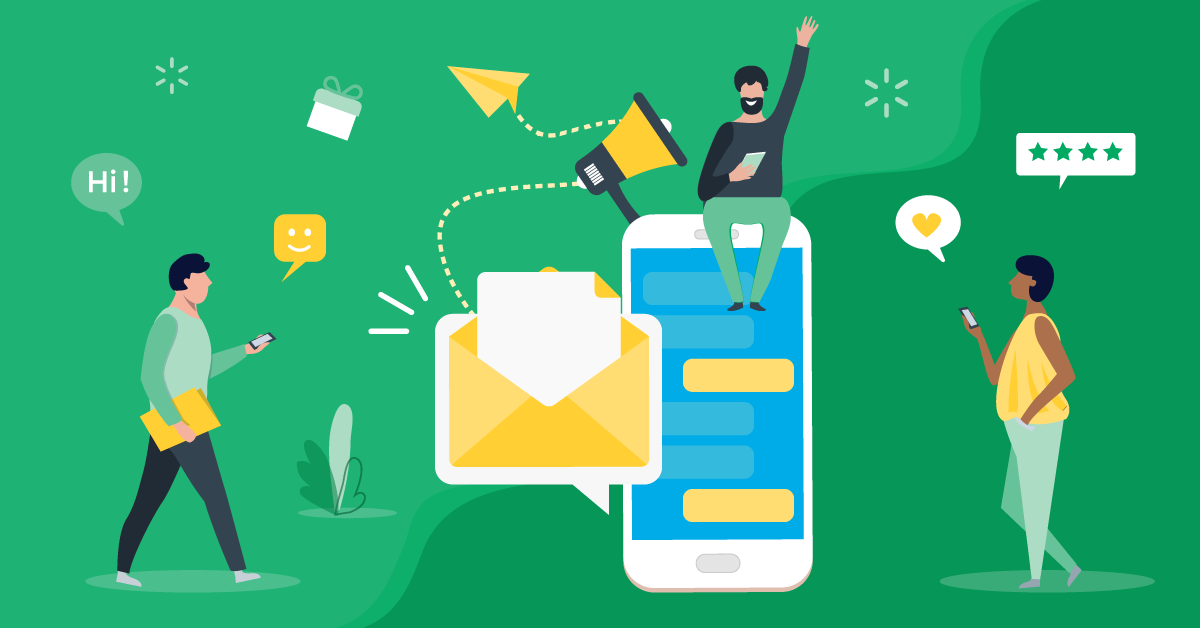 SMS mobile marketing has become an integral part of multi-channel marketing. People open and read over 95% of the SMS messages they receive on their mobile devices.
These high engagement rates highlight SMS marketing as an effective way to increase ROI.
Most organizations rule out SMS in mobile marketing for a variety of reasons. However, text messages allow you to access your clients on their mobile devices in a way that no other marketing method does. It enables personalized and targeted communication, prompts two-way communication, helps brand building, provides accurate data for campaign analytics, and more.
In this post, we will examine the key benefits of SMS marketing and best practices for SMS customer service. Additionally, we will discuss why SMS should be used in a multi-channel strategy, along with a few tips on crafting an SMS campaign that engages the recipients across the customer lifecycle.
What is SMS mobile marketing?
SMS is an acronym for "Short Message Service". Brands contact their customers through SMS mobile marketing and inform them about their product updates, events, and more.
SMS direct marketing is quite similar to email marketing; it offers total control over its recipient, content, and timing. However, text marketing provides a better authority over the marketing experience you create for the users.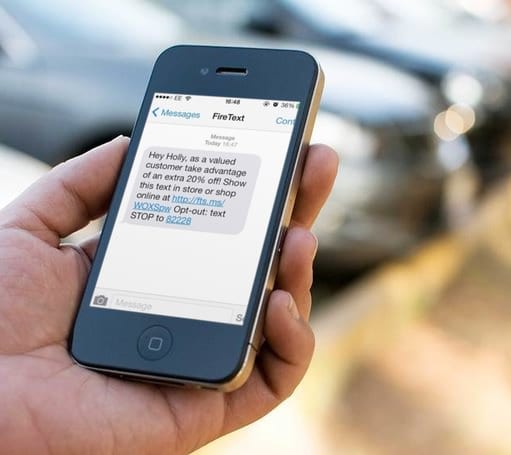 Source: SmartInsights
Text-based marketing can play a significant role in building relationships with your customers. Considering that 65% of businesses bypass SMS in their marketing mix, you can seize this opportunity to win over your competitors.
SMS mobile marketing best practices
Text messages are far more personal than emails, so you must be careful not to overstep the boundaries here.
An SMS, however, can be a powerful marketing device if used correctly. Follow these simple rules and tested practices to get the best out of your SMS mobile marketing campaigns.
Set goals and objectives
Just like any other marketing method, planning comes before running your first SMS direct marketing campaign. Strategizing means setting goals for your campaigns, defining objectives for messaging in contrast with customer interactions, planning responses when users text customer service, and more.
In marketing, sending relevant and personalized messages takes the customer experience to the next level and boosts engagement and ROI. Likewise, it's important to use your SMS mobile marketing campaigns to design a consistent experience.
Check out the great guide to learn more about lead management strategies.
Choosing the right tools
The right SMS marketing software can improve your text marketing strategy and performance.
With suitable SMS channels and SMS automation solutions, you can set up an efficient schedule, provide real-time customer care, and, most importantly, gather critical metrics to analyze your campaigns.
You can also automate your messages by using text marketing software combined with a third-party integration provider.
Providers like LeadsBridge allow you to sync data from your marketing tools and manage your leads in the funnel. With LeadsBridge, you can even add mobile messaging into your email automation workflows and create a unique SMS mailing list. Here are some examples of LeadsBridge's very helpful integrations for SMS mobile marketing:
In-the-moment message prioritization
You need to set up triggered campaigns if you want to send out text messages that are aligned with your strategy.
For instance, when customers order your product, trigger a text message to confirm their order and let them know what's next.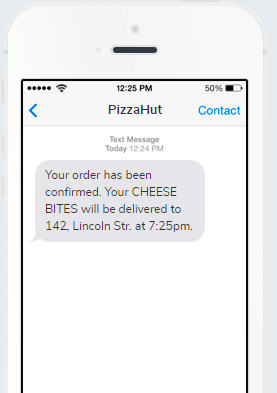 Source: SendPulse
Defining these triggers must be based on each customer's direct interactions with your brand, or engagement with your outreach.
To create a prioritization system, you need to automate your messages and design a system that delivers the most important message for every action or inaction.
Using SMS to get feedback
The right SMS channel allows you to collect SMS feedback, using added SMS channels.
First, your channel must be integrated with an SMS service provider through the control panel. Then, you can roll out the surveys and collect your customers' feedback in real time.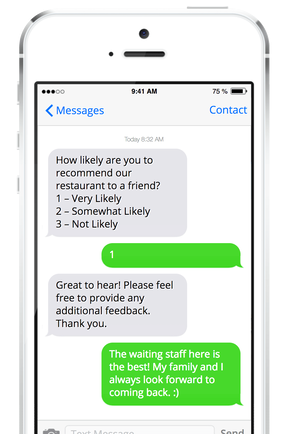 Source: Benchmark
Creating a conversation with your customers and knowing how they feel about a product or service provides valuable insights. This data draws a map of their experience, which you can use to optimize your campaigns and increase sales and customer satisfaction.
Integrating SMS with other marketing channels
You can combine your text-based campaigns with other marketing channels such as email, social media, web content, blog posts, and offline advertising campaigns.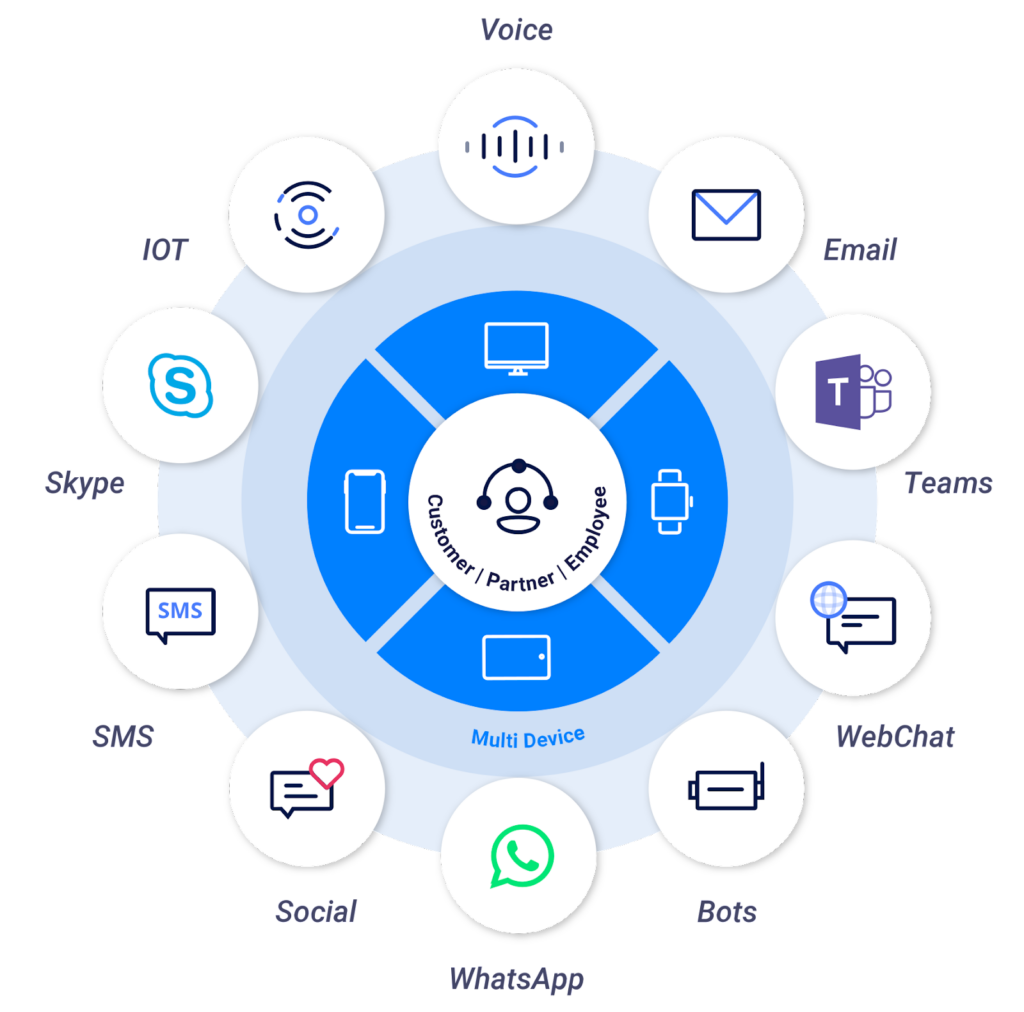 Source: Anywhere365
SMS messages become even more effective when merged with an omnichannel set up to promote a new product or use it as a customer service medium.
Using SMS for customer support
70% of customers are willing to text with a brand to resolve issues. So using SMS customer service to support your business or organization is highly accepted.
Besides, it offers a straightforward troubleshooting solution. Your contacts and customers can easily get in touch via their phone and in their native text messaging app. All you have to do is let them know how they can use it.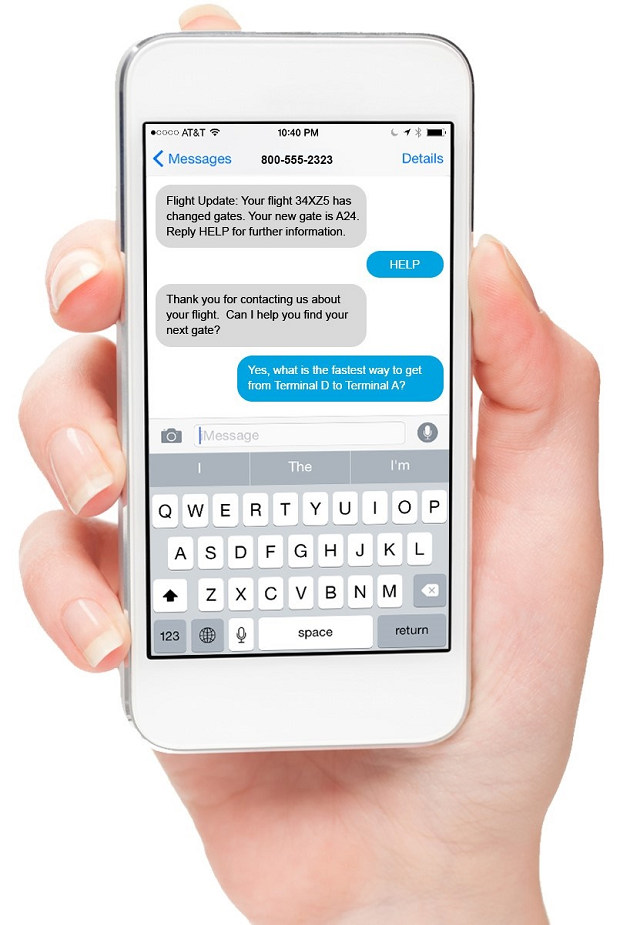 Source: Website Magazine
Always keep the same business phone number to avoid inconveniences.
It is best to employ agents to work SMS tickets like any other service channel and put a chatbot on the front lines to reduce your agents' workload, improve response rate and customer satisfaction. However, they should be able to reach a live agent whenever they need to.
Optimizing your text
Learn more on how to optimize your marketing copy.
Like any other marketing copy, text messages are best kept short, clear, and concise. However, the limited space calls for an even shorter copy without the help of any visuals, except for emojis.
Keep it legal
An SMS inbox is a personal space subjected to legal regulations to protect consumers from any unsolicited text for commercial purposes. Therefore, before you begin sending out texts, you need to understand your country's SMS mobile marketing laws.
In the United States, the Federal Communications Commission (FCC) oversees SMS marketing through 2 laws: The Telephone Consumer Protection Act (TCPA) of 1991 and the Controlling the Assault of Non-Solicited Pornography and Marketing Act (CAN-SPAM) of 2003. In addition to the FCC, the Cellular Telecommunications Industry Association (CTIA) and the Mobile Marketing Association (MMA) monitor SMS marketing for offenses and help companies stick to best practices.
Proper digital etiquette requires you to only send text messages to someone who has consented to receive them. Learn all you need to know about consent-based marketing here.
Benefits of SMS marketing
Businesses use texting to reach out to their customers for several reasons. For example, they may use it as an immediate mode of communication, or to make sales-related offers such as vouchers, discounts, promotions, or even birthday messages. Here is an outline of the key benefits of SMS marketing for your brand.
Provides a direct and immediate channel
Text messages are delivered immediately, and even better, they're read almost instantly. Over 90% of people read a text message in the first three minutes. Moreover, push notifications remain on the screen until the message is read.
These factors make SMS mobile marketing a go-to channel for time-sensitive offers.
Offers instant customer support
Brands use a broad spectrum of strategies to provide instant brand-customer communications. They aim to build an omnichannel system that provides an impeccable consumer experience.
That's why SMS mobile marketing has become a popular channel for many customer service teams.
SMS customer service tool is an alternative to the traditional phone lines, live chats, and video calls. You must incorporate messaging into your system (help desk or ticketing platform). This makes it more effortless for your team to deliver consistent service.
Additionally, the demand for SMS-based customer service solutions is undoubtedly increasing, considering that the texting generation is at its peak.
Integrates with other channels
Text messages work well for building successful omnichannel marketing and customer support. They help create a seamless experience throughout the customer journey despite the channel customers use. However, you need to integrate all your marketing channels, including SMS, for all-inclusive omnichannel support.
Provides easy follow up
When a customer asks you a question, you must provide an adequate answer within an appropriate amount of time to create a satisfactory experience. However, matters become more complex when it comes to performing an ideal follow-up.
Follow-up is a fundamental element across all marketing activities. Here is a complete guide on creating successful follow-ups with Facebook Lead Ads.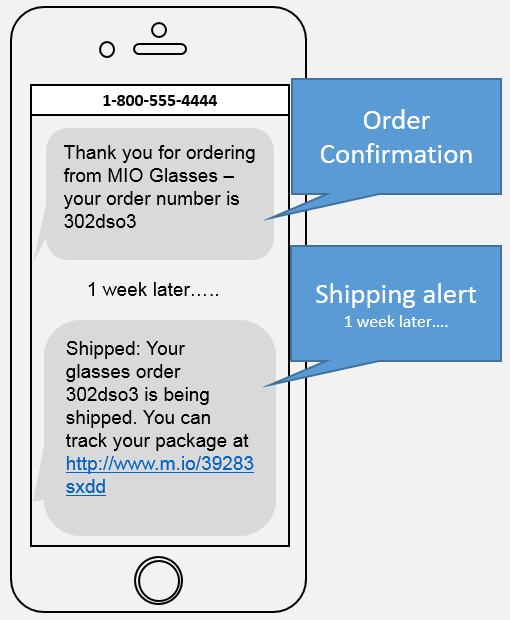 Source: OpenMarket
You will need a strategy, a well-defined set of data for your funnel, and a magnet (offers, discounts, freebies) to keep them coming back.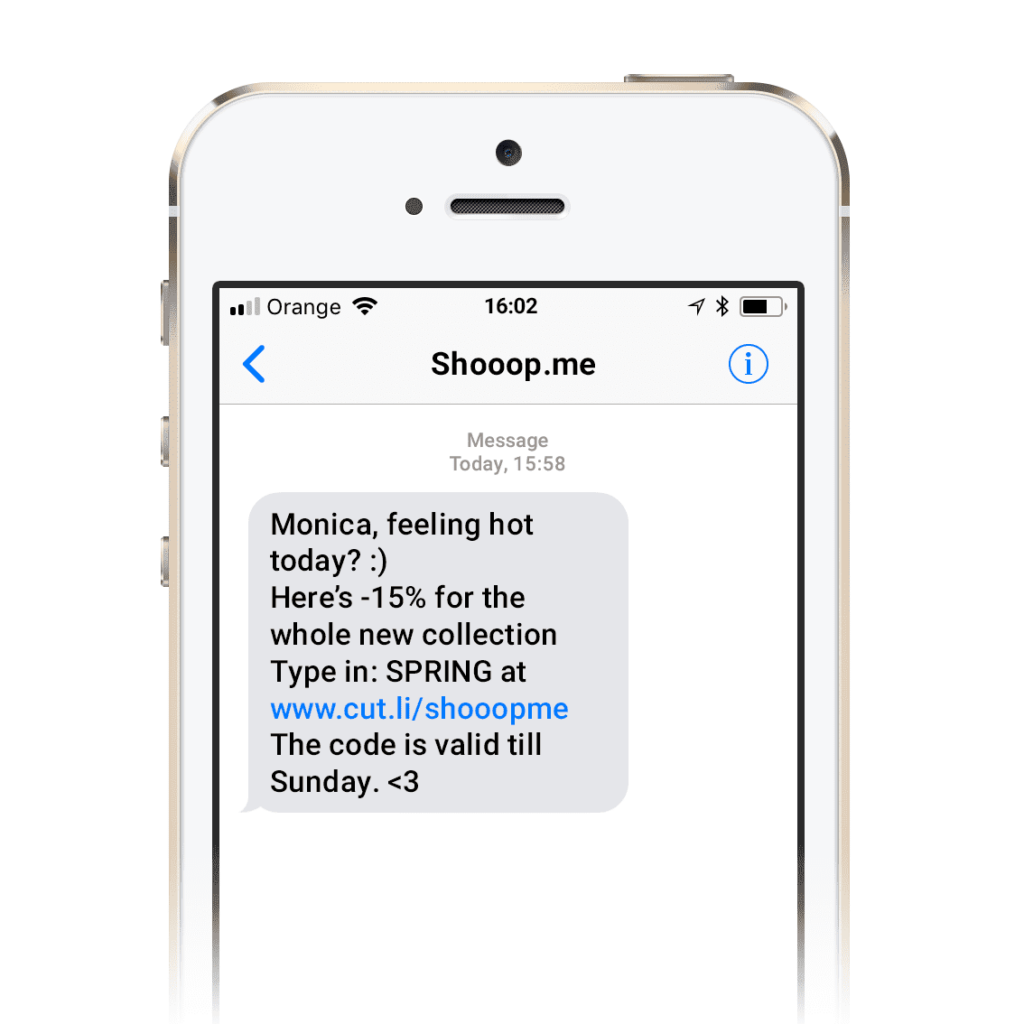 Source: SMS API
Using a text to perform follow-ups offers outstanding potential with several benefits. It is easy for customers to respond to, has high visibility and engagement rate, and shows that your brand cares about them.
Easy to receive feedback
Text messages provide an excellent channel to obtain customer feedback via surveys panels. Statistics show that 31% of consumers will respond to a survey via SMS within an average time of 5 minutes- indicating that you can run successful feedback campaigns in a short time.
Increased customer engagement
Use SMS to improve your brand-customer engagement. Besides interaction notifications, customers often appreciate receiving updates or news on forthcoming products. In case you need a longer text to communicate, use emails instead.
In practice, consumers are used to receiving texts when receiving local services such as getting an appointment with dentists or using government services like the NHS. Here is an example of how a dentist engages its audience on a high-engagement occasion!
Source: Off the Cusp
Regardless of where your customers are in the buyer's journey, you can use this expected method to reach out to them via messaging.
SMS mobile marketing is cost-efficient
Contrary to popular belief, SMS marketing services are quite budget-friendly and manageable. This is because they don't operate on a set monthly rate. Instead, most SMS providers charge you upfront for credits rather than sending you a bill afterward.
For instance, if you buy $50 worth of SMS credits, you can use them accordingly and repurchase them only after all your credits are used.
Nevertheless, the price per SMS depends on the country in which you're sending the text messages.
Provides insights for analytics
SMS campaigns provide all-encompassing insights. You can leverage your text marketing software reports and use them to track and analyze different metrics, including click-through rates, list growth rates, conversions, response time, and ROI.
How to run creative SMS marketing campaigns
Any marketing effort calls for creativity to spark a feel-good reaction in the end-user and encourage them to interact with it. Here are some ways you can add creativity to your SMS campaigns.
Being fun matters
If it is fun, it is engaging. So add fun elements to your campaigns that can engage new and returning customers alike.
It could be sales offers, limited-time discounts, or clever coupon codes that include lighthearted slogans and puns. Besides, you may want to jazz up your text copy. Anything that works, as long as it's appropriate and entertaining!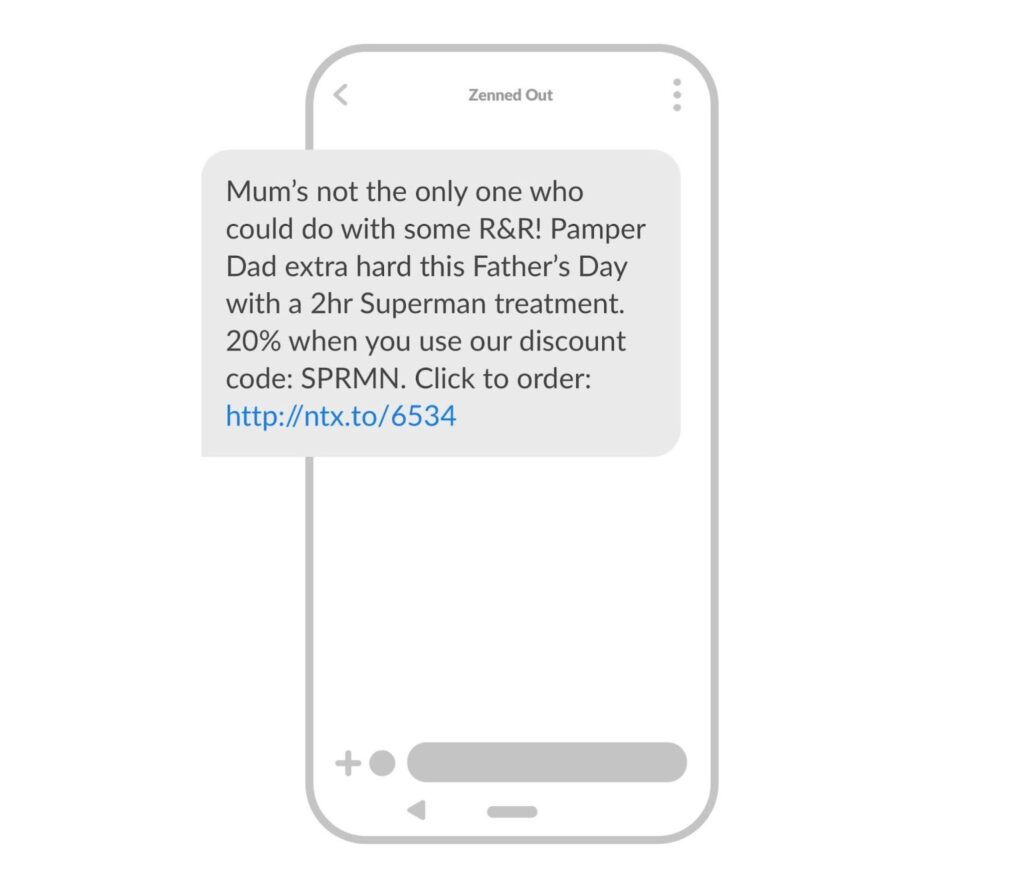 Source: Message Media
However, apart from being fun, remember that you will still need to keep the essential information about the event or product
Use holidays for themed SMS
Holidays are another great occasion to design creative SMS marketing campaigns. Use holidays to offer sales and discounts, using lighthearted, conversational language to attract the recipient's attention.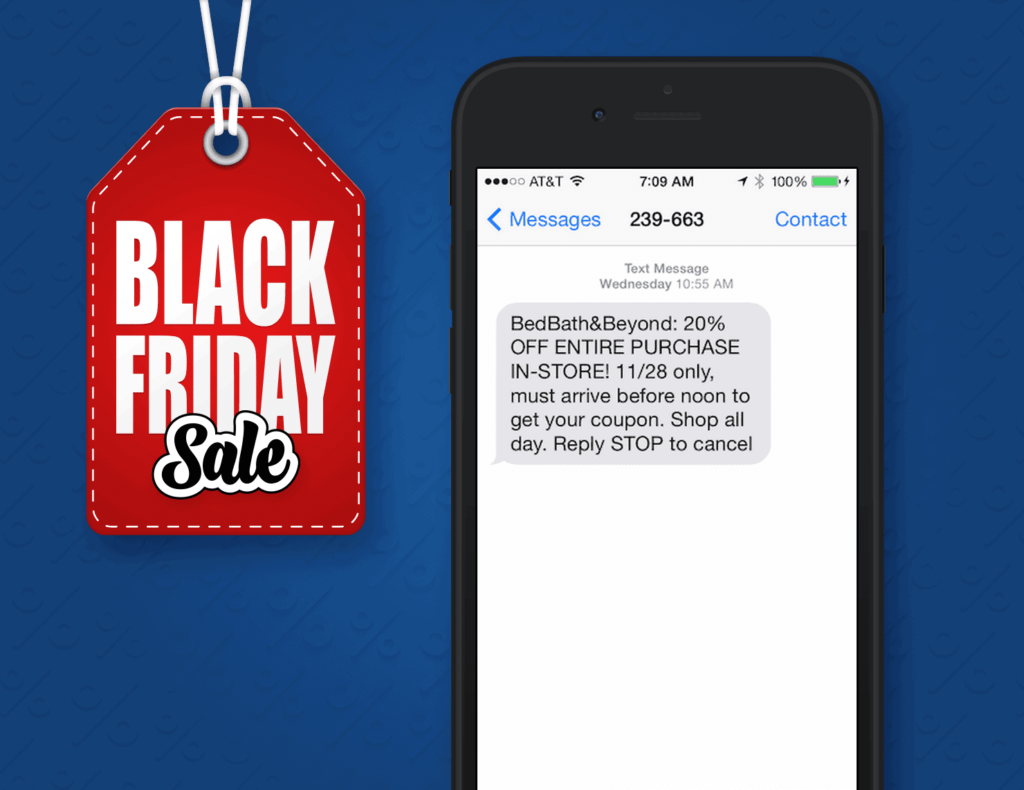 Source: tatanGo
These occasions can be used to add urgency in a casual tone to lead them to a final call to action. This combination is more likely to make a convincing case for the user to react to the time-sensitive sales.
Use the customers-first principle
Attracting new customers is important, but engaging your existing customers with targeted campaigns is also crucial. You can run nurture campaigns for returning customers through personalizing messages.
In addition to making customers feel valued, you can foster their bond with your brand.
In SMS mobile marketing you can do this by using the customer's name and casual language, enticing them to convert by presenting them special offers, such as store credits on a previous order.
Discover more on lead generation and lead nurturing best practices.
Emojis are a go-to
Emojis attract the reader's attention and increase engagement rates. Utilizing emojis can add a colorful spirit to campaign your traditional SMS.
Speaking of emoji-integrated marketing, check out LeadsBridge's case study on Facebook copy with emojis.
Make subscription confirmations interesting
Subscription confirmation messages are informative but can also be fun. 
These messages provide the information a recipient needs about opt-in for SMS updates, like what would be the context of messages and how to unsubscribe.
You can improve your subscription confirmation messages with fun copy and emojis to break up the text.
Ways to strategize your SMS mobile marketing successfully
Use text messages or other conversational marketing platforms to create successful marketing campaigns. The best text-based strategies have a few characteristics in common. Let's have a quick look at what they are:
Know your persona
Understanding what your audience is looking for helps you to send just the right amount of texts that also convey the right information. This prevents you from sending out meaningless texts that may well encourage your leads to unsubscribe. Defining your audience before running a campaign is the first step.
Give subscribers what they've signed up for
Once subscribed, your end recipients trust that you will use their contact information ethically. Sending out random texts or doing so too often might result in unsubscribing. The best practice is to stay consistent and offer just what they're expecting.
Keep the number of texts in check
No one wants to get tons of pointless, overly-promotional texts. Avoid contacting your customers too often and keep it as engaging as possible. Consider sifting through your SMS schedule to exclusively prioritize the most important text content.
Make their life easier
If you can make your customers' lives any easier, they will be eager to receive your SMS messages. Mobile commerce is all about convenience and that is why it's growing at record speed.
SMS is used as an instrumental tool for collecting leads, driving traffic, and providing service. Always plan your SMS campaigns from a customer perspective. This practice enables you to offer valuable content and high engagement rates.
Streamlining your SMS schedule
There are common denominators in all consumers' behavior and preferences. You can outline these factors by analyzing your campaigns. For example: if you run a real estate agency, you might know that your clients usually return within a week. So, why not schedule an SMS to go out after a few days to help them with their decision?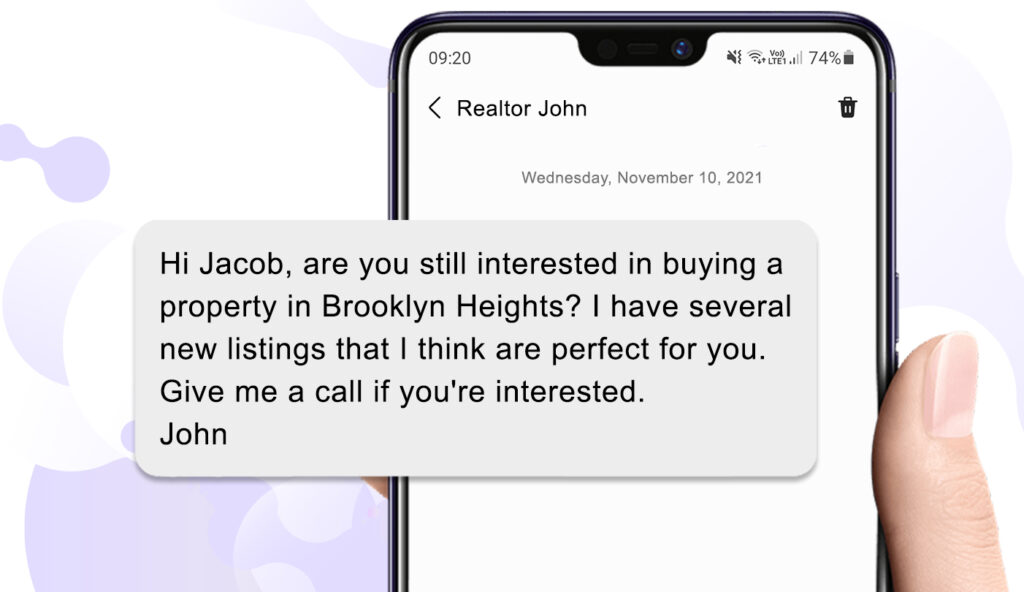 Source: vertex SMS
Timing matters
No one likes to get a promotional text at 6 am. Some timings are just inappropriate for contacting your customers.
Generally, avoid sending SMS messages before 8 am or after 7 pm – unless you work for an airline company and are obliged to send text-based flight notifications.
Mixing up your SMS scheduling is another tactic. Most marketers schedule their messages at a particular time, such as 6 pm. You can stand out by sending during less likely times like 11:53 am or 2:26 pm.
Running AB testing
SMS mobile marketing offers an effective medium to run A/B tests. All you have to do is set two different messages against each other and analyze their performance. The results speak for themselves.
Automate the workflow
SMS mobile marketing is practiced by combining text messages with automated workflows. By doing so, you can leverage the power of automation. Whether it is an abandoned card or a new subscription, it is recommended to limit your SMS to one per workflow.
You can also prioritize the critical information in every text and combine your SMS channels with your email campaigns. To do this, you can use LeadsBridge as a third-party integrator to create bridges between different points in your marketing stack. Let's have a look at some of these integration bridges:
Here is an automated text message example: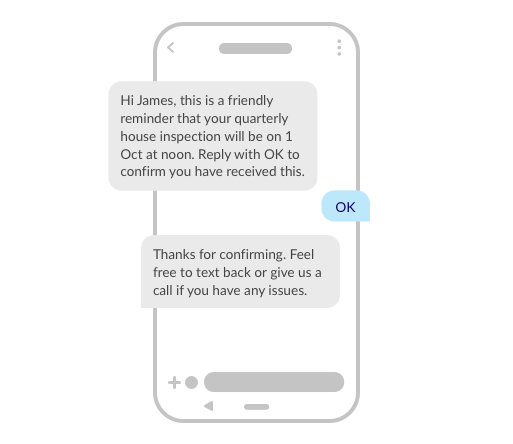 Source: Message Media
Tips on how to write SMS for marketing
You don't need to sacrifice information for creativity. To do this, you must know how to write SMS for marketing. Find out how to do this with these tips.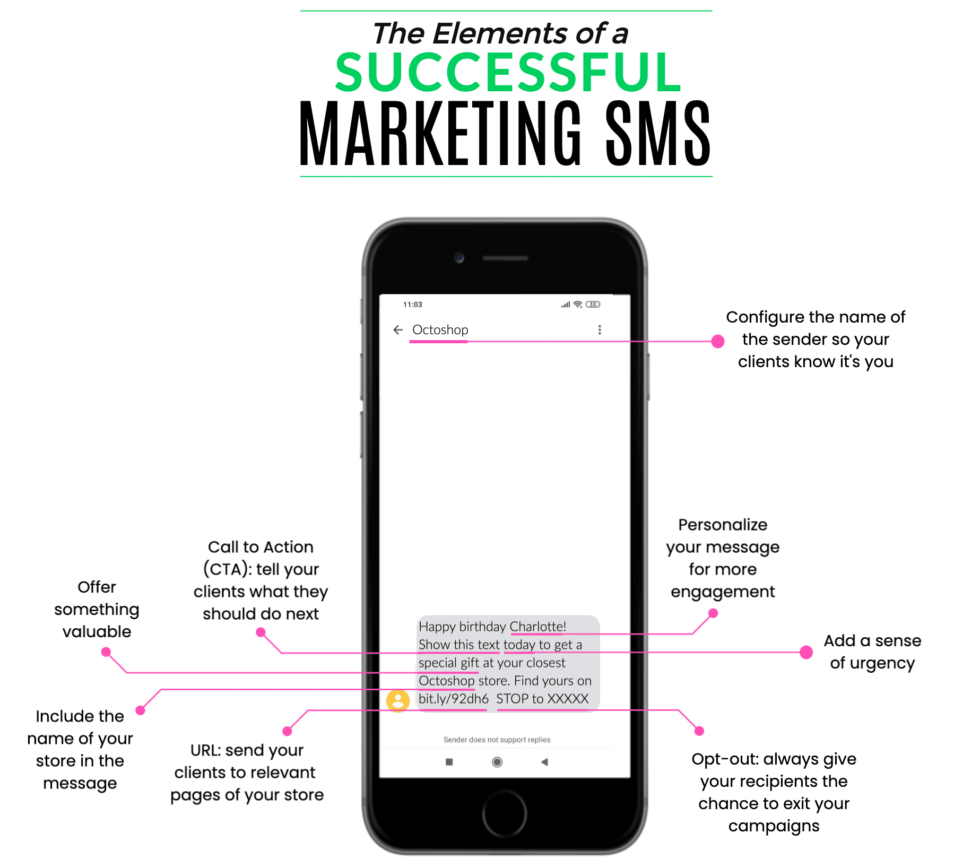 Source: Octopush
Keep it simple
Text messages are limited to 160 characters. When writing promotional text messages, less is more. Look at these two texts examples of automated text messages:
"Download our App to get 10% off on your next reservation. To take advantage of this special offer, make a booking within the next two weeks."
"Download our App for 10% off your next stay at Sunrise Hotel. This offer expires on Oct 14th."
The first example offers more details, while the second one gets to the point with just a few words.
Capitalized words ATTRACT attention
Text messaging has its disadvantages. For example, you can't alter the color or the font of your text. Capital letters are the only way to create an emphasis on a certain word. Use caps to highlight the important parts:
"For Black Friday weekend only, 40% OFF on everything."
Personalize your SMS campaigns
SMS is a personal medium. It is best to choose your wording and emojis that are well suited to your messaging and the company's tone of voice. If you want to stand out, it is best to write a text message in a personalized greeting and offer. This way, your message becomes more friendly and memorable. Hence, they stand out amid the bulk SMS copies that reach your audience every day.
Personalized data like names, birthdays, and locations add a human feel to your text. Additionally, make sure everyone understands your communication universally. Here are two great examples of automated text messages: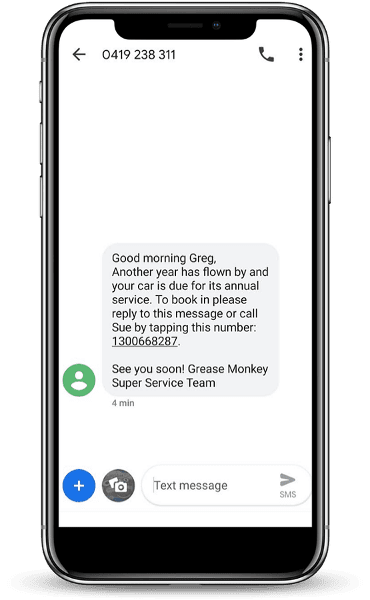 Source: SMS express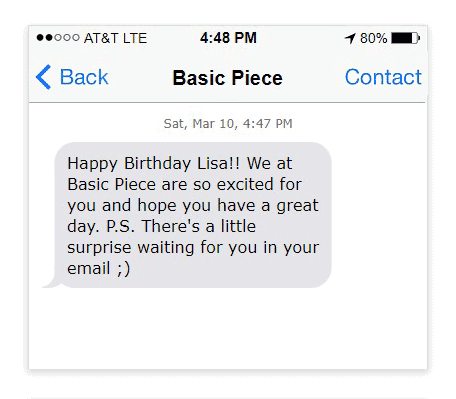 Source: Wigzo
CTAs are a must
A clear call to action can prompt your customers to take on a task. Keep it short with a few introductory words and add the required link. You can always add more info on your landing page, where the link redirects your recipient.
Unlike emails, you can't use anchor texts for links. It is only a clickable URL. Use tools like Bitly or Rebrandly to make your long URL shorter.
However, avoid bombarding your audience with too many tasks and actions. SMS campaigns are more effective with just a single call to action.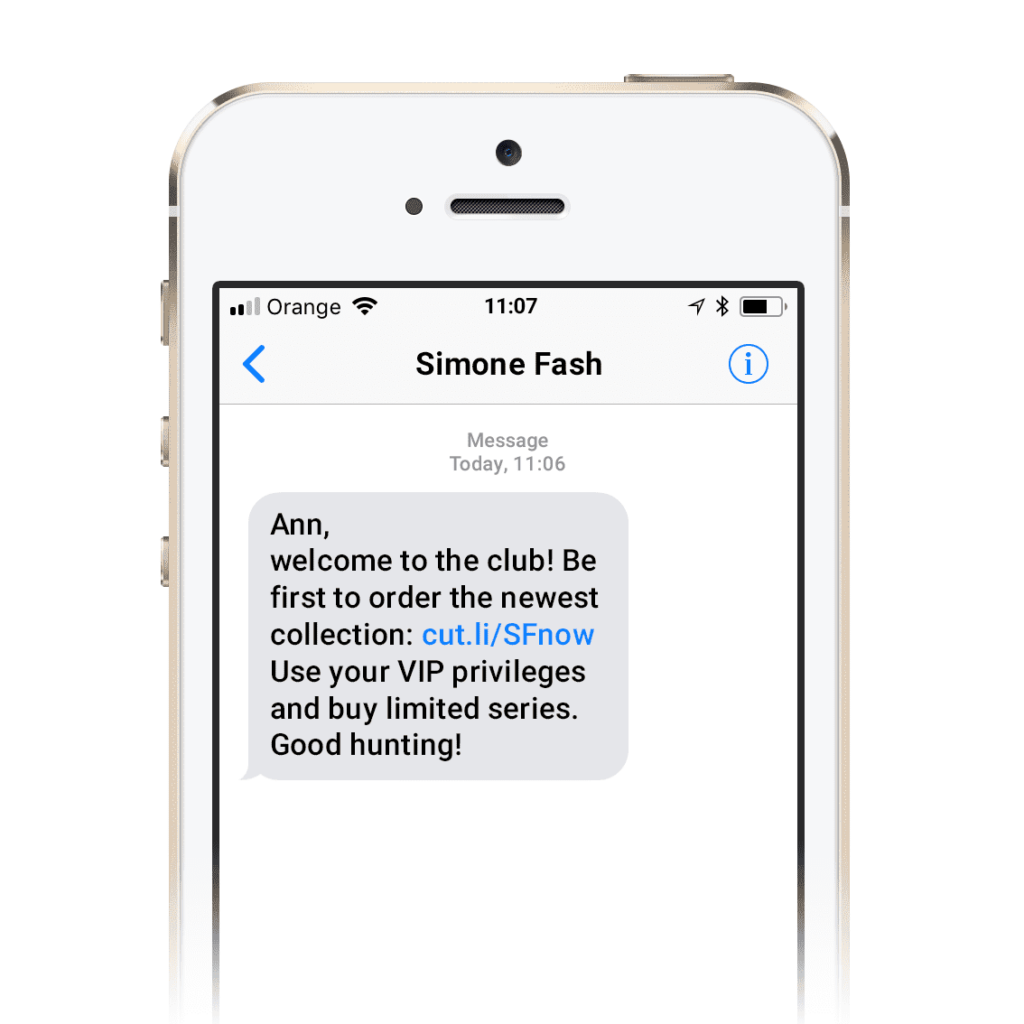 Source: SMS API
Urgency is an effective element
People are more likely to engage with promotional content if there is urgency and fear of missing out.
It could be the fear of missing out, making a mistake, or facing extra charges. These psychological elements can rush something to be done carefully. Here is a great example of using urgency in promotional text.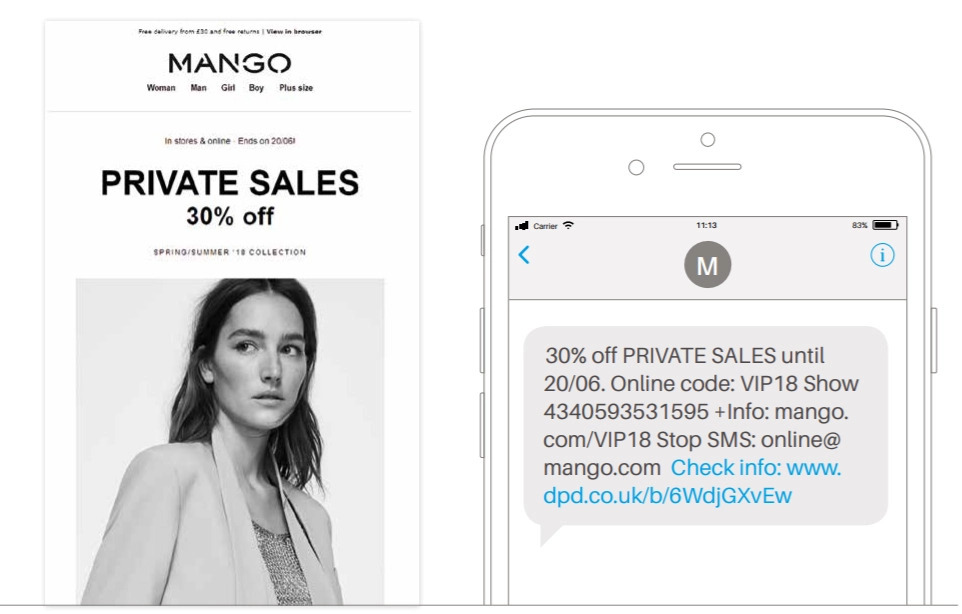 Use power words
Communicating the reason why a customer should engage with your brand is the first stage to prompting them. Copywriters know perfectly how to write SMS for marketing and do it by using Power Words to guide them through an action. Words like Now, OFF, Discover, Latest, and more. These words are not only persuasive but also provide an alternative to lengthy explanations in just a few words.
Remember that your customers will not engage with a promotional text unless you reveal the why behind the action.
Less is more
The typical length of a promotional SMS is 160 characters. Long blocks of text are hard to read and often repulsive to the recipients. It is best to formulate a copy that's short, informative, and relevant.
Since it's impossible to include all the essential details in an SMS, you can add a link that redirects them to a landing page with more information.
Add in contact details and links
You can include your contact information so your customers can reply to your text or reach you. However, not every promotional text needs to include contact details, for instance:
"Shop online for Valentine's day gifts." Here, you could consider adding a link to your business, and no contact information is needed.
"Valentine's day lunch on 10th February is a reservation-only event. To get your suite, call 0155 444 723". Instead, adding your business's phone number here is important so your customers can book directly from the SMS.
Avoid text speak and jargons
The 160 character limit pushes brands to use acronyms and shortenings when texting their customers. Although, these techniques could make a text message hard to read. Compared these examples:
"Book an apt with us by Sun & you'll get a 15% rwd"
"Book your apartment suite by Sunday 24th and get 15% off"
Not everyone would know that "apt" is short for "apartment" and "rwd" suggests "reward".
Prioritize professionalism and quality over quantity. Avoid making the mistake of adding so much info to end up with low-quality text.
Launching automated SMS campaigns with LeadsBridge
What would SMS mobile marketing be without automation?
I'd say, impossible!
After choosing a text marketing software provider comes the ability to automate and connect different parts of your marketing ecosystem.
For instance, to send out a confirmation text after an online purchase, you'll need to be able to automate your message based on your inventory. Check out this automated text message example:
Automation will let you add new customers and purchased products to the list in your CRM, instead of manually downloading your lead and inventory database each day.
SMS mobile marketing meets LeadsBridge
If you're committing your efforts to SMS mobile marketing, you must already maintain a detailed database of users and process them through your CRM.
Your CRM platform is your hub for sales, conversions, maintaining your leads' lifecycle, and other marketing activities. So, to connect your automated SMS provider with your CRM, you need a third-party integration provider. It's critical that all your systems are well connected.
This way, you can provide real-time follow-up, send SMS directly from the CRM, and enter data in or pull data from your inventory or any other point in your data system.
Here is where LeadsBridge comes in.
LeadsBridge also offers internal SMS services between employees and departments. You can use this service by defining triggers. For instance, if a customer makes a purchase, your sales reps receive an SMS notification.
We offer both standard SMS-CRM integrations and tailor-made solutions to bridge your marketing tools with your SMS Marketing Platform. Check out these LeadsBridge integrations for SMS automation.  
Everything runs smoothly and efficiently when you've got the right text marketing platform integration by your side.
What to take away from this post
Crafting the right SMS messages is the art of combining techniques, creativity, and tools. Whether you are new to SMS marketing or well-along in your journey, you can use these best practices and examples to create creative SMS marketing campaigns and optimize your SMS mobile marketing campaigns for the better.
Powering over 380 standard integrations and hundreds of custom integrations, LeadsBridge is here to help you stand out. Sign up today to bridge your favorite marketing and advertising platforms and start syncing leads.
Check out all LeadsBridge integrations for SMS marketing here to find out which one works best for you.