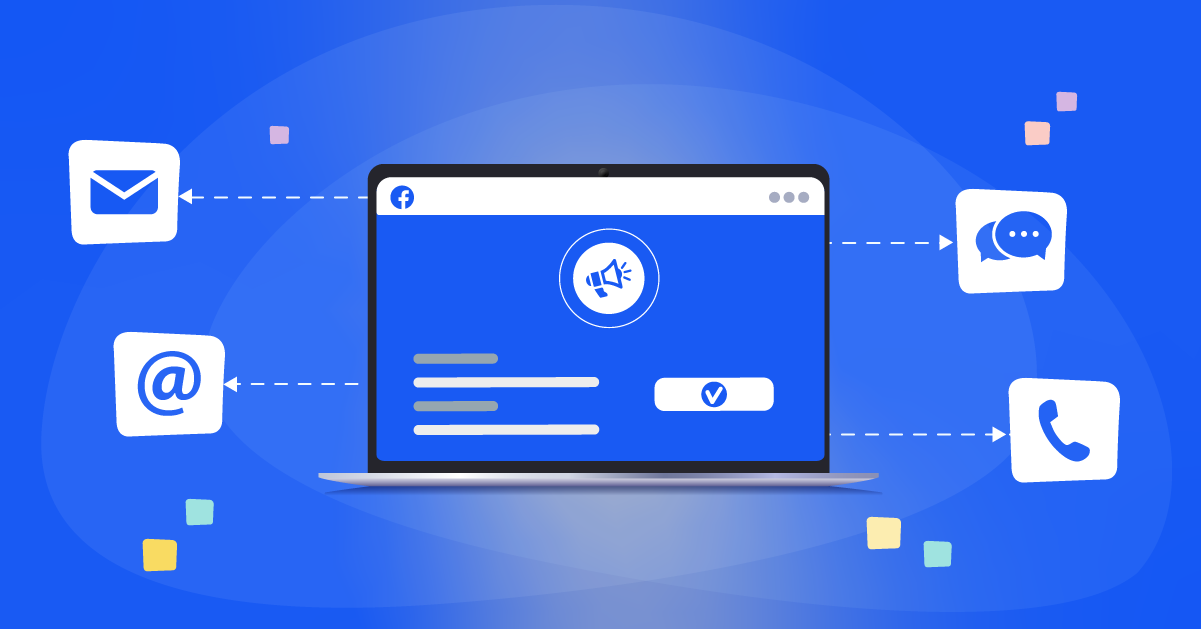 Facebook makes it easy for businesses to generate leads through its Lead Ads tool. The average click-to-lead conversion rate for a lead ad campaign is much higher than regular conversion campaigns. However, getting high conversion and generating leads is one thing; it is another to turn leads into customers. This is where follow-up comes in.
It is 21 times more likely to qualify a lead with an immediate response than delaying it over 30 minutes. So it is essential to contact prospects as soon as they sign up for your offer. For a successful follow-up with Facebook leads, you need to have a strategy and create an automated follow-up process to lessen human errors, using third-party integrations provided by an official partner, such as:
In this article, we'll discuss how to follow up with Facebook leads to boost conversions and customer engagement.
What are Facebook Lead Ads?
Facebook Lead Ads allow businesses to collect valuable details from prospects right on the platform. The Lead Ads contain a form pre-filled with users' information, such as their names, email addresses, and phone numbers.
All they have to do is confirm their details and click the submit button while interacting with the ad on the Facebook platform. With these forms, there is no need to send traffic to a landing page where users have to fill out the form manually.
Here is an example of a Facebook Lead Ad.
Facebook Lead Ads also allow you to collect business information, price estimates, sign-ups for newsletters, etc. It is a great way to generate new customers who are interested in your products or services.
Facebook Lead Ads Download
Once the Facebook Lead Ads is set up, interested users can click on it. Then, they are presented with a sign-up form with pre-populated information fields from the user's Facebook account. They can confirm the information and submit the form with a few clicks.
Finally, there is the thank-you page, often along with a CTA and a link that encourages the user to visit a relevant landing page. The simplicity of this process clears the way for users to become leads quickly.
You can access the lead data generated from the Facebook Lead Ads campaign on the Facebook business page (the ads manager) and download them manually in CSV format or through a complex API setup. Even better, you can download the leads through an official Facebook CRM partner like LeadsBridge.
Downloading Facebook leads manually
Downloading the leads manually from the ads manager is time-consuming and inefficient. You have to download the file, then upload it to your CRM or autoresponder to follow up on the leads. Your leads expect to hear from you immediately after signing up on the Lead Ads form. When kept waiting, they can grow cold, reducing your conversion.
So, when following up on leads, your timing draws the line between letting leads fall through the crack or turning them into paying customers.
In an ideal marketing strategy, you have only 5 minutes to contact a lead, and 78% of customers buy from the first responder. Additionally, Facebook keeps your leads for only 90 days. When this period is over, your lead data is lost for good.
Here is a step-by-step process to download Facebook leads manually.
1. On your Facebook page, click on the More and select Publishing tools from the drop-down menu.
2. Click on the Lead Ads Form.
3. In the Forms Library, under the Leads column, click on Download. Then, the download lead screen is displayed.
4. Here, you have two options — one, click on Download new leads if you want to download the new leads that have been collected since the last time you downloaded your lead data. Two, you can choose to download by date range to get the leads you have collected over a specific period of time. Select the date range and update it. Click on Download to finish it.
In any case, your leads will be downloaded in CSV formats.
Downloading Facebook Leads through API
You can also download leads through the API (application programming interface) through webhooks or bulk read. Similarly, this process is too inefficient and complex. It also requires expert-level knowledge of programming and how API works. What's more, creating an API is lengthy, and you need to have various credentials such as access to the page access token, the user access token, and advertiser-level permissions to use the tool.
An automatic solution to downloading Facebook leads
To save time and follow your leads, you can download your leads from Facebook through a Facebook CRM partner such as LeadsBridge. With LeadsBridge, you can integrate your Facebook Lead Ads with Facebook Lead Ads Sync. This is an automatic setup, which means you can streamline your data sync from Facebook to your favorite marketing tools and CRMs such as Salesforce® or HubSpot.
Here are some integrations for connecting Facebook Lead Ads with your favorite apps:
Facebook Lead Ads integration with Salesforce®
Facebook Lead Ads integration with HubSpot
Facebook Lead Ads integration with Zoho CRM
Facebook Lead Ads integration with AgileCRM
Apart from these two methods of downloading leads from Facebook, you can also integrate Facebook Lead Ads with other tools to improve your lead follow up campaigns.
How to follow up with Facebook leads
After downloading your Facebook leads, you will need to follow them up immediately. You can use four different methods to ensure your leads receive proper attention at the right time.
Why is having a follow-up advertising system important?
Creating a follow-up advertising system helps you win more sales with less effort. How to do this? By increasing your closing rate and customer satisfaction. Using a systematic process for your follow-up campaign gets the best out of your sales and marketing efforts.
So to get more sales, you need to implement your own follow-up system. Keep in mind that an effective follow-up advertising system should have these characteristics:
It is systematic: the follow-up process is completed the same way each time.
It generates regular and predictable outcomes.
It requires little to no physical interaction to work correctly, meaning it should be able to run on autopilot.
Request a demo to understand how LeadsBridge can set your Facebook Ad Campaigns on autopilot.
Lead follow-up systems
There are two types of lead follow-up systems, one for immediate follow-up and the other for nurturing your leads over a longer time. Choosing your own system depends on factors such as the placement of leads in your sales funnel, your marketing strategy, and the next best action at every stage of the process.
Immediate lead follow-up system:
1. Sending thank you and welcome email: Immediately after a lead fills up your lead form or subscribes through other marketing channels. Check out this integration for running your campaigns:
Facebook Lead Ads integration with Welcome Email
2. Making a call: Marketing calls boost ROI and customer satisfaction if used for the right occasion. After a request has been submitted, 12 to 24 hours is an ideal time window to make the call. Here are some integrations that can boost your marketing experience with Facebook Lead Ads.
Facebook Lead Ads integration with Aircall
Facebook Lead Ads integration with RingCentral
Facebook Lead Ads integration with Convoso
Facebook Lead Ads integration with DialPad
3. Qualifying your lead: filter through your leads, or qualify them, as they come in to give priority to hot leads and cut off the leads with no interest. Read this article to familiarize yourself better with lead scoring strategy.
4. Organizing a follow-up call: To guide your leads down the sales funnel and help them with decision fatigue, offer demos, appointments, and calls for providing info and more.
5. Sending thank-you messages: finalize a conversion and show you care for your leads with a thank you note.
6. Sending reminders about the follow-up appointment: Reminders matter- whether for an upcoming event, webinar, or a simple client-customer care appointment.
7. Following up: To conclude with a sales pitch, a call to action or a survey request- following up can drive conversions.
8. Organizing lead lists for long-term follow-up: If a group of your leads isn't just ready, giving them time can help. Use their data to qualify them for follow-ups, personalized messages, etc.
Long-term lead follow-up system:
Focusing on benefits of following up: tailor your marketing or sales pitches by assessing where that specific leads fit into your strategy. It could be through a birthday message, addressing their pain point, rekindling their interests through the holiday season, or any other way that you can offer value to them in a sensible way.
Hard sale works, too: Make forthright contact with your leads for your service-based business or larger ticket items. Personalized contacts are a great way to approach this.
Make it personal. Personalization is a powerful marketing technique, whether through birthday messages, sending them related educational content, or lead magnets. Discover more about behavioral marketing and personalization.
Request referrals. Referrals are high converting leads. If your leads are really interested in your product but not ready to buy, ask them for referrals.
Removing prospects who do not consent: Any lead who no longer wishes to receive your marketing messages should be removed. Sending a thank-you note and your farewell message is also recommended. This way, you can keep your advertising safe as well.
Permission-based marketing is the way to go nowadays. Learn all about it.
Now, let's have a look at these successful follow-up practices.
How to send Facebook Leads to email
Integrating your Facebook account to send Facebook leads to email directly is necessary. Why? Because of what comes next. Providing a quick response to a lead who has just converted (through signup, download, purchase, etc) is called speed to lead and matters because leads expect to hear from you quickly. Keep them waiting, and you could outright lose them.
There are two ways to emails to your Facebook leads:
1. Welcome Email
A welcome email is important because it generates 320% more returns. It has the highest open rate (about 45.7%) and a 1% conversion rate. Through a welcome email, you can offer value propositions to your subscribers, push them to take further action, and build an engagement with your leads. By integrating your Facebook account with LeadsBridge's welcome email, you can instantly send a welcome message from you when a new lead comes in.
Statistics show that real-time welcome emails have the highest (91.43%) open rate and an average click-through rate of 26.9%. Therefore, integrating your Facebook leads with the LeadsBridge welcome email can change your entire lead management efforts for the better.Welcome email helps you give a high-standard impression to your leads and let them know that you care for them. Taking LeadsBridge's email services, customers who use welcome emails and SMS or more generally close 65% more deals than people who don't use it.
2. Email Notification
Another way to send Facebook leads to email is through LeadsBridge's Email Notification tool. When you integrate the tool with your Facebook account, it sends an email to you or your sales rep with the details of the leads as soon as they sign up on your Lead Ads. This will help you attract more leads at specific touchpoints.
With Email Notification integration, you can keep communication with your leads constant. Besides, it offers a non-intrusive way to deliver relevant messages and offers such as coupon codes, rewards, and special notifications.
How to send SMS to Facebook leads
SMS marketing is on the rise. In 2022, the number of smartphone users worldwide has reached 7.26 billion. That's 91.5% of the world's population that owns smartphones. SMS marketing has an open rate of 99% compared to the email open rate, which is 22%.
1. Welcome SMS
This is why you need to blend SMS marketing into your Facebook lead management strategy so you can contact them immediately after they sign up. You can do this by integrating your Facebook account with LeadsBridge's Welcome SMS tool.
With the tool, you can send automatic follow-up messages or a welcome text to the leads as soon as they sign up, deliver a lead magnet promised in the ad, send coupons, and engage them with other relevant offers.
2. SMS Notification
SMS notification is a tool that allows you to communicate with your leads through text messages. Since most people use smartphones, it is unlikely that SMS alerts go unnoticed.
Using SMS Notification integration, you can define automated triggers that send text messages to your leads as well as your marketing team or sales reps to inform them about an important activity (like when a new lead signs up on the Lead Ads). This way, an appropriate response can be provided to your leads who have interacted with your ads (new signups, conversions, requesting demos, etc). You can decide whether to send an SMS to one agent at a time, to all the agents simultaneously, or to agents with a round-robin.
Discover more about SMS marketing best practices for your business.
Here are some more popular SMS marketing-boosting integrations:
Facebook Lead Ads integration with Welcome SMS
Facebook Lead Ads integration with ClickSend SMS
Facebook Lead Ads integration with BulkSMS
Facebook Lead Ads integration with SendPulseSMS
Strategies to improve the quality of leads
1. Ask more qualifying questions
Facebook lets you add your own qualifying questions on your Facebook Lead Ads. The general idea is that the more questions you ask, the more the quality of leads you'll get. This helps you to weed out low-intent users who are not likely to convert.
However, asking more questions also comes with its own costs. Since many people may be unwilling to submit the form because of the time-taking process, this strategy naturally yields fewer leads. On the other hand, Facebook auto-populates shorter forms, so it becomes easy for users to complete the process_ hence generating a higher number of leads.
So, to get a maximum number of quality leads, ask relevant questions and make it easy by offering the answers in multiple-choice options. This will encourage them to get through the form without wishing to abandon it midway.
2. Use an automated lead follow-up system
The most effective approach is to follow up with leads as soon as they sign up for your offer on Facebook Lead Ads. Using an automated lead follow-up system makes matters even more effective, such as integrating Leads ads with LeadsBridge's welcome email tool (mentioned above).
A study revealed that 35-50% of new sales go to the business that responds first. Using this integration, you can quickly contact them with relevant information before they lose interest in your offer.
3. Creating a series of welcome emails
Sending a single welcome email when your lead signs up is great, but you need to continue the communication between your brand and your leads. The best way to do this is by creating a series of welcome emails designed to keep leads engaged (lead nurturing).
Most businesses create a series of six or seven emails:
Start by welcoming them to your business, offer practical advice, provide a solution to their problem, and position your service or product as a solution. You can use these integrations for driving more results:
Facebook Lead Ads integration with Mailchimp
Facebook Lead Ads integration with GetResponse
Facebook Lead Ads integration with ActiveCampaign
Facebook Lead Ads integration with Campaign Monitor
Facebook Lead Ads integration with Keap
Read this guide to learn more about developing the follow-up email sequence.
4. Create lookalikes from real customers
In practice, Lookalike Audiences are the replica of your ideal customers. Avoid creating a Lookalike Audience from prospects since it produces a bigger list of less qualified leads. Instead, create a Lookalike Audience from those who have already converted to customers.
This way, you are building a true profile of an ideal customer. This true profile stirs your campaigns clear of wrong (low-intent) leads. In addition, you can always be sure to hit the target each time you create a Facebook ad campaign for the Lookalike Audience.
Read this guide to learn all about Lookalike Audiences and how to use them.
Discover our most popular integrations for streamlining these campaigns:
Act on integration with Facebook Custom Audiences
ActiveCampaign integration with Facebook Custom Audiences
Adobe Campaign integration with Facebook Custom Audiences
Mailchimp integration with Facebook Custom Audiences
5. Segment your leads
Segmenting your leads makes your lead follow-up strategy more effective. This involves grouping your contacts according to different traits, such as their income, purchasing ability, and position in the sales funnel (i.e., top, middle, and bottom). This information helps you craft personalized messages that resonate with them and serve their needs.
Did you know that personalized emails deliver 50 percent higher open rates? A study also revealed that marketers who used segmented campaigns noticed a 760% increase in revenue.
6. Use Multi-channels to follow up with leads
Using multiple channels to follow up with leads is an optimum solution to follow up with leads. Email is not the only way to follow up with leads. You can use other channels to run follow-up campaigns, such as phone, SMS, instant messaging, social media, and video calling.
Many organizations set up an enterprise phone system that works entirely on VoIP technology. Even if a call is missed, you can get back to them at a very nominal cost since all the calls are placed over the internet.
Giving leads different options to contact you helps them choose the most convenient way—on average, texting after initial contact results in 112% higher lead engagement.
7. Share your best content
The resources you have on your website, such as blog posts, video content, and images, can support your follow-up campaigns. Of course, you should consider the content that shows the features and benefits of your products or services.
Educating your leads on how your product or service works is always a winning strategy; you win by getting them to engage with your products or services, and they win by receiving value (such as information or solving an issue). A study revealed that 80% of business decision-makers prefer learning about a company through articles versus an advertisement.
8. Facebook Conversions API and cookieless advertising
The lead ads data you have collected so far include a massive amount of the lead data, which is technically a gold mine from a marketing perspective. But with the new rules and regulations on consent-based marketing, you may want to take a deeper look at its impact on cookieless advertising.
Advertisers traditionally rely on third-party cookies to accurately target and retarget their audiences. While the cookieless world may seem challenging, it has a silver lining to it.
The best practice for handling cookieless tracking is combining LeadsBridge and Facebook Conversions API. It allows you to automate the process, transfer data with GDPR and CCPA compliance and stay ahead of your competition by getting a badge of authenticity.
ActiveCampaign integration with Facebook Conversions API
Mailchimp integration with Facebook Conversions API
Zoho CRM integration with Facebook Conversions API
Google Sheets integration with Facebook Conversions API
HubSpot integration with Facebook Conversions API
To learn more about the best practices and solutions for advertising in a cookieless world, read our guide to cookieless tracking.
Additionally, watch our webinar in partnership with Facebook to understand the good and the bad of cookie-less advertising.
Reasons why to integrate email and SMS with Facebook Lead Ads
The marketing world is dynamic, constantly becoming more sophisticated. Customers receive marketing messages through different channels such as email and SMS. This means your marketing approach must be creative and resourceful to stand a chance.
For instance, it is possible to combine email messages, SMS, and Facebook Lead Ads and blow your competition away.You can also request users' email addresses and phone numbers while creating your Facebook Lead Ads to use them for marketing purposes.
Below, you find the top three reasons to integrate SMS and email with Lead Ads.
1. They produce more conversionsUsing Facebook Ads and emails can give you customers who are 22% more likely to purchase your product or service.
On the other hand, SMS has an open rate of 94%. This makes them a good marketing combination and represents an ideal chance to increase conversions.
2. It helps grow your mailing list, Facebook fan base, and SMS subscribers
Use Facebook to grow your SMS marketing subscribers list and email marketing list. You can also grow your Facebook followers and engage your audience using email or SMS marketing.
Discover how to build your email list on Facebook and Instagram.
3. It gives your subscribers different options to interact with your brand
Using email and SMS with Facebook Lead Ads allows subscribers to choose the channel they prefer for interaction with your brand. This way, it becomes easy to build a base of more engaged customers.
Final thoughts
Facebook Lead Ads allows businesses to grow their lead databases and drive conversions. However, how to follow up with Facebook leads is where matters become challenging. It calls for creating a follow-up strategy so the leads can convert to customers.
Having a winning follow-up strategy gives you an advantage over the competition. An important aspect of lead follow-up is timing; the sooner you get in touch, the better the results. This way, you can nurture them until they convert.
To follow up immediately, automate the process by integrating with a Facebook partner such as LeadsBridge so you can funnel the leads straight to the CRM or Autoresponder and start communicating with them. There are other tools that streamline follow-ups, such as the Welcome Email, Email Notification, Welcome SMS, and SMS Notification. However, you can only use them well if they are connected to other points in your marketing stack_ which you can do by creating bridges through LeadsBridge.
Explore the best Facebook Lead Ads integrations to boost your lead nurturing campaigns.
Additionally, check out all the possible integrations with Facebook Lead Ads.