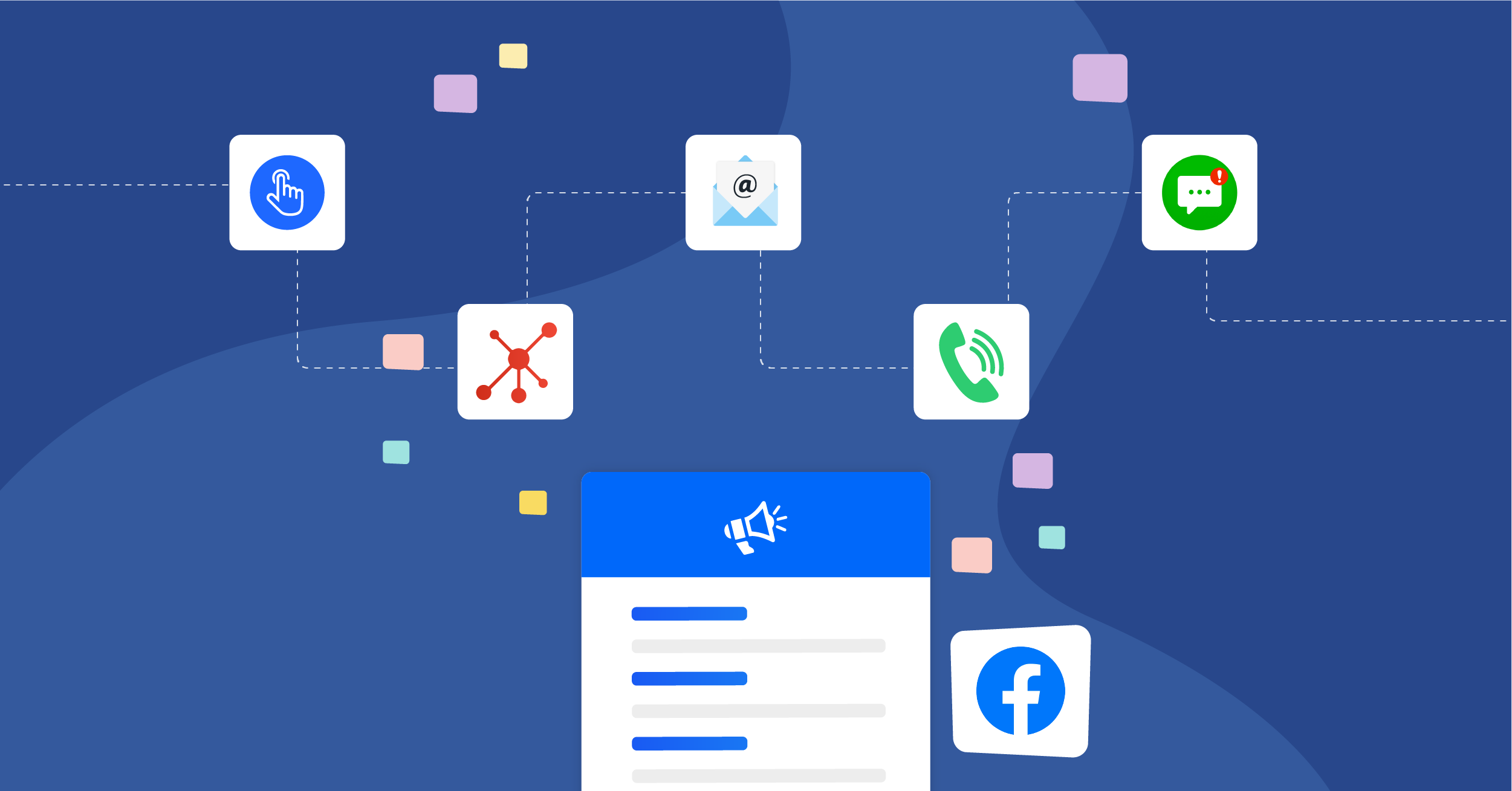 Facebook offers an amazing opportunity for businesses to generate enormous leads through its Lead Ads tool. The average click-to-lead conversion rate of a lead ad campaign is 12.54%, which is 2.07% higher than regular conversion campaigns. However, it is one thing to get high conversion and generate leads; it is another to turn them into customers. This is where follow-up comes in. It is important to quickly contact prospects as soon as they sign up for your offers. This is because 87% of leads close to the company that contacts them in the first 10 seconds. For a successful follow-up with Facebook leads, you need to have a strategy and create an automated follow-up process to lessen human errors.
In this article, you will learn how to follow up with Facebook leads.
What are Facebook Lead Ads?
Facebook Lead Ads help businesses to collect useful details from prospects right inside the mobile ads. The Ads contain a pre-filled form of user's information such as the name, email addresses, and phone numbers. All they have to do is to confirm their details and click the submit button while on the Facebook platform. This eradicates sending traffic to a landing page where users will fill out a form manually.
Below is an example of a Facebook Lead Ads.
Facebook Lead Ads are useful for collecting sign-ups for newsletters, business information, price estimates, etc. It is a great way to generate new customers who are interested in your products or services.
Facebook Lead Ads Downsides
After setting up Facebook Lead Ads, users will start clicking on it. When a user clicks on the Facebook Lead Ads, it displays a sign-up form and shows pre-filled information from the user's Facebook account. The user confirms the information and submits the form. The thank-you page shows up, and the user has the opportunity to visit the website. The ease at which this is done makes it easy for users to become leads.
You can access the leads generated from the Facebook Lead Ads campaign on the Facebook business page and download the file by exporting it in a CSV format. There are two ways to download the leads. You can download the leads from the ads manager or through a Facebook CRM partner such as LeadsBridge.
Downloading Facebook leads manually
Downloading the leads manually from the ads manager is time-consuming. You have to download the file and then upload it to your CRM or autoresponder to follow up on the leads. This is time-consuming and also not efficient. The leads are waiting to hear from you immediately after they sign up on the Lead Ads form. When you delay it, they can grow cold, and this can reduce your conversion. Timing is very important in following up leads.
You have only 5 minutes to contact a lead and 78% of customers buy from the first responder. Not only that, but Facebook also keeps your leads for only 90 days. When the period is over, you cannot download it. What if you forget to download your leads? You will lose them in the end.
Below is a step-by-step process to download Facebook leads manually.
1. On your Facebook page, click on the More drop-down and select Publishing tools
2. Click on the Lead Ads Form
3. In the Forms Library, under the Leads column, click on Download. The download lead screen will come up.?
4. There are two options – one, click on download new leads if you want to download the new leads that have been collected since the last time you downloaded the leads. It will be downloaded in a CSV file. Secondly, you can choose to download by date range to get the leads you have collected over a specific period of time. Choose the date range and update it. Click on download to finish it and you will receive the in a CSV format.
An alternative to downloading Facebook leads manually
To prevent losing your leads, the second way you can download your leads from Facebook is to through a Facebook CRM partner such as LeadsBridge. With LeadsBridge, you can integrate your Facebook Lead Ads with Facebook Lead Ads Sync. This is an automatic setup that will funnel your leads straight from Facebook to your favorite CRM such as Salesforce, HubSpot, etc.
Below is a video showing how to integrate Facebook Lead Ads to HubSpot.
Apart from these two methods of downloading leads from Facebook, you can also integrate Facebook Lead Ads with other tools that will give you different options as seen below.
How to follow up with Facebook leads
After downloading your Facebook leads, you will need to follow them up immediately. There are four different methods you can use to ensure your leads receive proper attention at the right time. They are enumerated below.
How to send Facebook Leads to email
It is important to integrate your Facebook account to send Facebook leads to email directly. This is because leads will expect to hear from you. If you delay in getting in touch with them, you could lose them outrightly. There are two ways to send Facebook leads to email. They are enumerated below.
1. Use the LeadsBridge Welcome Email
A welcome email is important because it generates 320% more returns. It receives the highest open rate i.e. 45.7% and it has a 1% conversion rate. You need the welcome to send offer value to subscribers, push them to take further action, and build an engagement with your leads. If you integrate your Facebook account with LeadsBridge's welcome email, when a new lead comes in, they will instantly get a welcome message from you. The research revealed that real-time welcome emails drive up to 10x better results than messages batched and sent one day or even a few hours later. Therefore, integrating your Facebook leads with the LeadsBridge welcome email is very important.
Welcome email helps you to create an expectation in your leads and to let them know that you care for them. In LeadsBridge, customers who use welcome emails and SMS or more generally close 65% more deals than people who don't use it.
2. Email notification
The second way you can send Facebook leads to email is through Leadsbridge's email notification tool. When you integrate the tool with your Facebook account, it sends an email to you or your sales rep with the details of the leads as soon as they sign up on your Lead Ads. This will help you attract more leads at specific touchpoints.
With email notification, you can keep communicating with your leads in a non-intrusive way to deliver relevant messages and offers such as coupon codes, rewards, and special notifications.
How to send SMS to Facebook leads
SMS marketing is on the rise. In 2021, the number of smartphone users in the world is 3.8 billion, and this means 48.33% of the world's population owns a smartphone. SMS marketing has an open rate of 90% compared to the email open rate, which is 20%.
Welcome SMS
This is why you need to send SMS to Facebook leads immediately after they sign up. This is done by integrating your Facebook account with LeadsBridge's Welcome SMS tool. With the tool, you can send automatic follow-up messages to your leads. With an open rate of 90% compared to an email open rate which is 20%, SMS messages help you to connect with your leads quickly and convert them to customers. With the tool, you can send a welcome text to the leads as soon as they sign up, deliver a lead magnet promised in the ad, send coupons, and other relevant offers.
SMS Notification
SMS notification is the information sent through a text message. It is a tool businesses can use to send a notification to leads because it is not intrusive. A large percentage of people use smartphones and SMS alerts them about current information. SMS notification has an open rate of 90% which is very high. This is why you need to integrate your Facebook account with LeadsBridge's SMS Notification tool.
With this tool, you can send a text message to you or your sales rep when a new lead signs up on the Lead Ads. This helps to keep you and your sales team updated about new leads so you can quickly follow them up to increase conversion rates. You can send SMS a phone number, to one agent at a time, to all the agents at the same time, and to agents with round-robin.
Strategies to improve the quality of leads
1. Ask more qualifying questions
Facebook enables you to add your own qualifying questions on your Facebook Lead Ads. The more questions you ask your audience, the more the quality of leads you get. This helps to weed out unserious users who are not likely to convert. However, asking more questions has its consequences. It produces a lower number of leads. This is because Facebook auto-populates shorter forms and so it is easy for users to fill. But in filling more answers than usual, lots of users will abandon the form. Therefore, to get a maximum number of quality leads, ask more relevant questions, and make it easy to select multiple-choice options. This will make it easy for them to fill out.
2. Use an automated lead follow up system
It is advisable to quickly follow up with leads as soon as they sign up for your offer on Facebook Lead Ads. One of the best ways to follow up with leads is by using an automated lead follow-up system. An example of this is integrating Leads ads with Leadsbrige's welcome email tool (mentioned above). This way, you can quickly contact them with relevant information before they lose interest in your business. A study revealed that 35-50% of new sales go to the business that responds first. This is why you need integrations for quick contact.
3. Create a converting Welcome email series
The welcome email is great, but you need to continue the communication between your brand and the lead. Here, you can create a welcome email series. These are a series of emails created to keep leads engaged so you can warm them up to convert them to customers. It can be a series of about six or seven emails. Start by welcoming them to your business, offer practical advice, provide a solution to their problem, and position your service or product as a solution.
4. Create lookalikes from real customers
Lookalike Audiences are a replica of your ideal customers. Avoid creating a Lookalike Audience from prospects. If you do, you will have bigger lists of less qualified leads. Instead, create a Lookalike audience from those who have already converted to customers. This way, you are building a true profile of an ideal customer. This true profile takes guessing away from campaigns. You can always be sure to hit the nail on the head each time you create a Facebook ad campaign for the Lookalike Audience.
5. Segment your leads
Segmenting your leads makes your lead follow-up strategy effective. This involves grouping your contacts according to their income, purchasing ability, and position in the sales funnel (i.e. top, middle and bottom). This information will help you create personalized messages that will fit their needs. Do you know personalized emails deliver six times higher transaction rates? A study also revealed that the ability to segment email lists and individualize email campaign messaging are the most effective personalization tactics for 51% and 50% of marketing influencers, respectively.
6. Use Multi-channels to follow up with leads
Using multiple channels to follow up with leads is also one of the best ways to follow up with leads. Email is not the only way to follow up with leads. There are other channels you can use to follow up with leads such as phone, SMS, instant messaging, social media, and video calling. Giving leads different options of contacts helps leads to choose the best way that is convenient for them and helps you to get the best result. For instance, texting after initial contact on average results in 112% higher lead engagement.
7. Share your best content
The resources you have on your website, such as the blog posts, video content, and images, can be useful for follow-up. This should be the content that shows the features and benefits of your products or services. This helps to educate your leads on how your product or service works. A study revealed that 80% of business decision-makers prefer learning about a company through articles versus an advertisement.
Reasons why to integrate email and SMS with Facebook Lead Ads
The marketing world is changing and becoming more sophisticated. Customers receive marketing messages through different channels such as email and SMS. This means your approach as a marketer must change. It is possible to combine email messages, SMS, and Facebook Lead Ads to blow your competition away.
You can request users' email addresses and phone numbers while creating your Facebook Lead Ads, so you can use them for marketing purposes.
Below are the three reasons you need to use the three mediums for marketing purposes.
1. It produces more conversions
Using Facebook Ads and emails can give you customers who are 22% more likely to purchase your product or service.
On the other hand, SMS has an open rate of 94%. This makes them a good marketing combination and represents a good chance to increase conversions.
2. Grow your mailing list, Facebook fan base, and text messaging subscribers
Use Facebook to grow your SMS marketing subscribers list and email marketing list. You can also use SMS marketing to grow your Facebook followers. Engage your audience using email or SMS marketing.
3. It gives your subscribers options to interact with your brand
Using email and SMS with Facebook Lead Ads provides subscribers the opportunity to choose the channel they prefer for interaction with your brand. With this, it is easy to build a base of more engaged customers.
Conclusion
Facebook Lead Ads presents a great opportunity for businesses to get leads. However, there is a need for you to know how to follow up with Facebook leads. This involves creating a follow-up strategy for the leads to convert to customers. Having a follow-up strategy gives you an edge over the competition. One of the most important aspects of following up leads is timing. It is advisable to follow up immediately when they sign up and become a lead. This way, it will be easy to continue nurturing them until they convert.
To follow up immediately, there is a need to integrate with a Facebook partner such as LeadsBridge so you can funnel the leads straight to the CRM OR Autoresponder and start communicating with them. There are other tools you can use to immediately follow up such as the Welcome Email, Email Notification, Welcome SMS, and SMS Notification.
Discover our integrations for Email and SMS Notification.