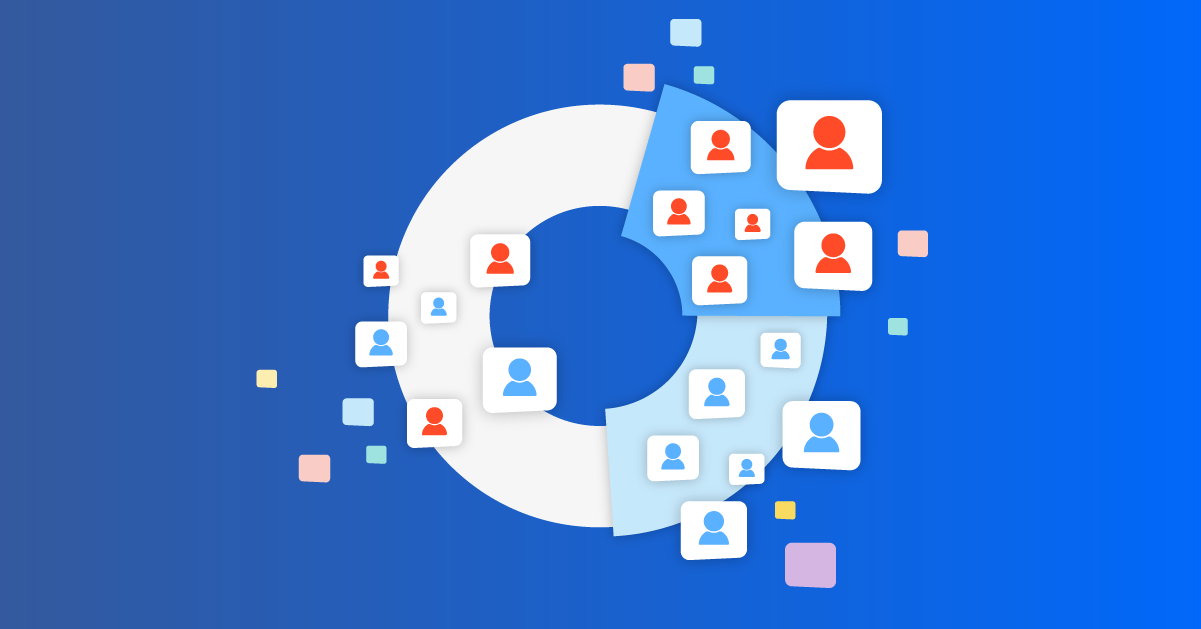 Anyone who has ever worked in sales, customer service, or a business analytics department is all too aware that not all customers are created equal.
Even within individual businesses, you're practically guaranteed to have groups of customers who vary wildly in their available budget, the pain points or motivations they possess, how they use your products or services, or even which products and services they purchase.
In order to sell more both now and long term, knowing how to identify and appeal to each customer segment is essential.
In this post, we're going to show you how to segment customers, types of customer segments, B2B customer segmentation examples, and show you how to build a comprehensive and efficient customer segmentation strategy.
What is customer segmentation?
Customer segmentation strategies are the processes you'll use to identify, rank, and appeal to different target audiences. These strategies are an essential part of any business because in order to attract customers, you must first understand who you want to attract.
For example, a social media marketing SaaS tool has one product with different plans available, but their customers will use it in different ways. Their audiences might include:
A small business owner trying to manage their own social media profiles and they just need a tool to make scheduling easier
A business's marketing team is trying to schedule content and get it approved by the PR team before having it go live for their multiple profiles
Agencies who use the tool to approve work of their employees and submit it for client approval
These segments are often reflected in a brand's pricing like you can see here with LeadsBridge:
These are distinct audience segments, and if you aren't properly identifying them, you'll struggle to even attract them in the first place.
Why customer segmentation strategies are so important
As we touched on above, it's crucial that businesses understand who their primary customer segments are in order to pursue them more effectively. Some audience segments are so distinct and vital that your business will flounder if you are unable to identify them properly.
When you're able to identify distinct customer segments, you can quickly learn the following:
Why they might want to use your product or service; what problem it solves for them
What they can afford, or their estimated budget they're willing to pay (buying power)
What marketing messages could work for them
What products or services they're most interested in
There's a difference between someone who wants an all-wheel drive SUV to go off-roading and someone who is looking for an SUV because it's the best fit to protect and transport their growing family. Understanding motivations beyond buying power is an important part of segmenting audiences.
Each individual segment needs its own messaging, marketing, and potentially its own deals. Customer segmentation strategies allow your team to both prioritize customers (like someone who wants an off-roading SUV compared to the safety-driven soccer mom's family of four) and how to interact with them. It's an important part of lead qualification and the first step in conversion.
Customer scoring and segmentation: How it works
Customer scoring (sometimes known as lead scoring during the lead nurturing process) involves using a set rubric you've created to assign value to different customers or leads. You can add or subtract points based on different traits.
Referred customers, for example, have a 16% higher LTV on average than clients who find a business through other means, thus improving their lead score.
B2B brands (who most frequently use lead scoring) are typically going to look at factors like the client's industry, title, company size, and annual revenue. All brands using customer scoring and segmentation, however, are going to look at customer behavior, including how responsive they are to emails, their activity online and in-store, and their purchases.
A strong customer segmentation strategy can help with this, making it easy for you to identify high-value segments efficiently and effectively.
How to segment customers
When starting your customer segmentation strategy, the first thing that you'll want to do is to look at your existing data.
Many of the top CRM tools can be invaluable here. For example, B2B brands can sort customers by industry and use third-party data enrichment tools to learn more about customers. This enables you to see what your customers have in common, and which distinguished segments exist at this stage.
Some of the most popular segmentation strategies include geographic segmentation, demographic segmentation, firmographic segmentation, behavioral segmentation, and psychographic segmentation.
Examples of customer segment advertisements
Geographic
If you operate a local or regional remodeling business in Arkansas, you are not going to prioritize customer inquires from the Napa Valley. Geographic segmentation is one of the most common strategies because unless you are a digital or global service provider, understanding a customer's geography is a foundational piece of every sale.
Demographic
Collecting basic consumer information on site entry can help cultivate sustainable customer relationships and immediately begin the segmentation process. Asking for general demographic information (gender, age, education) can help you understand who is visiting your site the most and preemptively market to that demographic segment in the future to attract even more traffic.
Firmographic
Firmographic data is for B2B marketers who want to understand the shared organizational traits of those enjoying their products or services. These traits could be industry, company size, revenue, or the industry of operation. Identifying these shared attributes will help you target similar companies to pursue.
Behavioral
Do consumers buy your product or service more in a certain season or around a specific holiday? Do first-time consumers more often than not become repeat customers?
Behavioral segmentation offers marketers a more comprehensive understanding of their audience, and allows them to tailor their products or services based on the information. Most importantly, behavioral segmentation can illuminate trends and patterns to find the most engaged or lucrative consumer segment.
Psychographic
Some of the most common psychographic traits include personality, lifestyle, social status, interests/opinions, and attitudes. These traits can help reveal buying habits, preferences, and cyclical tendencies of generations. Understanding your consumers at a personal level can help you market new products or even cross-sell products more effectively.
To understand any of these traits better, sometimes the straightforward approach is the best approach. Send out customer surveys when they first get in touch, or even later down the line and ask them a variety of questions across any of the segmentation strategies. You can ask the following:
How did you first hear about our product/service?
How do you plan to use our product/service?
What are your biggest challenges and pain points when shopping for this product/service?
What made you choose our product/service?
If you're sending out surveys later, make sure to ask how they're using the tool and which features they do or don't use. Different segments may use the product or service differently, which is valuable to know for marketing purposes. Skylight, for example, sent past customers an email containing a "one-minute survey" to learn more about their customers.
Write down your list of known and established buyer personas that represent the core segments of your target audience. Are there additional segments that you may have missed? If so, start crafting new personas for them.
You can then use CRM tools to segment your audience and lead scoring tools to rank customers. With the right integrations, these segments can then be automatically passed along to Facebook custom audiences, Google Ads, your email lists, and more for improved marketing and even automated remarketing.
Customer segmentation software & integrations you should use
The right customer segmentation tools will make creating and implementing your customer segmentation strategy much easier and more efficient. Automation is an invaluable tool when you want to streamline this process and customer segmentation machine learning is here to assist.
Customer segmentation machine learning refers to the automated process of an algorithm recognizes consumer patterns and appropriately marketing to them based off this recognition. This could be as simple as a consumer entering their data upon visiting your website, and based off the entered information, customize the home page of the consumer's information.
For example, if a female consumer is shopping for athletic attire and enters her information, a website's homepage could recognize this and immediately show the consumer women's apparel instead of men's or both. This eliminates the consumer having to search and expedites their purchase journey.
The following integrations are all available through LeadsBridge to help you with your customer segmentation strategy and implementation:
Mixpanel's integration. Send data from Mixpanel's powerful analytics software to other platforms, including your email marketing software and your CRM. You can also upload data from Google Sheets (like the results of customer surveys) to Mixpanel directly. See how it works here.
HubSpot's integration. HubSpot is an exceptional CRM, and third-party integrations only enhance that. Send defined customer segments between HubSpot and your email software (and get customer behavior data back in return), and get new lead information promptly from sources like ActiveCampaign or Facebook. Learn more here.
ChartMogul's integration. Another high-powered data platform, ChartMogul is an ideal resource for subscription-based businesses. Use these integrations to share audience segment information with your CRM, email software, marketing software, lead generation software, and deal creation software. See how to set it up here.
Marketo's integration. Marketo is marketing automation software that comes with a complete CRM suite and advanced lead-handling abilities. Use it to identify audience segments and send that data to third-party platforms to be used as needed for marketing purposes. See how to set it up here.
Salesforce integration. Most people are likely already familiar with Salesforce, which has incredible CRM and sales forecasting abilities. Use LeadBridge's integration to form stronger segments with data being shared across multiple tools, and to send those segments to third-party tools for marketing automation. See how to set it up here.
Final thoughts
Creating a customer segmentation strategy for your business is vital for growth, and knowing how to diversify your segmentation strategy will help optimize your overall strategy. Customer segmentation can help expedite your speed to lead and streamline your entire digital sales funnel.
See how marketing automation can help your marketing, sales, and customer service teams sell more to the right people. Check out our integrations here.