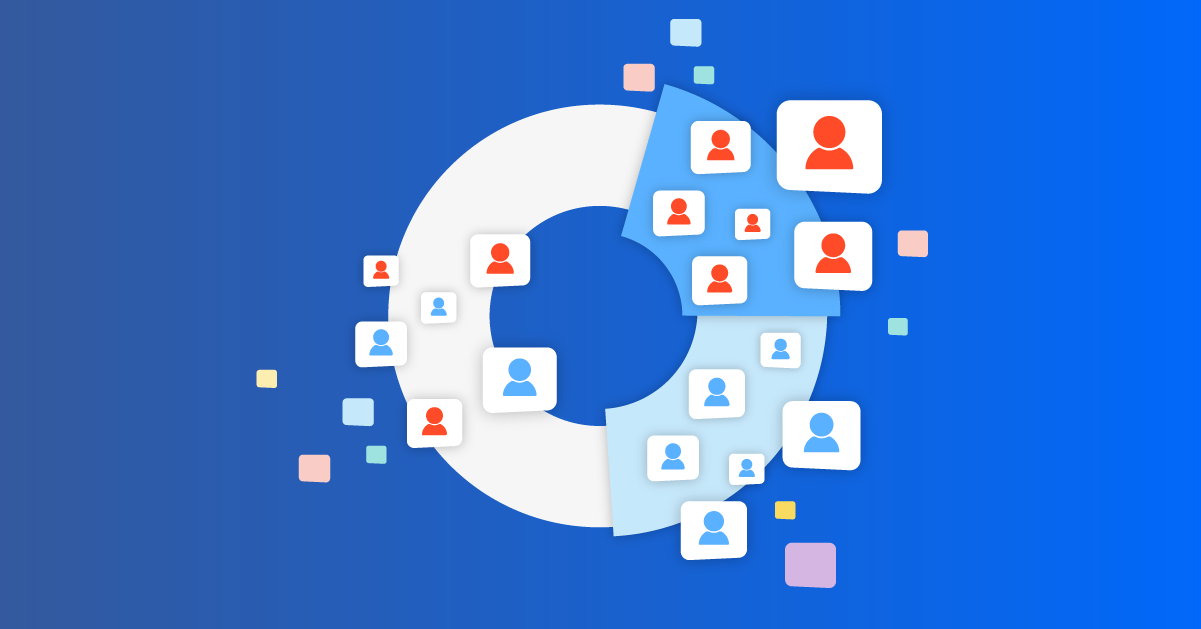 Anyone who has ever worked in sales, customer service, or business analytics departments is all too aware that customers are not all created equal.
Even within individual businesses, you're practically guaranteed to have groups of customers who vary wildly in their available budget, the pain points or motivations they have, how they use your products or services, or even which products and services they purchase.
In order to sell more both now and long term, knowing how to appeal to each customer segment is essential. Knowing how to identify different customer segments, therefore, is crucial.
In this post, we're going to show you how to build a solid customer segmentation strategy and some tools that can help.Â
What Is Customer Segmentation?
Customer segmentation strategies detail the processes you'll use to identify, rank, and appeal to different audience niches that you want to target.Â
A social media marketing SaaS tool has one product with different plans available, but their customers will use it in different ways. Their audiences might include:
A small business owner trying to manage their own social media profiles and they just need a tool to make scheduling easierÂ
A business's marketing team is trying to schedule content and get it approved by the PR team before having it go live for their multiple profilesÂ
Agencies who use the tool to approve work of their employees and submit it for client approvalÂ
These segments are often reflected in a brand's pricing like you can see here:
These are distinct audience segments, and if you aren't properly identifying them, you'll struggle to even attract them in the first place.
Why Customer Segmentation Strategies Are So Important
As we touched on above, it's crucial that businesses understand who their primary customer segments are.Â
When you're able to identify distinct customer segments, you can quickly learn the following:
Why they might want to use your product or service; what problem it solves for them
What they can afford, or their estimated budget they're willing to payÂ
What marketing messages could work for themÂ
What products or services they're most interested in.
Keep in mind that some audience segments are so distinct that your business will flounder if you aren't able to identify them properly.
Seven years ago, I went to buy my first car. I was making minimum wage and had saved every penny I could to afford a downpayment. I told the salesperson that I wanted the most basic version of the Civic they had; no bells and whistles, because I couldn't afford anything else. They tried to show me a souped-up Accord that was over 10k more. I walked away and went to another dealership and bought there instead.Â
The salesperson was hoping that I'd be so swayed by some luxury features that I just had to splurge. But I wasn't someone who was swayed by leather seats and light-up mirrors; I literally could not afford a penny over what I told him I could. He lost a sale because he failed to identify the audience segment I belonged to.Â
There's also a difference between someone who wants an SUV to go off-roading and who needs their all-wheel drive and someone who is looking for an SUV because it's the best fit to protect and transport their growing family. There are different audience segments looking at the same product but for different reasons, and they need to be approached differently.
Each individual segment needs its own messaging, marketing, and potentially its own deals. Customer segmentation strategies allow your team to both prioritize high-value customers (like someone who wanted the luxury Accord instead of minimum-wage me) and how to interact with them. It's an important part of lead qualification and conversion.Â
Customer Scoring and Segmentation: How It Works
Customer scoring (sometimes known as lead scoring during the lead nurturing process) involves using a set rubric you've created to assign value to different customers or leads. You can add or subtract points based on different traits.
Referred customers, for example, have a 16% higher LTV on average than clients who find a business through other means. If the customer found your business because they were referred by an existing client, they could gain 3 points.
B2B brands (who most frequently use lead scoring) are typically going to look at factors like the client's industry, size, and annual revenue. All brands using customer scoring and segmentation, however, are going to look at customer behavior, including how responsive they are to emails, their activity online and in-store, and what they're purchasing.Â
A strong customer segmentation strategy can help with this, making it easy for you to identify high-value segments quickly and effectively.
How to Segment Customers
When starting your customer segmentation strategy, the first thing that you'll want to do is to look at your existing data.
Many of the top CRM tools can be invaluable here. B2B brands can sort customers by industry, for example, and you can use third-party data enrichment tools to learn more about your customers. See what your customers have in common, and what segments are available to you. You can start to create distinguished segments at this stage.
Caption: Image source: SalesforceÂ
You can also send out customer surveys when they first get in touch, or even later down the line. You can ask the following, which analytics tools alone won't tell you:
How did they first hear about you?
How do they plan to use your product or service?
What are their biggest challenges and pain points?
What made them choose your tool?
If you're sending out surveys later, make sure to ask how they're using the tool and which features they do or don't use. Different segments may use the product or service differently, which is invaluable to know for marketing. Skylight, for example, sent past customers an email containing a "one-minute survey" to learn more about their customers.Â
Write down your list of known and established buyer personas that represent the core segments of your target audience. Are there additional segments that you may have missed? If so, start crafting new personas for them.
You can then use CRM tools to segment your audience and lead scoring tools to rank customers. With the right integrations, these segments can then be automatically passed along to Facebook custom audiences, Google Ads, your email lists, and more for improved marketing and even automated remarketing.
Customer Segmentation Tools & Integrations You Should Use
The right customer segmentation tools will make creating and implementing your customer segmentation strategy much easier and more efficient, and automation is invaluable when you want to streamline this person
The following integrations are all available through LeadsBridge to help you with your customer segmentation strategy and implementation:
Final Thoughts
Creating a customer segmentation strategy for your business is important, and knowing what steps to follow and which tools to use is a good place to start.
Take a look at the audience segments you have, and determine how you can create distinct segments in your CRM and other marketing tools for improved outreach, marketing, and lead conversion. This can help you streamline your entire digital sales funnel, meaning you can sell more long-term.

See how marketing automation can help your marketing, sales, and customer service teams sell more to the right people. Check out our integrations here.