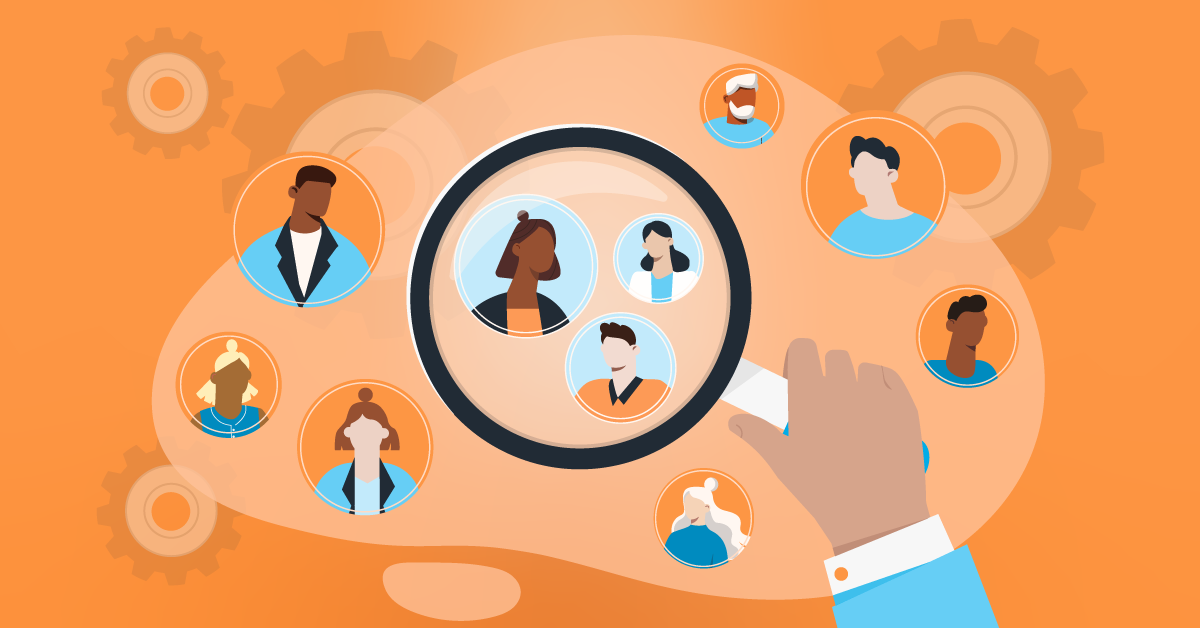 Studies show that 71% of consumers expect companies to deliver a personalized experience and that 76% of them get frustrated when this doesn't happen. This is the power of an effective target audience. There are questions that beg for answers, such as, who is your target audience? What does your target audience look like? Answering these questions correctly determines your success in business. Marketing expert Philip Kotler said: "There is only one winning strategy. It is to carefully define the target market and direct a superior offering to that target market."
Thankfully, LeadsBridge can help you make the best of your targeted ads with Audience Targeting.
With our integrations, you can connect your CRM (or email marketing software) to Facebook Custom Audiences, Google Customer Match, LinkedIn Matched Audiences, and TikTok Custom Audiences, to import your contacts' lists and build more accurate custom audiences.
If you're looking for a specific integration between one of these tools and your marketing software, you can easily do so yourself by typing in your desired source.
Thanks to LeadsBridge automation, your audiences are always updated with lead data of prospects who have given their consent to be targeted by your ads, and opted-out leads are automatically excluded. You can exclude customers and even combine multiple data sources to build one single custom audience.
In this article, you will learn about different target audience examples and the best platforms and tools to use in targeting them.
What is a target audience?
A target audience is a group of people – defined by common traits, such as demographics and behaviors – who might be potential customers for your products or services. To effectively pass your marketing messages to your target audience, you need to know who they are, their desires, and their interests.
Define your target audience through behavioral and demographic features such as age, gender, income, education, or location. The target audience can also be a large market or a niche market. All the different target audience categories can be found below.
Types of target audience
There are many types of target audiences, according to what trait you're interested in targeting. Target audience categories include:
Cold audiences
Warm audiences
Customers
Demographics
Needs
Attitudes & opinions
Personality
Lifestyles
Fans
Target audiences also defer from one business to another. Below are some target audience examples.
Target audience examples
There are many target audience examples in advertising, such as cold audiences, warm audiences, and customers. Here you will learn how to group them into the right audience structure on Facebook, Instagram, and LinkedIn.
1. Cold audiences
Cold audiences are people who have never heard of your business. They are people who are searching for information on Google. They have the problems your product or service can solve, but they knew nothing about your business.
Reaching out to this group of people helps you build a lasting business relationship with them that can convert to sales in the future. The most effective way to reach cold audiences is through ads on either Facebook or Google. They are two of the best customer acquisition channels most businesses use.
The objectives of targeting cold audiences are:
Build brand awareness
Build a fruitful business relationship that can turn them into leads and customers
Monitor their actions on your website to learn more about them
Targeting cold audiences is not an easy task because they hardly know your business. An effective way to target cold audiences is by building a relationship with them before you ask them to carry out any action. To target cold audiences, it is important you use the right platform. Here, you can use Facebook ads or Google ads.
2. Warm audiences
Warm audiences are people familiar with your business. They have been to your website and know what product or service you offer. They have interacted with your content on your website and/or liked, and commented on your Facebook or Instagram posts. Therefore, warm audiences are your website visitors, people on your email list, subscribers on your app, and your in-store visitors. However, they have not shown interest in buying your product or service.
The objectives of targeting warm audiences are to nurture and convert warm leads into customers.
To target warm audiences, you need to segment them into two groups. The first is the group of people who visited your website and the second is the group of people who are leads.
The best way to target your website visitors is through the Facebook Pixel. It is a snippet of code you install on your website to help you capture the activities of your website visitors and track micro conversions.
This information is useful for creating campaigns for them. For example, you can create a custom audience of people who have not been to your website in the last 90 days or target users who have seen your product page but have bought nothing.
Targeting your website visitors with specific ads helps increase the number of leads and sales because your message is more aligned to their profile.
Although the pixel is a great tool, it has its shortcomings, especially when it comes to Ad Tracking Prevention (ITP) systems, and browsers phasing out third-party data entirely.
The solution to these restrictions is Facebook Conversions API. A tool specifically designed to help businesses maintain data privacy while delivering personalized advertising experiences to customers and audiences, without having to rely on browser-based tools like cookies. To learn more about Facebook Conversions API, read this article.
Below are some of our most popular integrations with Facebook Conversions API.
Facebook Pixel and GDPR
As you target warm audiences using the Facebook pixel, you need to be aware of GDPR (General Data Protection Regulation). It is a European law that says all businesses should protect the personal data and privacy of the EU audience for transactions that take place within the EU member states. This means you need to get the consent of website visitors before you can use, store, manage, or analyze their data. So, GDPR affects the use of Facebook Pixel. You can get their consent by showing a message when the page loads for the first time, or ask for their consent when signing up for your offer.
When you create a Custom Audience from your Facebook Pixel data, you need to be GDPR compliant. To do this, you can use LeadsBridge Audience Targeting: a tool that helps you sync your custom audiences to Facebook through LeadsBridge, which is secure by design and DGPR and CCPA compliant.
Targeting people who are leads
Targeting people who are already on your lists is easier than targeting cold audiences. This is because they already know you and your product or service.
You can create custom audiences from people who are on your email lists, or app subscribers. This is done by downloading the email lists on your CRM or autoresponder and uploading it to Facebook to create a custom audience based on the details. Doing it manually is a lot of hassle. You can make mistakes and end up getting errors. It also takes time to match the data in the right fields. To avoid waste of time and risk of errors, you can use LeadsBridge to upload your email lists to Facebook automatically and keep your audiences synced and updated in real time.
This helps you get accurate data because whenever a lead subscribes or unsubscribes, LeadsBridge automatically updates the information on Facebook.
LeadsBridge also allows you to integrate your Facebook Custom Audiences with your favorite CRM (or any other marketing tool of your choice).
A good example of targeting warm audiences from your website and leads on your CRM is this Facebook ad shown below.
3. Customers
The third target audience example you can use for your business is your customers. Customers are easy to target because they have interacted with your business by making purchases. This does not mean you should abandon them. In fact, you can target them again and again with similar products or services.
The objective of using the customer target audience is to help you to upsell similar products or services and improve your customer lifetime value.
How to target customer audience
Facebook has the right tool for targeting customers. One of them is the Customer Lifetime Value (LTV). Facebook Customer Lifetime Value is defined by Facebook as the "value associated with your customers based on how much and how often they spend with your business over the course of their relationship with you".
Customer Lifetime Value audiences work by uploading a customer list with spending figures for each customer to Facebook. Its algorithm then sends the data to look for a similar audience to your highest value customers. This helps you to correctly target the highest value customers and get better results.
A good example of targeting the customer audience is this Facebook ad below.
Facebook Customer Lifetime Value helps you:
Know the net profit you can visualize from each customer's lifetime relationship with your company.
Generate quality leads with high scores for your business.
Increase conversions by targeting new subscribers with high Customer Lifetime Value with Facebook ads.
Know your high-value customer age groups and search for a similar audience you can target with Facebook ads. This will help increase return on investment.
Reach people who can be frequent buyers that will come again and again to make purchases.
One way to get the best out of Facebook Lifetime Value is to create an automatic audience with lifetime value. This can be easily done by using LeadsBridge Audience Targeting. With this, you can automatically create an audience by syncing Facebook with your CRM. This helps you keep track of the value of the customers on your list.
Listed below, you can find some of our most popular integrations for Facebook Custom Audiences.
4. Target demographic examples
Demographics are characteristics that describe a person or a group of people, such as age, gender, income, location, marital status, nationality, occupation, and education. Demographic targeting is important in advertising campaigns because it helps you target the right audience for your product or service. This prevents ineffective impressions and saves you money by allowing only the right audience to see your ads. This will help you maximize your ROI. For instance, it will be a waste to promote baby food to teenagers. You want to ensure that your ads target the audience that will most likely be interested in your campaign.
Cold vs warm audience
Here's a little recap of what cold vs warm audience is.
A "cold audience" is everyone who is not aware of your business. These people have never interacted with your business, never received value from you, never consumed valuable content on your website or social media, and never seen one of your ads. Your business is not on these people's radar.
A "warm audience" is everyone who is – to some extent – aware of your business. These people may be former customers, e-mail subscribers, website visitors, or social media followers who might have seen one of your ads. To some degree, these people have your business on their radar and have shown interest in what you offer.
To sum it all up: Cold vs warm audience is when people do not or do have some kind of relationship with your business.
How to build a target audience
You probably already have an idea of who your target audience should be. However, knowing exactly how to build a target audience is an entirely different story. It needs strategy and the outcome should be a final document that describes your target audience as if it was a real person.
Having a well-defined, comprehensive target audience profile will help you better understand not only who your customers are, but also what they are looking for, their fears, their wants and needs, and of course how you can answer those needs.
Here is how to build a target audience from scratch.
Create in-depth descriptions of your ideal customers
Before you start looking at demographics, focus on what is most important to your customers and why they want to get involved with your business.
The most effective way to gather this kind of information is by simply asking: Customer reviews and surveys are especially helpful, along with any other existing data or analytics about your current customers.
Understanding your customers' perspective about the selling points – as well as the pain points – of your product or service, will help you understand what is the best approach to do business with them.
Look into your potential customers' demographics
Now that you have an understanding of the wants and needs of your potential customers, you can start looking into their personal info to add more details.
Some basic demographics may be customers' shoes and ask yourself: What motivates me to buy this product? How can this product help me solve my problem? What is it that makes it or breaks it for me when considering buying this product?
Finding answers to these kinds of questions will help you understand how to present your products in a way that makes them appealing to your potential customers.
Meet potential customers where they're hanging
Last but not least, it's important to reach your potential customers where they hang out the most. It doesn't matter how great your products are, if your customers can't find them and don't know they exist you will never make it.
Make sure to be present right where your customers are likely to stumble upon your business. In order to do this, you have to find out where they spend their time online and understand what kind of content appeals to them the most.
Ultimately, the most important thing is to reach out to your potential customers in environments they're already familiar and comfortable with. This will increase your chances of finding the right people and grabbing their attention.
Target audience in advertising
When it comes to target audiences in advertising, each platform has its own tool to build custom audiences. Here they are, listed below.
Facebook Custom Audiences
Facebook provides the best tool for targeting cold, warm, or hot audiences. Here, you can use Lookalike Audiences to target a cold audience.
Facebook Lookalike Audience is a feature on Facebook that makes it easy for you to target cold audiences who have similar characteristics to your leads and customers. This helps you to reach people with similar interests and demographics to your ideal customers, thus making it easy for you to get more clients.
Facebook Lookalike Audience works by uploading the source audience (i.e. customers list, website visitors, Facebook page fans, etc.) into Facebook. Then the Facebook ads manager gives you the option to create Lookalike Audiences from the source audience uploaded. When you click on create a lookalike audience tab, Facebook helps you find a similar audience with the same demographics and interests as the source audience.
Facebook Lookalike Audience helps you:
Enhance the results of your campaigns, by showing your ads to users who have similar characteristics to your existing audience.
Control the percentage of the affinity of your audience. You may choose how similar your new audience will be to the original audience.
Know the ads with the best affinity options, helping you to track user reactions.
Optimize return on investment. Here are two articles that will show you how to do it – The complete guide to marketing ROI and ROAS Formula: How to calculate it and it to your business.
Below is an example of a Facebook ad targeting cold audiences.
Here are some of our most popular integrations for Facebook Custom Audiences.
LinkedIn Matched Audiences
You can also target cold audiences who are in specific marketing industries with LinkedIn Matched Audiences.
LinkedIn Matched Audiences help you target people who are most likely to become qualified leads. It helps you to focus your marketing efforts on audiences that can likely convert into sales for your business. This is done through account-based targeting. This involves building a customized audience of prospects you can target.
LeadsBridge makes it possible for you to integrate LinkedIn Matched Audiences with your favorite marketing tool. This will help you to funnel your leads straight to your system as soon as they come in.
Below is a perfect example of Stripe targeting cold audiences with a step-by-step PCI compliance guide in exchange for lead information, such as name and email. Check it out below.
Here is a list of some of our most popular integrations for LinkedIn Matched Audiences.
LinkedIn Matched Audiences is a great tool for targeting people on your email list. You can promote your product and service to contacts on your CRM database and marketing automation platforms. This is done through the LinkedIn contact targeting option.
According to LinkedIn, businesses that use this option get a 37% increase in click-through rate. All you need to do is upload your email lists or connect to your contact management platform and use it to create a relevant campaign for warm audiences. This helps you deliver relevant content and drive more conversions.
Google Customer Match
Google Customer Match is a tool created by Google Ads that helps advertisers create PPC Ads to target warm prospects on Gmail, Search network, Display network, and YouTube using their email addresses, phone, or physical address.
With Google Customer Match you can:
Move prospects down the sales funnel
Sell more to your existing customers
Target users across different devices
All you need to do is upload the file containing your email lists into Google Ads, then create a campaign to target your customers. To make this an easy and error-free process, you can automate the process using LeadsBridge Audience Targeting tool. With this, you can swiftly upload your email lists automatically to Google Ads. This helps you save time and effort.
Additionally, LeadsBridge helps you integrate Google Customer Match with your CRM.
Below are some of our most popular integrations for Google Customer Match.
If you'd like to learn more about Google Customer Match, you can watch the recording of our webinar with Google.
TikTok Custom Audiences
Custom Audiences is a relatively new ad targeting option within TikTok Business Manager, that allows you to find people on the platform who already know or have engaged with your business and target them with your ads.
The way it works is really simple: You upload your own list of customers – whether it's an email list, through a Pixel on your website, or by targeting people who have interacted with your previous posts and ads – and then create ads that are specifically targeted for that audience.
This kind of advertising helps you reach loyal customers, increase brand awareness (and your TikTok following), transfer app engagement to other platforms, and create lookalike audiences based on people who already know and love your brand.
Then, you can integrate TikTok Custom Audiences with LeadsBridge for an automated, real-time lead data transfer to your CRM (or any other marketing tool). Building a seamless connection between TikTok Custom Audiences and the rest of your marketing stack through LeadsBridge allows you to have more accurate audiences, that are always updated with leads that have given consent to be targeted by your ads. Opted-out leads are automatically excluded.
To learn more about TikTok Custom Audiences, read this article from our blog.
If you'd like to integrate your marketing tools with TikTok Custom Audiences, join our waiting list.
How to reach the ideal demographic audience
1. Create a buyer persona
A buyer persona is an avatar that portrays your ideal customer, along with their challenges and goals. A buyer persona helps you ensure that your marketing activities are tailored to answer your ideal customers' needs and interests. It is also useful for sales and customer support teams as it helps them understand and serve customers better. To create a buyer persona, there are questions you need to ask about your ideal target audience.
You need to know personal details about your customers such as their age, location, interest, values, employment status, etc. Knowing these things will help you create an audience persona for your product or service.
2. Remarket your audience
Remarketing is a marketing strategy you can use to reach out to your target demographic audience. Remarketing ads help show users your ads again and again, encouraging them to interact with your business. Remarketing broadens your reach, increases your ROI, and keeps your brand in the thoughts of your users. There are three ways you can remarket your audience: Google remarketing, Facebook remarketing, and CRM retargeting. Below you can find some useful guides about remarketing:
3. Automation
Automation helps you increase productivity, generate more revenue, improve customer retention and track and measure your efforts so you know what's working and what's not. There are different things you can automate in your business such as:
Sync leads with your CRM
Schedule social media posts
Nurture leads through an email campaign workflow
Personalize communication with customers
Onboard new customers
For in-depth content on Automation, you can read these articles:
Conclusion
Using the right audience for your campaign is very important. It helps target the right people that will respond to your campaigns by taking necessary actions such as opt-in to your email list, download your freebie, or visit a product page on your website.
Here's a recap of what we've learned:
Cold audiences are difficult to target because they don't know your business. Target them using Facebook Lookalike Audiences and LinkedIn Matched Audiences.
Warm audiences are familiar with your business but have bought nothing from you. Target them using Facebook Custom Audiences, Google Customer Match, and LinkedIn Matched Audiences.
Customers are people who have interacted and done business with you. You can target them by using Facebook Lifetime Value Audiences or TikTok Custom Audiences, to create a similar audience to your existing customers and target them with the right campaign.
Discover LeadsBridge's solutions for retargeting now!