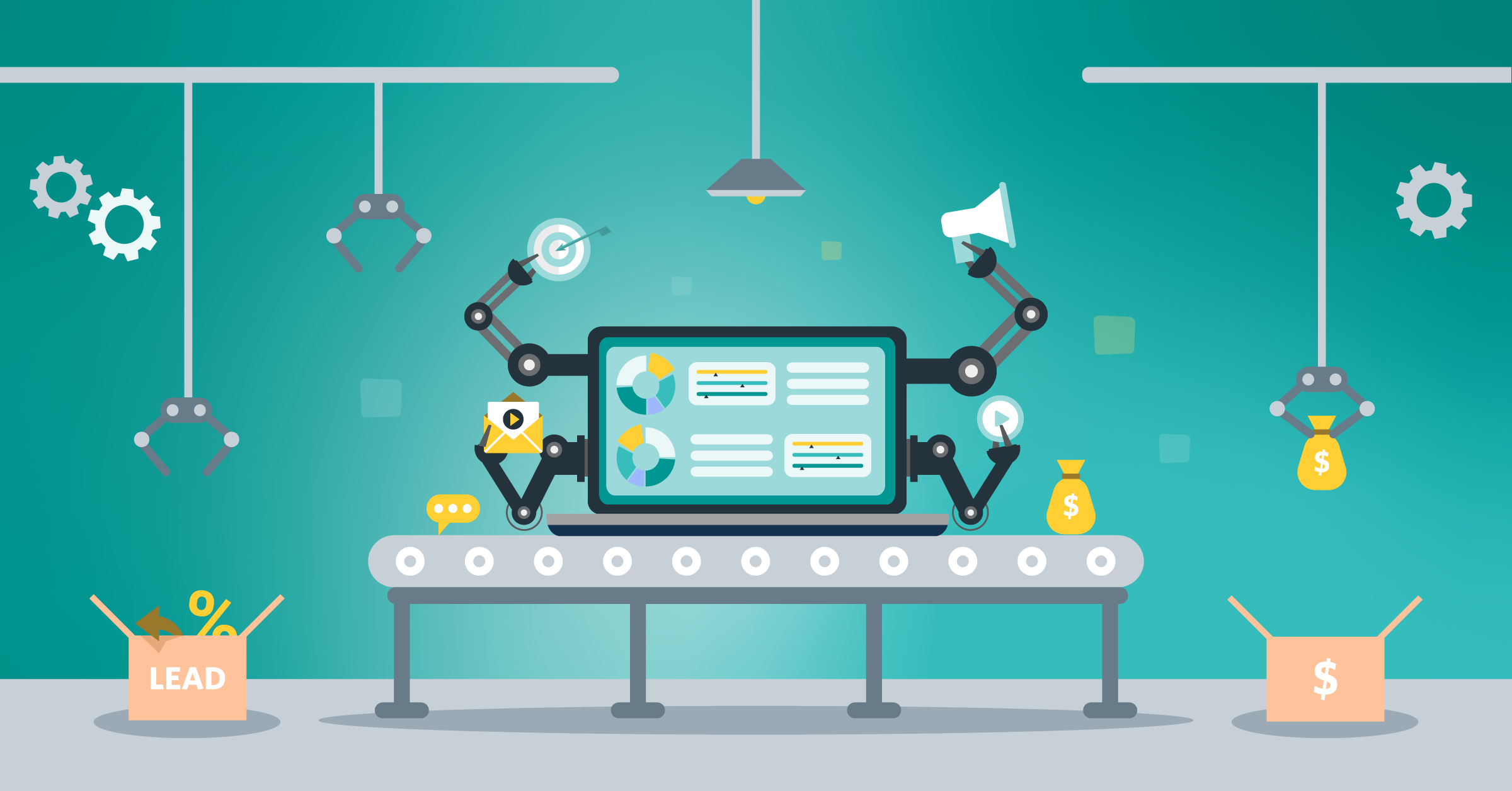 One of the common challenges businesses encounter is generating leads and retaining customer loyalty. Besides these objectives, each company has to collect a massive amount of data and use it to create marketing-centric systems.
These issues are solved using marketing automation which is essentially the integration of linear automation into complex marketing systems.
It is predicted that spending on automation technology will grow from $11.4 billion to $25.1 billion by the year 2023. Why? Because of its many great benefits:
For instance, 80% of users that employ marketing automation see improvement in lead generation, and a 451% increase in qualified leads.
To get similar results, however, you need the right automation marketing tools and an integrator like LeadsBridge to bridge the gaps of your marketing platforms and data stack.
Now, LeadsBridge offers a free plan that you can use to connect most popular marketing tools. Here are two of these integrations you can tests out today:
Automate the workflows and sync Facebook Lead Ads data into different tools associated with CRM, Sales, Marketing, Productivity and more.
Improve customer experience and sales by connecting TikTok Lead Generation with your favorite marketing tools you use daily.
All about marketing automation
In today's marketing world, automation is not a choice but a necessity. Without automation, no advertising campaign can pull through for several reasons: lack of personalization, poor speed to lead, inconsistent user experience, poor data hygiene- only to name a few.
Source: Single Grain
On the other hand, marketing automation offers numerous advantages. Check out these statistics, for example.
According to Salesforce®, marketers who use automation can see over a 30% increase in conversion rates. Epsilon also mentions that automated emails show a 70.5% higher open rate and 152% higher click-through rate than generic e-newsletters.
To put it in simple words, you need automation to make the most out of your business in both digital and offline spheres.
Read this guide about how to get the most out of task automation.
What is marketing automation?
Marketing automation is the process of arranging different marketing workflows on an automated platform or program. Instead of manually handling each task, you can use strategies and pre-defined triggers to manage all marketing and sales flows automatically.
Source: Devrix
This process turns online marketing into a more precise and effective practice. The best marketing automation strategies focus on automated workflows, pre-defined flows, and customer-driven triggers linked together in an omnichannel way.
How does marketing automation work?
Marketing automation uses software and digital tools to automate monotonous and manual marketing work. For example, advertisers automate recurring tasks like managing emails, social media automation tools, and ad campaigns to optimize these functions and enhance user experience.
Check out this guide to marketing automation for marketing agencies.
Why do you need marketing automation?
Marketing automation lets you personalize your campaigns, resulting in a better user experience while improving their overall performance. By using automation tools, businesses can streamline repetitive workflows, get a bird's eye view of their performance and improve their advertising and marketing automation strategy as they go on.
Besides, it enables them to:
segment prospects into appropriate lead lists based on marketing strategy.
improve lead nurturing, triggered emails, scheduling "drip" campaigns, brand awareness, and user experience.
generate insights and analytics displaying campaigns' performance.
foster leads into the sales funnel, aka marketing funnel automation.
Characteristics of great automating software
A great marketing automation strategy and software should have these characteristics:
Compatibility with the target industry
The size of a business and what it offers are fundamental factors. Before setting down any rules or purchasing tools, we must establish whether the business is small or medium, a large organization, business-to-business or business-to-consumer company, the exact niche markets, etc.
Must-have features and applications
There are tools for simple automated email marketing workflows to full-fledged integrated marketing solutions. Look for the features your business needs and get your automation solution accordingly.
Internal or external focus
Some marketing automation solutions are focused on ad campaigns and automated workflows such as Salesforce®. Others are centered on internal processes and marketing resource management, like Confluence.
Discover how to integrate Facebook products with Salesforce®.
The capacity of integration
Marketing automation tools usually don't function on their own. You need an intermediate integrator to bridge the gap between sales, marketing, customer service, and other marketing processes.
For example, LeadsBridge connects your leads generated from TikTok with your welcome email. The same is true for the gap between your generated leads and CRM. Here is how:
CRM vs. marketing automation
Customer relationship management (CRM) tools and marketing automation software perform different functions. Here is an outline of CRM vs. marketing automation tools:
CRM software handles mainly sales objectives. These platforms allow nurturing your strategy to address and monitor all your business's interactions with existing and potential customers.
Source: Capterra
Marketing automation is primarily used for marketing purposes. It helps businesses streamline, automate, and scale their marketing strategies and workflows. These tasks also include scheduling and tracking marketing campaigns, particularly email campaigns and group business-to-customer communications.
How to implement marketing automation strategy
We established the importance of marketing automation. Now, it's time to talk about how to plan marketing automation for your business.
To get the most out of marketing automation, the aim is to integrate automation throughout a business to break down silos and unite teams with processes that save time.
Source: PEPPYBIZ
Why do you need a marketing automation strategy?
By automating marketing touchpoints, you can forge and nurture leads or customers to increase sales. This practice also improves your customer experience while lowering the number of tickets for your support team.
Based on your business's size or model, you can design your marketing automation strategy to meet the following criteria:
Capture leads or customers
Before conversion takes place, automation can be used to make likely buyers aware of your brand and what you offer. While automation is more effective during the decision-making stage (such as abandoned cart messages or leads who have made inquiries), there is still plenty of room for automation at the top of the funnel. For example, you can use it to offer demos or tutorials, answer social users looking for your products, run website chatbots, etc.
Turning lead generation into a conversion
You already know that interested leads are likely customers. Besides, the new marketing laws about consent-based advertising compels marketers to focus on the leads who express interest and cookieless tracking.
Here, automation helps convert their interest into purchase decisions. This could be through a well-timed email to send hard-to-refuse discounts and limited offers, abandoned cart reminders with or without a bonus, or even offering freebies.
Source: Chili Piper
Offering value and receiving repeat visits in return
Post-purchase automation was once ignored. But with the new flywheel model for sales, a repeat customer is regarded as the core element in the sales cycle.
Source: GPG
Automation can be extremely useful to keep current customers pleased with your services, and encourage them to come back again and again. This also lets you reduce the amount of support needed from your customer service, and design automatic reminders to boost future subscriptions, upgrades, or sales.
Check out this complete guide to your marketing qualified leads.
Organize contacts using a CRM
With a CRM that integrates with your marketing automation software, you can optimize and manage leads as they come in. You can also use these data points to connect customers to the next step of their journey.
Find out what a CRM is and how to use it.
Gather insights
The more info you have from your campaigns, the more optimized they will be. Identifying potential touchpoints that could benefit from automation helps you craft successful campaigns. Automation also lets you gather insights from traditional metrics, feedback campaigns, or complex A/B tests.
Not only does the marketing process become seamless and efficient, but a great marketing automation strategy helps build a long-term relationship between the customer and the business.
Advantages and disadvantages of marketing automation for B2B and B2C businesses
From improving conversion rates through personalized campaigns, increasing customer retention, repeat purchases to stopping the leads from falling through the crack– well-timed messages and actions are the pillars that support marketing campaigns. Automating these workflows can increase the success rates many times over.
Source: SalesManago
However, the advantages and disadvantages are different for B2C and B2B companies.
B2B vs. B2C marketing automation
Let's compare a few similar elements for both B2B and B2C businesses:
Source: PEPPYBIZ
B2B marketing automation
Buyers' journey: B2B marketing automation is centered on lead nurturing to educate prospects on their products, aka lead generation.
Segmentation: Due to the smaller number of their target audience, B2B businesses create more detailed profiles for each contact with the help of CRM software.
Channels: B2B often uses a single-dimensional approach when it comes to channels. This is because the end-users are looking for value rather than convenience- unlike B2C.
B2C marketing automation
Buyer's journey: B2C marketing automation deals with shorter sales cycles and has less time to persuade potential buyers. As a result, branding becomes significant. They are also more conversion-focused using personalized campaigns.
Segmentation: B2C businesses target a much larger audience, so they need to build close relationships with prospects in their niche— often using the contacts' characteristics and behavior.
Channels: B2C marketing automation is built on a multichannel approach to integrating various data.
Running a B2C business? Discover the top 9 important tasks you should automate today!
Advantages and disadvantages of marketing automation for B2C businesses
B2C marketing automation solutions are accessible to small business budgets, designed particularly for B2C purposes.
They could use it to send welcome messages to new customers, get reviews after purchases are made, counter shopping cart abandonment, personalize offers, build customer loyalty programs, and more.
The main advantages of B2C marketing automation are:
Offering flexible segmentation
Real-time behavior tracking
Ecommerce integrations for offline and online stores
Personalized content for users
Creating multi channel flows and tools
Performing A/B testing
The most significant disadvantage of B2C marketing automation is the cost. Most small start-ups struggle with tight budget management, which may cause them to think twice before assuming an automation tool.
However, investing in these platforms and integrating them into your marketing automation strategy will pay off in the long run.
Learn about online advertising costs on the most popular platforms.
Advantages and disadvantages of marketing automation for B2B businesses
To build an adequate B2B marketing automation strategy that enables you to win over the competition and complexities, and get results, calls for the right tools and tactics.
The main benefits of B2B marketing automation include:
Helping to implement an account-based system
Creating lead scoring management
Ensuring marketing-sales alignment
Improving client satisfaction
Furnishing instant customer support
The ability to perform A/B testing
Here again, the cost is a factor but less of an obstacle for B2B start-ups to compare to B2C start-ups. Moreover, B2B marketing automation could sometimes lead to over messaging and annoying the end receivers.
An effective example of automation marketing strategy
Generating leads involves various tactics and channels such as social media posts to ad campaigns, branded videos, etc. The best-in-class businesses use these systems to generate leads, nurturing their old leads and clients while offering value throughout the customer lifecycle.
Source: Neil Patel
LeadsBridge is a workflow automation platform that allows marketers to connect their marketing plans and increase their return on ad spend. Let's discover two tactics LeadsBridge uses to boost its lead generation.
A LeadsBridge exemplar
As a third-party tool with complex features, LeadsBridge combines marketing with learning. While providing value to their readers through useful marketing guides and tips, we use blog posts to introduce integrations that enable marketing automation. Here is an example:
Every marketer needs to know how to measure their ad campaigns and what tools are best to get a hold of these metrics and implement them. In short, by making sure that the information is being synced into your CRM in real-time, you can both measure your strategy and react to it, e.i., sending emails as soon as a user subscribes.
Discover how to build and optimize your email lists here.
While addressing this pain point with the right information in blog posts, LeadsBridge introduces the best integration solutions they can use to automate the workflows and track the success of their campaign. The results? This is convenient for our audience while being an effective method to generate leads for LeadsBridge – and we all know that offering a win-win solution is the most effective and authentic approach with any kind of marketing.
LeadsBridge also offers detailed whitepapers that educate the readers about tactics useful to marketers, such as ensuring the success of marketing efforts and keeping their systems up-to-date.
Here is a handy white paper for crafting a successful lead management:
How to implement a marketing automation strategy for your funnels
Here is how to plan marketing automation for your funnel:
Create your marketing automation strategy
To create a winning marketing automation strategy, you need to automate the communication gap between:
potential customers and your company. You can use this connection to reach out to the leads so they can become aware of your products or service, make them interested in your campaigns and ultimately encourage conversions.
your business and the leads who interacted in a purchase decision in order to finalize their conversion to paying customers.
your company and existing clients in post-conversion to nurture them for future purchases.
Use these tips to implement your marketing funnel automation strategy
Set your marketing automation objectives
The first of the marketing automation implementation steps is to define your requirements for the tools and goals. More often than not, the tools you are already using can be integrated into your marketing automation objectives.
Source: WordStream
The best marketing automation software is one-size-fits-all solutions for online marketing. So all you need to do is integrate them with other points in your marketing stack, using a third-party integrator such as LeadsBridge.
Select the best marketing automation solution
By defining your business's requirements and budget, you can decide which marketing automation software solution to implement. How to plan marketing automation and determine whether the software matches your marketing automation objectives? Here are some factors to consider:
Features: Outlining what you need, you can avoid paying for features you don't use.
Ease of use: Look for an intuitive interface and easy usability that demands minimum learning and training.
Available Integrations: See whether the selected marketing automation platform can integrate with your required third-party systems such as Salesforce®, Mailchimp, etc.
Support: Choose a platform with an excellent rating for support.
Pricing: The pricing models of marketing automation software should match your own business budget model. Besides upfront costs, look for any hidden fees such as costs for training and implementation and "add-ons" features.
Clarify which apps need implementation
To understand how to implement marketing automation the right way, you need to have both external and internal resources in place. This includes your support staff, tools, and all the factors involved in planning, implementation, and execution.
Start up simple and extend it slowly
Starting with a simple plan around the main workflows gives you room to create a strong foundation. Once you have established the basics, you can extend your automation reach through your marketing stack, as you go along.
Ask for professional advice
Generally, having adequate experience and an objective understanding are the most important factors in choosing the best course of action. So to get the best out of your campaigns, consider hiring an automation consultant to help you plan and implement your marketing automation strategy.
You can get in touch with the LeadsBridge support team to ask any questions about automation or request a demo. You can also visit LeadsBridge's Help Center to find out the best automation solutions and tips for your business.
How does marketing automation affect your customers?
Marketing automation helps your business but also enhances your customers' experience.
When looking for answers, the customers are often swamped with information that they need to sieve through.
Source: AISERA
Marketing automation can reduce friction by connecting them to the right person, filtering data, and prioritizing workflows. Here are some ways marketing automation can benefit your customers:
Presenting them with more relevant content
Marketing automation can create specific targets that control what each customer sees. For example, you can use the buyer's journey to create behavioral targeting, from advertising to running email or SMS campaigns.
This will save time, increase content relevance, and improve your user's experience.
Wanting to know more? Check out this complete guide to behavioral targeting.
Better customer support
When tasks are prioritized, you can manage leads on a first-things-first basis. Your support team can provide adequate and real-time responses to any incoming questions.
Moreover, you can use the lead data in your CRM to increase the applicability of the answers they provide. Advanced automation systems also let you send automated responses based on the customer journey.
Use LeadsBridge integrations for automating your email campaigns:
And LeadsBridge integration for running automated SMS campaigns:
Omnichannel experiences
The omnichannel experience focuses on user experience and the general quality of interaction between the customer and a business- unlike single-dimensional communication on a single channel.
Marketing automation uses the collected data to create personalized experiences for customers. Some instances include pre-filled forms, targeted SMS messages, post-purchase service, etc. In short, automation helps customers receive consistent experiences despite the communication channel they are using.
Read this guide to learn how to use personalization in SMS campaigns.
The best free marketing automation platforms
LeadsBridge
LeadsBridge is known as the best free marketing automation platform that is GDPR and CCPA compliant. It is used for both marketing and sales flow automation by allowing businesses to improve their omnichannel presence. In practice, this tool connects a source (i.e., Google lead forms) with a destination (i.e., a Mailchimp CRM).
Why LeadsBridge? Using LeadsBridge has many advantages, including automating the entire process, avoiding any manual importing task, real-time data sync from your lead source, letting the sales department reach leads as they come in, and more.
LeadsBridge offers over 380 integrations, most of which are included in the free plan.
Learn more about LeadsBridge freemium.
LeadsBridge free plan includes:
50 leads per month
One Bridge
Real-time sync
Facebook Lead Ads
Instagram Lead Ads
Google Ads forms
YouTube Ads forms
LinkedIn Gen Forms
TikTok Lead Generation
300+ CRM integrations
Unlimited Ad Accounts
Auto failure and resync
Alerting and debugging
Help center
HubSpot
HubSpot is one of the best free marketing automation platforms, designed for the management of inbound marketing and sales. It helps businesses attract leads, convert them, and close sales by streamlining multiple workflows. This way, both the marketing department and sales reps can maintain and manage their efforts using a single tool.
This advanced marketing automation software offers a free plan that is highly recommended to test out the tool before committing to it. Check out HubSpot's free features after an easy sign-up process.
Using HubSpot, you can design attractive content, target audiences, derive metrics from the platform's many social and SEO suggestions, personalize messages, etc. In addition, the tool's customer support is remarkable, offering professional and real-time service to its clients.
Check out these most-in-demand HubSpot integrations:
HubSpot free plan includes:
Lead analytics dashboard
Forms
Contact management
Contact website activity
Companies
Deals
Tasks & activities
Facebook lead ads
Integrate HubSpot with LeadsBridge using this guide.
Mailchimp
Mailchimp is another integral marketing platform that enables you to organize and communicate with your leads and customers. As mentioned on their website, they focus on "healthy contact management practices, beautifully designed campaigns, and powerful data analysis."
Mailchimp is first an email marketing tool that offers CRM features as well. Discover more about Mailchimp integrations here.
It is an affordable and easy-to-use platform that helps create, execute, and analyze email and ad campaigns. Besides, it allows you to see other metrics such as subscriber lists and click-through rates, generate customized reports and email campaign performance, etc.
Mailchimp free plan includes:
Marketing CRM
Creative Assistant
Website Builder
Mailchimp Domain
Forms & Landing Pages
One-Click Upsells
Product recommendations
Mobile app
Campaign URLs
Social sharing
Knowledgebase
Marketing calendar
For its great features, Mailchimp is one of the most popular marketing tools. Check out all its possible integrations with LeadsBridge:
SendinBlue
SendinBlue is an email marketing solution for SMB (small and medium-sized) businesses and a GDPR-compliant digital marketing automation solution.
Sending out emails with SendinBlue allows you to design and foster customer relationships with email and SMS campaigns. It features marketing automation, trigger setting, lead management, and metrics.
Read this guide to discover the latest trend in lead management.
Using SendinBlue, you can create and manage campaigns in one place while benefiting from critical marketing features such as real-time metrics, custom triggers, web tracking, automated customer management, etc.
Sendinblue's free plan lets you store unlimited contact information and send 300 emails per day.
SendinBlue's free plan includes:
Email Campaigns
Mobile-friendly email designer
Email template library
SMS marketing
Email & SMS personalization
Chat (1 user)
Unlimited contacts & details
Advanced segmentation
Customizable signup forms
Sales CRM
one shared inbox
Email designer
Personalization options for email and SMS
Chat function
Customer segmentation
Custom forms
Sales CRM
Here is our most popular SendinBlue integration:
Looking for more freebies? Find out more about the best free marketing platforms.
Role of LeadsBridge in a successful marketing automation strategy
As said before, the secret to any successful advertising campaign lies in the metrics that help track its performance. Without doing so, there is no way for advertisers to know what works and what doesn't, especially from an ROI perspective.
Source: WSG
One of the significant advantages of automation is the ability to measure ROI, despite targeting businesses or consumers.
LeadsBridge helps you integrate your marketing apps with essential CRMs, and other marketing tools. This way, you can automate the entire process and stay up to date throughout – whether it is segmenting lead lists, tracking your campaigns to know how many leads were generated or became customers, funneling contacts through the sales pipeline, or gaining any key metrics from your campaigns.
Source: HubSpot
Without using a third-party integration like LeadsBridge, it is impossible to track the results of your ad campaign or succeed at all, especially with today's intense marketing competition.
Final thoughts
We are living in the era of AI and digital automation, even when it comes to human interaction. And this progress in new technologies has made marketing a totally automated process.
Marketing automation is the key to managing your online marketing program without a hitch. However, you must choose the best angle to approach when creating marketing automation strategies for sustaining success.
The tips and methods mentioned earlier can guide you on how to implement marketing automation software, curate your objectives, and ultimately scale your marketing efforts using the right tools.
LeadsBridge is one of the best available marketing automation integrators that help you automate your entire marketing stack. Sign up and start automating your marketing, using LeadsBridge integrations in the Free Forever plan.
Discover all the available integrations for marketing automation!