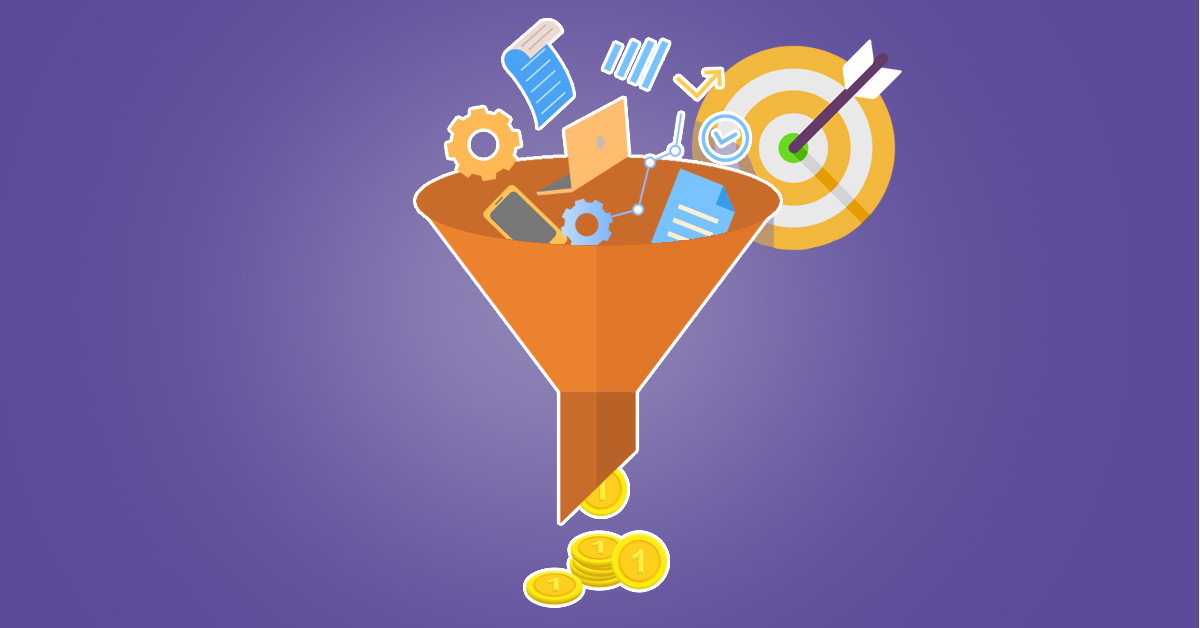 A marketing qualified lead (MQL) is a lead that has shown interest in your products or services by taking, for example, any or all of these actions:
visit your company's website
sign up for your newsletter
download free eBooks/whitepapers
use software demos
More generally it is about people who interacted with the content provided by your company. A type of content specifically designed to attract people who have a need or interest in your products.
However, in the company pipeline, marketing qualified leads are not yet identified as customers or sales qualified leads (we will see later what the difference is).
Check out the example below.
Imagine you have a fitness website. John, a visitor came to your website to read your fitness-related content and probably downloaded your free fitness app but did not upgrade to the paid plan. Here, John is a marketing qualified lead because of his actions, i.e. reading the content and downloading the free fitness app. When John is properly nurtured, he can upgrade to the paid plan.
Therefore, John is more likely to become a customer than other leads who did not carry out actions on your website. This is one way to determine a marketing qualified lead. Below are qualities to look for in a lead that will help you qualify them as a marketing lead.
The Table of Content
The Characteristics of a marketing qualified lead
How to qualify marketing leads
Difference between marketing qualified leads and sales qualified leads
How to generate marketing qualified leads
Strategies to turn marketing qualified leads to sales qualified leads
The Characteristics of a marketing qualified lead
There are many features you can use to identify a marketing qualified lead. Below are some of them.
1. Download content
A marketing qualified lead can download e-books or guides on your website and give you their email address in return.
2. Fill forms
Most websites have sign-up forms to help collect visitors? email addresses for nurturing purposes. If a visitor comes to your website and fills your form, it shows they are interested in what you offer. This makes them a marketing qualified lead.
3. Try product demos
If you sell software products on your website and people are requesting the demo, it shows they are ready to try out your products. This makes them an MQL.
4. Spend time on your website
A marketing qualified lead can spend time on your website to check out your products and contents. This indicates they are interested in your business and can become customers in the near future.
5. Repeated visits
Do you have a higher number of repeated visits to your website? It shows they are interested in your offerings and want to get to know and trust you more. This is another feature of a marketing qualified lead.
How to qualify marketing leads
As a business owner, you need to know how to qualify marketing leads. A study by MarketingSherpa revealed that 61% of b2b marketers send all their leads to sales, even though only 27% are qualified. This is because they did not have a defined process of qualifying marketing leads.? Below are things to look out for in order to properly qualify marketing leads.
1. Track and qualify content consumption patterns
The first thing to do in order to qualify marketing leads is to track and qualify content consumption patterns.
Website visitors and users leave digital footprints that show you what they like and want. By tracking their content consumption patterns, you will know the actions that help to qualify a lead.
For instance, a visitor that downloads an e-book attends a webinar, spends a considerable amount of time on a pricing page, and returns to check the page a day later has shown their interest in your business and can be termed a marketing qualified lead based on their content consumption patterns.
2. Track trends of successful marketing qualified leads
If you use Facebook or Google for your lead generation, tracking the conversions that take place using the pixel is not always possible. Conversions can instead be tracked using Facebook Conversions API or Google Offline Conversions. In this way, not only the problems related to the tracking of Cookies are solved, but it is possible to adopt a full-funnel tracking approach that gives you a precise overview of the conversions generated by your campaigns and, consequently, you will be able to generate marketing qualified leads that are increasingly willing to buy.
3. Monitor customer feedback
Another way to qualify marketing leads is by monitoring your customer's feedback. This includes the comment and feedbacks left on the website. Although not all comments and feedbacks are constructive, you will still get them on your products or content. The feedbacks can be on how to improve your product features or make it more user friendly. Others can be about their positive experience on your website. Pay attention to them and fix what they need fixed. This will help you qualify more visitors into marketing leads.
4. Check various marketing touchpoints of your closest competitors.
As an end-user, find the elements and signals which can qualify visitors as leads better than your visitors. For example, check if they have a better user interface, better lead capturing process, better social media presence, and similar signals. Try to improve your marketing touchpoints to qualify visitors to MQL leads.
Difference between marketing qualified leads and sales qualified leads
One major challenge of marketers and business owners is that they find it difficult to differentiate between sales and marketing leads. Thus, as much as 90% of MQLs don't convert to SQLs. This will mean spending money and time on unqualified leads who will not convert to sales.
A marketing qualified lead differs from a sales qualified lead. First, a marketing qualified lead is defined as the people who have shown interest in your product or service by consuming your content, attending your webinar, downloading your content, requesting product demos, etc. While a sales qualified lead is a lead that has gone beyond website engagement and has been certified by the marketing team for the sales department to contact and convert to a customer.
The difference is that marketing qualified leads are leads in large quantities, while sales qualified leads are leads that are more of high quality. They have been sifted by the sales team to remove unqualified leads.
The marketing qualified leads have shown interest in your content and can become customers with effective nurturing. Sales qualified leads, on the other hand, are sales-ready. They require little to no nurturing to convert them to customers. Probably all they need is a call with a sales rep to close the sale.
Another difference between the MQL and SQL is that Marketing qualified leads happens at the middle of the sales funnel while sales qualified leads takes place at the bottom of the sales funnel. The sales funnel shows the steps people go through before they become a customer. See the image below.
Visitors come to your website through search engines, social media platforms. ads, etc. When they take action like sign up for a form on your website or try out a demo of your software, they become marketing qualified leads. When they are properly nurtured, they are sent to the sales team. Here, they become sales qualified leads and can turn into customers.
Below is how to generate marketing qualified leads.
How to generate marketing qualified leads
For most online businesses, getting traffic is not a problem. However, generating marketing qualified leads is not an easy task. This is why 61% of b2b marketers said generating quality leads is their number one challenge. The question is, how do you generate a qualified lead in marketing? Below are five (5) ways to get marketing qualified leads.
1. Offer quality lead magnets with Facebook Leads Ads
 
Facebook's over 2.7 billion monthly active users across different countries of the world has made it one of the best ways to generate quality leads. Facebook keeps rolling out technologies that help businesses get quality leads. One of these technologies is Facebook Lead Ads. This type of ads allows you to collect information from prospects on the Facebook platform. The ad shows up on Facebook users' news feed. When they click on the ad, a form pops up showing their information such as the name and the email address. The user confirms the detail and clicks on submit right there on the platform.
Facebook Lead Ads is optimized for mobile as about 96% of Facebook users access the platform through the mobile device or Tablet. With Facebook Lead Ads, all conversion frictions common to landing pages are eliminated. This is because users fill the form right there on the platform, thus increasing your conversion rate. Learn how to set up Facebook Lead Ads by reading this post – A step-by-step guide to Facebook Lead Ads.
Facebook gives you access to their pool of data to discover people who are interested in your business. To make signing up to your email list easier, offer a quality lead magnet. This will attract them faster to sign up for your offer. Lead magnets are resources giving out for free. It includes e-books, checklists, webinar replays, calendars, video courses, etc. Below are more ideas of lead magnets you can use for your Facebook Lead Ads.
When you combine Facebook Lead Ads with quality lead magnets, you have a dynamic lead generation strategy that will help you generate more leads with less friction.
Below is an example of a Facebook Lead Ads experiment carried out by AdEspresso that shows Facebook Lead Ads with leads magnet produces better conversion rates. i.e. it helps you to generate more targeted leads.
They set up two Facebook ads to target website visitors. One is a normal Facebook ad that leads to a landing page where users will fill in their information to download the lead magnet, while the second is with the Facebook Lead Ads and the lead magnets. Below is the Facebook Lead Ads with the lead magnet campaign.
Once they clicked on the ad, it takes them to this page.
?
All they need is to confirm the info and click on the submit button.
At the end of the experiment, there were 1,057 clicks on the lead ad form, and 1,057 people filled the form. This brought in a conversion rate of 67%. ?The average Facebook ad conversion rate stands at 9.21%.
To better derive maximum ROI using the Facebook Leads Ads forms and lead magnet, you need to get your leads into your CRM immediately to prevent conversion reduction. Facebook provides a manual method of downloading your lead and then uploading it directly to your CRM. This method is not the best because your lead can grow cold and this can reduce conversion.
Timing is of the essence in generating leads and contacting them when they sign up. A study revealed A 1-minute response time can lead to 391% more conversions. One way to respond to leads quickly is by linking your Facebook account to your CRM or autoresponder through Leadsbridge's Facebook Lead Ads Sync tool. It is an automatic setup that will funnel your leads straight to your CRM where you have your nurturing emails ready to send to the leads.
2. Create valuable blog posts on your website
 
The second way to generate marketing quality leads is by using content marketing. It is one of the best tried and tested strategies that produce excellent results. This is why 89% of b2b marketers use content marketing for their business. Content marketing can give you three times as many leads per dollar spent.
One type of content marketing that works so well is blog content. People love quality information. This is why 20% of internet users spent time reading content online and 68% of people spend time reading about brands that interest them. Because of this, 62% of marketers have blogs.
As good as blog posts seem to be, not all of them can generate quality leads. A blog post that generates quality leads will have a catchy headline that will attract visitors' attention to read and provide answers to their questions. The content must evoke emotions that will entice readers to enjoy the blog post and also take action thereafter.
There are three popular ways to generate leads on your blog. The first is using sign-up boxes with free resources such as e-books, and checklists to give readers in return for their email addresses. The second is the content upgrade and the third is anchor texts CTAs in the blog content pointing to where to download a free resource, and after post banners.
a. Sign-up boxes: Sign-up boxes are common on most websites. Below is an example of one of the sign-up forms we use at Leadsbridge.
a. Content upgrade:Â This a sign-up box found inside the blog posts. Check out an example from OptinMonster below:
A content upgrade can double your email opt-in rates in no time. Bryan Harris from Videofruits used content upgrades on all his single posts and got a conversion rate of 20-30% even up to 62% for some posts.
Below are 18 types of content upgrades you can use in your blog posts.
b. Anchor texts CTAs in posts
The second way to generate quality leads from your blog posts is to use anchor texts in blog posts. Anchor texts are calls to action texts. It links to an external landing page where users can input their email addresses. Find a good example from HubSpot below.
A study carried out by HubSpot on the anchor text CTA revealed they received between 47% and 93% of a post leads from anchor text CTAs alone.
Anchor texts are great options for readers who do not make it to the end of the page to see your banners.
c. After post banners
After post banners are boxes displayed at the end of blog posts. We use this a lot on our blog posts here at Leadsbridge. In fact, we created different banners for different blog post categories for effective results. Find an example from one of our blog posts below.
You can combine the three blog posts? lead generation strategies for effective results.
3. Use webinars
A webinar is a great way to generate marketing qualified leads for your business. This is why 87% of marketers found webinars to be an effective marketing strategy in a survey. Also, 51% of people who visit the webinar landing page will convert on the initial sign up, while about 36% of them will attend the webinar.
Webinars also offer a high conversion rate of 19% compared to that of a website or PPC ad, which is between 2.35% – 5.31%. There are different webinars such as educational webinars, case study webinars, and product demos webinars.
Below are things you need to do to generate high-quality marketing qualified leads from your webinar.
a. Integrate your webinar tool with your CRM or email software
You need a way to quickly contact webinar attendees before and after the webinar. The best hassle-free way to do this is by connecting your webinar tool with your CRM or email software through Leadsbridge's Webinar leads. It is a tool that helps you create a bridge between your webinar software and email software.
With this tool, you can store attendees details directly into your CRM. This helps you get in touch with your webinar attendees before they get cold.
b. Build a converting webinar registration landing page
A webinar landing page is where your attendees will first signify their interest by providing their email addresses to sign up for the webinar. This needs to have targeted messaging to propel your audience to register for the webinar. Use an attractive title, a clear description that shows the benefits the audience will derive from the webinar, and a brief biography of the speakers. Find an example from Leadsbridge below.
The landing page comes with a simple design highlighting the title and description of the webinar, the sign-up form, the benefits of the webinar, and a clear and conspicuous CTA.
Want to know more about webinar marketing? Then read this article?How to create an attractive webinar for your audience and convert it into hot leads.
c. Partner with other companies
Partnering a webinar with another company gives you the opportunity to tap into their audience to generate fresh leads. Ensure your partner shares a similar audience with your business. They can also sell complementary products to yours. Make sure that the partner also provides top-notch quality content for your audience. Leadsbridge always collaborate with other companies to hold webinars. Find an example of a webinar co-hosting with Massimo Chieruzzi, the general manager of AdEspressor below.
d. Create a survey for your audience during and after the webinar to know if they will buy your product or not.
Some may not be ready to buy, but be willing to learn more about your product to make an informed decision.
e. Follow up your leads to warm them up
After the webinar, you will need to follow up on the leads you collected through emails, phone calls, SMS messages, etc. This will help to nurture them from leads to paying customers.
For more webinar marketing ideas, read this post – Webinar marketing: The complete guide to turn leads to sales with a solid webinar marketing plan.
4. Use Long-tail keywords (SEO)
Search Engine Optimization (SEO) accounts for 49% of business blog traffic while Longtail keywords account for 70% of all web searches. Long-tail keywords are keywords with low search volumes.
Using long-tail keywords in your seo strategy makes it more effective.
Long-tail keywords help you generate organic traffic to your website. This helps to increase marketing qualified leads for your business. Use long-tail keywords in your content to help you rank for keywords that people are searching for. Once they find informational content that satisfies their desire on your website, they will be compelled to sign up for your email list.
Now that you know what long-tail keywords are and their importance to your business, let's look for ways to find them.
How to find long-tail keywords
1. Use Google tools
Google provides top-notch tools that can help you find long-tail keywords for your content. Find some of them below.
a. autocomplete
The first place you can discover lots of longtail keywords in your niche is by using the Google autocomplete feature. For instance, if your niche is real estate, you can search for "real estate" and then add prefixes such as best, how, why, when, what, where to get tons of long-tail keywords.
Find an example below.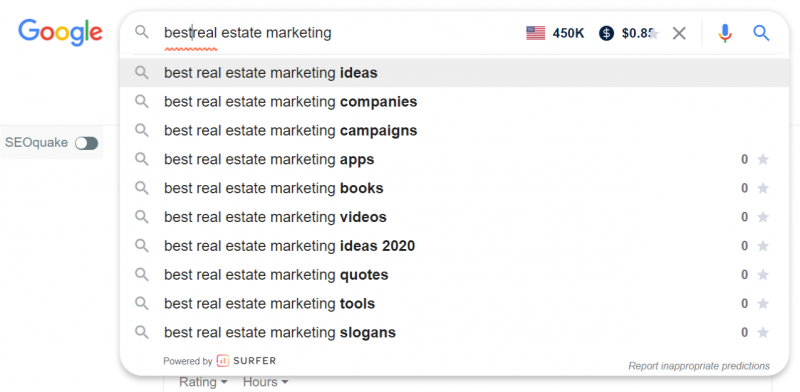 b. People also ask box
The people also ask feature box is a box full of longtail keywords questions. Find an example below:
c. Related searches section
The related searches section of the Google search tool also features longtail keywords you can use in your content.
Find an example below:

2. Answer the public tool
This a free keyword research tool that will help you uncover loads of longtail keywords. Find an example below.
Other tools you can use to discover longtail keywords are forums and question-and-answer websites such as Quora, Reddit, and Yahoo Answers.
After collating your longtail keywords, you would want to integrate them into your content. Often, the content can rank for more than one longtail keywords. Also, incorporate the keyword in your meta description.
5. Check the metrics
Metrics are important in marketing qualified leads generation. It tells you what is working and what is not. Based on the metrics, you can make an informed decision on the best lead generation strategies to use for your business. There are different things you need to track. This includes:
a. Conversion rates
The conversion rate in this case is the rate at which you are converting visitors to marketing qualified leads. When you measure this accurately, it will help you know the number of marketing qualified leads needed to generate the desired revenue target.
b. Funnel leakage
Funnel leakage shows you where your funnel is leaking i.e. where visitors are falling off the sales funnel. You can track this by checking out your conversion rates at each stage of the funnel. Look for the exact stage where the people are dropping off and fix it.
Checking the metrics will help you focus on what is working and make it work even more.
Now that you know how to generate marketing qualified leads, below are strategies to turn them into sales qualified leads.
Strategies to turn marketing qualified leads to sales qualified leads
Marketing qualified leads do not just turn to sales qualified leads automatically. They need more touches to be nurtured into sales qualified leads. This means you need strategies that work. Below are 5 strategies to use in turning marketing qualified leads to sales qualified leads.
1. Retargeting
Retargeting is a known strategy for targeting website visitors repeatedly until they convert. It works by installing a pixel on your website that helps to store your website visitors information and follow them around the web showing them your ads.
With a retargeting campaign you can get:
70% more customers
147% increase in average conversion rates when properly integrated
500% increase in branded search results
700% increase in overall site visitors
Source: Readycloud
Below are different ways to retarget your marketing qualified leads to turn them into sales qualified leads.
a. Facebook retargeting ads
Using Facebook retargeting ads is one of the best ways to turn your marketing qualified leads to sales qualified leads. This is why 86% of US marketers use Facebook for advertising (emarketer, 2018)
Facebook retargeting ads are ads that allow you to target your website visitors based on the actions they took while on your website. All you need do is to place the Facebook pixel on your website. When a visitor comes to your website, the pixel tracks their movement and shows them your ads in their feed on Facebook.
There are two ways to install the Facebook pixel – manually or using Leadsbridge's Pixel enhancer. You can copy the code manually and add it to your website. But if you are someone that does not like messing up with website code, use Leadsbridge's pixel enhancer. It is a plug and play tool that will help you create specific custom audiences and effective ads. It manages conversion tracking and behavioral customer audiences.
Below are more things you can do with the pixel enhancer tools.
The next thing you can do with the information provided by the pixel is to create a custom audience of your website visitors. This will help you to retarget your website visitors based on the pages they visited on your website.
Setting up a custom audience on Facebook is easy. You can build custom audiences based on your website visitors, customer list, app activity, and offline activity. Learn how to set it up in this post – A Step-By-Step Guide to Facebook Custom Audiences. To save time, effort and avoid errors, you can automate your custom audiences building by using Leadsbridge's Custom Audiences Sync tool to sync your autoresponder or CRM with Facebook to create a custom audience for your customer list.
A good example of Facebook retargeting ads is from Kelley Blue Book, KBB. It is a vehicle service that keeps track of the prices of different old and new vehicles. They created Facebook retargeting ads to target website visitors flipping through the pages of the website without making a commitment to purchase. See the ad below:
b. LinkedIn Retargeting
LinkedIn is also one of the top social media platforms great for retargeting. It has over 500 million users and 250 million monthly active users. With LinkedIn's retargeting tool, you can target your audience based on three criteria:
Contact targeting – targeting based on prospect's email addresses

Account targeting – targeting the accounts of prospective customers

Website targeting – targeting website visitors based on the pages they visited.
Setting up retargeting ads on LinkedIn is easy, especially for the contact targeting option. If you use Hubspot, all you need to do is integrate your LinkedIn account with Hubspot through Leadsbridge's LinkedIn Matched Audiences tool. The tool helps you to sync your static lists, smart list, etc on Hubspot to your LinkedIn campaign manager. This makes it easy to upload your email contacts to LinkedIn.
Learn how to set up the three types of LinkedIn retargeting by reading this post – LinkedIn Matched Audiences: Improve the Efficiency of your Retargeting Campaign.
c. Google remarketing
Google Remarketing is also known as Google display network remarketing. It works like Facebook and LinkedIn retargeting. It uses a piece of code added to your website. When people visit your website, the cookies add them to your remarketing list. This allows you to retarget your website audience with specific ads as they move around the web, watch YouTube videos, read the news, etc. The Google display network reaches over 90% of people on the internet. The good news is that you can reach 9 out of 10 customers you retarget with Google remarketing.
One way to retarget your audience through Google is to use the Google Customer Match tool. This tool allows advertisers to target leads on Gmail, search networks, display networks, and YouTube with ads using their email addresses, phone, or physical address. This is an effective way to turn your Marketing qualified leads into sales qualified leads. To use this tool, you will need to upload your customer's email addresses to Google. One way to make it a seamless process is to use LeadsBridge?s Custom Audience Sync tool to sync your CRM data with Google.
Find an example below from Shopbox. They created a retargeting ad on Google for customers checking out clothes like this:
They did not stop there. They added free shipping and a discount to it to entice the viewers.
When building your audiences using a customer list, you can use Leadsbridge Audience Sync tool to sync huge audiences without managing CSV files and lists.
2. Email marketing Automation
Email marketing automation is the process of sending emails to leads and customers based on a pre-defined set of triggers. It differs from the usual manual email broadcast to subscribers. Email marketing automation helps you to engage your subscribers automatically. With email marketing automation, you get a click-through rate of 119% higher than broadcast emails, and sending out an automated welcome email series instead of a single welcome email can increase revenue by 13%.
Examples of email marketing automation are sending welcome emails, product recommendations after a purchase, cart reminder emails, onboarding emails, and transactional emails automatically to subscribers. Automated emails save time by doing the repetitive work for you so you can focus on other aspects of your business. It helps you to educate your marketing qualified leads and turn them into customers.
Below is an example of a welcome email automated series. It is broken down into different parts so as not to overwhelm new subscribers. It contains an introduction, a what to expect section, and CTAs leading to quality and informative content for subscribers. Check it out below.
If you generate the leads from Facebook Lead Ads, you can use Leadsbridge's welcome email tool to quickly send a welcome message to them. This will help you drive up to 10x better results than sending emails hours later after getting the leads.
3. Mobile marketing
Mobile marketing is the marketing that takes place on a mobile device. As of 2020, the number of people using smartphones is projected to reach 3.5 billion, which is a 9.3 percent increase from 2019.
?
In addition, People check their mobile phones 85 times per day on average and 89% of customers use their mobile phones while shopping. This is the reason you need to use mobile marketing to turn your marketing qualified leads into sales qualified leads.
With mobile marketing, you can use SMS marketing, voice marketing, and mobile push notifications to turn marketing leads into sales qualified leads.
a. Sms marketing
SMS marketing is growing in popularity, although many businesses still under-utilize it because of its simplicity. But this does not diminish its effectiveness. SMS marketing has an open rate of 90% compared to an email open rate of 20%. The response rate of SMS text message marketing is 45% vs the email response rate at 6%.? The most important thing is that 75% of people wouldn't even mind receiving an SMS text message from a brand.
With the stats above, SMS marketing is great for turning marketing qualified leads to sales qualified leads. It is cheap and useful. With SMS marketing, you can send a welcome message to your subscribers.
This is especially great for subscribers coming from Facebook Lead Ads. You can integrate your Facebook account with Leadsbridge's welcome SMS tool so you can quickly send automatic follow up messages to your leads before they get cold.
An example of an SMS welcome message is from Fashion Era's company. Check it out below.
Apart from sending a welcome message, you can send new offers or content, reminders for webinars, scheduled appointments, demo, links to download content, etc. Learn more about SMS marketing strategies in this post – 5 SMS marketing strategies to engage your new leads and convert them into high lifetime value customers.
b. Voice marketing
Voice marketing is the use of automated computer-created phone calls to reach your target audience. Voice marketing is great for turning marketing qualified leads to sales qualified leads. All you need do is to call your leads and promote your product or services to them. They have the choice to listen or hang up.
c. Mobile push notifications
Mobile push notifications are messages sent by an app to a lead's mobile phone. This is possible with the aid of mobile applications installed on prospect's phones. Push notification examples are text messages, images, videos, and sounds. You can use it to deliver personalized offers to your app subscribers, news, product updates, and reminders.
Conclusion
Every business needs a constant supply of marketing qualified leads to survive. There are various ways to generate marketing qualified leads such as using Facebook Leads Ads and lead magnets, creating valuable blog posts on your website, use webinars, and using Long tail keywords.
Turning the marketing qualified leads into sales qualified leads requires planned out strategies. These strategies include using retargeting ads on Facebook, Google, and LinkedIn, Email marketing automation, and Mobile marketing.
It is time to take charge of your leads and turn them into profitable customers.