With over 2.41 billion monthly active users across the countries of the world, Facebook has one of the largest audiences in the social media network space and a robust advertising platform to match.
Facebook Lead Ads is a product rolled out a few years ago to help advertisers capitalize on its massive audience to get better conversion rates for campaigns. As lucrative and profitable as Facebook Lead Ads is, few advertisers are using it.
In this article, you will learn:
What is Facebook Lead Ads?
How effective is Facebook Lead Ads in 2019?
What can you do with this Facebook Lead Ads?
Reasons why you need Facebook Lead Ads for your campaigns?
How to set up a Facebook Lead Ads campaign
Facebook Lead Ads integrations
Facebook Lead Ads best practices
Let's get started.
What is Facebook Lead Ads?
Facebook Lead Ads is a tool specifically designed to collect "cheap" leads, allowing you to collect information from prospects both from mobile and desktop ads.
1.74 billion is the exact numbers of the mobile monthly active users. You have this huge number of potential customers, but are you able to fully monetize it?
Facebook wasn't..
Although most FB users got access to the social network through a mobile device, the conversion rate of the ads was much higher on the desktop. Only 34% of user conversion was operated by a mobile device. Even though the mobile is the most used channel, it was not yet profitable as the desktop.
That's could be a problem! How Facebook solved it?
Facebook Lead Ads is the answer. The feature was initially born with the aim to maximize the online conversion of the ads campaigns on Facebook from a mobile device.
What was the problem before on this platform?
Previously, the conversion of the lead consisted of different steps, which at some point redirected the user from the social media environment to the landing page, where the user had to interact with an additional call to action, in order to provide his personal details. This often resulted in an unsuccessful conversion, due to the fact, that users are not willing to exchange the safe social media platform for the untrusted external environment.
With Facebook Lead Ads all this conversation trouble disappears. When the user clicks on target ads, a pop-up window appears inside the social itself with already pre-filled user data. In most of the cases, the user needs just to confirm its data and gets automatically acquired as a new lead! easy peasy.
Below is an example of a Facebook Lead Ads from B. Holt & Partners Realty Group, a real estate agent company.

In the first image (A) shows the beginning of the ad. As soon as a Facebook user clicks on "Get deal now", it takes them to (B) where the form is automatically filled up with the user's information, such as their name and email address. They are required to confirm the details or add a few details and click submit.
Once the form is submitted, it takes them to C to agree to terms and conditions. Once the submit button is clicked, it takes them to D where the thank you page is displayed.
How effective is Facebook Lead Ads in 2019?
Facebook Lead Ads has not lost its sizzle. A statistical analysis by SurveyAnyPlace revealed that the cost per lead (CPL) per marketing channel and specifically social media, is close to $27.
This makes it a cheap marketing channel to generate targeted leads.
What can you do with this Facebook Lead Ads?
You can use Facebook Lead Ads to collect different information from potential leads anywhere in your sales funnel. For example, you can use it to create newsletter sign-ups for both existing and new customers.
It is suitable for different industries such as retail or e-commerce businesses to offer deals, coupons, and offers. The automobile industry can use it to share information about new car models, schedule test drives and offer maintenance deals. Education, financial or professional services can use it to gather data on people who are interested in their services.
The effectiveness of Facebook Lead Ads has made it one of the most powerful tools for building high converting marketing campaigns.
Reasons you need Facebook Lead Ads for your campaigns?
1.Massive and high converting audience
Facebook is one of the largest social media networks with 2.41 registered monthly users. According to Statista, there are 2.41 billion monthly active users as in the second quarter of 2019.
From the graph above, you can observe that Facebook has a huge number of active monthly users. This means you can reach a huge number of audience in your niche on the platform.
2.Facebook Lead Ads is optimised for mobile
According to Statista (January 2019), 96% of Facebook users access the platform through a mobile phone or tablet device.
This implies that using Facebook Lead Ads for your marketing campaigns will help you reach more of your target audience. It also, eliminate the possibility of creating an ad strictly for mobile because it comes with a mobile version pre-built.
3.Facebook Lead Ads remove conversion friction
The ads is designed with a pre-built form to be filled right on the Facebook platform. This eliminates the need to redirect users to your landing page, helping you to increase your conversions. It also helps to reduce the money you would have spent on creating landing pages for your ads.
4.Facebook Lead Ads help to reach targeted prospects
With Facebook Lead Ads, you don't have to speculate. It is designed in a way that makes it easy to reach your targeted audience within your niche. This is possible through the audience selection and optimization tools on Facebook Lead Ads. With this, you can show your leads ads to users that have a high probability of filling your form. This makes you ads targeted to prospects who are likely to convert to leads and customers in the long run.
5.It's cheaper than direct advertising
There's no doubt that by using lead ads you can definitely save money off your advertising budget. Based on our experience we can confirm that using Facebook Lead Ads reduces the costs per lead to less than half of usual spend.
6.It creates brand awareness
Facebook, the biggest social media platform is the right place to build your brand awareness, as it makes the whole process of creating your audience and converting it into a lead, as easiest as it can be.
7.Save time
When Facebook presented lead ads, they announced it as a "tap tap done" feature, and it literally is like that. It saves user's time but also yours and it has made it fast and easy for you, lead creator to prepare and manage your leads.
8. Fully customisable tool
In fact, it is possible to customize the form with different fields like: size, people, business, field of study, etc…when creating an ads campaign.
Not convinced yet? Still not sure if Facebook Lead Ads is the right fit for you and your business?
Nowadays there are few niches of businesses that can stay out of Facebook influence. Just think of the fact, that there are over 1.74 billion mobile monthly ACTIVE users worldwide, which implies that Facebook is too big to be ignored.
Facebook Lead Ads, is an exceptional way of promoting your product or service, and at the same time, as mentioned previously in this article, also boosting brand awareness. To understand the variety of Facebook usage, you should definitely check our blog here, where we provide different tips in relation to the business that you are in, to get the most advantage using Facebook Lead Ads for your campaign:
Now let's go to the business!
How to set up a Facebook Lead Ads campaign
Step 1:
Go to the Ads Manager. Once there, click on "select your campaign objective". Since you are using it to generate leads, click on Lead generation.
Step 2:
Under the lead generation, give a name to your campaign. You also have the option of creating a split test and setting campaign budget optimization.
Step 3:
Select the Facebook page you want to use for the campaign.
Step 4:
Set up your audience. It is time to define your Facebook Lead Ads audience. Here, if you have an already saved audience you can use it, else create a new one. This section is divided into two – the custom audience and the location. The custom audience is users you already have their details such as their name, email address, phone number, etc
Gentle reminder: In order to choose your website custom audience, you need to have the Facebook Pixel running on your website. If you are not running it, you can quickly check this guide and have it up running just in few steps. 
The second part is the location. You can choose the location where the audience is located. Select their age, gender, and language.
In the next section, you will see "detailed targeting and connections".

The detailed targeting helps you to set rules and target people by demographics, interest, and behaviors.
In the connection section, you can include or exclude a specific group of people who have carried out certain actions on your page. For instance, you can include people who like your page.
When you are done with the setup, click on "save audience".
Step 5:
Select the ad placement. This is where you choose the location of your Facebook Lead Ads. There are two options in this section. Automatic placement and edit placement.
With automatic placements, Facebook helps you to optimize your ad to reach more people. While the edit placement gives you the opportunity to show your ads on specific locations on Facebook and also include any Facebook products such as Instagram.
Step 6:
Set the budget and schedule. Now, that you have your audience ready, you can set up your budget. You can set the daily budget of the campaign or overall one for the campaign duration. Decide how much you want to spend and adjust according to the results. You can start slow and then increase the daily budget if everything works fine. Just keep in mind to change your spend gradually. Don't go from $10 to $100 as it might mess up the Facebook algorithm that will result in ad performance decrease.
Now to the most interesting part of the Facebook Lead Ads set up–the design of the leads ads.
To design the leads ads, follow the steps below.
How to design a Facebook Lead Ads form
Step 1:  Choose a format
There are two formats of Facebook Lead Ads – Carousel and single image or video. For this content, we will use the single image or video option.
Step 2: Select the right image
The next step is to choose the right image that goes along with your ads. You can get free stock images from Facebook. If you have a specific image you want to use, upload it.
Step 3: Add the text and choose the CTA.
You will want to create an attractive text that will draw people to your ads. Also, choose a CTA that applies to your offer. Examples are "apply now, Book now, download, learn more, etc
Step 4:  Create the lead form
This is the most important step in ad creation. It is time to design the lead form. Click on "New form" and the form will come up.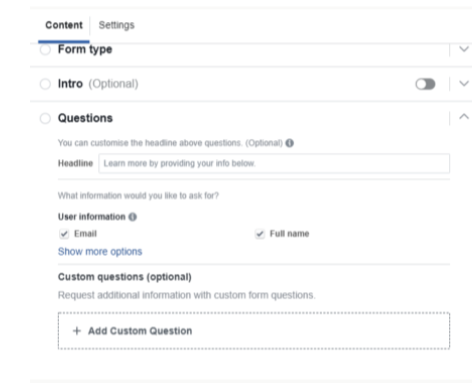 There are five sections under the content as shown above. The form type, the intro, the questions, user information, and the custom questions.
The form type is where you select the form you want based on the volume or higher intent.
Select the type that fits your marketing campaign.
The second part of the form is called the intro. It is optional.
The third part is the question section. This is where you select the details you want from your user. It pre-selects the popular user details i.e. the name and email. But if you need more than the email and full name, click on the "show more options" and you can choose more user's information such as the phone number, city, state, and country.
In the custom question section, you can customize your questions as you want.
The next section is where you add the URL of your company's privacy policy and custom disclaimer.
Now to the last section.
This is where you set up your thank you screen.
Congratulations, you are done with creating your first Facebook Lead Ads.
Where are your leads going to end up?
Facebook Lead Ads integrations
The leads you will collect through your created campaign will be stored on your Facebook page and all the contact details can be downloaded in CSV format.
With this method, it is difficult to email or send an SMS or a call right when the lead comes in. This can reduce the effectiveness of your marketing campaign.
It is also not the most user-friendly format to deal with. However, there are different tools that can help to solve this issue to synchronize all your leads library in your CRM software or your mail provider. Leadsbridge provides Facebook Lead Ads integrations to 360+ CRM  and email providers.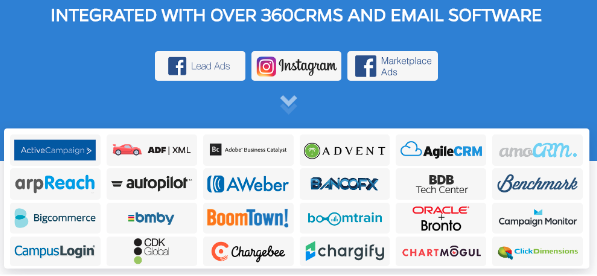 This software helps to manage the leads you have just obtained from your ads campaign, importing all the acquired contact details in your favorite customer management tool and email software. With this in place, you can quickly contact them through email or an SMS as soon as they come in. This makes it easy and fast to turn them to paying customers before they lose interest in your products or services.
For example, you can connect your Facebook Lead Ads with HubSpot through Leadsbridge. Watch the video here.
Now that you know how to create Facebook Lead Ads and integrate it with your favorite CRM or email software tool, you need to know how to get more out of your campaign. Below are Facebook Lead Ads practices that will increase your ROI.
Facebook Lead Ads best practices
Create lookalikes from real customers and not prospects
Don't create a lookalike audience from prospects. If you do, you will have a bigger list of less qualified leads. But when you create a lookalike audience from those who have already converted to customers, you are building a true profile of your ideal customer. This true profile takes guessing away from your campaigns. You can always be sure to hit the nail on the head each time you create a Facebook ad campaign for your lookalike audience.
Create an attractive copy for your ad
The ad copy determines whether your audience clicks the CTA on your ad or not. This determines the success or the failure f your ad. Don't repeat the same text you have on an old ad campaign for a new lead campaign. Craft and test new copies each time you want to create a new ad. Write a copy that will inspire, excite, entertain and persuade your audience to take action.
Use fewer fields in your forms
Use relevant but few fields in your Facebook Lead Ads form. When you increase the field, users will probably not complete it. The fewer, the better. However, ensure it contains the real information you need for your business. So, how many fields or questions should you add to your leads ad forms? Adpresso carried out a survey on lead ads performances vs questions and came up with the table below.
According to the data presented above, your questions or fields should not be more than 3. It can be less but no more.
Don't target the same audience with different lead ads campaigns
Creating different leads ads targeted at the same audience will make the campaign  underperform. Even if you are trying to test different ad ideas on your audience, don't do it. It doesn't work that way. Facebook has several users and with targeting, you can niche down to the audience that will probably convert.
Know the right time to display your lead ads
With Facebook Lead Ads, you can schedule your ads at the time you know your audience is active. If you see an increase in the participation of your users in your ads, you can increase your bids. But if they are not interacting with it, then scale back on the ad.
Create a crystal clear offer
Let your audience know what they will get by signing up for your offer. Also, let them know what you will do with their emails in the future. You can disclose this in the privacy policy section.
Test, test as much as you can!
Lead Ads is a strong opportunity to generate value lead for your business. Don't forget to use Facebook Lead Ads integration with any CRM or email software of your choice to increase the effectiveness of your campaign.
Crack the Facebook Ads Success CODE
Download this free book and discover 30 easy strategies to boost your Ads overnight, learned managing over 400 milion in media spending.
Insert below your name and email address to get access to the ebook