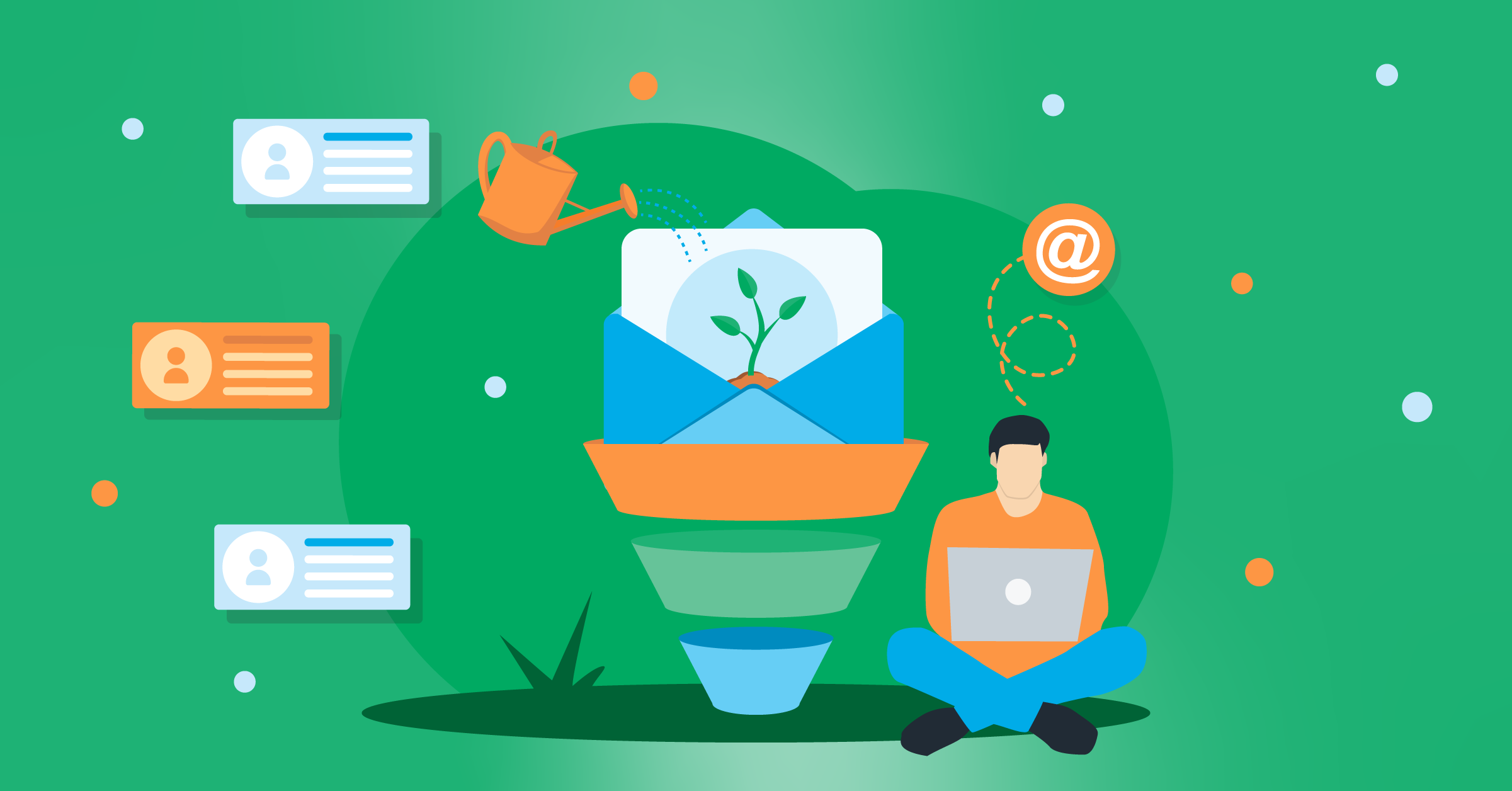 You've been working hard to build an email list, and you've got a solid list of names and email addresses of leads and prospective customers.
Great! But now what?
Having the user's email isn't enough; you'll need to actively engage in connecting with your audience through a lead nurturing process and strategy.
In this post, we're going to cover everything you need to know about email nurturing, including what it is, what it looks like, and how to use email nurture campaigns for your business.
What is email nurturing?
Email nurturing (also sometimes called "email lead nurturing campaigns") is the process of building a lasting relationship with your leads by keeping in touch and showcasing the value of your products until they're ready to become customers.
With a strong email nurture campaign in place, you can educate your leads, create stronger brand and product awareness, and build lasting trust that will drive them to become customers. It pushes them through the buyer's lifecycle to become customers.
The benefits of email nurturing
There are a few core benefits of email nurturing (the most significant, of course, being that it's downright effective in every way). Let's take a look at the most important email nurturing benefits.
1. Email nurturing is cost-effective
Email marketing done correctly has the best ROI. For every $1 spent, it yields $40 in revenue. The best companies at lead nurturing also produce 50% more sales-ready leads at 33% lower cost per lead. This shows that email marketing not only helps to nurture your leads, it also helps you to convert the leads at a reduced rate.
2. Email nurturing increases the likelihood that users will convert
When you're using email nurturing, you're consistently re-engaging the lead and hitting them with messages that showcase your value and entice them to convert (potentially with offers like discounts or freebies).
Of course, that means they're more likely to convert— you're reminding them why they should!
It ensures that they're not just going to forget about your brand and disappear.
3. Lead nurturing brings better email response
Lead nurturing emails get 4-10 times the response rate compared to standalone email blasts. This is because the emails are personalized to each subscriber according to their customer journey.
What is a nurture email campaign sequence?
Nurture email campaigns are made up of multiple email messages that are designed to educate, engage, enlighten, and inspire leads to take action. They are created to answer leads' questions and give them engaging content as they go through the sales journey.
Once users take a specific action (like signing up for a free trial), the nurture campaign may push them to a second or even third action, like converting into a paid customer or upgrading to another product.
You can see what this might look like here:
Most nurture email campaigns consist of at least 5-10 emails sent over a couple of days apart. It's helpful to set up email tracking to properly monitor your email nurture campaign.
Below are lead nurturing email templates/examples.
What does an email nurture sequence look like?
Email nurture sequences are typically going to be autoresponder series that are sent to new users when they take a certain action, like joining your email list. They're often sent out through tools like Mailchimp, GetResponse, Klaviyo and ActiveCampaign.
Facebook Lead Ads integration with Mailchimp
Facebook Lead Ads integration with GetResponse
Facebook Lead Ads integration with ActiveCampaign
TikTok Lead Generation integration with Klaviyo
Here's a simple example of what this might look like from LeadPages.
I signed up for a free trial on their site, that triggered an email nurturing sequence designed to help users get more value out of the trial, so they were more likely to convert.
This was the first email I received:
It welcomed me to the tool, reminded me that I'm part of a powerful and large community (leveraging that social proof), and mentioned that my 14-day trial can help me "capture and convert limitless leads." That potential is compelling, right? And then they encouraged me to get started publishing your first page (it only took 30 minutes!), along with a quick access to log in right away.
Then I get this email:
An account specialist sends an email (part of their email campaign sequence) that wants to learn more about what I, as a customer, need. There's an offer to help me get set up, even over a Zoom call, especially since they've noticed that I haven't created a page yet. There are a few high-value links to get customers the information they need.
And then finally, I get this one:
The email subject line (and, fittingly, the subject of the email) reminded me to claim my free domain that's available with the plan I was testing. I could also choose different domain extensions that will fit my preference. This is an insanely high-value proposition to many of their customers, so it's smart to highlight it at this point; if you've got users utilizing a paid domain, they're going to want to stick with the tool, and it's hard not to see the value in that.
How to boost your nurture email campaign with automation?
One way to boost the effectiveness of nurture email campaigns is by using marketing automation. It is a great way to enhance the quality of leads, and it helps to propel leads down the sales funnel. Automated email campaigns help organizations educate users in order to build relationships, and trust, and establish credibility with leads.
The automated email works by defining a specific behavior for users such as filling forms, call to action clicks, page views, etc. Once the action is carried out, they are added to an automation workflow and they receive automated emails based on that behavior. Consider using proper email automation tools to plan and complete this process productively and achieve great results.
One way to be effective at automated email is by tying it with other parts of your marketing campaigns. This means lead nurturing campaigns should be tied to other conversion paths such as social media ads (Facebook leads ads) Google ads, and email marketing.
Below is how you can integrate your email marketing automation with your different conversion paths.
How to integrate email marketing automation with conversion paths
1. Facebook lead ads
It is possible to integrate your autoresponder or CRM with Facebook. This will help you send your leads straight to your autoresponder or CRM, where an email nurture campaign is waiting to be sent to subscribers. The easiest way to achieve this is by using Leadsbridge's Facebook Lead ads sync tool. This tool helps you to sync your autoresponder or CRM to Facebook. So that as users subscribe, they receive your welcome email series before they get cold. This process helps you to avoid downloading your leads manually and then uploading them to your email software. It also helps your sales team to reach leads quickly.
Facebook Lead Ads integration with Klaviyo
Facebook Lead Ads integration with HubSpot
2. Email retargeting
Email retargeting is targeting the people who are on your email lists with different offers. This helps to increase the conversion rate by as much as 41%. That is almost 4x the usual income. It helps you to drive action by displaying ads that entice users to visit your store again and again. There are several ads on platforms that allow you to retarget your email list. Examples are Facebook, Google, and LinkedIn.
With Facebook, you can upload your email lists to the platform, create a custom audience, and retarget them with similar offers. Google Customer Match also allows users to upload an email list to Google ads and target them with relevant ads. LinkedIn Matched Audiences works in the same way. However, these platforms only allow users to upload email lists manually, which can be tedious and error-prone. The good news is that you can use LeadsBridge's Custom Audience Sync tool to upload your email lists on these platforms. This way, you are sure there will be no error. It is also automated, making it fast to upload the list. In addition to that, your email lists are automatically updated, helping you to add new subscribers, and delete unsubscribed and unsegmented users.
ActiveCampaign integration with Facebook Custom Audiences
GetResponse integration with Google Customer Match
LinkedIn Matched Audiences integration with HubSpot
How to nurture your email list: Best practices & strategies to nurture your email list
Wondering how to nurture your email list to get your best results? Let's take a look at some of
the core best practices and strategies to nurture your email list to actually get you results, no matter who your audience is or what you're selling.
Use audience segmentation to send more relevant sequences
Imagine that you're a SaaS tool, and you've got multiple qualifying actions that might trigger an email lead sequence.
One might be users signing up for your email list by downloading an ebook. Another might be signing up for a free trial.
Here's the problem: If you create an email sequence that first pushes users to a free trial… that's not going to be effective if it's your only sequence and it's being sent to leads who are already enjoying their free 14-day account.
This message from ActiveCampaign would not be effective, for example, if I'd only signed up for a webinar and not a free account:
It's crucial to take advantage of email list segmentation in order to send relevant sequences to the right audiences as a nurture email campaign best practice.
Stress the USP & value of your products
You don't want there to be a single trace of doubt in the lead's mind about why they should absolutely become paying customers of your brand in your nurturing email sequences. The entire goal is to make them confident in their purchasing decision.
The best way to do this is to really highlight your brand's Unique Selling Proposition (USP) and demonstrate how valuable your product can really be by using simple terminology. This is one of the most crucial nurture email campaign best practices there are.
Whether this is showcasing customer testimonials for your eCommerce goods, walking users through their free trial for SaaS tools, or offering resources to build trust in your brand, this is imperative.
Here's an outstanding example:
This was a welcome email from Wantable, the first of their lead nurturing sequence. I hadn't officially become a paid customer, just created an account. They welcomed me to the brand but also made sure I understood the value by highlighting how they were different from competitors.
This included stressing 7 items (popular competitor StitchFix only sends 5, which was a core part of their ad campaigns), "100% styled for you," "VIP extras and updates on a new style," and mentions of a dedicated community.
There are a lot of value propositions there that are hard to ignore.
Leverage email marketing automation
Email marketing automation is sending emails automatically to lead-based on a set of triggers. For example, if someone signs up to download a free ebook on your website, you can set up an automated email to send the free ebook to them and drip feed other emails sequentially over time.
Time is important, especially with email lead nurturing campaigns. You want to strike while that iron is hot.
Marketing automation also allows you to track data in your email marketing software and then have it sent automatically to your CRM, where it can be used for more personalized and one-on-one follow-up from your sales or customer support teams.
Don't be afraid to use lead nurturing email templates
Most email marketing tools have email templates available to you. These are fully customizable, but they give you some inspiration and a solid starting point that can make getting your campaigns to a launch point a little easier.
Take advantage of these! Customize them as needed, but test a few with your own copy and offers and see how they work for you. Make sure you run a grammar checker before you use them. If they work well, that just streamlines your process even further!
Utilize email personalization
Personalization is hyper-segmentation at scale… even if it's only the illusion of it. And since personalized emails have higher open rates and click rates, it's something that every brand should be considering.
Here's a great example. A few years ago, I signed up for a free account with Rover, which helps dog owners connect with pet sitters. I hadn't yet converted, but I got an email encouraging me to find a dog sitter for the weekend— and it mentioned our two dogs' names (Moose and Winnie).
Consider your leads' objections
What objections do your leads typically have that keep them from converting?
Are they worried about the cost? Product value or longevity? Care? Set up the process?
It's essential to know so that you can use some of your email sequences during the nurturing process to actively address and overcome those objections.
Here's a simple but highly effective example from EasyClosets:
They:
Remind me of complimentary design service, so if I as a customer am worried about getting the design or measurements wrong, I can rest easy knowing a pro is checking it out
They stress how easy the installation process is for their custom closets and an include a video to prove it
Add in mentions of all their 5-star reviews, leveraging social proof to reduce the fear that this is a small brand and I won't get what I need
Use multi-channel lead nurturing
Email marketing is great, but with spam filters and expired email lists, it is difficult to contact leads through emails.
This is where you need a multi-channel lead nurturing campaign to reach your leads wherever they are. This includes providing dynamic website content, using retargeting ads, social media monitoring, and mobile marketing automation.
The idea is that you can expand your reach beyond just email to connect with users wherever they are— and email marketing integrations like those available through LeadsBridge are an essential part of making that possible.
Conclusion
If you don't have email nurturing campaigns and sequences in place, you're probably leaving a lot of money on the table. There's no getting around it.
You absolutely want to be taking full advantage of nurturing sequences in order to stay in touch and showcase value to your audience, moving them from the consideration stage of the buyer's journey to the purchase stage.
Since nurtured leads spend 47% more than non-nurtured leads, it's clearly well worth the time and energy.
And remember that automation tools are available that can help. This includes email integrations that automatically add new leads to your CRM and email software so they receive the lead nurturing sequences right away or those that send based on a user's action. Here at LeadsBridge, we offer extensive integrations for hundreds of different marketing tools for a more streamlined and heavily automated process.
Ready to rock your email nurturing sequences? Check out our email marketing integrations here.