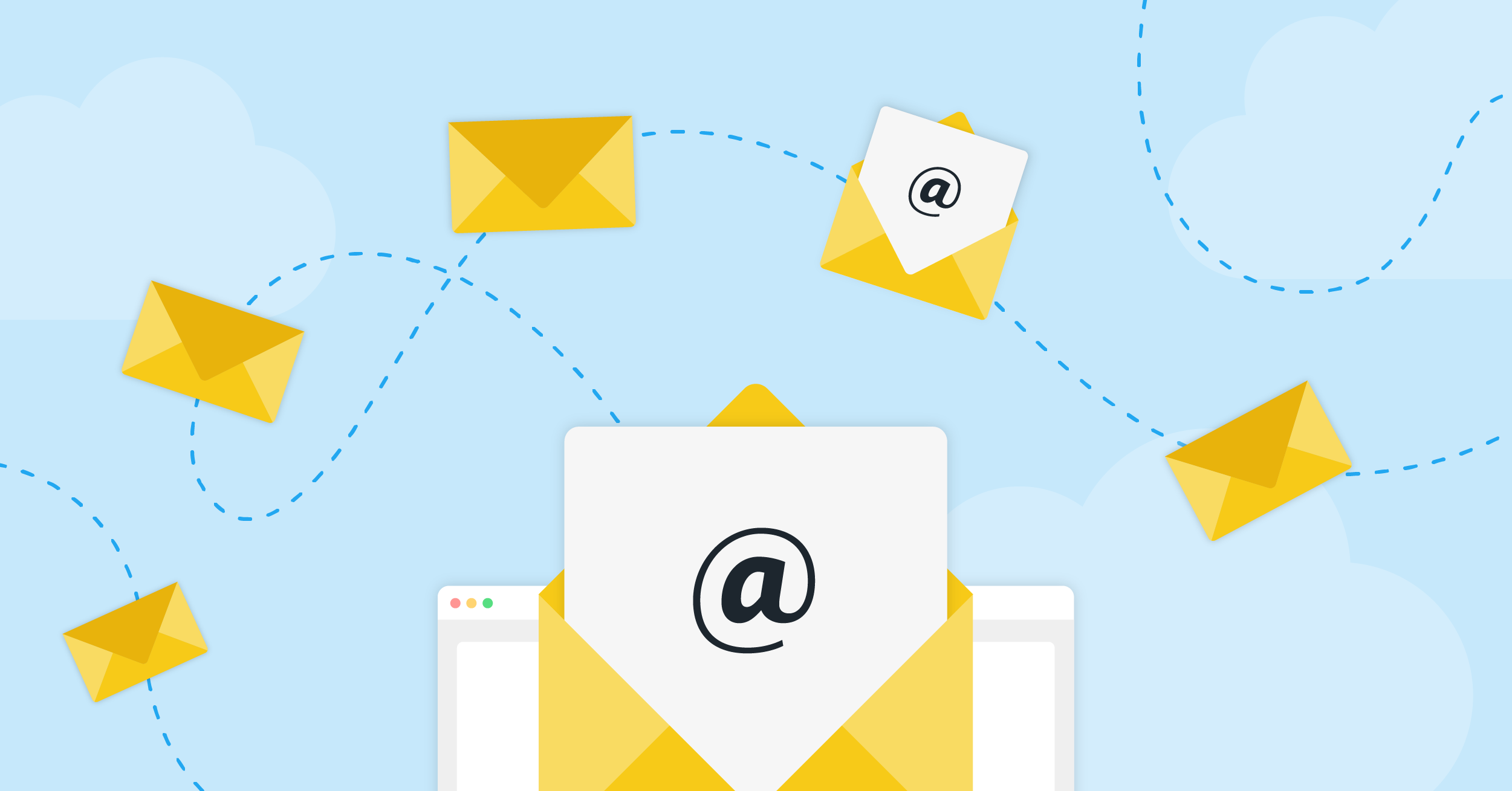 In spite of the wide variety of new marketing techniques, email marketing is still one of the best ways to distribute content. According to the survey carried out by the Content Marketing Institute, 87% of B2B marketers use it as a distribution channel.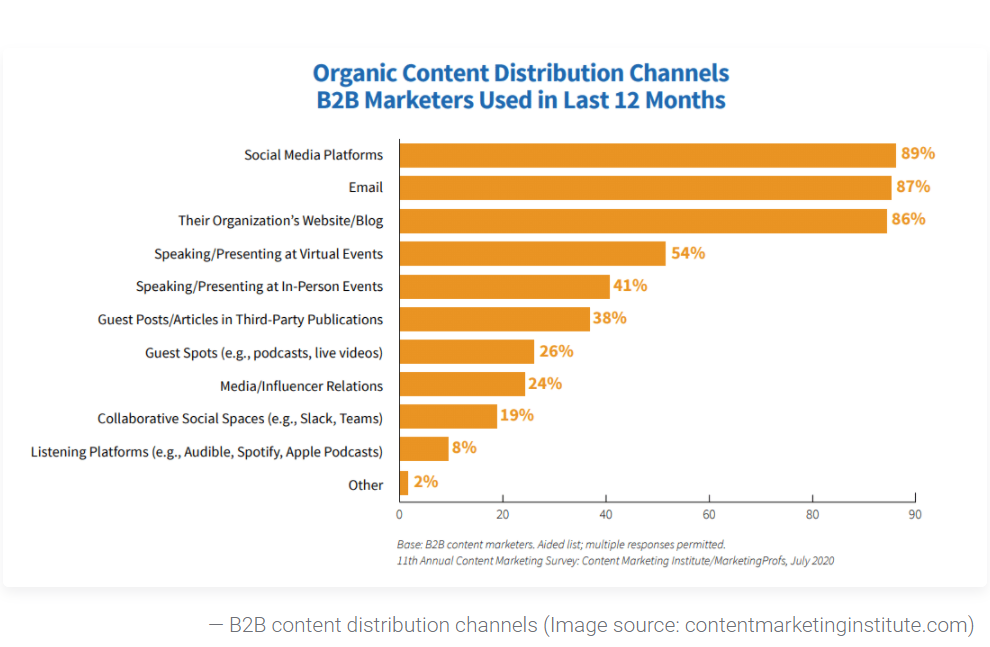 Email marketing can generate as much as 3800% ROI, which is as much as $38 for every $1 spent and an email sequence can generate ROI as high as 320% more revenue than ordinary emails.
This means that email sequences are crucial to add to your marketing arsenals.
In this article, you will learn all about email sequence examples to enable you to get insights on how to create an effective email sequence for your business.
What is an email sequence?
HubSpot defined an email sequence as "a series of emails sent to a prospect, user, or customer automatically using automation software based on predetermined criteria such as a time delay or action being met."
For example, once a prospect signs up to your email list, you can automate a welcome email, and then send them other emails in the series at set intervals every few days. Email sequences provide a great way to continuously communicate and build a profitable relationship with your prospects.
Email sequences are effective for the following:
a. Educating your audience on the need for your products
b. Make your audience feel good and engage with your products
c. Make them take the desired action.
d. Follow up with the leads you've collected from your advertising campaigns on social media, like Facebook.
Below is the importance of creating email sequences.
Importance of creating email sequences
1. Email sequences offer an automated way to send email messages to your prospects and customers. It saves time as you don't have to send the emails manually.
2. Email sequences are effective in moving prospects through the sales journey. You can design an email to fit specific buyer personas to help solve their most pressing needs.
3. Email sequences help to acquire new customers and retain existing customers easily through marketing messages. This, in turn, increase conversions and revenue.
4. Email sequences can be sent to prospects and customers at the right time or in response to an action they took on your website when they are likely to read it. This helps to get the best result.
Types of email sequences examples
1. Welcome email
A welcome email is an email you send as soon as your web users sign up on your website or on your social media ads. The welcome email is effective more than standard newsletters because it has an average open rate of 50%, which is 86% more effective than standard newsletters.

Source: ActiveCampaign
The welcome email sequence is your first touchpoint with your prospects, so this is a make-or-break experience. A friendly welcome email will encourage your prospect to engage and interact with your product or service. A survey revealed that users who receive a welcome email show 33% more engagement with the brand. This can lead to gaining customers for the long term.
To have an effective welcome email sequence, it's important to reach your newly acquired leads as soon as they subscribe, fill your form, contact you, etc. For this, you can use an automated welcome email to quickly follow up with leads.
LeadsBridge provides integrations for automated welcome emails such as:
a. Facebook Lead Ads integrations with Welcome Email
b. Everwebinar integrations with Welcome Email
c. Salesforce integrations with Welcome Email
Welcome emails are used for different purposes, such as:
a. Encourage a prospect to fill up their profile
b. Download a free resource
c. Read guides and help documents
d. Purchase a product or services
e. Complete desired action.
Below is a welcome email sequence example from Lovesac, a furniture company. They have three welcome email sequences. The first one welcomes the subscriber, the second email shows the benefits of ordering from Lovesac, and the last email advertises Lovesac products as shown below.
Lovesac welcome email 1

The second email in the series shows the brand's popular products. Below is the third email in the series. It shows users' reviews and testimonials showing how Lovesac products fit perfectly.
Lovesac welcome email 2

Source: Mailcharts
2. Onboarding email sequence
The next email to send after welcoming your new subscribers is the onboarding email sequence. In this sequence, you will send useful information your prospects need to keep them engaged on your website and to encourage them to start buying from you.
Onboarding email sequence examples are emails that encourage a prospect to start a trial, use a product, and book an appointment. To get the best out of an onboarding email sequence, you need to use personalization and provide the benefits of your product or service. Onboarding emails is very effective because it helps new users to learn how your product works and it helps you to reduce churn.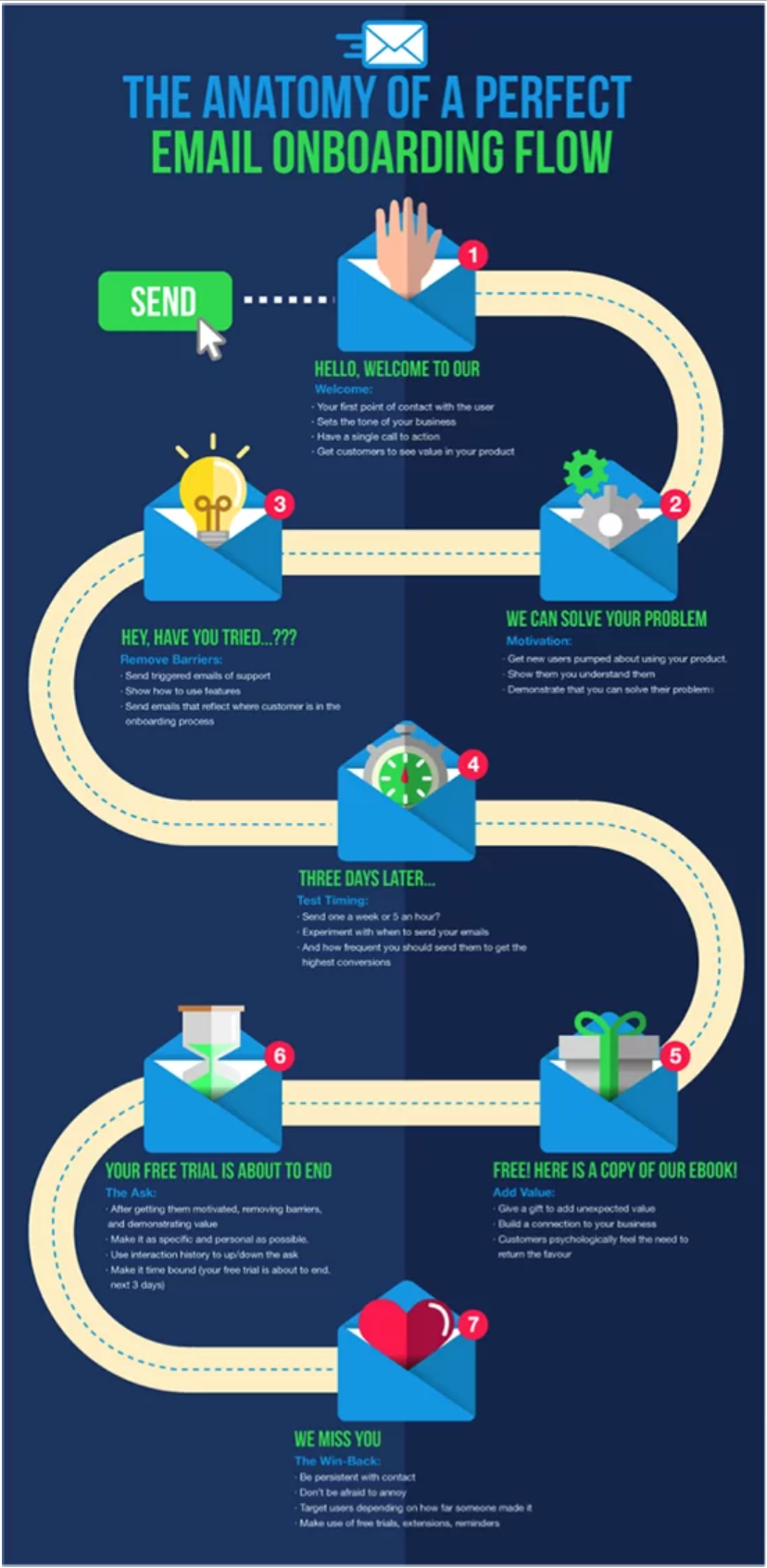 Source: Growthmanifesto
New data revealed 86% of people say they'd be more likely to stay loyal to a business that invests in onboarding content that welcomes and educates them after they've bought.
Below is an onboarding email sequence example from Evernote.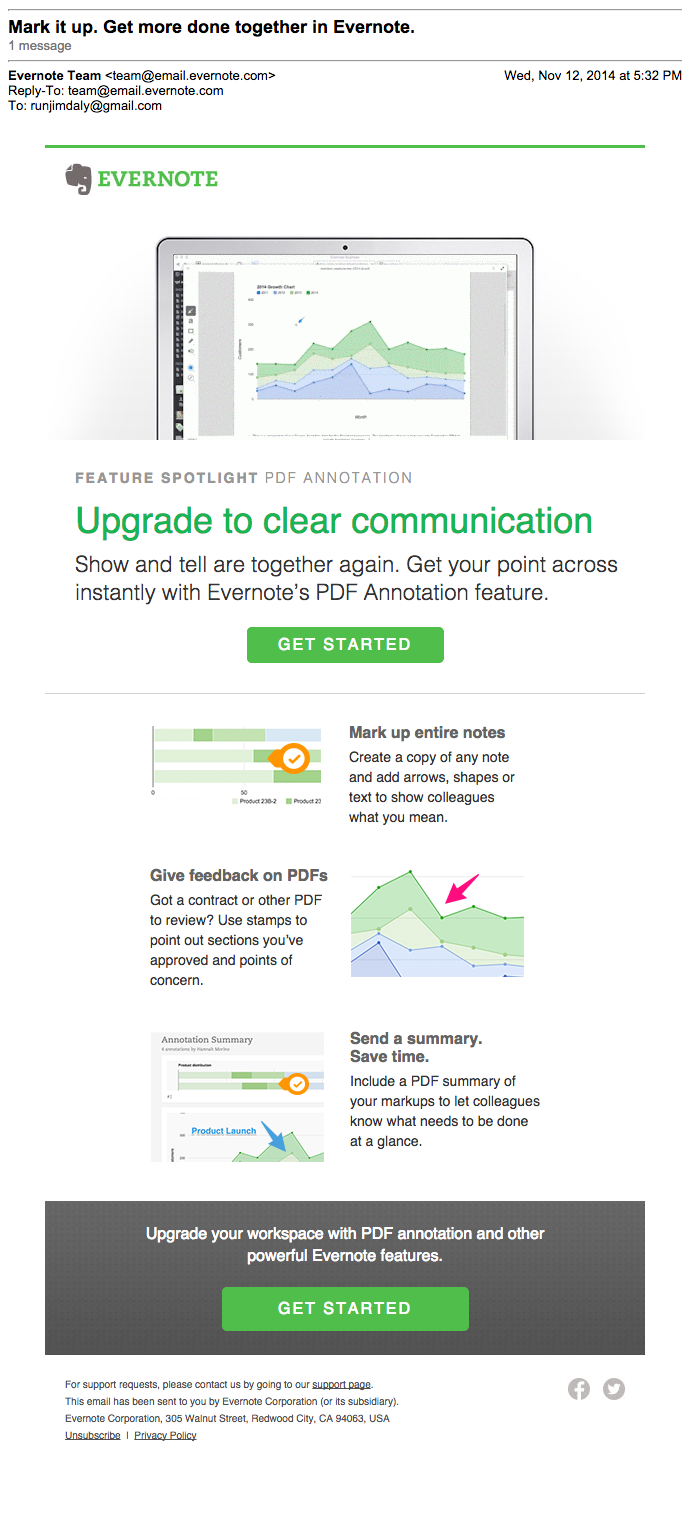 Source: Getvero
3. Abandoned cart email sequence
According to Baymard Institute, 69.57% of online shopping carts are abandoned. This means that out of every 100 prospects, 70 of them will leave without buying anything. When this happens, businesses lose revenue. Did you know ecommerce stores lose $18 billion in sales revenue each year due to cart abandonment? Cart abandonment is a great pain for online businesses. Therefore, you need to prevent it by creating an abandoned cart email sequence for your business. Below is abandoned cart stats according to the customer devices.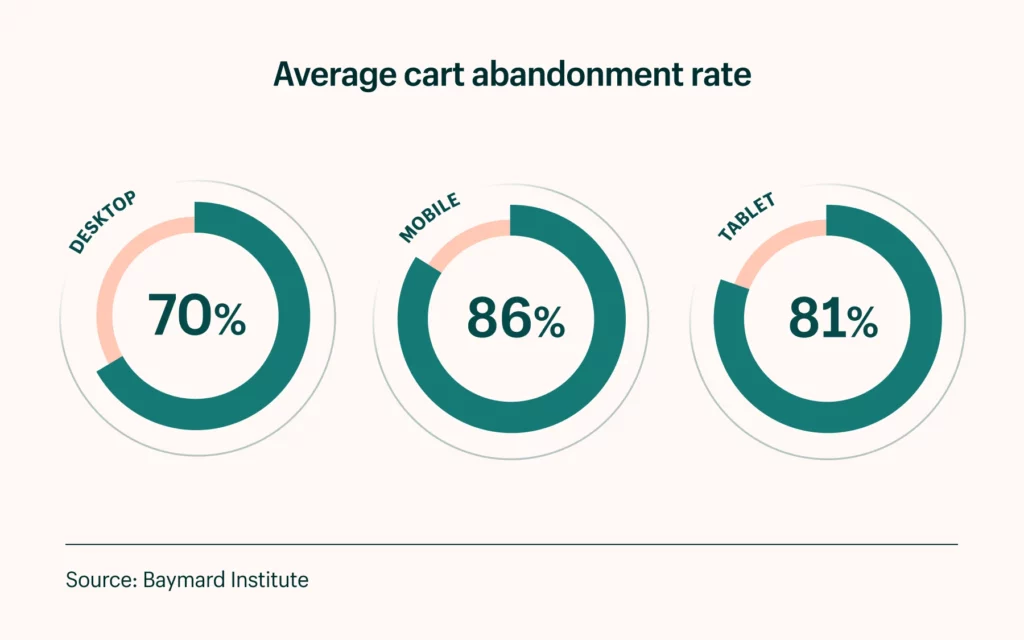 Source: Shopify
When you use the abandoned cart email sequence, you can recover about 63% of the lost revenue.
Below is an abandoned cart email sequence example from Chubbie's Shorts on Shopify.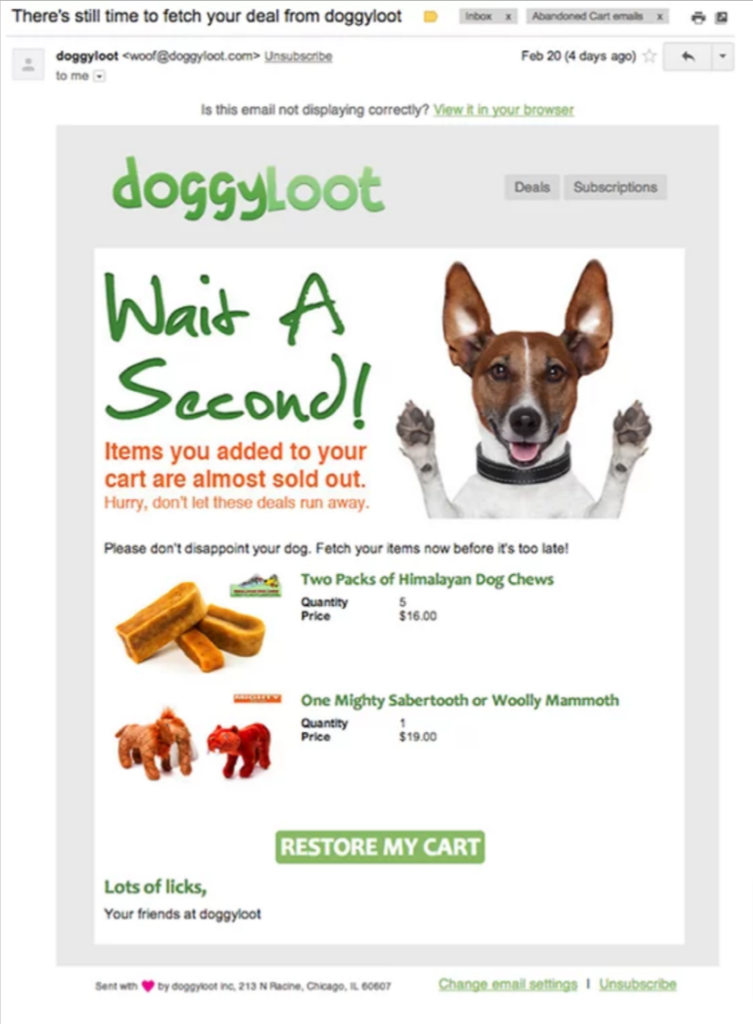 Source: Shopify
4. Repeat customer email sequence
Statistics revealed that returning loyal customers spend an average of 33% more per order as compared to others. Also, returning customers annually spend 120% more than new customers. Therefore, you need to create a repeat customer email sequence to help encourage them to buy more. Use the opportunity to show the benefits of your products, make your customer feel appreciated, and keep your brand alive in their minds.
Below is a repeat customer email sequence example from Teespring.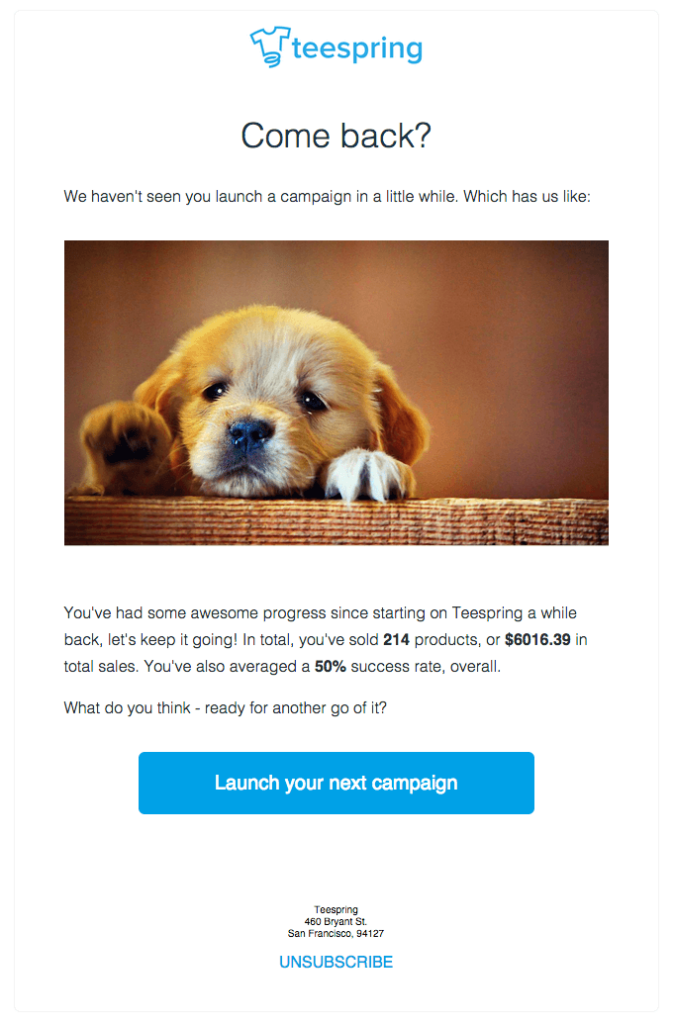 Source: ActiveCampaign
5. Re-engagement email sequence
Not all the customers that purchased your product or service will stay forever. Some of them will leave. How do you reengage those that leave? The answer, create a re-engagement email sequence for them. The re-engagement email sequences encourage past customers to come back to your online store again. All you need is to give them targeted offers and discounts to entice them to buy from you again.
Below is a re-engagement email sequence examples from JetBlue.

Source: Shift4shop
How to create email sequences with MailChimp
You know the different email sequences with examples. The next thing is to learn how to create an email sequence. Here will use the MailChimp tool to create an email sequence. MailChimp is great because it offers free email sequences for your product or service. Find the instructions on how to do it below.
1. Log in to your MailChimp account
2. Click on "create a campaign".

3. Select "automations" and click on the get started button.

4. Click on the right option for you. Here we will click on "welcome new subscribers" option.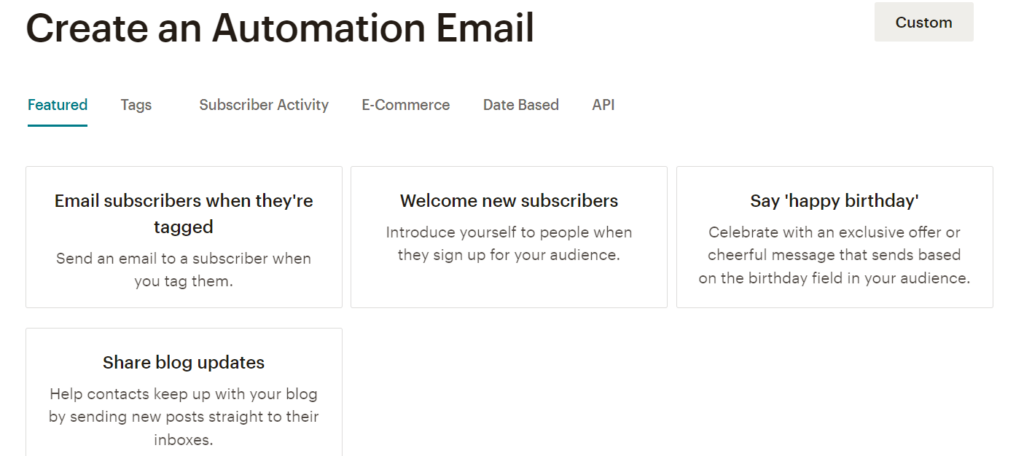 5. On the next screen displayed, select the type of sequence you want to create. You can create a single email for welcome, onboarding series, or education series. Let's use the onboarding series.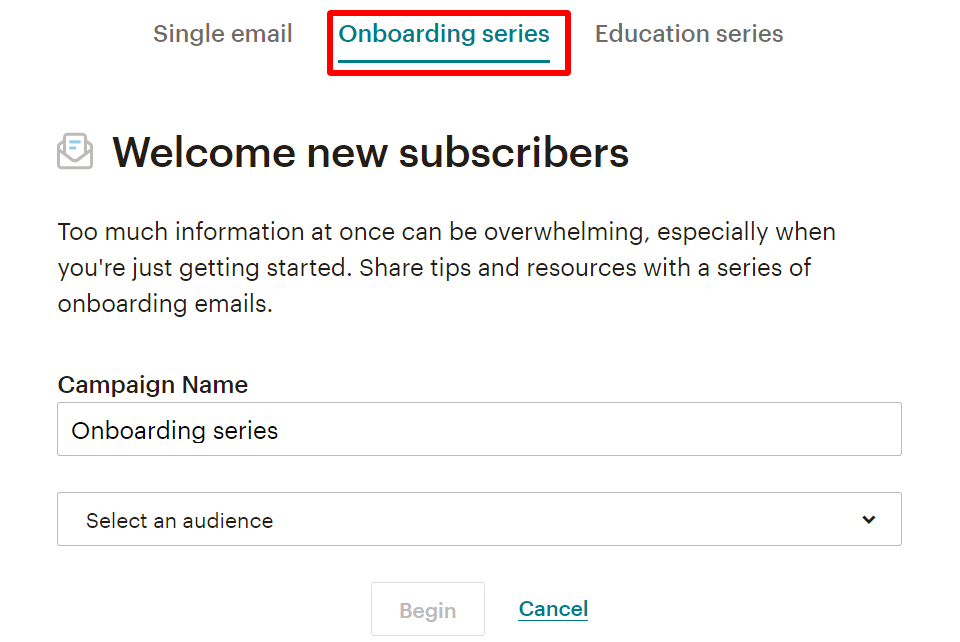 6. Name the campaign and select an audience, then click on "begin"
7. Mailchimp provides 6 (six) onboarding emails you can customize. If you need more, you can add it to the sequence.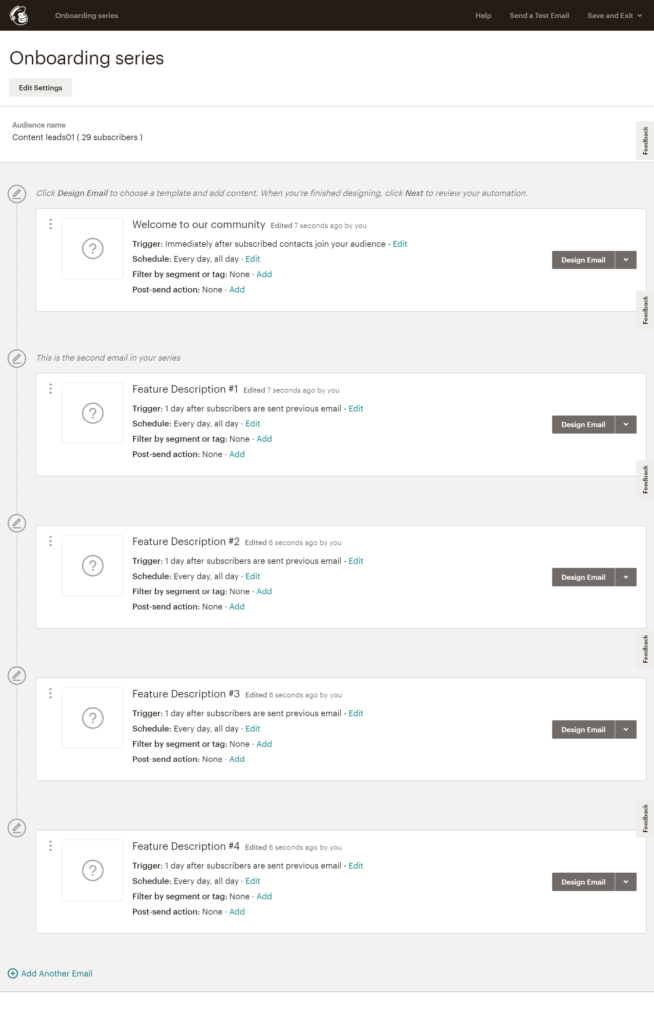 8. Set the trigger by clicking the edit link, schedule the day you want it to go out, filter by segment if you have any, and set the post-send action. When you are done, you can start customizing the email by clicking on the design email next to the email series you want and follow the prompts.
Mailchimp integrates effectively with third-party tools through LeadsBridge. This includes:
a. MailChimp integration with Facebook Lead ads
b. MailChimp integration with Zoho CRM
c. MailChimp integration with Google sheets
Email Sequence Examples
1. HubSpot email sequence
HubSpot email sequences tool allows you to send a series of emails to your subscribers. It has different email templates you can use to make it stress-free. You can also add different tasks, such as making a call to the sequence. The HubSpot sequence tool has an integration feature you can use to connect with your inbox. This makes it easy to personalize your emails and quickly send them to your recipients. You can also automate and optimize sales emails that are trackable.
Below is one of HubSpot email sequence examples for follow up: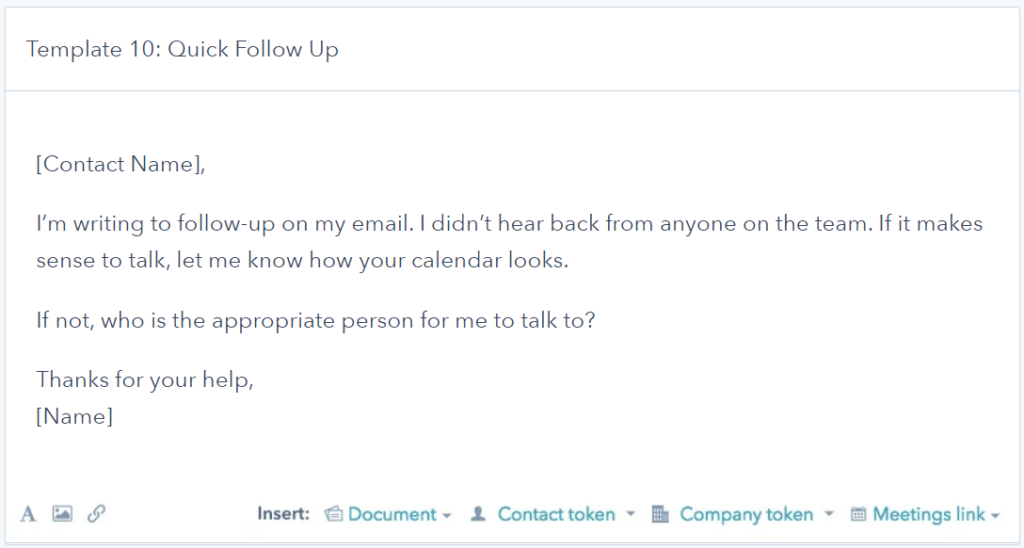 Source: HubSpot
HubSpot email sequence best practices
Below are HubSpot email sequence best practices. It also applies to all email sequences in different tools.
1. Know the ideal person you are targeting:
Knowing your ideal profile starts with creating a buyer persona for them. Then, you can use the persona to write personalized emails that will engage them to take required actions.
2. Use different sequences for various stages of the sales journey:
You need to segment your prospects into the right sales journey-level and target them with the right message. Don't use one sequence for prospects in different stages of the buyer's journey.
3. Add tasks to your email sequences:
In HubSpot, you are allowed to add tasks when creating your email sequences. A task is what you want to do with the prospect as the sequence is delivering into their inbox. An example can be to call them during the sequence. It provides another way to connect with your prospects.
4. Know the right time to set up sequence emails:
The thing is, not every prospect needs an email sequence. It solely depends on their stage in the buyer's journey. Sometimes it works better to call the leads that are closer to converting. A sequence, on the other hand, is great for new leads. It will help to educate them about your product or service.
5. Check the metrics:
HubSpot email sequence tool has stats that show you how your prospects are performing at each stage of the sequence. This includes the open rate, click rate, and prospects' responses.
6. Use integration:
Integrating your HubSpot account through LeadsBridge helps you to connect with your favorite tools and pool data from them. For example, you can pull data from your Facebook Leads Ads to HubSpot to put them in a sequence where you can nurture the leads. Below are some integrations for HubSpot.
a. HubSpot integrations with Facebook Lead Ads
b. HubSpot integrations with Salesforce
c. HubSpot integrations with ActiveCampaign
2. Salesforce email sequence
Salesforce Marketing Cloud enables businesses to create top-notch email sequences for subscribers. With it, you can use email personalization to keep your relationship with prospects going. You can segment audiences into different groups in order to create personalized messages that will engage them throughout the customer journey. Below are Salesforce email sequence examples.
a. A re-engagement email from Salesforce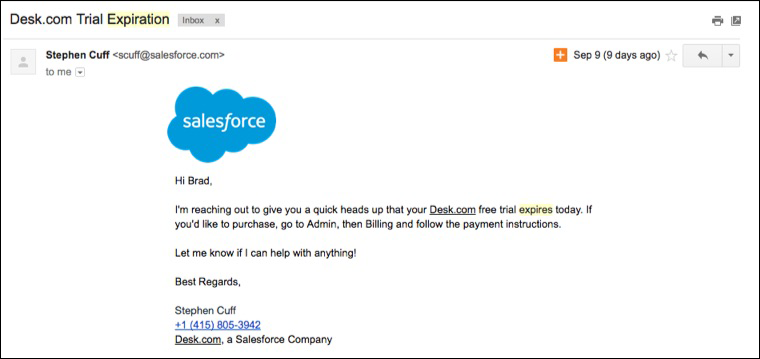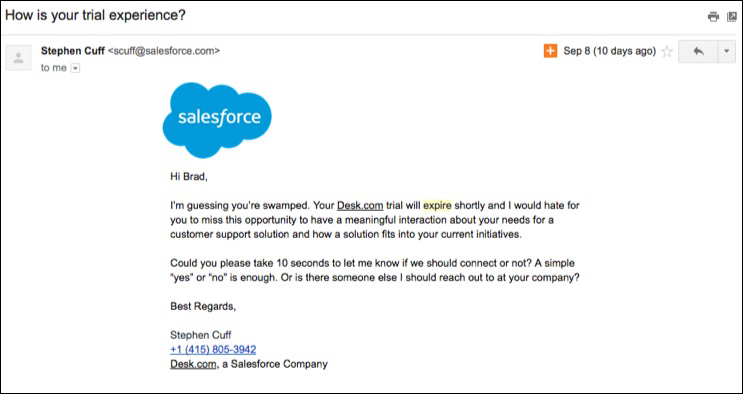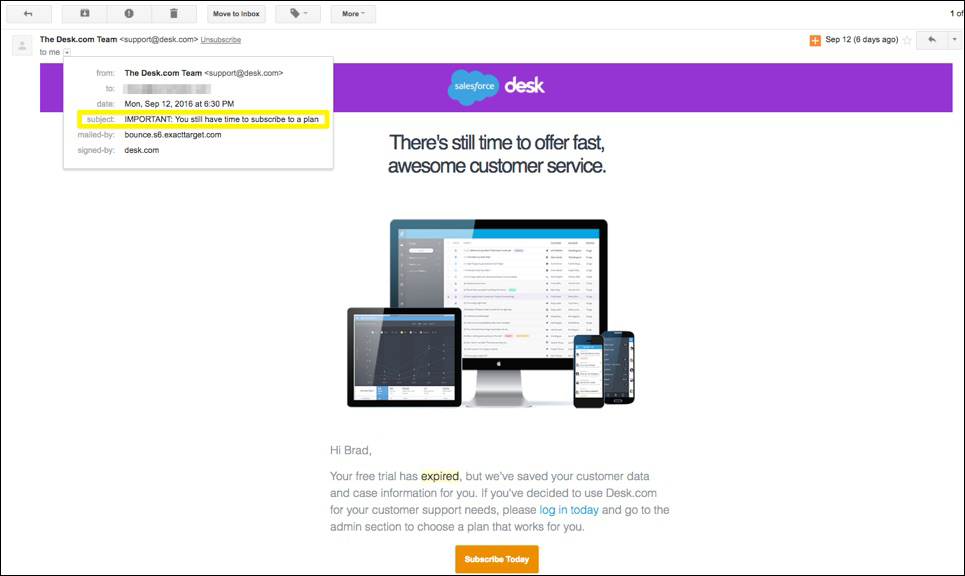 Source: Yesware
Salesforce integrates with popular third-party tools through LeadsBridge. Find some of them below:
a. Salesforce integration with Getresponse
b. Salesforce integration with MailChimp
c. Salesforce integration with ActiveCampaign
Conclusion
Email sequences are effective in building long-lasting communication with your audience. It helps you to educate your audience about your product or service and helps them to take the desired action. Use the email sequence examples highlighted above to get inspiration for creating an effective email sequence that works.
To increase the effectiveness of your email sequence, integrate it with other popular platforms you use. This includes Facebook Lead Ads, Salesforce and Zoho CRM.
Discover all our integrations for email marketing.