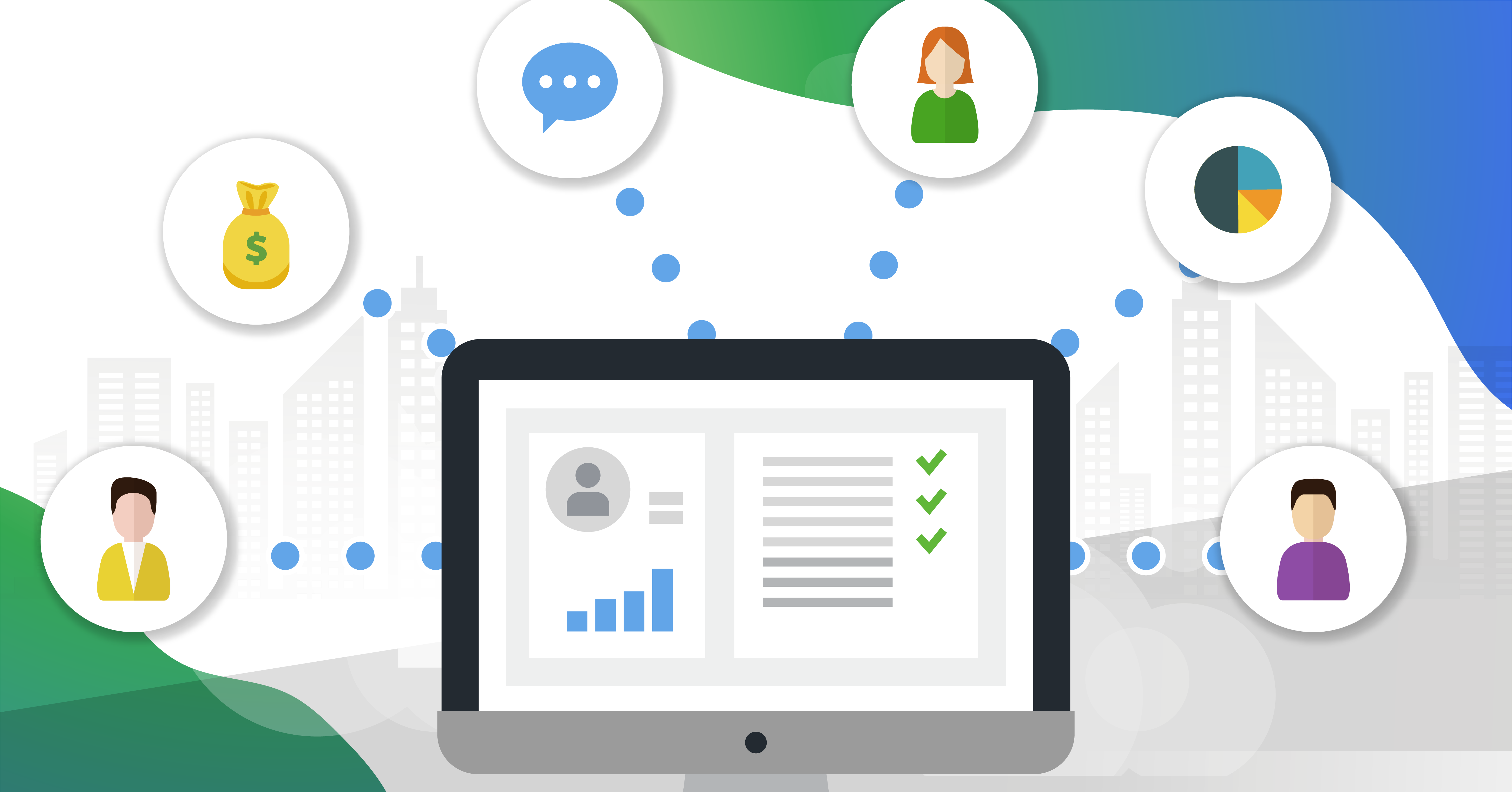 Lead lifecycle management is a common concern for marketers nowadays. It deals with all the chain reactions that a lead goes through across marketing stages, from listing the contacts' data, their engagement journey, and all the way to the final purchase.
Like many other marketing concepts, lead lifecycle management is a moving target, leaving it open to debate and interpretation. So, what is the best way to identify, track, engage and analyze the data to scale every lead and maximize sales opportunities? One word: automation.
An integrated marketing automation process is the practice of orchestrating and automating the users' guided journey across marketing channels and funnel stages. Once automated, you can achieve quick turnarounds and provide speedy responses to high-quality leads against your ULD (Universal Lead Definition).
But let's take a step back and examine the factors at play here. For developing a successful management strategy around your audience, it is essential to understand the different lead stages.
Source: RevOps Co-op
What is a lead lifecycle?
A marketing lead is a person or organization who engages with a brand's products or services. After showing interest in marketing campaigns, a lead is considered a potential customer. In the marketing world, the more data is collected and stored from the leads, the more structured a leads management strategy will be. The entire journey of the lead throughout the sales pipeline is known as the life of lead or lead lifecycle.
In technical terms, the lead lifecycle is defined as the transit of a lead through the entire process of evaluating, segmenting, qualifying, and becoming sales opportunities. The lead lifecycle management calls for the collaboration of both marketing and sales teams. The process often needs constant and meticulous data assessment to determine the lead status.
The multiple stages in the sales funnel make it a complex process. Also, there are lots of gray areas between the stages of a lead before the final conversion. A good lead lifecycle management solution helps clarify those areas and highlight exactly where your lead stands in the pipeline.
Stages of a lead: marketing to sales lead lifecycle
There are several stages in the lead lifecycle, and each one is equally important. You can use them to create a buyer persona that paints a portrait of your audience, assesses sales opportunities, or employ an effective lead lifecycle management system. The lead stages mentioned below use the same protocol as the HubSpot lifecycle stages.
Source: Business2Community
Anonymous prospects
Roughly 98% of visitors to websites or ad campaigns are anonymous. They have not yet engaged with your marketing content, or they are just unknown. Marketers reach out to them with personalized content, messaging, and calls-to-action based on a visitor's behavior and demographics – so they can get to know these anonymous visitors.
Strategizing a light effort to nurture anonymous prospects can turn them into leads. With the help of gated content, such as offering freebies, they are likely to sign up to hear more from you.
Lead
Once you have enough data on an audience with genuine interest, you can list them as leads. While in the prospect stage, they are likely to react to your content and respond to CTAs for future follow-up.
A lead is an individual who provides their name and information and wants to know more about what you do. To collect first-party data, it is ideal to get them to fill out contact forms or grant permission. At this point, however, it is unlikely that they go beyond information gathering.
Marketing Qualified Lead (MQL)
Your leads are ready to commit to more than contact forms at this stage. They have seen what you offer through your marketing efforts, they've liked it, and now want to know more. The MQL leads may even be on the path to becoming paying customers.
You can pinpoint these leads by following their journey; see if they have engaged in a number of offerings or asked to be contacted. This stage is critical in the lead's lifecycle. To learn more, read our complete guide to Marketing Qualified Leads.
Sales Qualified Lead
Sales Qualified Leads (SQL) are closer than ever to making a purchase before moving down to the sales section of the funnel. SQLs show a solid intent to purchase your product or services. How to recognize the SQLs? They are usually the people who ask for a quote, purchase information, or even a live demo session.
Sales Qualified Opportunity (SQO)
When a lead is likely to buy a solution, it is regarded as a Sales Qualified Opportunity (SQO). Think of this stage as the holy grail of the sales team; the opportunity to address a pain point with a product or service. The legitimate SQO individuals need your product, have the purchasing power, or even have taken the first steps to contact the salesperson.
Customer
The customer stage is the outcome of the combined efforts of the marketing and sales teams to nurture prospects and guide them to a final sale. From this point onwards, your lead no longer needs to be nurtured. However, your marketing practices do not end here. You'll still need to check in with your customers from time to time to ensure that they're satisfied with your offering.
Repeat customer; cross-sell, upsell
After-sales strategies are as important as maintaining the flow of organic visitors at the top of the funnel. Cross-selling and upselling are the new focal points of the marketing strategies for increasing sales. You can build loyalty, reputation, and constant sales cycles by boosting the bottom line. This subject brings us to the new marketing model that uses the flywheel instead of the traditional sales funnels.
Source: Antevenio
Some marketing experts believe that the flywheel model is going to replace the traditional pipeline for two reasons. First, it creates a better customer experience, and second, it offers sustainable and self churning sales by keeping the customers at the center.
Salesforce® uses its own unique segmentation of the leads. In this revenue-centered approach, there are no MQLs, SALs, or SQLs. Instead, the focus is on lead status, sales, and management of lead performances. Salesforce® lead status examples are: Open leads, contacted leads, qualified leads, and unqualified ones. However, this kind of segmentation is more productive for the sales reps than for the marketing team.
Considering the massive amount of data involved, creating and maintaining lead lifecycles is a demanding task. To make matters simple, tech-forward teams use automatic lead management tools. These platforms feed the marketing data automatically into the CRM system. Moreover, a third-party tool like LeadsBridge offers integrations with Salesforce®, LinkedIn, and TikTok, to sync your leads data in real-time. Here is a detailed post to help familiarize yourself better with the lead management strategies.
Source: S2Labs
The lead information is often gathered through different sources like web forms and emails, and allows you to set pre-defined workflow rules. But not every lead management software can be integrated with your existing marketing or sales systems.
Why is lead lifecycle automation important?
There are a handful of tested marketing techniques for channeling the leads accurately through the lifecycle. These effective methods include lead list uploads, lead enrichment, lead segmentation, and lead routing.
Source: Instapage
Imagine if you had a single tool to automate the lead lifecycle for your team, in the funnel stages, and across all other applications. This automation practice prevents the leads from falling through the cracks and helps your team to give speedy attention to the qualified leads.
Lead lifecycle automation process
Now, let's get to the heart of the matter: How can you automate the lead lifecycle for increased efficiency throughout the lead lifecycle?
Source: Instapage
Step 1: Speed to lead
Speed to lead is the amount of time that your team takes to respond to a qualified prospect. This time window is calculated for a registered prospect; as an inbound lead or when they fill out a contact form or ask for a demo.
The importance of speed to lead
What makes the inbound leads important is their readiness to make a purchase and the marketing budget invested in the campaigns; it could be SEO, content, ads, or any other paid marketing technique to draw them in. Their strong intent makes these leads highly qualified in terms of profitability and closing. If managed correctly, fast response time can help you make the most out of your campaigns with a conversion rate of over 391%.
Source: LeanData
In digital marketing, speed to lead is the fine line between success and failure. If you don't connect with your lead before anyone else does, chances are you will never get to. Insider Sales reported that 35% to 50% of sales go to the sellers who are the first to connect to the buyers.
According to another study, the optimal lead response time should not take longer than five minutes. As a general rule, the shorter the response time is, the higher the percentage of sales-ready leads will be. Another interesting fact was that if you contact your lead within 5 minutes, the odds of connecting with a lead increases 100 times, and the same leads are 21% more likely to convert.
In case you miss the five-minute time window, you can still make a conversion if you act quickly. Analyzing the performance of over 2,200 American companies showed that reaching out to the leads within an hour increases the conversion odds by nearly seven times.
Even with all these golden statistics, only a fraction of companies follow the five-minute rule or respond to leads within an hour. Why? Because their marketing systems are not optimized for creating appropriate and real-time responses to their leads.
The factors affecting the response rate and speed
Many factors can turn your speed-to-lead sprint into a slow marathon. One of the significant challenges is placing and organizing the leads through the lifecycle. No matter how good your strategy is or how outstanding your campaign designs are, a multi-stage lifecycle can always prove to be a challenge for creating fast follow-ups. To encourage speed and prevent wasting your marketing budget, it is essential to understand what is preventing you from setting up an optimal response rate.
According to the Arm Treasure Data report, 47% of marketers are struggling with siloed data and flexible access to information. Operating with non-unified data is an obstacle to drawing a clear map of the customer's journey. This problem is relatively common across businesses and is rooted in database handling culture. By using separate applications for different tasks, information ends up in multiple and often discounted storage spaces.
Source: Business2Community
Effective lead management is almost impossible without real-time and seamless data sync into CRMs or outbound solutions. If your system suffers from the same problems, you are probably dealing with duplicate leads, mismatched leads and stages, contacting the wrong lead or at the wrong time, and other bothersome situations.
Lack of robust integration
Not having robust integrations in the company's data ecosystem can also result in data inaccessibility. For ensuring a business's success through online marketing, tech stack management is a crucial factor. It directly affects a company's growth, optimizing strategies, and making accurate decisions.
By linking different platforms, you can integrate your business data to flow seamlessly between any point in your data ecosystem. Besides reducing complexity, robust integrations also provide a bird's eye perspective of the leads engagement and follow-up stages. Let's have a look at some examples of LeadsBridge integrations to seamlessly bridge the gap between your lead data and data ecosystem.
GetResponse integration with Google Ads lead form
Mailchimp integration with Facebook Lead Ads
HubSpot integration with LinkedIn Lead Gen Forms
LeadsBridge employs real-time lead data syncing to enable an optimal speed to lead. This platform offers an all-in-one solution where you can interact with your leads right away while driving them through the sales funnel instantly and efficiently.
Manual handling of processes
Wasting time and money, dealing with inaccuracy and human error, misplacing data and losing leads, pages and pages of hard-to-read spreadsheets – there is so much that can go wrong with manual data entry.
Research shows that the probability of a human error in spreadsheets is between 18% and 40%, which increases to 100% during complex data entering tasks. Moreover, 72% of sales professionals handle manual data entry for at least 60 minutes every day. Apart from the fact that they could be spending this time on more productive matters, this practice leads to faulty databases.
With manual lead management, a business can hardly ever achieve high standards like hitting the 5-minute mark. To take control of your marketing system, you need an automation solution like LeadsBridge. Once integrated, it allows you to sync your lead data in real-time by automating the flow- without haggling over manual downloads and uploads.
Source: eConsultancy
Step 2: Effective lead follow up practices
The best practices for effective lead follow-up aim to encourage sales and prevent revenue loss. While these operations keep sales and marketing aligned, each function includes a multi-step process. Consequently, each additional task could affect your speed to lead.
Source: ScienceSoft
Lead list upload
Uploading leads into CRMs and marketing automation platforms is the first thing you need to do after capturing leads. Besides keeping records, the list uploads help map out the leads' journey and support follow-up campaigns.
Most companies list their data manually, which costs them about 12% of overall revenue for the existing errors. Automating the process can ensure data hygiene much faster and more accurately. To stand out of the overall 27% of companies who aren't sure how accurate their data is, you can employ LeadsBridge lead automation to upload your lead lists.
Below, you can find a few instances of LeadsBridge integration to automatically upload leads into your favorite CRM.
Lead data import from Facebook with Mailchimp CRM integration
Lead data import from Google Ads leads form extensions with Salesforce® CRM integration
Lead data import from LinkedIn Leads Gen Forms with ActiveCampaign CRM integration
Lead data import from TikTok with VinSolutions integration
Lead enrichment
Lead enrichment is the practice of improving the leads by collecting and structuring supportive data. The result is a detailed and accurate database. For example, the supportive data could contain user information such as contact numbers, address or geographical location, education status, purchasing power, and any other strategic data.
As a marketer, it is important that you develop or enrich your leads with sufficient data; the more information is added, the more accurate your perceptual map and lead lifecycle stage becomes. Additionally, lead enrichment helps you run personalization campaigns, leading to 20% higher conversions and a 44% increase in repeat sales.
Lead segmentation
Lead segmentation means sifting through your database in order to categorize your leads accordingly. Then, depending on parameters that are essential to your business, you can organize your prospects and customers into groups of leads.
These filters are applied to increase marketing productivity and conversion rates. However, your company's needs and wants are constantly changing, based on strategy adjustments, growth-related modifications, or shifts in the market. These changes make segmentation a constant concern that can be addressed by practices like automated lead scoring and lead-to-account matching. Only then can your team prioritize their values by rearranging the segments easily and in a matter of seconds.
Lead assignment
A lead routing or lead assignment process focuses on the bottom of the funnel, where the sales reps take charge. To assign the leads, the marketing team matches the leads to accounts and routes the hottest leads to the sales team. The rest of the leads will not be ignored either; the warm leads go to sales development reps, and cold leads bounce back to the nurturing segment.
Without accurate maps, marketers have to rely on guesswork to estimate the lead's readiness to make a purchase. Automated routing provides factual data to prioritize leads while simultaneously making them accessible to sales reps.
Marketing and sales go beyond generating leads; every step of the way matters to managing your leads and developing an effective follow-up throughout the pipeline. Implementing automated lead management systems can change your entire marketing game for the better. On average, 80% of companies that use automated lead management platforms generated more leads and increased their sales revenue.
Step 3: Integration of lead management system with an automation platform
More than 50% of businesses have adopted automated lead management systems, and more are going to do so in 2022.
Source: emailmonday
These stats show that upgrading your lead management with an automated platform is the key to success in today's highly competitive market, but where to start?
All you need to do is to find a reliable Automation Platform(AP) to process your data across all your channels, platforms, and apps. The best APs are flexible solutions, compatible with almost all the marketing channels and sales automation tools. Let's take LeadsBridge Automation Platform, for example. It offers hundreds of integrations and allows you to automate the critical touchpoints in your lead lifecycle and management activities. The best Automation Platforms display the following features:
API Integration
API integration connects two or more platforms in your ecosystem using their Application Programming Interfaces (APIs). By building a data exchange bridge between cloud-based software and other platforms, these integrations help to keep data in sync at all times and boost your productivity by 59%.
LeadsBridge, for instance, creates a profound bridge between software via APIs to flow data with no coverage gap. The API level integration can be implemented for just about any cloud-based platform, whether a Marketing Automation Platform, Customer Relation Manager, database software, or communication tool.
Automating API operations
The whole point of automating your system is having better control over your multiple cloud-based apps and their function. An Automation Platform uses rules-based logic to perform certain functions and trigger suitable campaigns in your marketing software. But this is not a basic operation; the best-in-class automation integrations handle sophisticated workflows.
Friendly and consistent UI
The leading automation platforms are also easy-to-understand and offer interactive user interfaces (UIs). In addition, no-code automation tools like LeadsBridge are designed for user-friendly businesses to create and run automated workflows. We even take a step beyond by tailoring integrations based on our customers' exact requirements.
Scalability and identifying lead management gaps
In marketing, scalability is everything. In addition to adjusting performance, scalability guarantees that your company remains consistent while growing. The ideal automation platforms allow expansion and contraction of workflow to better scale your business with high efficiency. This feature helps you to plan and assume workflow solutions and optimize your strategies.
The final takeaway
Today, the top-rated companies use specialized platforms to automate their lead management systems. Adopting automation helps you to spend less of your time looking for data, get a higher customer success rate, and save money at the same time. 
The top technology insight provider, Hatch, organizes and restructures its systems using the HubSpot automation platform. As a result, the company's statistics show that their conversions have increased by 300%. Similarly, numerous industry-leading businesses have partnered with LeadsBridge for making reliable and marketing-driven decisions that enhance their lead lists and drive more sales.
Learn how to use an automation platform for bridging your lead management gaps by scheduling a demo with LeadsBridge.