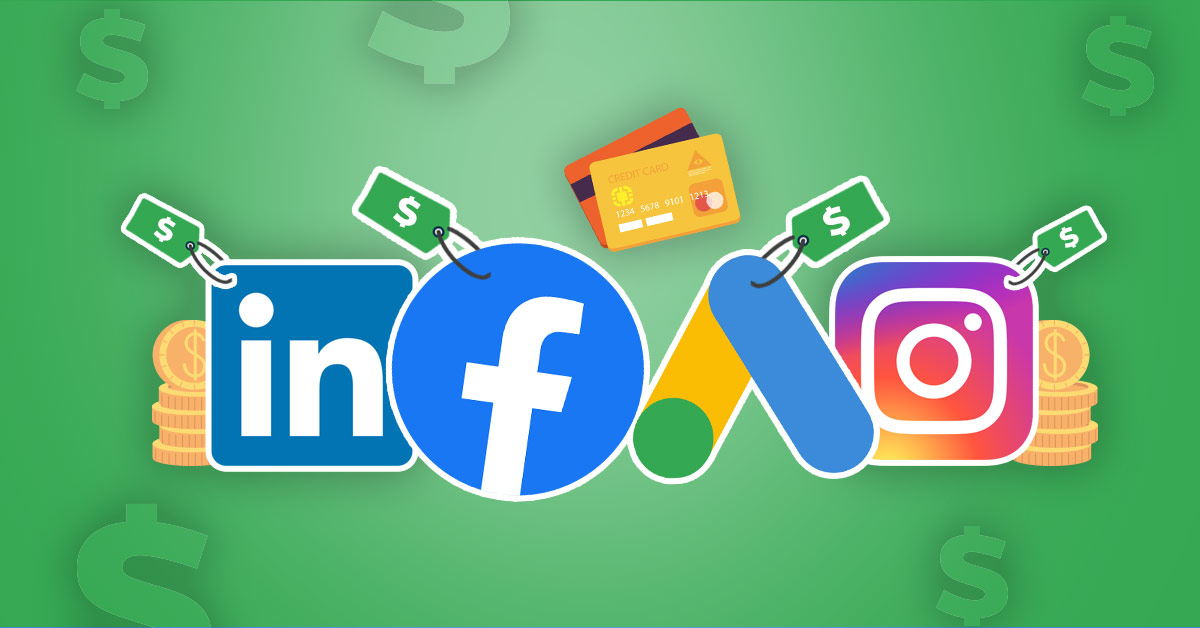 Covid has changed the way businesses spend on advertising. Some businesses spend more to get more revenue using online mediums and some businesses are trying to save costs and cut losses by reducing advertising spends. Either way, be smart in spending on digital mediums and make sure that you advertise to a relevant audience, and take advantage of the platform. The major advertising platforms are Google, Facebook, Instagram, and LinkedIn. Each of these platforms has its own advantages and disadvantages. However, a question that begs for an answer is "How much does it cost to advertise online"? The cost of advertising depends on a lot of factors such as the platform of choice, industry, ad quality, and relevance score.
In this article, you will learn about the advertising costs of the four major platforms – Google, Facebook, Instagram, and LinkedIn. You will also learn how ads work on each platform, factors that affect ad costs, and strategies to reduce ads cost.
Table of Content
Google paid ads cost
Google ads is an advertising platform where marketers and businesses can place bids on keywords so that the ads can appear on different Google platforms such as the Google search results, Google Display Network, and Google's AdSense program. Google ad is the most popular PPC network among digital advertisers and it has the best returns on investment of $2 for every $1 spent.
Types of Google ads include the followings:
Search campaigns (text ads on search results)
Display campaigns (image ads on websites)
Video campaigns ( video ads on YouTube)
Shopping campaigns (product listings on Google)
App campaigns (promote your app on many channels)
Local campaigns (promote locations on many channels) and
Smart campaigns (automate your campaigns).
Before moving into how much it costs to advertise on Google, let?s check out how the Google ads auction works.
How do the Google ads auction works?
The Google ads auction determines the eligible ads that will show up and in which position it will show on the page with each user search. When a user searches on Google, the ads systems look for all ads related to the keywords used in searching. After collecting the ads, the system looks for relevant and eligible ads for the keywords. Ineligible ads are discarded. From the eligible ads, the system picks the ads that have a high Ad rank. Ad rank consists of your bid, ad quality ad rank thresholds, search context, and ad formats, and display it to the user.
Once Google determines your ad rank, it calculates how much you will pay every time a user clicks on your ads. The formula is:
The ad rank of the advertiser below you / your quality score + $0.01 = ads cost
The auction process repeats itself each time a user search on Google. However, it displays different results based on the competition. Therefore, it is perfectly normal to see different ad displays in different positions on the page.
In order to determine the Google paid ads cost, you first need to know the factors that affect Google ads pricing. See them listed below.
Factors influencing Google paid ads cost
1.? The Industry
The first factor that can influence your Google ads cost is the type of industry your business belongs to. For instance, some business services such as Legal, Accounting, and Real estate are competitive on Google ads. This means high Google paid ad costs. This is because the companies in these niches, make more from their customers. For instance, one legal client can produce up to $1,000 to $5,000. Meanwhile, you may not pay more than $50 to acquire the client.? Business in the industry such as retail and e-commerce has lower advertising costs because they will need lots of customers to make $1,000 or $5,000.
Below is a table showing the average cost per click for all industries in search and Google Display Networks.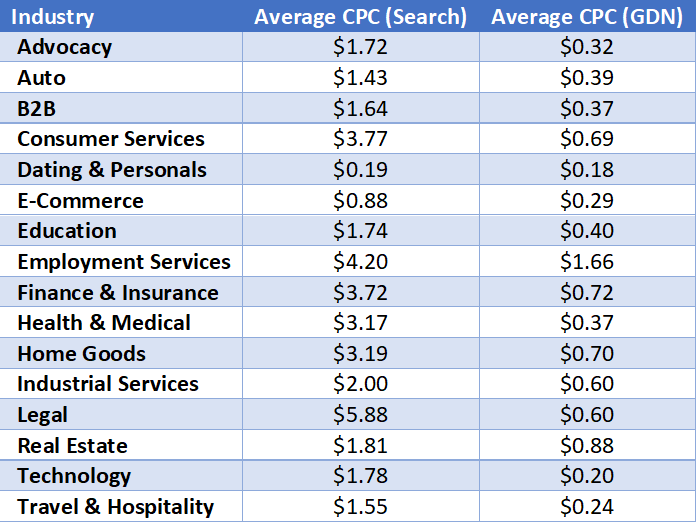 The country you plan to target in your campaign can also affect your Google paid ads cost. Advertisers run campaigns internationally and so there are different CPC for various countries of the world. For example, it is costly to advertise to an audience in countries like the United States of America than it is to advertise to an audience in the United Arab Emirates. This is because the general living expenses in the United States is higher than that of UAE, hence the high cost of Google ads.
Check out the cost per click for different countries below from Google Ads, Bing Ads, and other SEM platforms.
Source: Statista
2.? ?Quality score
A quality score is a metric Google employs to know the quality and relevance of your ad copy and landing page for a keyword. This is eventually used to calculate your cost per click and ad rank for the keyword. When you have a high-quality score, your ad rank will increase and the Google ads cost will reduce each time a user clicks on your ad.
When you add relevant keywords to your ad account, Google gives them a quality score of 6. Then, it adds other factors such as the relevance and landing page to know if your quality score will drop or increase.
Below are different quality score for keyword types
The quality score for different keywords
3. Current trends
Current trends have a lot of influence on Google paid ad costs. Take, for instance, the COVID-19 pandemic. It has affected some industries positively and some negatively. For example, it affected the travel industry badly and increase conversions for the apparel industry in the same period as observed by Wordstream. Check out the CPC for the travel industry and that of the apparel industry below.
Source: Wordstream
The travel industry was worse hit by the COVID-19 pandemic.
Source: Wordstream
The finance industry changed little during the pandemic. People are still searching for answers to their finance, loans, and insurance questions. This is why the finance industry has the most expensive CPC keywords.
4. Keywords
Keywords have a significant influence on Google paid ad cost. This is because some keywords are more expensive than others. For instance, commercial intent keywords are more expensive than generic keywords. Also, in competitive niches like legal and accounting, keywords can be very expensive. Below are the most 20 expensive keywords in Google ads.
Source: Wordstream
Now that you know the factors that influence Google paid ads cost, it is time to know how much Google ads cost.
How much does Google ad cost?
Google ads cost are influenced by a lot of variables as discussed above. Therefore, it varies from one business to another. However, the average cost per click for Google ads is $1 – $2, the average cost per click for the Google search network is $1 – $2 and the average cost per click for the Google Display Network is $1 or less. The most expensive keywords on Google ads cost about $50.
Below are ways you can reduce your Google ads spend.
Strategies to reduce your Google ads cost
1.? Increase the ad quality score
The most effective way of reducing your Google ads cost is by increasing your quality score. Ensure your landing page is top quality, the message of the ad should be specific to the audience you are targeting and it should align with your landing page. A way to get more out of your landing page is to use the Landingleads tool. This tool helps to integrate your landing pages such as OptinMonster and Leadpages to your email CRM or software. It helps to collect emails from the landing page and store them in your CRM or software, making it easy to nurture your incoming leads.
2.? Use Google Lead Form Extensions
Google Lead Form extensions are lead generation ads created to help businesses generate leads from mobile search results pages.? They are pre-filled, making it easier and faster for users to submit their contact information. Find an example below.
The most important aspect of it all is that you can integrate it with a CRM or email software through the Leadsbridge webhook. This helps you to quickly contact leads and nurture them. For more information on Google Lead Form extensions, check out this post – Google Lead Form ads – the complete, always-updated guide to Google lead generation.
3.? ?Avoid the use of broad keywords and use match types appropriately to make sure you spend on relevant keywords.
4.? ?Pay attention to your customer's needs when creating your ad campaign. Avoid targeting everyone, target only a specific audience relevant to your ad campaign.
5.? ?Remove negative keywords to reduce your cost per click and boost your ROI.
For more strategies and tricks on how to reduce your Google ads cost – read these posts – 5 Google AdWords tips and tricks to maximize your ROI and Google ads optimization strategies.
If you are also looking forward to generating leads from Google ads, Google Lead Form Ads is the best post read.
Learn how to predict your Google ads cost ? here ? Complete guide to Google ads cost.
Facebook ads cost in 2020
Facebook has one of the best advertising platforms for marketers. According to Statista, Facebook tops the list of the social media platform used by marketers worldwide as of January 2020.
Source: Statista
It is the second advertising platform with the best ROI on ad spend according to eMarketer.
Source: eMarketer
It will also interest you to know that there are over 6m active advertisers on Facebook. This is because there is the potential for brands to reach approximately 2.14 billion users on Facebook with the ad system.
Another reason is that Facebook ads are cost-effective. According to Wordstream, the Facebook average cost per click, across different industries is $1.72, as shown in the graph below. Also shown in the table below are the Facebook Click-through rate (CTR), the average cost per action (CPA), and the average conversion rate of different industries.
Facebook ads cost by Industry
AdEspresso carried out an experiment that revealed the Facebook ads average costs for CPC, Like and App installs.
The average Cost Per Click (CPC) is about $0.35 globally and about $0.28 in the U.S.

The average cost per like is $0.23 in the U.S.

The average cost per app install is $2.74 in the U.S.
Below is the average CPC for different countries.
Source: AdEspresso
As seen from the data above, there is no specific amount for Facebook ads cost, however, the information will give you an overview of the cost of ads in your niche. Facebook ads cost works through the auction system as explained below.
How does the Facebook ad auction system work?
Facebook auction system just like the Google auction works the same. Once you set up your ads on Facebook and it is approved, it is ready to be displayed to users on the platform. When the opportunity to display your ad comes, Facebook determines which ads to show based on your ad bid, ad quality, and estimated action rates. The estimated action rates and ad quality are used to determine the relevance of your ads to your audience. The ads that win, which is the ads that have the highest relevance to the audience, is shown.
Therefore, the ad bid, estimated action rate, the ad quality and relevance, and other factors determine the ads that are shown and also the Facebook ads cost.? These factors are explained more below.
Factors influencing Facebook ads cost
1.? Ad quality and relevance
Among the many factors that can influence your Facebook ads cost is the quality of your ad and its relevance to your audience. In evaluating the quality of your ads, Facebook uses different factors such as target audience, placement, visuals, and text. The ad relevance is Facebook?s evaluation of how your ad will perform when exposed to your audience. This is calculated based on the positive and negative actions your audience takes on your ad. This includes clicks, conversions, comments, and click-through rates.
So, Facebook uses these factors to see how your target audience reacts to your ads to determine the relevance. Ads with high engagements get high relevance scores, and this helps to reduce Facebook ad costs. While ads with low engagements will also have a low relevance score, thus, an increase in ad costs.
2.? Audience
The audience you target on your Facebook ads can also affect the cost of the ads. Who you target and how many advertisers are also targeting the same audience affects the cost of the ads. For instance, if there is lots of competition for the audience you chose, it means the audience is popular and this can consequently increase your ad cost. For example, if you sell a fitness app to people who want to lose weight. Other advertisers selling weight loss products will also use the same target audience. This competition will increase Facebook ad costs.
Don't target a too broad audience without using filters. It will amount to shooting in the dark and getting nothing in return and also increase your ad costs.
3.? Ad Bid
Facebook does not have a specific ad cost because it uses the bidding system, and this makes the cost vary based on different factors. As an advertiser, you are allowed to set the bid (manual bid), which is the amount of money you are ready to pay for the ad. Facebook can also help to calculate the bid (automatic bid) based on the budget you set.
The bidding system as explained above helps Facebook select the ad with the best quality and relevance and estimated action rates. The ads that fulfill the requirements win the bid and get the lowest cost for the ad space. Therefore, it is essential to pay attention to your ad quality and relevance and not so much on the budget. This is because it is not the ad with the biggest budget that wins, but the ad with the higher relevance and quality score.
4.? Ad placement
When creating your ads, Facebook gives you the opportunity to choose different places you want to run your ads. These include Facebook desktop news feed, Facebook desktop right column, Audience network, messenger, mobile newsfeed, and Instagram. Experiment with these options to discover the best place that is cheap to run your ads.
Facebook can also help you select the best placement for you. Allowing Facebook to display your ad on Instagram and the Audience Network will give you access to reach more audience and this can reduce your ads cost.
5. Ad Objective
Facebook provides different objectives for advertisers. This includes awareness (i.e. brand awareness and reach), consideration (i.e. Traffic, engagement, app installs, video views, lead generation, and messages), and conversion (i.e. Conversions, catalog sales, and store visits). All of these objectives have different costs.
For instance, it will cost you more to advertise with the objective of app install than a post-engagement due to the fact that it entails more buy-in from users. Also, according to Statista, the product catalog sales objectives cost the highest at $4.77 CPM as compared to brand awareness that cost $0.48 CPM.
Strategies to reduce Facebook ads cost
1. Target the right audience
The target audience of your ads impacts how much you pay for the ad. Having a broad audience will not generate the desired result as it would with a target audience. Facebook allows you to create a different audience that you can target with your ad per time. The first one is the target audience. You can create the audience by adding demographic filters to it, save and name it for your ad campaign. A custom audience is a list of audiences that have interacted with your business or website. You can create an audience out of it and target them with your campaign. Here is a complete tutorial on how to create a Custom Audience.
The third audience you can create is the Lookalike audience. This can be created from existing audiences of people who are like your audience. This post on how to use Lookalike Audiences will guide you.
When you target a specific audience, you will reduce the competition from other advertisers who will likely target the same audience. This will reduce your ad cost.
2. Use the best ad creatives
Facebook is a visual platform, and it thrives on images and videos. They help to capture the attention of users as they browse through their newsfeed. Therefore, you need to test your creative quality using Facebook's analytics and average CTR to determine if the creative is performing well and change when the click-through is too low.
With each ad, you have the option to upload about six different images. Facebook will test them and see how they perform and then adjust the budget to favor the best images that perform well. Therefore, you need to test different combinations of images and texts to spot the ones that perform best.? A study revealed that 41% of ad audiences prefer ads that entertain them and 37% will engage with discounts. Ads with good images or videos entertain the audience and are likely to perform well. When it does, it reduces the ad costs. Here is a post on 5 ways to create the perfect Facebook ad creative.
3. Use the right type of ads
There are different ad formats on Facebook. They include Post engagement, page likes, Instant experience, Video, event responses, lead generation ads, slideshow, carousel, collection, offers, image, and post engagements. Each of these ad types has its specific goals. For instance, if you need to show or educate your audience about your new product release, video ads perform better. If you need to generate leads for your business at low costs, lead generation ads such as Facebook Leads Ads work best.
Therefore, be meticulous in choosing the right type of ads for your campaign because it is likely to affect the cost of the ads.
4. Use Video ads
Using video in your ads is another way to reduce your Facebook ads cost. Videos generate a larger impressions share than other forms of content, and so they have a cheaper cost per click (CPC). In fact, videos are on average 10% of the cost of carousel or single image ads. This does not mean you have to abandon image ads.
Below is an example of a good Facebook video ad from Try The World.
They are still useful. However, if you have been paying too much for your ads, try using video in your ads, and you will get a lower cost per click.
5.? Improve your ad quality and relevance score
Another way to get lower ad costs on Facebook is to improve the quality and relevance score of your ad. Facebook measures the quality of your ads based on how relevant it is to your audience. Engagement is one factor it looks out for during the measurement. If users engage with your ads by taking actions such as like, comment, and share. It means it resonates with them and then your ad costs reduces. The relevance score is from 1 to 10. The number 1 is great while the number 10 is horrible. So you need to improve your relevance score to get at least 8-10 in order to reduce your cost per click.?
Instagram ads cost in 2020
Instagram, with its over 1 billion monthly active users, is one of the best social media platforms for advertising. The potential advertising reach of Instagram has increased the number of businesses using it for marketing.
Source: eMarketer
Instagram is attracting different businesses. A study revealed that over 1 million accounts advertise on Instagram. In fact, over the years, over 25 million businesses have joined Instagram to promote their products and services.
There are different Instagram ads such as photo ads, video ads, story ads, carousel ads, collection ads, explore ads, IGTV ads, and Instagram shopping ads.
Seeing that Instagram ads are popular with businesses, the next thing you need to know is how Instagram ads auction works.
How Instagram ads auction work
Instagram advertising works just the way Facebook does. It uses the auction system to determine the Instagram ads cost for advertisers. Advertisers specify the total amount of money they will spend over the campaign period or daily. They can also specify the bid, which is the amount they will pay when users carry out a specified objective such as brand awareness, clicks to website or videos, and conversions.
In the auction system, Instagram determines the winning ad that the user will see based on three factors – the size of the advertiser's bid, estimated action rates, and ad quality and relevance. The advertiser's bid is the amount of budget specified for daily or total ad spend. Estimated action rates are how likely the user is to complete the specified action on the ad. Ad quality relevance specifies how likely users will be interested in the ad campaign. The ads that fulfill these three factors secure a placement.
The amount the advertising costs is the minimum amount required to win the auction. This largely depends on several factors as shown below.
Factors influencing Instagram ads cost in 2020
1. The bid
Instagram ads work through the auction system, so all advertisers will have to bid for each ad. There are two bidding systems – the manual and the automatic. In the manual bid, advertisers can select a maximum amount they are ready to spend to get their desired result. While in the automatic bid, Facebook will choose how to spend the ad budget in order to optimize for the ad result. The amount you bid on each ad influences your Instagram ad costs. Your overall budget will also influence the amount you can bid, which will influence your Instagram ad costs.
2. Ad quality and relevance
The ad quality and relevance show how Instagram users react to your ad. Instagram calculates the relevance score using three factors .i.e. negative feedback, positive feedback, and users? past Instagram activities. The score is negative if users hide the ads or ignore them. It is positive if users carry out positive actions such as like, click or comment on the ad. The user's past activity is the ads they have shown interest in, in the past. Therefore, if you have a lot of positive feedback, your ad quality score will increase and if it is low, your score will reduce. If the quality score of your ads is low, it will increase your Instagram ads cost. But with an increased quality score, your ad costs will reduce.
3. Estimated action rates
The estimated action rates are measured by how users react to your ads. It is measured by how likely users are to engage with your ad. Instagram promotes ads that get more engagement and interaction from users. If Instagram notices that users will interact more with your ad, they will place it high and this means lower bid rates for you. This brings more leads and conversions for your business.
4. Competition in audience targeting
If there are lots of businesses targeting the same audience as you do, there will be competition and this will influence Instagram ads cost. Generally, ads that target popular audiences will be more expensive. This is because there will be lots of other ads targeting the same audience and this implies that the ads will require a higher bid to win.
5. The month and day of the week
Instagram usually gets more traffic when there are holidays and events such as the Super Bowl, Black Friday, Thanksgiving, Christmas, and Labor Day. This means several advertisers will invest in ads to get more sales during this period of the year. Instagram ads cost are higher during these periods than at any other time of the year.
Also, it is cheaper to advertise in the first and second quarter of the year, than it is in the third and fourth quarter of the month. According to a survey, the average CPC in Q4 is around $1.10 while it is $1.03 in Q3. In Q1, it can be as low as $0.80 and Q2 at $0.90. However, there are more conversions in the 4th quarter of the year.
Source: AdEspresso
Likewise, there are higher levels of engagement during the week than on weekends. Therefore, ads are more expensive on Tuesdays and Wednesdays than other days. So, this can largely affect your Instagram ad costs.
Source: AdEspresso
6. The Gender and age
The gender and age of Instagram users also affect the ad cost. For example, there are more women than men on Instagram. According to Statista, there are 51% of females and 49% of males as of 2020. While there are higher numbers of users for 25 – 34 and 18 – 24 age range.
Source: Statista
AdEspresso?s research on Instagram costs revealed that it is cheaper to target men than women. CPC is higher for females than males. Therefore, it is more expensive to advertise to females than males. This is because females are likely to interact with ads on Instagram.
The age of users also affects Instagram ad costs. It is more expensive to target the age range of 25-34 than other age ranges. This is because they have a higher purchasing power than others. The age range between 13-17 and 45-64 are cheaper to target.
However, this is not to say that you should exclude the 25-34 age range if they belong to your audience. It is simply to let you know that they can increase your Instagram ad costs.
7. The ad placement
Instagram provides different places to show your ads. They include the mobile feed, right column, desktop feed, audience network, and stories bar. All these have different ad costs. The right column is expensive, but the feed and story ads are cheap. The Instagram story ads cost is about $0.80 to $1.30 CPC. They are the best and cost-effective ad formats you can use.
Strategies to reduce your Instagram ads cost in 2020
1. Test different ad formats
Instagram provides different ad formats such as photo ads, video ads, story ads, IGTV, and Instagram shopping ads. You need to test each one of them to know the winner for your ad. However, the cheapest ad formats on Instagram are the story ads. Below is a good example of the Instagram story ads from Babel.
Instagram story ads have a low cost per click (CPC) compared to the mobile feed format. It also has the highest level of engagement. If you are in the real estate business – this post on Instagram stories is a must-read.
2. Test your creatives
Instagram ads creative have a great influence on ads cost. By testing your creatives, you can improve your ad performance. This means you need to create relevant ad content for your audience. This will help to improve your ad and relevance scores. With the increase in the score, your CPMs are lower. Therefore, ensure you test your messaging, images, and other creatives.
3. Use automatic bidding
If you are new to Instagram advertising, it is better to start with automatic bidding. This will help Facebook bid on your behalf. If you do it on your own at this stage, you can end up overbidding or underbidding, which can affect your ad cost. All you need is to specify the overall budget and let the Facebook algorithm do the rest.
4. Use the right audience targeting
For Instagram ads to be successful, it needs to reach the right audience that is interested in the product or services being advertised. Instagram provides different ways to target your audiences such as using their location, demographics, interest, and behaviors. You can also create custom audiences and lookalike audiences to target the right audience that will convert. This means your ad quality and relevance will be high and you will get a high ad rank that will help to lower your CPC and increase conversions.
5. Use dedicated landing pages
There is a need for a dedicated landing page where users will be directed from the Instagram ads. Creating dedicated landing pages encourages your audience to engage with the content. For example, if you're promoting a fashion bag, the link on the ad should lead specifically to the fashion bag product page on your website. It shouldn't link to your home page. When users click to go to a dedicated landing page, they are likely to convert. This helps to lower your ad cost on Instagram.
LinkedIn Ad costs
LinkedIn, with its massive 700 million active users, is one of the best social media platforms to advertise. LinkedIn, initially known to be for executives, now offers advertising opportunities for marketers. This made it to be the second most used platform for B2B marketers.
As of January 2020, 663.3 million of its audience have been reached by LinkedIn Ads.
LinkedIn ads are in different formats such as sponsored content ads, text ads, message ads, and dynamic ads.
How much do LinkedIn ads cost?
LinkedIn ads cost depend on several factors. But generally, advertisers pay a median price of $3.99 per click. But sometimes, it is close to $5.
LinkedIn has a requirement of a minimum bid of $2 for CPC and CPM campaigns. This leads to $5.26 per click and $6.59 for every 1000 impressions the ads generate. LinkedIn's Sponsored InMail is the most expensive, with an average of $0.80 per spend in the campaign.
As said above, this cost is not cast in concrete, there are factors that can either increase or reduce your LinkedIn ads cost. But before then, let's see how the LinkedIn ads auction works.
How LinkedIn ads auction works
LinkedIn ad costs are calculated by an auction system that permits you to place bids for your ads to win a placement. The auction system helps to determine the sponsored updates they will see in the feed and how much the advertiser will pay for the impression or click. The auction runs every time a user visits LinkedIn and scrolls through their feed. LinkedIn runs the ads again through the second auction to compete with other advertisers with a similar target audience. The ad that wins the auction for the audience is displayed to users on LinkedIn.
Below are factors affecting the LinkedIn ads cost.
Factors influencing LinkedIn ads cost
1. Target audience
The target audience you choose for your advertising campaigns influences your ad costs. Each time you place your ads on LinkedIn, you are competing with other advertisers who are using the same audience. If you target a popular audience that is high in demand, you will pay more because of the value of the audience and the competition for that specific audience. You can target your audience based on locations, audience attributes such as company, job experience, education, interests and demographics, custom audiences using the LinkedIn Matched Audiences.
2. The bidding strategy
The bid is the amount of money you are ready to pay for the audience you want to target on LinkedIn. LinkedIn has three major bidding strategies that can influence the ads cost. They are:
Maximum delivery bid strategy. This strategy makes use of automated bidding to make your ad competitive in the auction. It helps to maximize your ad campaign results using the entire budget assigned for the campaign.
The target cost bid strategy: This strategy enables you to set a target cost per key result defined. It uses automated bidding to help maximize your campaign results.
Manual bidding strategy: This allows you to set the desired bid you want in the auction.
These bidding strategies will affect ad costs. Also, if you win the auction, LinkedIn will make you pay a cent higher than the next highest bidder. This is known as the second auction model. However, there is no way you can exceed your budgeted bid amount for the ad.
3. Ad relevance score
LinkedIn assigns a relevance score for every ad. This is determined by the quality and relevance of your ads compared to other advertisers. It is measured by how well your ads are received by your audience in terms of click-through, clicks, likes, shares, and comment rates. The more engagement your ad receives, the higher your ad relevance score, and the lower your ad cost. Low engagement on your ads means a low ad relevance score, and this leads to an increase in ad cost.
4. The objective
LinkedIn offers three major objectives for advertisers. They are awareness, consideration, and conversion. Each of these objectives uses different optimization goals and bidding strategies to determine your LinkedIn ads cost. Each objective is charged using a different pricing model. For instance, brand awareness is charged based on impressions, lead generation objectives (conversion), is charged based on clicks.
Strategies to reduce your LinkedIn ads cost
1. Select the right bid strategy
As said above, there are three bidding strategies on the LinkedIn ad campaign. They are the maximum bid, target cost bid, and the manual bid. Choosing the right bid strategy can reduce your LinkedIn ad costs dramatically. To do this, you need to have control over your cost per click. This means you will not use the automated bid strategy because it will increase your cost per click. Avoiding an automated bid will help you to control your cost per click and thus, reduce your ad spend. Therefore, the target cost bid strategy is the best. It gives you control over your ad spend and still helps to maximize your ad results.
2. Use LinkedIn Lead Gen forms
LinkedIn Lead Gen Form is one of the best ads that reduce LinkedIn ad costs. They are ads that have forms incorporated into them. When users click on this form, it shows their prefilled information from their profiles on LinkedIn. They can then confirm and submit the form. According to a study, 90% of b2b marketers reduced their cost per lead using the Lead Gen Forms. You can add LinkedIn Lead Gen Forms to sponsored content campaigns and Inmail.
Below is an example of a LinkedIn Lead Gen Form.
For a complete tutorial on LinkedIn Lead Gen forms, read the blog post titled "Everything you need to know on LinkedIn Lead Gen Forms".
3. Improve the ad relevance score
Another factor that influences your LinkedIn ad cost is the ad relevance score. It shows the relevancy of your ad content to your target audience and how it measures up with other advertisers similar to you. It uses engagements such as Click-through, comments, likes, shares, follows to measure how well your audience receives your ads. A high relevance score shows that your audience loves the ad content and LinkedIn rewards you with low ad costs, so more people can see it. On the other hand, if you have low relevance scores, it means the audience doesn't like your ads, then LinkedIn will increase the costs. Therefore, there is a need to optimize your campaign perfectly to reduce the ad cost.
4. Use retargeting
Retargeting is a tactic that can help you reach more people like your audience. It uses a code snippet to track people that have been to your website so you can retarget them with ads that will enable them to convert. Do you know that retargeting ads provide a 1,046% increase in trademark search behavior? It also has higher click-through rates that are 10 times better than non-targeted ads.
LinkedIn made retargeting possible with the aid of LinkedIn Matched Audiences. LinkedIn Matched Audiences helps you to retarget your website visitors and also promote your products and services to your contacts from your CRM databases and marketing automation platforms. With it, you can also reach decision-makers at target companies with the account-based targeting feature.
For a complete tutorial on LinkedIn matched audiences for retargeting – read this post – LinkedIn Matched Audiences: improve the efficiency of your retargeting campaigns.
5. Use LinkedIn metrics
LinkedIn provides key metrics to help you track the success of your campaigns. This shows the results of your campaigns so far. You can access this information at the top of the campaign manager underperformance chart and demographics as shown below.
LinkedIn displays the result of your campaigns so you can see their potentials. From the metrics, you will see the audience that converts well for your campaigns, Average CTR, Reactions, comments, shares, follows, likes, clicks, etc. Use this information to evaluate the success of your ads by improving your relevance score more. This will reduce the cost per click and cost per lead.
Conclusion
Above is a guide to advertising costs on the four major platforms?Google, Facebook, Instagram, and LinkedIn. As seen above, there is no fixed cost for advertising on the platforms because there are lots of factors influencing ad costs. These include ad quality and relevance score, the industry, the target audience, the bidding strategies, etc. All these factors determine how much you pay for your ads.
However, there are also ways you can reduce your advertising costs such as increasing the quality and relevance of your ads, using the right ad format and bid strategy, targeting the right audience, and testing different ad creatives.