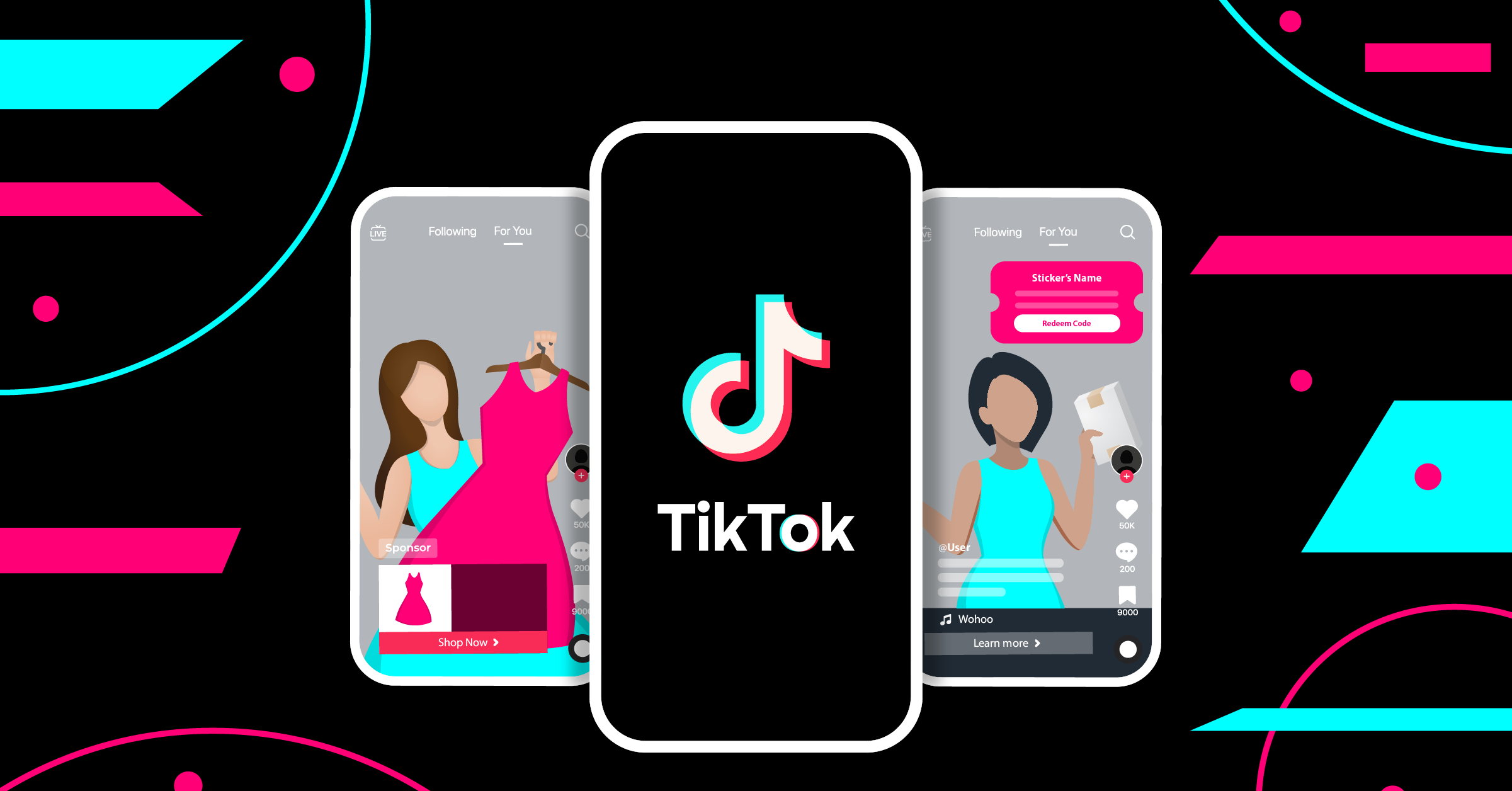 Put together the increasing number of people shopping online, the (alarming) increase of screen time reports, and the addictive nature of viral videos, mix them all up, and it's easy to understand why TikTok has become such a worldwide phenomenon.
TikTok is available in over 150 countries, has over 1 billion monthly users, and has been downloaded over 210 million times in the United States alone. If your brand's target audience includes anyone between the age of 13 and 60, you should be on TikTok right now.
And the best way to leverage TikTok to sell your products and services is TikTok Ads. In this article, we will explore some of the best TikTok ad examples, to help you make the best of your brand's presence on TikTok and use it to grow your business.
To this regard, LeadsBridge can help you facilitate the process. By integrating TikTok with your business systems, LeadsBridge lets you move leads across platforms automatically and in real time, allowing you to reach your potential customers right away, before the competition.
If you'd like to check out our available integrations, type your desired source or destination below.
The benefits of advertising on TikTok
TikTok is expected to reach 1.5 billion monthly active users by the end of 2023. This alone should make you understand how advertising on TikTok is not just an option anymore, but a necessity. Using TikTok Ads is the best bet to grow your online presence and gain more views and engagement by sharing creative videos.
Let's take a look at the top benefits of advertising on TikTok.
Connect with Gen Z and millennials
Gen Z and millennials comprise the strongest presence on TikTok. Advertising on TikTok is a great opportunity to expand your reach and connect with these key demographics – an audience who may not be present on your core platforms – in a fun and authentic way.
Increase conversion rate
TikTok works so well because people genuinely enjoy the platform's creative and relatable content. So much so that it has become a powerful marketing tool that can help increase conversion rate.
A TikTok study shows that users are open to buying directly from TikTok because:
It's entertaining
They feel like content and products are "for them"
It makes their day better
By showcasing your products and services creatively and engagingly, you can grab the users' attention and encourage them to take immediate action. A study run by TikTok found that adding CTAs (Calls To Action) in TikTok videos can increase conversion by 152%.
Make advertising less invasive
Traditional advertising just doesn't work with Gen Z. A report shared by Bulbshare shows that 99% of Gen Zers actively skip ads and that nearly 63% of them use ad blockers to avoid advertising altogether.
TikTok – thanks to its genuine, unfiltered vibe – becomes a place to promote products and services in a less invasive, non-intrusive way.
TikTok Ads examples
Now that you understand why it's so important to advertise on TikTok, let's look at some good examples of TikTok ads that you can use as inspiration for your own advertising strategy.
TikTok Spark Ads examples
Spark Ads are a native ad format that enables you to use organic TikTok posts as creatives in your ads. Spark Ads use posts from real TikTok accounts (your own or other creators', with their authorization), which ensures that all engagement (views, comments, shares, likes, and follows) gained from promoting the videos is attributed to the organic posts. You can use the same organic TikTok posts as creatives in your ads as many times as you want.
This is what a Spark Ads format looks like.
L'Oréal
L'Oréal sent an exclusive gift box containing all of their hero products (labeled #TikTokMadeMeBuyIt) to 200 TikTok creators. The creators then recorded and shared their unboxing videos on their own TikTok accounts and L'Oréal used a compilation of those videos to create an ad with Spark Ads.
The #TikTokMadeMeBuyIt campaign was an absolute success and generated:
161 million impressions
4.5 million clicks
1.7 million engagements, including likes, shares and comments
This campaign resulted in the highest sell-out for L'Oréal.
TikTok Collection Ads examples
TikTok announced that they will gradually sunset Collection Ads, starting February 2023. The core functionalities of Collection Ads will be incorporated into Video Shopping Ads, along with new optimization features and formats. Learn more about Video Shopping Ads here.
TikTok TopView ad examples
TopView Ads capture users' attention by appearing at the top of the For You feed when first opening TikTok. This format is a great way to offer an immersive viewing experience with no other competing content, thanks to 60-second-long videos. TopView Ads are perfect for brand awareness, as they guarantee high reach and impressions.
Here is what a TopView ad format looks like.
Enel
Enel partnered with Alberto Giannone, a popular TikTok science creator, to talk about renewable energy through educational and engaging content. They produced more than 20 videos debunking common myths and misconceptions about green energy, then promoted these videos on TikTok through TopView Ads, which provided premium placement for Enel and ensured it reached the target audience en masse.
Overall, the ads received:
Over 70 million impressions
636,000 clicks
0.91% click-through rate
Over 204,000 likes and 3,600 shares
TikTok In-Feed Ads examples
In-Feed Ads are TikTok's standard ad format and allow you to embed a video ad that auto-plays within a user's For You feed. In-Feed Ads can last up to 60 seconds but the optimal duration is around 15 seconds, and they look & feel like native content since they have the same user interface as organic posts.
Below you can see the difference between the formats of In-Feed vs. Spark Ads.
Heinz Canada
Heinz wanted to leverage its ketchup's trusted stature to spark excitement around the rest of their condiments. First, Heinz partnered with various well-known food TikTok creators who encouraged their community to vote for which of the brand's signature condiments they should go with. Then, they produced custom recipes based on the winning condiment. Meanwhile, Heinz ran a combination of brand and creator content with In-Feed Ads.
Heinz's campaign successfully increased awareness and engagement, generating:
Over 35.6 million total impressions
118,915 total votes
Over 33.4 million video views
14% two-second view-through rate
TikTok Branded Hashtag Challenge examples
The Branded Hashtag Challenge allows brands to interact with their audience by encouraging the co-creation of content. With this ad format, brands can spark trends and cultural movements by issuing participatory challenges to the TikTok Community.
This is what a Branded Hashtag Challenge looks like.
e.l.f. Cosmetics
e.l.f. Cosmetics launched a new line that connects gaming and makeup. So, it partnered with TikTok on a Branded Hashtag Challenge to discover gamers' hidden talents outside of gaming. The #TikTokGGT (Gamers Greatest Talent) invited gamers of all kinds to showcase their talents for a chance to win a $25,000 grand prize and appear on the TikTok Gamers Greatest Talent & Luminosity live show.
e.l.f. Cosmetics Branded Hashtag Challenge brought in:
2.5 million video creations
11,000 applications of users showcasing their unique talents
9 billion video views on the page in just six days, exceeding TikTok benchmarks by 31% in the US alone, and an average watch time of 9.6 seconds
TikTok Branded Effects examples
Branded Effects enable brands to create shareable branded stickers, icons, filters, and effects that users can utilize in their own videos. With Branded Effects, the audience becomes immersed and involved with the brand, which results in much higher levels of engagement. Users can then be directed to your landing page by simply clicking on a specific area of TikTok videos with your Branded Effects.
Schwarzkopf
Schwarzkopf, a leading hair care brand, wanted to raise awareness about their new hair dye line. So, they used TikTok Branded Effects to allow users to play with AR to transform their hair color.
Schwarzkopf's campaign delivered:
50 million brand impressions
52,3 million video views
10,000 Branded Effect user-generated videos
TikTok Interactive Add-Ons examples
Interactive Add-ons are a great way to engage users with popups, stickers, and other visual elements that encourage interaction (like downloading an app, seeing an offer, redeeming a gift code, or sharing feedback). You can choose between Standard or Premium add-ons: the former offer a way to reach lower-funnel marketing goals, like driving clicks and conversions; the latter offer a way to reach upper-funnel goals, like brand awareness and community building.
Here is an example of an Interactive Add-On.
Armani Beauty
Global luxury brand Armani Beauty wanted to raise awareness and drive sales for its new fragrance, and decided to use TikTok's premium Interactive Add-on format Pop-out Showcase to trigger a library of clickable stickers over their video ad. For their creatives, they used a selection of diverse creators who produced videos that effectively showcased the product and highlighted its key scent notes.
Armani Beauty's campaign achieved:
An increase in click-through rate of 272% when compared against benchmarks
A lift in ad recall of 9.2%
A lift in brand awareness of 7.4%
A lift in brand favorability of 4.8%
TikTok Video Shopping Ads examples
Video Shopping Ads allow you to add a shoppable link directly to your video ad. This way, when users see your video in their For You feed, they can check out the product you're featuring by simply tapping on the Product card and purchase it immediately. This ad format is especially suited for ecommerce businesses. If you'd like to learn more about TikTok for ecommerce, check out this article: TikTok ecommerce: Learn how to drive sales with TikTok.
Very
Very Group – one of the largest online retailers in the UK for all things fashion, beauty, home and electronics – set up a suite of Video Shopping Ads to amplify product discovery, purchase intent, and conversion with smarter, intent-based targeting and advanced creative functionalities.
Very's campaign achieved:
12% increase in ROAS
38% uplift in purchase conversion rate, when compared against previous standard web conversions campaigns
The benefits of LeadsBridge integrations
LeadsBridge is an automation solution that allows you to connect your advertising platforms – TikTok, Meta, Google, and LinkedIn – to the rest of your marketing stack automatically and in real time with easy integrations.
Thanks to LeadsBridge, you can send the lead data collected via your TikTok ads (for example) directly to your CRM, email marketing software, DWH, or any other marketing tool of your choice.
This allows you to:
Eliminate manual lead data downloads and uploads across different platforms
Get in touch with your newly acquired leads right away, as soon as they interact with your ad
Save time and get a headstart over the competition
Here are the most popular integrations for TikTok Lead Generation:
See all available integrations for TikTok Lead Generation here.
With LeadsBridge, you can also automatically create the best audiences by syncing your CRM segments, email marketing contacts, or customer lists with advertising platforms such as TikTok, Meta, Google, and LinkedIn to retarget or exclude leads at every stage of the funnel.
With LeadsBridge, audiences are always in sync and up to date to include incoming leads or exclude unwanted ones. For example, if a contact decides to opt out of your list, LeadsBridge will automatically remove it from the custom audience, keeping your audience always on target and, most importantly, GDPR & CCPA compliant.
If you'd like to connect your business systems with TikTok Custom Audiences to optimize your retargeting campaigns, join the waiting list below.
That's not all you can do with LeadsBridge! You can even track your offline transactions and understand the overall performance of your online campaigns. LeadsBridge offers this service on TikTok through TikTok Conversions, on Meta through Facebook Conversions API, and on Google by using Google Offline Conversions.
If you'd like to connect your business system with TikTok Conversions to understand the performance of your campaigns, join the waiting list below.
Final thoughts
TikTok is growing at the speed of light, offering businesses a great opportunity to expand their reach and market to a whole new audience in a fun, authentic, and creative way.
Advertising on TikTok allows you to experiment with your creatives and targeting options to find the best ad solution for your brand, and the TikTok Ads examples presented above give you a clear understanding of everything TikTok can do to help you grow your business. Take advantage of it! And make sure to facilitate the process with LeadsBridge's automated integrations. Get started with LeadsBridge for free now!