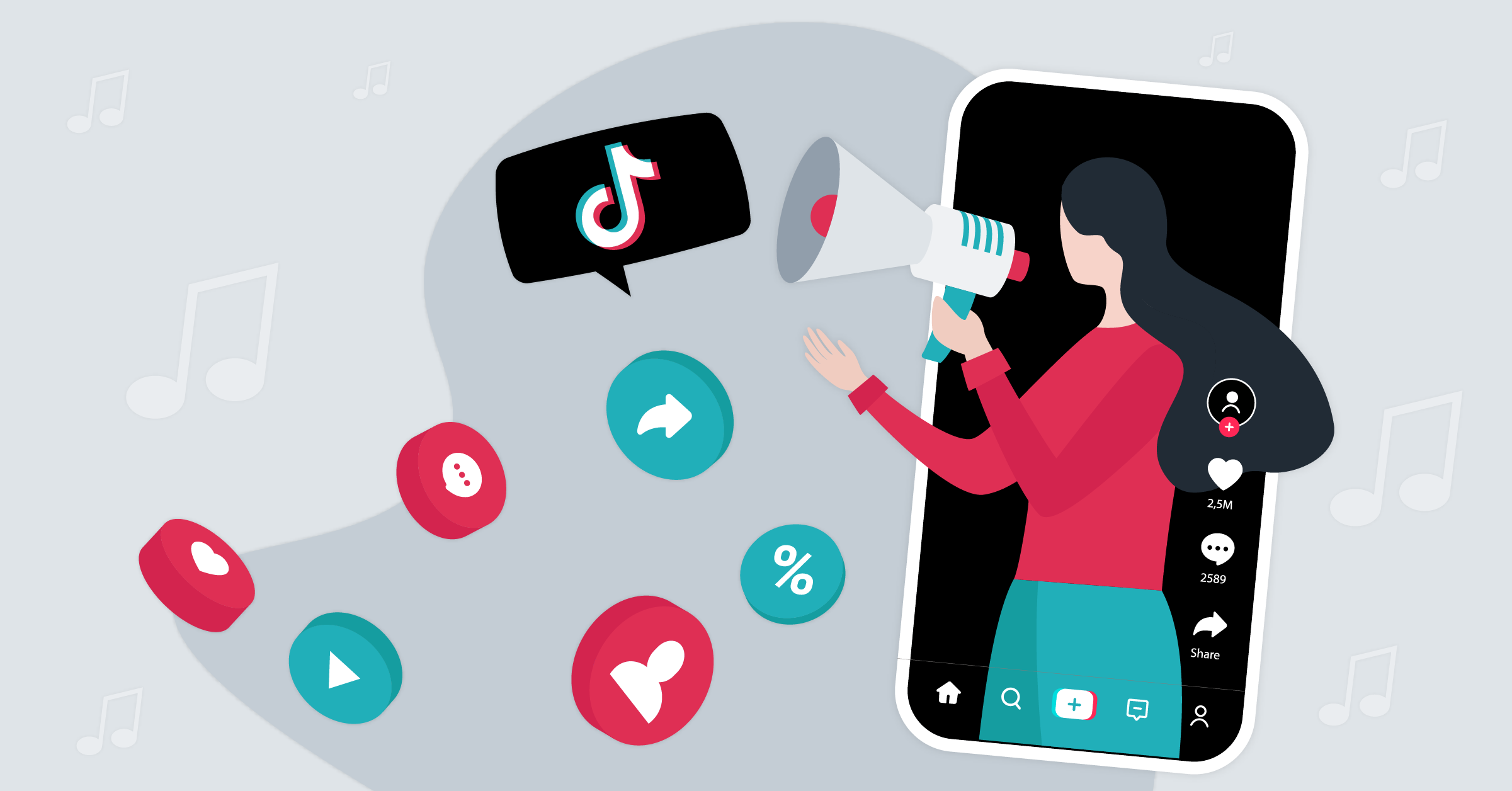 Lockdowns and stay-at-home orders led to an increase in the number of people using TikTok to escape reality and mindlessly scroll through viral videos. It's now the 6th largest social network in the world with over 3.5 billion downloads and 1 billion monthly active users.
It's a particular hit with younger audiences so, if you're wanting to reach Gen Z and millennials, consider it a key platform. You can leverage the intuitive platform to reach new audiences, increase engagement, and raise brand awareness.
In this article, we'll talk about some of the best Tiktok ideas you can incorporate into your campaigns in 2023. Also, we'll introduce some integration that helps do much more than becoming popular with your TikTok followers.
TikTok content ideas you can swipe right now
1. Branded hashtag challenges
Hashtags present the perfect opportunity to reach more people outside of your follower list. And by creating your own branded hashtag campaign, you can increase brand awareness and encourage consumers to get involved which leads to higher engagement rates.
Chipotle piggybacked on National Avocado Day to create their #GuacDance hashtag challenge. In just six days, the brand racked up more than 250,000 submissions and broke TikTok records.
2. Educational videos
Sharing educational content around your brand, product, or industry can help increase your credibility and authority. Viewers will trust your knowledge and associate your top tips with your brand, transferring an extra layer of trust while increasing engagement.
LeaseLoco uses their TikTok account to share insights into buying a car and what to look out for. Generate ideas for TikTok videos by looking into the kinds of questions your customers have about your products or industry.
3. Partner with influencers
Influencers have pre-established audiences that trust what they do and say – and there are a lot of influencers on TikTok. In 2022, there were more than 225,000 influencers on the platform, a number that has no doubt increased this year. While there are a number of big-name influencers that are costly to work with, you can choose to team up with micro-influencers instead. These are niche accounts related to your industry that have just a couple of thousand followers.
When you work with influencers, the pre-built trust is automatically transferred to your brand, which helps spread the word about your products and services while increasing your loyal customer base.
Gymshark often works with influencers to promote its brand. In their 66 Day | Change Your Life challenge, they partnered with six influencers to promote the campaign and reach new audiences.
4. Share tutorials
Step-by-step run-throughs of how to do an activity or a task perform really well on TikTok. Lots of users actively seek out "hacks" or tips they can use in everyday life, so sharing tutorials of your products or services can increase authority and help customers understand and use your products.
Makeup brands are pros at incorporating tutorials into their TikTok campaigns. Take Eyebrow Queen, for example, which shares regular videos of different styles and tips to inspire users.
5. Viral trends and dances
There's always a new viral dance trend doing the rounds on TikTok and they tend to rack up the views really quickly. One of the best TikTok ideas is to get in on the action by doing your own version that's related to your brand or products to increase reach and engage potential new customers.
Pine choreographed a video setting the audio from Grammarly's YouTube ad to a dance. It resulted in 50,000 new videos in the first couple of days and really exploded the brand's reach.
6. Branded filters
Like on other social channels, brands can create filters that TikTok users can incorporate into their videos. Having your brand or something related to your brand plastered across multiple different videos is a great way to raise brand awareness and increase engagement with your brand.
NY Fashion Week did exactly this with the special photo booth filter they created to accompany their series of events.
7. Debunk a viral hack with a test
TikTokverse is full of viral hacks; while some are true-to-essence life lessons, most are untrue and made to look real with great video editing skills.
You can test these hacks and share your reaction to a viral hack. Not only are these TikTok video ideas popular, they'll also give you an opportunity to use the creativity of other people (aka, the original viral video owners).
People appreciate seeing genuine reviews and before they try these viral hacks themselves, like do-it-yourself haircut reviews by @HairBuddha.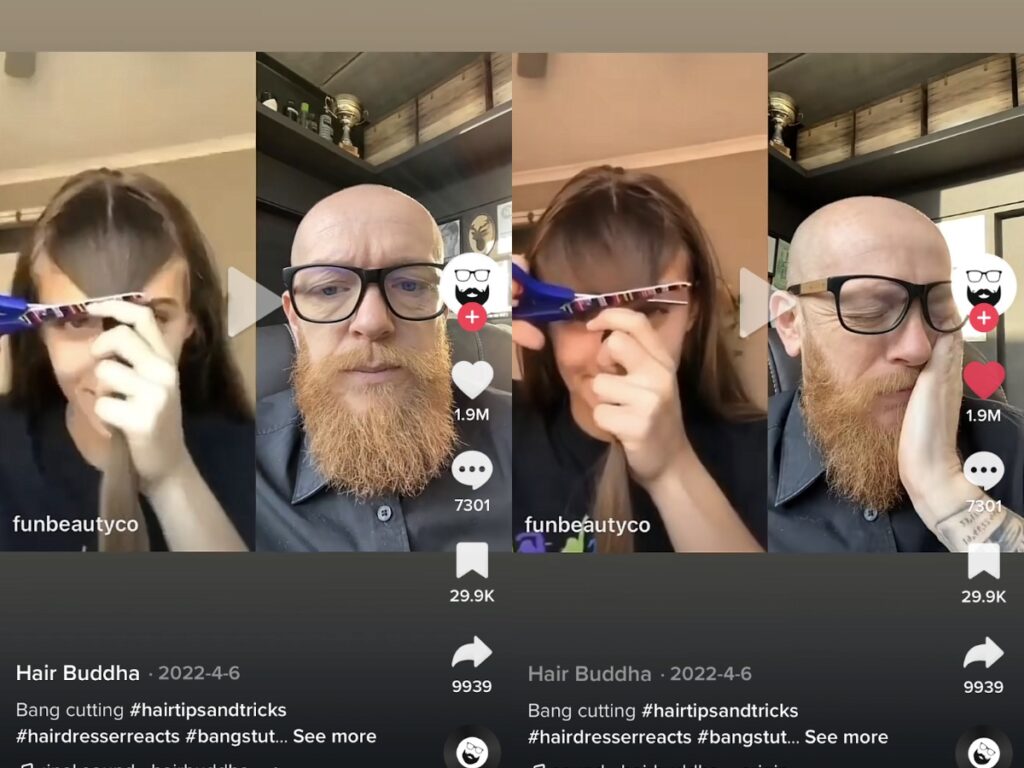 8. Use TikTok's Q&A feature
Looking for great TikTok post ideas that create engagement? TikTok's Q&A feature is a go-to for many influencers to capture your followers' attention and make them feel involved and their opinions heard.
This option lets your audience submit questions which you can respond to by creating future posts and video content.
This is a creative way to understand what type of content can bring in more views, create future posts by responding with a video or text reply.
Top tips for making the most of your TikTok content ideas
Now you've got some inspiration and content ideas for your TikTok campaigns, here's how you can make sure they get the results you want.
Run ads: Increase the number of eyeballs on your campaigns by running TikTok ads and capturing leads with LeadsBridge's TikTok lead generation forms and integrations. Running ads on TikTok can help you reach new people and capture email addresses you can nurture and sell to later down the line.
Here are some of our most popular integrations for TikTok lead generation:
Learn how to connect TikTok Lead Generation to your favorite marketing app via LeadsBridge.
Understand your audience: get to know who your audience is, what kind of content they like to consume, and their biggest pain points that you can address with your videos. You can use this information to create custom audiences for your TikTok ads with LeadsBridge's integration for TikTok Custom Audiences. Join the waiting list for this integration! Here are some of the possible integrations with TikTok Custom Audiences:
Don't be afraid to get creative: TikTok lends itself to creativity and, the more you stand out, the more engagement and awareness you'll generate.
Follow-up on content: Don't create content in a void. Make sure your videos are cohesive to ensure your followers keep scrolling through your feed.
Short and snappy: Keep your videos short and sweet to maintain interest. TikTok is inherently a scroll-happy platform, which means you only have a matter of seconds to capture the attention of your audience.
Cross-promote: Share your TikTok videos on other social media platforms and vice versa to get the most reach out of your content and attract people on different channels.
There are plenty of TikTok ads examples out there to glean inspiration from and to get account ideas for TikTok. When you understand your audience and are willing to get creative with your efforts, you'll find that you'll quickly be able to come up with the best TikTok ideas for your brand.
Ideas for TikTok accounts: Level up your campaigns
TikTok is a great platform for showcasing your brand personality and reaching a diverse new audience. The short, snappy videos it promotes lend themselves to high engagement and interaction levels which can create a much-needed buzz around your business.
Use the TikTok content ideas we've highlighted here to get started and infuse your campaigns with credibility and authority. When you're ready to go, follow our top tips to come up with ideas for your TikTok videos and get the most out of your campaigns.
Discover LeadsBridge's powerful integrations for TikTok here.