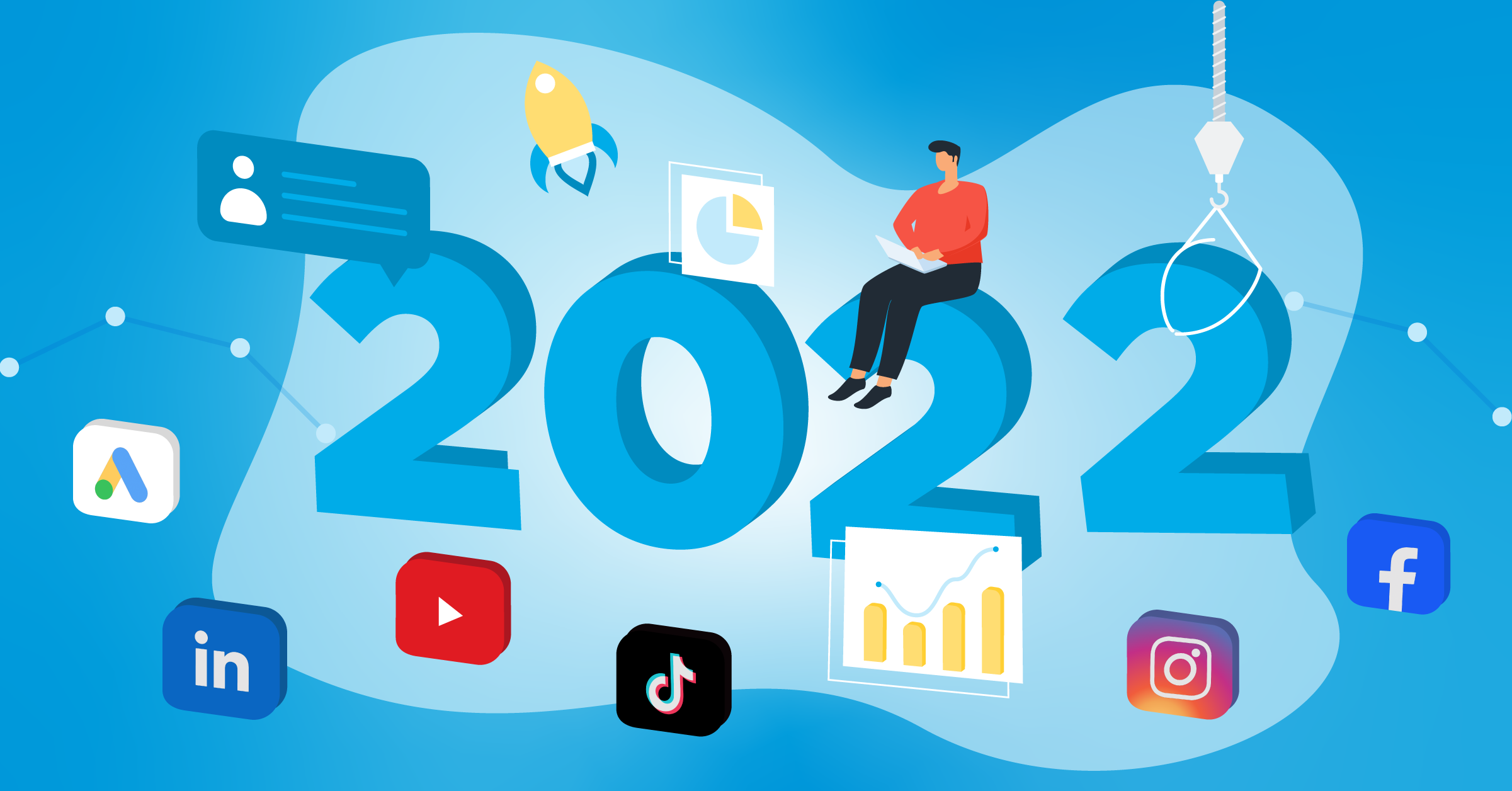 Social media is more prevalent than ever. The pandemic forced consumers to spend a lot of time online and they turned to social media for entertainment, connection, news, product inspiration, and even customer service.
Now, brands are tasked with creating enjoyable experiences across a variety of channels if they want to reach and connect with new customers. Here's how you can make the most of it with these key social media trends for 2022.
In addition to discussing the top-trending platforms, we'll also introduce some robust social media marketing integrations to drive results, such as:
​​Facebook Lead Ads integrations
TikTok Lead Generation integrations
LinkedIn Lead Gen Forms integrations
Instagram Lead Ads integrations
1. Social commerce will continue to grow
The rise of ecommerce has encouraged social commerce, and many channels have created features that make it easy for consumers to shop in-app without disrupting their scroll. On top of this, shoppers are actively using social media to discover new products.
73% of businesses already use social commerce and 79% expect to do so in the next three years. Use your channels to create shoppable posts, link to product pages from your updates, and allow customers to purchase products mid-scroll.
Jasper's Boutique uses shoppable Instagram Stories to direct customers to in-app product pages.
2. Brands will partner with creators and micro-influencers
The creator economy is booming, which has led to a surge in the number of niche influencers who specialize in a variety of topics. They tend to have pre-built audiences who trust what they say and have self-made platforms that brands can leverage.
In 2022, we'll see more brands partnering with these types of creators–but, more specifically, micro-influencers for paid media trends. These are influencers with smaller, highly-focused audiences. While they may have fewer followers, they tend to have higher engagement rates, which can lead to a higher ROI for brands that work with them.
Choose micro-influencers in your industry with between 10,000 and 50,000 followers and whose target audience matches your own.
3. Sustainability becomes a key driving force
Consumers buy from brands with the same values as them. And, when 28% of Gen Z-ers are concerned about climate change, it's important for brands to establish their stance on it. We'll start to see brands using social media to promote their sustainability and values to reach new customers and secure loyalty with existing ones.
Shoe brand Toms uses Instagram to share its dedication to the environment.
4. Ads will be more authentic and align with each social media interface
Consumers are holding brands to a higher standard of social advertising. They're tired of overt ads and in-your-face marketing campaigns. In fact, they can spot an ad a mile off in-between content from their friends and family.
In 2022, it will be important for brands to remain authentic with their ads to keep up with paid media trends and use formats that blend in with native app content, like Instagram Stories and in-built TikTok ads.
TikTok's ads look almost identical to regular posts.
5. TikTok will be big
Talking of TikTok–it's going to be big. This new social media app has exploded over the past couple of years, giving users access to short, snackable, viral-worthy videos. As well as a highly-engaged audience, the app boasts a ton of features for brands, including ads and business profiles.
Brands can leverage TikTok lead generation by collecting their follower's details, and using the powerful TikTok Custom Audiences feature to laser-focus their targeting efforts. LeadsBridge has plenty of integrations with TikTok to make the lead generation process a walk in the park.
TikTok Lead Generation integration with Google Sheets
TikTok Lead Generation integration with Salesforce®
Moreover, you can discover all the possible integrations with TikTok Custom Audiences below:
It will almost be essential for brands to be on the platform if they want to reach millennials and Gen Z.
6. Pay to play will be essential
The surge in online business during the pandemic has increased the amount of competition and made it necessary to pay to play. To stand out, brands have to put their money where their mouth is and create engaging ad campaigns across their customers' favorite platforms.
LeadsBridge's integrations for advertising can help automate campaigns on a variety of social media platforms, including Facebook Custom Audiences, Instagram Lead Ads, LinkedIn Lead Gen Forms, and Facebook Lead Ads.
Act-On integration with Facebook Custom Audiences
Instagram Lead Ads integration with Email Notification
LinkedIn Lead Gen Forms integration with Pardot
Facebook Lead Ads integration with Klaviyo
7. Video content will be king
This year, 82% of content will be video content. It's a no-brainer since popular platforms like TikTok, Instagram, and Snapchat are emphasizing video content because it's more engaging and connective.
Brands will need to create video content for their social channels if they want to keep up and connect with their audience–you don't need a fancy film crew and editing suite, though. Use your smartphone to shoot raw behind-the-scenes videos, host Q&As, and tap into social media video trends, like viral TikTok dances.
8. Authentic, "no filter" posts will work best
Consumers are more skeptical today than ever before. Like we said above, they can spot an ad a mile off and are actively seeking out content that feels authentic in their social feeds.
Instead of sharing highly-polished professional content, brands will need to be vulnerable on social media and show raw, human-focused content to build trust and instill customer loyalty.
9. Reaching new audiences will be integral
There is a wide range of social media platforms available today, each of which comes with its own distinct audience. While Facebook is primarily inhabited by millennials and boomers, apps like TikTok and Snapchat are favored by the younger generations.
To reach these segmented audiences, brands will need to embrace an omnichannel approach and create relevant content for each of their channels. What people engage with on Instagram is not the same as what people engage with on Facebook, and this is becoming abundantly clear.
Brands that succeed in 2022 will be the ones that can create unique experiences for each audience segment on a variety of social media platforms. LeadsBridge can help collect and manage leads from the different channels with a library of powerful automated integrations.
ActiveCampaign integration with Facebook Custom Audiences
Mailchimp integration with Facebook Custom Audiences
HubSpot integration with LinkedIn Matched Audiences
Social media best practices for 2022
Social media will play a huge part in brand marketing this year, but it's important to get it right. If you want to succeed, try some of the following social media trends for 2022:
Employ social commerce features
Partner with creators and micro-influencers
Promote your sustainability efforts
Create authentic ad campaigns
Start using TikTok
Pay to play with social ads
Build your library of video content
Focus on authentic content
Reach new audiences on their favorite platforms
How to keep up with social media trends
Social media isn't going anywhere, but its place in society is changing–it's now an all-in-one space for consumers to socialize, be entertained, and shop.
In 2022, brands will need to establish their presence on social platforms and lean heavily into authentic video content. Most importantly, social media trends show that brands should be spreading themselves across a variety of channels if they want to reach a wider audience.
Generate leads from your favorite social media channels with LeadsBridge's integrations.