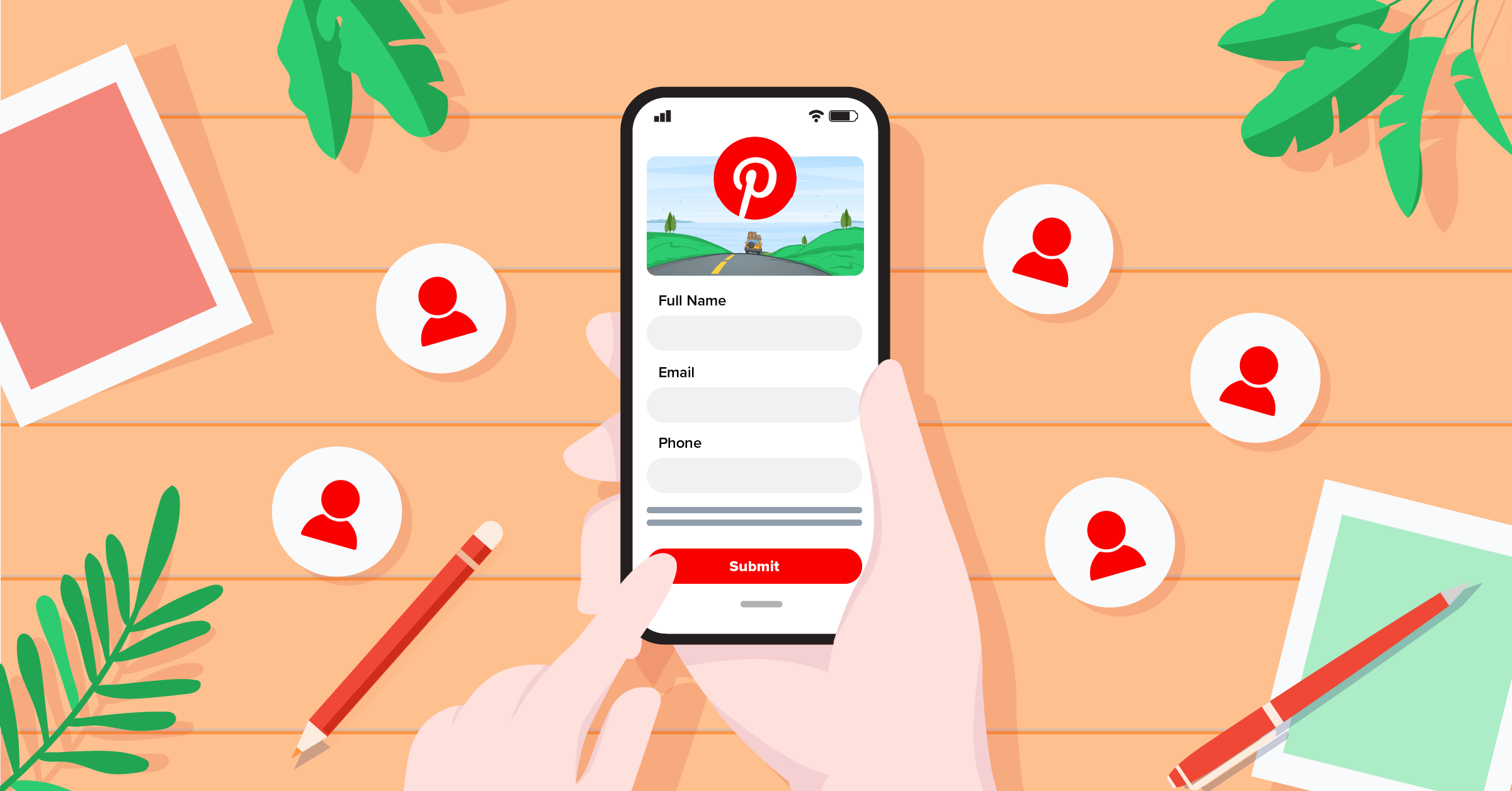 If you are looking for a new platform to generate leads for your business, Pinterest can be an excellent option. As surprising as it may sound, Pinterest is not only a platform for inspiration and DIY projects – it is also an incredibly powerful tool for lead generation.
Pinterest is an image-based social media platform that allows businesses to showcase their products and services through visual content. With over 400 million monthly active users, Pinterest has become one of the most popular social media platforms in the world, which makes it the perfect place for businesses to expand their reach and attract new customers.
In this blog post, we will explore what Pinterest lead generation is, its benefits, how you can generate leads on Pinterest organically or by running Pinterest Lead Ads, and how you can streamline your Pinterest lead generation activities thanks to LeadsBridge integrations.
What is Pinterest lead generation?
Pinterest lead generation is the process of attracting and collecting leads from Pinterest users who are interested in a particular product, service, or content. By using Pinterest lead generation ads, businesses can gather user information and use it to create targeted marketing campaigns with the aim of converting those leads into paying customers.
The benefits of Pinterest lead generation
There are several benefits of using Pinterest for lead generation:
It has a highly engaged audience who are actively looking for new ideas and products.
It's visual, so it's a very effective platform for showing off products and services.
Its users have a higher purchasing intent than other social media platforms because they log on specifically to look for new products, making it a powerful tool for driving sales and revenue.
It's compatible with eCommerce platforms, making it easy for businesses to set up online stores and sell products directly on Pinterest.
How to generate leads on Pinterest
Organically
If your goal is to generate leads on Pinterest for free, here are some best practices that could help you succeed:
Optimize your account for Pinterest SEO. Similar to regular search engines, Pinterest operates by allowing you to simply enter a keyword or short phrase in the search bar. Once you do, the platform delivers content that directly relates to your search. You can optimize your content by researching and using popular keywords in your board names, pin descriptions, and profile description.
2. Create high-quality content that resonates with your audience. Many Pinterest users are looking for inspiration, so make sure your pins are insightful, interesting, and visually appealing. You can use tools like Canva to create eye-catching pins that drive traffic to your website or landing page.
3. Make sure that your Pinterest bio is complete, visually appealing, and engaging. Add your website, products, and services, as well as any other information that your potential customers might need.
4. Start a business account. With a free Pinterest business account, you gain access to exciting features like Pinterest Analytics to track your pin performance and ads to promote your products. Plus, you can dive into the Pinterest Business Hub and unlock specialized keyword research tools.
5. Claim your website. By claiming your website, you can maximize the pins and clickthroughs your content receives, ensuring no opportunities go unnoticed. Not only that, but you also unlock insightful analytics for both your own pins and those created by others from your site. Pinterest values pins from website owners, so claiming yours will give your pins the boost they deserve in search results.
6. Create Rich Pins. These amazing organic pins automatically sync information from your website to your pins. Utilizing rich pins is an excellent strategy for boosting your domain quality score. These pins signal to the platform that your website is not only dependable but also kept current. This feature is only available after you've created a business account and claimed your website, so make sure to do that first!
Using Pinterest Lead Ads
If you're ready to invest in your Pinterest lead generation campaigns, you can start running Pinterest Lead Ads. Much like Facebook Lead Ads, TikTok Lead Generation, LinkedIn Lead Gen Forms, and Google Ads Lead form extensions, Lead Ads on Pinterest allow businesses to collect user information without leaving the Pinterest app. To create a lead ad, you will need to set up a business account and create a campaign in Ads Manager. The cost of your campaigns will vary based on the budget and spending limits you establish.
The very first time you visit your Ads Manager, you'll be prompted to choose your country, which sets your billing currency. Keep in mind, you won't be able to modify this later.
What are Pinterest lead generation ads?
Pinterest Lead Ads feature a lead generation form that users can fill out directly from a Pinterest ad. These ads are designed to offer something of value in exchange for users' contact information, such as access to an e-book or a discount code.
Pinterest lead generation ads are a great way to achieve your marketing and lead generation goals. These ads are designed to convert browsers into buyers by offering something valuable in exchange for their contact information.
Some examples of lead generation ad formats on Pinterest
There are several types of lead generation ad formats on Pinterest, including:
Standard image ads
Regular ads that feature only one image.
Standard video ads
You can grab attention and weave a powerful narrative using the video format. You can pick between standard or max-width videos. Standard videos are designed to match the size of a regular Pin, while max-width videos stretch across the entire mobile feed.
Carousel ads
A carousel showcasing a variety of images to entice people to swipe through.
Shopping ads
By showcasing one image at a time, these ads offer the perfect opportunity to purchase the showcased products, while adhering to the same specifications as standard image ads.
Collections ads
These ads capture attention by seamlessly integrating a main image at the top with a series of smaller related images below.
Idea ads
You can showcase a collection of videos, images, lists, and custom text within a single Pin.
Showcase ads
These ads are specifically designed to captivate the audience with a compelling title Pin and a series of swipeable cards. You can seamlessly stitch together videos and images to showcase the multifaceted aspects of your brand, while each card offers clickable links for people to delve deeper into the information on your website.
Quiz ads
These ads are meant to spark engagement with exciting and interactive quizzes. You can add up to three questions and create customized results for each quiz answer.
Optimizing Pinterest lead generation with LeadsBridge integrations
LeadsBridge allows businesses to connect Pinterest Lead Ads with their favorite marketing tools – including CRMs, email marketing software, autoresponder, DWH, and many more – with real-time, automated integrations.
This helps you streamline your Pinterest lead generation process, as LeadsBridge captures lead data directly from Pinterest Lead Ads forms and then routes it to your preferred marketing tool.
Check out all integrations for Pinterest Lead Ads here.
LeadsBridge also offers integrations for Pinterest Audience Targeting. With this feature, you can connect with a specific segment of people on Pinterest. By combining customer information from your CRM with data on Pinterest usage, you can effectively reach your desired audience.
This can be achieved by targeting site visitors, utilizing a customer email or ID list, engaging with audiences interacting with your domain's Pins, or finding a lookalike audience similar to your existing one.
If you'd like to learn more about Pinterest Audience Targeting and how it works, check out this article: A step-by-step guide to Pinterest Audience Targeting.
LeadsBridge integrations allow you to:
Take instant action on new leads by effortlessly synchronizing lead data from top ad platforms in real time.
Save valuable time and effort with dedicated integrations tailored for marketing and sales workflows.
As new leads pour in, segment them promptly and direct them to the right funnel for maximum impact.
Final thoughts
Pinterest is a valuable tool for businesses of all sizes looking to attract new customers and grow their brand. Whether you choose to generate leads organically or to run Pinterest Lead Ads, creating an engaging Pinterest profile with insightful content is key.
The potential benefits of Pinterest lead generation ads include cost-effectiveness, an increased targeted audience, and a higher conversion rate. And with the help of LeadsBridge integrations for Pinterest Lead Ads you can streamline your campaigns by automating the lead generation process and take your business's marketing strategy to the next level.